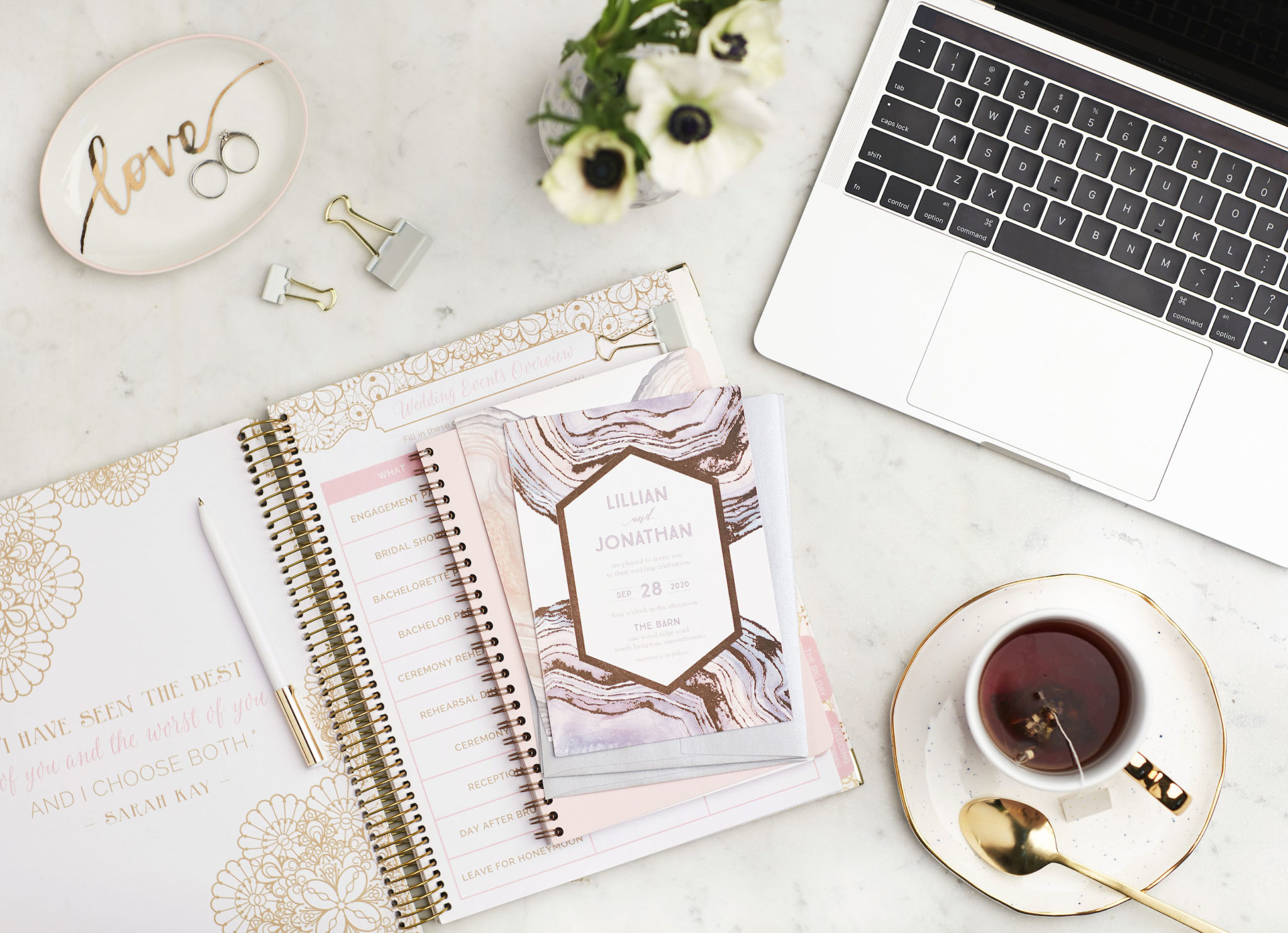 24 Apr

Postponing your Wedding due to Coronavirus
How to manage your to-do list in this era of uncertainty, plus advice for later.
So many couples are currently facing worst-case wedding scenario: cancelation or postponing your wedding due to Coronavirus. In the midst of planning a wedding, couples are finding themselves even more stressed as they face the probability of having to alter their carefully planned wedding events due to Coronavirus. Wedding planning is already stressful enough, so how does one even begin to rearrange plans in accordance with the current global pandemic?
At whatever point you are in your wedding journey, there's a good chance that you and your partner will have to do some rethinking and restrategizing. But even if you're a couple whose big day was supposed to be months, weeks, or days away have options, too.
If you're one of the many couples trying to keep a level head through all of this craziness, we want to help. We've put together a checklist of to-dos, as well as a list of tips, inspiration, and tools for reprioritizing your wedding day.
First thing's first, however: Take a deep breath, tackle the following to-dos with the confidence that everything will be okay (because it will!), and remember to always be kind to yourself. We're in this together!
First things
Wedding Insurance
Wedding insurance is one of those things that no one really thinks about right away, but everyone can benefit from. If you already have wedding insurance, then chances are really good that you'll be covered for upcoming cancelations from vendors and/or venues. If you don't have insurance yet, however, now is a good time to snag some in the event that plans may change again down the line. With all the uncertainty about Coronavirus, timelines are a big unknown. It's important to be covered.
Our partner, Blueprint, has put together a fully comprehensive guide on what wedding insurance is, what it covers, how much it costs, and where to get it. You can read it here.
Have a heart to heart
Now's the time to sit down with your partner and loved ones, and have a heart to heart about what your options are. Imagine best and worst case scenarios, priorities, budgets—the works. Think of possible new timeframes or seasons rather than specific dates, because let's be honest: there's still a lot of question marks about when this will all be over.
Review vendor contracts & contact vendors
Regardless of whether you're covered through wedding insurance, it's a great idea to review your vendor contracts, understand them, and see what your options are for cancelations and postponements. Everyone is affected by Coronavirus, and during this unprecedented time vendors may be willing to be flexible with their clients. No one, including vendors, wants to be put at risk.
Make sure you're familiar with the fine print, and be ready to discuss options with your vendors. There is always the possibility that you may be responsible for some costs, including deposits. Make a list of all your vendors (this vendor comparison worksheet by Blueprint is a great option) and outline the most possible money a cancelation or postponement may cost you. Be prepared with your worst case scenario, so you can go into conversations with all the information and no surprises.
If your top concern is the toll postponing your wedding due to Coronavirus will take on your wallet, try your best to stick with your original vendors and venues. Using new vendors will require new deposits, which can add up and make a significant impact to your bank account if you lose deposits from your original vendors.
Adjust date and checklist
Chances are you've had a wedding date confirmed for some time and you've been diligently planning all the details on some sort of checklist. While it's probably not in your best interest to get too attached to a new proposed date, you can adjust your checklist with a tentative date. Our digital Wedding Planning Checklist makes it easier than ever to adjust your wedding date without losing any precious planning details.
Because plans are in flux, you'll probably have a few more tasks to add to your to-do list. You can just as easily edit and add new tasks in your checklist, like contacting individual vendors, guests, and your wedding coordinator, for example.
Wedding Registry and Website
Adjusting your wedding plans doesn't just consist of negotiating deposits and contacting guests, however. You may have started receiving gifts from loved ones, including cash, and may be exploring your options. Should you return gifts, or keep them?
Our recommendation is to reach out to individual guests who have sent gifts and explain the predicament, and ask them what route they would prefer. If you've received anonymous gifts, we recommend updating your wedding website to encourage guests to reach out to you if they prefer their gift returned for now. No hard feelings! If you haven't settled on a new wedding date yet, you may want to consider making your registry private in the meantime so you don't continue receiving gifts.
Don't forget to update your website with all pertinent information. Add an update for your new plans on your homepage for visitors to see right away. Hide your RSVP page to avoid guests trying to confirm attendance during uncertainty, and add a FAQ page to field common questions from loved ones about whether you're canceling or postponing your wedding due to Coronavirus. If you have a Blueprint registry and/or website, visit their Help Center to contact their awesome—and fast!—support team.
Tips, advice, and alternatives
Don't postpone the marriage, just the wedding
Talk with your partner – and those closest to you – about your priorities. It turns out that a lot of couples' first priority is just being officially married. It doesn't matter how many other elements were at the top of the list, being married trumps them all. And as you can imagine, planning a marriage is far less daunting than a wedding.
The choice, however, is ultimately up to you. Whether you want to get married on the planned date and celebrate at a later time, or you decide on extending your engagement, the only right answer is what feels best for you.
Virtual wedding and events
We understand that a virtual wedding or wedding event isn't everyone's first choice, but kudos to the couples who are game for a celebration despite social distancing. Virtual gatherings are making a huge splash on the internet right now, so why not be a part of it?
Instagram Live: Invite ALL your internet friends to witness your nuptials at a socially appropriate distance, even if your officiant is quarantined inside their 5th floor apartment (like this couple!)
Electronic invites: Take advantage of all the digital tools available and send out gorgeous digital invites to loved ones to join you in virtual celebrations.
Guest management
While it can be tough and time consuming to decide what your new plans will be, don't forget to think about your guests. If they're traveling, some guests may have booked trips far in advance and it could cost them more the longer they wait to change them. As soon as you know what you want to do, let your guests know, too. Will some guests be upset? Possibly. But we think you'll, more often than not, be wholly supported by your loved ones.
There will probably be a lot of questions. Gather up the most commonly asked, and set up a FAQ page on your website to refer people to, or shoot out a mass email to your guests.
Final thoughts: Be kind to your mind
It's easy to feel a level of guilt when thinking about your wedding plans in the midst of a global crisis. You can, understandably so, be upset about your altered plans while also being upset at the health of the world. The two are not mutually exclusive.
Ultimately, your first priority is to yourself and your partner. Allow yourselves to grieve if you need to, and be kind to yourself. When you're ready to start making moves, be organized, level-headed, and calm. It's amazing what we can achieve when we understand that our feelings are valid during the process.
You've got this!
Related Posts: