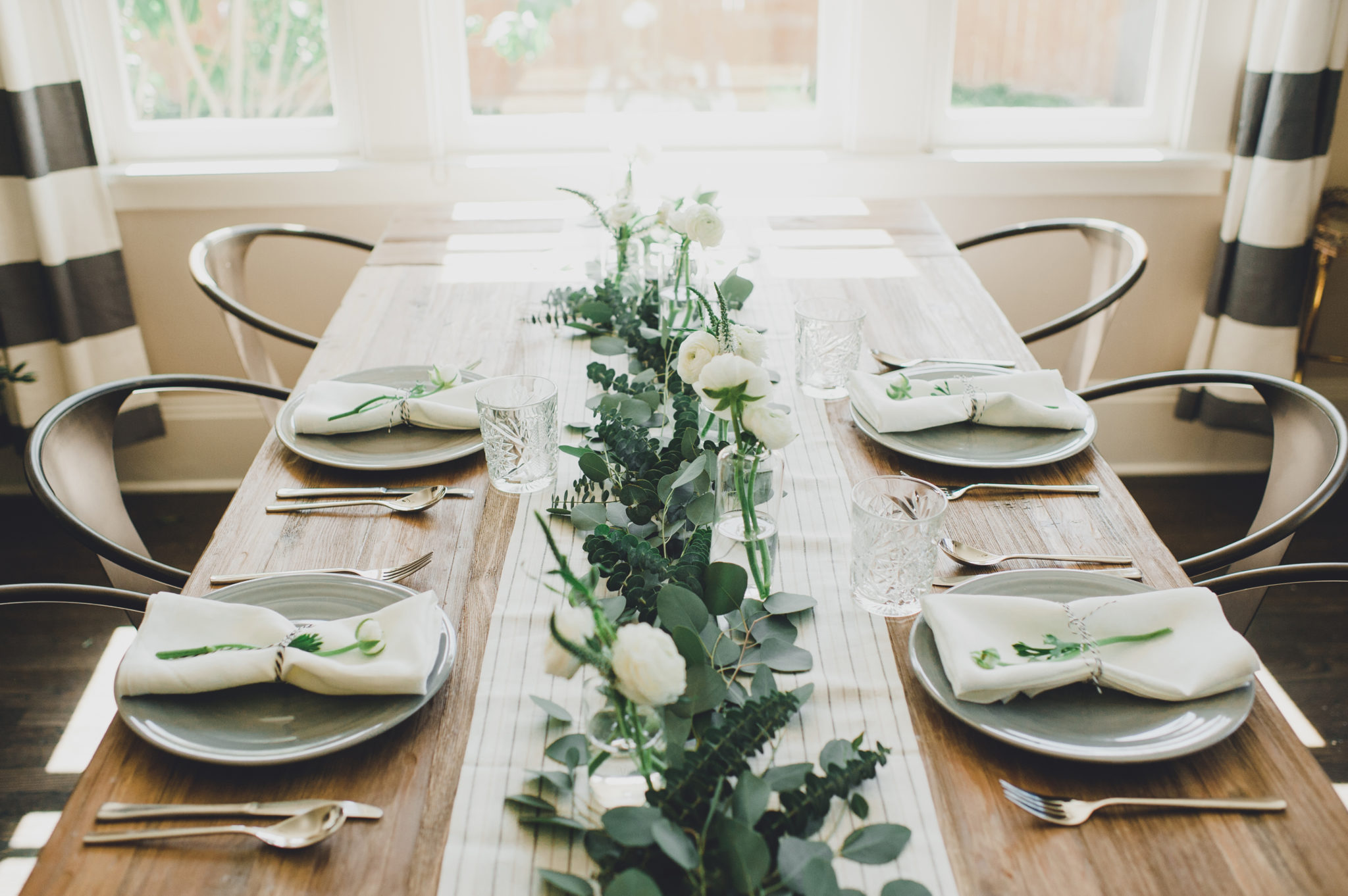 06 Jan

Wedding Registry 101
The wedding registry guide for the modern bride.
Although traditional in-store, gun-scanning wedding registries are still around, universal registries like Blueprint Registry are available to help organize and streamline the wedding registry process. In the digital age where everything is available at our fingertips, a wedding registry shouldn't be any different.
What Is A Wedding Registry and How Does it Work?
A wedding registry is a list of gifts that an engaged couple wants or needs to start their married lives together. It's put together by the engaged couple, and is available to make gift-giving easier for guests and loved ones. Wedding registries traditionally include anything from bed sheets, dinnerware, home decor, and everything in between. Every couple's registry is different, of course—and it all depends on what items they may need for their home.
Nowadays, however, it's common for registries to include non-physical gifts, like experience cash funds (to fund your honeymoon or home down payment, for example). Wedding registries are a fantastic way for your loved ones to help you start married life off on the right foot. And believe us—close friends and family truly want to give you a great wedding gift.
Universal wedding registries like Blueprint are unique in that they allow users to have physical and non-physical gifts all in one place. The "Add to Blueprint" button, for example, lets registrants add gifts from any online store directly to their wedding registry. Additionally, you can avoid juggling multiple online registries by consolidating them using Blueprint's Import Tool. To browse a full list of Blueprint's features, check out their Registry Benefits page.
Evaluate Your Needs
Perhaps you're a young couple just beginning a new life together in a new home. Or you're getting remarried as seasoned adults and really don't see a need for many physical gifts. What if your heart is set on giving back to your favorite charity on your big day? Or your finances are tight and you could really just use some cash for a home down payment?
No matter your circumstances, modern wedding registries look beyond tradition and can be customized to fit exactly what you need. Sit down with your partner and evaluate your needs versus wants, prioritize, and decide which gifts could use the help of your loved ones.
When Should You Start Your Wedding Registry? 
It's understandable to feel a little uncomfortable when asking for gifts. However, some find that it's actually one of the most fun parts of the wedding process. Even better news? You can start as early as you want to! Most online registries give you the option to password protect or keep your registry private until you are ready to share it. That way you can have time to build a registry of gifts you actually need versus just rushing through it. Either way works, it just depends on—you guessed it—timing.
Give yourself enough time to decide what gifts you want and to plan. Blueprint Registry recommends doing this at least four to six months before your wedding date. The sooner you have your registry set up, the longer your guests have to get you the gifts you want. Think about Uncle Henry who may not be able to make it to the wedding, but wants to send you a gift in time for the big day. Appropriate notice and planning is considerate and important for guests, too.
How Much Should Wedding Registry Items Cost? 
Depending on how close you are to the guest, the amount they spend on a gift will change. On average, guests will spend between $71-$147, with close family spending on the higher-end. It's important to—without going overboard—have enough gifts on your registry to accommodate any budget. It's unreasonable to assume everyone will have the means to splurge on a gift. Consider including plenty of smaller $40 to $60 items to your registry. Compile small items like kitchen utensils, throw pillows, or a gift card—along with bigger ticket items for those that can spend a little more.
Not everyone will have a ton of cash to blow on a wedding gift, so don't forget about them. With Blueprint Registry, you have the option to enable Group Gifting on any gift, allowing guests to make contributions towards a physical gift.
What Should You Register For? 
We live in an exciting time where it's no longer required to stick to traditional wedding gifts. Although Grams may put up a fight and get you that blender anyway, it's now completely acceptable to register for non-traditional wedding gifts, like a honeymoon fund, a romantic dinner for two, donations to your favorite charity, and even a home improvement fund.
Although there's a little etiquette involved, thanks to the rise of crowdfunding websites like GoFundMe and Kickstarter, registering for cash gifts is far less uncouth than it used to be even five years ago. If you and your partner already live together and have no want for household items, then a honeymoon fund or a charitable cause are fantastic ways for your guests to contribute to your special day. Don't skip the registry entirely—trust us. Aunt Lucy will be pretty peeved if she can't gift you something on your wedding day, however big or small.
As for how many gifts to register for, it's best practice to have a robust registry with several types of gifts and price points. Don't go overboard, though! There's no magic number of gifts for a perfect registry, but there are a couple places you can start:
Think about how many guests you're planning to invite. If you're having a small wedding of 60 people, it's probably not the best idea to have 300 gifts on your registry. You should register for more gifts than you'll have guests, however. We recommend a 1:1.5 ratio (# of guests x 1.5)

Think about your guests individually. You know them best, so you should have an idea of what they'd be able to spend. Also think about what stores (physical or online) they would have access to.
Have Fun With It!
Putting together a great wedding registry takes a lot of thought, but it should be aspirational and fun, too. Guests are more likely to buy when the experience feels more personal, so be sure to customize your welcome message, gift descriptions, and images where you can. Creating a registry is also a great time to have a heart-to-heart with your partner about your needs, but don't be afraid to be playful with your gift selections, either. After all, it's your big day—you call the shots!
Need a little registry inspiration? Check out Blueprint's sample registries and their list of the best retailers for your wedding registry.
Ready to get started? Sign up for your Blueprint wedding registry today!
Photo: @caskro for Blueprint Registry
Related Posts: