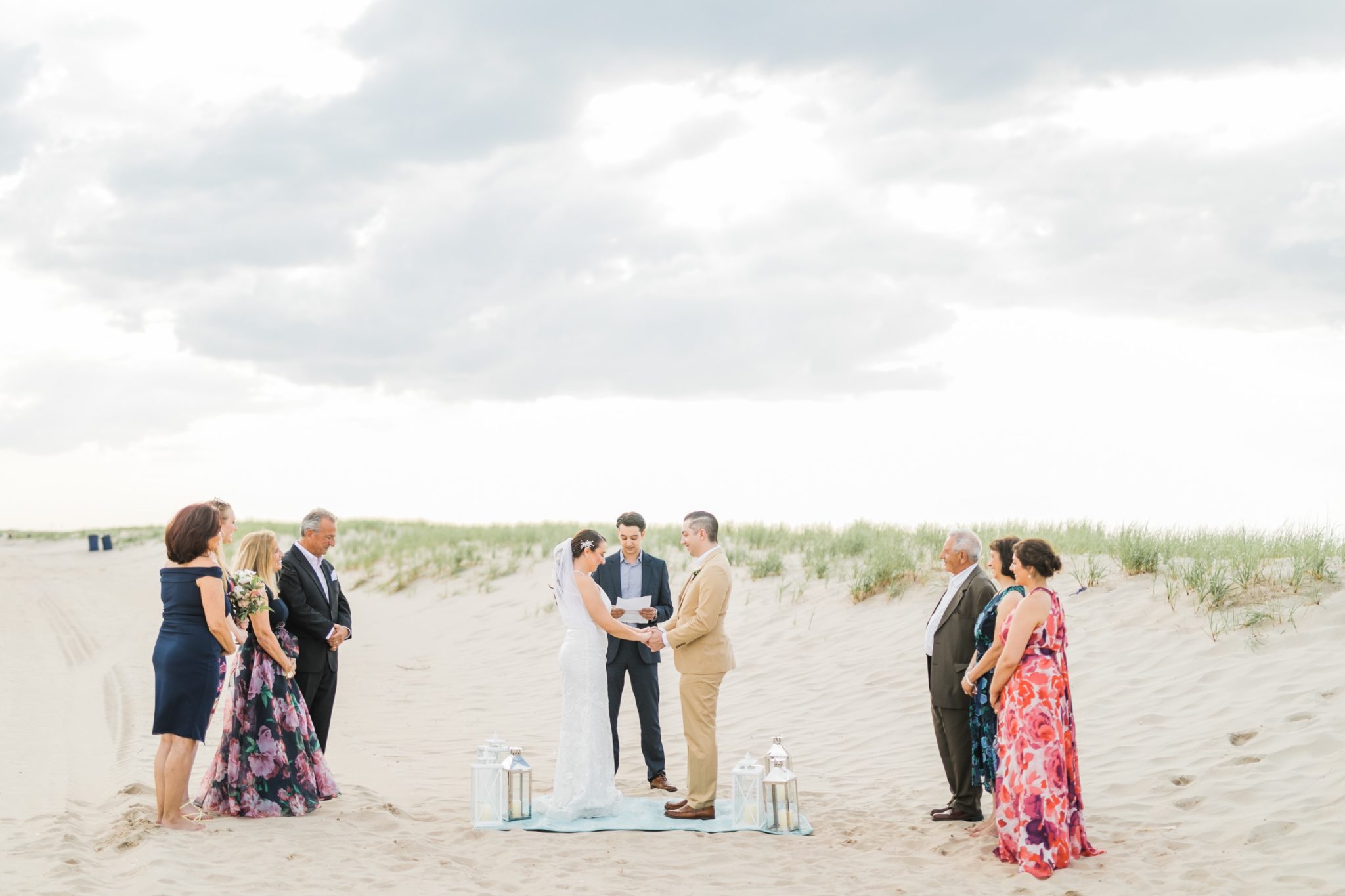 01 Jul

Real Wedding: Briana & Julian
An Intimate Seaside Wedding in New York
Real weddings are so inspiring! To get you in the mood to plan, we asked real brides to spill the details on everything from getting engaged to finding their wedding dresses to the special touches and surprising moments that made their celebrations completely one-of-a-kind. Briana's larger wedding was impacted by COVID-19 but that didn't stop her and her fiancé from making things official. Read on for Briana and Julian's intimate seaside wedding in New York.
How did you and Julian meet?
A mutual friend introduced us in 2015 via text, we happen to be living a few blocks away from each other in Fairmount, Philadelphia! Being within walking distance of one another it was easy to meet up almost every day. We still live in the same neighborhood now!
Tell us about your wedding day! We know you had to make some adjustments to your wedding due to recent events.
We were supposed to get married at the Parkway Central Library, a grand marble building overlooking Logan Circle, with 200 of our friends and family. So, we decided to have a minimoney now and postponed until May 22nd, 2021. I saved my WHITE x Vera Wang ball gown and Julian put away his tuxedo until then. The Breezy Point beach minimony was not what we originally planned but it turned out even better than we could've imagined. I scrambled to get a new dress (quickly, thanks David's!), new photographer, new flowers, order favors, and decorations because this was a totally different theme and aesthetic. Luckily I was able to work with our decor rental specialists, StyleWed, to secure all the lanterns and candles for our ceremony and the beachy teal vases for our centerpieces.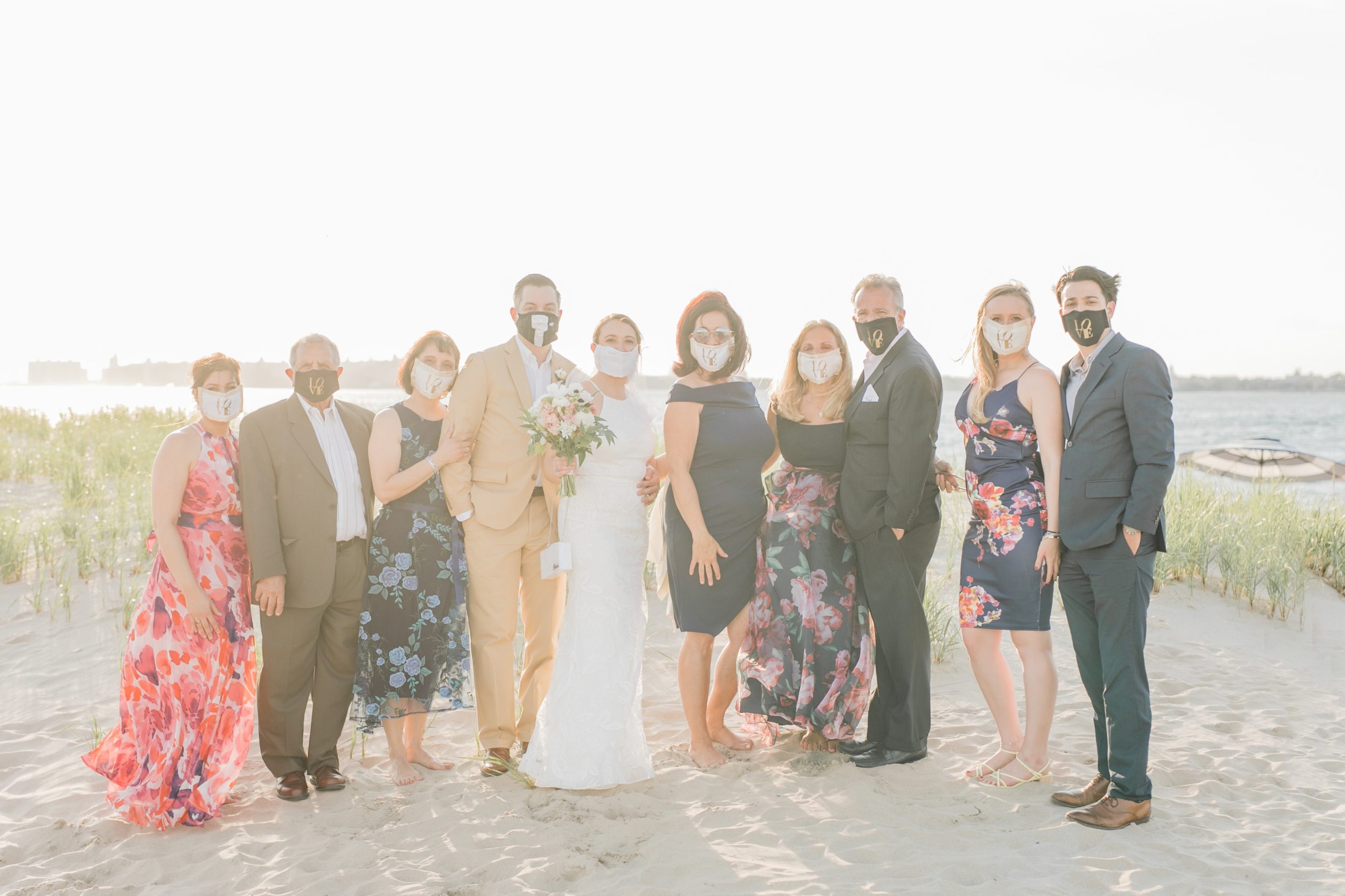 Tell us about The Dress and accessories. How did you decide on your wedding dress, what did you love most about it, and how did it make you feel when you put it on? Any dress-shopping advice for future brides?
Even though the wedding was being held on the beach, I was looking for something that was still elegant and formal. Also, I wanted it to be long with unique details! The high neck was perfect to accentuate my shoulders and the sequins tropical print gave it that perfect touch. This dress was the perfect length, I didn't even need to have it hemmed! It made me feel beautiful and elegant.
What did your spouse do/say when they saw you in your dress on your wedding day?
Julian said "You are so beautiful" There's an amazing picture of him looking up at me coming down the stairs!
What's your best wedding planning advice? And what advice do you have for brides that are going through a similar situation right now?
Be constantly in touch with your vendors. If something falls through don't be afraid to use Pinterest and DIY like we did!
What was your favorite DIY or personal touch?
The welcome sign we had as guests entered the house was definitely my favorite personal touch! It said: Join us hand in hand down on the sand.
What flavor was your wedding cake?
Lemon Blueberry
Did you have a first dance? What was your first dance song?
We put on our wedding playlist for the evening and randomly while we cut our cake the wedding song actually came on! We danced briefly to Beyond by Leon Bridges. Saving the real moves for 2021!
What did you do to stay (as) stress-free (as possible) on your wedding day?
I just told myself that not everything is going to be perfect and to let some stuff go. I had one of those DIY balloon arches but since we ran out of time I decided to just get ready and enjoy myself instead. Now I'm saving the arch for when we actually have the bachelorette party!
More Details:
We know how important your wedding day and special events are to you and we are doing everything in our power to serve you! You can shop with us 24/7 at davidsbridal.com plus we are here for you to help guide you through your wedding planning! See tips for starting to plan your wedding at home, shopping for your wedding dress online with confidence, and more on the blog.
Related Posts: