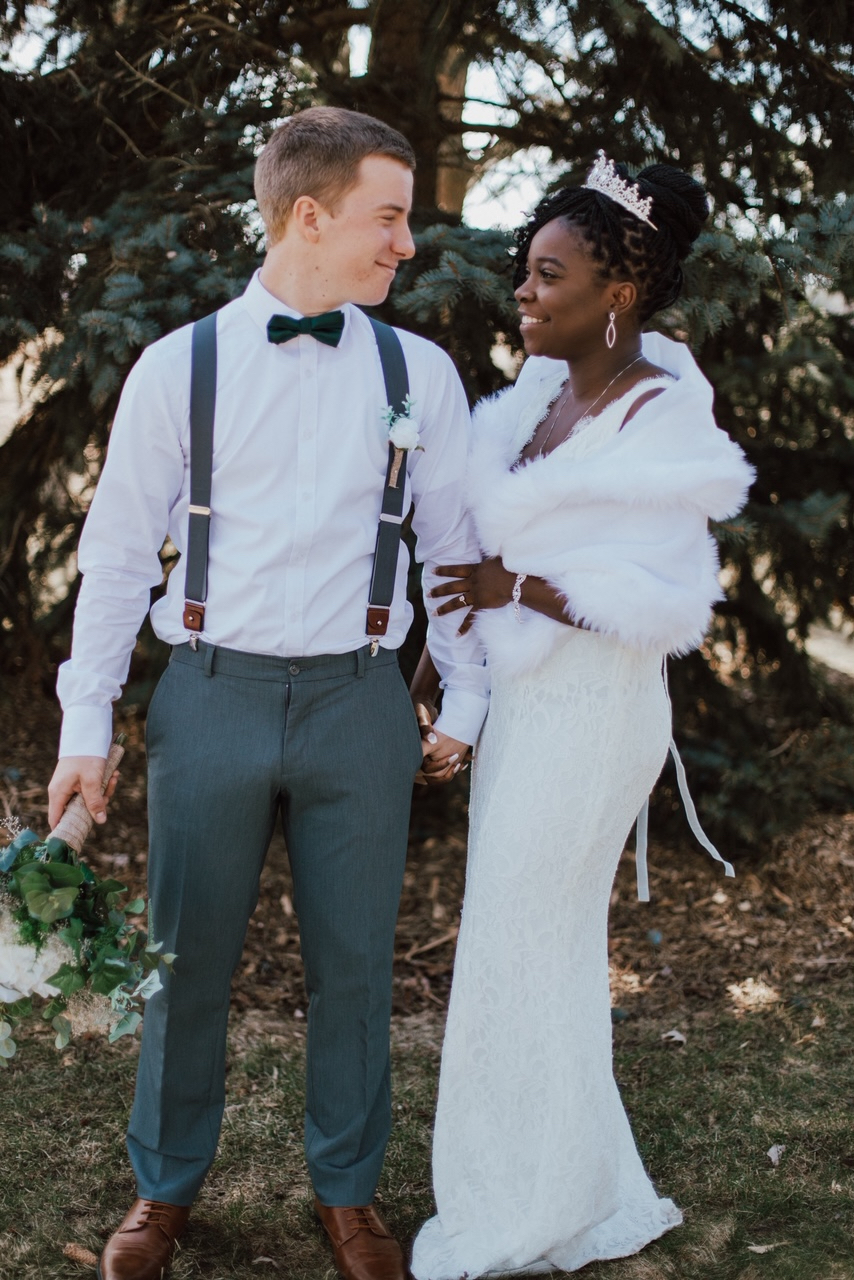 06 May

Real Wedding: Mackwiz & Daniel
A Rustic and Classic Wedding in Canada
Real weddings are so inspiring! To get you in the mood to plan, we asked real brides to spill the details on everything from getting engaged to finding their wedding dresses to the special touches and surprising moments that made their celebrations completely one-of-a-kind. Mackwiz's wedding changed course due to COVID-19 but she didn't let it stop her from marrying the love of her life. Read on for Mackwiz and Daniel's rustic and classic wedding in Canada!
How did the two of you meet? And how did he propose?
Dan and I went to the same high school so we've known each other since 2013. He had a crush on me since grade 9 but I had no idea – he was always there for me through the heartbreaks and everything else. After 3 years of being such best friends, I realized my feelings for him and I told him that I loved spending time with him. The next weekend I went to his house and he asked me to be his girlfriend in his barn and I said yes!
This guy went from friend-zone to now my husband! We dated for 5 months and throughout those 5 months, we knew this was it, that we would get married. So, one weekend Dan and I decided to go to the beach (at our favorite spot). Dan said "let's stand up and tell each other why we want to marry each other" so I told him why and he did as well. All of a sudden I see him reach into his hoody and he pulls out a box and goes down on one knee! He proposed to me! It was one of the best days of my life!
How did you decide on your venue and what inspired the decorations & details?
Our venue was at the Smithville Canadian Reformed Church! Such a beautiful church and single-aisle which is what I wanted. We were fortunate to get married right before everything was shutdown, but due to COVID-19 we weren't able to do our reception at the place we had originally planned. We were able to hold a small reception in the church foyer instead. For our wedding, the colors were gold, hunter green, brown, and white! The theme was rustic but classy. Dan grew up in the country and I grew up in the city, so we wanted a mix of both together.
How did you decide on your wedding dress? What did you love most about it and how did it make you feel? Any dress-shopping advice for future brides?
The dress I chose was not the dress I had I mind at all! Before I went dress shopping, I thought I was going to get a long-sleeved poofy dress. I picked up a couple of dresses and then my eldest sister pointed at a mannequin with a dress on. This dress was gorgeous and beaming in the light! It was literally like in the movies and I said I want to try that one on. It was the first dress I tried on and everyone loved it. I tried on other dresses but the first one, the one in the beaming light on the mannequin, was still in the back of my mind. I tried it on again and knew this was the one!
The reason why I chose my dress was that I felt so beautiful and yet so comfortable at the same time. I needed a dress I can be comfortable all night and still look amazing. My advice for future brides: Get a dress that makes you feel beautiful! Get a dress that you will remember forever and can picture yourself walking down the aisle in to your love!
What was the most memorable part of your wedding day?
The most memorable part was walking down the aisle. I've dreamt of that moment for so long. I had a song I've always wanted to have for the bridal party and me to walk down the aisle to. There's a certain part in the song where the rhythm builds up and that was the part where I start my walk down the aisle. When it finally happened, I was just in shock. You dream about this moment for so long and when you finally get to live it with your loved ones, it is amazing!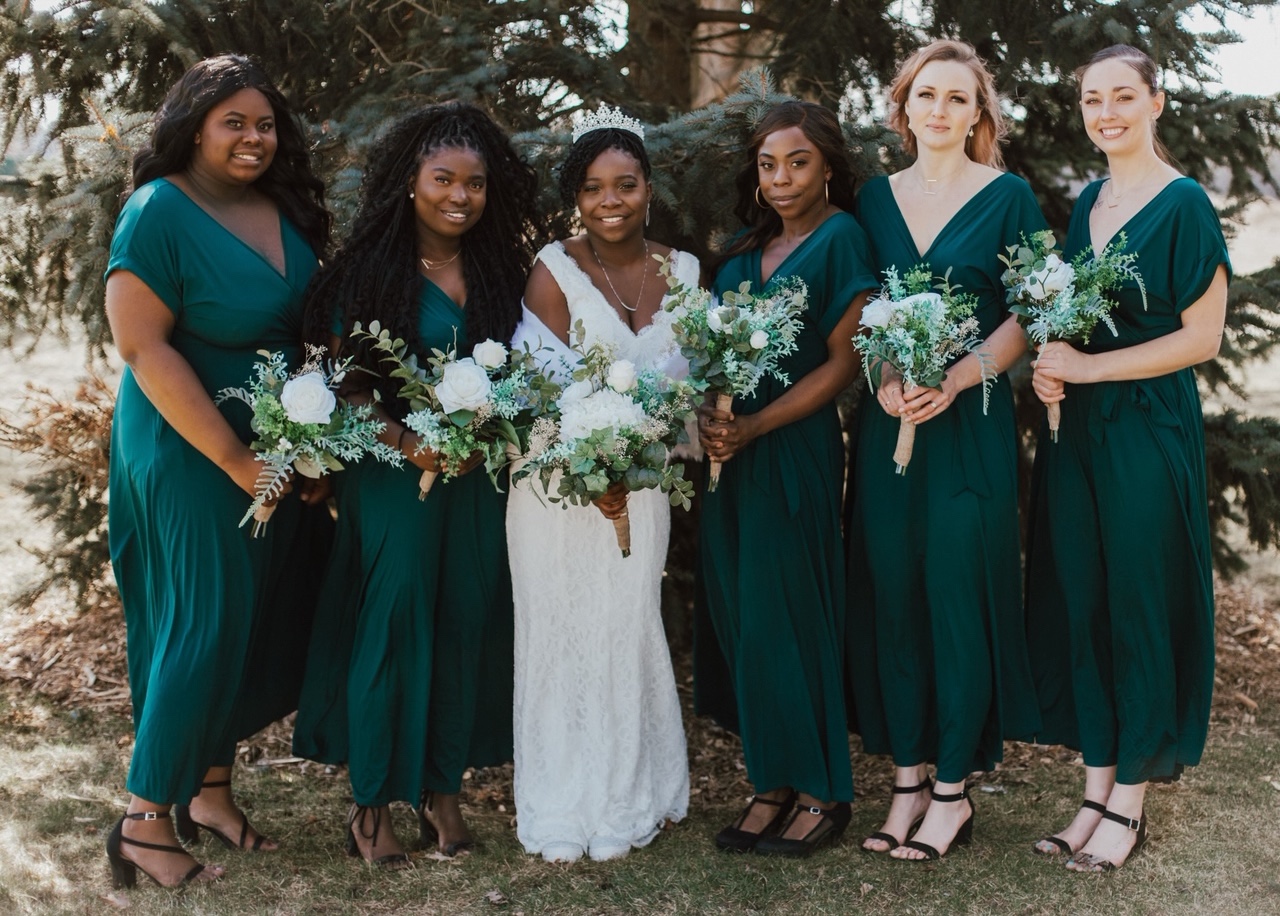 Is there something you wish you had known before the big day/while you were planning the wedding?
I wish I had known to always have a backup plan. We honestly never thought in a million years that we would be going through a pandemic during our wedding season. So, advice to everyone getting married: always have a plan B! Despite all that, the day went so smooth and perfectly!
What did you do to stay stress-free on your wedding day?
Everything going on with COVID-19 had been hectic but for my wedding day, I just focused on the positive. I was wearing a detox face mask and just relaxed, remembering I was about to marry my best friend. It was everything I've always wanted so I didn't want to ruin my day and remember all the things I had to cancel or that cancelled on me. I had my squad helping me be so happy. I'm super grateful for them and my family.
What advice do you have to brides that are going through the same situation right now?
My advice for brides that are going through the same thing: Make the best out of this situation! At the end of the day, it's all about you marrying the love of your life. I know you put hard work into planning and organizing your big special day but when you can't do anything to change it, make it great! Dan and I will have a big party when this is all over with those that couldn't make it. Our wedding day was amazing and just being able to marry Dan was more than enough. I'm so thankful and grateful for everything. I also can't wait to tell my kids about this crazy experience!
More Details:
We know how important your wedding day and special events are to you and we are doing everything in our power to serve you! You can shop with us 24/7 at davidsbridal.com plus we are here for you to help guide you through your wedding planning! See tips for starting to plan your wedding at home, shopping for your wedding dress online with confidence and more on the blog.
Related Posts: