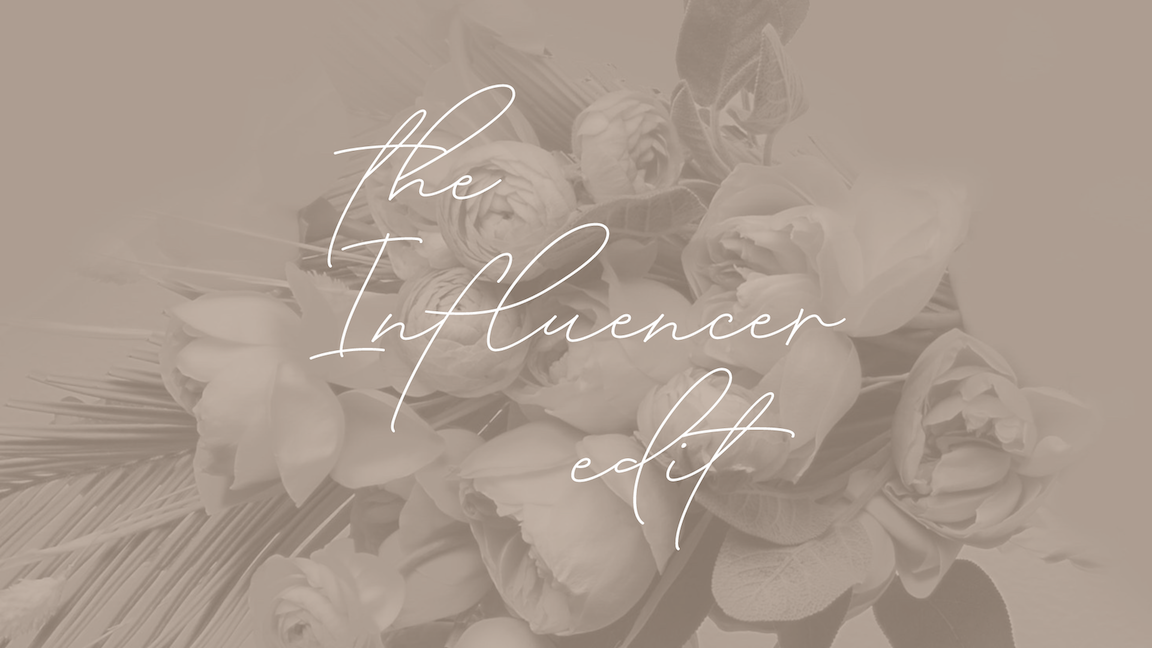 10 Jul

The Influencer Edit
Curated shops from the most stylish bloggers
From date night to girls night out to your wedding day, any and every occasion calls for a chic look! We're teaming up with some of the most fashionable influencers to bring you outfit inspiration for every event. Covet their head-to-toe looks and see even more hand-picked products from davidsbridal.com to keep the influencer-approved outfit ideas flowing! Check back each week for a new addition to the edit!
Edit Five: Gifts for the Bride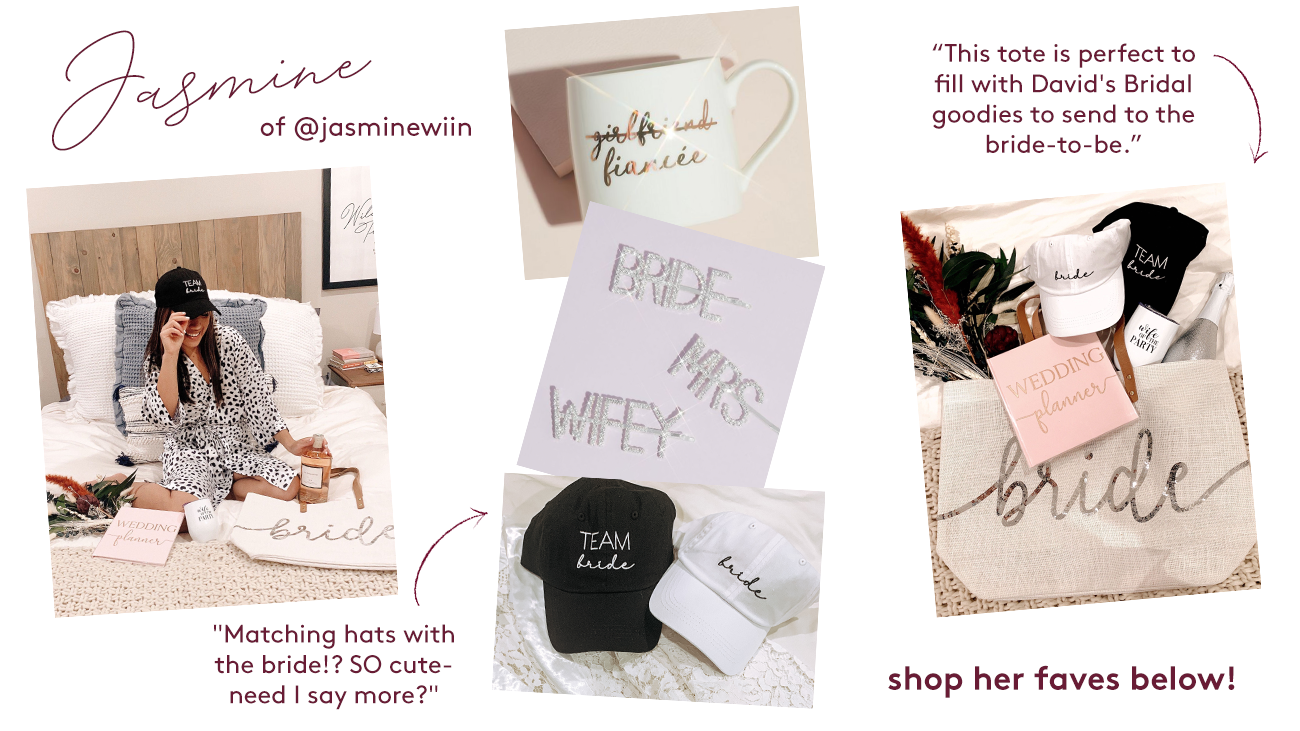 Styles DVB04595011, H24073PS, IHHAT1UPM, IHHAT1UPL, DBOB103, 4035007, DVBF4477
Maid of Honor Jasmine of @jasminewiin reporting for duty! Has your and your BFF's titles changed to Maid of Honor and Bride-to-Be? Well, we've got you covered! When it comes to showering the bride-to-be, it's all about celebrating her new status update. Practical and on-trend gifts, accessories, and apparel will be her new go-to items. Wedding planning is made easy when paired with a cute planner- bride fuel in a cute mug always helps too! Stylish robes are a bride's best friend, you can even snag one for yourself. Don't forget the rest of the party! Customizable gifts for the bride and your fellow bridesmaids will be a hit from the bach party to the after party.
Shop Jasmine's picks!
Edit Four: The Boho Bride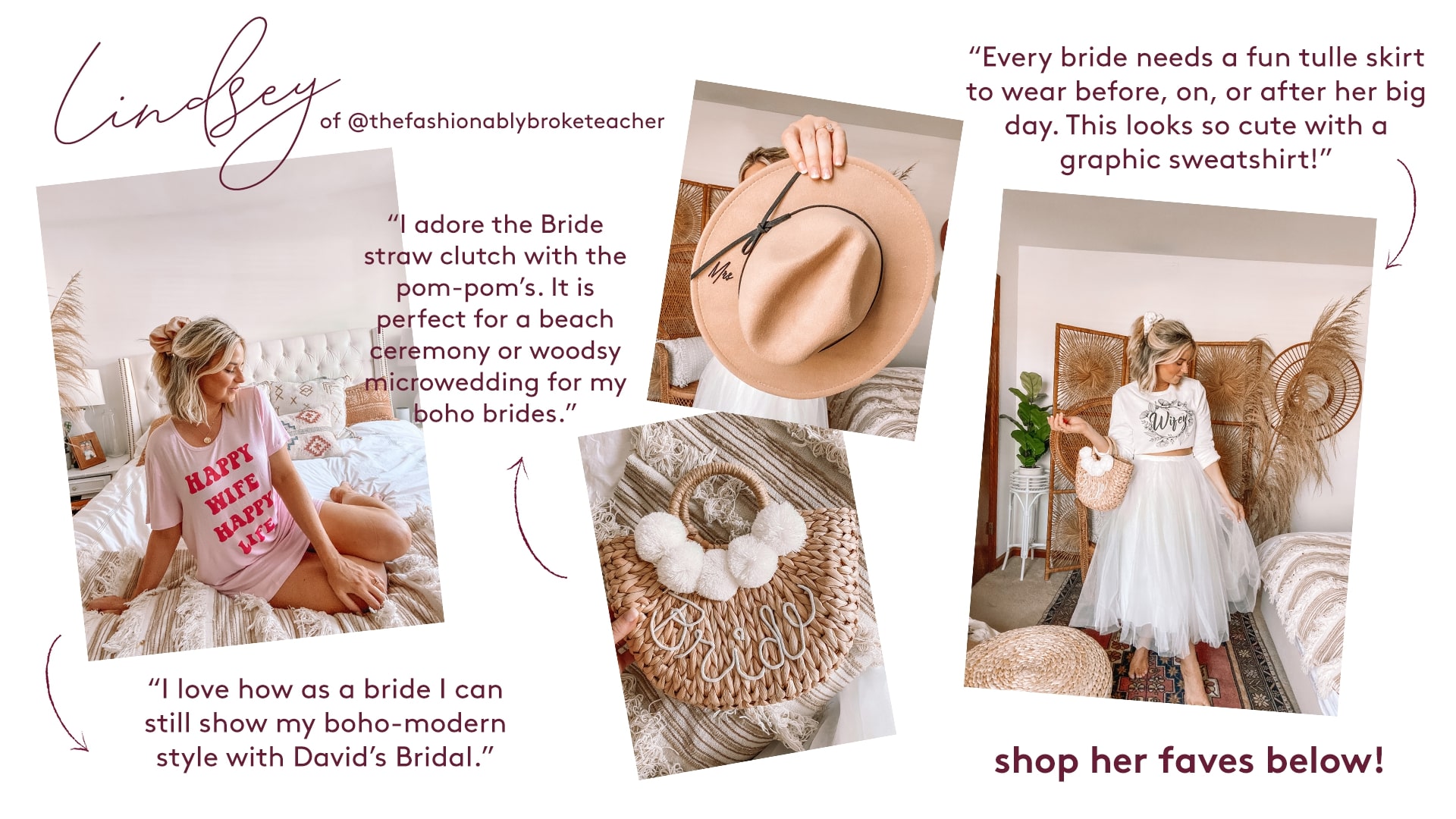 Styles IH8279JX0975, EB3336MRS, EB3354BRD, IH4819AX0504, DS150831
Lindsey from @thefashionablybroketeacher is bringing boho bride dreams to life! Bohemian style is all about incorporating different textures and earthy tones to add dimension and interest into your look! Unexpected pairings, like a tulle skirt and retro graphic tee, capture this carefree and effortless aesthetic. Finishing touches with earthy elements like florals or a warm color palette complete the boho bridal vibe.
Shop Lindsey's picks!
Edit Three: Summer Soirée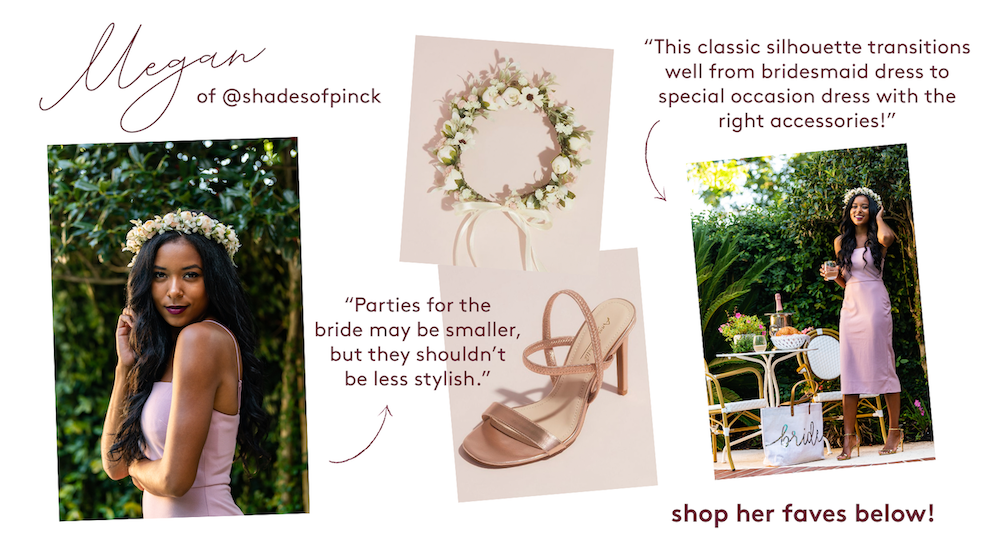 Styles SLH19252, TIMELESS55, DS270110 in Quartz, 4035007
Summer get-togethers look a little different, but just because you have a smaller guest list doesn't mean you can't still dress up! Megan of @shadesofpinck is giving us all the stylish summer soirée inspo – from classy yet casual outfits to charming décor to pull the event all together. A warm weather gathering calls for a crop hem and petal inspired color palette. And complete your look with floral extras and chic pearly accents for a fashionista-approved touch.
Shop Megan's picks!
---
Edit Two: The Edgy Bride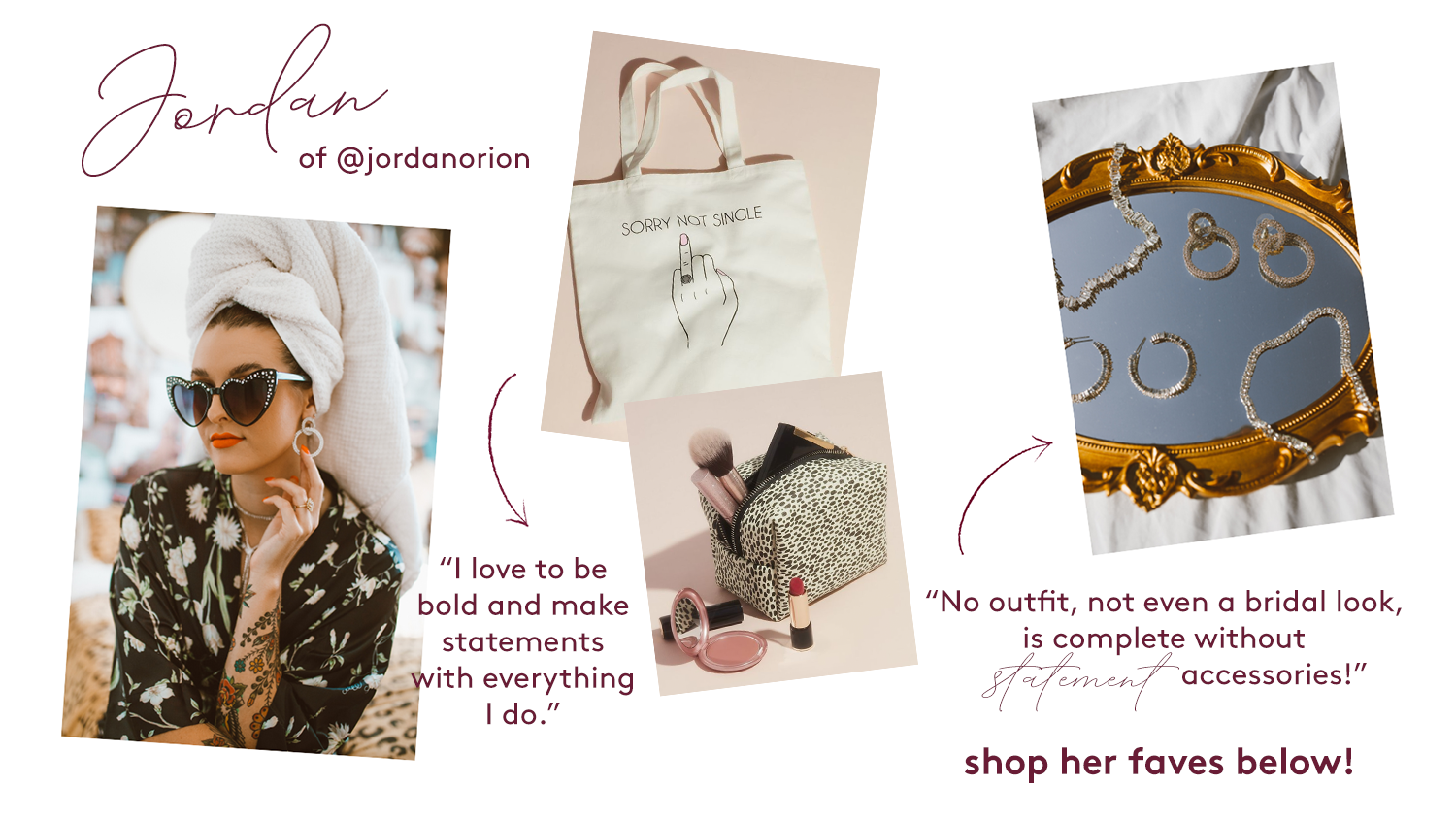 Styles WPD27350V4, IHTOTE1X0964 , COS1161, VW670002, VW670001, 20072070
When it comes to her ideal bridal look, Jordan of @jordanorion is all about a little bit of edge. From bold accessories to rock-and-roll approved looks, making a statement is the goal from everyday to the wedding day. When it comes to an edgy bridal style, it's not about breaking tradition, it's about evolving it and creating a look that is unapologetically you. Bring this vibe to life with daring, alternative silhouettes and layers upon layers of double-take accessories, for a look that is edgy and oh-so-cool.
Shop Jordan's picks!
---
Edit One: Date Night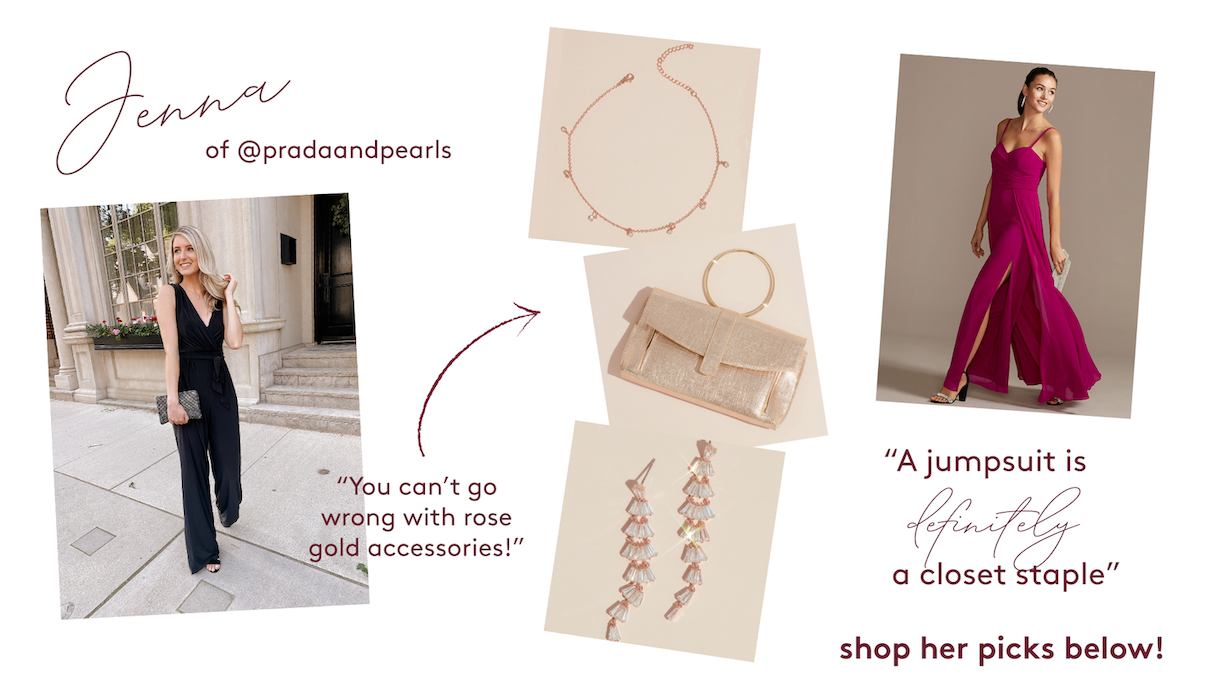 Styles DS270092, 159096EP, HBSKYLAR, Arya
Jenna of @pradaandpearls is a sucker for date night! Whether it's a fancy dinner, a concert in the park, or even a dolled up night-in, date night is the best day of the week! When it comes to what to wear, a jumpsuit is a closet staple and perfect for a night on the town. Dress it up or dress it down and you're ready for any outing with your special someone. The best part about a chic one-piece? The accessories make the look! Take note from Jenna and go monochrome! All black with a touch of sparkle is a foolproof combination.
Shop Jenna's picks!
Related Posts: