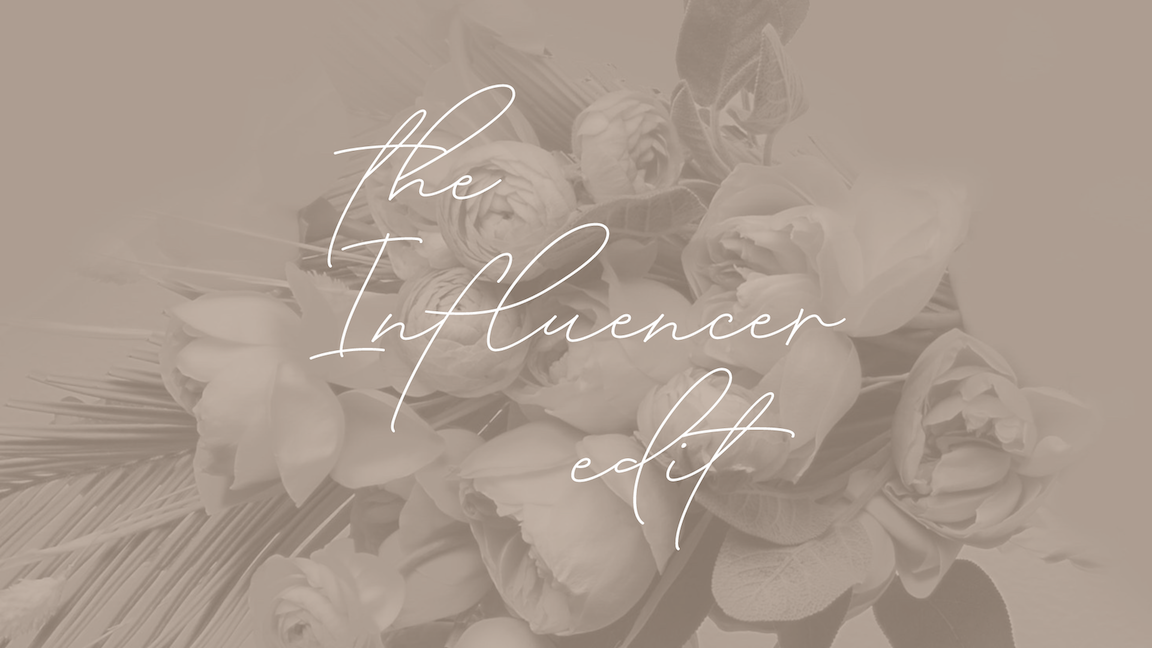 24 Sep

The Influencer Edit
Curated shops from the most stylish bloggers
From date night to girls night out to your wedding day, any and every occasion calls for a chic look! We're teaming up with some of the most fashionable influencers to bring you outfit inspiration for every event. Covet their head-to-toe looks and see even more hand-picked products from davidsbridal.com to keep the influencer-approved outfit ideas flowing! Check back each week for a new addition to the edit!
Edit Ten: The Cozy Bride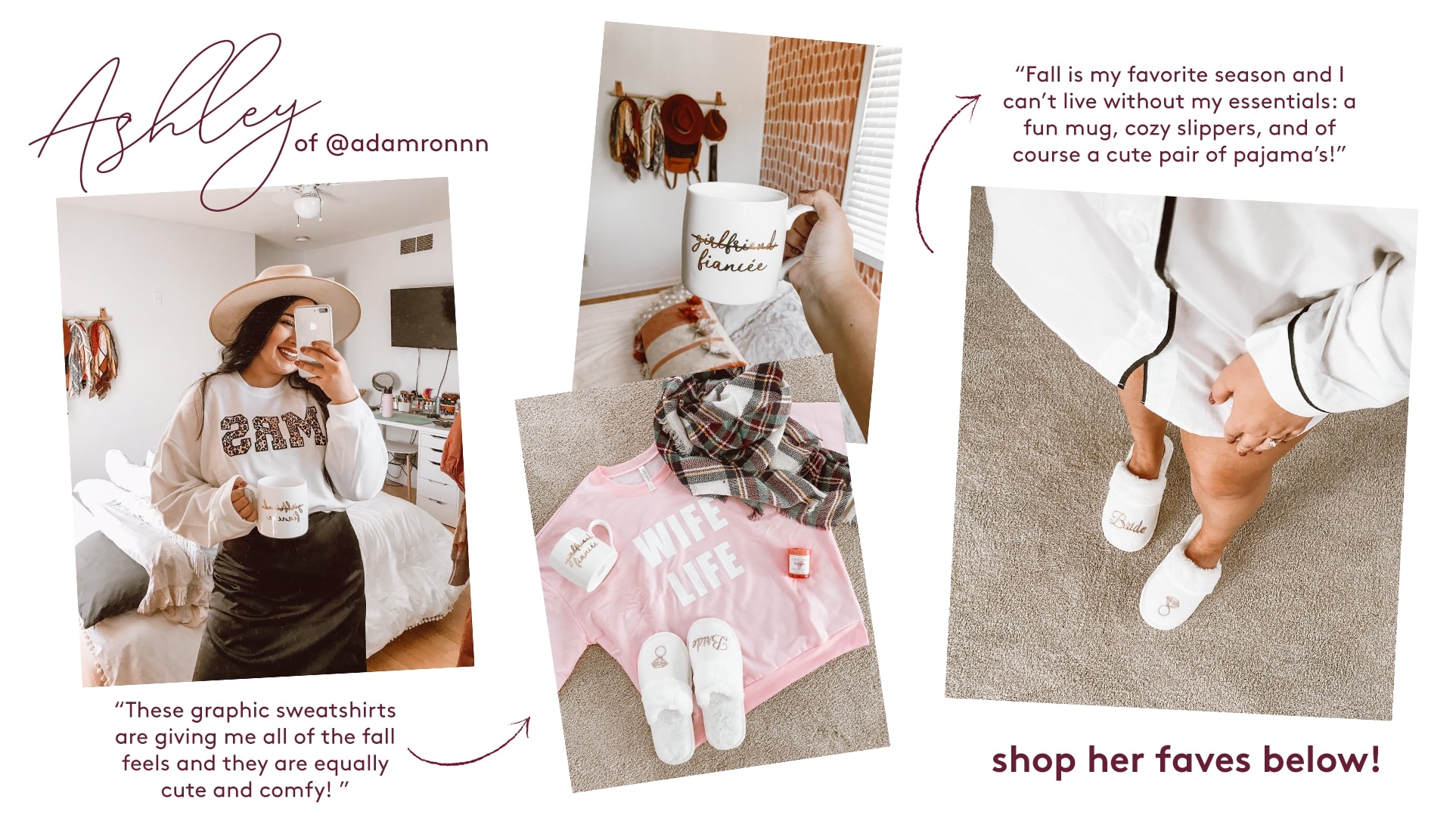 Styles IH4825AX0965, DVB04595011, OW2153, IH4955FX0762, HGA440, BRIDESL1
Autumn is calling…and Ashley of @adamronnn is answering! Fall is finally in the air and cool, crisp weather calls for cozying up in sweatshirts that are as cute as they are comfy. Add a rustic-chic touch to your bridal party photos or spruce up any outfit after the wedding with this plaid wrap shawl. Snuggle up in these embroidered "bride" slippers while boasting your soon-to-be status and pour up a cup of hot apple cider to celebrate the start of fall!
Shop Ashley's picks!
---
Edit Nine: The Casual Bride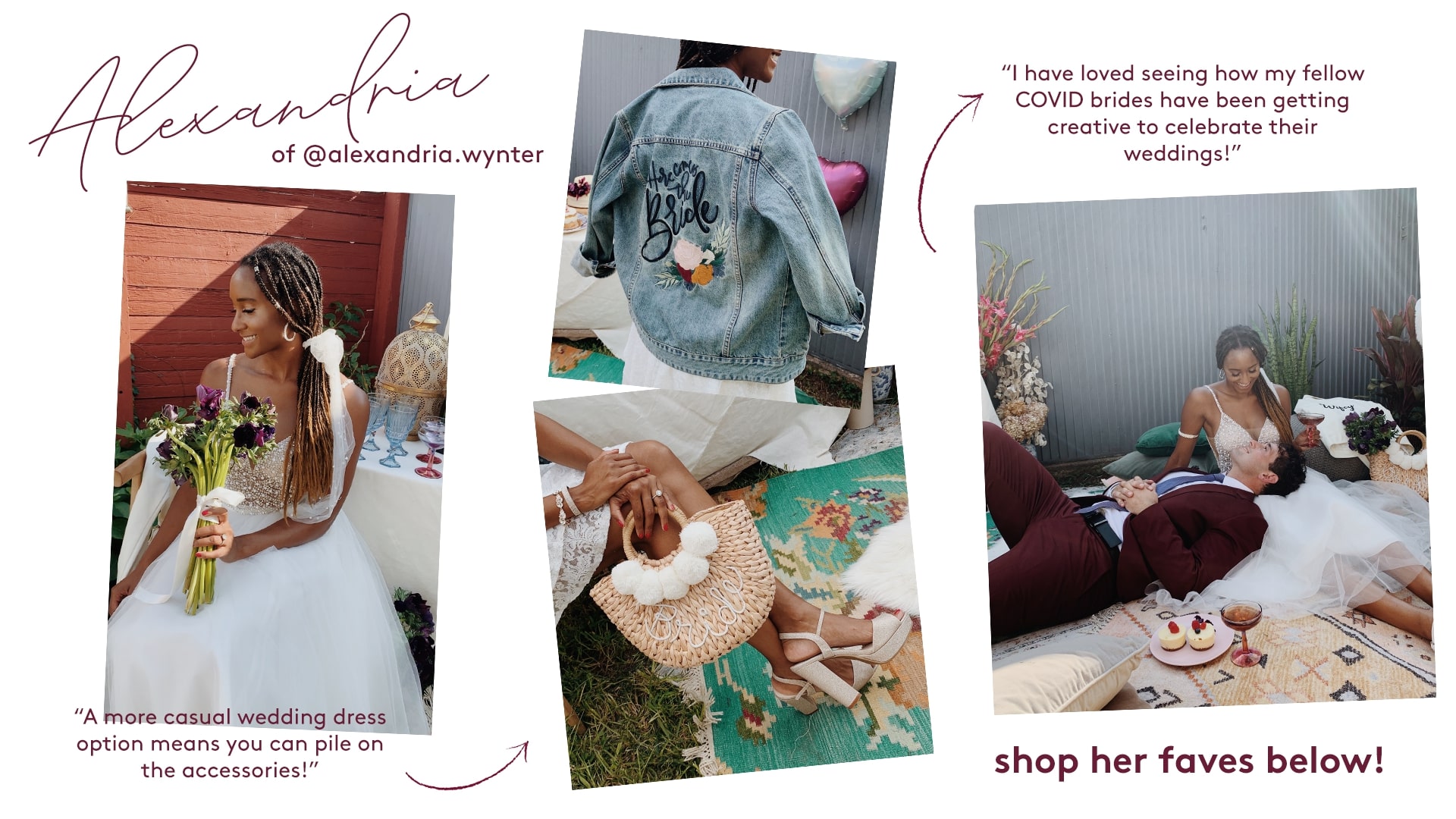 Styles DS150791, DS150831, AWC03DMC, EB3354BRD, WHITTA
A small wedding still calls for a gorgeous dress! Style and simplicity took center stage when local bride-to-be Alexandria of @alexandria.wynter modeled in our minimony campaign! Since smaller celebrations are having a major moment, brides are saying "I do" to a more casual bridal style. Trade in your traditional ball gown for a LWD or a jumpsuit. Transform your backyard with rustic DIY wedding decor, mood lighting and sentimental keepsakes to create the perfect venue that is totally YOU. Create a dreamy, nature-inspired setting with seasonal blooms to elevate your minimony space.
Shop Alexandria's picks!
---
Edit Eight: The Beachy Bride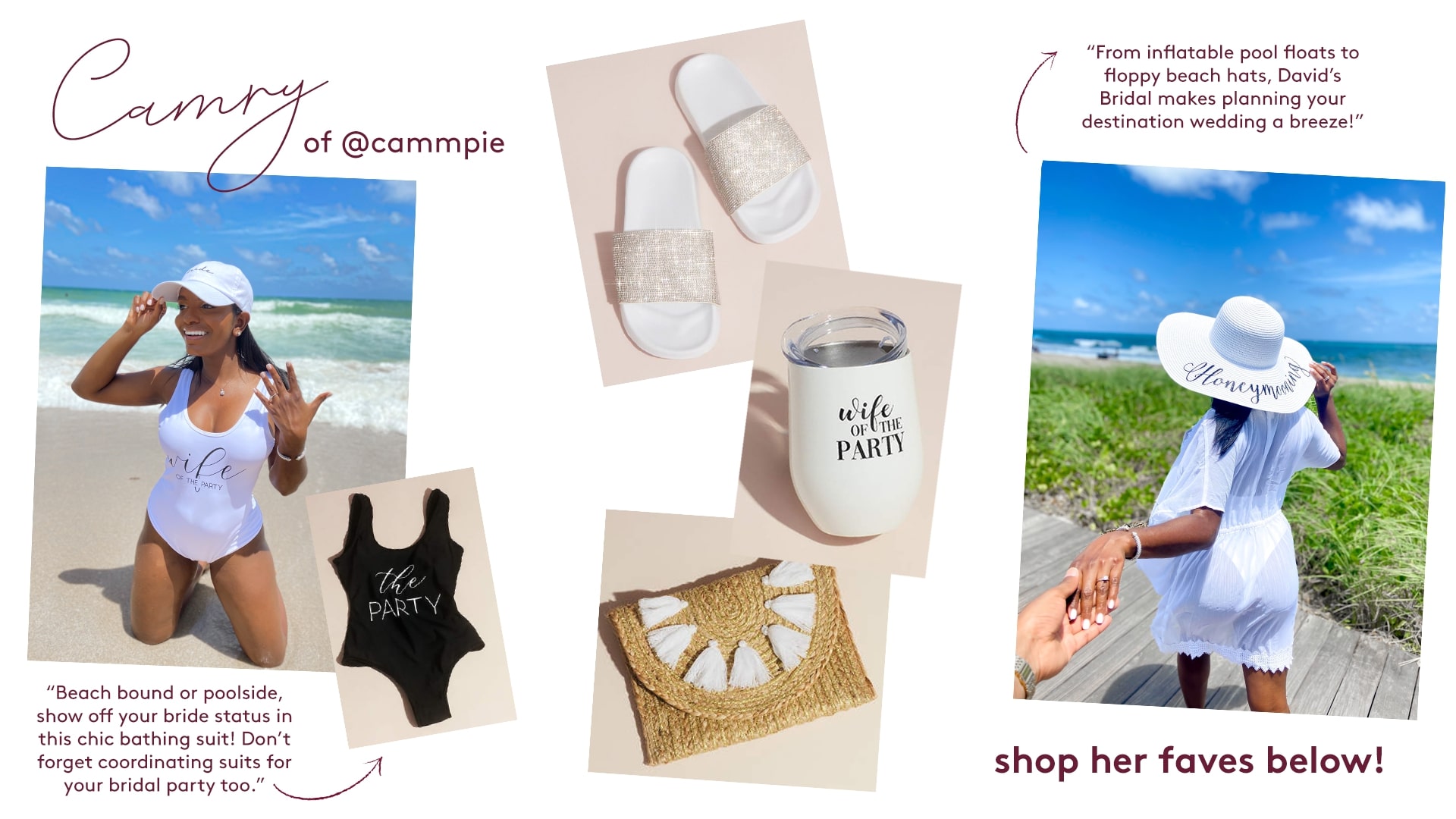 Styles IHHAT1UPL, EB3342WDDB1, EB3342WDDB2, CECE, DVBF4477, 80270033CR, HT38261, IH9191P110
If you're beach bound or hanging poolside this summer, show off your new bride status in style! Camry, of @cammpie, is here to share her must haves for a day in the sun– bride-to-be edition! Whether you're splashing around in the ocean or simply soaking up some sun, a fun bathing suit says it all. Plus top of your look with a luxe cover-up for walks to the beach bar. And from floaties to floppy hats, we have everything you need for the beach day of your dreams.
Shop Camry's picks!
---
Edit Seven: Self-Care for the Bride-to-Be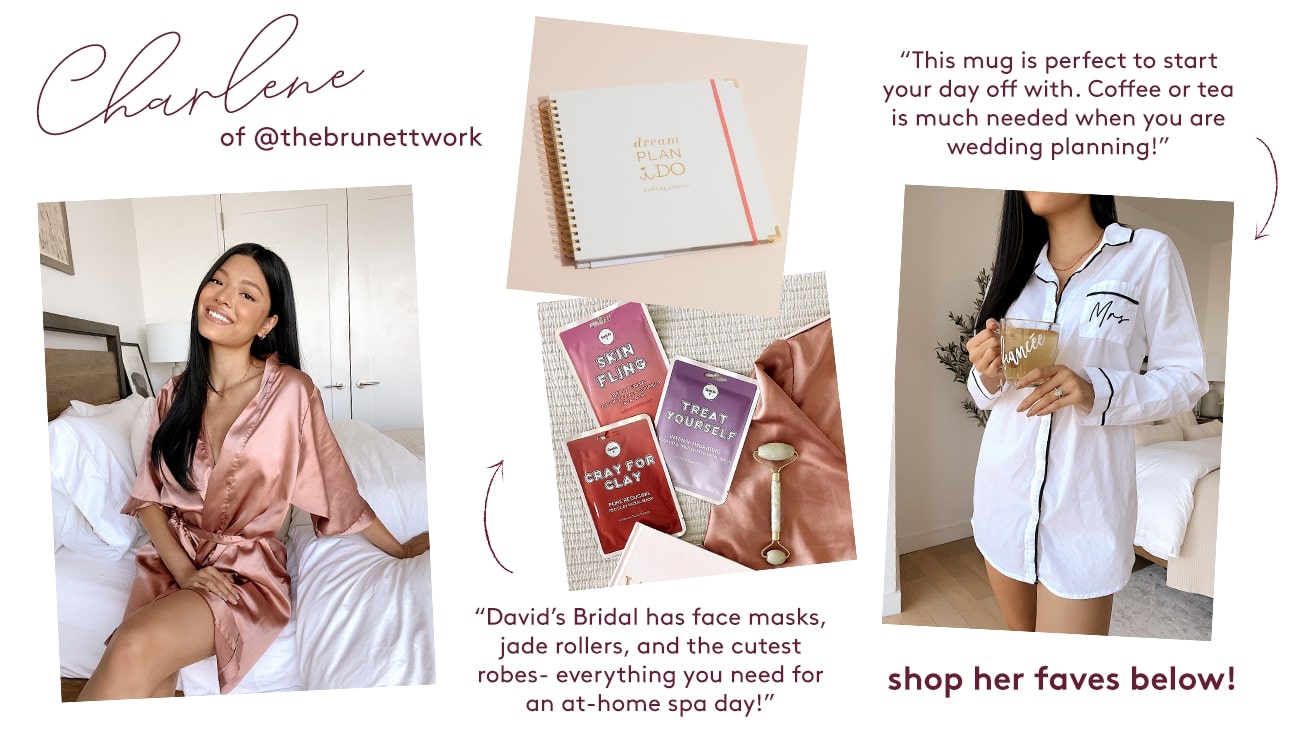 Styles FBSATROBE, DPID002, TCM100, TCM600, COS976, EB3289P, IH874PX0757
Wedding planning can be a little stressful at times, so it's all about self-love and self-care when you're a bride-to-be. Charlene of @thebrunettwork is sharing her favorite picks when treating herself to a serene spa night! An evening of pampering wouldn't be complete without a silky satin robe, a relaxing face mask, and some (or a lot!) of your favorite bubbly! Unwind and let the worry of guest lists, seating charts, and anything else weighing you down wash away. Then, light your favorite candle, slip into your comfiest bride-to-be pajamas and slippers and enjoy a night-in with your soon-to-be spouse!
Shop Charlene's picks!
---
Edit Six: The Classic Bride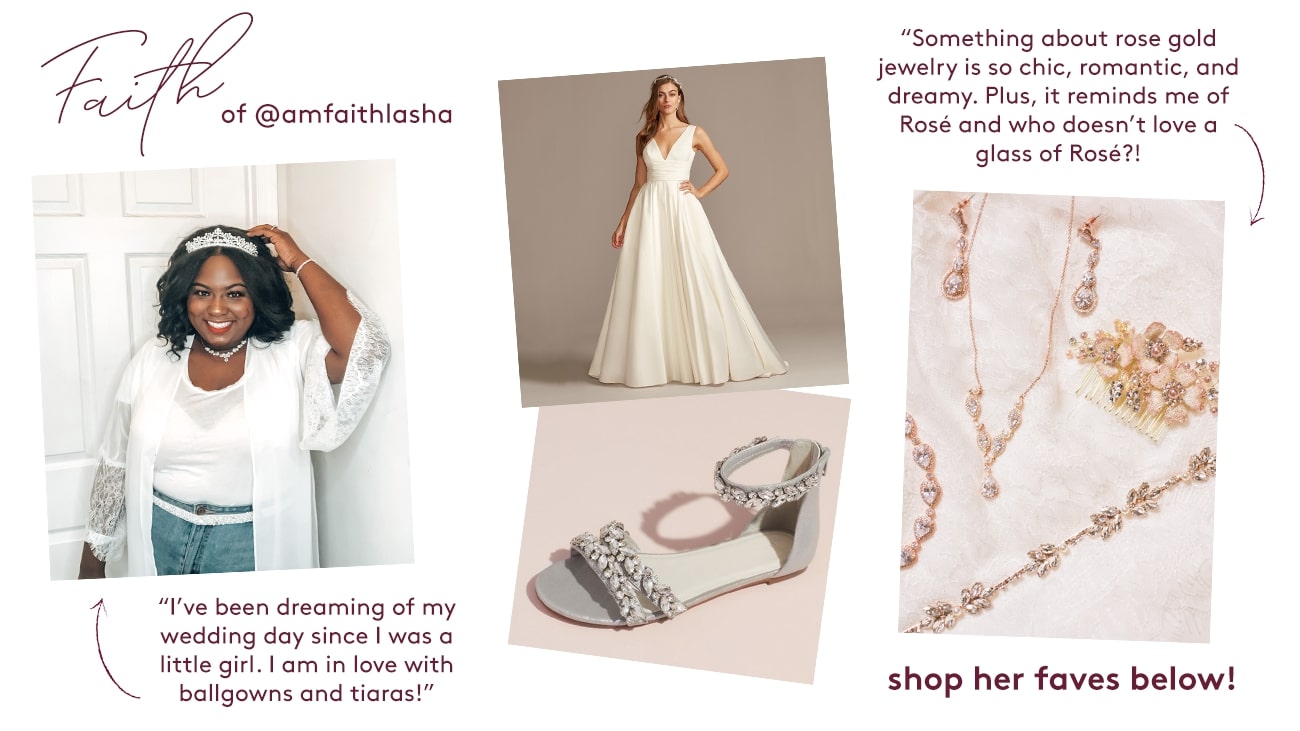 Styles H1107, WPD27345, V3848, Alessia, 10070337, 272263, E70521BR, C8162, S2068
Ready to bring your royal wedding dreams to life? Faith of @iamfaithlasha is fulfilling her princess dreams with a classic bridal look. Sway across the dance floor in an elegant ball gown that's fit for a queen. And of course, you can't have your Cinderella moment without an embellished pointed-toe pump and a royal inspired tiara! For the brides who choose timelessness over trends, this polished aesthetic is one that will never go out of style.
Shop Faith's picks!
---
Edit Five: Gifts for the Bride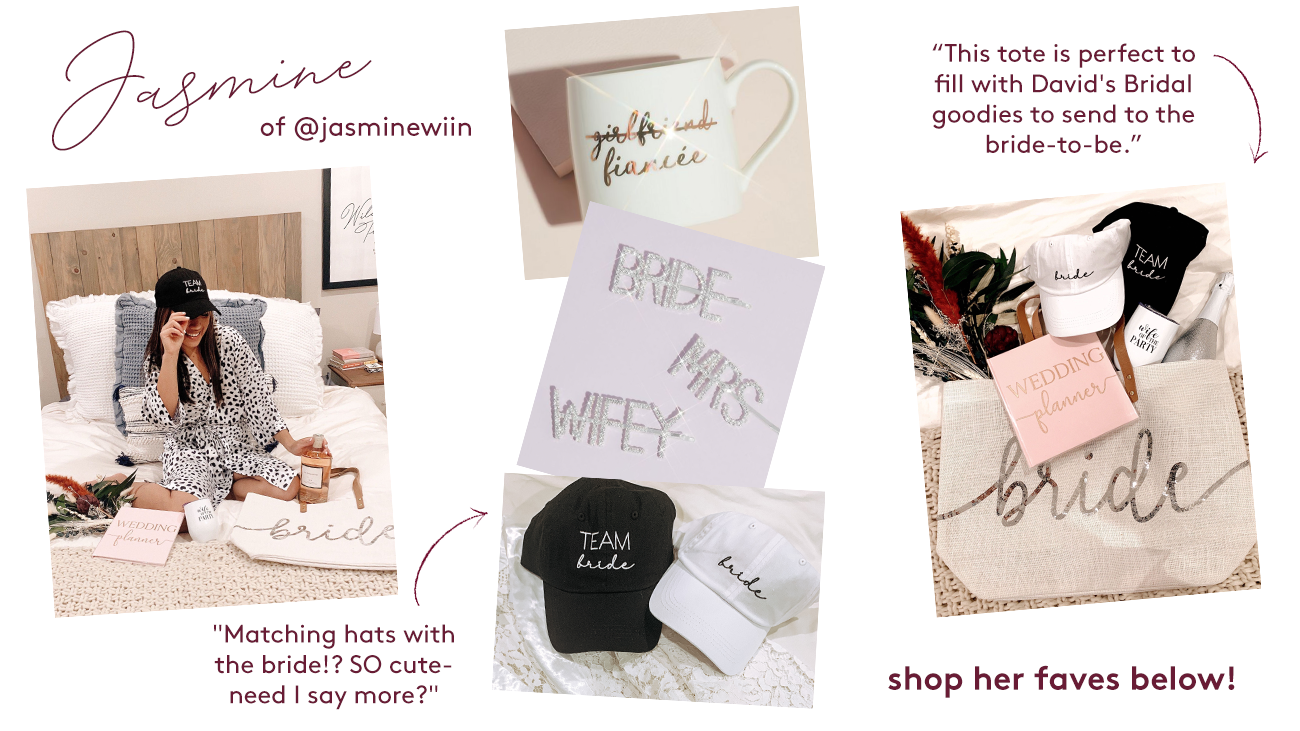 Styles DVB04595011, H24073PS, IHHAT1UPM, IHHAT1UPL, DBOB103, 4035007, DVBF4477
Maid of Honor Jasmine of @jasminewiin reporting for duty! Has your and your BFF's titles changed to Maid of Honor and Bride-to-Be? Well, we've got you covered! When it comes to showering the bride-to-be, it's all about celebrating her new status update. Practical and on-trend gifts, accessories, and apparel will be her new go-to items. Wedding planning is made easy when paired with a cute planner- bride fuel in a cute mug always helps too! Stylish robes are a bride's best friend, you can even snag one for yourself. Don't forget the rest of the party! Customizable gifts for the bride and your fellow bridesmaids will be a hit from the bach party to the after party.
Shop Jasmine's picks!
Edit Four: The Boho Bride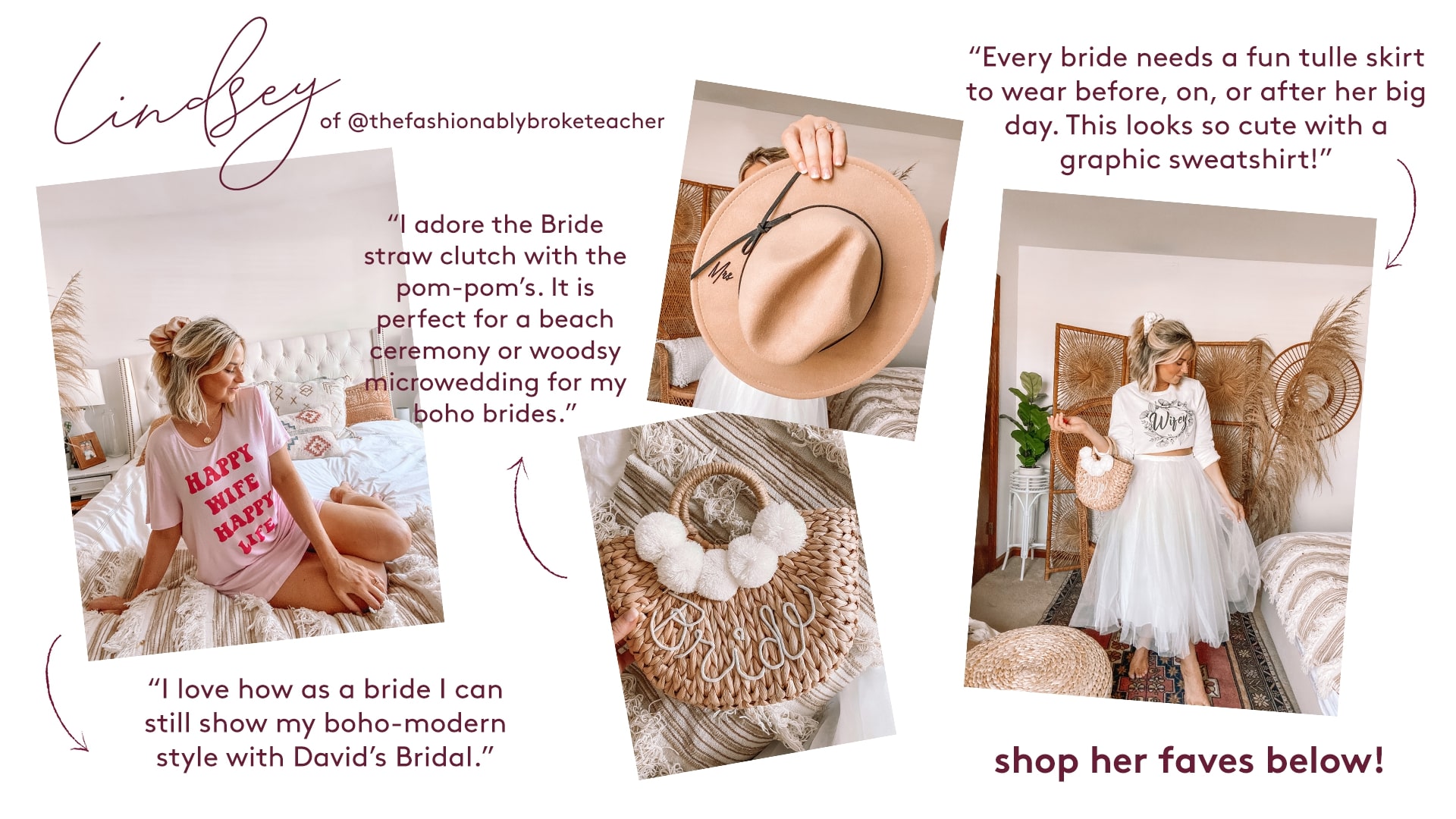 Styles IH8279JX0975, EB3336MRS, EB3354BRD, IH4819AX0504, DS150831
Lindsey from @thefashionablybroketeacher is bringing boho bride dreams to life! Bohemian style is all about incorporating different textures and earthy tones to add dimension and interest into your look! Unexpected pairings, like a tulle skirt and retro graphic tee, capture this carefree and effortless aesthetic. Finishing touches with earthy elements like florals or a warm color palette complete the boho bridal vibe.
Shop Lindsey's picks!
Edit Three: Summer Soirée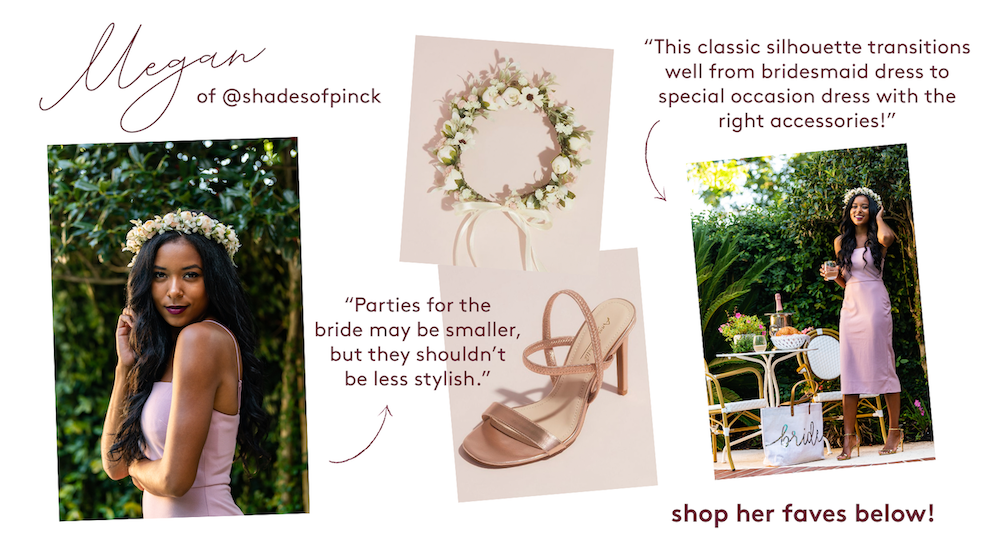 Styles SLH19252, TIMELESS55, DS270110 in Quartz, 4035007
Summer get-togethers look a little different, but just because you have a smaller guest list doesn't mean you can't still dress up! Megan of @shadesofpinck is giving us all the stylish summer soirée inspo – from classy yet casual outfits to charming décor to pull the event all together. A warm weather gathering calls for a crop hem and petal inspired color palette. And complete your look with floral extras and chic pearly accents for a fashionista-approved touch.
Shop Megan's picks!
---
Edit Two: The Edgy Bride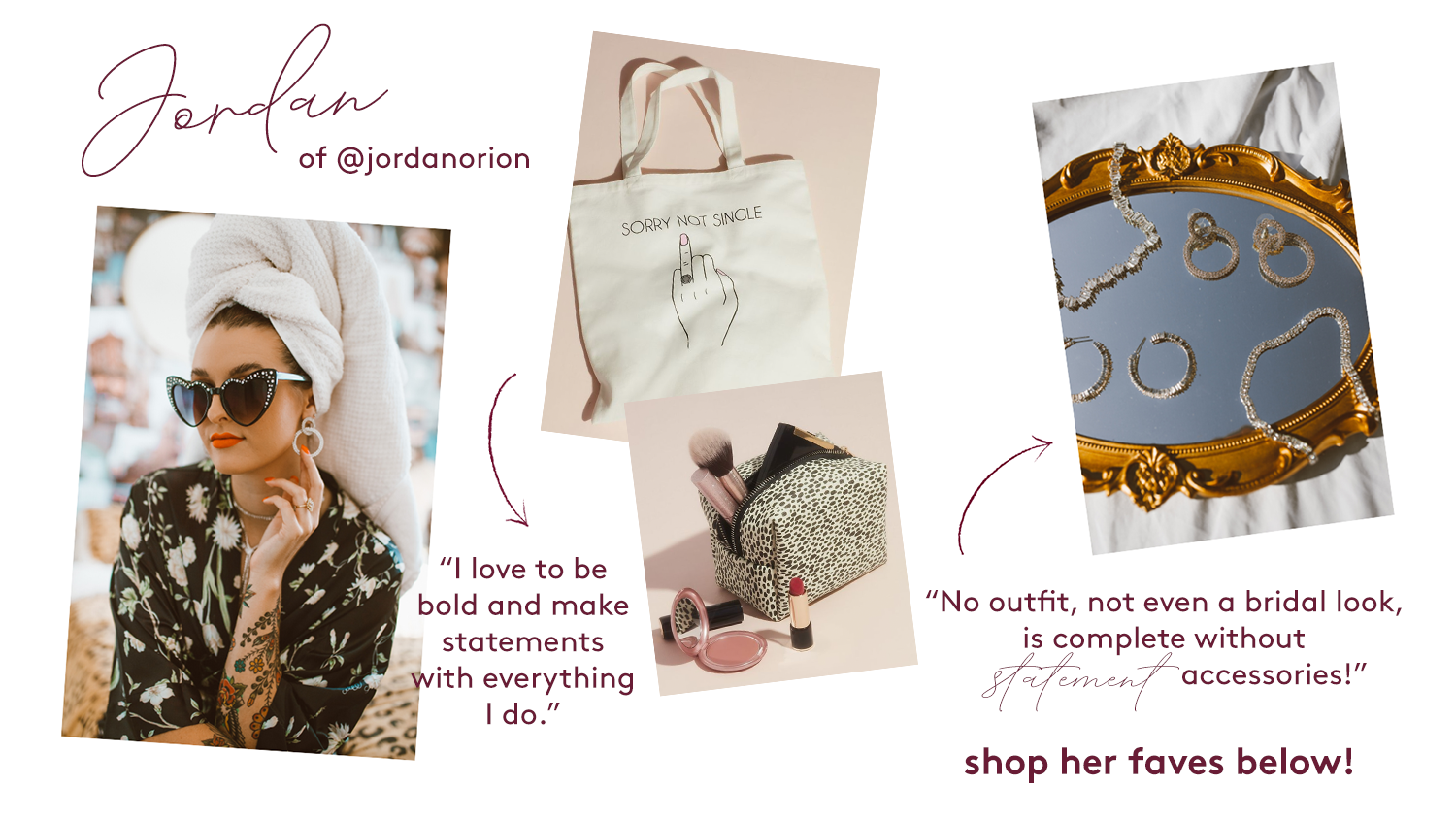 Styles WPD27350V4, IHTOTE1X0964 , COS1161, VW670002, VW670001, 20072070
When it comes to her ideal bridal look, Jordan of @jordanorion is all about a little bit of edge. From bold accessories to rock-and-roll approved looks, making a statement is the goal from everyday to the wedding day. When it comes to an edgy bridal style, it's not about breaking tradition, it's about evolving it and creating a look that is unapologetically you. Bring this vibe to life with daring, alternative silhouettes and layers upon layers of double-take accessories, for a look that is edgy and oh-so-cool.
Shop Jordan's picks!
---
Edit One: Date Night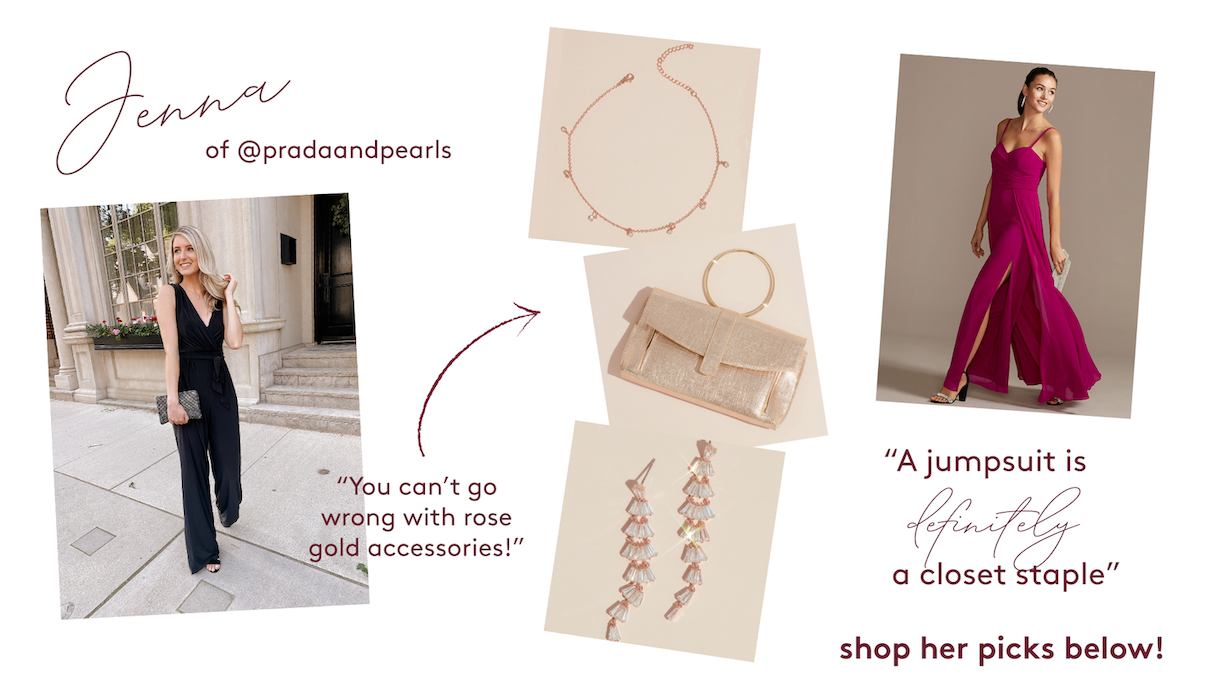 Styles DS270092, 159096EP, HBSKYLAR, Arya
Jenna of @pradaandpearls is a sucker for date night! Whether it's a fancy dinner, a concert in the park, or even a dolled up night-in, date night is the best day of the week! When it comes to what to wear, a jumpsuit is a closet staple and perfect for a night on the town. Dress it up or dress it down and you're ready for any outing with your special someone. The best part about a chic one-piece? The accessories make the look! Take note from Jenna and go monochrome! All black with a touch of sparkle is a foolproof combination.
Shop Jenna's picks!
Related Posts: