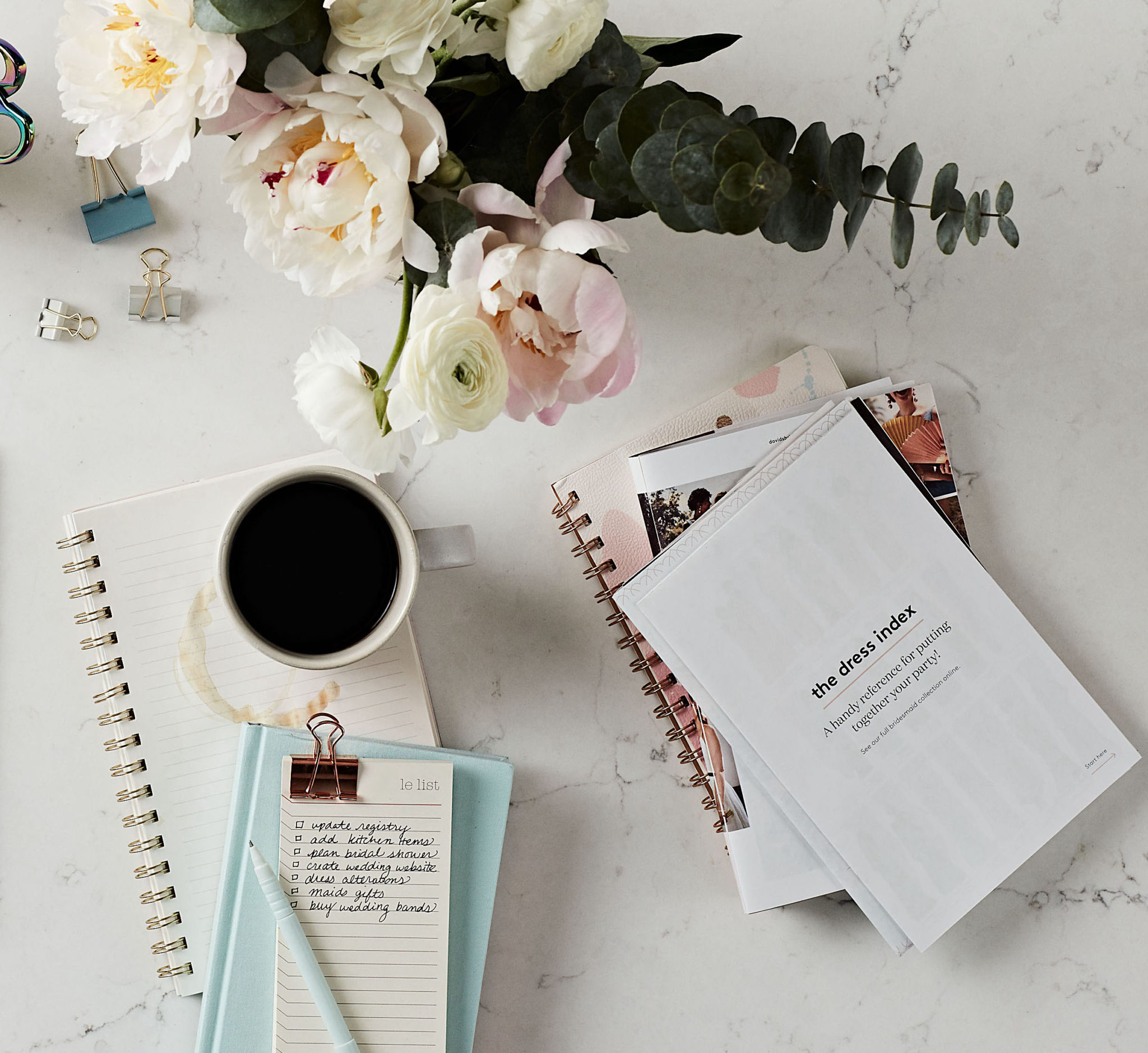 02 Nov

How to Budget for a Wedding: A Walkthrough
Q&A Guide on Wedding Budgeting 101
Certain factors need to be considered when planning your special day, such as finding your dream wedding dress, coordinating with vendors, and creating the overall vision for the day. In addition to that, creating your wedding budget is without a doubt a crucial initial step of the wedding planning process. A wedding budget is unique to each individual couple so before diving into wedding planning, the first step is figuring out what your wedding budget will be. Have questions on how you can save and budget for your big day? Maggie Lord, Head of Wedding Planning, has answered some of the top questions real brides have asked when planning. Keep reading to learn more!
Wedding Budget Breakdown
Just like every couple, every wedding budget is unique and slightly different. When you are in the early stages of planning your wedding it is best to use a simple wedding budget breakdown like the one below to estimate how much of your budget you will need to earmark for each wedding vendor. Typically the venue and catering will take up the majority of your wedding budget followed by photography and music.
Venue and Catering: 40 percent of your budget
Photography and Videography: 15 percent of your budget
Music/Entertainment: 10 percent of your budget
Flowers: 10 percent of your budget
Décor: 10 percent of your budget
Wedding Attire and Beauty: 5 percent of your budget
Transportation: 3 percent of your budget
Stationery: 3 percent of your budget
Favors and Gifts: 2 percent of your budget
Cake: 2 percent of your budget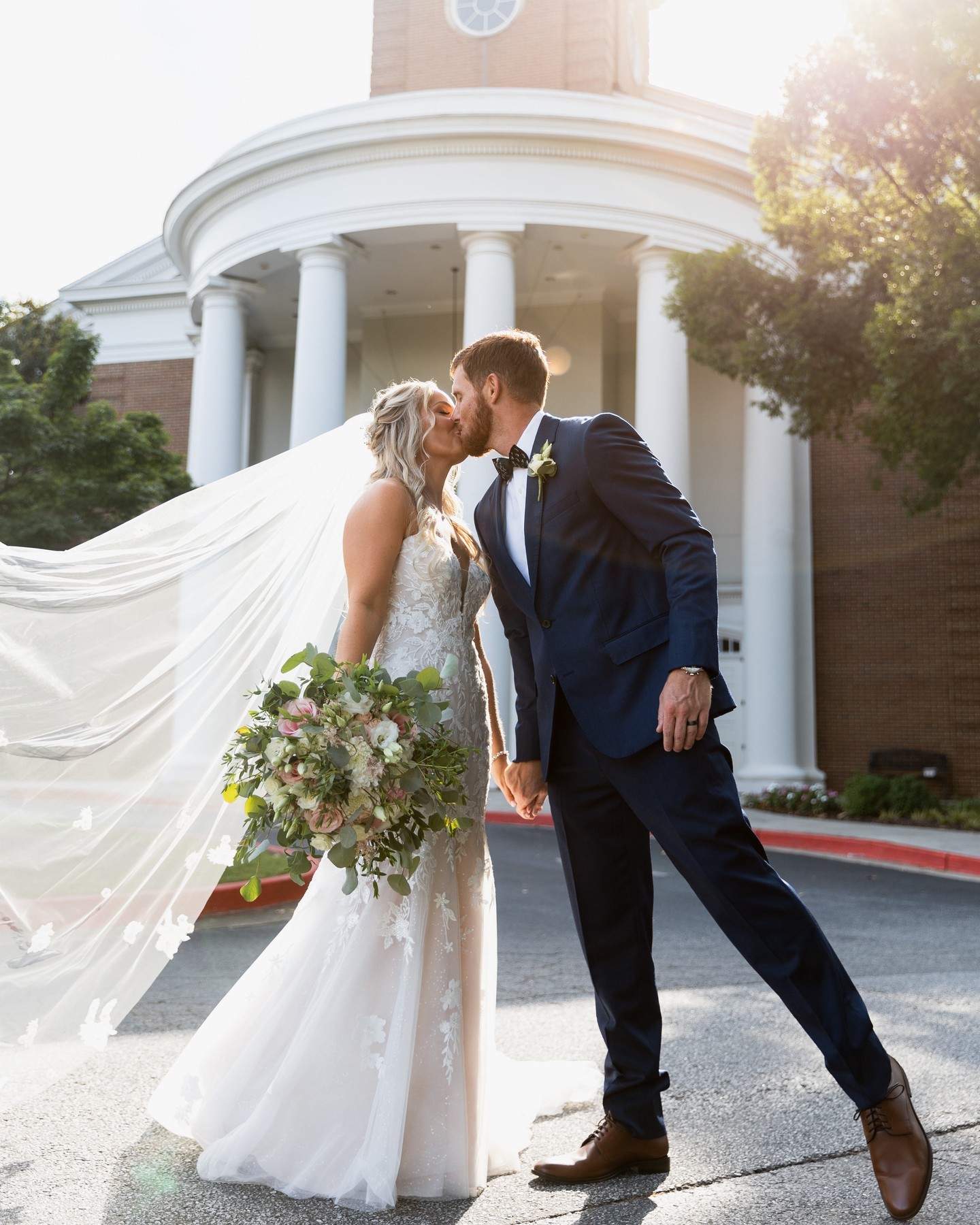 Overall Wedding Budget FAQs
Wedding planning can be stressful especially when it comes to the wedding budget part of the process, so to help you navigate the financial part of the process we have compiled the most commonly asked wedding budget questions and answers from wedding planning expert, Maggie Lord, Head of Wedding Planning for David's Bridal.
Why is budget planning for a wedding important?
Wedding budgeting for your big day is super important to help allocate funds for your big day. Having a well-thought-out wedding budget helps to plan for all of the expenses the couple will have and allow them to enjoy the overall planning process more. Creating a budget will reduce some of the stress that can come with wedding planning because it will act as a roadmap for where and when you will spending your money to bring your dream day to life.
When should I start planning my wedding budget?
The earlier the better in the wedding planning process that you can create a wedding budget the better. Every day that passes in the wedding planning process that you don't have your wedding budget in place you could be spending cash and not know exactly how much of your budget you are dipping into. Couples should start planning their wedding budget 2-3 weeks after they get engaged. It's nice to have the budget planned and vision board before going out to find venues or dress shopping.
Is it possible to get married for under $10,000?
Yes, you can plan the most incredible wedding for under $10,000. You can save anywhere from 30% to 40% of your overall budget by looking for a free or affordable venue (think local farms, museums, and community spaces). By saving on your wedding venue you'll still have plenty of wedding budget left to cover your dream dress and all of the extras. Another great way to keep your wedding under the $10K mark is to keep your guests list under 100 people, the less guests you have the less you will need to spend on every part of the wedding including venue space, catering, invitations and everything else.
What is the one thing that people forget to budget for their wedding?
It seems the one thing couples forget to budget for is postage. Stamps are needed when addressing your save-the-dates, invitations, and RSVP cards along with your bridal shower thank you cards and wedding thank you cards. Postage costs especially for large weddings can creep up easily to between $300-$500 before you know it. It is best to add this line item to the "stationery" part of your wedding budget.
What is the first step in creating a budget for a wedding?
Couples should sit down and talk about the top 3 areas that are important to each one of them. While the music, theme and location might be important to one, the other may find that the flowers, guest count and videographer are important to them. So figure out what is most important to you and your partner and this is a great first step on where to start.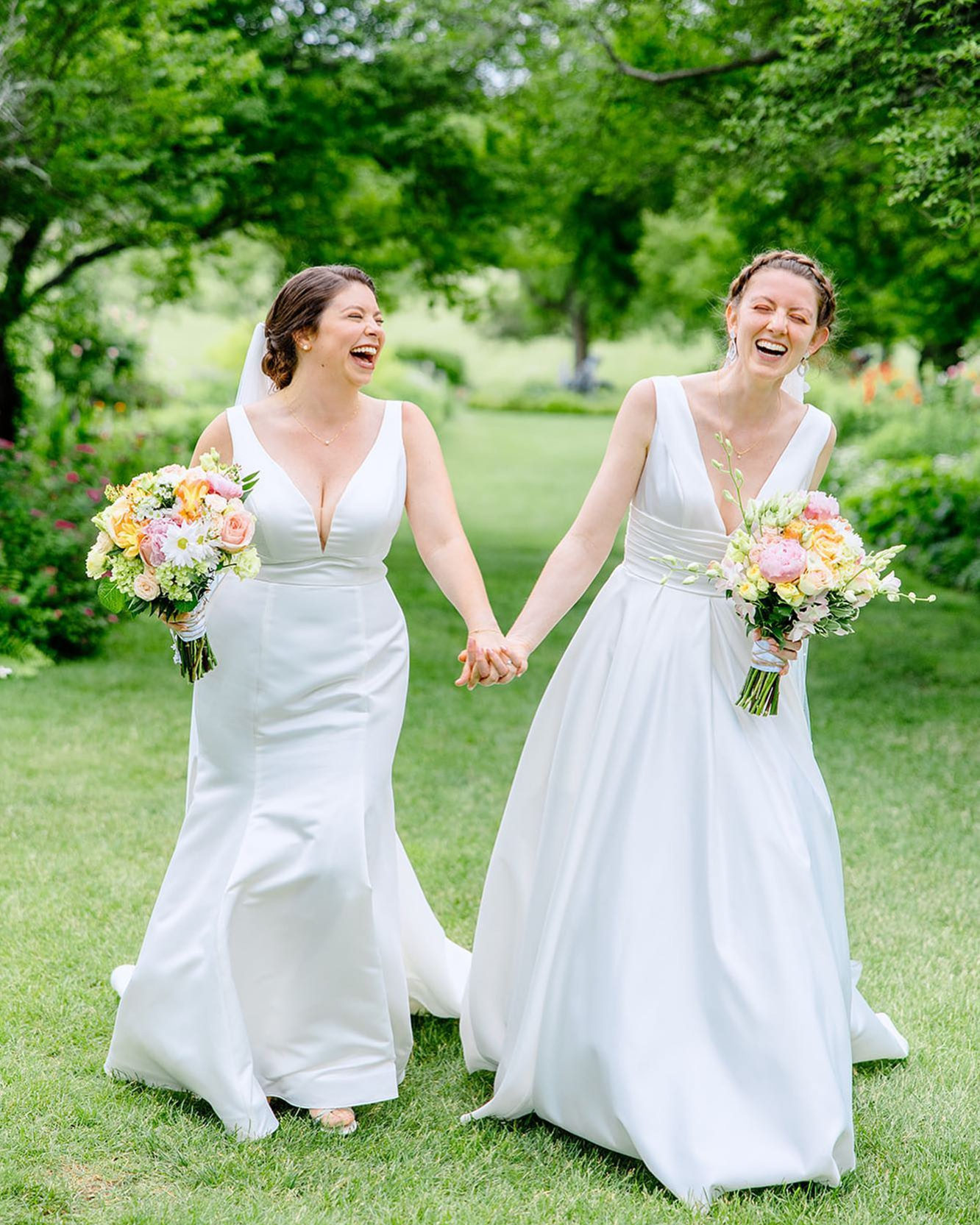 Ways to Decrease Wedding Budget FAQs
Now that you know why you need a wedding budget and how to create one we can move on to answering the most frequently asked questions about how to lower your wedding budget.
How do I cut my overall wedding budget?
The fastest way to cut your overall wedding budget is by cutting guests! We know that is one of the hardest things for brides and couples to do but it is the easiest and fastest way to save on your big day. Almost everything you buy for your wedding is a multiple of your guest list. The food, bar, cake, wedding favors, etc all will go down (or up) with your total headcount.
How can I reduce my budget without cutting guests?
Wedding favors and transportation (party bus, limo, etc.) are two of the easiest areas to cut without guests noticing. One other money saving tip is what Maggie Lord calls the "every other" table trick. This tip is to put centerpieces on every other table instead of all of them and to use something more budget friendly like candles on the tables you don't decorate with floral. This hack will allow for you to save in your overall budget but won't alter the way the decor looks and feels at your reception.
What's the most expensive part of a wedding?
Your venue will take up most of your wedding budget and you should earmark around 30% of your total budget for your venue. Right behind the venue is the catering which is roughly around 20% of your overall budget.
Is it more expensive to get married on Saturday?
Yes, it is more expensive to get married on a Saturday and this is because it is the most popular day of the week to say "I do", so wedding vendors can charge more on this day. To save, you can plan a weekday wedding, and thanks to how popular weekdays weddings have become your guests will not find it strange at all!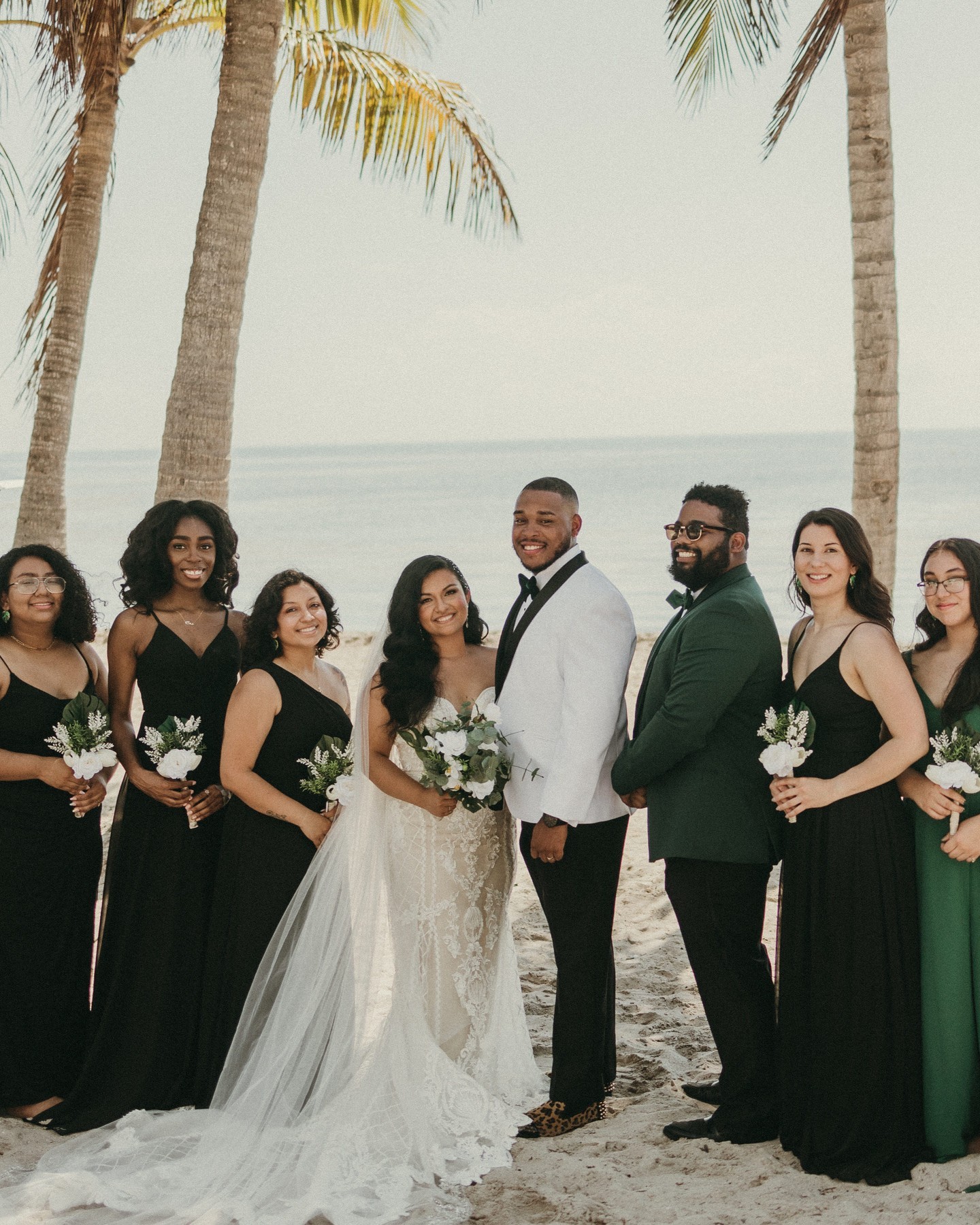 Wedding Destination & Dates that Increase Budget FAQs
It is without question that certain destinations and dates can increase the overall wedding budget and that can be attributed to the fact that most couples want to say "I do" in the Summer and Fall. Keep reading to get the answers to the most frequently asked questions on destinations and wedding dates.
Are destination weddings cheaper?
A destination wedding can be a cheaper option, but you will need to factor in travel costs which you might not have to if you were to host your wedding more locally. Many destination weddings have all-inclusive options which help to lower the overall cost. Many tropical destinations options can get pricey in their high travel season which can drive the cost up so it worth doing to research to see how those travel seasons could impact your wedding costs.
Does the season impact the wedding budget?
Yes, Summer and Fall are the most expensive seasons to get married. Many venues will have a slightly lower cost for Winter and early Spring weddings (especially if the venue is in a colder climate).
Wedding Vendors & Favors that Increase Budget FAQs
Wedding vendors are going to take up a substantial amount of your wedding budget so it is crucial to decide which vendors you will contract with and which vendors you could potentially live without on your big day.
Are wedding videographers worth the cost?
At the end of the day, your images and videos are what will be left so I do think it is worth the investment for a videographer. One way to save a little but still have a videographer is to only have them cover the ceremony and reception around 4-6 hours and not the entire day of 10 plus hours of coverage.
Should I give wedding favors?
Wedding favors are a nice way to thank your guests for coming to your event; however, you aren't obligated to give them out. If you are trying to stay on a tight budget, wedding favors would be the first thing I suggest cutting. If you have your heart set on giving out a wedding favor I suggest some sort of food favor, guests love them and they are rarely left behind.
Wedding Bridal Party Budgeting FAQs
The bridal party is there to support the bride through her wedding planning and of course stand beside her on the wedding day but there are several questions that come up around who should be expected to pay for what when it comes to the bridal party as it would impact the overall wedding budget.
Do the bride and groom have to pay for their bridal party?
No, the bridal party is not responsible to pay for items they will need for the wedding day along with travel and accommodations. If you have it in your budget to cover the cost for your bridal party that is great, but it is not a must and the bridal party should not expect it.
How much should a couple save for last-minute wedding costs?
It is suggested to save between 3-5% of your overall wedding budget for last-minute changes or costs such as overtime fees, travel or transportation fees, or even tax and gratitude.
Who pays for the bachelorette or bachelor party?
Traditionally the bridal party will pay for this event however, if people outside the bridal party are attending then it is customary for them to contribute to the overall cost as well. It is important to understand the bride's vision for the pre-wedding event so that the bridal party can work to plan something she wants but within the budget that works for everyone.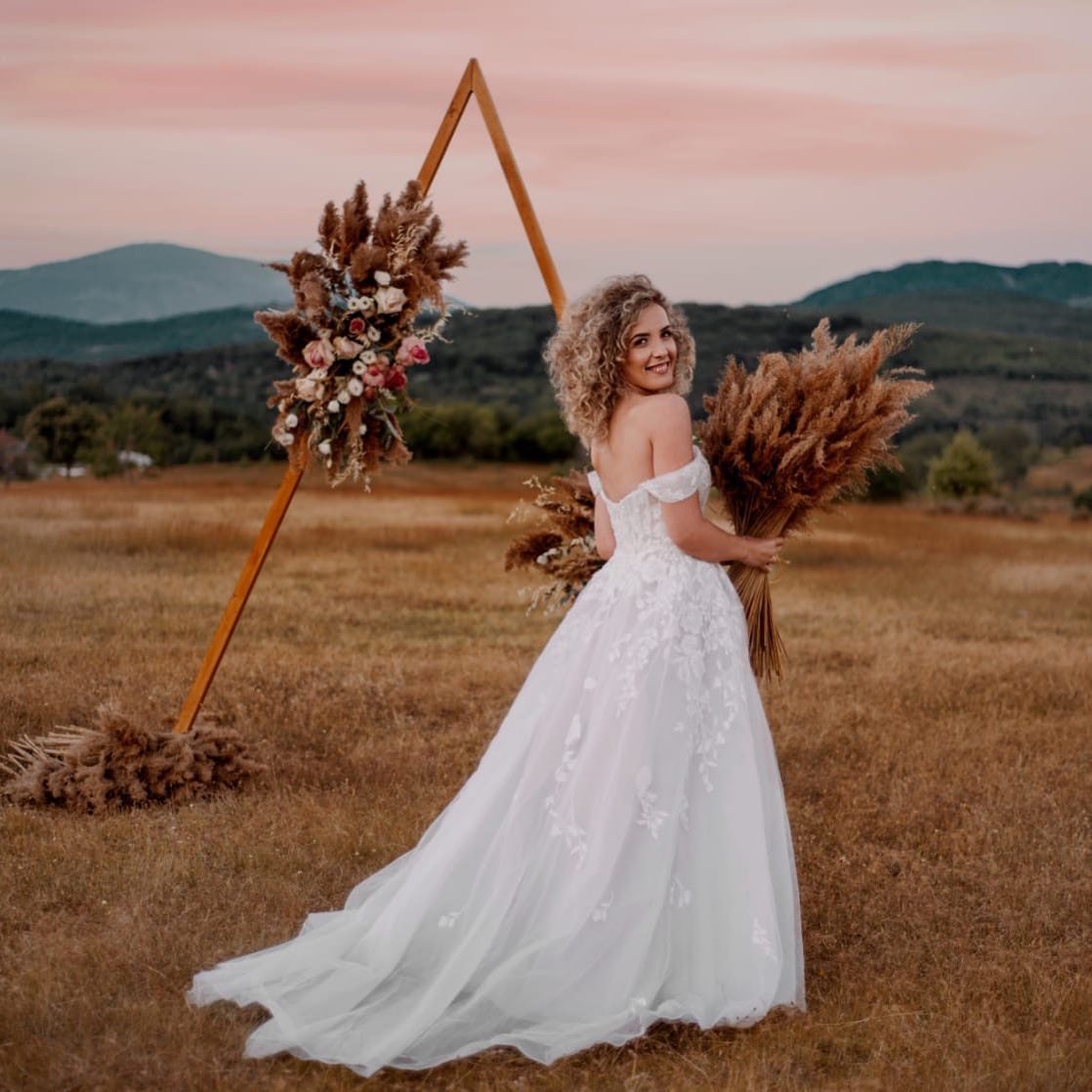 Wedding Seasons That Increase Budget FAQs
The time of year you want to say "I do" will impact the cost of the event without a doubt. If you are looking to save a little on your budget consider getting married outside of the peak season!
What are the most expensive seasons to get married?
Summer and Fall are the most expensive seasons to say "I do" — this is because these months are the most popular seasons to get married so wedding venues and wedding vendors can charge more and there are many more couples trying to work with the same pool of vendors.
Which months are the cheapest to get married?
December through March are typically a tiny bit cheaper especially if you live in a cold climate location.
Which months are the most expensive to get married?
June through October are the most expensive months to tie the knot.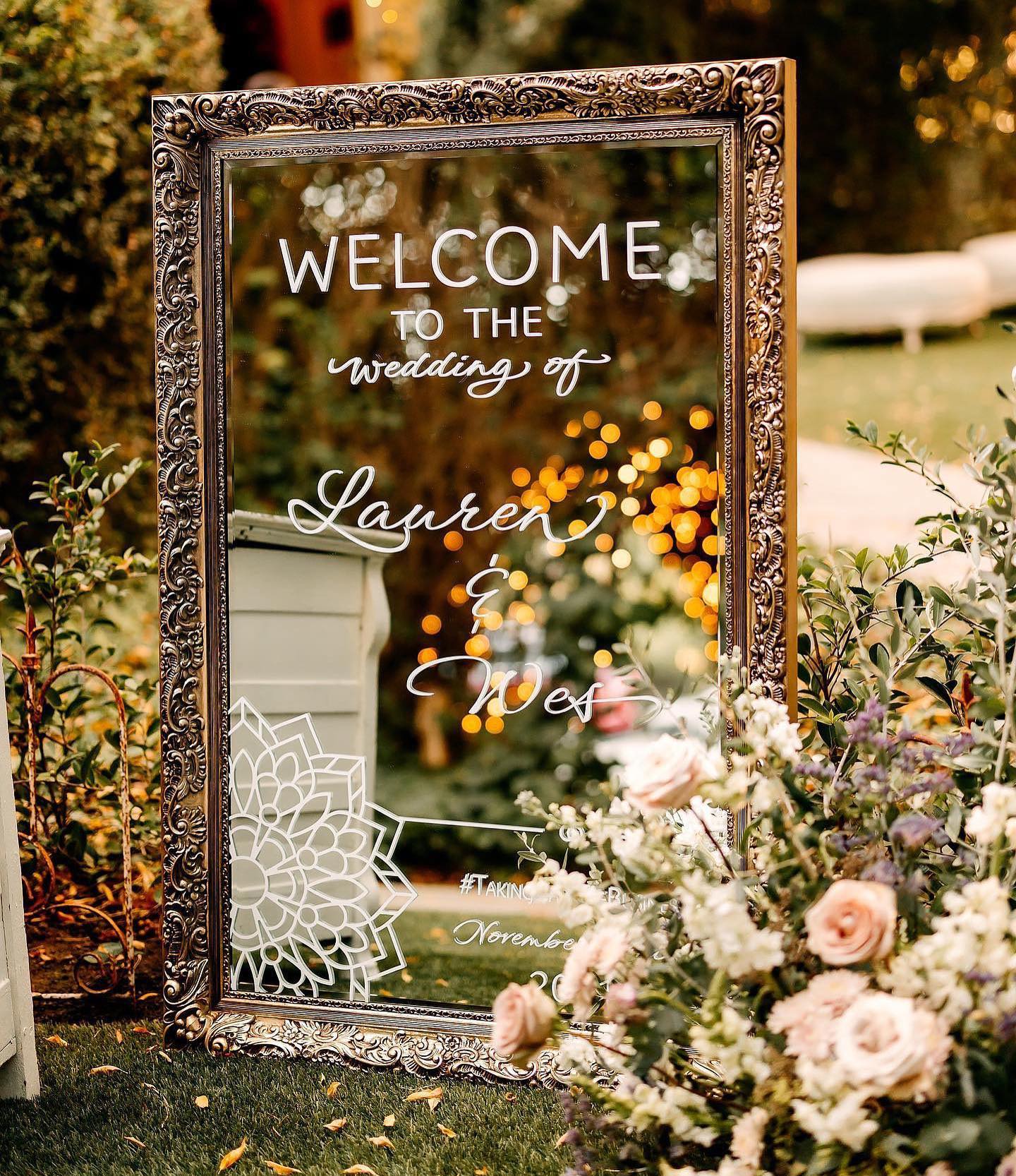 Wedding DIY Budgeting FAQs
Many couples will take on DIY projects in an effort to save on the wedding budget and while this can be true it sometimes can actually end up costing you more. Take a look at the most popular questions when it comes to wedding DIY'ing and wedding budgets.
Do DIY wedding decorations really save you money?
They can if it is a skill that you or someone you are close to has a talent for. One tip for DIY'ing is that I don't suggest taking on a new skill like arranging all the florals just to try and save money — this can lead to frustration and may even cost you more in the long run if you have to redo the project multiple times to get it the way you want.
Do you hire a decorator or DIY wedding decorations?
A bride can really go either way on this depending on the style and theme of the wedding and the budget.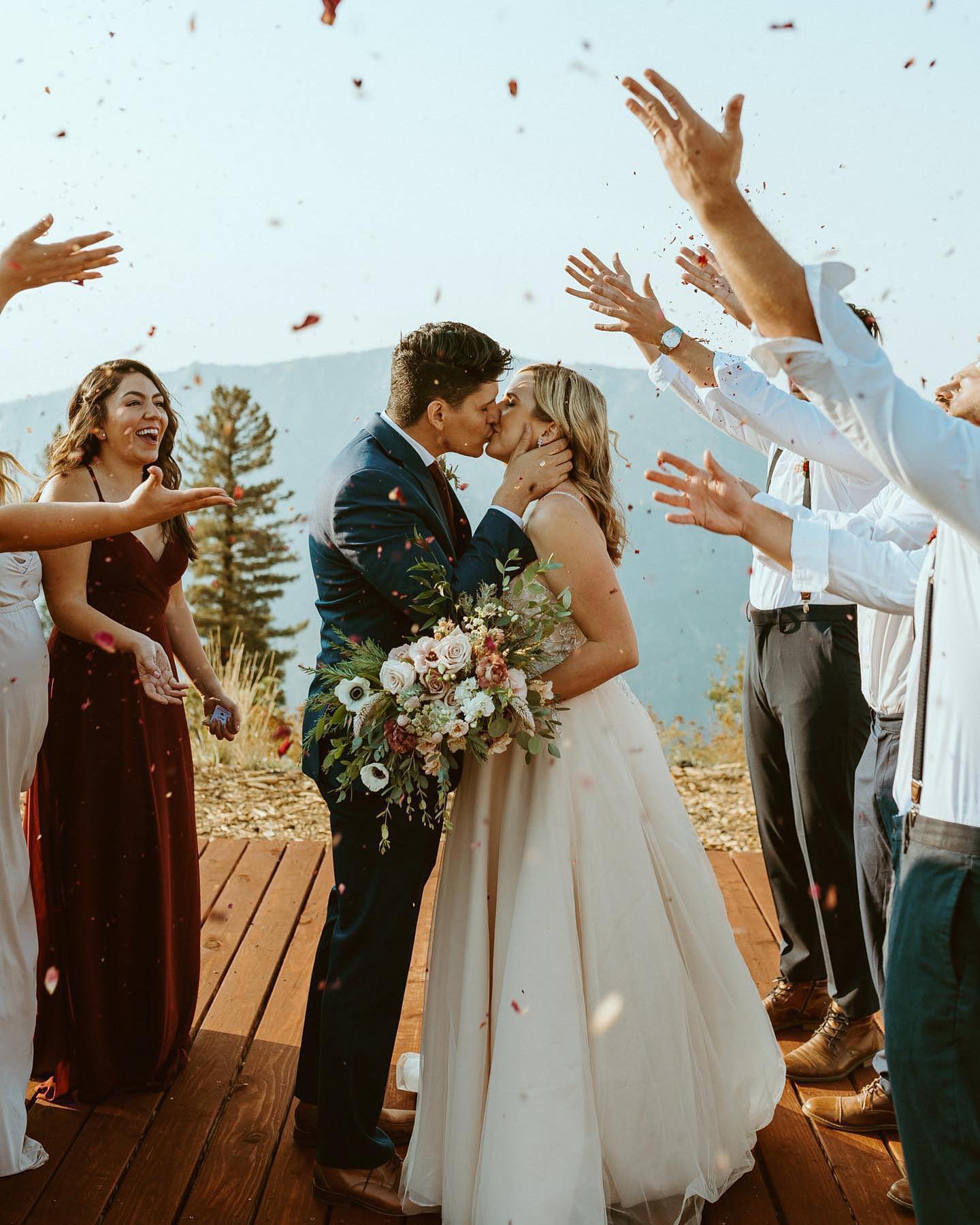 Rehearsal Dinner & Honeymoon Budget FAQs
While the rehearsal dinner and honeymoon are not exactly on the wedding day they can impact the wedding budget. See below for all the wedding budget questions around rehearsal dinners and honeymoons.
Who pays for the rehearsal dinner?
Traditionally the groom's family would pay for the rehearsal dinner but it can also be worked into the overall budget if the couple is paying for it themselves.
Should the couple add their honeymoon to their wedding budget?
Yes, the honeymoon should be added to the wedding budget for sure. This can also be an addition to a wedding registry where your friends and family can gift money to go towards your honeymoon budget.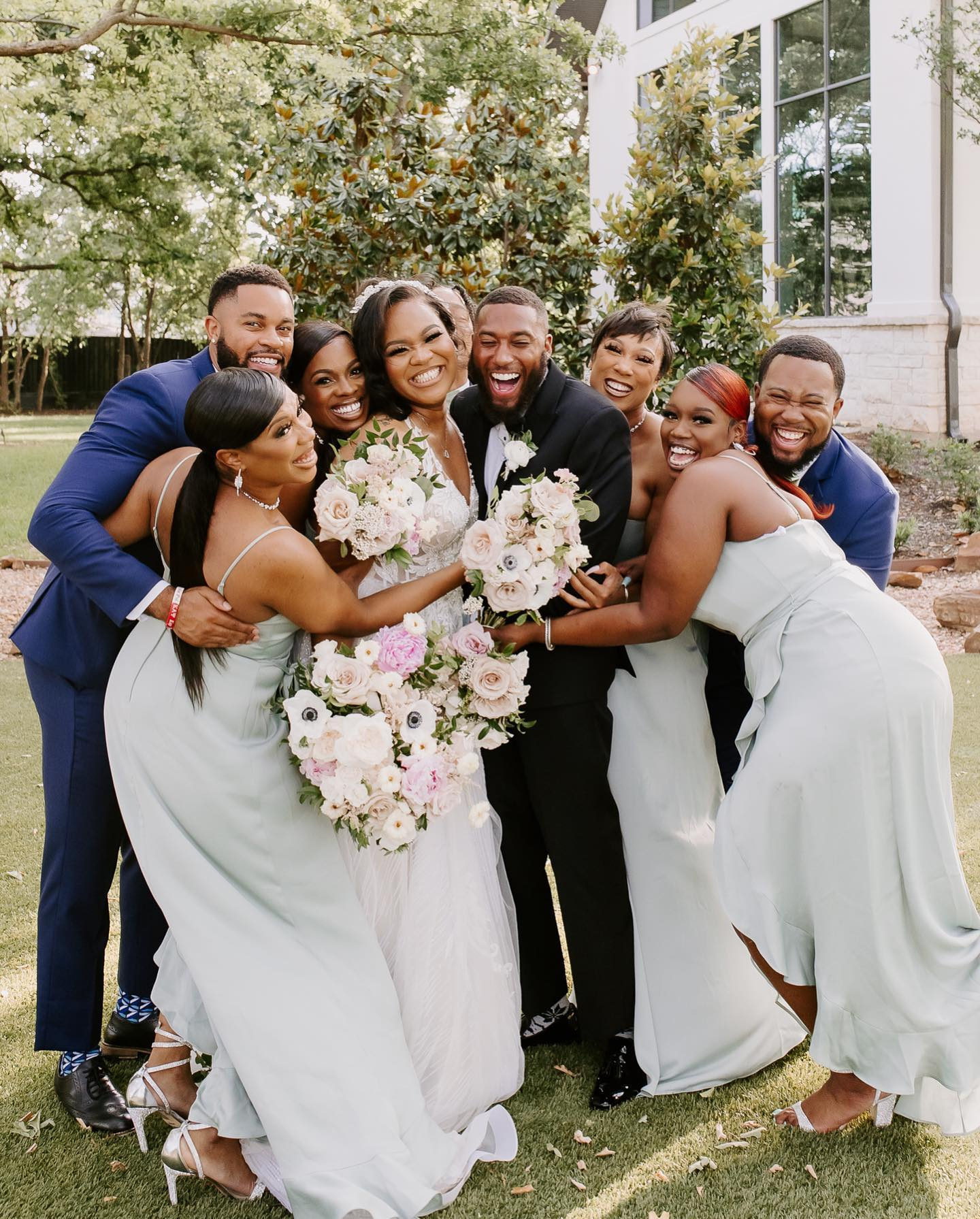 Other Wedding Budget FAQs
There are a million questions a couple can ask when trying to work out all the details around their wedding budget but we have highlighted a few of the most popular questioned.
What's a realistic budget for a wedding?
The average cost for a wedding is around $27,000 but the budget will really depend on where and when you host your wedding along with the number of people on your guest list.
What is a good wedding budget for 50/100/150/200/250 people?
| | |
| --- | --- |
| 50 people | $10,000 to $16,000 |
| 100 people | $17,000 to $23,000 |
| 150 people | $24,000 to $32,000 |
| 200 people | $33,000 to $41,000 |
| 250 people | $42,000 and up |
What is the groom's family expected to pay for?
Traditionally the groom's family pays for the rehearsal dinner and sometimes will also pay for an engagement party. Along with those two events a groom's family might be able to pay for the wedding band, some of the florals, and perhaps even the entertainment at the wedding reception.
Who typically pays for a wedding?
Traditionally the bride's parents would pay for the wedding but today we see a wide variety such as the couple paying for it themselves or a combination of both the couple and their families.
What is the cheapest day to get married?
Any day between Monday and Thursday will usually be cheaper than a Friday, Saturday, or Sunday event.
How much should you budget for a rehearsal dinner?
The rehearsal dinner usually is a smaller number of people as the guest list should be just people who have a role in the wedding ceremony plus any VIP's such as grandparents or close friends. A typical rehearsal dinner generally falls within the $2,000 to $5,000 mark depending on location and number of guests.
Planning a wedding? Sign up for our Diamond Loyalty program—it's free —and find local wedding vendors! Follow us on Instagram, TikTok, Pinterest, and Facebook for more semi-formal wedding guest dresses, or click here to book an appointment.
Related Posts: