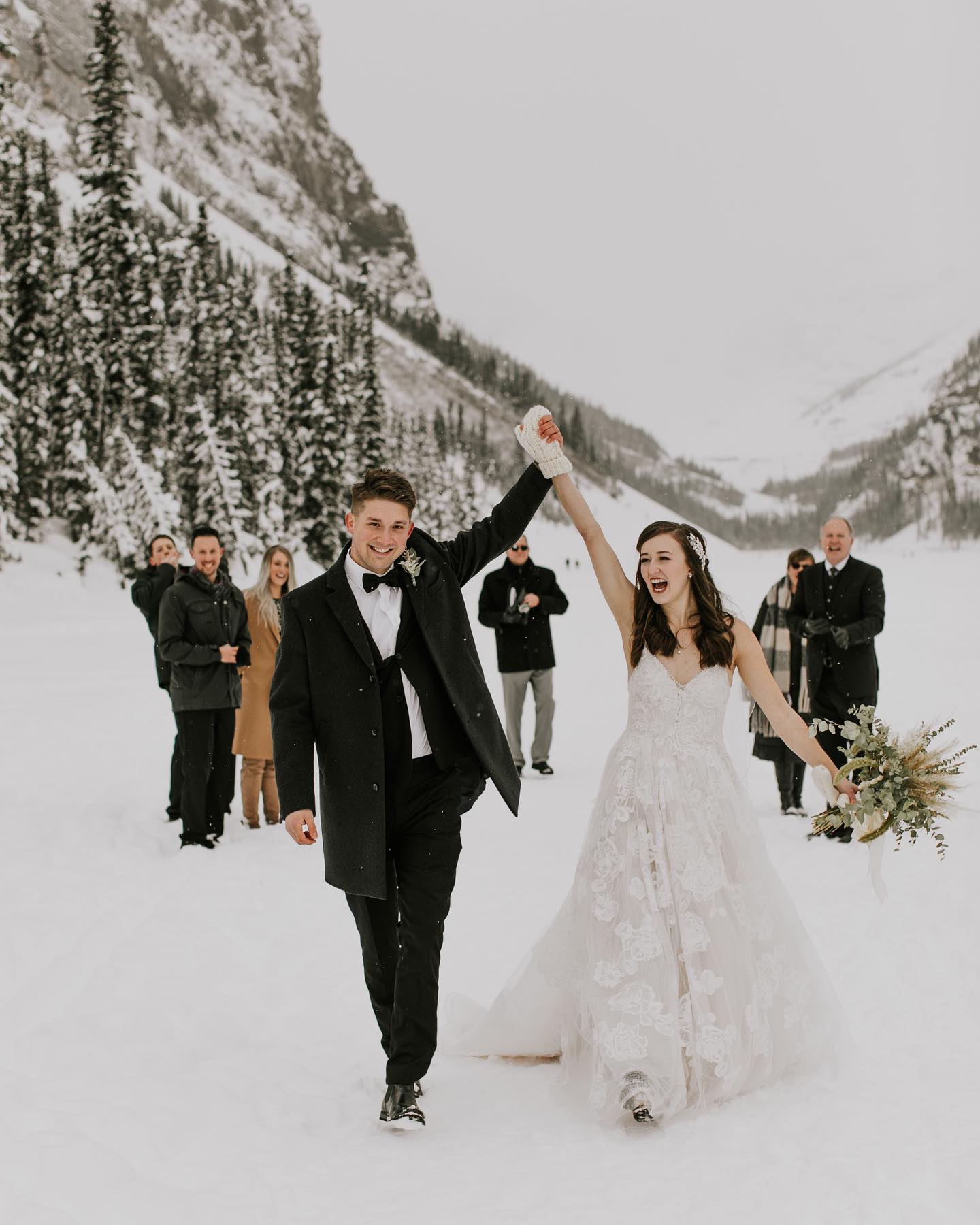 28 Jul

Wedding Dress Ideas For The Winter Bride-to-Be
Winter Wedding Dress Styles and Accessories
Planning a December, January or February wedding? Dress for the season with lacy sleeves, intricate layers, and warm wraps! Ready to find the perfect dress for your winter wedding? Read on for some winter wedding dress ideas to get you started!
Ball Gowns
Style WG3979
Layers are a must for a wintery wedding day, consider a ball gown with endless yards of organza, lace, or tulle! Ball gowns with intricate lace and beading are perfect for a more traditional bridal look. For a more updated touch, try a sleek and unembellished ball gown for a modern and sophisticated bridal style! If the temp calls for even more cold weather, put on tights underneath your dress for added warmth (no one will be able to tell!).
Lace Wedding Dresses
Style MS251205
Mixing textures add warmth and depth to your winter wedding look! A gown with a combination of ornate lace and tonal beading mimics the intricacy of a snowflake. You can opt for an all-over lace dress or one with perfectly placed lace touches.
Long Sleeves
Style SWG820
A gorgeous gown with lace-adorned long sleeves will keep your arms from feeling chilly on the big day. No matter what silhouette you choose, long sleeves are the perfect way to show off more lace or beaded detail on your gown! Plus, an illusion fabric makes this coverage elegant and adds another dimension to your look.
Subtle Hues
Style SWG862
Blush tones and champagne hues are a subtle alternative to a traditional white gown that will stand out against a snowy backdrop. Soft shades add an ultra-romantic and whimsical touch to your wintery wedding. Consider these off-white tones when finding your winter wedding dress.
Winter Bridesmaid Dresses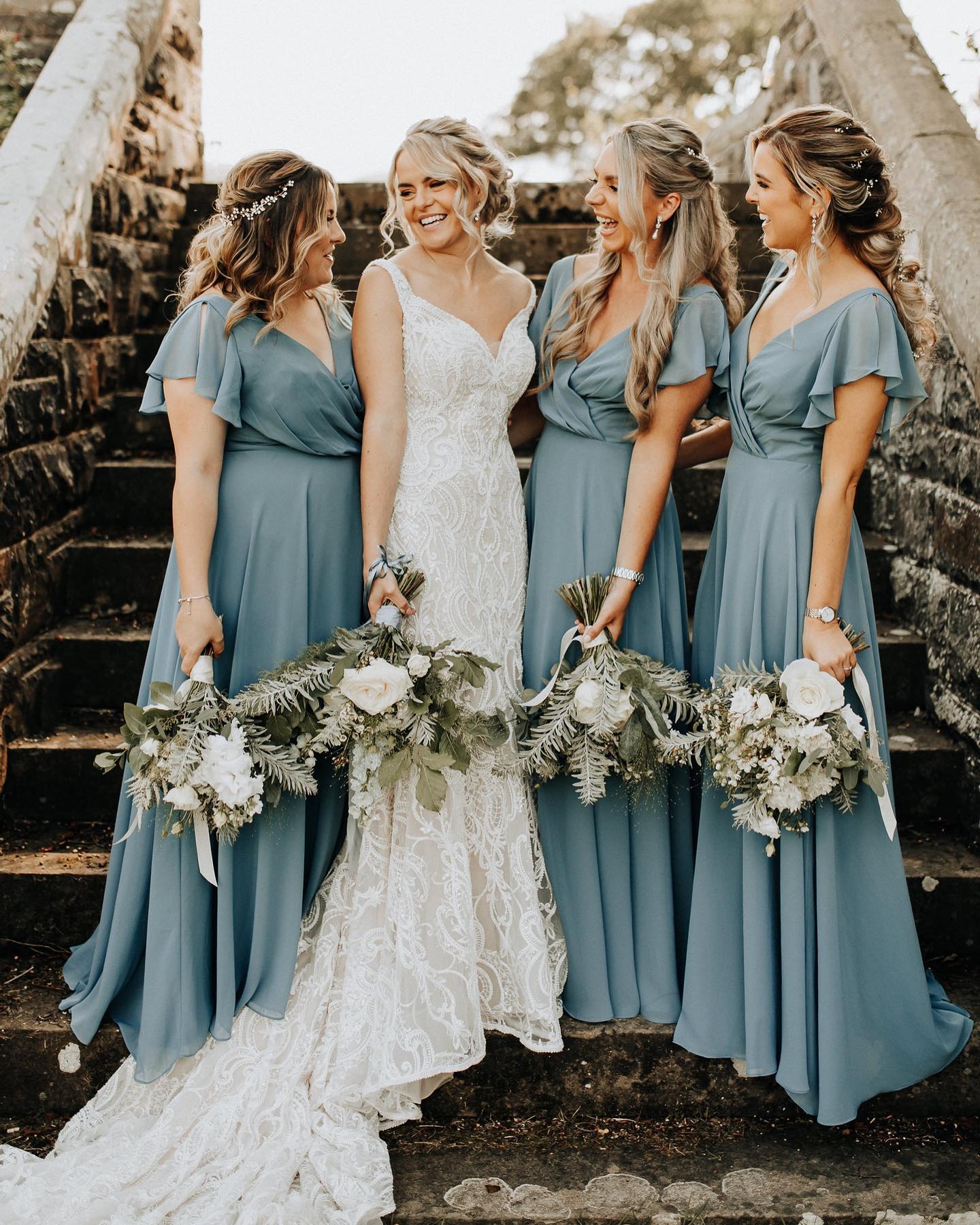 Dress your wedding party in bridesmaid dresses which feature deep, dark shades that bring to mind a long winter's night. Rich shades add a pop of color in the wintery months. Sophisticated hues, like Wine and Steel Blue, complement the winter season beautifully. A fabric like satin offers a luxurious shine to contrast the wintery landscape.
Winter Wedding Accessories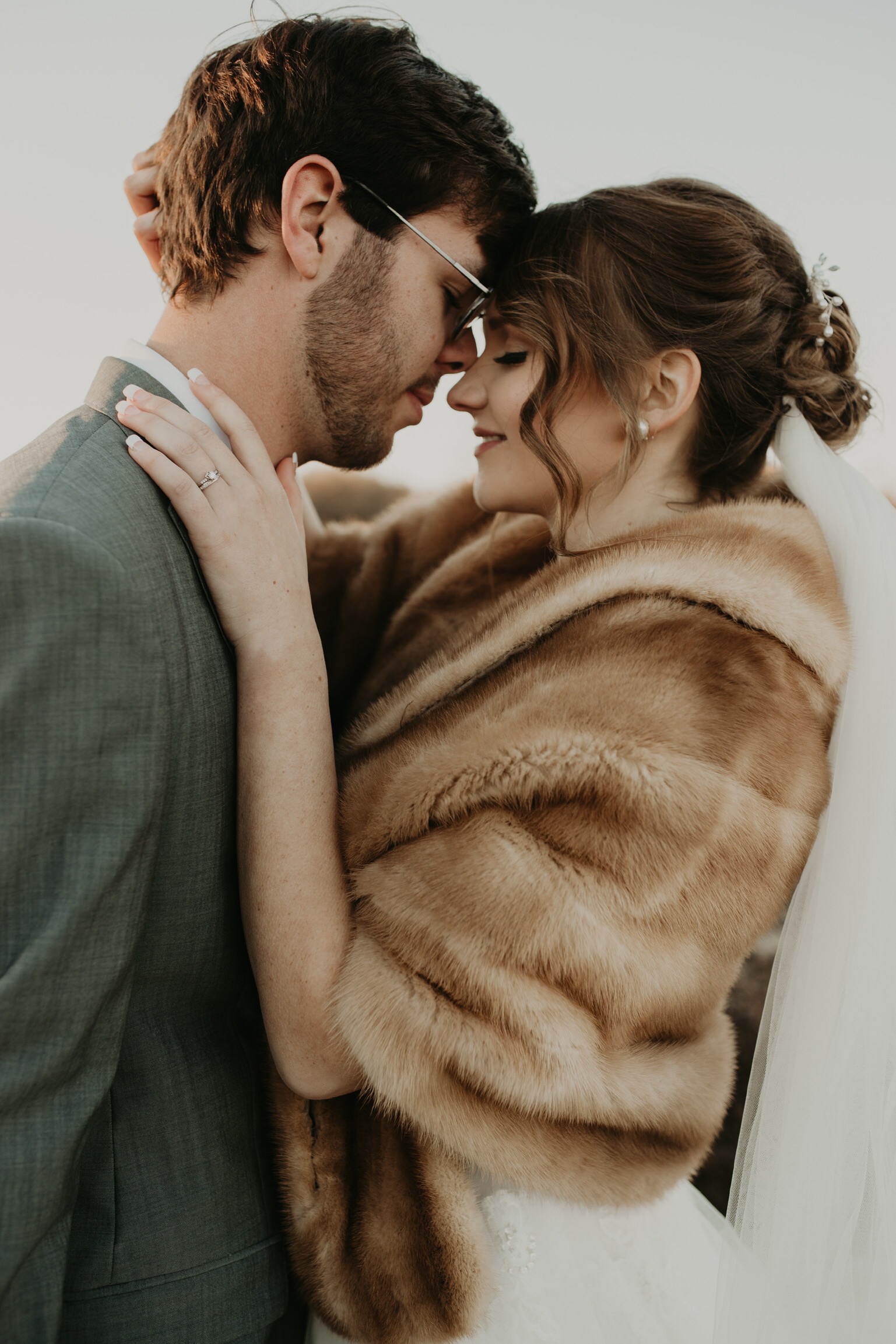 Style OW2137, ETTA, IH8481KURH
You've found the dress, and now it's time to accessorize! Stylishly banish the brrrs with a faux-fur capelet. These luxe shawls are equal parts cozy and glamorous, and they pair perfectly with strapless wedding dresses. Looking for a more edgy touch? This vegan leather moto jacket is the perfect addition! Show off your 'Just Married' status and stay warm in this chic jacket. We can't forget about the shoes! No need for your toes to hide all season. Pick a pair with icicle-like crystals to brighten things up!
Inspired by these winter wedding dress ideas? Planning a December, January, or February wedding? Begin the search for your wintery dream dress today! Make a virtual or in-store appointment at your local DB or find styles online at davidsbridal.com!
Planning a wedding? Sign up for our Diamond Loyalty program—it's free! Follow us on Instagram, Pinterest, and Facebook for more real wedding inspiration, or click here to book an appointment.
Featured image by @teannachurch
Related Posts: