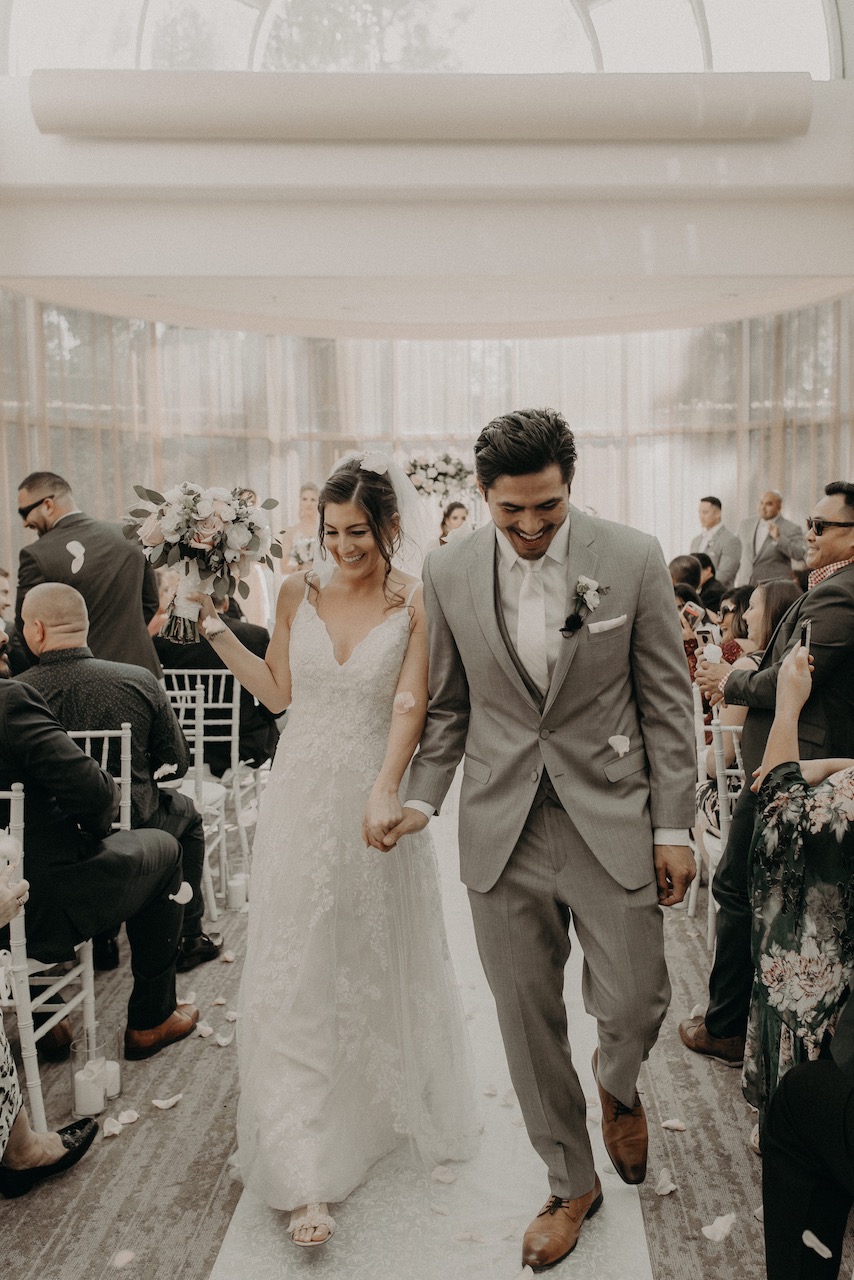 12 Feb

Financial Tips for Newlyweds
Welcome to Married Life!
Now that the celebration and wedding excitement has settled, it's time to begin your newlywed life! With this new chapter comes setting you and your spouse up for a stress-free future. The first step? Finances. From joint accounts to budgets, they're the not-so-magical conversations all newlyweds need to have. We've teamed up with our friends at Bestow to bring you the best financial tips for newlyweds to start your married life off right!
Have an Open and Honest Conversation
A successful relationship is all about communication! When it comes to all things financial, establishing an open line of communication with your significant other is key.
This is your chance to be 100% transparent with your significant other about things such as where you get your income and what you spend it on. Talk with each other about your own financial experiences; share both your successes and failures (remember this is a judgement free zone!). Establish plans for the future and decide the role each of you will play (i.e who will be responsible for paying which bills). Clear and open communication now about financial choices and opinions can save you from any headaches in the future.
A majority of individuals will have had their own personal bank account for years before they get married. Now that you've committed to your partner and agreed to be open in your conversations this is the best time to discuss combining your accounts. We understand that combining bank accounts might not be for every couple or might not be something you do right away! The most important thing is that you and your partner have open and honest conversations sharing your own thoughts and opinions.
Talk About Financial Goals
Everyone has their own goals, from traveling the world, to buying a house, to having kids. No matter what goals you and your partner might have, there is no doubt you will have to consider the financial impact of them. One of our most important financial tips of newlyweds is to, take your time discussing, sharing, and compromising to create shared goals you can both work on achieving.
Once you've determined what your combined financial goals are, split them up between long-term, mid-term, and short-term goals. A short-term goal is ones you'd like to accomplish in one year or less. This could be as simple as creating a monthly budget or traveling to a new place. Mid-term goals are ones that could take three to five years to complete. These might include buying a house or a car. Finally, a long-term goal is one that can take up to 10 years to accomplish, such as saving for your children's college fund or paying off a mortgage.
We encourage you and your partner to share your goals with each other so you can then plan and take steps towards achieving them!
Establish a Budget
A budget is a newlywed's best friend. Budgets help prevent you from sinking into debt while keeping you on track to meet your combined financial goals, which to us is a win-win! Prior to marriage, you might have been responsible for your own expenses from food to rent payments. Now married, you'll have new shared expenses to take care of. While the combination of income might make paying these easier, it is important to have a plan.
To ensure success, start easy with a monthly budget. Determine what things are essential, such as utilities, rent or credit card payments. Next, add in room for gas and groceries. And, of course, don't forget to give yourself a little spending money for date nights.
Conquer Your Debt Together
Marriage is all about working together as a team. Through the ups and downs, the two of you have made a commitment to conquer forever together. One hardship you may face as a couple is debt. No matter whose debt it started as, once you are married it's important to think of any debt as "our" debt. One of our best financial tips for newlyweds is to work as a team. Paying off any debt together will not only help to pay it off faster, but it will also strengthen you financially and as a couple.
Save, Save, Save
A smart couple saves their money! You might notice as you begin your married life that expenses that seemed to cost you so much before, don't seem to hurt your pocket as much since combining your income. You might be asking yourself what you should do with the extra cash you have at your disposal. Our advice? Save it! Put that money into a bank and set up both an emergency fund and a retirement fund for yourselves to save both you and your significant other from any stress down the line.
Reconcile Any Wage Differences
Let's be honest, not all jobs are created equal which means there's a high possibility you and your spouse will encounter pay disparity at some point during your marriage. While there is no easy fix to your income inequality, we do have some suggestions on how to relieve any built-up tension among the two of you. Doing equal amounts of work or splitting up expenses by percentage are both great ways to create a resentment free space!
Assess Your Life Insurance Needs
Now that you've entered married life, now might be a good time to think about life insurance. New to the idea of life insurance? We've got you! Term life insurance is designed to protect your dependents should you pass away unexpectedly. Still a little lost on where to go? Bestow makes it applying for life insurance quick and easy! Get a quote right now from your phone or computer.
If you already have a life insurance policy, consider reevaluating the terms of that policy. Ask yourself questions like, "does the policy carry enough benefits to help protect your growing family?". "Is current spouse is listed as your beneficiary?".
Understand How Marriage Affects Your Taxes
We can't forget about taxes, yup you read that right, taxes. There are a few things you might want to consider now that you've enter married life. First things first, in order to save yourself some money update your W-2! There's a possibility your taxes may see an increase due to the "marriage penalty". To get ahead of this and save yourself in the long run, we recommend claiming "0" on your W-2.
Post marriage tax filing might find you and your partner in a new tax bracket which in turn will change your filing status. Our best advice is to plan a meeting with a CPA or tax professional. They will be able to help guide you through this process!
Now that we've shared all our best financial tips for newlyweds, it's your turn to take action! Plan a meeting with your new spouse and start married life off right! Ready to get started today? Head to Bestow to explore term life insurance options for you and your partner!
Featured image uploaded by Alexis
T/C's: Life insurance quotes provided by Bestow Agency, LLC dba Bestow Insurance Services in CA, who is the licensed agent. Term Life Insurance Policies offered by Bestow are issued on policy form LS181 and LS182, or state version including all applicable endorsements and riders, by North American Company for Life and Health Insurance®, Administrative Office, One Sammons Plaza, Sioux Falls, SD 57193. Products or issues ages may not be available in all jurisdictions. Limitations or restrictions may apply. Not available in New York. Our application asks about your lifestyle and health to avoid requiring a medical exam.
Related Posts: