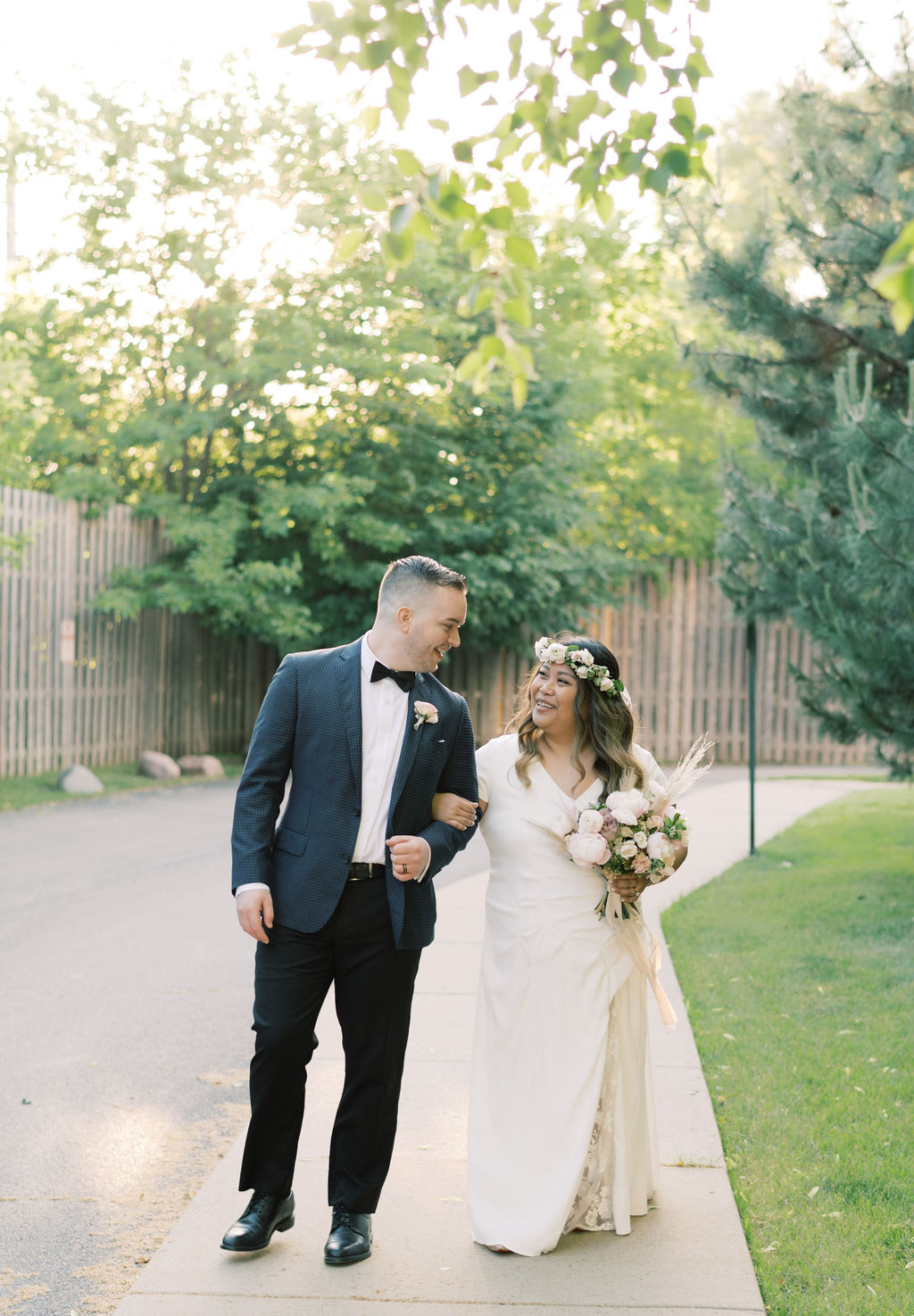 24 Jun

Real Wedding: Melissa & David
An Intimate Backyard Micro Wedding in Chicago
Real weddings are so inspiring! To get you in the mood to plan, we asked real brides to spill the details on everything from getting engaged to finding their wedding dresses to the special touches and surprising moments that made their celebrations completely one-of-a-kind. Melissa's wedding was impacted by COVID-19 but that didn't stop her and her fiancé from making things official. Read on for Melissa and David's intimate backyard micro wedding in Chicago.
How did you meet? How did he propose?
We met at work! David was a patient care tech and I was a nurse working as part of the resource team float pool. Randomly, the staffing office assigned me to work on David's floor for three consecutive months. We added each other on Snapchat and a few days later he slid into my DMs and gave me his number. I actually blew him off a few times before he finally called me out. I gave in and hung out with him and then we spent the next year claiming we were just friends. We were so naïve!
David made reservations at a restaurant we were excited to try for the first time. I had a feeling something was up, but one of my friends dismissed the idea of David proposing so I left it alone. We get to the restaurant and he immediately excuses himself to the bathroom. After 10 minutes passed, I started messaging my friend telling her I was worried David was having stomach issues. At the same time, I was hungry and asked her if it would I should order an appetizer while David was gone. The waiter was ignoring me (because he was in on the proposal!) and I was starting to get annoyed.
I texted David and asked if he was okay. After I sent the message I look up and see him walking back into the room with my sister behind him. I thought she was joining us for dinner and started to look for her boyfriend. Instead, I saw a handful of my friends with their phones out recording and I still did not put it all together! The next thing I saw was David down on one knee with a ring. We got engaged in front of the whole restaurant!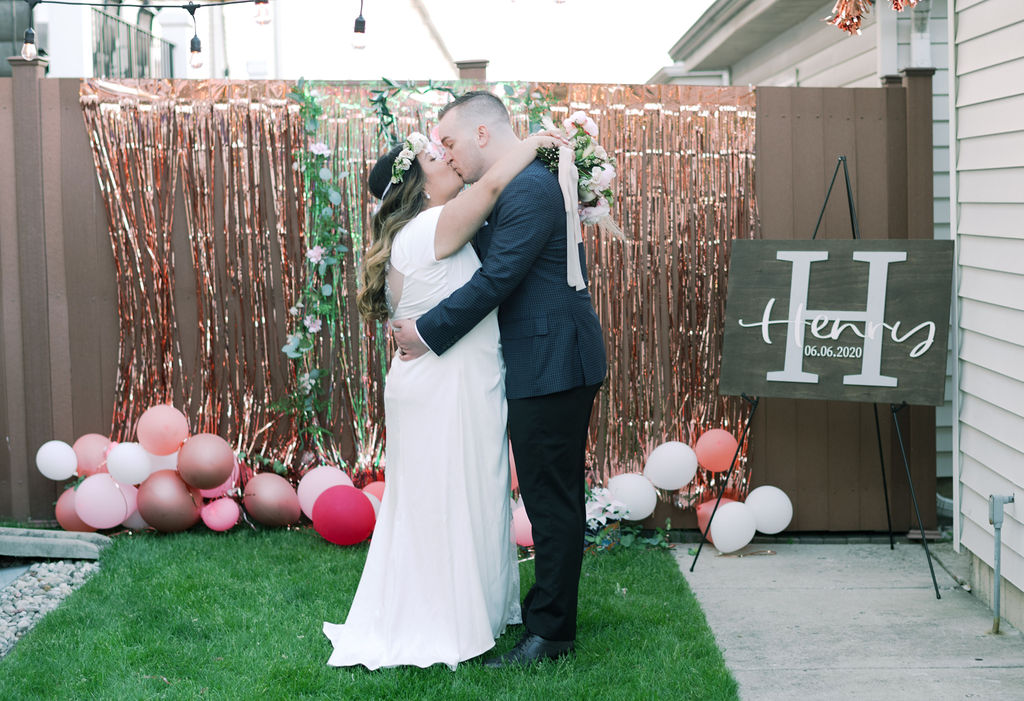 How did you decide on your wedding dress? What did you love most about it and how did it make you feel? Any dress-shopping advice for future brides?
I saw the dress on the David's Bridal Instagram and fell in love at first sight. It was perfect for our backyard micro wedding. Unfortunately, I couldn't try it on since the stores were still closed. My main wedding dress was from David's Bridal so I went off that sizing to order my dress. As soon as it came I put it on and instantly felt like a bride. My advice for dress shopping advice is to go with your gut. I knew this dress was the one when I saw it. It fit my style and vision and since I couldn't try it on, I really relied on the reviews and pictures left on the website.
I bought my original dress before the stay at home orders were in place and I had a great experience in stores. My advice would be to take a handful of people you trust and who really know you well. I knew I could rely on their opinions and I knew they would be truthful. It also helped that they knew my vision and style so they could help guide the stylist in choosing styles that fit me.
Tell us about your wedding day! We know it was a little non-traditional!
We got married in my parent's backyard. Since they live in the city, it was small, but perfect for our micro wedding. Everyone helped to decorate and transform the backyard and it was definitely a labor of love. My sister officiated and wrote a beautiful ceremony. She also did my makeup. We wrote our own vows and put them in keepsake books. We had our first dance alone—only our photographer and videographer were present—and it was nice to have a moment to ourselves after the ceremony. Our friends even surprised us with a drive-by while we were taking photos. They decorated their cars and took part in some social distancing photos.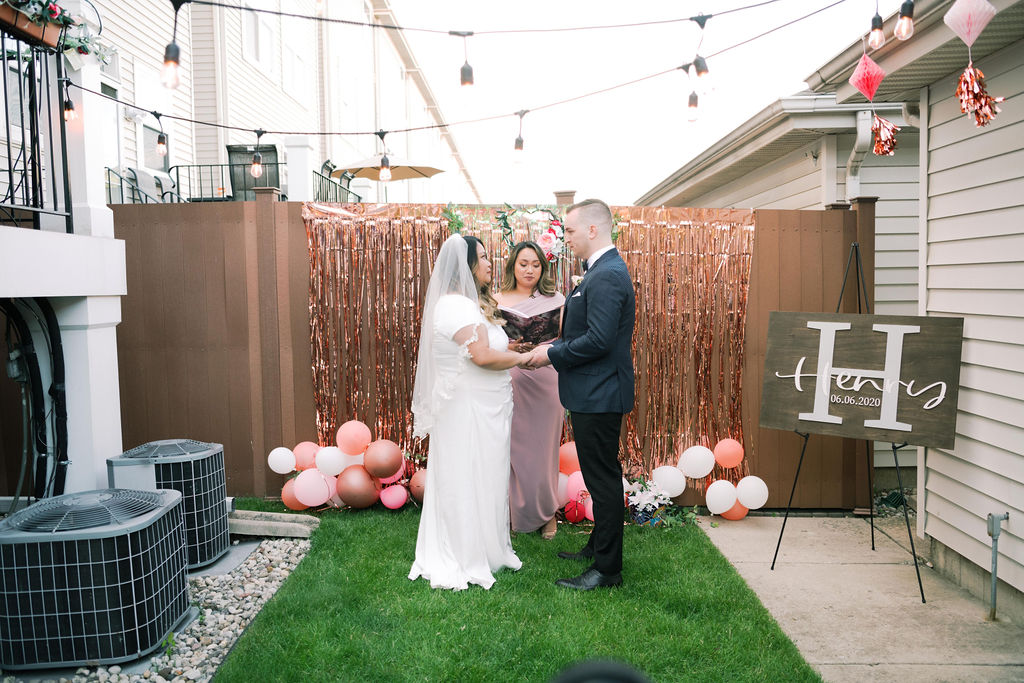 Did anything funny or unexpected happen?
Aside from the surprise drive-by, our parents ended playing each other in beer pong! As you can see, it was a very casual event! We never envisioned that happening on our wedding day.
Is there something you wish you had known before the big day/while you were planning the wedding?
I wish I utilized my wedding planner for the day. We have a fantastic planner but we decided to everything on our own that day. While we were able to pull it off, we wish we had our planner with us to help coordinate. It definitely would have been less stressful.
What was your first dance song?
"In Case You Didn't Know" by Brett Young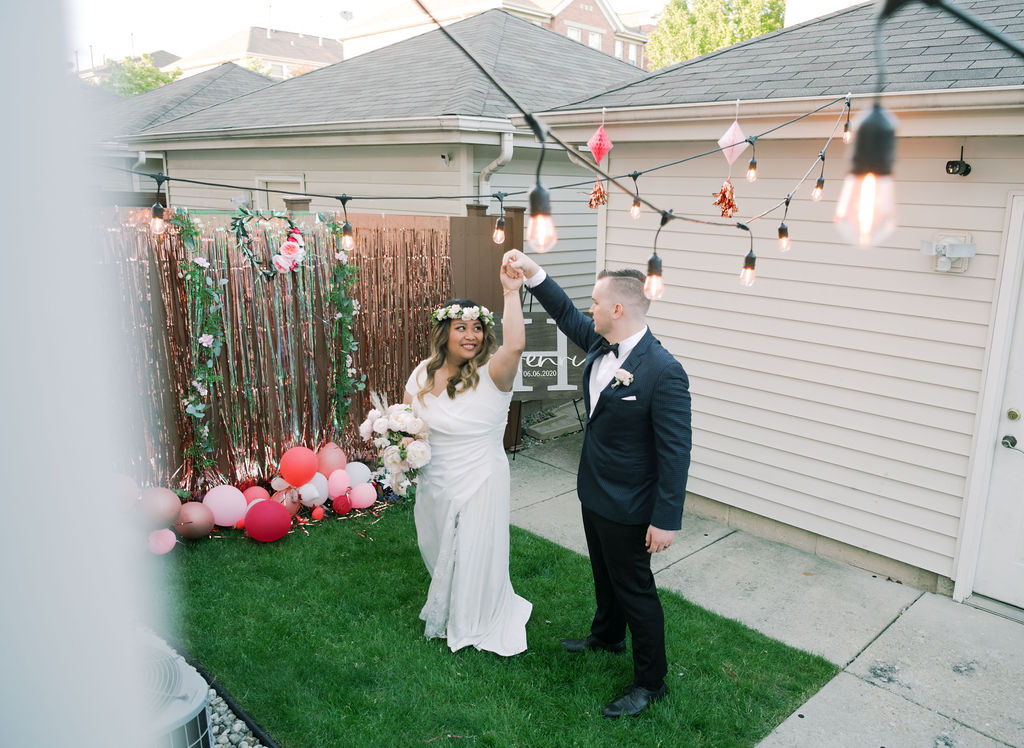 What was your favorite DIY or personal touch?
We created a picture wall on with a sign that said, 'te amo' and then our pictures hanging on twine below it.
What did you do to stay stress-free on your wedding day?
We created a timeline and made sure everyone knew it and stuck to it. Luckily, everything went according to plan.
What's your best wedding planning advice? And what advice do you have for brides that are going through a similar situation right now?
Share the planning experience! Don't try to do everything on your own, otherwise, you will drive yourself crazy. If other people offer to help, let them. My advice for other brides in a similar situation is to remember why the two of you got engaged. Having to postpone our wedding twice made us remember that we were doing this because we love each other. It reminded us that the day is and always will be about the two of us. That really made us focus on each other and make the day even more special.
More Details:
We know how important your wedding day and special events are to you and we are doing everything in our power to serve you! You can shop with us 24/7 at davidsbridal.com plus we are here for you to help guide you through your wedding planning! See tips for starting to plan your wedding at home, shopping for your wedding dress online with confidence, and more on the blog.
Related Posts: