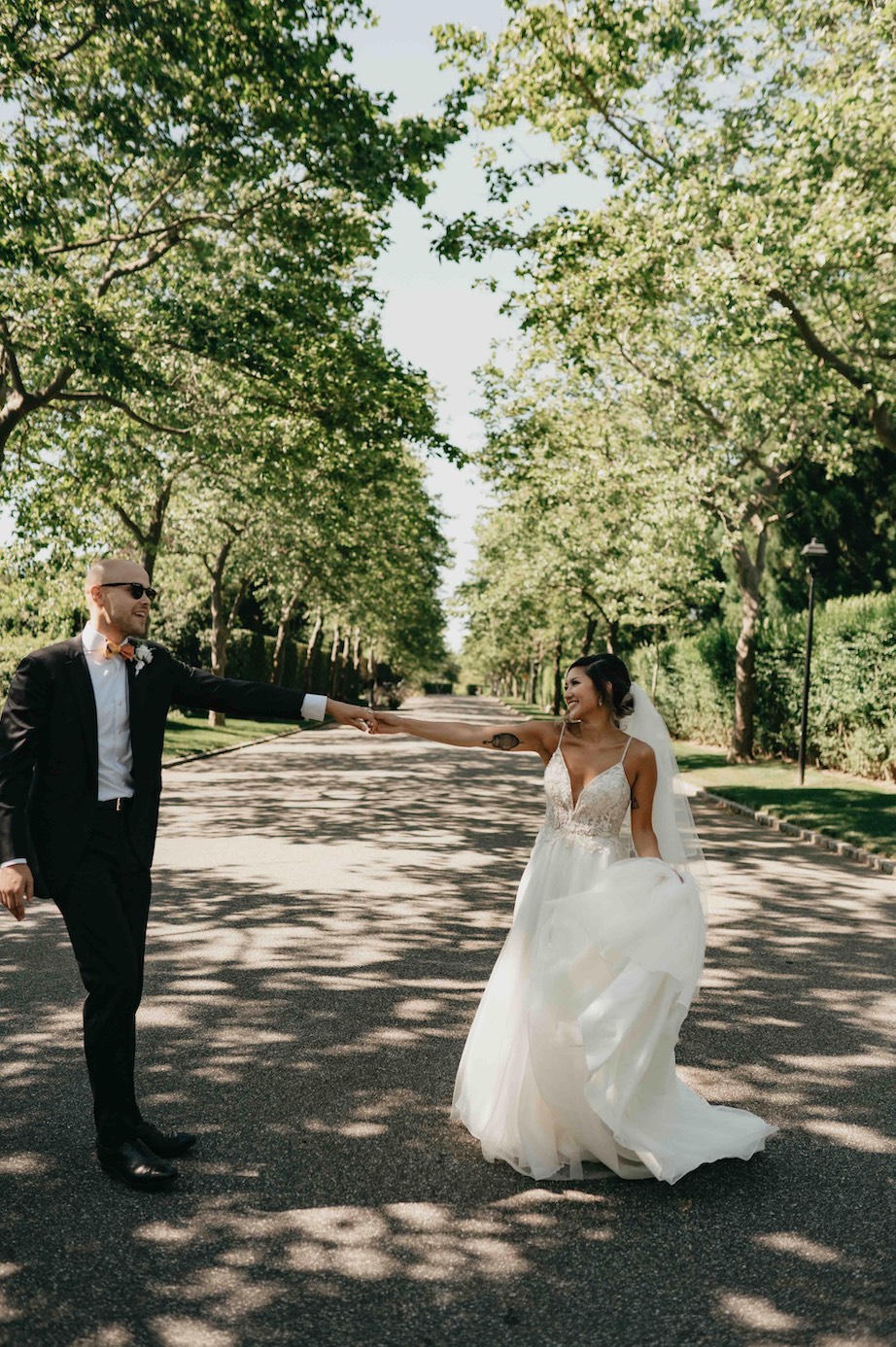 19 Aug

Real Wedding: Bernadette & Gabrielius
A Backyard Micro Wedding in Southampton, New York
Real weddings are so inspiring! To get you in the mood to plan, we asked real brides to spill the details on everything from getting engaged to finding their wedding dresses to the special touches and surprising moments that made their celebrations completely one-of-a-kind. Read on for Bernadette and Gabrielius' backyard micro wedding in New York!
How did you and your fiancé meet?
We met in NYC where we actually both worked in the same store and I was his boss. We worked together for a year before he made his move. It took a while for me to finally agree to go on our first "date" but I'm so glad I did. Eight months later, I moved back to Seattle, where I grew up, and he followed. A year later, we moved back to New York, where we are now!
Tell us your proposal story?
It happened in his parents' backyard, which was a really special place because it's where his late grandmother spent a lot of her time. I didn't know it, but he had already spoken to my parents and siblings to get their blessing. He wasn't planning to do it that day (he didn't really have a plan at all), but everything just lined up beautifully. It was just the two of us and I was wearing a band shirt, flip flops, my hair up in a messy bun, no makeup, and all of my nails were different lengths/shapes. And it was absolutely perfect!
How did you decide on your wedding dress?
We flew to California to surprise my sister for her birthday and while we were eating lunch one day, my sister and I made a last-minute decision to go to David's Bridal. We called for an appointment after lunch and had a blast. It was the first time I tried on wedding gowns and did not think I would walk away with the one, but here we are!
Do you have any dress-shopping advice for future brides?
Don't be afraid to try on dresses that you don't think match your "vision." My stylist actually picked out my wedding dress (shoutout to Rebeka in Sacramento!), and it was nothing like I thought I wanted. While I already had 2 other dresses in the running, she handed it to me and asked me to try it on for her. Once it was on, I knew right away that I didn't want my (now) husband to see me in anything else!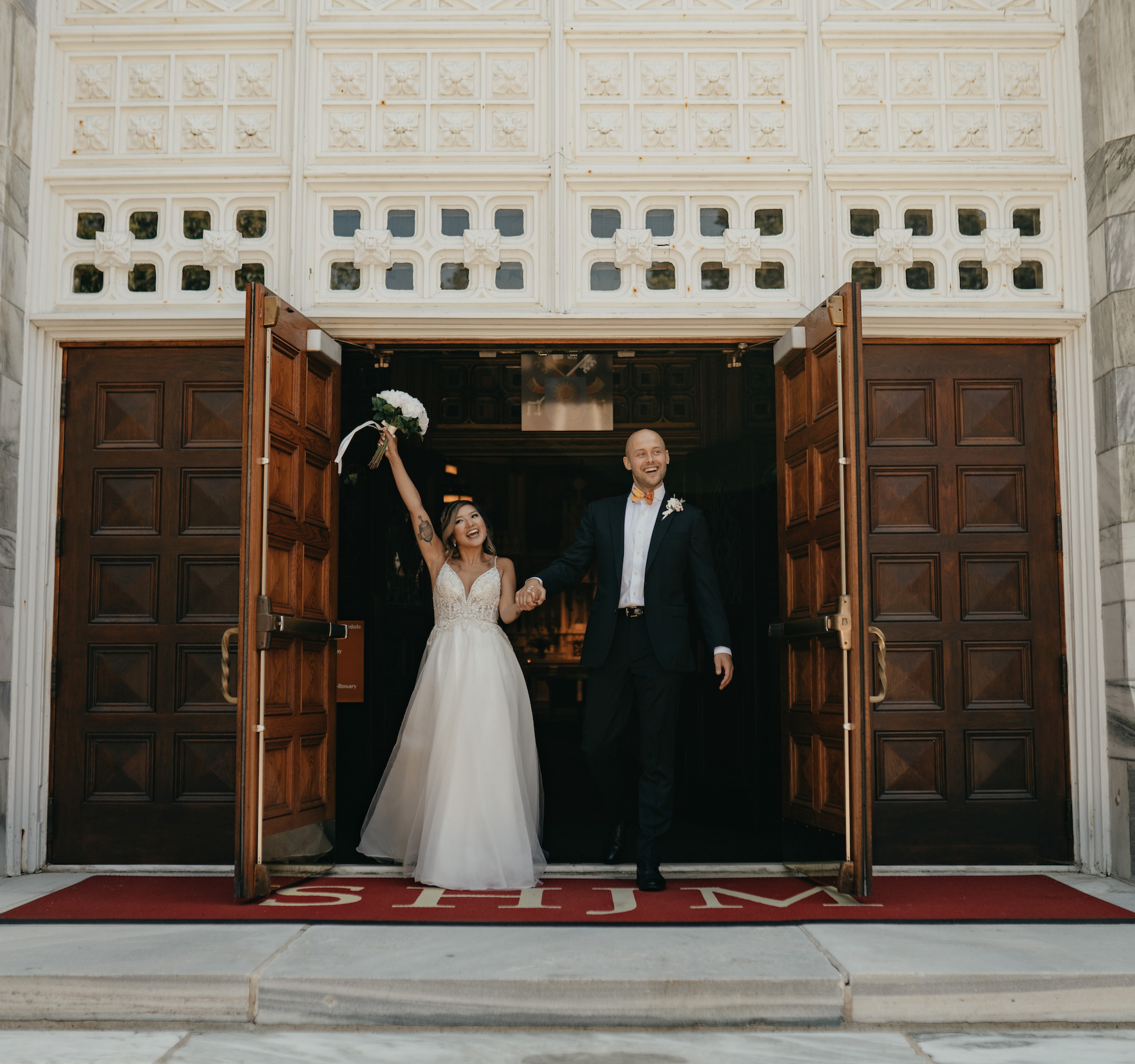 Tell us about your wedding day!
We were originally going to have a small wedding of fewer than 80 guests but then downsized to a micro wedding with a church ceremony of immediate family only followed by a reception in my in-law's New York backyard. After I got into my dress on the day-of, one of my cousins set up a Zoom meeting with my closest girlfriends so they got to see me before I walked down the aisle. Even though we were all thousands of miles away, my heart felt so full to have them with me, even if it was virtual. We also live-streamed our ceremony on Facebook and were overwhelmed by the love and response we got!
Did anything funny or unexpected happen?
My new 8-year old sister prepared a surprise Wedding Mad-Libs portion for us and our guests! We're saving them so we can do the same at her future wedding. We also jumped in the pool with her at the end of the night!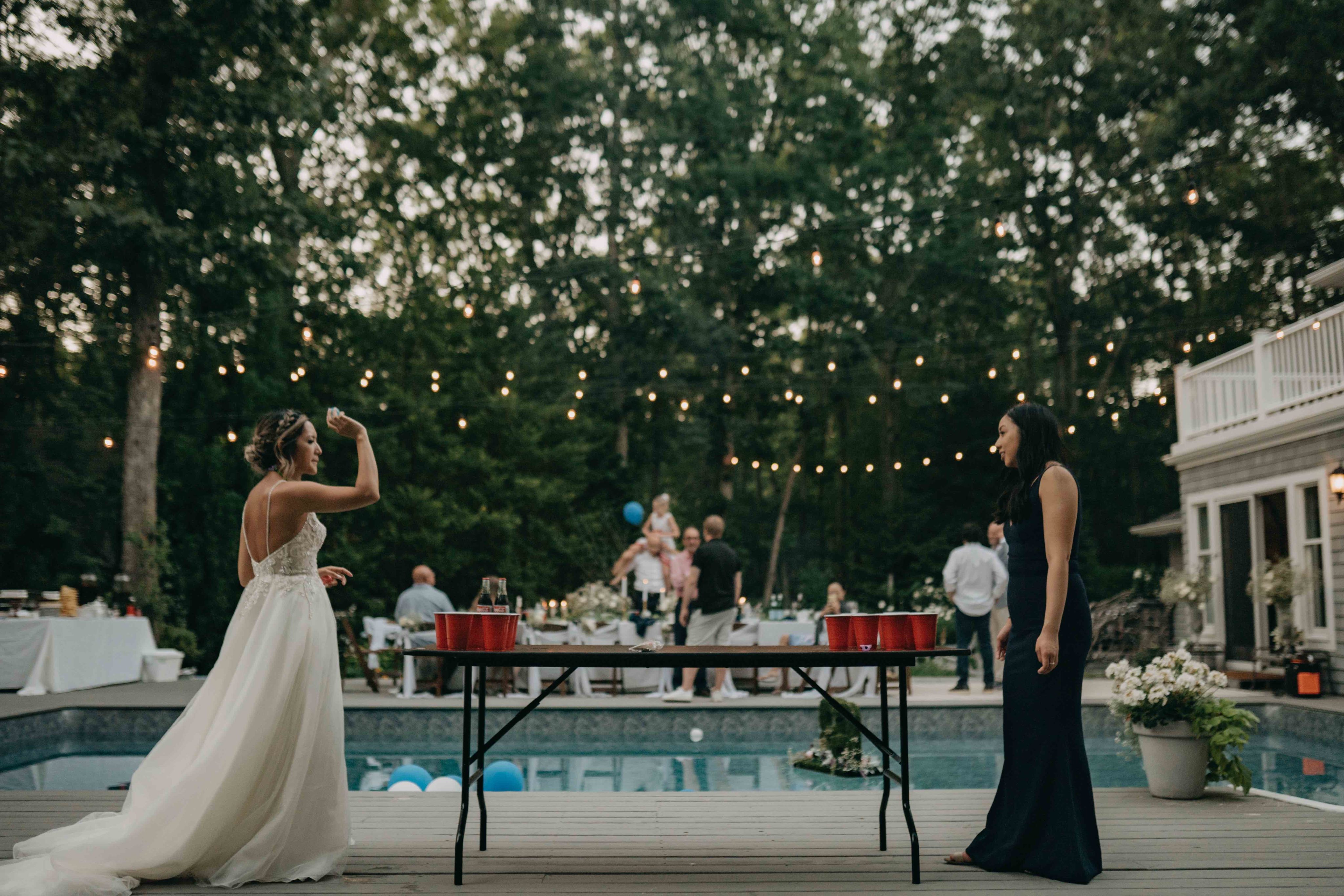 What was your favorite DIY or personal touch?
Besides making our cake, my MIL spent pretty much the entire quarantine re-doing/decorating her backyard where our reception took place. I couldn't have pictured a more beautiful setting! Also, my husband (aka my favorite cook in the universe) prepared our reception dinner and drinks! Steak, shrimp, potatoes, veggies, seafood couscous, Long Island iced teas and Sangria!
What flavor was your wedding cake?
My Mother-in-Law made a traditional Lithuanian cake called Sakotis! If you haven't heard of it, please google it because this cake is AMAZING.
What was your first dance song?
'Tennessee Whiskey' by Chris Stapleton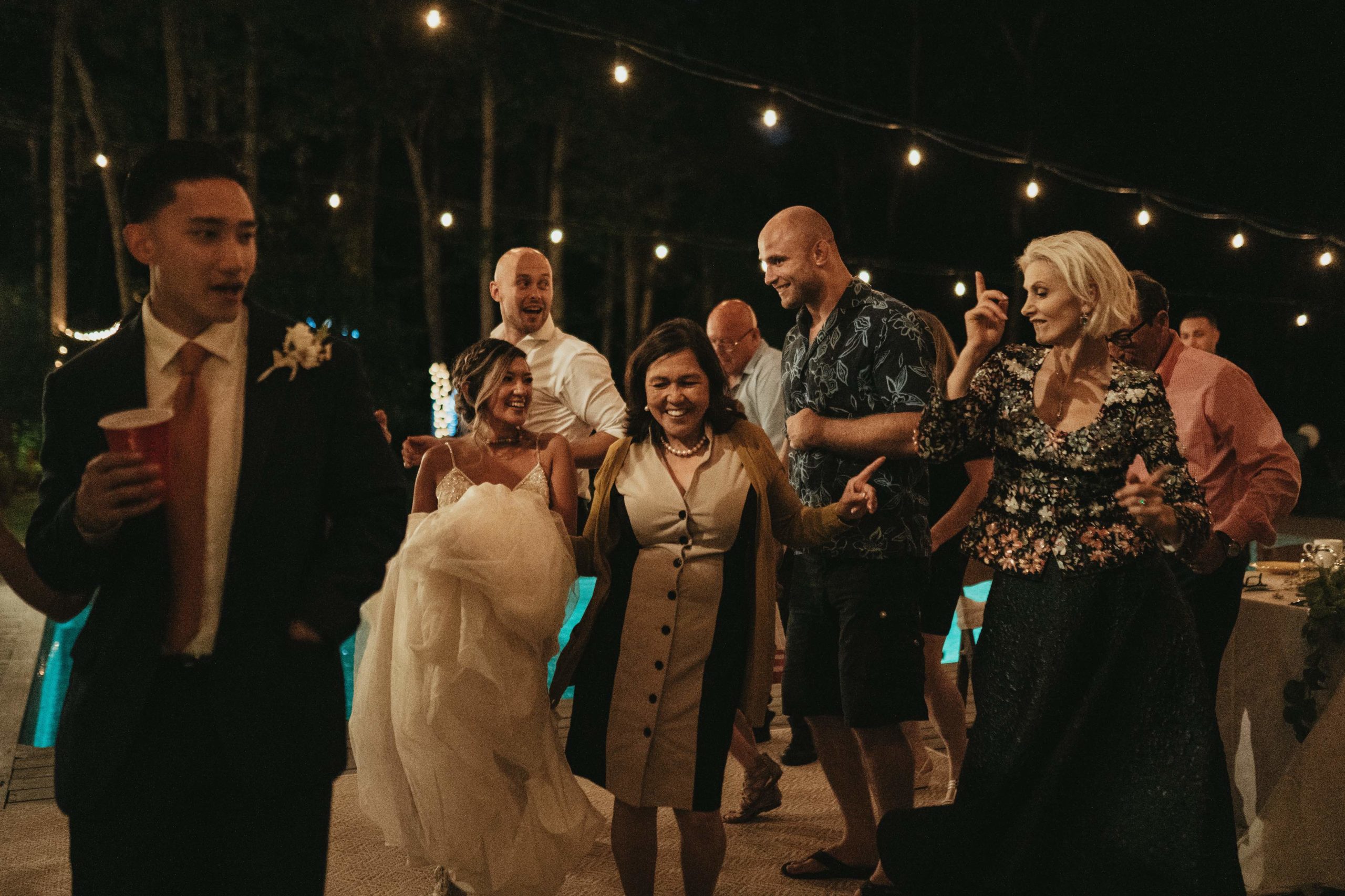 What did you do to stay stress-free on your wedding day?
My family cancelled their flights here and then rebooked 12 hours before the flight left after Governor Cuomo mistakenly put Washington on the travel advisor list TWO DAYS before our wedding. So just being able to spend the morning with them helped me take that BIG EXHALE. With stress like that, there was no room for wedding day nerves!
What's your best wedding planning advice? And what advice do you have for brides that are planning their weddings right now?
Being a COVID Bride is tough but so are you! This is you and your future spouse's day! SO MANY things can and will go wrong and you're going to have to make difficult decisions that might be hard for people to accept. But in these times, surround yourself with people who support you and lift you up. You are carrying enough weight and don't need to feel the burdens, grief, and opinions from those that don't. YOU ARE DOING YOUR VERY BEST! Keep your eyes on the prize and trust that your day will be perfect in its own way.
More Details:
We know how important your wedding day and special events are to you and we are doing everything in our power to serve you! You can shop with us 24/7 at davidsbridal.com or find a location near you to try on and take home your dream dress. See tips for starting to plan your wedding at home, shopping for your wedding dress online with confidence, and more on the blog.
Related Posts: