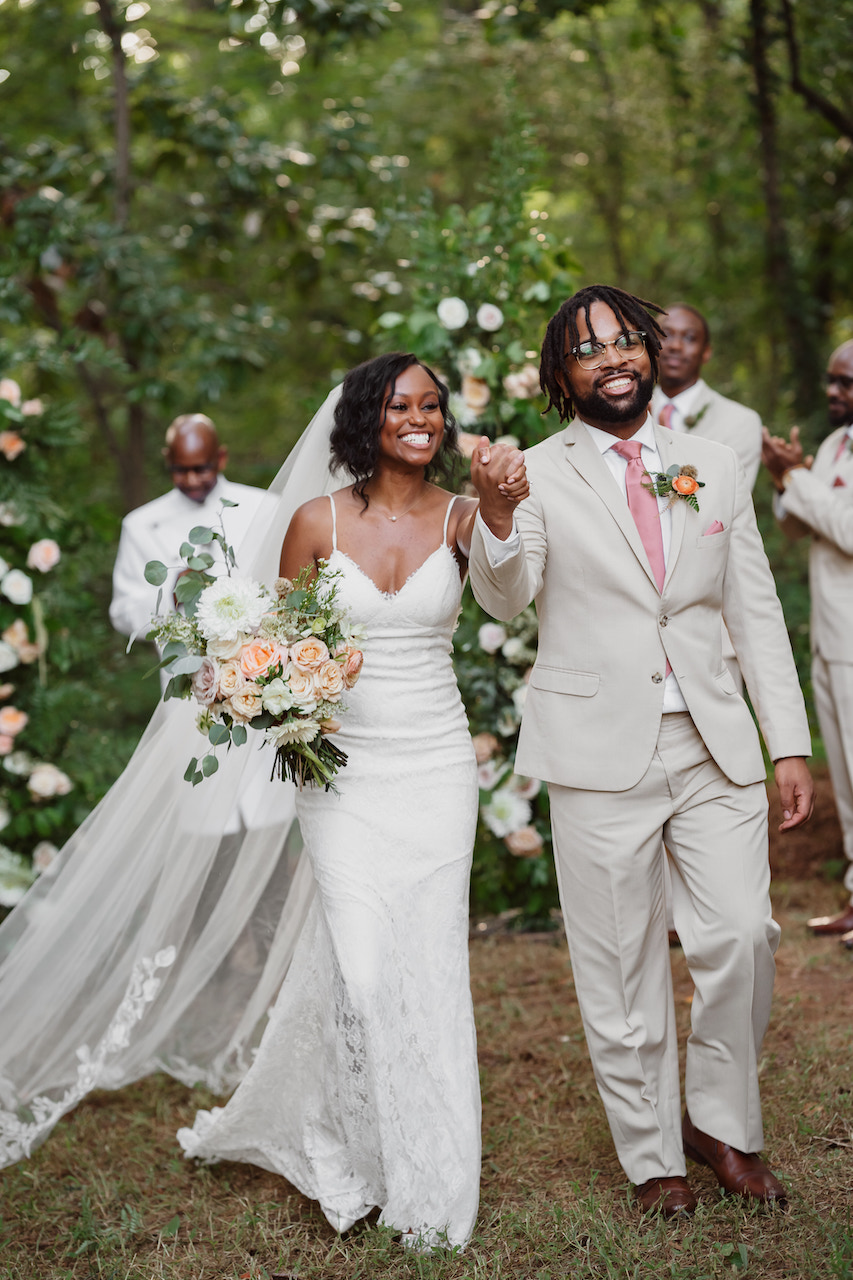 20 Oct

Real Wedding: Kayla & Marcus
Whimsical backyard wedding in Georgia
Real weddings are so inspiring! To get you in the mood to plan, we asked real brides to spill the details on everything from getting engaged and finding their wedding dresses to the special touches and surprising moments that made their celebrations completely one-of-a-kind. In the midst of planning your own backyard ceremony? Get ready to take some major inspiration from Kayla & Marcus' special day. Read on to see more from this backyard wedding in Georgia.
Briefly tell us how you and your fiancé met! How did you know that he was the one?
Marcus & I met during our freshman year at The University of Georgia. I knew he was the one because of how supportive and kind he was to me. I felt the sparks instantly.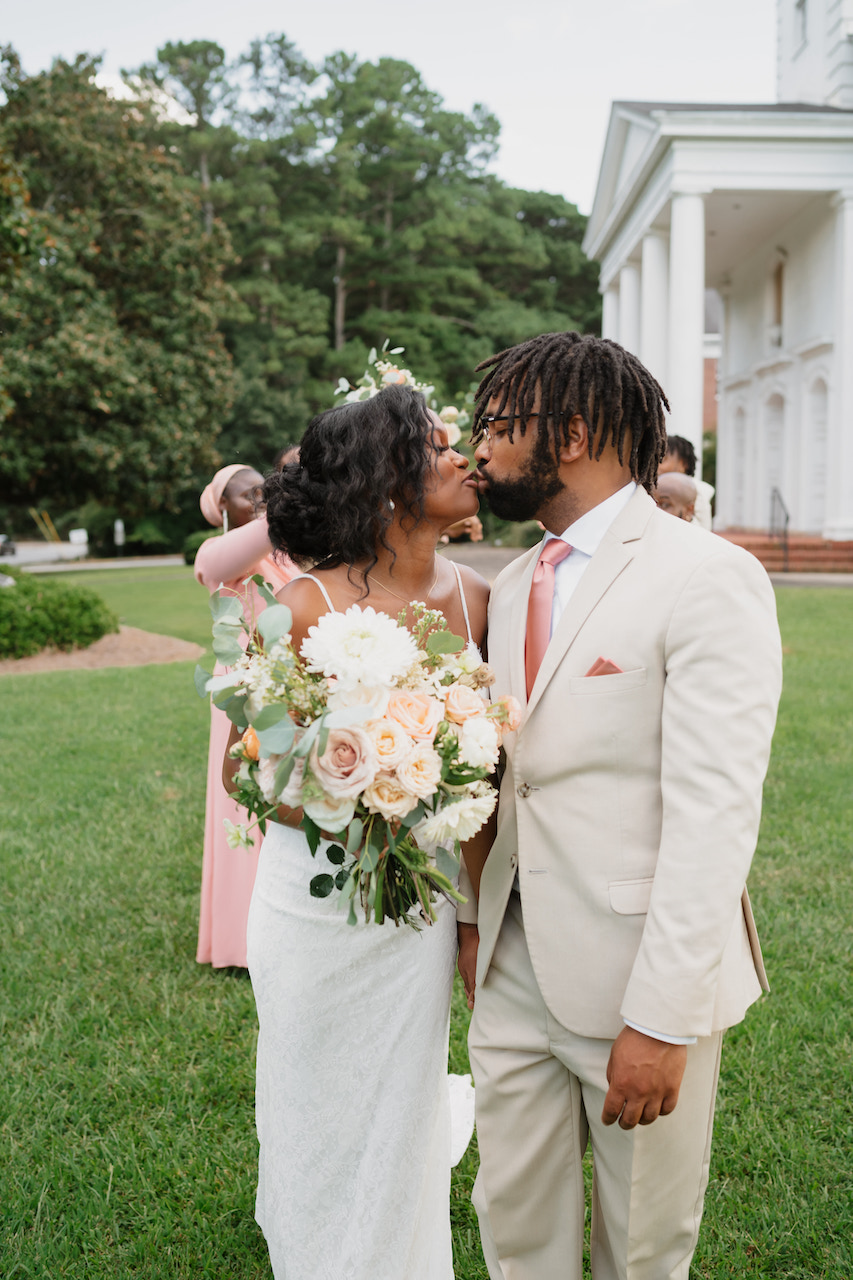 Tell us your proposal story!
I didn't see the proposal coming at all. Marcus tricked me into thinking we were just celebrating our anniversary. He proposed at the Atlanta Treehouse and it was gorgeous. A few of our family & friends were there and that made the moment even sweeter.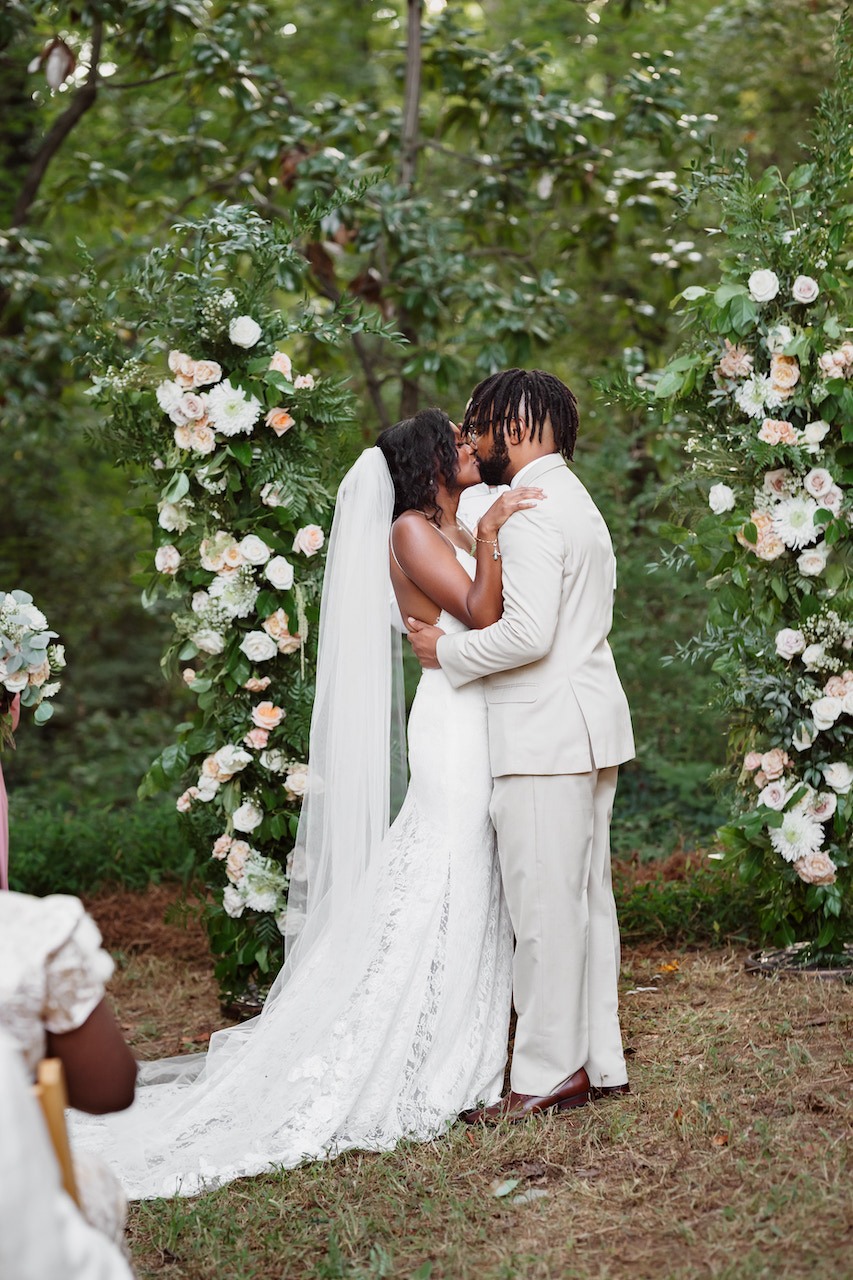 How did you both decide on your wedding day look?
Since we were having an outdoor summer wedding, we wanted to use light & airy colors. After doing some research on Pinterest, we found exactly what we were looking for. The men wore tan suits and the ladies wore desert coral.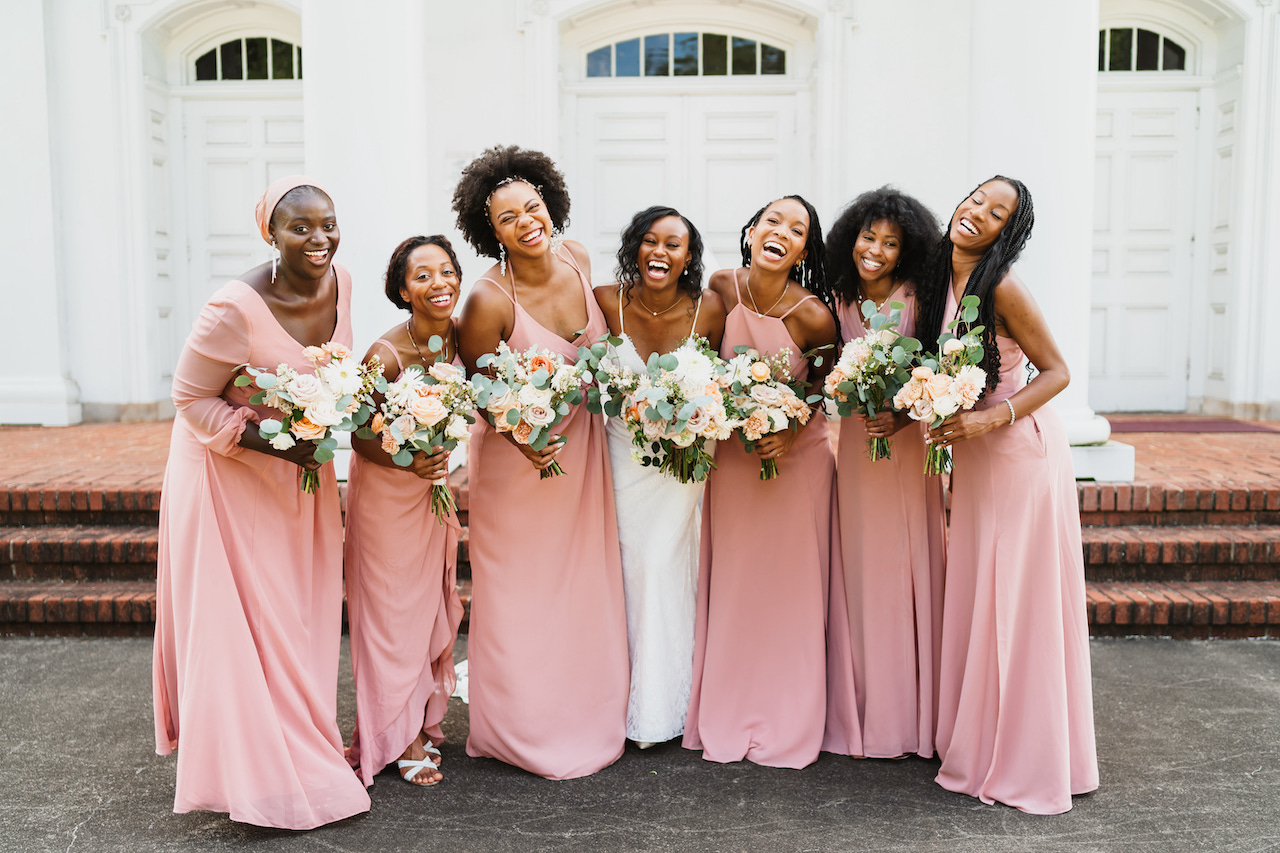 Do you have any shopping advice for future brides?
The best advice I could give is to take your time. Listen to yourself and don't rush to find your dress. You'll know when you've found the right one.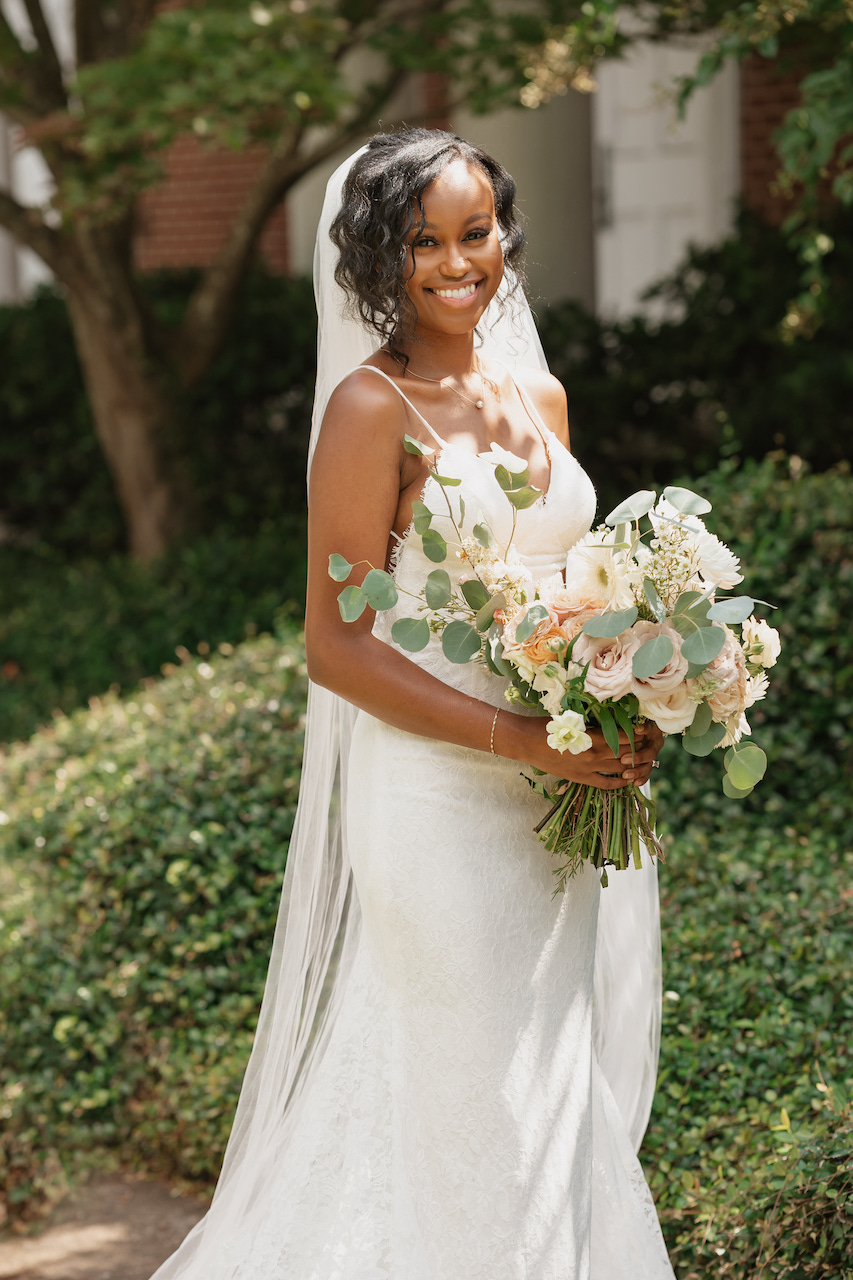 What was your favorite detail about your look?
It was my hair for me. I did a curly updo with a few rig-lets streaming down over my face and it really gave off that whimsical look I was going for.
Tell us about your wedding day!
Our wedding day was a whirlwind. I didn't have a wedding planner or day of coordinator so my maid of honor & bridesmaids really stepped up to make sure everything was on point. From setting the tables to doing my nails, all hands were on deck. After the setting up and getting ready phase was over, it was time to do our first look. We met up with the fellas at an old church in our neighborhood. I was so nervous for Marcus to finally see me all dolled up in my dress but he loved it and even shed tears. We embraced each other and cried tears of joy. Next, we took all our photos with our wedding party and then headed back home for the ceremony.
Was there a highlight or most memorable moment of the day?
The most memorable moment was hearing Marcus read his vows. They were so beautiful and passionate. We almost kissed at the altar before it was time!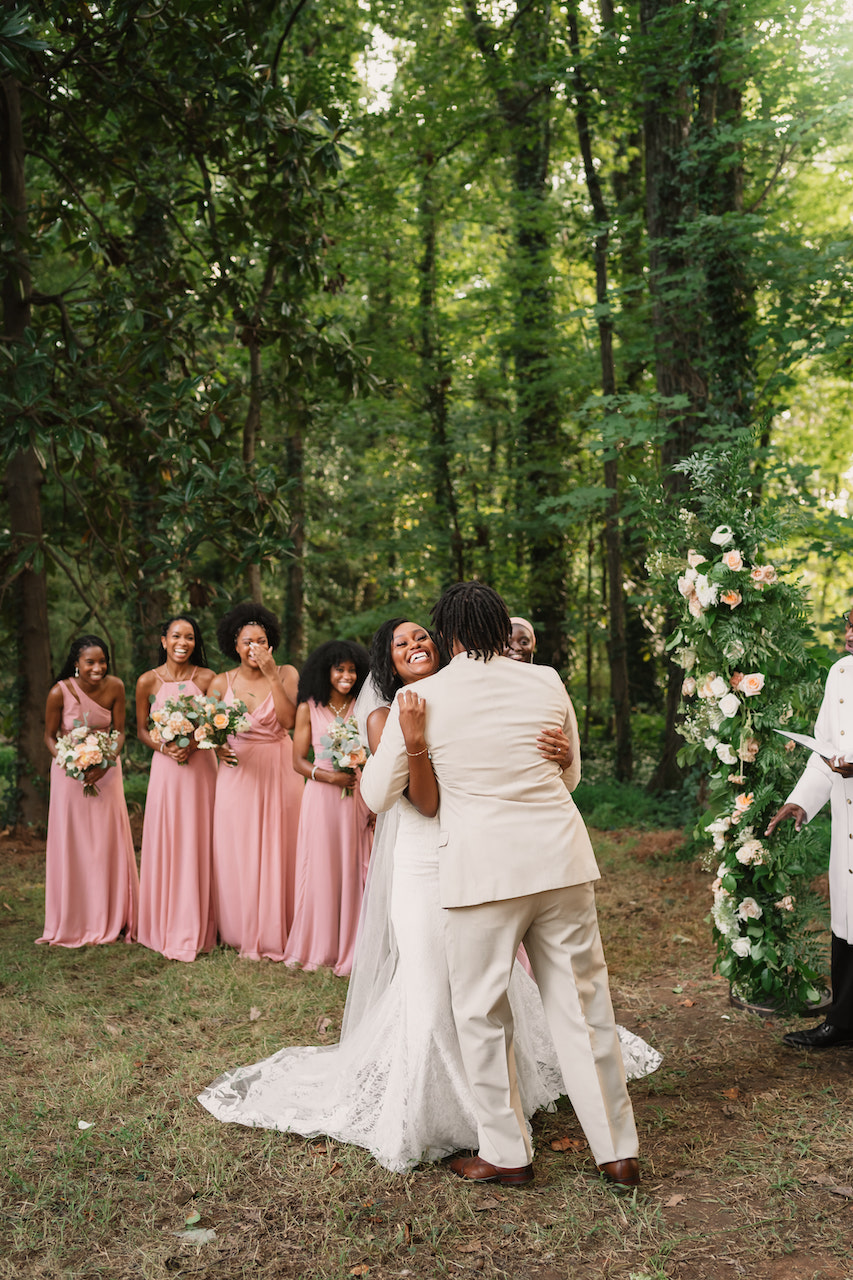 Did anything funny or unexpected happen?
After our first kiss, all our family and friends started shouting and my puppy Marshmallow started barking too and ran down the aisle to us. It was the cutest thing ever.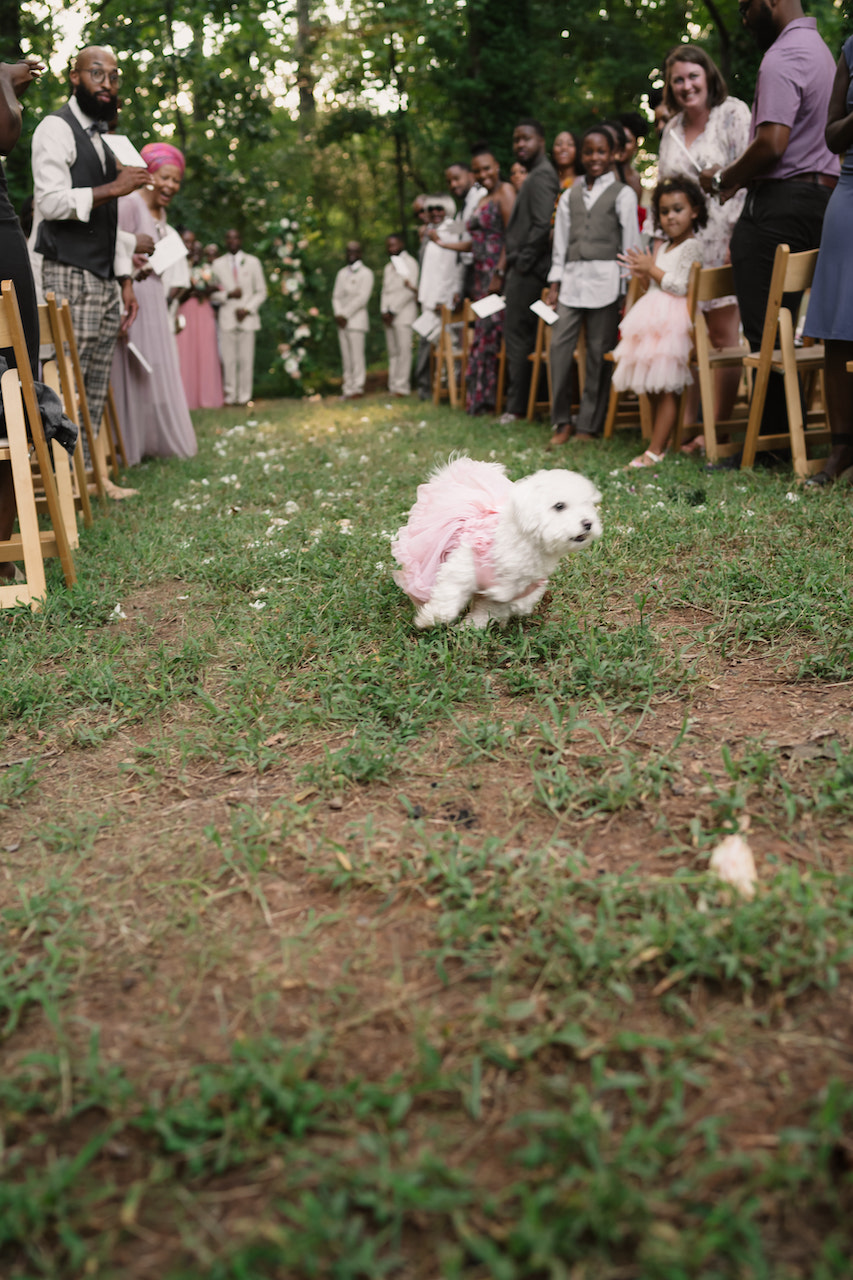 What's your best wedding planning advice?
Write down all your must-haves at the wedding before you begin looking for inspiration on Pinterest or finding a wedding planner. It's really good to have a list to reference what's most important to you when making those big decisions. Stay true to your heart and do what makes sense for you and your partner.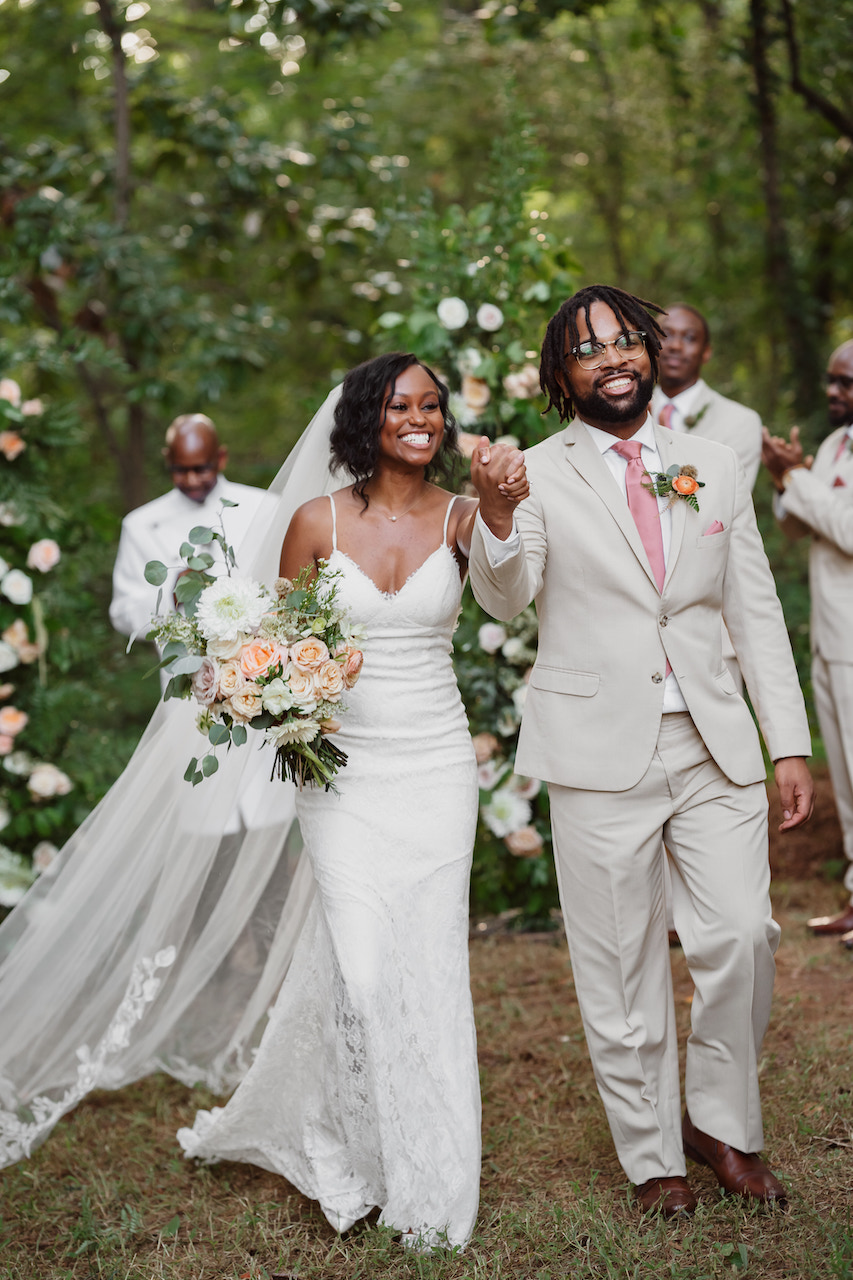 More Details:
Date: August 27th, 2022
Wedding Dress Style: Low- Back Soft Lace Wedding Dress
Wedding Song: "Find Someone Like You" by Snow Alegra
Cake Flavor: Carmel & Oreo
Photographer: Rena Durham
Inspired by this backyard wedding in Georgia? Read more real wedding stories here!
We know how important your wedding day and special events are to you and we are doing everything in our power to serve you! You can shop with us 24/7 at davidsbridal.com or come see us at your local David's Bridal. Plus we are here for you to help guide you through your wedding planning! See tips for starting to plan your wedding at home, shopping for your wedding dress online with confidence, and more on the blog.
Planning a wedding? Sign up for our Diamond Loyalty program—it's free —and find local wedding vendors! Follow us on Instagram, TikTok, Pinterest, and Facebook for more real wedding inspiration, or click here to book an appointment.
Related Posts: