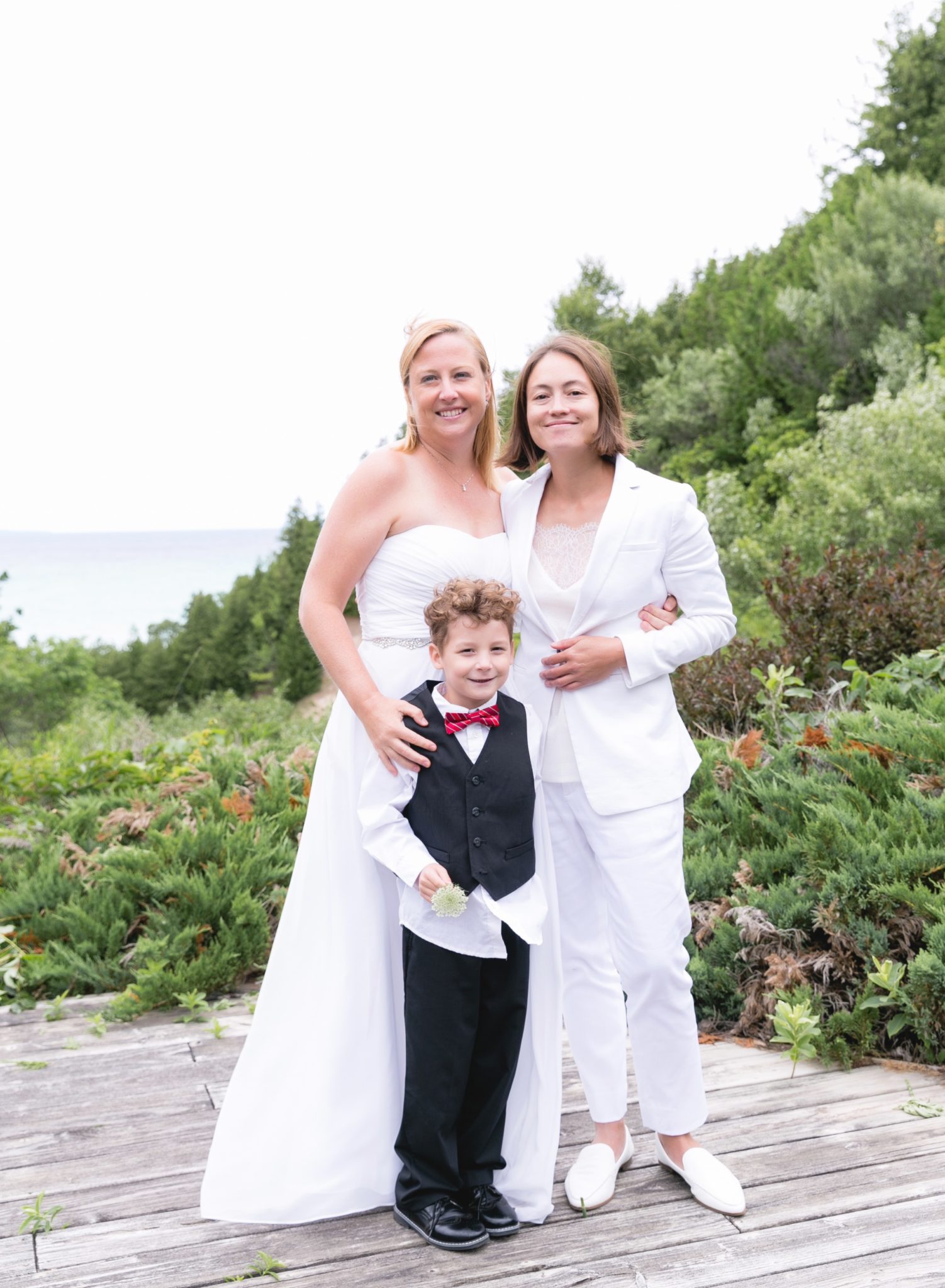 07 Oct

Real Wedding: Sarah & Rachel
An Outdoor Micro Wedding at Lake Michigan
Real weddings are so inspiring! To get you in the mood to plan, we asked real brides to spill the details on everything from getting engaged to finding their wedding dresses to the special touches and surprising moments that made their celebrations completely one-of-a-kind. Read on for Sarah and Rachel's outdoor micro wedding at Lake Michigan
Briefly tell us how you met! How did you know that the other was the one?
We met on Tinder. We matched and then Sarah messaged Rachel first and told her how cool her dog was! We met for brunch about two weeks later and within a couple of weeks, we were spending most of our free time together!
Rachel: I knew Sarah was the one when she told me that she loved to play chess and was looking for a chess partner!
Sarah: I knew Rachel was the one when I was watching her practice her cello one day and it just hit me out of nowhere!
Tell us your proposal story!
The proposal happened on our back patio on April 22, in the middle of the COVID-19 shutdown. It was always a matter of when we would get married, not if. We were talking about the future and Rachel first brought up getting married this summer at her parent's lake house in Michigan. Sarah had always told Rachel that she would say yes whenever Rachel asked. So Rachel formally got down on one knee and proposed. And Sarah said yes!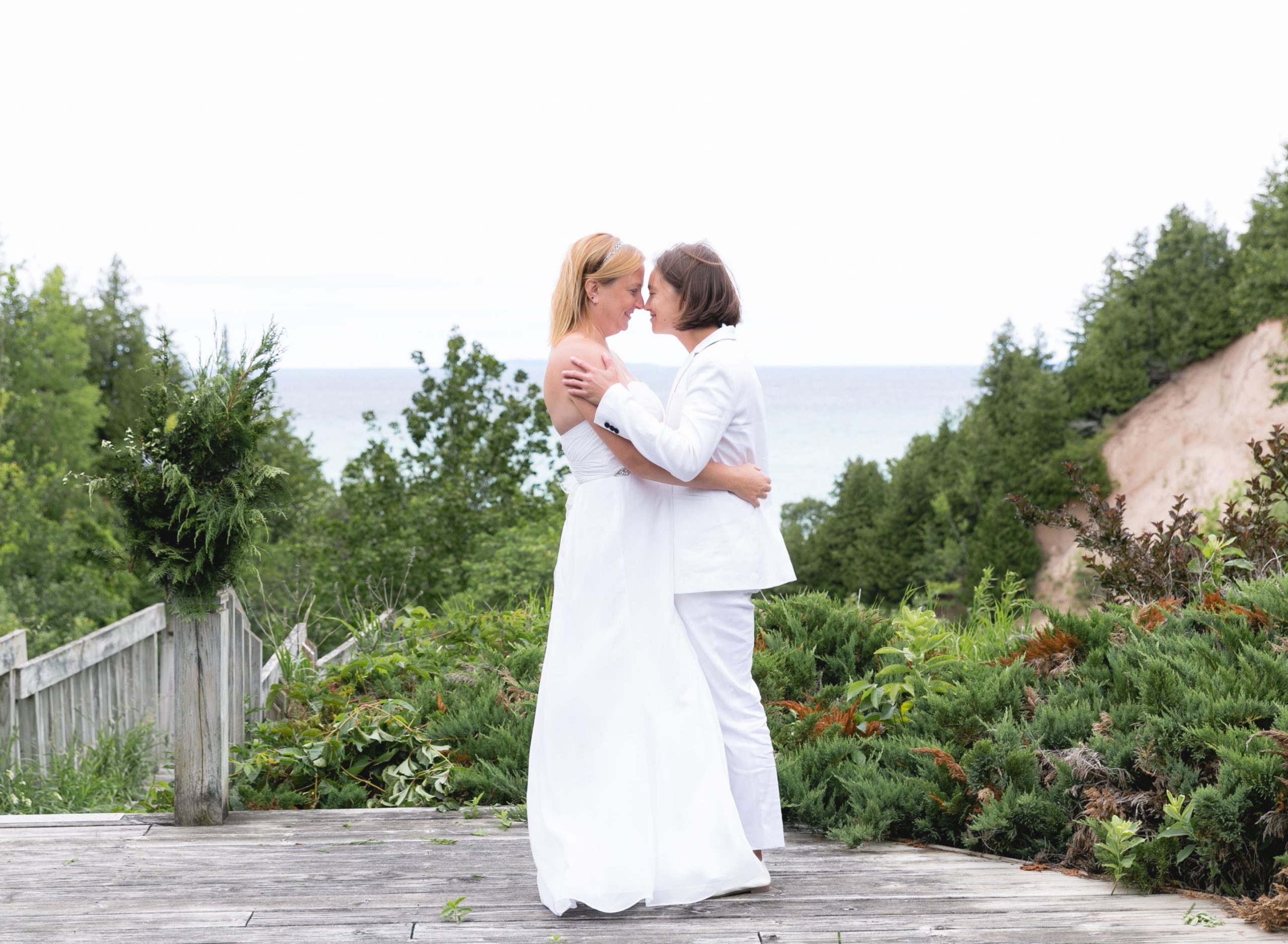 How did you both decide on your wedding day look?
Sarah knew she wanted a dress and Rachel knew she wanted a white suit!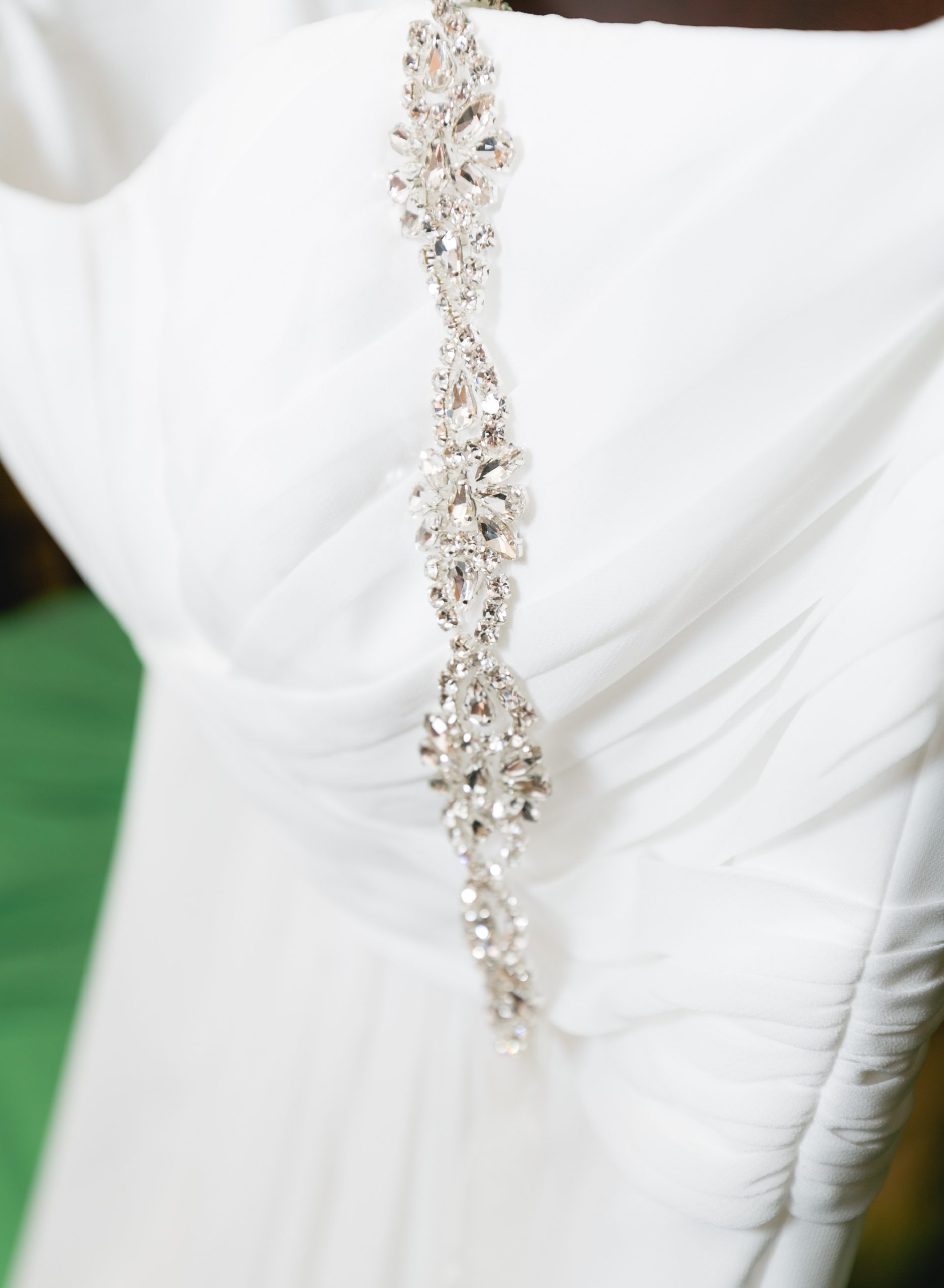 Do you have any dress-shopping advice for future brides?
The clothes you will look the best in are the clothes that you feel comfortable wearing. Also, be open to options that may be different than what you initially wanted. Sarah didn't want a strapless dress and that's what ended up looking the best. Rachel didn't want anything sparkly or flashy, but ended up wearing a sequined camisole under her suit jacket.
Did you have a first look?
We did!
Rachel: It was so nerve-wracking because I was walking backward toward Sarah. She looked amazing. She always looks amazing, but it was a different type of amazing for a special day!
Sarah: I was so nervous because she had never seen me that fancy before! I was blown away by how beautiful she was (and always is!) and when I saw her, my nerves disappeared and I was so excited to marry her!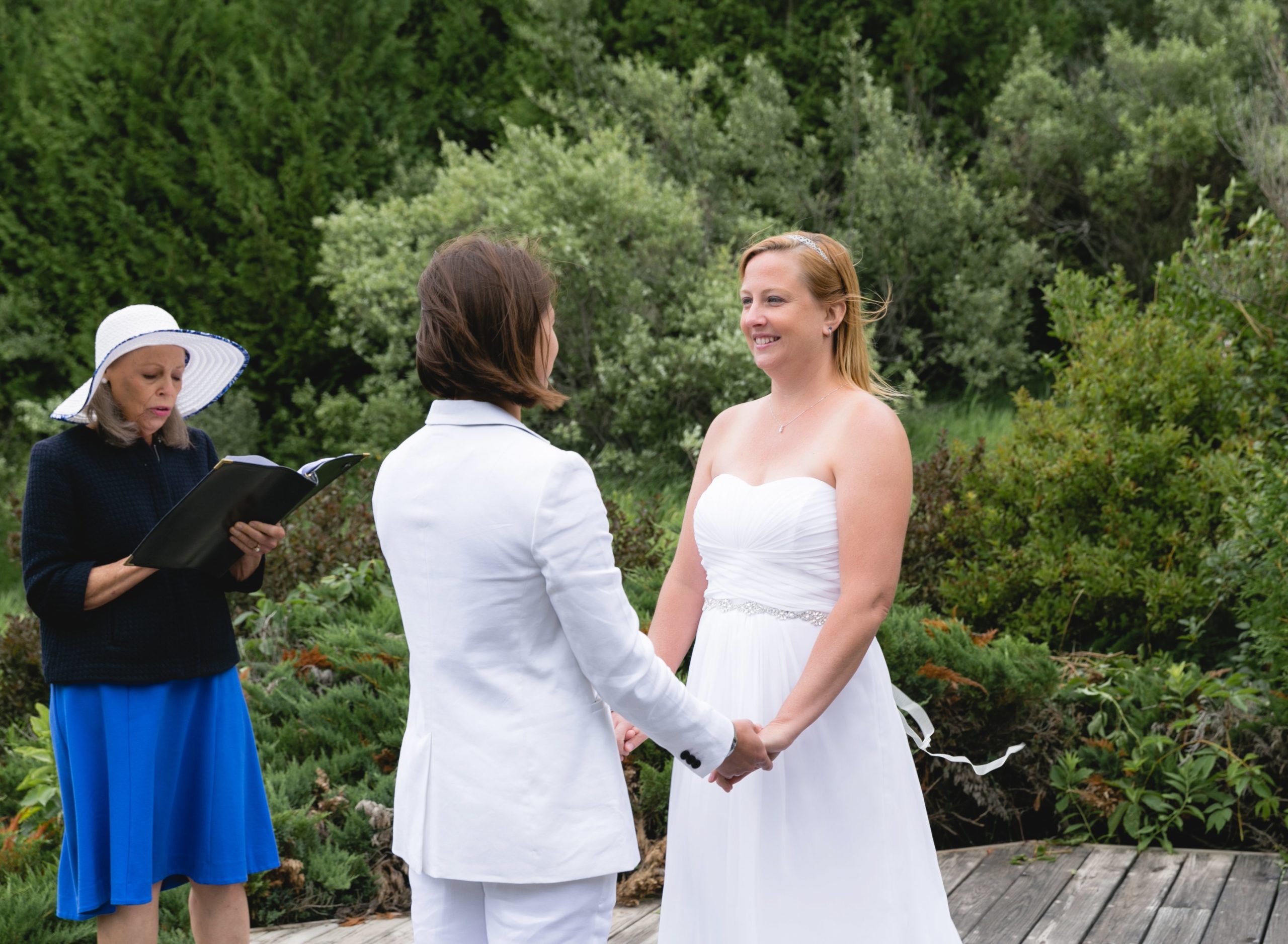 Tell us about your wedding day!
It was such an amazing day. There were really good people there — just 6 people, not including us or Sarah's son. There was so much food, we had so much fun! We held the ceremony on a neighborhood deck, overlooking a bluff leading to Lake Michigan. It was a bit cloudy and breezy, which was nice so we didn't swelter in the July heat. We had a small reception with our 6 guests at Rachel's parents' lake house. Rachel is a professional cellist and serenaded guests with an impromptu chamber music recital with two of her friends, who were also our wedding violinists!
Did anything funny or unexpected happen?
Yes, a couple of funny things happened. We forgot to bring our marriage certificate to fill out on the deck after our ceremony, so we had to assure our officiant we actually had it and we had to rush to get it to her afterward. Also, we had our pictures taken at sunset on Lake Michigan. We carefully waded out to a rock off the shore. As we were getting down, we slipped off the rock and fell into the water. Oops!
Is there something you wish you had known before the big day/while you were planning the wedding?
Really take the time to remember and enjoy every detail about your day. When you marry the right person, your wedding day is amazing and perfect and you will want all those memories seared into your brain.
What was your first dance song?
We didn't do a public first dance, but we danced privately to "Lovely Day" by Bill Withers.
What was your favorite DIY or personal touch?
We couldn't have a full quartet because of COVID-19. Instead, Rachel's two friends, who are violinists in her quartet, came to play at our wedding. Rather than the traditional wedding songs, she requested they play virtuosic selections from the violin repertoire. Also, since the wedding guest list was so tiny, Sarah put together fun wedding swag with coffee mugs, personalized pencils, Michigan magnets and Petoskey stones, which are unique to the area.
What did you do to stay stress-free on your wedding day?
Rachel: I took a walk by herself before the ceremony.
Sarah: I was a ball of nerves until after the ceremony and then it was smooth sailing for everyone after the I do's. Also, we found time to connect just the two of us throughout the day, which made it even more special.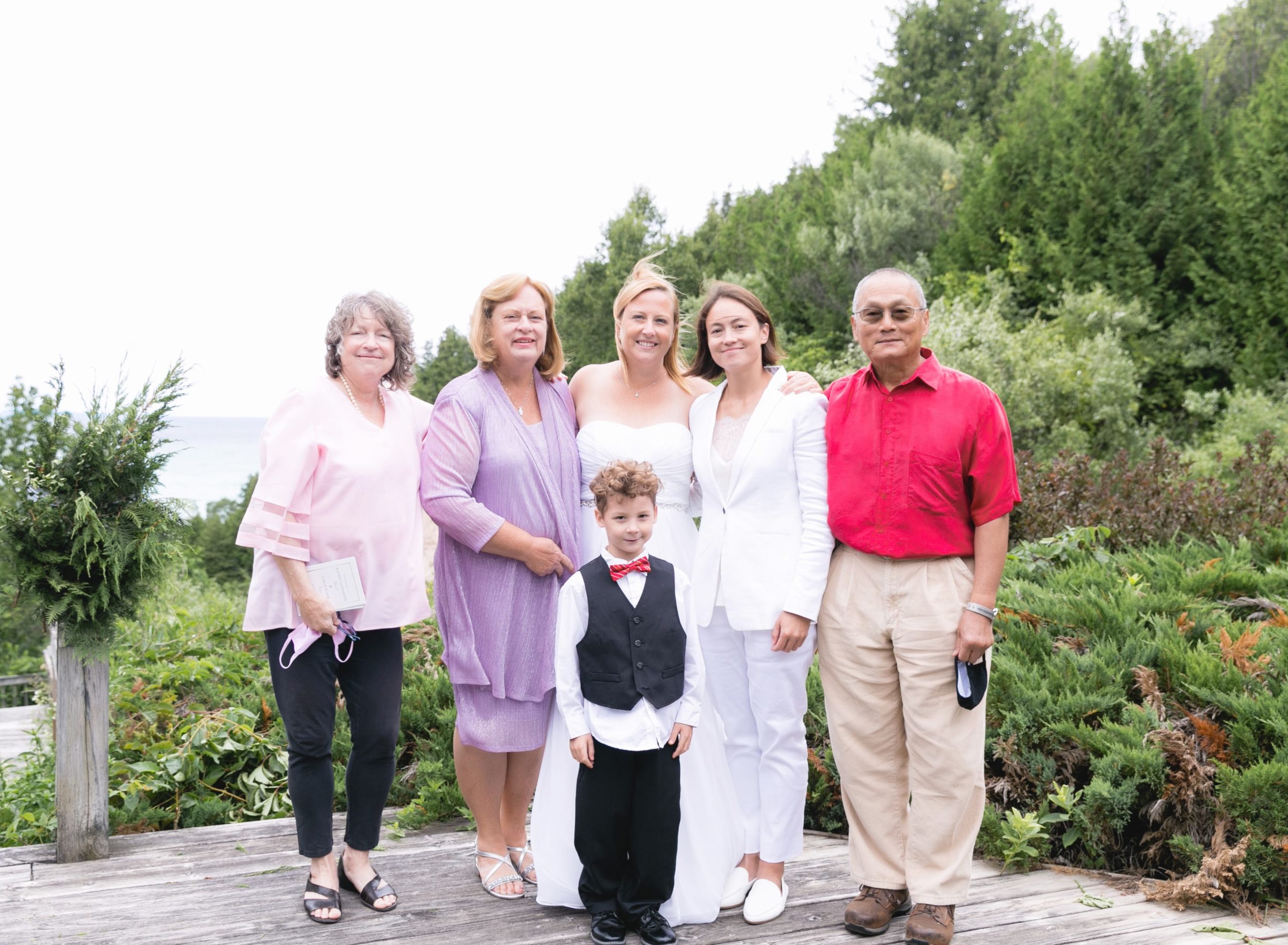 What's your best wedding planning advice? And what advice do you have for brides that are planning their weddings right now?
Don't let the pandemic stand in the way of getting married. Sure, you shouldn't throw a huge party right now, but you can have the party after it is safe. Your wedding is for you and your future spouse and no one else. Make it just for the two of you and it will be perfect.
More Details:
Wedding Date: July 20, 2020
Location: Northport, Michigan
Dress Style: Strapless Chiffon A-Line with Crystal Sash
Photographer: MbM Weddings
Love this outdoor micro wedding at Lake Michigan? Get inspired by more real DB brides, here! We know how important your wedding day and special events are to you and we are doing everything in our power to serve you! You can shop with us 24/7 at davidsbridal.com or find a location near you to make an appointment to try on and take home your dream dress. See tips for starting to plan your wedding at home, shopping for your wedding dress online with confidence, and more on the blog.
Related Posts: