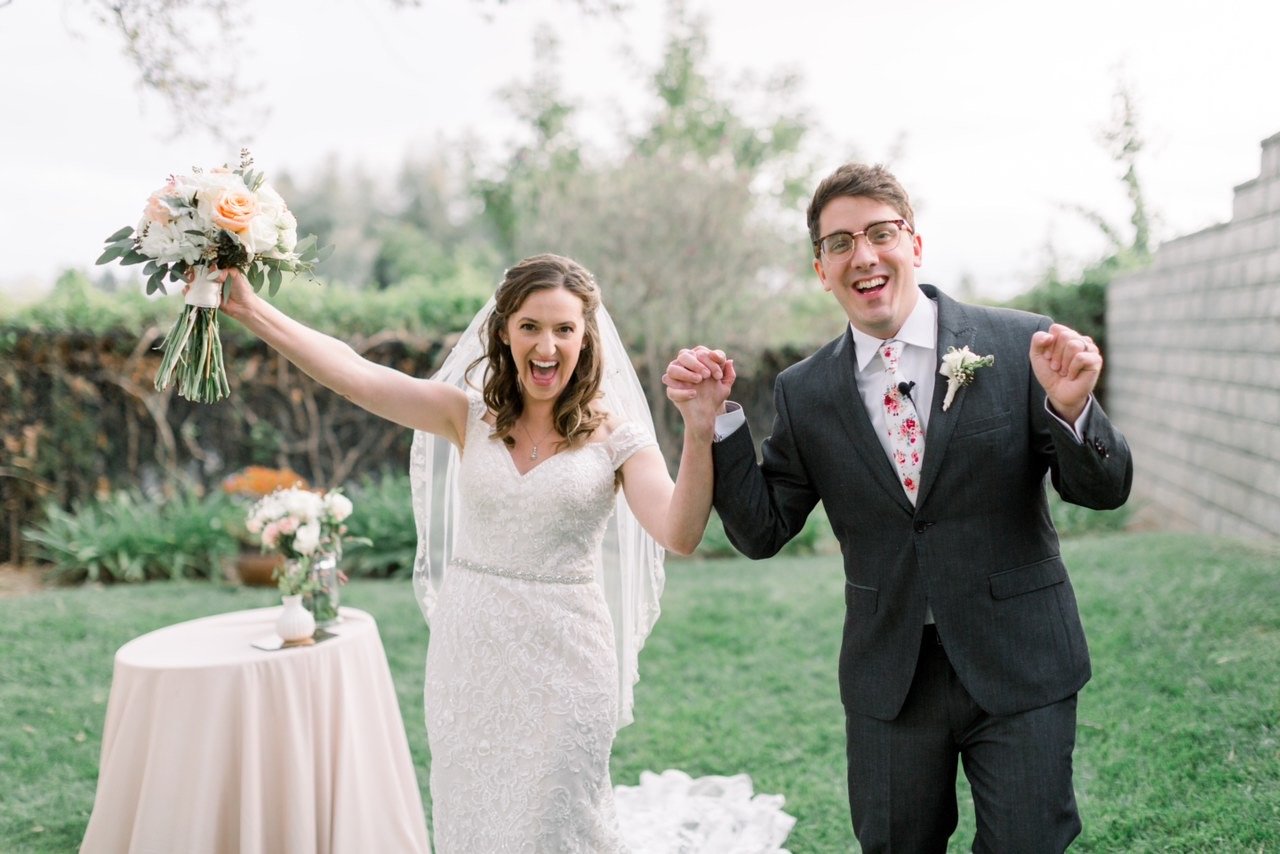 29 Apr

Real Wedding: Heather and Lyle
A Romantic Backyard Wedding in California
Real weddings are so inspiring! To get you in the mood to plan, we asked real brides to spill the details on everything from getting engaged to finding their wedding dresses to the special touches and surprising moments that made their celebrations completely one-of-a-kind. Read on for Heather and Lyle's romantic backyard wedding in California.
How did you meet? And how did he propose?
I'm a first grade teacher, and he's a piano teacher. We were introduced to each other through a mutual student. I'd seen a picture of him with that student on Facebook at their recital, and felt I had to meet this guy! He proposed on a lovely wooden bridge at the bottom of Yosemite Falls in Yosemite, CA. I was totally surprised! It was picture-perfect.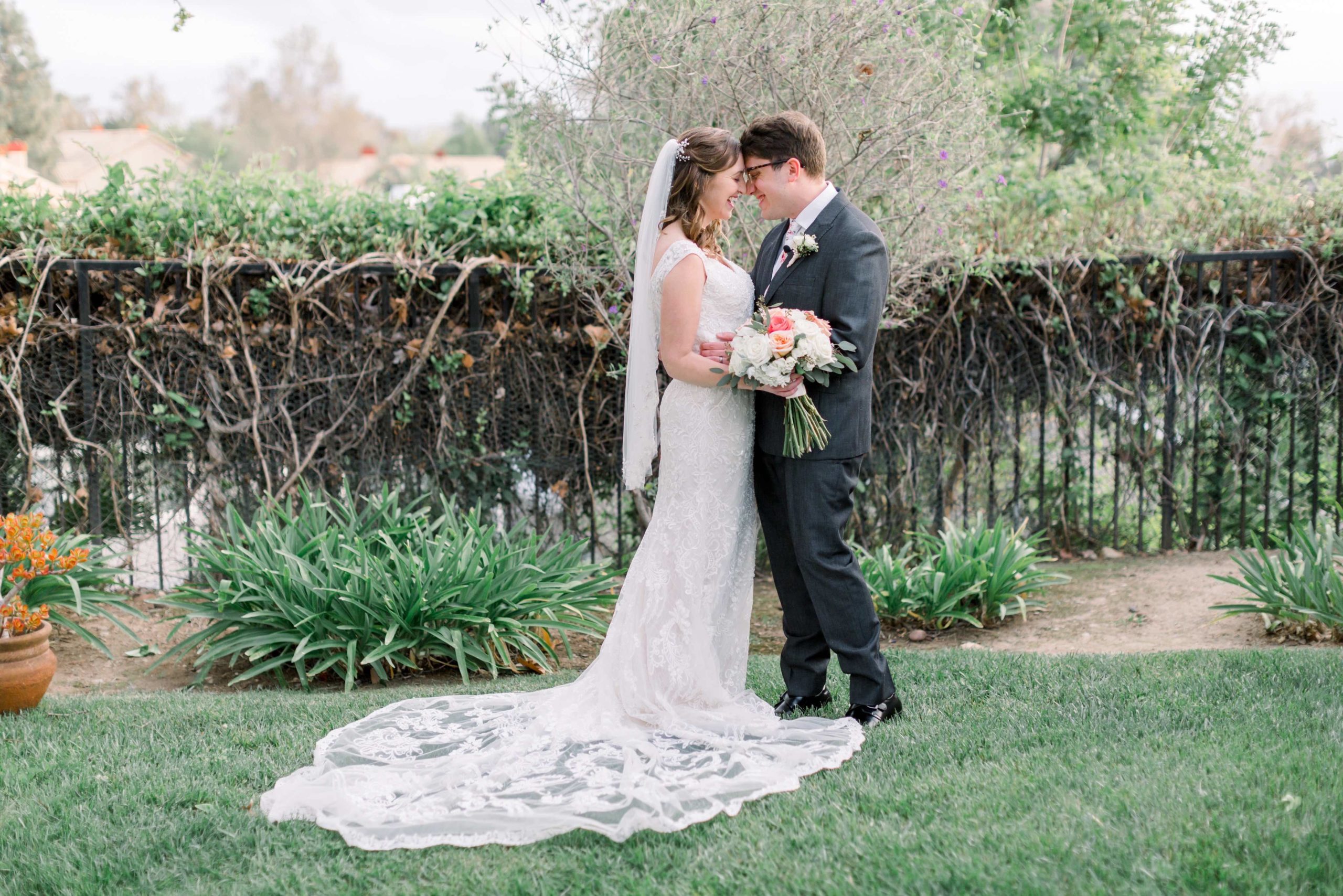 How did you decide on your wedding dress? Any dress-shopping advice for future brides?
I tried on several wedding dresses because I wasn't sure what style I would like or what would look good on me. I didn't really love any of the dresses until I found this off-the-shoulder Oleg Cassini! As soon as I put the dress on, I felt like a gorgeous bride. I absolutely loved the long train, the detailed beading, and beautiful lacework. I also knew my fiancé would love the dress because he gravitates towards vintage aesthetics. For advice, I would tell brides to have fun and enjoy the process. Try to have an open mind, because originally, I thought I wanted to wear a princess ball gown dress, but I ended up liking the more form-fitting ones instead.
Tell us about your wedding day! We know it wasn't exactly what you had originally planned on!
It was different in every way than what we'd planned for and dreamed of, except for the main thing: we still got married! My husband and I had always dreamed of a white church wedding, surrounded by family and friends, but instead, we had a backyard wedding with only our pastor, my sister (as our one legally-required witness), and a photographer, all six feet apart from each other to maintain social distancing orders. But still, it was a beautiful and magical moment! It was so intimate and so relaxed and natural…it couldn't have been more special or meaningful.
Did anything funny or unexpected happen?
The wind blew our marriage license right off the table! Fortunately, we retrieved it before it ended up on the neighbor's lawn. Also, when we walked to the front lawn to our getaway car, we were pleasantly surprised to see several groups of our friends in the cul-de-sac, cheering for us, armed with sparklers, holding signs, and just giving us the warmest and sweetest send-off.
Is there something you wish you had known before the big day/while you were planning the wedding?
It's a hard thing, having to let go of every single detail you worked so hard for during the planning process. It maybe would've been nice to know that nothing would turn out how we imagined. But in a way, things changing so fast and everything getting stripped down day-by-day taught us to hold on to each detail with an open hand. It forced us to focus on the one most important detail: getting married and starting our life together.
What was your first dance song?
"When I Fall in Love" by Nat King Cole
What was your favorite DIY or personal touch?
My husband made a copper pipe-style wedding arch, and our friends decorated it beautifully with live florals and fabric. It looked so whimsical and magical!
What did you do to stay stress-free on your wedding day?
Lots of prayer, I took a walk in the morning and spent time with my sister and our roommate.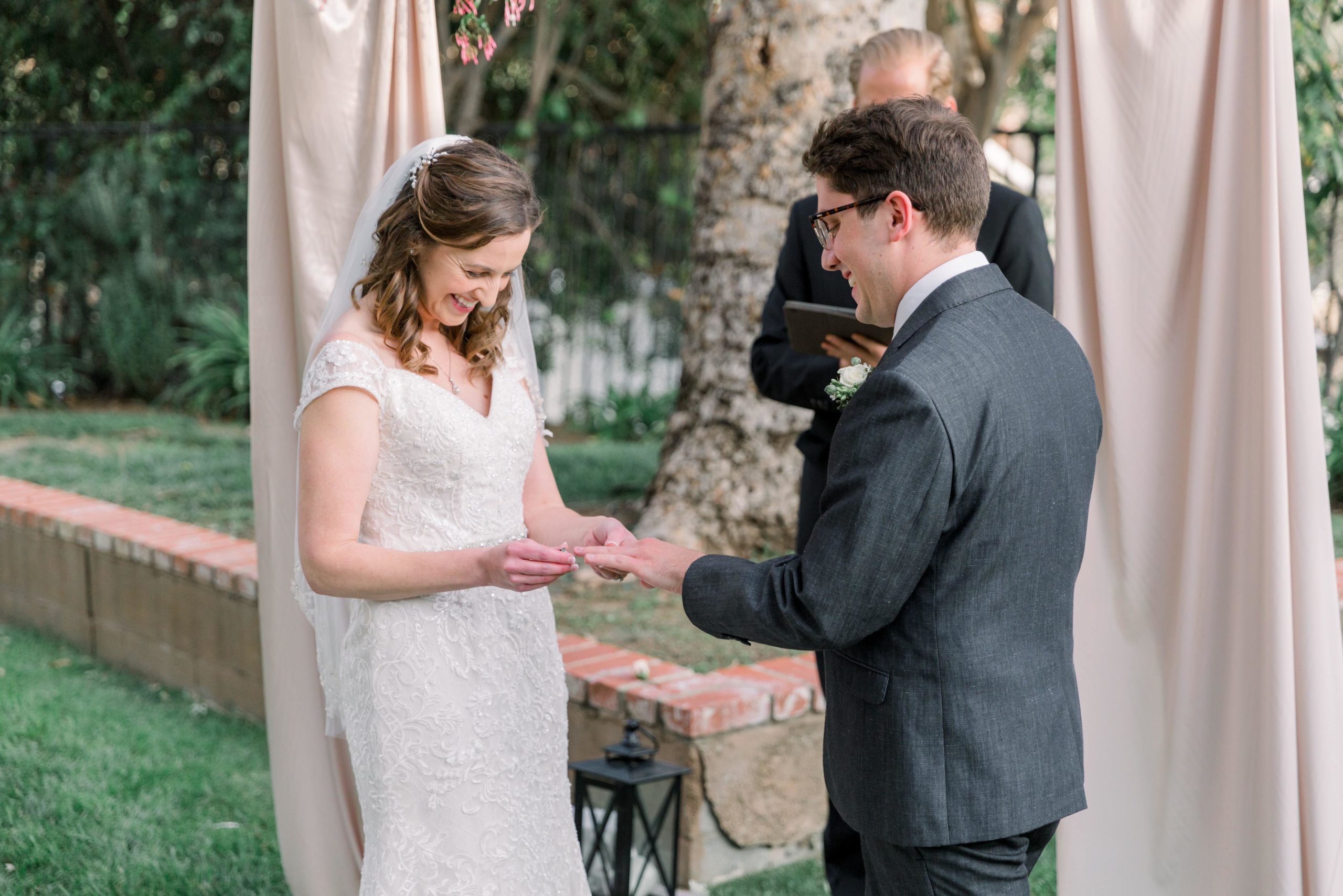 What's your best wedding planning advice? And what advice do you have for brides that are going through a similar situation right now?
Be ready to embrace the unexpected. And expect to embrace the hidden beauty that is found there. Plan ahead, give yourself plenty of time, but know that you can ultimately only do your best and take things one day at a time, one step at a time. You're not alone. No wedding is without its disappointments. Just focus on what's most important: the wedding is a day, the marriage is forever. For us, we saw the importance in trusting God to write our story!
More Details
Wedding Date: April 4, 2020
Wedding Location: Santa Clarita, CA (Lyle's backyard!)
Wedding Dress Style: Mermaid
Photographer: Desiree Keoshian Photography
We know how important your wedding day and special events are to you and we are doing everything in our power to serve you! You can shop with us 24/7 at davidsbridal.com plus we are here for you to help guide you through your wedding planning! See tips for starting to plan your wedding at home, shopping for your wedding dress online with confidence and more on the blog.
Related Posts: