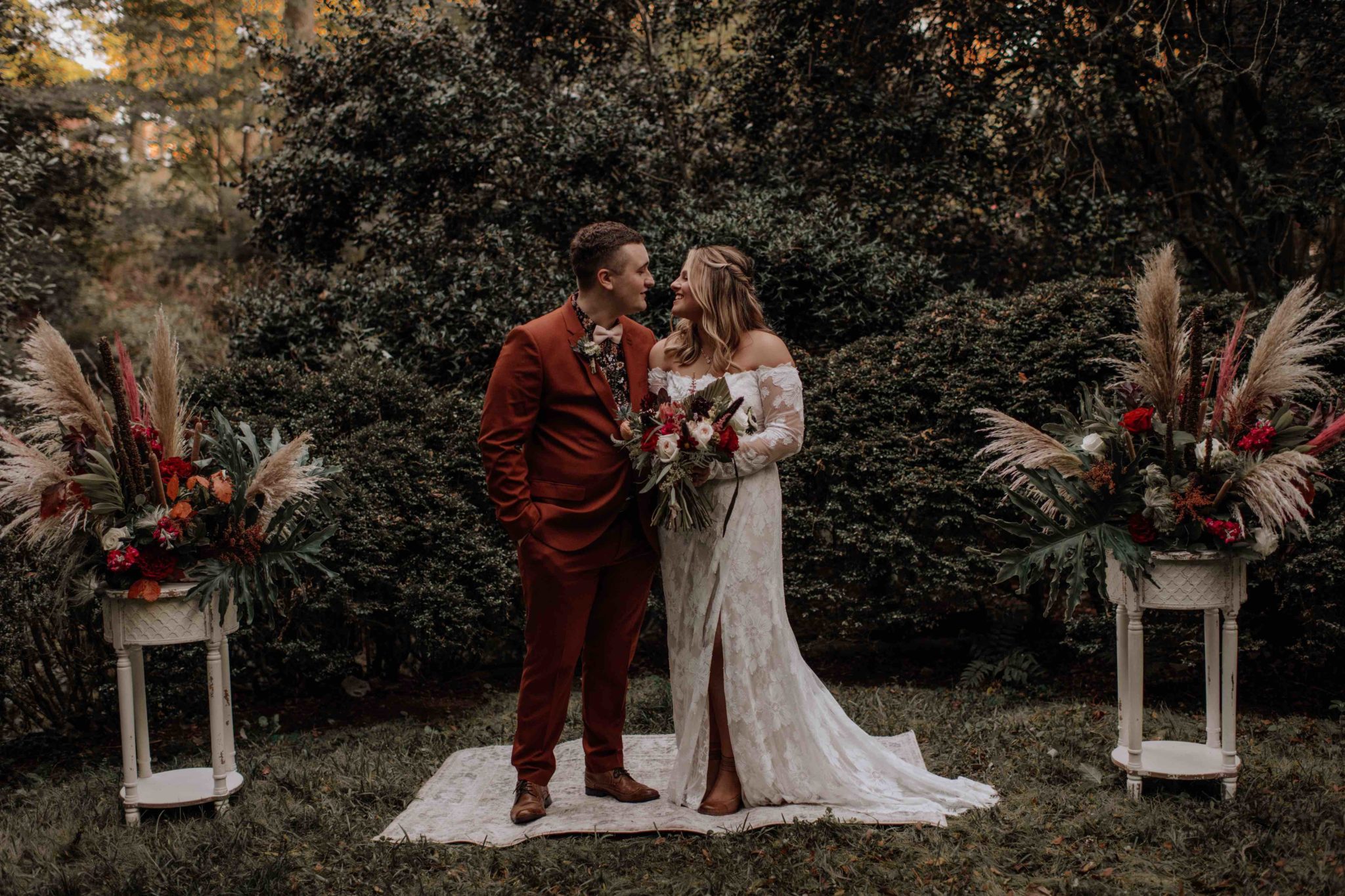 03 Feb

Real Wedding: Baylie & Brady
An Intimate Cottage Mini-Wedding in Athens, GA
Real weddings are so inspiring! To get you in the mood to plan, we asked real brides to spill the details on everything from getting engaged to finding their wedding dresses to the special touches and surprising moments that made their celebrations completely one-of-a-kind. Baylie and Brady were high-school sweethearts and tied the knot in an intimate cottage mini-wedding in their home state of Georgia. Read on for more of their cottage mini-wedding in Athens!
Briefly tell us how you and your fiancé met! How did you know that he was the one?
Brady and I met in middle school actually. I definitely had a crush on him, but we just remained friends. That changed our sophomore year in high school when we started hanging out more, and then the rest is history! He's my high school sweetheart!
Tell us your proposal story!
Brady loves grand gestures, so he always said he wanted to propose when I least expected it. In August of 2019, we went to Daytona, Fl with my family like we do every year. Because getting engaged at the beach with my family seemed expected, that's when I least expected it. I even made jokes the whole time about trolling social media with a "fake proposal" picture that had a funny caption indicating that it definitely wasn't a proposal. This year in particular, we decided to climb a lighthouse there, something we've always said we wanted to do. As I was posing for the fake proposal photo, Brady whipped out an actual ring and said "how's this for a fake proposal?". I was so unexpected because it was too expected, which he later told me was his plan all along.
How did you decide on your wedding day look?
I have a wide range of tastes when it comes to style, so I never had one dress I envisioned wearing. All I knew is that I wanted something unique but still timeless, and something more boho and modern as opposed to traditional. David's Bridal was the first and only place I looked at dresses!
Do you have any shopping advice for future brides?
Definitely have some dresses or styles in mind before going shopping, but don't be so set on one in particular. Having a basis to start with helps you to narrow down what you love and eliminate what you found to not work. Having your heart set on one thing may lead to disappointment, and not having any clue may make your shopping experience stressful and leave you overwhelmed. It's all about finding that balance with some sort of direction to start in.
What was your favorite detail about your look?
I absolutely LOVED the sleeves on my dress and the off-the-shoulder style that felt sexy and classy. Besides the dress, my favorite things were my shoes. Our wedding was outdoors in a terraced garden, so I needed to be sure that my shoes would work on the terrain. They were essentially tan, leather, heeled booties!
How did you feel when you knew that you #foundtheone?
The dress I found wasn't one I ever saw online. The amazing stylist at my David's Bridal store pulled it for me after our consultation because she thought it would suit my style. Before I even had it fully zipped up, I was in love. It felt so "me" and I couldn't imagine wearing anything else on my wedding day. I was actually 4 weeks postpartum when I went dress shopping, so having that dress on made me feel so beautiful and confident in a time when I was vulnerable.
Tell us about your wedding day!
Both of us always wanted a very intimate ceremony that was more about the marriage itself than the wedding. We wanted a fun, non-traditional, celebration of our love that would reflect our relationship. So, we chose to have the day with 20 people in an outdoor garden at a small cottage in our hometown of Athens, Georgia. We were surrounded by so much love and celebrated with our favorite pizza and delicious desserts afterward while gathered around a fire. It was purely magical. So dreamy!
Was there a highlight or most memorable moment of the day?
Because our day was so simple and raw, I feel like we got to actually enjoy it and are able to remember it more than just the usual big blur of a wedding day that goes by so quickly. The part that really stands out was having our family and friends surrounding us in a semi-circle during our ceremony. Our officiant had us look around at the congregation a couple of times to see everyone there supporting us. It felt so intimate and we felt so much love.
Did anything funny or unexpected happen?
Oh yes – something funny and something stressful. We almost didn't have flowers because our florist forgot to deliver them. Once the setup time we discussed passed and they still weren't there, my sister called and they promptly came. She was a lifesaver and saved me from the stress of handling it. All was well and the flowers we set up JUST before guests started arriving. The funniest thing that happened was a surprise appearance of a bird flying around during the ceremony. I was in the middle of reading my vows to Brady when a bird flew past our officiant and right between us. I didn't find out until afterward because I was so focused on Brady when it happened that I totally missed it. I'm actually bummed that we never caught it in a photo.
Did you have to make any changes to your wedding plans because of Covid?
The only thing we changed was the location. Originally, we were going to get married in Savannah, Georgia, but ultimately decided that it would be best not to have to travel, so we changed it to our hometown of Athens, Georgia. We always planned for it to be an intimate day and outdoors, so luckily everything else could remain as planned. We did always have in mind that we would have a casual "reception" at a later date so we could celebrate with everyone who wasn't there, so we're just planning to do that whenever we feel it is safe and responsible to do so.
What was your favorite DIY or personal touch?
My favorite was the boutonniere I had made for my husband. I had our florist include a bead that was given to my husband's grandpa after his grandma passed in 2018. The bead was made out of dried and pressed rose petals from his grandma's funeral, so it is so special. Brady was able to hold his Gram close and know she was with him on this big day.
What did you do to stay stress-free on your wedding day?
So, we actually took a more non-traditional route for the day, and Brady and I spent the entire morning together. We went to breakfast at Waffle House like we always did the mornings before our dances together in high school. We also got some cozy and intimate photos in our pajamas before getting in our wedding attire. Having him there with me just eased any stress I was feeling and really allowed us to focus on each other, which was what the whole day was supposed to be about!
What's your best wedding planning advice? And what advice do you have for brides that are planning their weddings right now?
I would say do what feels right. If you want to take your time to plan an elaborate wedding that you've always wanted, then absolutely do it. Or if you want to go a more budget-friendly route and use the money you'd spend on a wedding to go towards a home or a honeymoon, then do it. There are so many different directions that you can take for a wedding, and none are better or worse than another. It's so easy to get caught up in what social media and Pinterest say a wedding should be like, but just do what makes you happy and is within your means.
Also, figure out what things and traditions are important to you to incorporate. Don't let people pressure you or make you feel bad about your choices of anything. Be as traditional or non-traditional as YOU like. The most important part of the wedding is the union it is creating and everything else is just minor details. No matter the size, weddings and wedding planning are stressful. Just know that something may not go as planned, and that is OKAY. Just remember what the day is about and let that be all that matters to you.
PS. You may think you won't have to tell guests to keep their phones away during the ceremony… but you absolutely do. I made the mistake of assuming people knew!
Any other wedding moments you want to share?
Our story is a little unique in the fact that we found out we were pregnant just two weeks after getting engaged. It was so special that we got to have our daughter, who was six months old at the time, be a part of our day. Brady carried her down the aisle and gave her to my dad as my dad gave me to Brady. We got to celebrate our union as a couple and as a family that day!
More Details:
Date: November 6th, 2020
Location : Athens, GA
Dress Style: Floral Lace Long-Sleeve Dress
Photographer: Karen Norian Photography
Love this intimate cottage mini-wedding in Athens? Read more real wedding stories here!
We know how important your wedding day and special events are to you and we are doing everything in our power to serve you! You can shop with us 24/7 at davidsbridal.com or come see us at your local David's Bridal. Plus we are here for you to help guide you through your wedding planning! See tips for starting to plan your wedding at home, shopping for your wedding dress online with confidence, and more on the blog.
Related Posts: