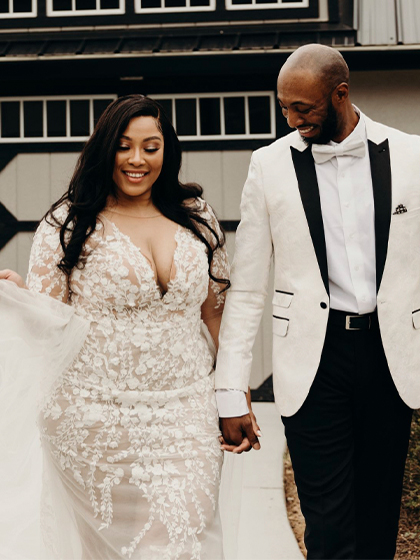 23 Jun

Real Wedding: Shannelle & Andrew
Sexy Bohemian Wedding in South Carolina
Real weddings are so inspiring! To get you in the mood to plan, we asked real brides to spill the details on everything from getting engaged and finding their wedding dresses to the special touches and surprising moments that made their celebrations completely one-of-a-kind. Real bride Shannelle and her now-husband Andrew officially tied the knot at a stunning wedding in South Carolina. Their day was filled with sweet moments, sentimental touches, and lots of laughter. Read on for more details from their sexy bohemian wedding.
Briefly tell us how you and your fiancé met! How did you know that he was the one?
I relocated from New York to Charlotte for my job and met Andrew, through a co-worker, for a blind date. He picked me up from my apartment and was a complete gentleman! We enjoyed laughter and drinks at a bowling alley. I of course won (will he see this? lol)! Soon after a great friendship brewed, and we have been inseparable ever since. I knew he was the one when I met his family and they welcomed me with open arms. As the saying goes "When you marry your spouse, you marry his family as well."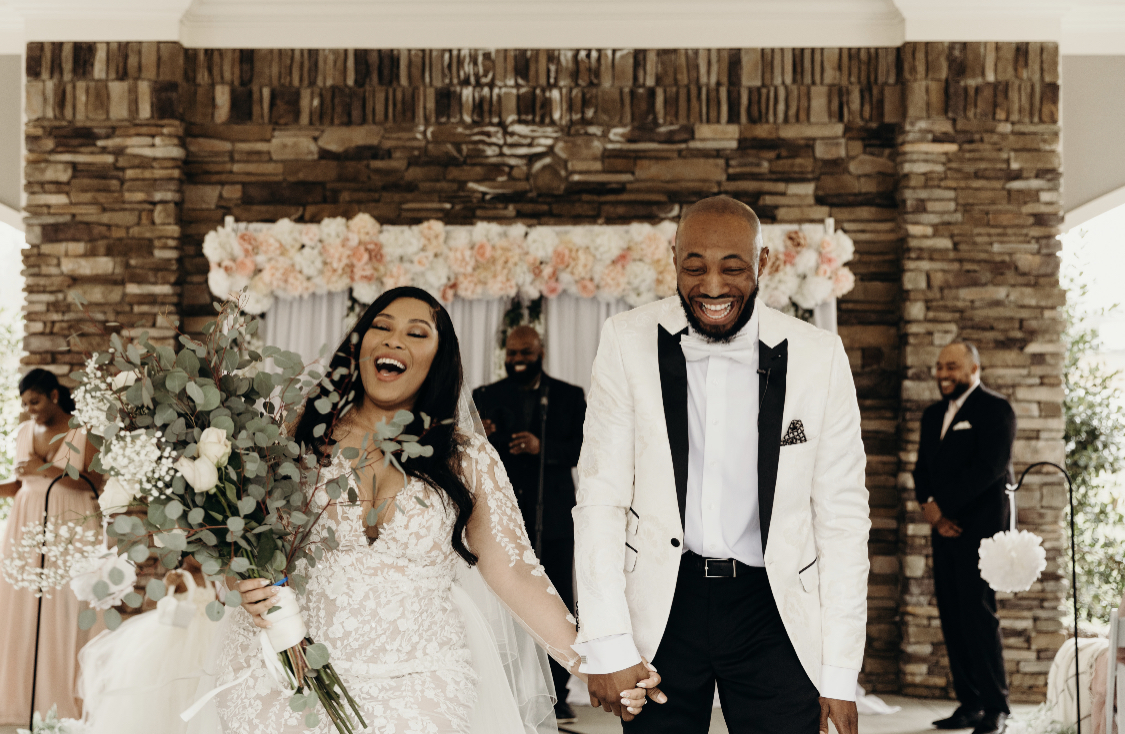 Tell us your proposal story!
It was Christmas eve at around 7 in the morning when he decided to pop the question. I was literally half asleep, morning breath, with no idea what was going on. He kneeled on my side of the bed and expressed his love for me. I cried like a baby!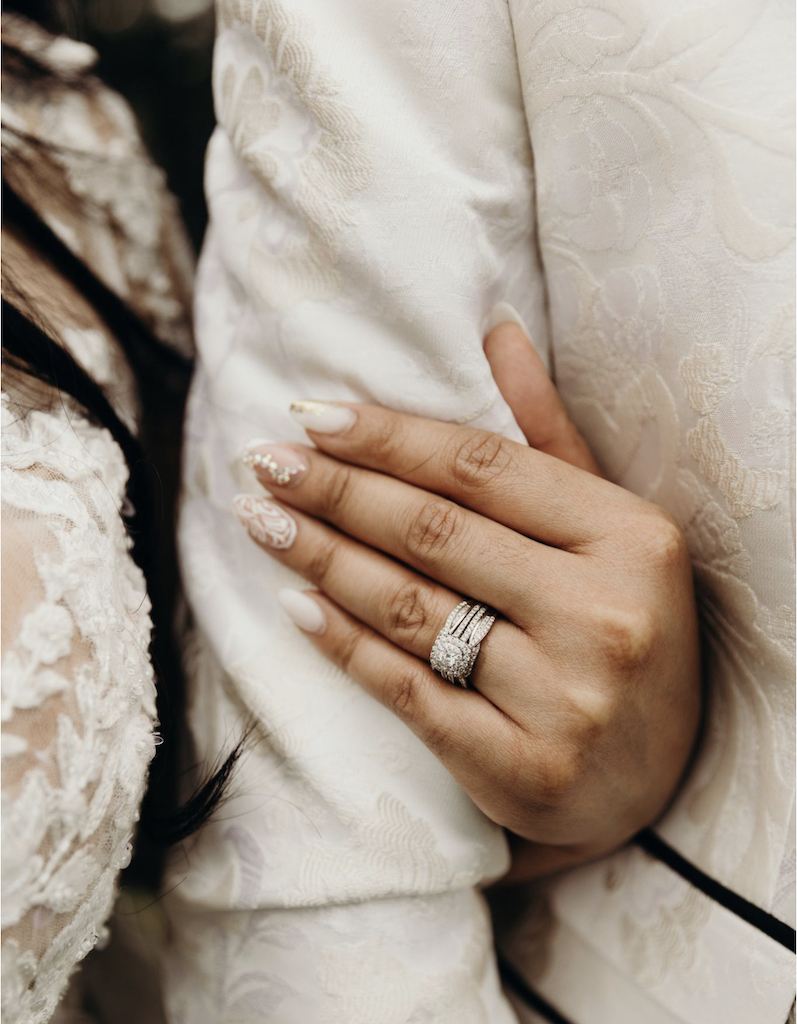 What was your favorite detail about your look?
I loved the illusion detail of my Galina Signature wedding dress.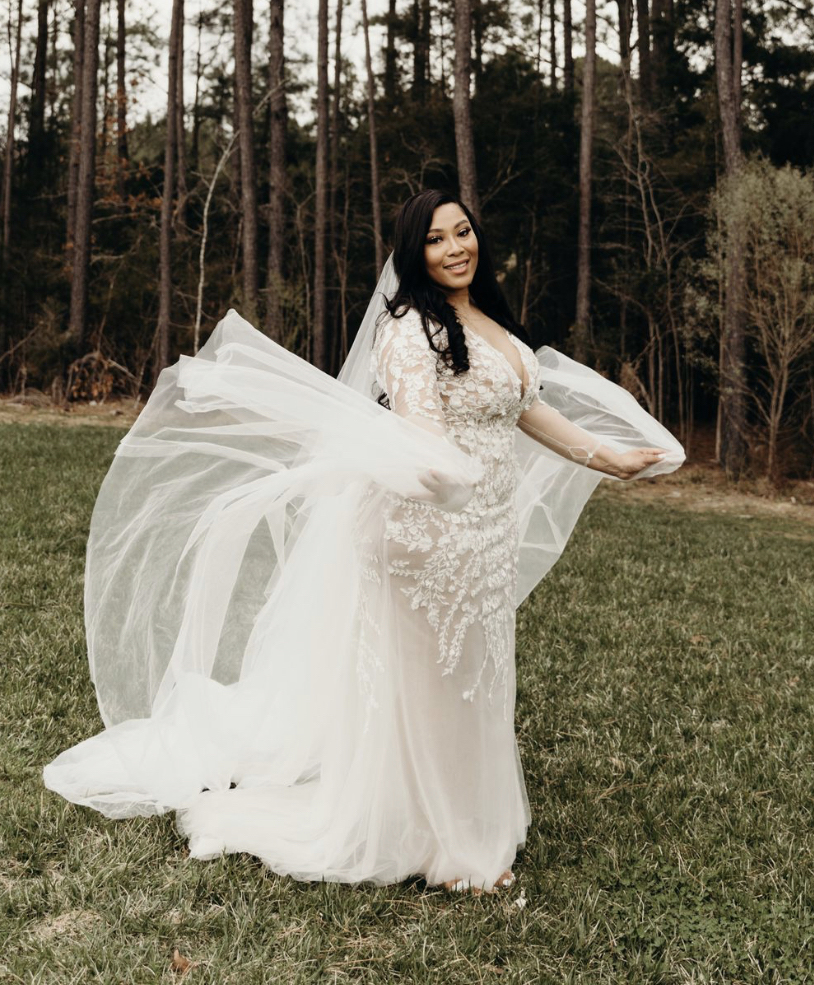 How did you feel when you knew that you #foundtheone?
I was beyond happy when I found this dress!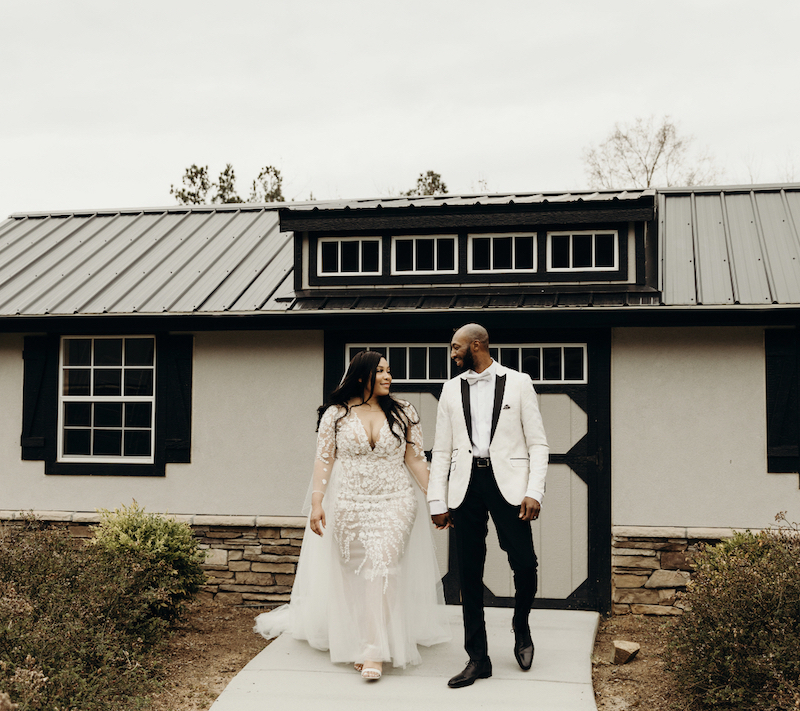 Was there a highlight or most memorable moment of the day?
The highlight for me was my dad walking me down the aisle in his African cloth. It reminded me of my granny who recently passed away in January. I kept her wedding photo nearby as I know she was there with us in spirit.
Did anything funny or unexpected happen?
Our 4-year-old son was in the limelight on the dancefloor! He showed off some moves we had no idea he knew. It was a real treat!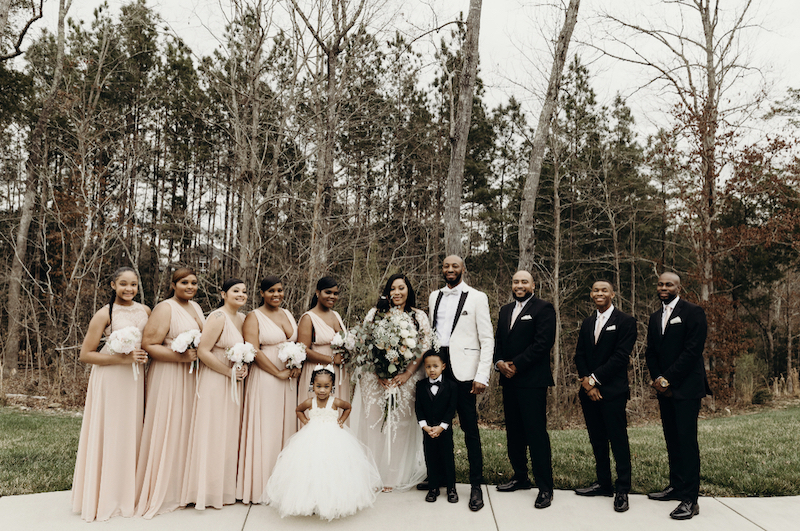 Is there something you wish you had known before the big day/while you were planning the wedding?
I wish I would have known to have an additional crew on hand for small things that were missed during the wedding.
What flavor was your wedding cake?
We decided on a 3 layer cake. The top layer was red velvet (my favorite) and the bottom two layers were vanilla.
What was your favorite DIY or personal touch?
I loved the table settings along with the ceremony backdrop. We made both ourselves for a great price.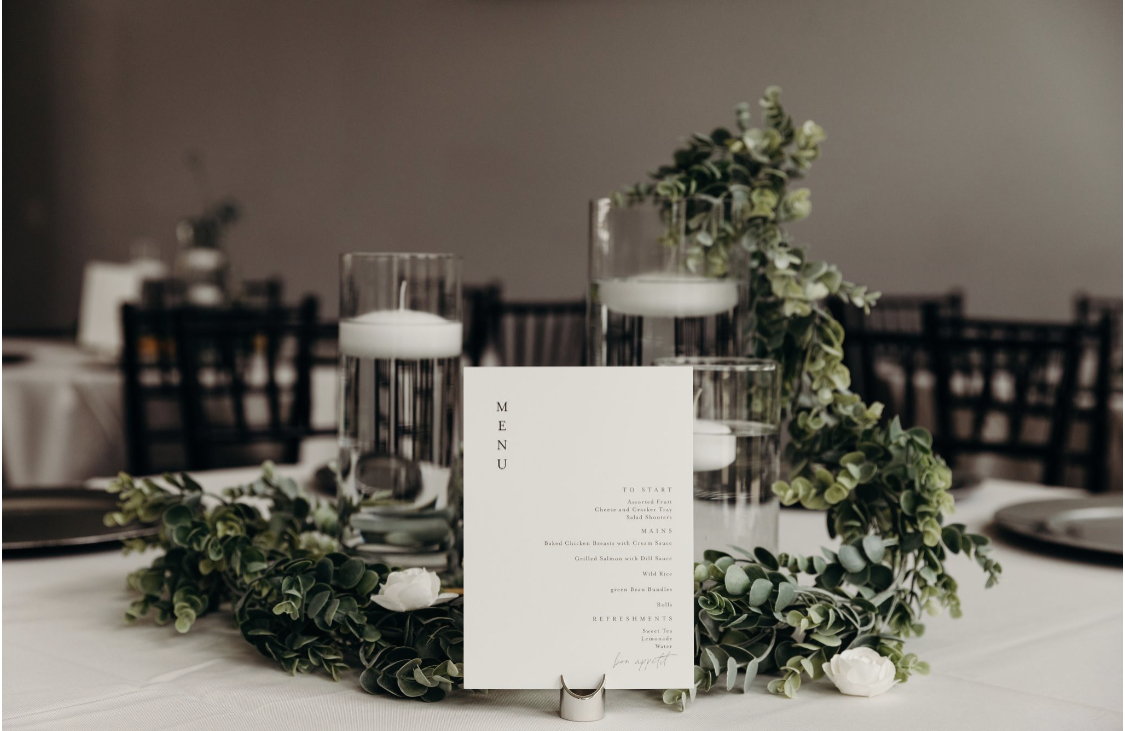 What traditions did you include on your special day?
We decided on two traditions to "seal the deal," so to speak! We incorporated a unity candle in our ceremony to acknowledge both families uniting. This candle also symbolizes lost loved ones as we know that they were present in spirit. Another fun piece we went with was, jumping the broom. From what I understand, it dates back to African roots where couples would jump the broom after exchanging vows to seal the marriage. We plan to keep the broom as an heirloom and hope to pass it down to our children.
What did you do to stay stress free on your wedding day?
I was a little stressed but not as much as the night went on. You have to realize everything will not be perfect and it's really about you and your partner.
What advice do you have for brides that are planning their weddings right now?
I would suggest getting inspiration from Pinterest. Make wedding planning as fun as you can, you will have these pictures/videos to look back on and smile at forever.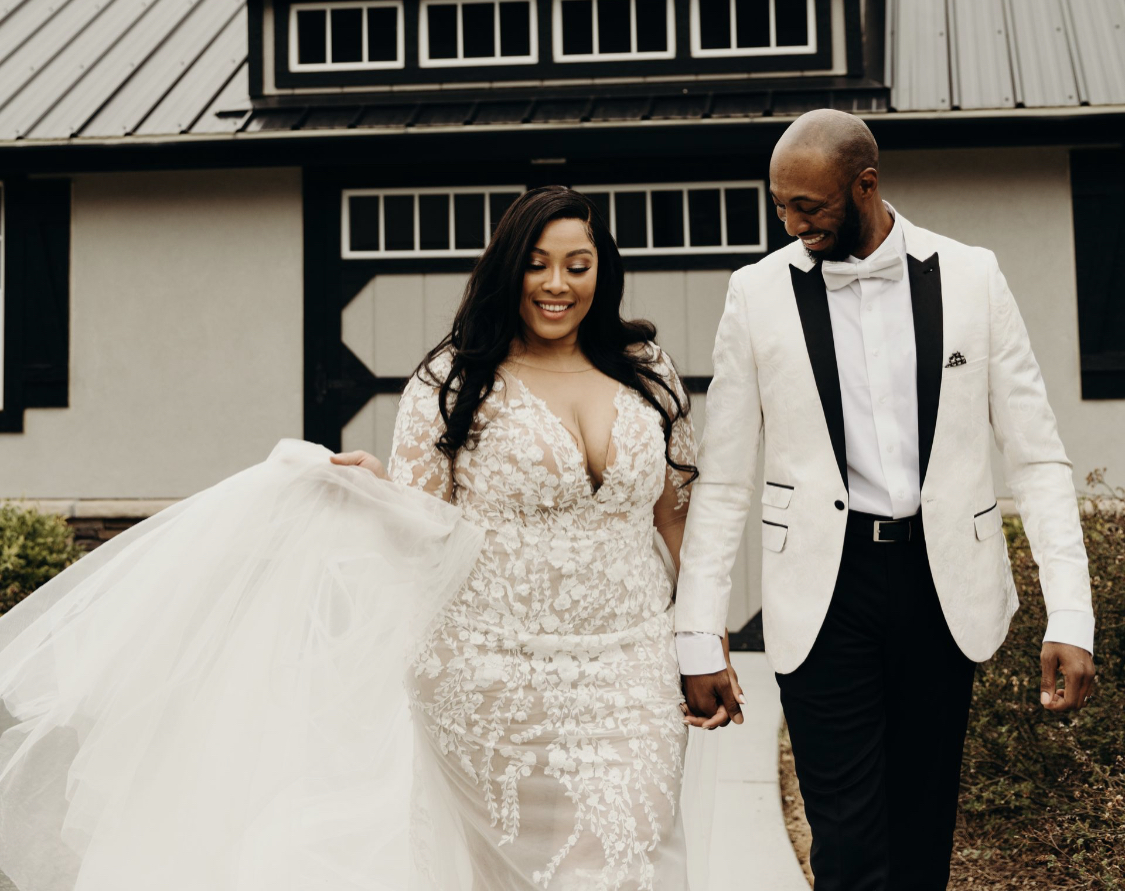 More Details:
Date: March 13th, 2021
Location: Southern Charm Events in Rock Hill, SC
Dress Style: Embroidered Floral Illusion Bodysuit Wedding Dress
Wedding Song: "A Couple of Forevers" by Chrisette Michele
Wedding Cake Flavor: Red Velvet
Photographer: Alyssa Swedick
Love this sexy bohemian wedding? Read more real wedding stories here!
We know how important your wedding day and special events are to you and we are doing everything in our power to serve you! You can shop with us 24/7 at davidsbridal.com or come see us at your local David's Bridal. Plus we are here for you to help guide you through your wedding planning! See tips for starting to plan your wedding at home, shopping for your wedding dress online with confidence, and more on the blog.
Related Posts: