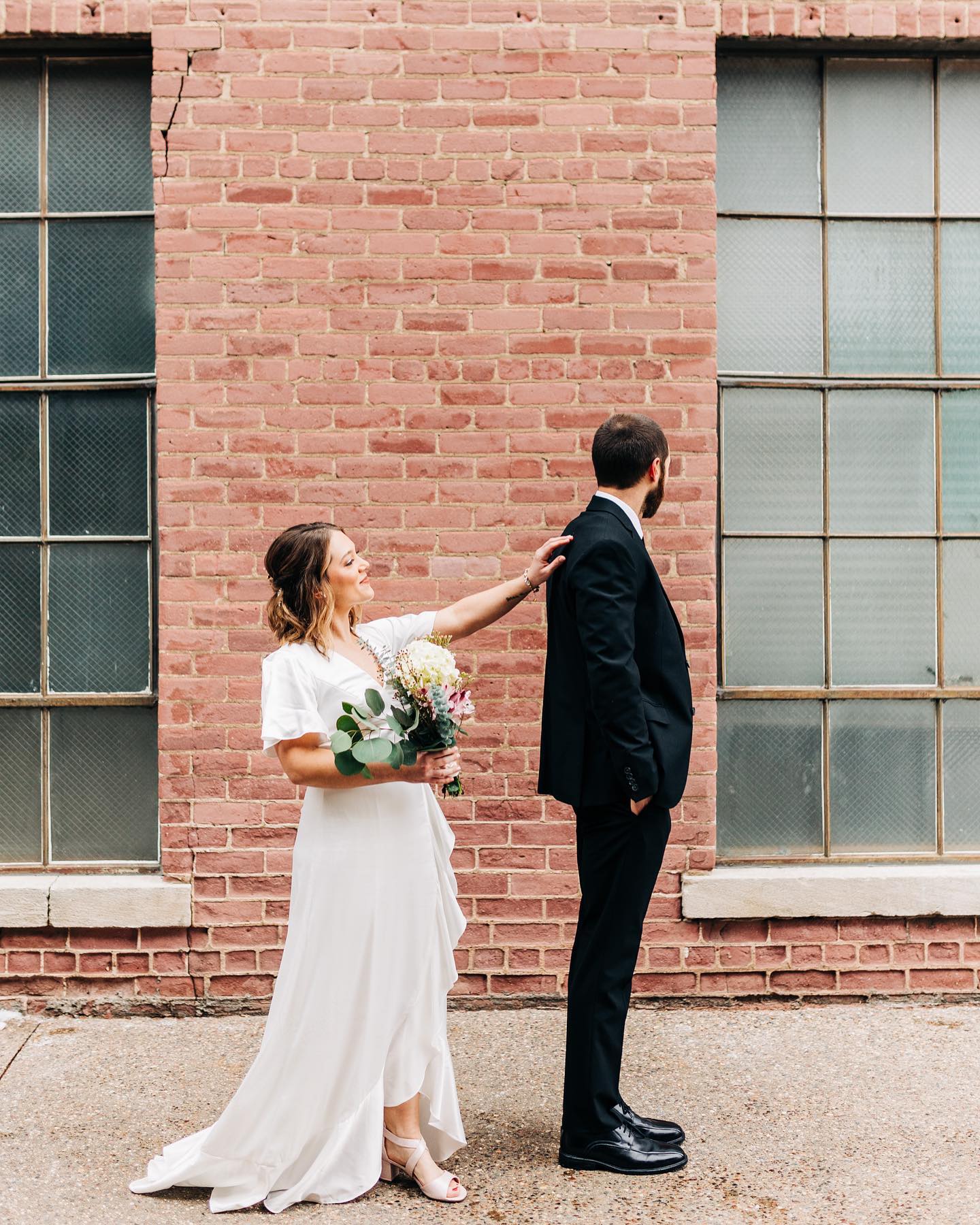 05 Mar

Casual & Effortless Wedding Dresses You'll Love
A Roundup Of Effortless Wedding Dresses…And What Real DB Brides Love About Them!
In the middle of planning your minimony, but still need a dress? We've got you covered! We've rounded up a few of our all time favorite casual bridal styles to help inspire your shopping. Keep reading for some of our best effortless wedding dresses for your upcoming micro wedding or elopement, and see why real brides just like you fell in love with these too!
Flutter Sleeve Stretch Satin Dress with Ruffle Hem – Style SDWG0825, $159.95
Say 'Yes' to this trendy, satin faux wrap style dress! Delicate details such as the flutter sleeves, faux wrap bodice and cascading ruffle give this dress a bohemian vibe. The effortless design is the perfect complement to your laid back wedding plans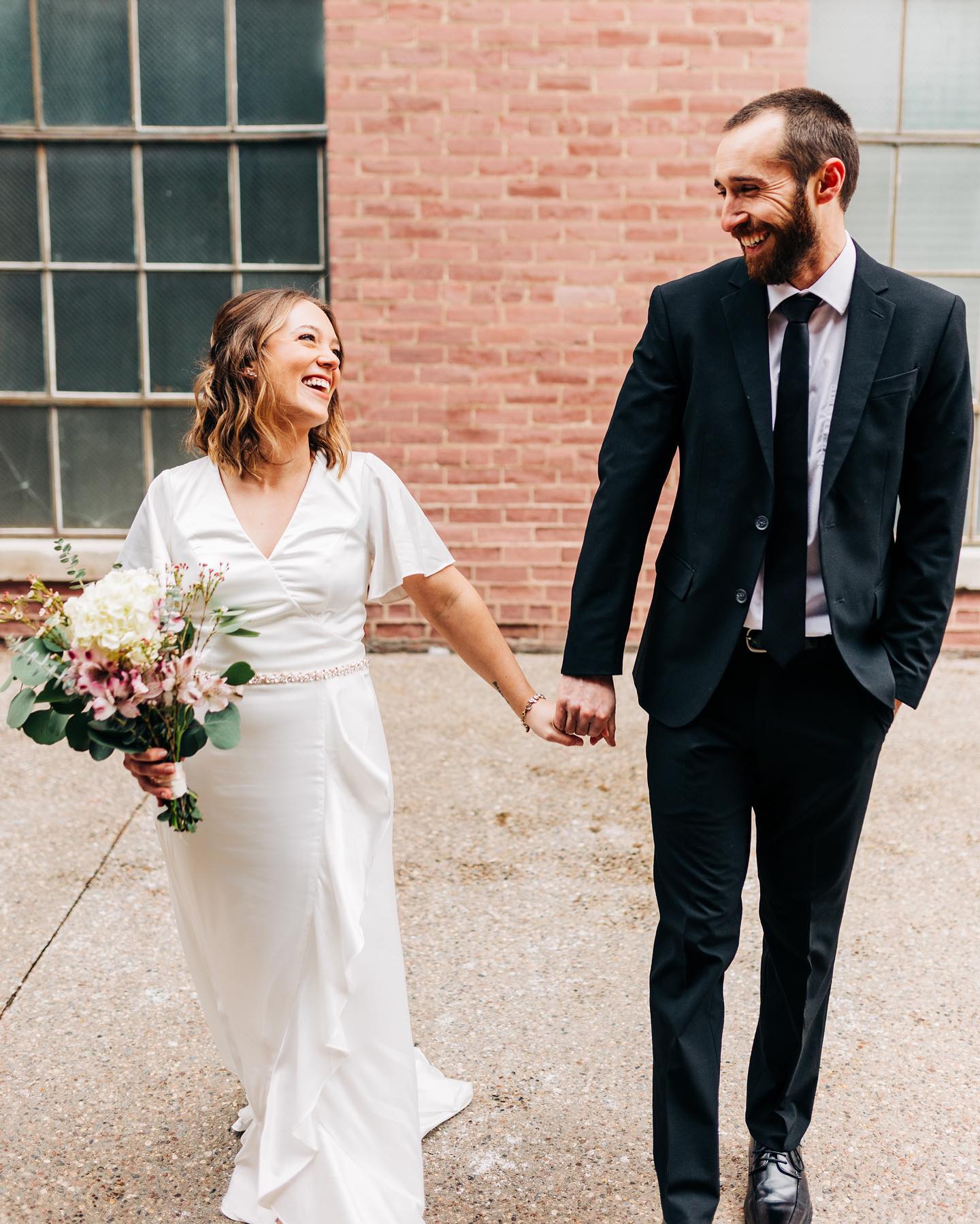 What brides are saying…
"I said yes to this dress and am so happy I did! It's super cute and comfy. It's very simple, yet classy and elegant, and extremely affordable!" – Nicole
"I purchased this dress when planning my micro-wedding online. Only ordered one dress, only tried on one Dress. I either got really, really lucky, or this dress is that awesome!" – Stacy
"I just felt absolutely beautiful in it. It was a dream. It has a bit of 70s style to it which I lived for, and it flows gorgeously at the bottom when you walk. I wanted to dress it up so I paired it with a veil and belt. Can't recommend enough for any bride- backyard wedding or not!" – Jess
Scalloped V-Neck Corded Lace Bodice A-Line Dress – Style SDWG0801, $169.95
Perfect for a beach or courthouse wedding, this simple and effortless A-line dress is a must-have for all our casual brides! Romantic lace covers the bodice and delicate spaghetti straps, while a flowy chiffon skirts creates beautiful movement as you walk down the aisle. A sweet grosgrain sash defines the waist and completes this easy-to-wear bridal style!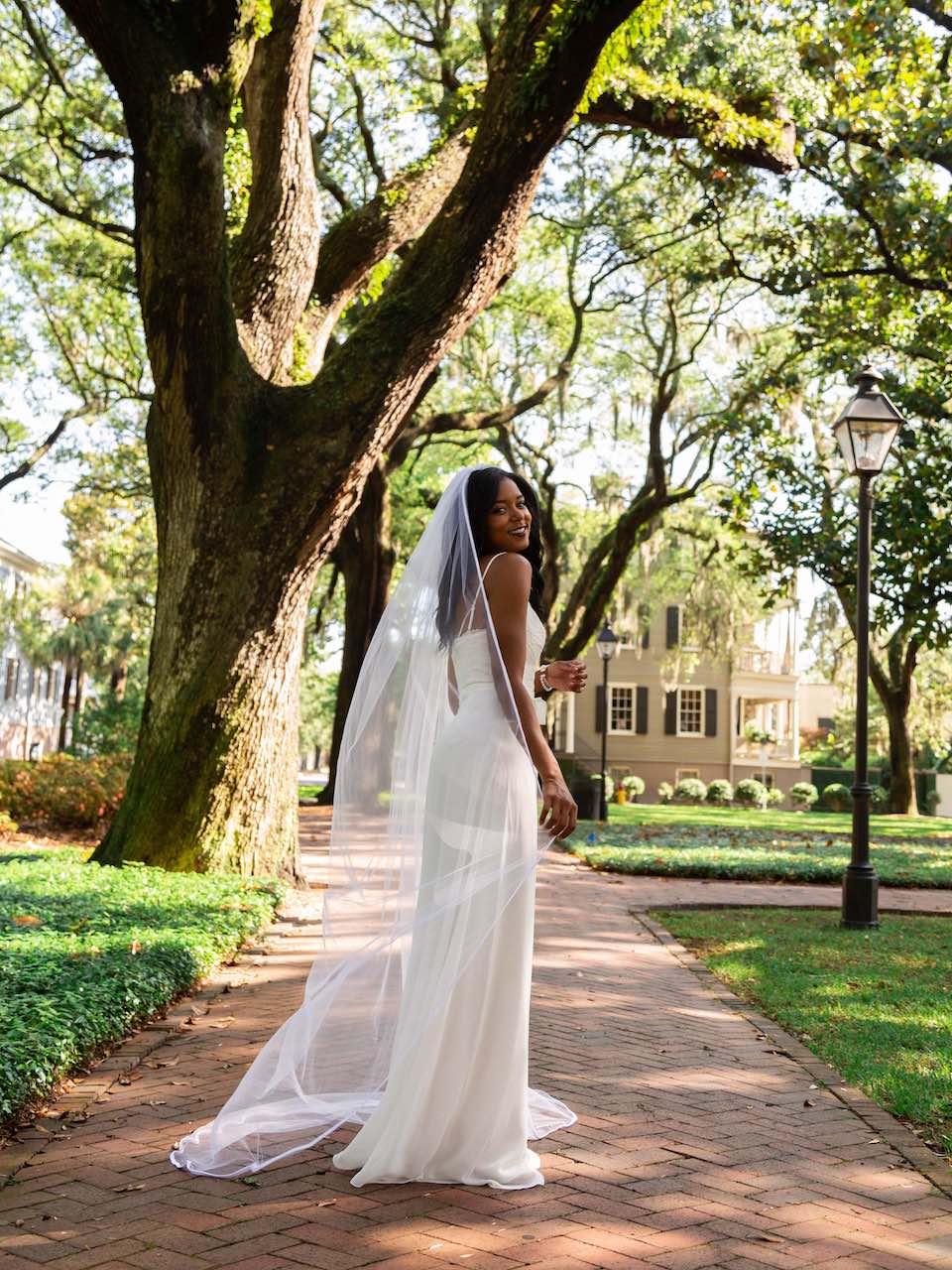 What brides are saying…
"I had a simple courthouse wedding (COVID wedding) and this dress was perfect. It was so elegant, form fitting and flattering. It was an absolutely beautiful dress!" – Elizabeth
"I loved how sweet, romantic and modest it looked. I wore a cathedral veil to add some extra drama during the church ceremony." – Breanne
"I absolutely adore this dress. I'm having an outdoor wedding and this dress is perfect. Lightweight and not to bedazzled for a country girl like myself!" – Alle
Off-the-Shoulder Long Sleeve Lace Draped Gown – Style 184213DB, $199.95
Chic & comfortable? Yes, please! This off-the-shoulder dress is ideal for an intimate minimony or elopement. The figure flattering jersey sheath dress features a sequin detailed bodice and gorgeous lace sleeves. For a customizable look, wear this style as a boatneck or fully off-the-shoulders for a modern bridal style.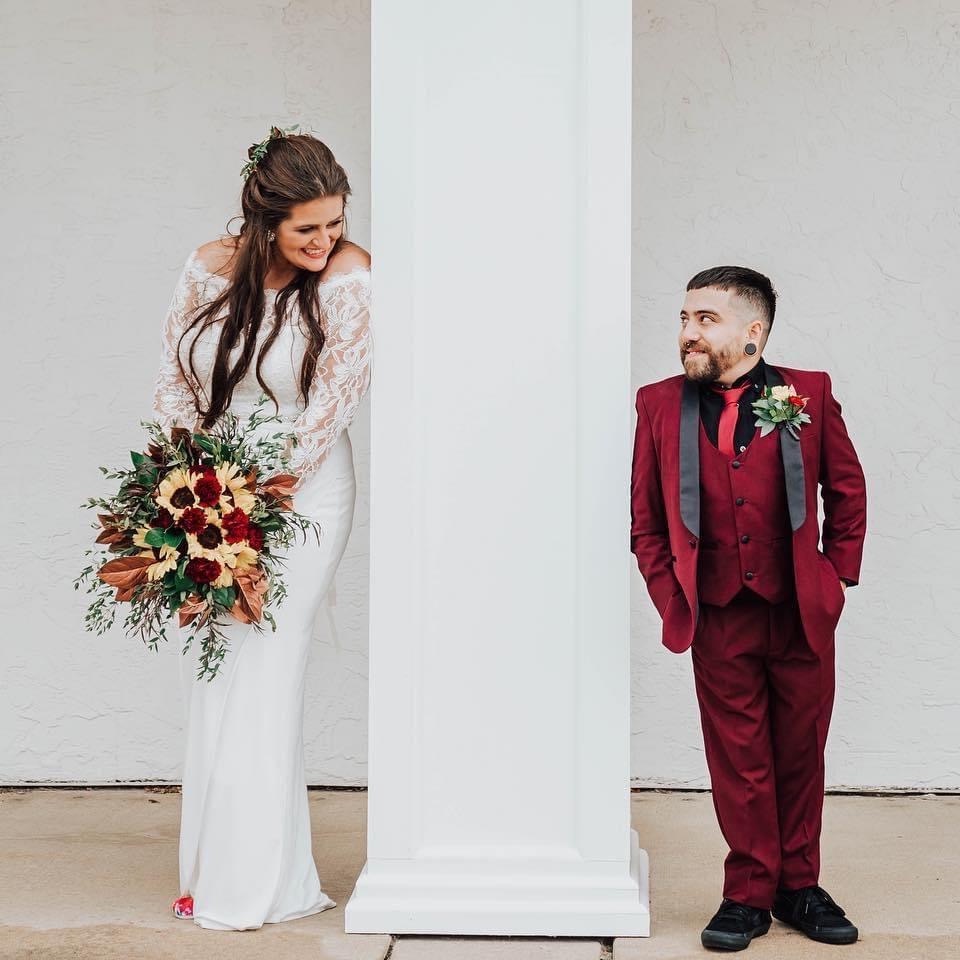 What brides are saying…
"I fell in love with the dress when I first saw it on the David's Bridal website. When I went in looking at dresses and saw this dress, I knew that it was my dress. It was everything I had imagined and cannot wait to wear it on my wedding day! Best purchase ever!" – Mpandabear1
"I absolutely love this dress. It is simple yet elegant at the same time. I paired it with a belt and gave it a little extra bling!" – Krystal
"This dress was so comfortable! I danced the entire evening in it! LOVE IT!" – Trish
Scalloped One-Shoulder Lace Sheath Gown – Style 183668DB, $199.95
A one-shoulder neckline with a scalloped trim adds a modern take on this classic silhouette. The allover lace fabric has hints of shimmering glitter throughout for some subtle sparkle. This gown is perfect for your upcoming backyard nuptials!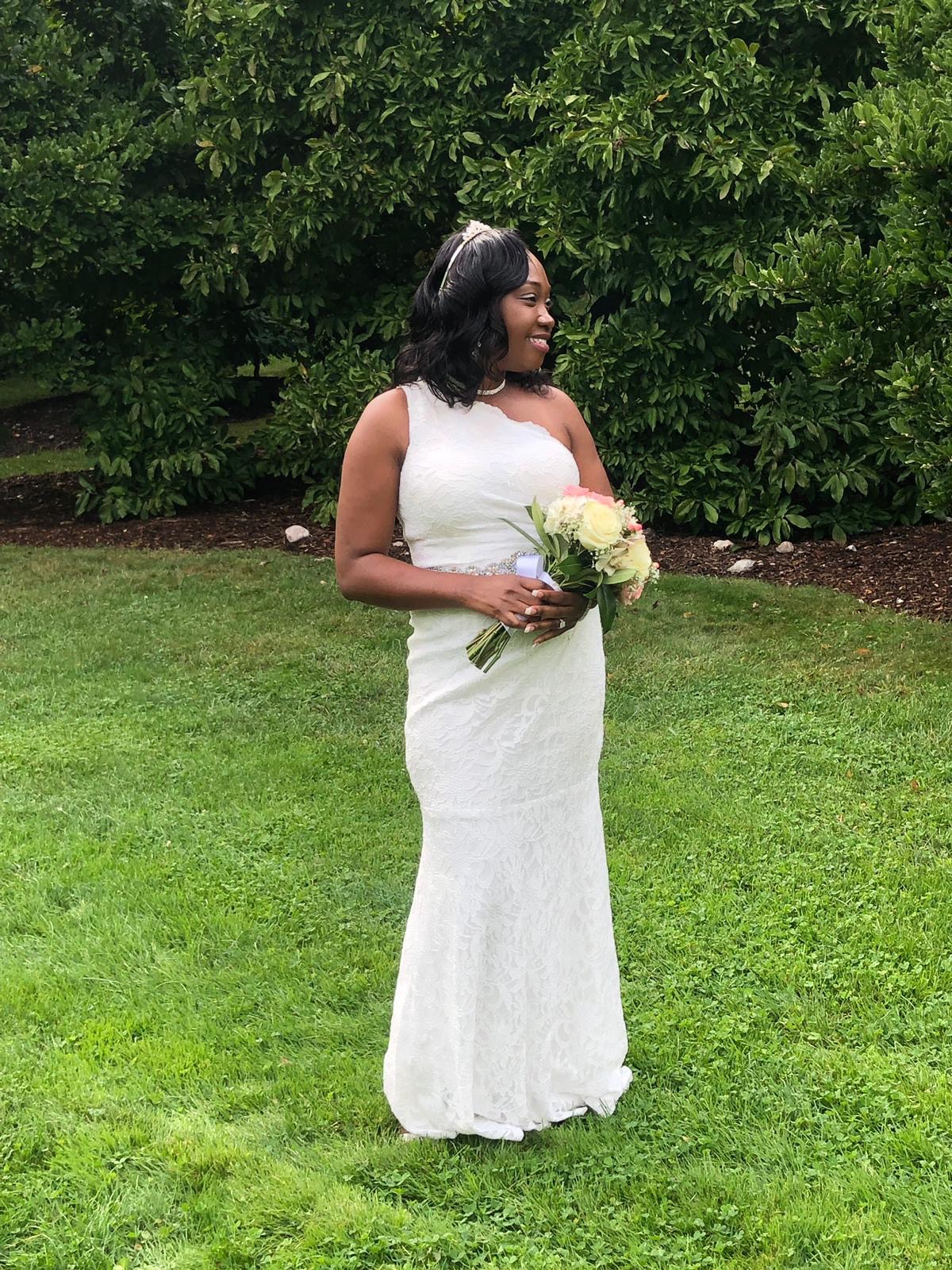 What brides are saying…
"My wedding dress was everything plus more. Not only was it a beauty but the comfort of the dress made it even more of a pleasure to wear all night. I love it!" – Tasha
"My husband and I had a very small and intimate summer wedding! This was the perfect gown for our special day! I received many compliments on my dress!" – Samantha
"This dress is incredible…shimmery, stretchy, flattering and a bit edgy. I would have never thought I would consider a one shoulder wedding dress, but I am so glad Shelby (my stylist) picked this winner!" – Tlwallace
Cuffed Off-the-Shoulder Lace Sheath Gown with Slit – Style DB1531, $259.95
Sleek and sophisticated, this gorgeous lace sheath dress is a stunning option for your low-key wedding. A cuffed, off-the-shoulder neckline creates a figure flattering fit, and a slit skirt adds a trendy detail. Our favorite part? The simplistic design of this dress makes it perfect for you to accessorizing with all your favorite finishing touches!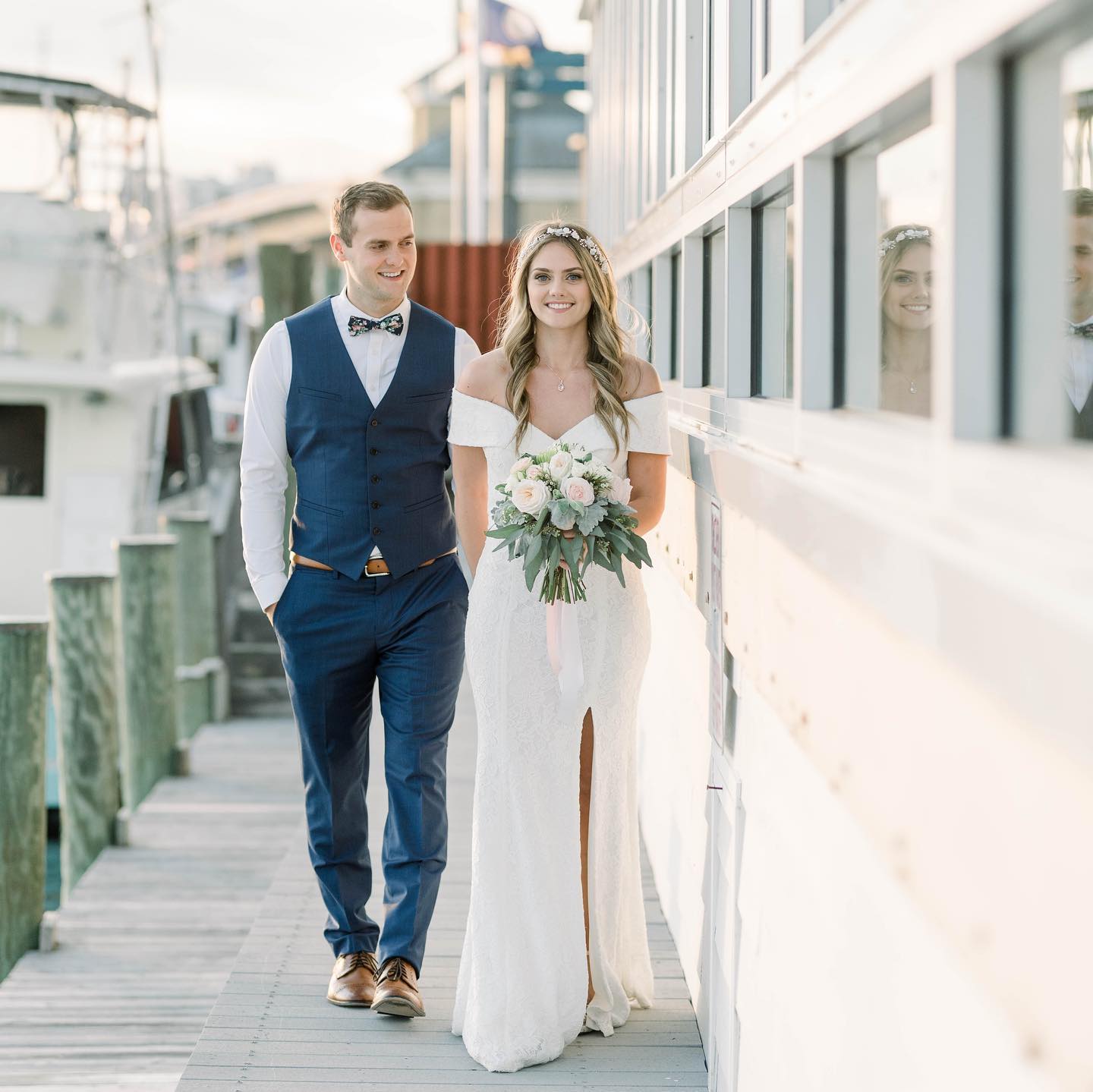 What brides are saying…
"I never gave this a second look online but once I put it on in store I completely fell in love. I felt like this dress was super classy for our courthouse elopement and my husband was smitten with that slit in the front!" – Bwschneider
"I was in the market for a simple yet classy style dress, since I got married during the pandemic in a very small and intimate ceremony. And this one was perfect, I added the belt to give it a little "pop". Overall, happy with the style and comfort of the dress." – Lezah
"This dress is stunning! There isn't a single thing about this dress that I don't love. It is sexy yet elegant. Very comfortable you don't have to worry about the shoulders slipping. I was just amazed with this dress." – Ellie
Chiffon Wedding Dress with Strapless Ruched Bodice – Style INT15555, $159.95
Dreamy layers of soft chiffon make this ultra-romantic dress an all time favorite! The simple A-line silhouette and sweetheart neckline gives you that classic bridal look with a casual twist. The lightweight fabric of this gown make it ideal for your outdoor or beach micro wedding. Elevate your bridal look by adding a crystal embellished sash for that extra sparkle!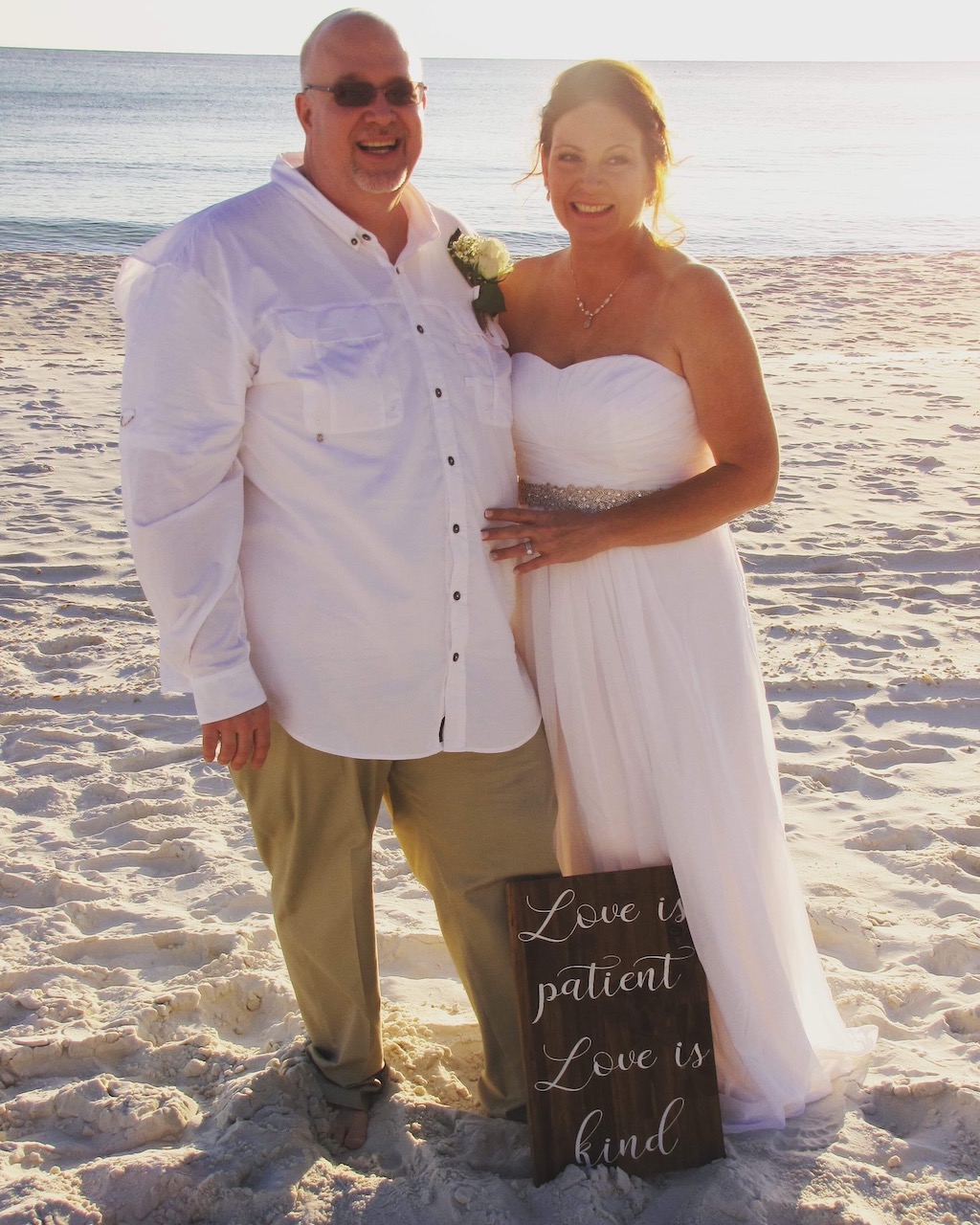 What brides are saying…
"This was the perfect dress for me! I loved how flowy the dress was and it was perfect for my cruise wedding. It was a dream to travel with, had no wrinkles and it was easy to transport due to how lightweight it was. It was perfect for outside photos. With it being such a amazing price, I was able to accessorize it a little more." – GBooth
"I have had my eye on this dress for a couple months before I even had my appointment at David's Bridal. I walked in and showed my stylist the dress, she sized me, picked my size and I tried it on and was in love immediately! Such a perfect dress for my simple beach wedding!" – Macysaunders
With these looks and so much more at David's Bridal, your search for casual and effortless wedding dresses is over! Book your appointment to see these gowns and more customer favorite wedding dresses in person at your local David's Bridal! Plus, explore more effortless wedding dresses online! Are you a past DB bride and want to share your gown story? Leave a review and upload your photos at davidsbridal.com!
Featured photo by: @anniecrawford__
Related Posts: