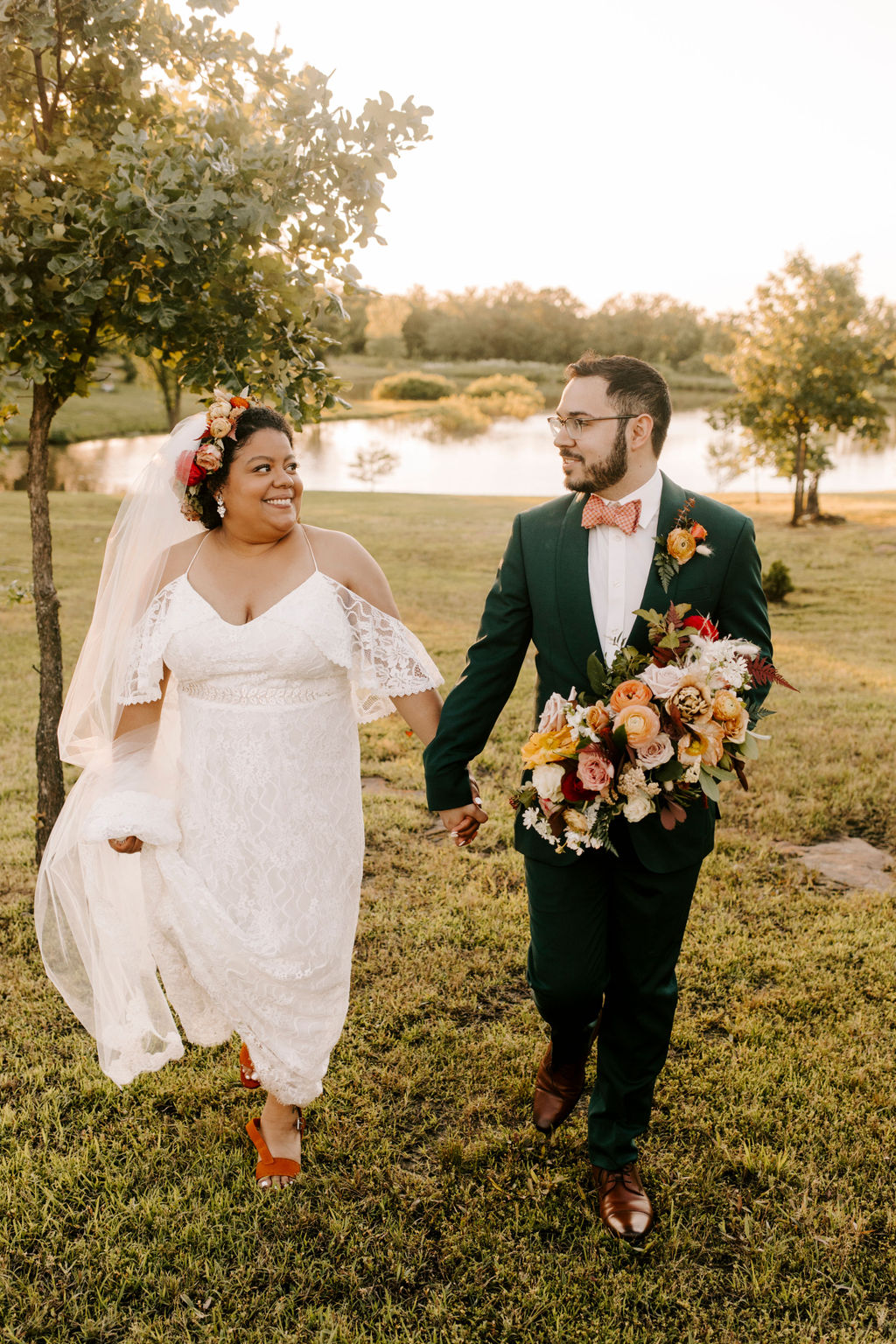 22 Sep

Real Wedding: Katherine & Gabriel
Colorful Boho Wedding
Real weddings are so inspiring! To get you in the mood to plan, we asked real brides to spill the details on everything from getting engaged and finding their wedding dresses to the special touches and surprising moments that made their celebrations completely one-of-a-kind. Brightly colored florals, coordinating bridesmaid dresses, and bohemian touches have us saving this wedding to all our Pinterest boards! Keep reading to see more details about Katherine & Gabriel's colorful boho wedding.
Briefly tell us how you and your fiancé met!
We met online on Plenty of Fish. I thought the app would be a waste of time, but it worked!
Tell us your proposal story!
Gabe proposed in the Dominican Republic while on vacation. We took a stroll on the beach at night, and he got down on one knee near the waves!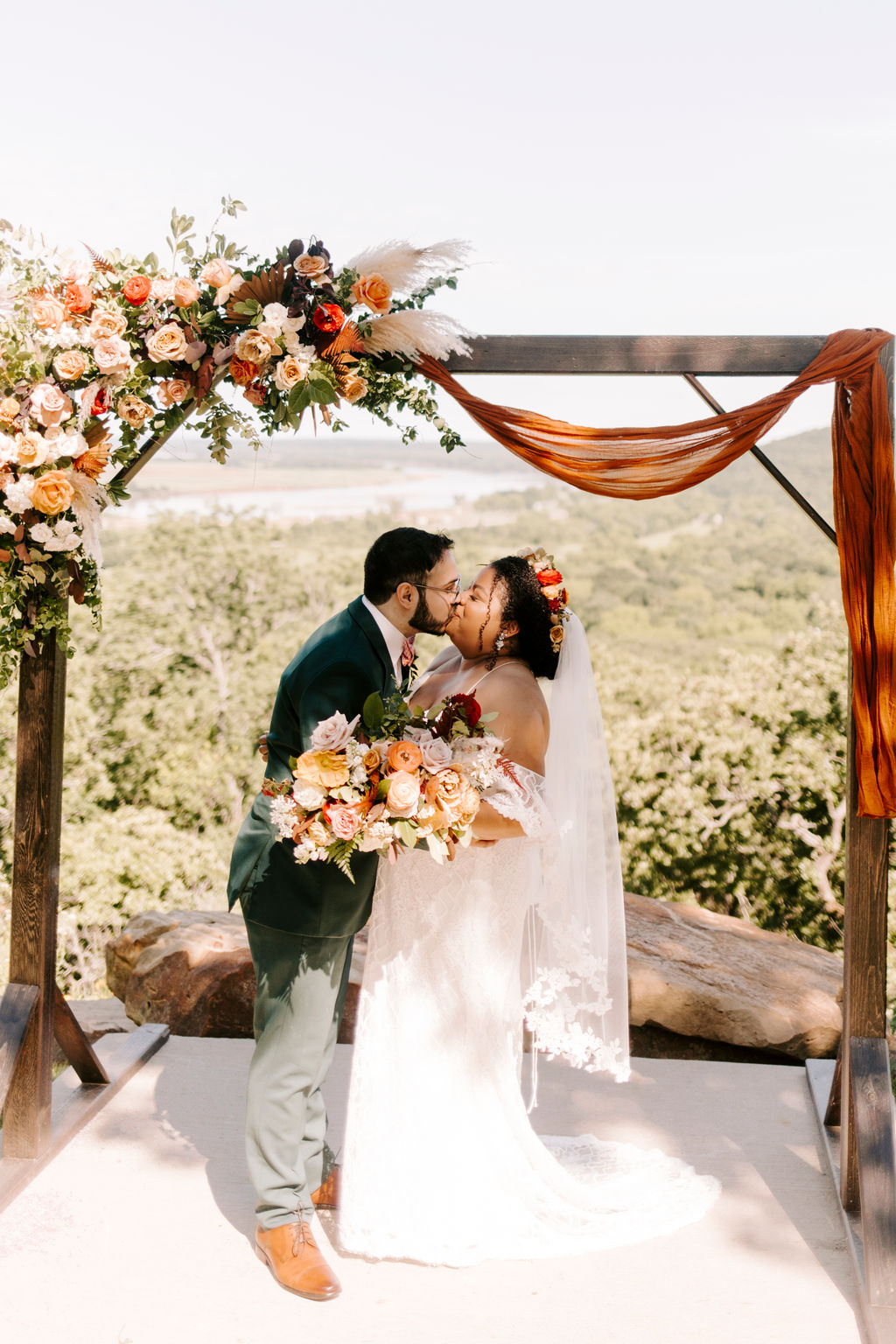 How did you both decide on your wedding day look?
I wanted a boho look for our day—nothing too traditional. We both love color, so after I got my dress and decided on the color scheme, Gabe got an emerald suit!
Do you have any shopping advice for future brides?
Go to a couple of shops and try on all types of styles. You never know what you'll fall in love with. And, trust your gut!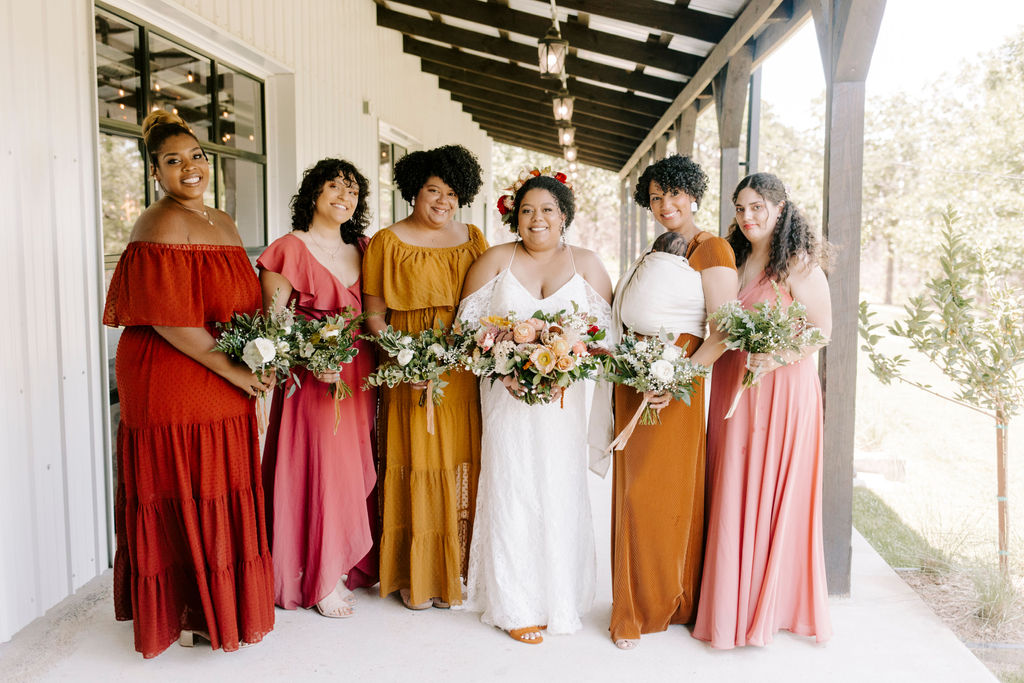 What was your favorite detail about your look?
My flower crown and orange shoes!
How did you feel when you knew that you #foundtheone?
Overcome with emotion! Instant tears when I put a veil on and saw the completed look.
Was there a highlight or most memorable moment of the day?
Honestly, walking down the aisle and seeing him waiting there for me was the highlight of my day! As well as having a fluffy son be part of the bridal party. I also had a surprise father-daughter dance that began as a ballad and quickly changed into a salsa!
Did anything funny or unexpected happen?
I forgot a BUNCH of things that the next day I realized didn't happen, or didn't go as planned. But PLEASE don't let these things ruin your thoughts of your big day! Almost nobody notices anyway, all my guests said they had a blast.
Is there something you wish you had known before the big day/while you were planning the wedding?
Hire professionals to ease the pain of planning! Also, a big guest list is overrated. We had around 50 guests and it was a great size. I didn't feel like I was truly missing out by not having my original 120 guest wedding. My closest family and friends made it and it was great!
What flavor was your wedding cake?
We had 3 tiers. Lemon poppy seed, strawberry, and vanilla lavender!
What was your favorite DIY or personal touch?
My mother made the amazing macrame backdrop for our neon sign! I love it so much!
What's your best wedding planning advice?
Decide ahead of time what is important to you, and what you could cut out. Don't be pressured by family opinions or "what everyone else does at weddings". If you don't like it, get rid of it. Like the garter toss, or a super fancy rehearsal dinner. Do what YOU want!
Anything else you'd like to share?
I found creating a Pinterest board really helped. Especially when trying to convey your vision to your vendors, like your florist or rental company! I wanted more of a vibe than specific flowers, so having a visual representation of that helped me out. We live in NY and planned a wedding in OK basically over the phone and email. It was difficult, but it all came together perfectly!
More Details:
Wedding Date: May 28th, 2021
Wedding Location: Dream Point Ranch Bixby, Oklahoma
Dress Style: Cold Shoulder Wedding Dress with Ruffled Sleeves
Wedding Song: "Just the Two of Us" – Grover Washington Jr. (Feat. Bill Withers)
Photographer: Juliana Rose Photography
Love this colorful boho wedding? Read more real wedding stories here!
We know how important your wedding day and special events are to you and we are doing everything in our power to serve you! You can shop with us 24/7 at davidsbridal.com or come see us at your local David's Bridal. Plus we are here for you to help guide you through your wedding planning! See tips for starting to plan your wedding at home, shopping for your wedding dress online with confidence, and more on the blog.
Planning a wedding? Sign up for our Diamond Loyalty program—it's free! Follow us on Instagram, Pinterest, and Facebook for more real wedding inspiration, or click here to book an appointment.
Related Posts: