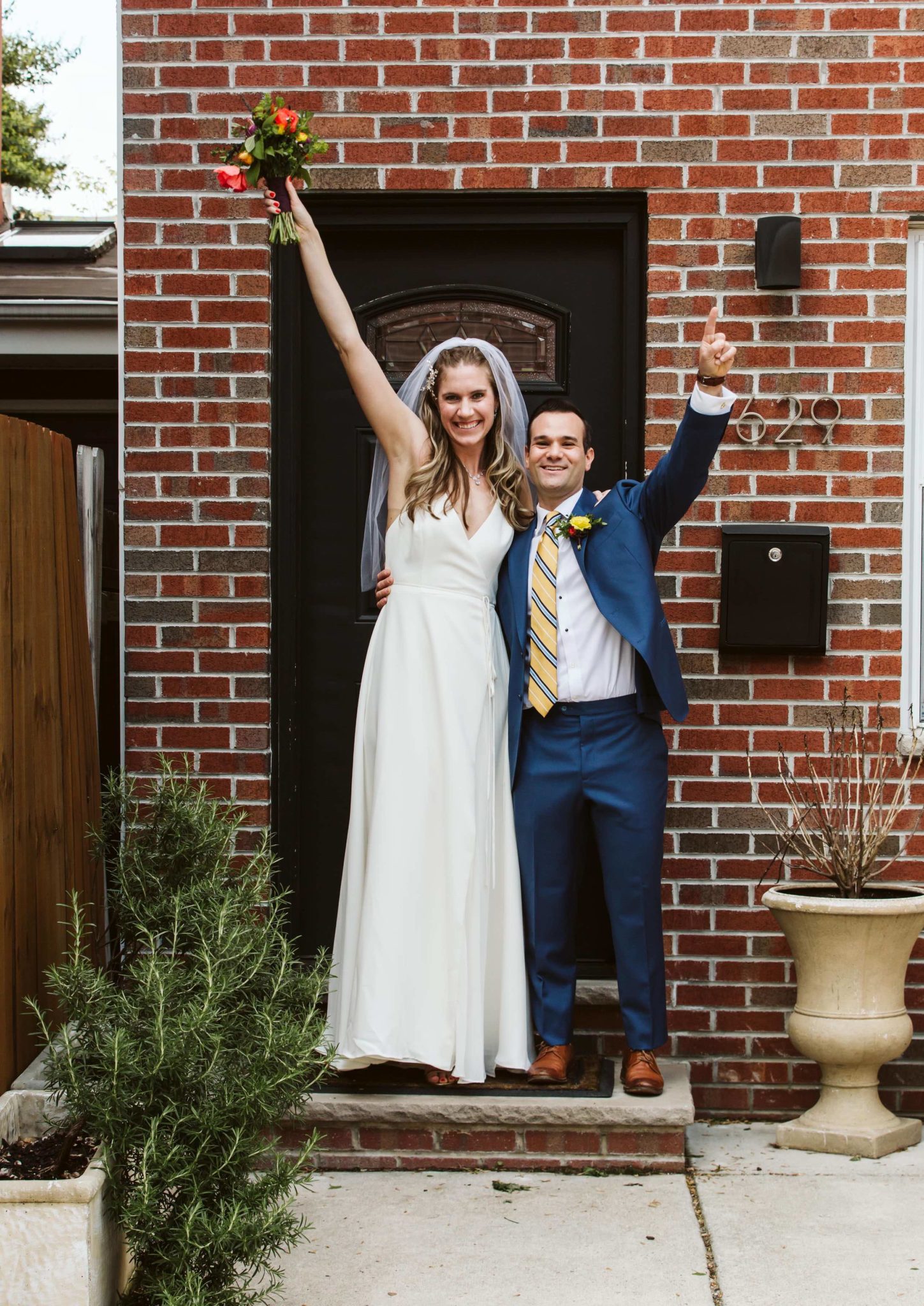 27 May

Real Wedding: Jordan and Steve
A City-Chic Flash Wedding in Philadelphia
Real weddings are so inspiring! To get you in the mood to plan, we asked real brides to spill the details on everything from getting engaged to finding their wedding dresses to the special touches and surprising moments that made their celebrations completely one-of-a-kind. Jordan's wedding changed course due to COVID-19 but that didn't stop her and her fiancé from making things official. Read on for Jordan and Steve's city-chic flash wedding in Philadelphia!
How did you two meet?
Steve's roommate played in an Irish band with a friend of mine from college, who also happened to be the local rep for Brooklyn Brewery. He'd invited all of us to a Brooklyn Brewery "Philly Mash" event at Alla Spina. Steve was supposed to be at a wedding that weekend, but after a mishap with some car keys, he ended up having to take the train back to the city. We bonded over our love of Philly's food scene, shared Spotify playlists, and our affinity for El Rey's happy hour (and their queso fundido). We had our first real date at Pumpkin BYOB and there was no looking back. Then we dated for three years and about two weeks before getting engaged!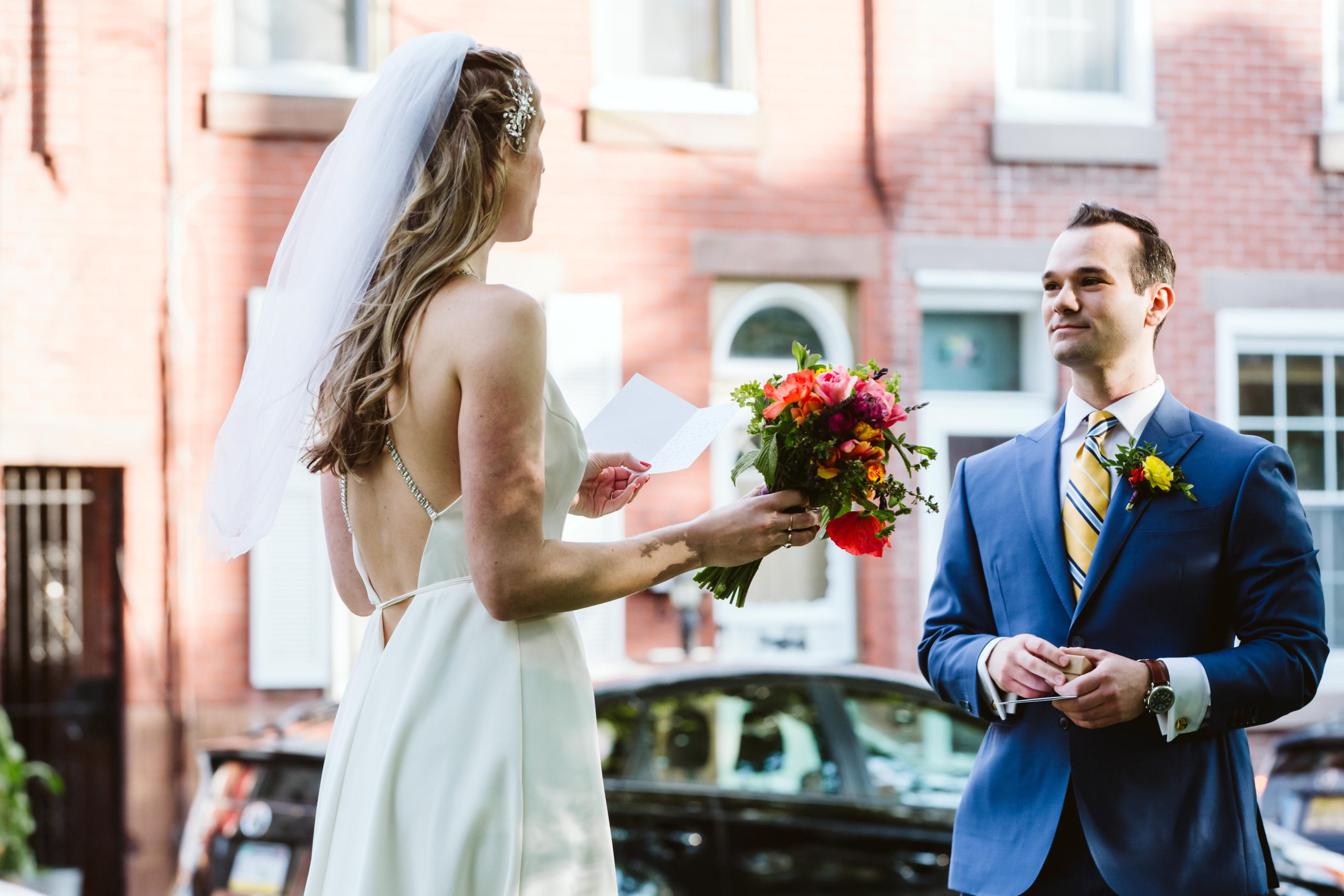 Tell us about your wedding day! We know it was a little non-traditional!
All things considered, it couldn't have gone better! The forecast was calling for rain all week long, but after a brief drizzle, the clouds parted.
We were prepping our own post-wedding meal, so I put dinner from one of our favorite restaurants in the oven while my fiance ran down the street to pick up our cake! That's when we sent out the Zoom link to our guest list – up until then, only our immediate family even knew about the wedding! I did all my prep solo and didn't want to show my fiancé the dress until our "first look" so I locked myself in the guest room to steam my dress, do my hair, and my makeup. I'm a chronic "early bird" so I was ready WELL before "game time" but as Steve is the king of last minute, he kept me on my toes (since I couldn't get my dress on before he met our photographer outside!)
Our "first look" was me walking out our front door, and our buddy Lexy took a few photos before strolling down the street to Palmer Park, our favorite local green space for our micro wedding. Steve's long-time mentor and colleague acted as our officiant and met us at the park along with immediate family members. They all wore masks, my mother brought a few flowers and my sister and MOH made little flyers featuring Gritty, the Philly mascot we all know and love!
Our vows were short and sweet (we will do longer ones at our vow renewal next year, surrounded by our loved ones) and we had our "first dance" played from a tiny speaker. My dad brought us a little split of champagne so we could safely share a toast together! And then we walked home solo. We spent the night feasting on an Israeli feast from Zahav, sipping batched versions of our signature cocktails from 13th Street Cocktails, and dancing in our little back patio before cutting the cake!
Did you know: A flash wedding is usually a surprise and it's when the bride, groom, officiant, and a few guests quietly get together in a public place to perform a quick wedding ceremony before heading out to a reception!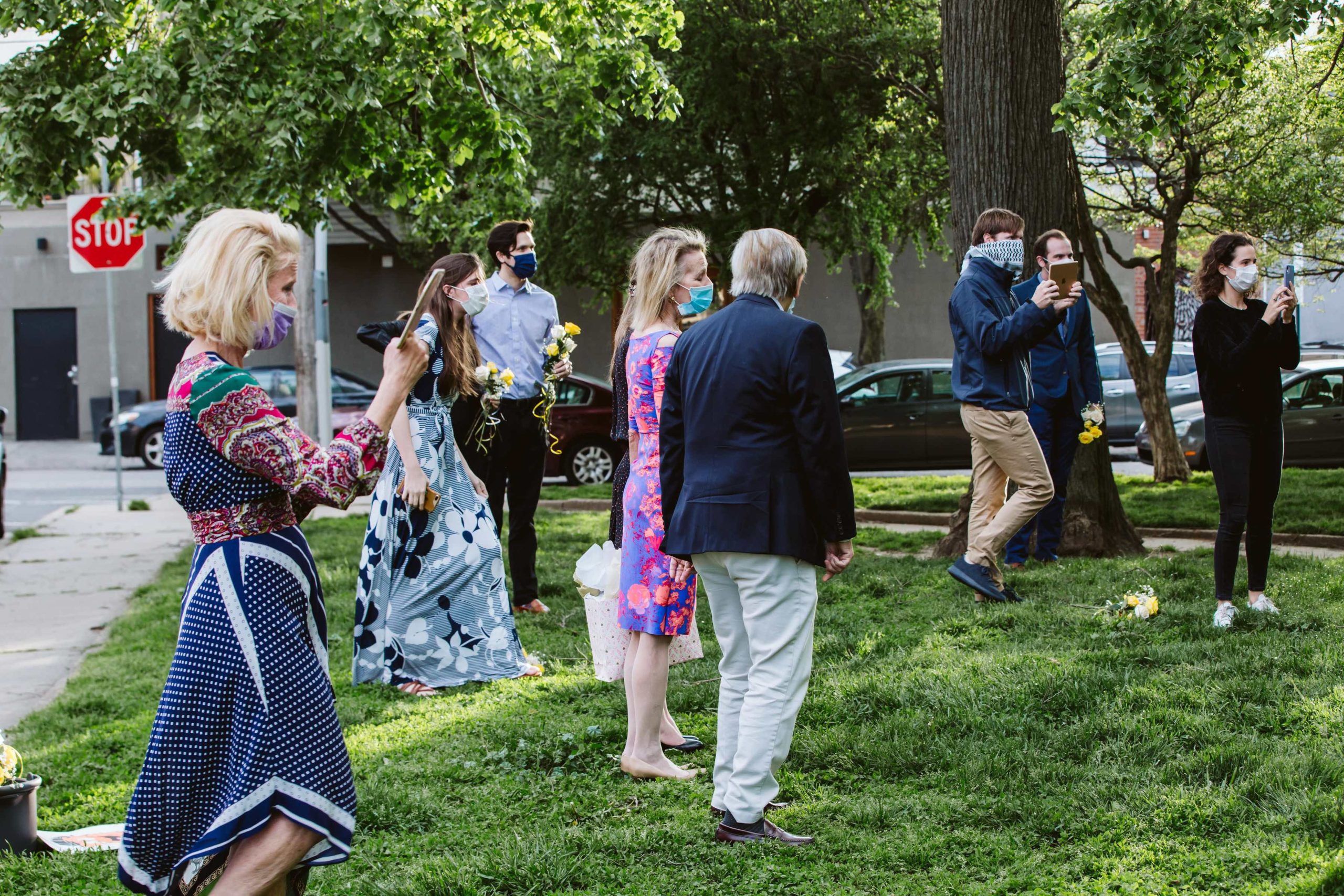 What is your must-have for a last-minute ceremony?
Two things: a delicious and special meal waiting for you when you get home, and a list of everything you're bringing with you! With less time to plan, I had to check it two or three times.
What did you do to stay stress free on your wedding day?
Honestly? I work at a hospital and, during a pandemic, didn't feel I should take the full day off. So, I worked for half the day and also took a two-mile walk the morning of, and a workout (virtually!) with some of my friends. Though the circumstances of my wedding day weren't exactly "normal", it was great to have those bits of normalcy to calm my nerves!
What was your favorite DIY or personal touch?
That's a tough one! It's either a handmade poster (My little sister drew custom little posters for all the guests to hold including one with Gritty and our hashtag #grittilyeverafter) OR that I did all my hair and makeup, and I got so many compliments on my hair – all it took was the addition of a little DB bling to some simple twists to make it look extra special!
What's your best wedding planning advice? And what advice do you have for brides that are going through a similar situation right now?
Get yourself an inner circle: the team of friends and, in some cases vendors, who you know and have a great relationship with to support you. While I wasn't able to work with ALL of my vendors for this mini-wedding, I was able to work with a choice few that I've known for a long time. They totally understood my vision for this flash-wedding, and were so flexible and willing to do whatever to make it work! PLUS my sister and mom were great sounding boards when I was stressed about things like getting a virtual appointment for a marriage license.
Another AMAZING place for support? FACEBOOK! there are so many groups for brides going through the same feelings and thoughts, and they were incredibly helpful with suggestions and ideas! One even made our vow booklets – we've never even met! In times when you can't get a hold of your traditional community, it's been incredible how technology can bring us together. And we were able to stream our wedding over Zoom! My friend acted as an "admin" and recorded it all – seeing our "guests" interact via video chat later that night was so special and we will save and cherish it forever.
What was the most memorable moment of the day?
Walking through the nearly-empty streets of our neighborhood dressed in our wedding attire was one of the most bizarre, but exciting experiences of my life. Any time that a passer-by spotted us, they immediately lit up and shouted congratulations! It felt almost like they were extra guests at the wedding. During uncertain times, we were certain of one thing: we wanted to marry each other. And it turns out our friends, family, and vendors were all willing to bend over backwards to make that happen. While it was bittersweet to be surrounded by our loved ones and unable to hug or kiss them, we were so thrilled that they were able to witness our union!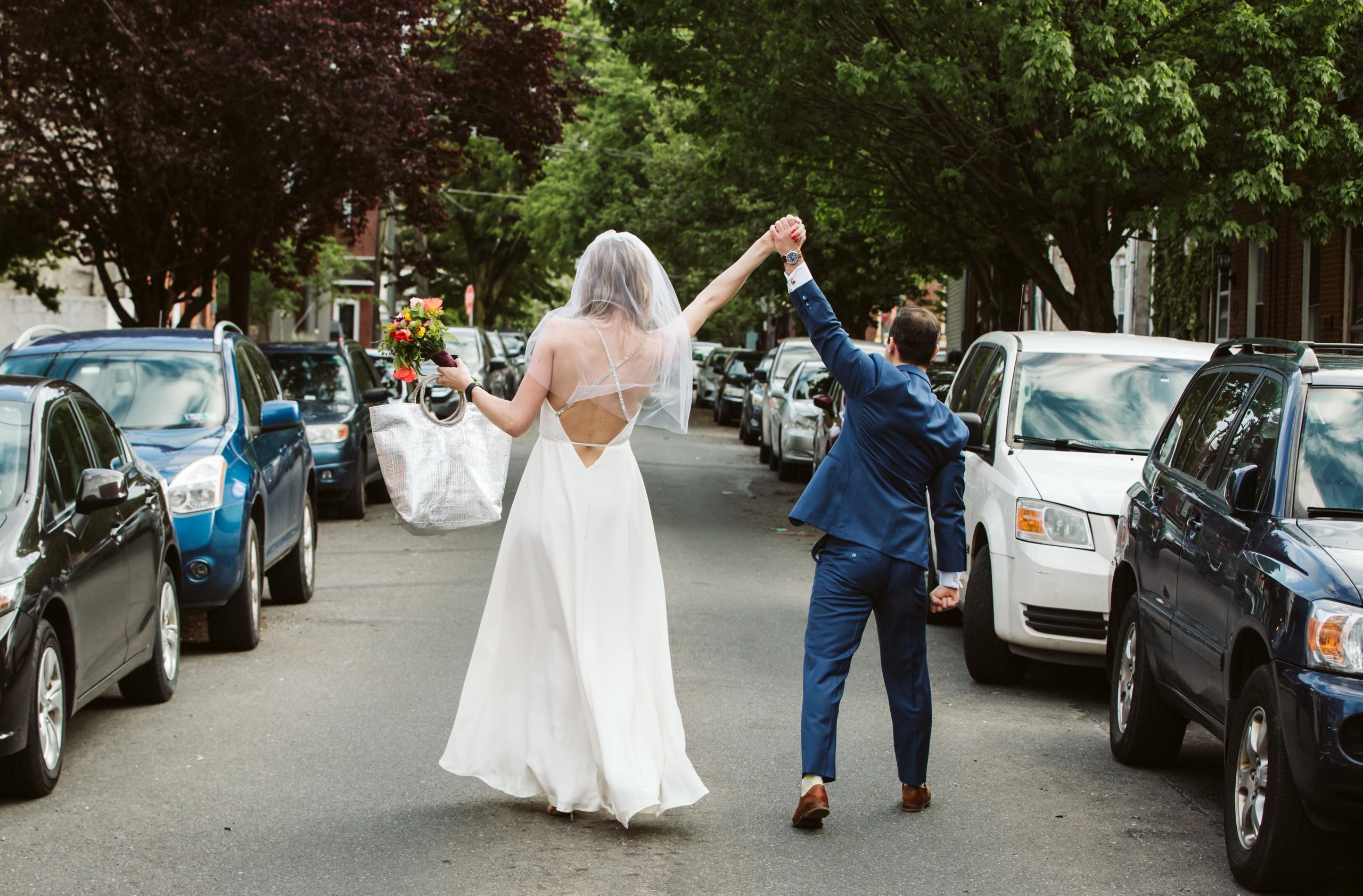 More Details:
Wedding Date: 5/1/2020…but our reception aka "We Do Re-Do" is 5/1/2021!
Location : Palmer Park – Fishtown, Philadelphia PA
We know how important your wedding day and special events are to you and we are doing everything in our power to serve you! You can shop with us 24/7 at davidsbridal.com plus we are here for you to help guide you through your wedding planning! See tips for starting to plan your wedding at home, shopping for your wedding dress online with confidence and more on the blog.
Related Posts: