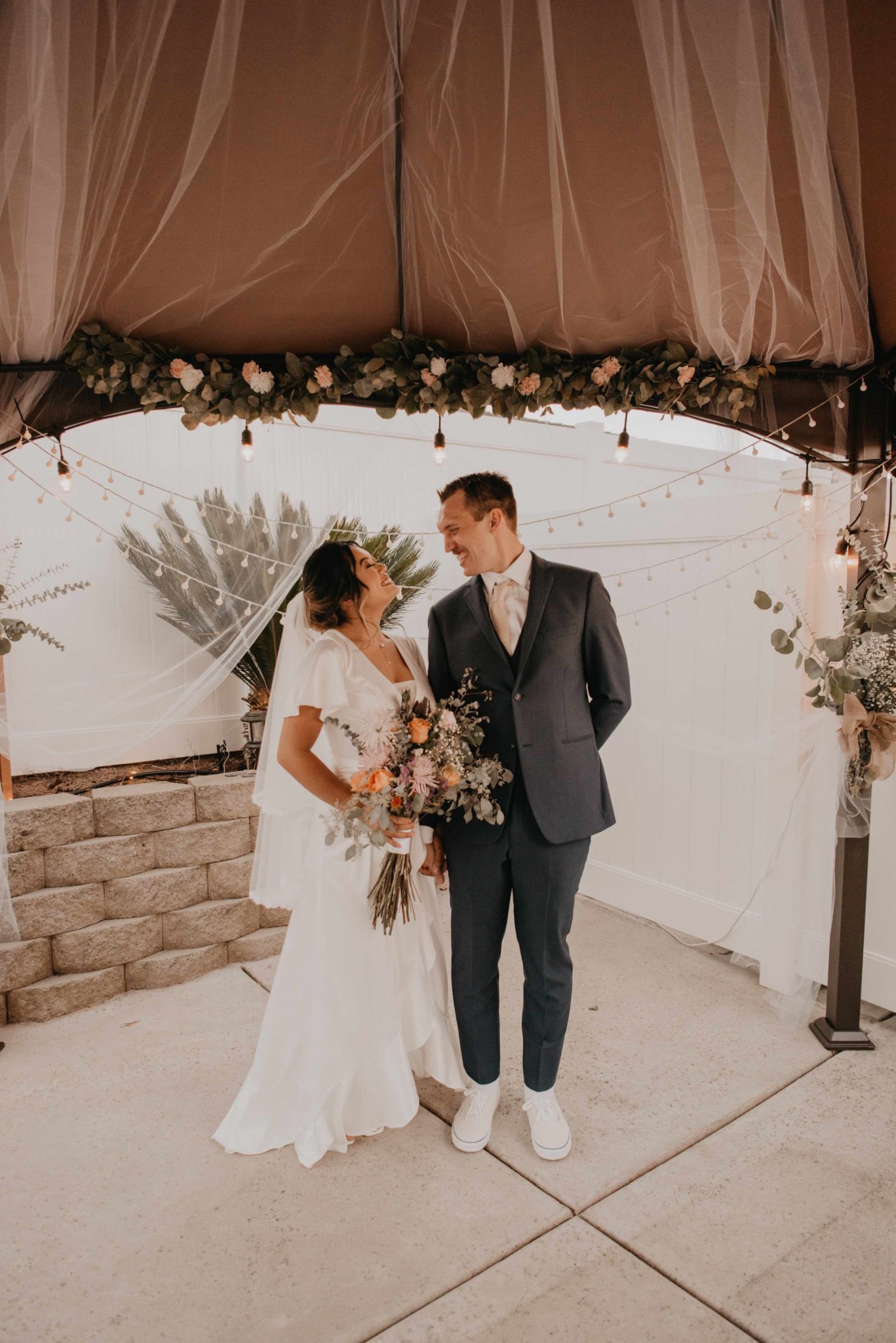 02 Sep

Real Wedding: Vikki & Joshua
A Backyard Mini Wedding in Redlands, California
Real weddings are so inspiring! To get you in the mood to plan, we asked real brides to spill the details on everything from getting engaged to finding their wedding dresses to the special touches and surprising moments that made their celebrations completely one-of-a-kind. Read on for Vikki and Joshua's DIY backyard mini wedding in Redlands, California.
Briefly tell us how you and your fiancé met! How did you know that he was the one?
We met 6 years ago at Vans. I came in to apply for a job and he interviewed me. Josh transferred to a different store back in his hometown and we didn't cross paths again until attending a show for a mutual friend's band 6 months later. He used one of those cheesy pick-up lines and it worked! I knew he was the one when he told me he loved spending time with my family because family means everything to me. Who knew 20+ cousins wouldn't scare him away?
Tell us your proposal story!
I've always told Josh that if he were to propose I would want our families to be there to witness it. It was Christmas Eve of 2018 and we were celebrating with my side of the family and then we usually spend Christmas morning with Josh's family. It was a pajama themed party and everyone was dressed in their best Christmas pajamas; my hair was in a messy bun and I had no makeup on.
We usually play games during the Christmas party and this game we played that night changed our lives forever! Josh and I were team captains and the game ended in a tie. What better way to break a tie if the captain can plead their case as to why their team should win? I knew something was up when Josh's speech started with "Vikki, I've known you for 4 years now and your family welcomed with me with open arms…" he got down on one knee and the rest was history!
How did you decide on your wedding dress?
Josh and I had to postpone our big wedding to November due to COVID. My dress for the big wedding was one I got from a boutique last year. Josh and I decided that we wanted to keep our dating anniversary as our wedding anniversary since our 6-year anniversary was coming up in August. It was a last-minute decision and with everything going on we knew we wanted to hold a small ceremony with just our families. I went into my local David's Bridal by myself and told the associate, "This is very last-minute, and I just want a simple dress that I know I'll be comfortable in." She brought out 3 choices and I absolutely fell in love with my wrap dress. That's how I found my dress!
Do you have any dress-shopping advice for future brides?
Find a dress that you feel 100% yourself in. Look for something you'll be comfortable wearing for hours.
Tell us about your wedding day!
It was a hot day in Redlands, and we were feeling it! Josh's parents offered their home to host a dinner and have the ceremony in their backyard. I told Josh's mom that I wanted it to feel like a family party. There was no stress, and everything looked so beautiful. We had Josh's favorite hometown food catered and decorated this long table that sat both families together and just enjoyed each other's company and conversation. I had butterflies the entire afternoon because I couldn't believe it was FINALLY happening.
The highlight of the night was being able to share the moment with all of our family and friends through Zoom and reading through their chat messages on the screen. It was so sweet of them to join us because I knew they wish they could've all been there in person.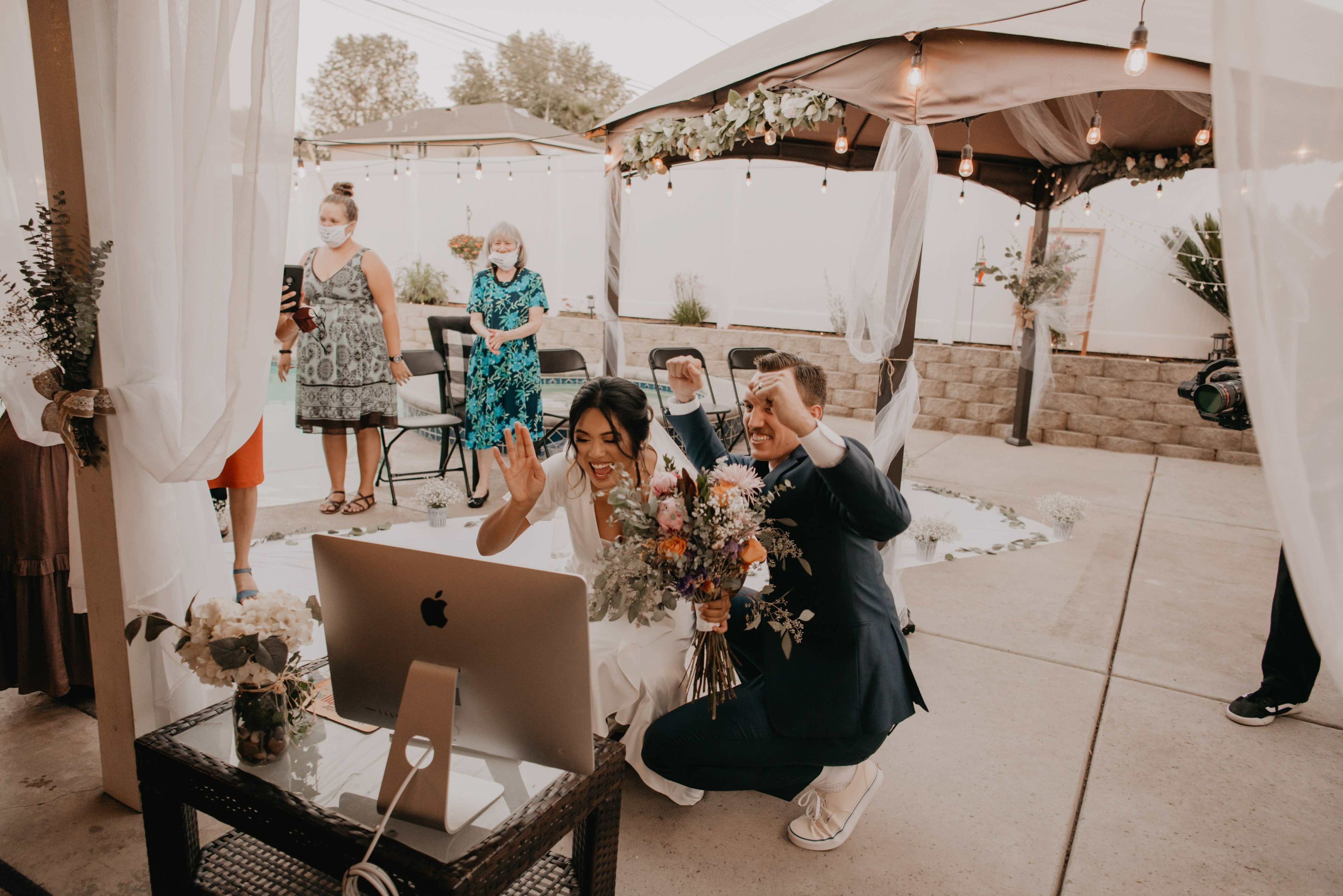 Did anything funny or unexpected happen?
Our nephew Ezekiel is known to throw anything he can get his hands on. As I was walking down the aisle with my dad, Ezekiel thought it would be funny to throw a can of mints down the aisle too!
Is there something you wish you had known before the big day/while you were planning the wedding?
We didn't account for the summer heat when we moved our wedding date from springtime to the summer heat in August! The day was absolutely magical, but we were HOT!
What was your first dance song?
1+1 by Beyonce. Josh and I are music lovers and although this pandemic is keeping us from experiencing shows and concerts, we still have our wedding playlist we curated to listen to at home.
What was your favorite DIY or personal touch?
Josh's mom had custom face masks made so we can stay safe and stylish.
What did you do to stay stress-free on your wedding day?
Honestly, it wasn't stressful at all. It felt like a small family party and it was absolutely perfect. Everyone was so happy that Josh and I were celebrating! Especially after being heartbroken about postponing the big wedding…they knew that this meant a lot to us.
What's your best wedding planning advice? And what advice do you have for brides that are planning their weddings right now?
Do what makes YOU and your future hubby happy. Try not to worry about everyone else. If you need help, don't be afraid to reach out to your friends or family. When Josh and I had to postpone our wedding to November, we were so worried about what everyone else would think. We didn't have a chance to cope with the fact that we may not get married this year. And then one day we woke up and said, "Let's just do this already!" And I am so happy we did. My heart is full!
More Details:
We know how important your wedding day and special events are to you and we are doing everything in our power to serve you! Inspired by Vikki and Joshua's mini backyard wedding in California? Check out more real weddings from DB brides! You can shop with us 24/7 at davidsbridal.com or find a location near you to try on and take home your dream dress. See tips for starting to plan your wedding at home, shopping for your wedding dress online with confidence, and more on the blog.
Related Posts: