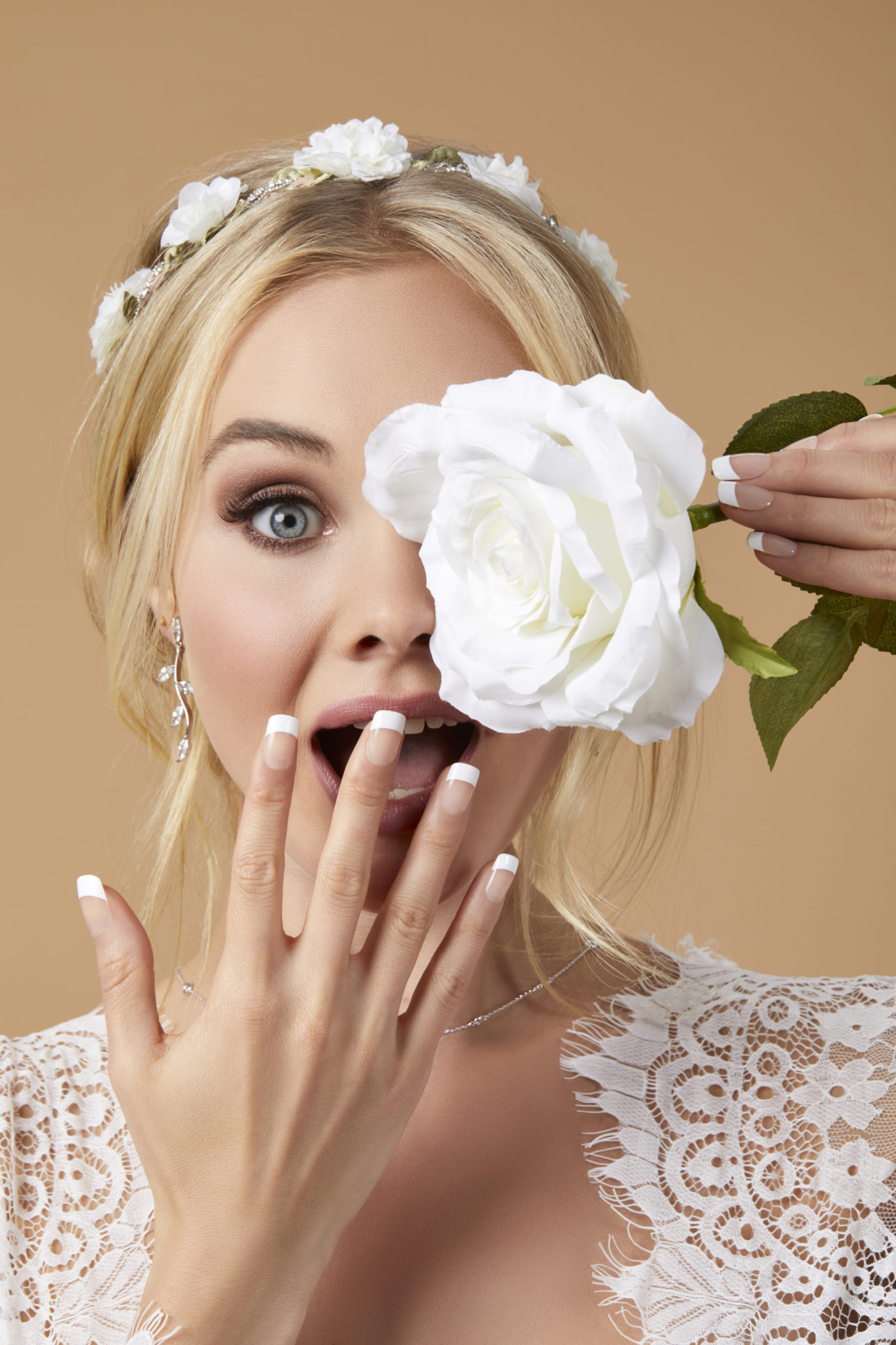 20 Jun

Upgrade Your DIY Wedding Makeup
The secrets to getting a professional makeup look at home.
From the time you say YES until you're headed on your honeymoon, count on false lashes and nails to be your biggest beauty BFF's. These are every bride's (and bridesmaid's) wedding go-to's, because of the way they instantly make you a standout, in person and in photos. You won't believe what falsies can do for your eyes! From full sets to clusters, in all lengths and thicknesses, false lashes are the way to go to really make your eyes pop and instantly upgrade even your everyday makeup routine.
And if you haven't worn ready-to-wear false nails lately, you're in for a surprise. The design options are endless, application takes minutes, and the nails stay put. Since false nails come pre-shaped and fully styled, you can effortlessly change your look for every outfit, color and occasion. Insider secret: many Hollywood stars walk the red carpet wearing gorgeous looking temporary tips while looking like they spent hours at the nail salon.
Not only are faux lashes and nails simple ways to upgrade your wedding makeup, they save time and money since you can apply them yourself. To show you how you can achieve flawless DIY wedding makeup incorporating false eyelashes and nails, we consulted our beauty partners, the experts at KISS, to share their favorite looks for every wedding event.
Engagement Photos
Keep your eyes pumped up with True Volume lashes. Even paired with your everyday makeup, this glam lash look will shine through in your engagement photos. French nails are ideal for every step of the bridal experience, so kick off the journey wearing blush french nails for a soft, effortless look to compliment your sparkly engagement ring.
Bridal Shower
The Blooming Lash collection is full of fun, party-worthy eyelash looks, with varying layers and a clear band that add depth and volume to your eyes.  Pair these ultra-feminine lashes with DIY wedding makeup in shades of pink and you'll be the perfect "blushing bride." You'll also need something blue, and French nails with soft blue tips add a trendy twist to the age-old wedding tradition.
Bachelorette Party
Lash Couture Triple Push-up collection gives your eyes a dimensional lift for a high impact effect that's especially flattering in all the 'grams and snaps you and your girlfriends will surely be sharing throughout the night. Pair with a bold lip for all-around [makeup] drama. Stiletto-shaped nails are chic and trendy for a night out, plus the neutral look goes with everything!
Wedding Day
Lash Couture Little Black Dress is the most popular wedding day choice! Curly, alluring lashes give a mink effect with a knot-free band to blend seamlessly with your natural lashes. They instantly give you long, lush lashes and a soft smokey eye look without eye shadow. Add a little blush, a touch of highlighter on your brow bones, cheekbones and the bridge of your nose, finish a swipe of neutral lipstick and your DIY wedding makeup look is complete. For nails, nude french nails in a flattering medium length and oval shape are the epitome of the classic wedding day bridal look.
Honeymoon
Looks So Natural lashes are lightweight and soft as a feather, just right for day and night. Pair them with your newlywed glow and a hint of lip gloss and you're good to go! A modern French nail with a shimmery finish works for laid back and luxe festivities.
Eyelash application can seem really intimidating at first, but as with any new makeup routine, practice makes perfect. Check out this eyelash tutorial video and DIY instant manicure video to learn all the tricks and you'll be fluttering your lashes and flaunting your fingers in no time!
KISS is a global beauty brand that helps you bring the salon home. The largest manufacturer of professional-quality, innovative beauty products that include fashion nails, nail care, lashes, hair appliances, hair care and cosmetics. For more DIY beauty ideas and inspiration follow @kissproducts. Plus, get $1 off your product with code BRIDAL1 at www.bejour.com through 6/30!
Related Posts: