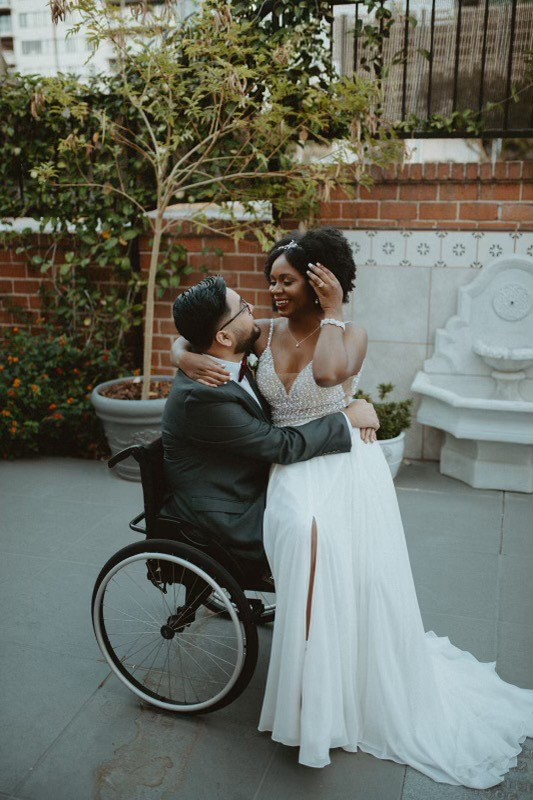 08 Dec

Real Wedding: Jordan & Alfonso
An Intimate California Elopement planned in 90 days
Real weddings are so inspiring! To get you in the mood to plan, we asked real brides to spill the details on everything from getting engaged to finding their wedding dresses to the special touches and surprising moments that made their celebrations completely one-of-a-kind. Jordan and Alfonso planned their intimate California elopement in 90 days! Read on for more mini wedding inspiration!
How did you and your fiancé met! How did you know that he was the one?
Alfonso and I were talking on the phone and texting nonstop before our first date. I think we both knew that this was something special. We spent over four hours in this restaurant! Talking about everything under the sun, so many laughs, and lots of flirty smiles. It honestly felt like we knew each other for years. We felt so much comfort with one another. We never experienced anything like this before. It wasn't too long before we were spending several days together and going on constant adventures and trying new things. Over time, we learned so much from each other and grew together not only as individuals but as partners.
Tell us your proposal story!
It was intimate and sweet. Just the two of us. On Christmas Day, we spent the morning in our Christmas pajamas and opening up presents with our 8-month-old puppy. We were so happy and relaxed, sipping coffee. It was honestly the perfect moment. The next thing I know, he disappears and a tiny little red box in his hands. Lots of happy tears and kisses were shared as we opened up this new chapter in our life.
How did you decide on your bridal look and how did you feel when you #foundtheone?
I knew I wanted something unique and not super formal. I wanted to look gorgeous but also relaxed! Honestly, this was the first dress I tried on. I felt like ME! The top piece was my favorite. The beadwork was exquisite and unique. I felt 100 percent comfortable. I tried on a second dress afterward as I had at least six others picked but I knew instantly that the first one was THE ONE!
Do you have any shopping advice for future brides?
Go with your heart. I guaranteed that you will know as soon as you see yourself in the dress!
Was there a highlight or most memorable moment of the day?
My wedding day was planned in less than 90 days. We were originally planning for March 2021 but as the pandemic continued to get worse and planning became more and more difficult, we decided on an elopement ceremony. The most memorable moment was the first look – when he first opened up his eyes and saw me in my dress. We were able to have an intimate and loving moment before our ceremony. It is a memory I will always cherish.
Did anything funny or unexpected happen?
We did a brief champagne toast after our ceremony and a close friend and family member prepared a tiny speech during that time. Unexpectedly, almost every single one of our family members started coming up to say a speech. It was so unexpected and spontaneous. It was a circle of tears and so many laughs as both our families bonded over our love.
Is there something you wish you had known before the big day/while you were planning the wedding?
Despite us skipping the traditional wedding route and going for a minimony, there still was a lot of detail to consider! I would say get organized on the vendors, their contact, their deposits, etc. It was definitely a lot to keep track of and definitely have a designated person on the wedding day as well. Luckily, my friend took over to help take care of the administrative stuff during the wedding so I did not have to worry.
What was your favorite DIY or personal touch?
I created my own bouquet from scratch!
What did you do to stay stress-free on your wedding day?
Lots of deep breathing. I made sure to get lots of sleep before the big day as well!
What's your best wedding planning advice?
Get a good photographer – it's worth the money. I knew I needed a photographer that was able to take pictures without us posing and allow us to be our natural selves. When you are in the moment, all you can think about is marrying the love of your life, not necessarily posing, lighting, etc. Our photographer knew exactly what she was doing.
More Details
Date: October 23, 2020
Location: Parq West, San Diego, CA
Dress Style: Embellished Top & Chiffon Full Circle Skirt
Photographer: Katie Iredale Photography
Love this intimate California elopement? Read more real wedding stories here!
We know how important your wedding day and special events are to you and we are doing everything in our power to serve you! You can shop with us 24/7 at davidsbridal.com or come see us at your local David's Bridal. Plus we are here for you to help guide you through your wedding planning! See tips for starting to plan your wedding at home, shopping for your wedding dress online with confidence, and more on the blog.
Related Posts: