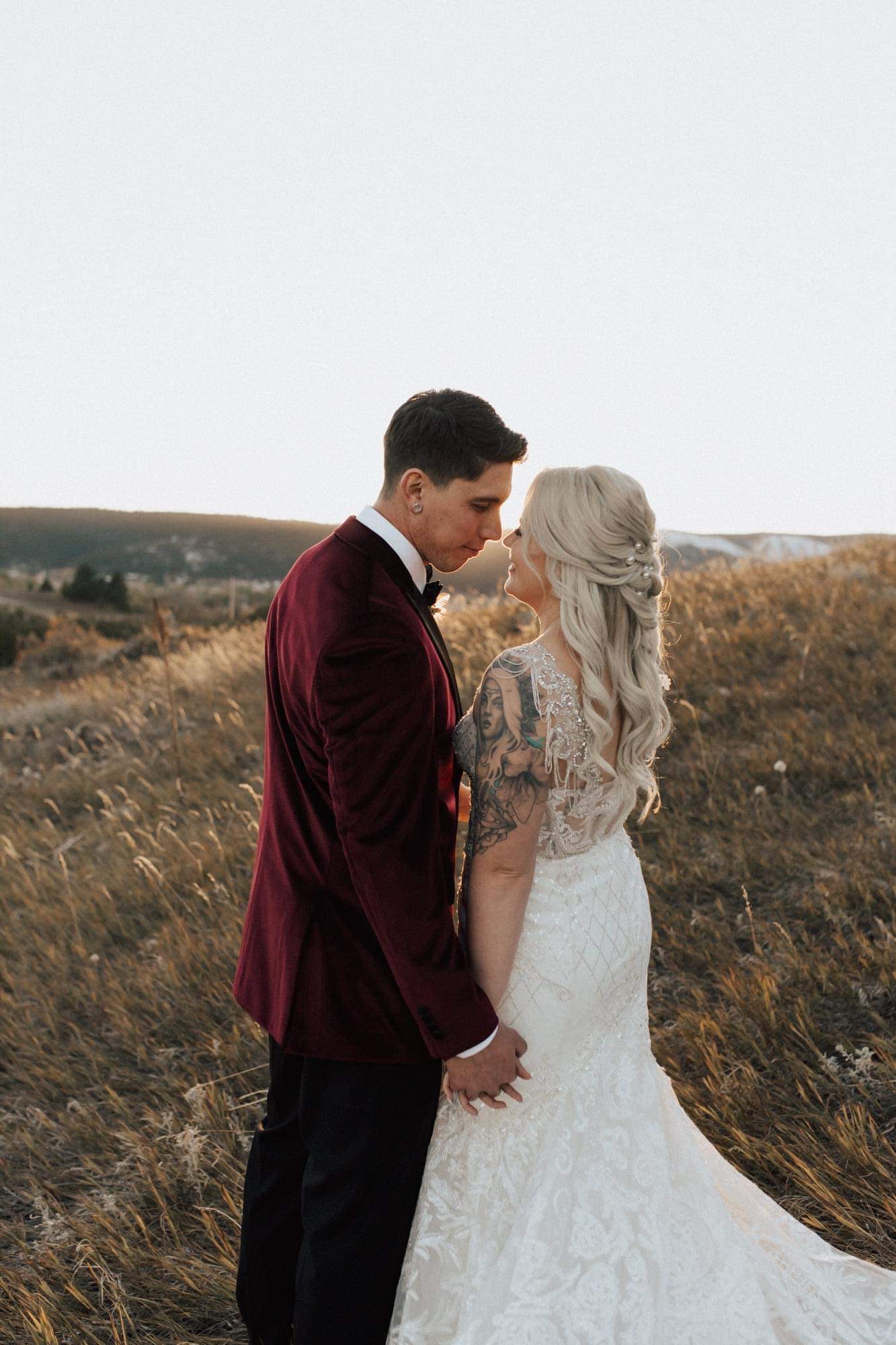 01 Dec

Real Wedding Katie & Darius
Dreamy Outdoor Fall Wedding
Real weddings are so inspiring! To get you in the mood to plan, we asked real brides to spill the details on everything from getting engaged and finding their wedding dresses to the special touches and surprising moments that made their celebrations completely one-of-a-kind. Under the beautiful South Dakota sun, Katie & Darius married in a dreamy outdoor fall wedding. Keep reading to see more details from their special day!
Briefly tell us how you and your fiancé met!
Darius and I met in July 2016 while we were downtown with friends. We were at a dance club when I asked his friend to dance with my friend, as she thought he was cute. His friend agreed to dance with her if I danced with Darius. The rest is history! Despite him traveling frequently for work and being informally/casually dating on and off for months, we couldn't stop coming back to each other and made it official in July 2017.
Tell us your proposal story!
We rented a cabin with his sisters near our local ski hill in Lead, SD, for Christmas 2020. His family was all there to go out to a nice dinner after a day of snowboarding. While we were all taking photos before dinner, his sister slipped him the ring behind my back and he proposed.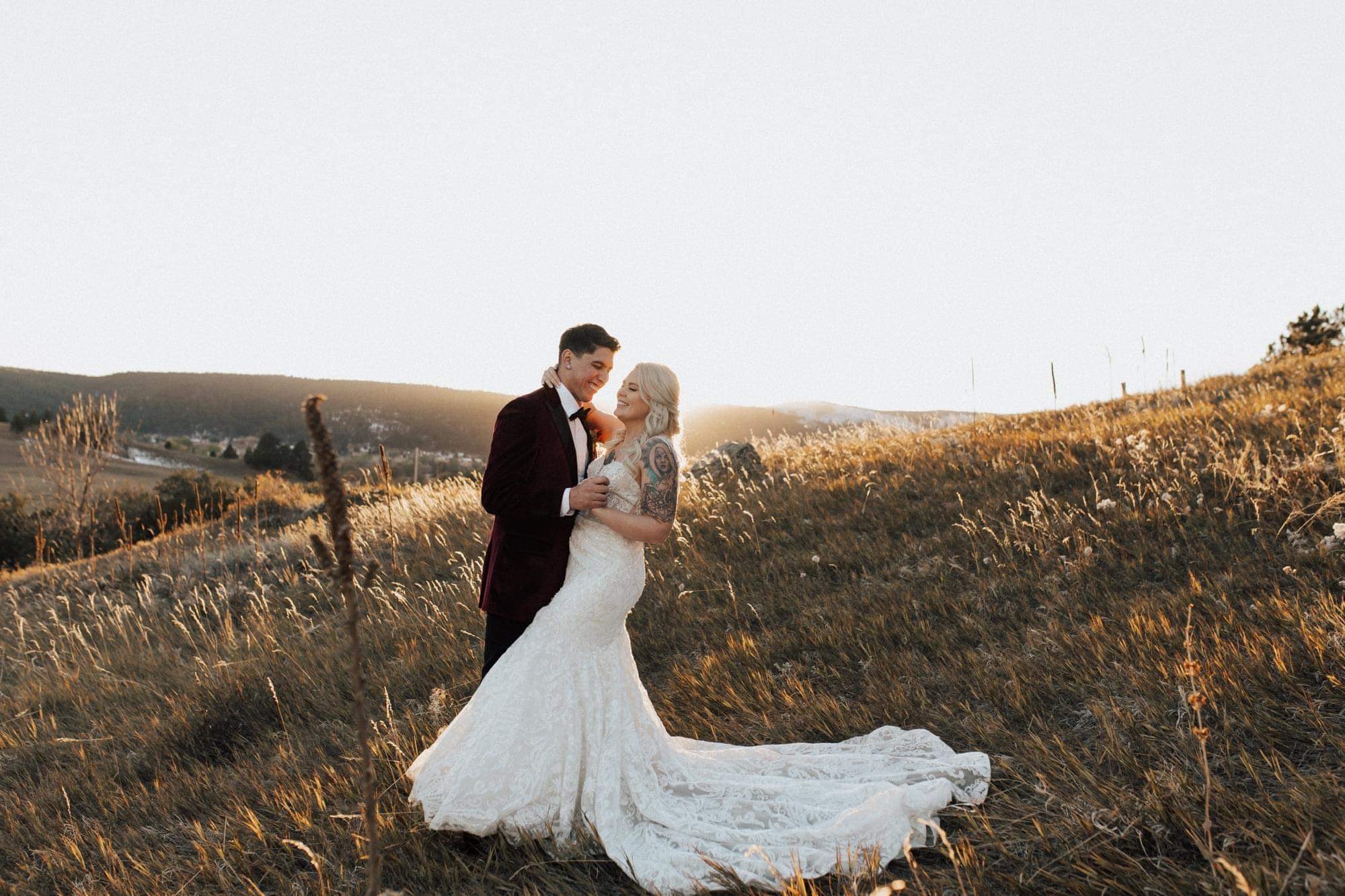 How did you both decide on your wedding day look?
I actually used to work at David's Bridal in college! I'd been following along on Instagram and saw a dress I had to go see in person. I went in to try it on and didn't love it. My sales associate, an assistant manager named Paula, pulled other dresses for me to try. Once I put my dress on, I never wanted to take it off. I knew I had to have it!
Do you have any shopping advice for future brides?
Don't go in with any expectations other than having fun. Keep an open mind, because so frequently brides go in with their vision and walk out with something COMPLETELY different! I definitely did.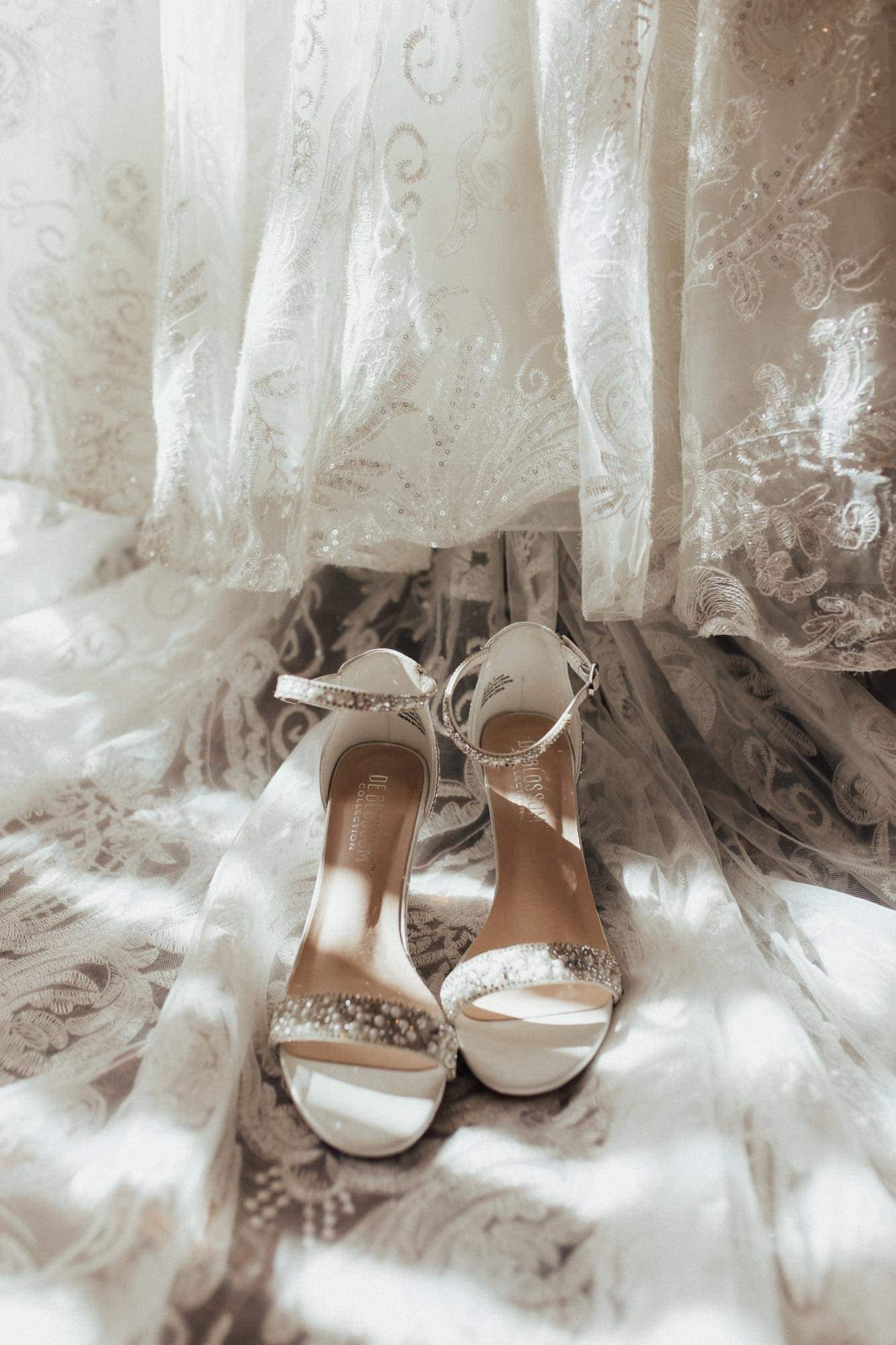 What was your favorite detail about your look?
I added beautifully beaded straps and I was obsessed.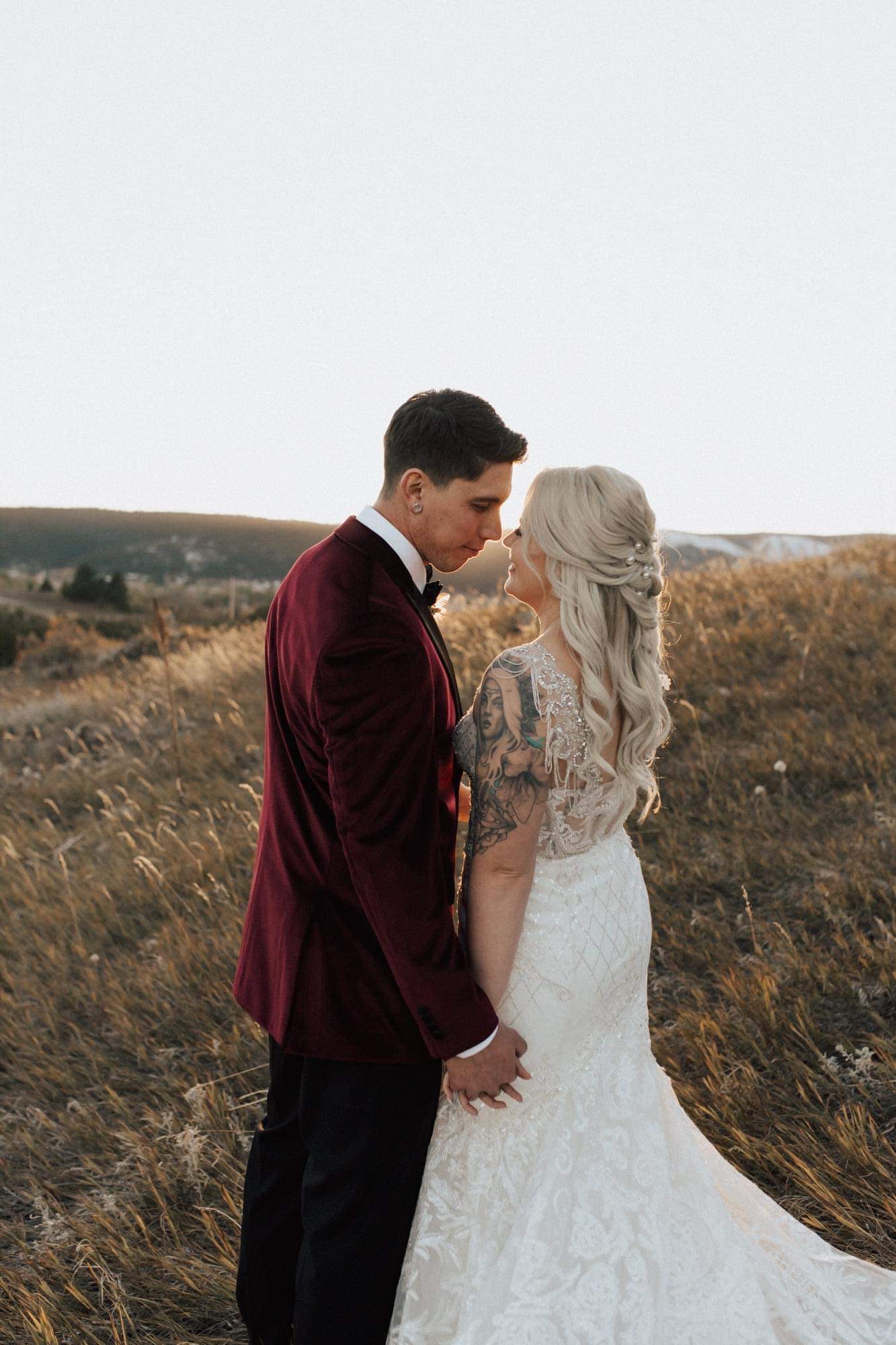 Tell us about your wedding day!
Our wedding day was perfect. The weather was sunny and 70 degrees. We live in the Black Hills in South Dakota, so the fall colors were absolutely gorgeous. We got married in front of a huge tree which my florist decorated with floral arrangements for our altar.
Was there a highlight or most memorable moment of the day?
The first look was amazing. I was so against one for a long time, but for time purposes we decided to do one. My husband is NOT an emotional guy, so I had no expectations. He cried and it made the moment so special.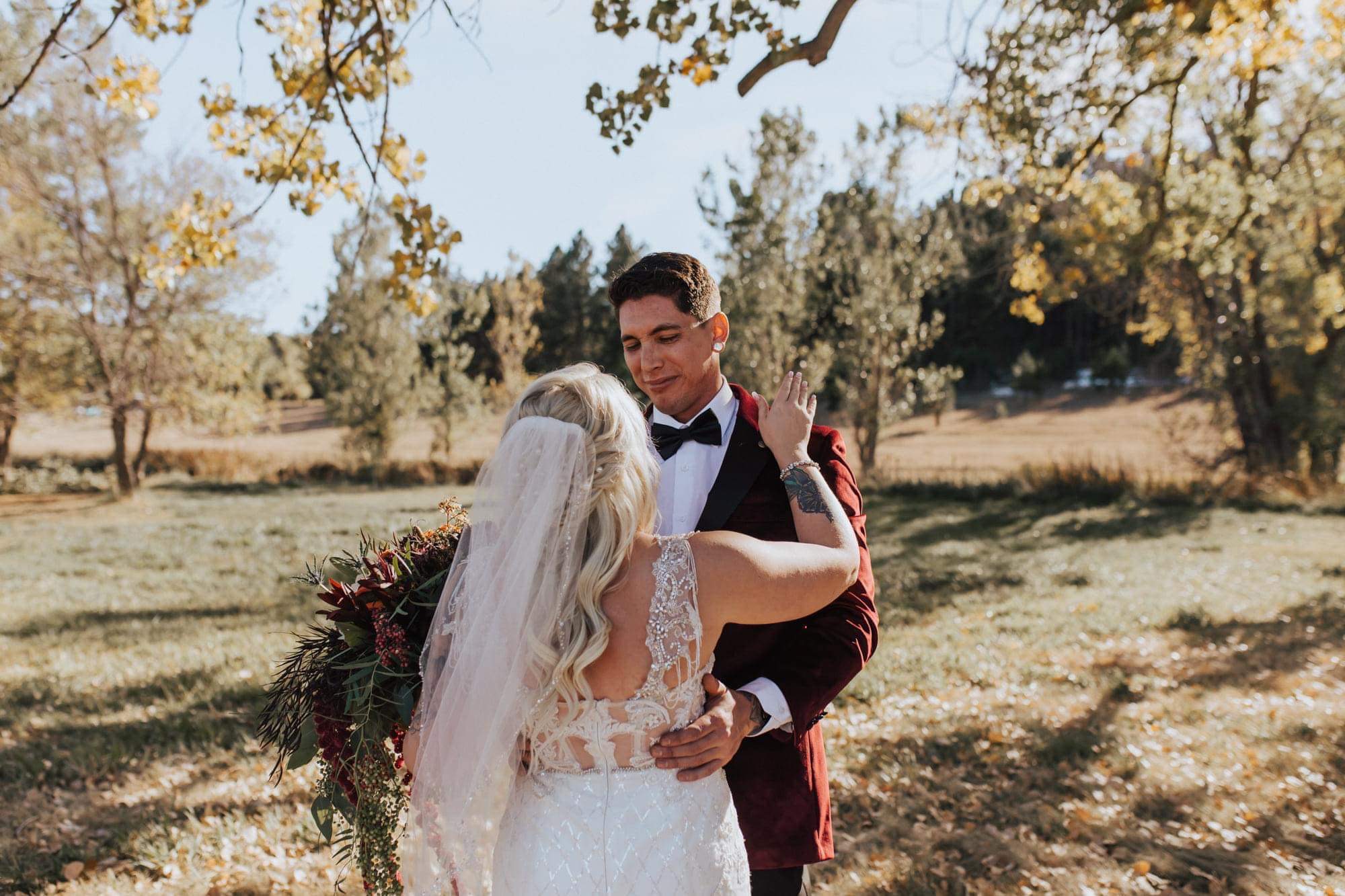 Is there something you wish you had known before the big day/while you were planning the wedding?
It goes by so fast. People told me that, but I didn't really fully grasp just how fast. I feel like I didn't get as much time with my husband as I'd like, as we were both so busy seeing and talking to everyone. I should have taken more time to make sure he and I were together.
What was your theme?
No real theme – simple yet elegant. Jewel tones for bridesmaids and gold décor.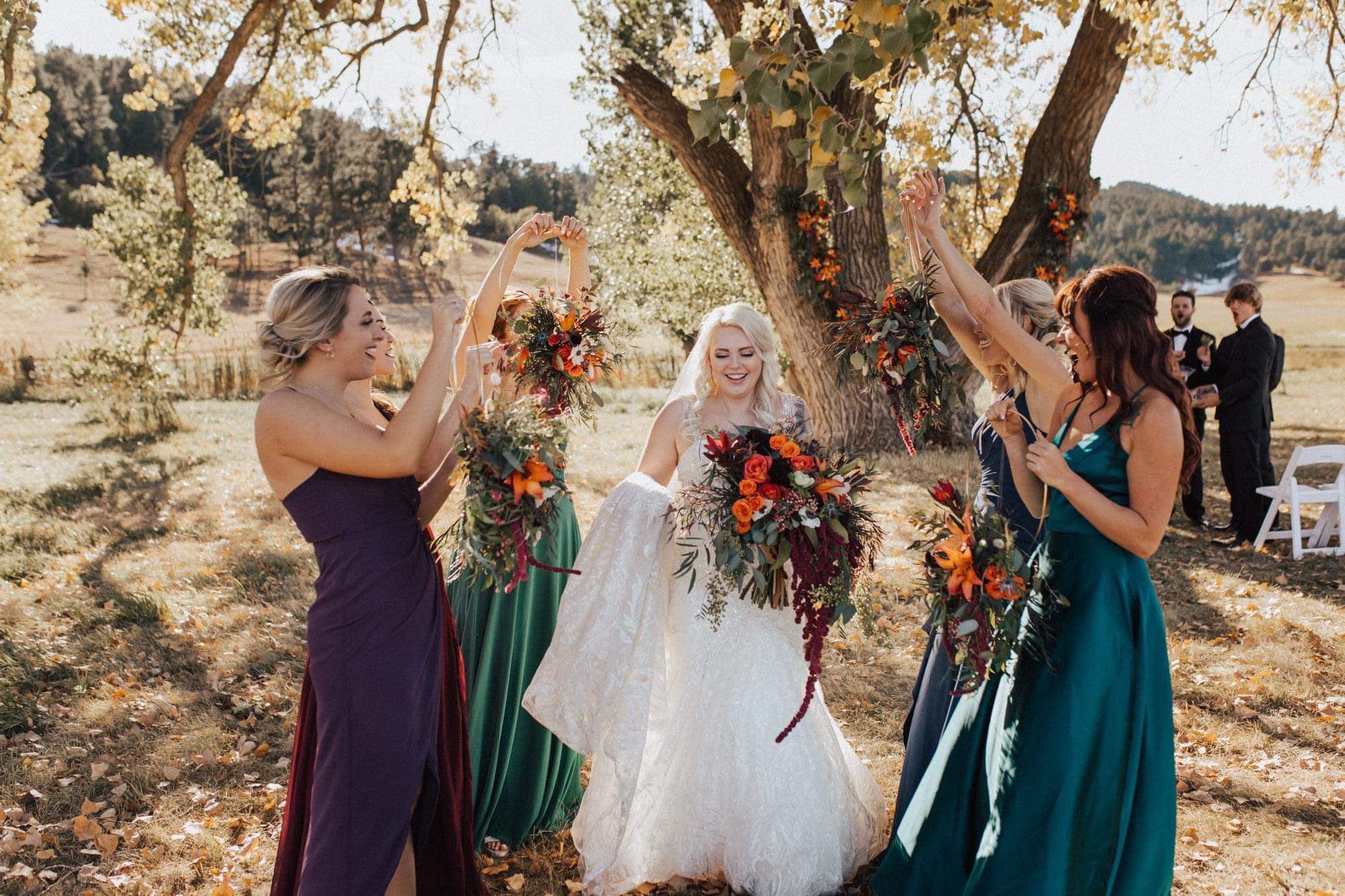 What was your favorite DIY or personal touch?
My cousin's significant other makes jewelry out of stones she finds in the Black Hills. Our three-year-old daughter was our flower girl, so she and I had matching handmade rose quartz necklaces.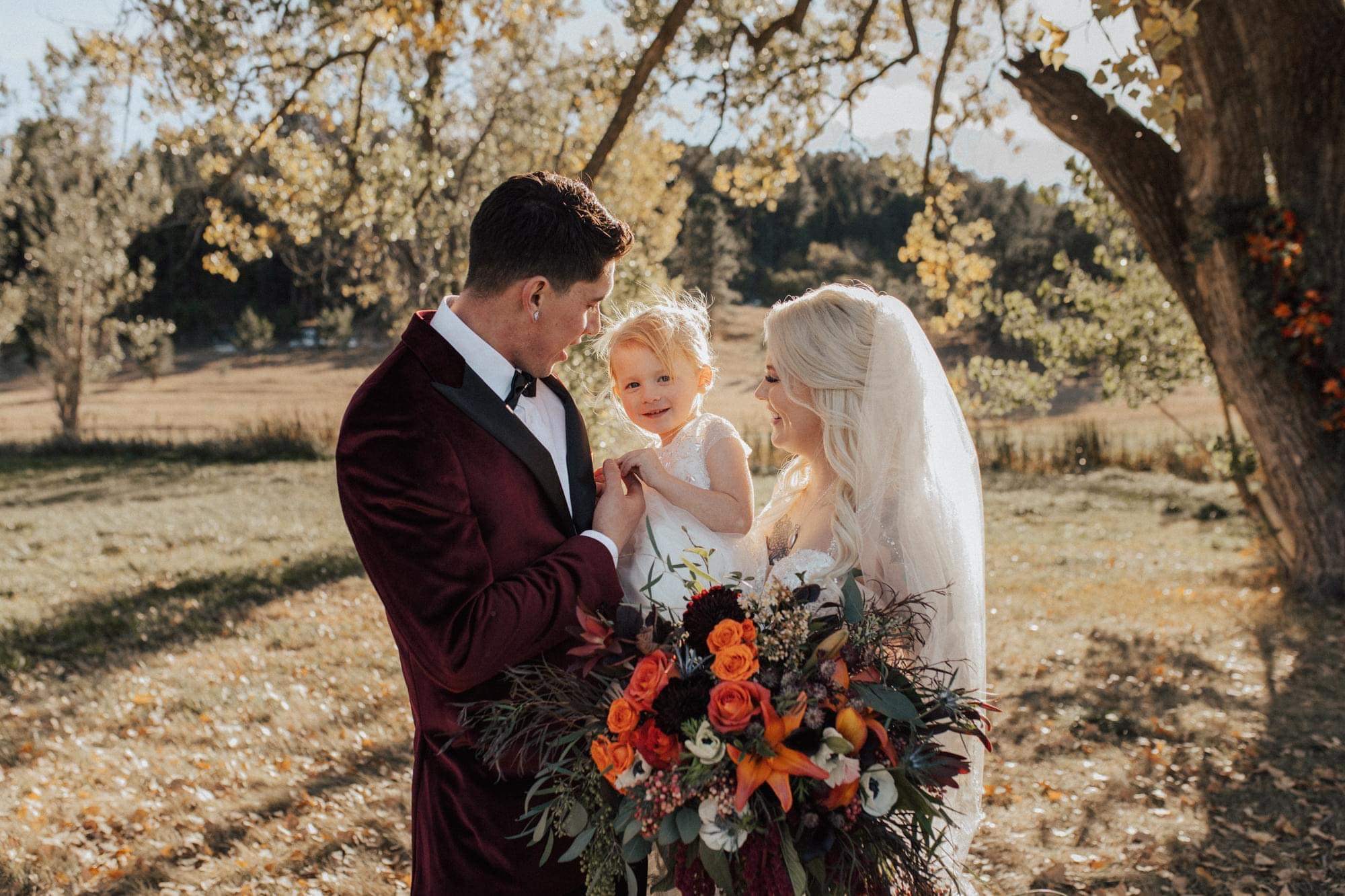 What's your best wedding planning advice?
Don't stress the little things. No one cares about the décor or what things look like. They care about you and your fiancé, and as long as you're all together, that's what really matters!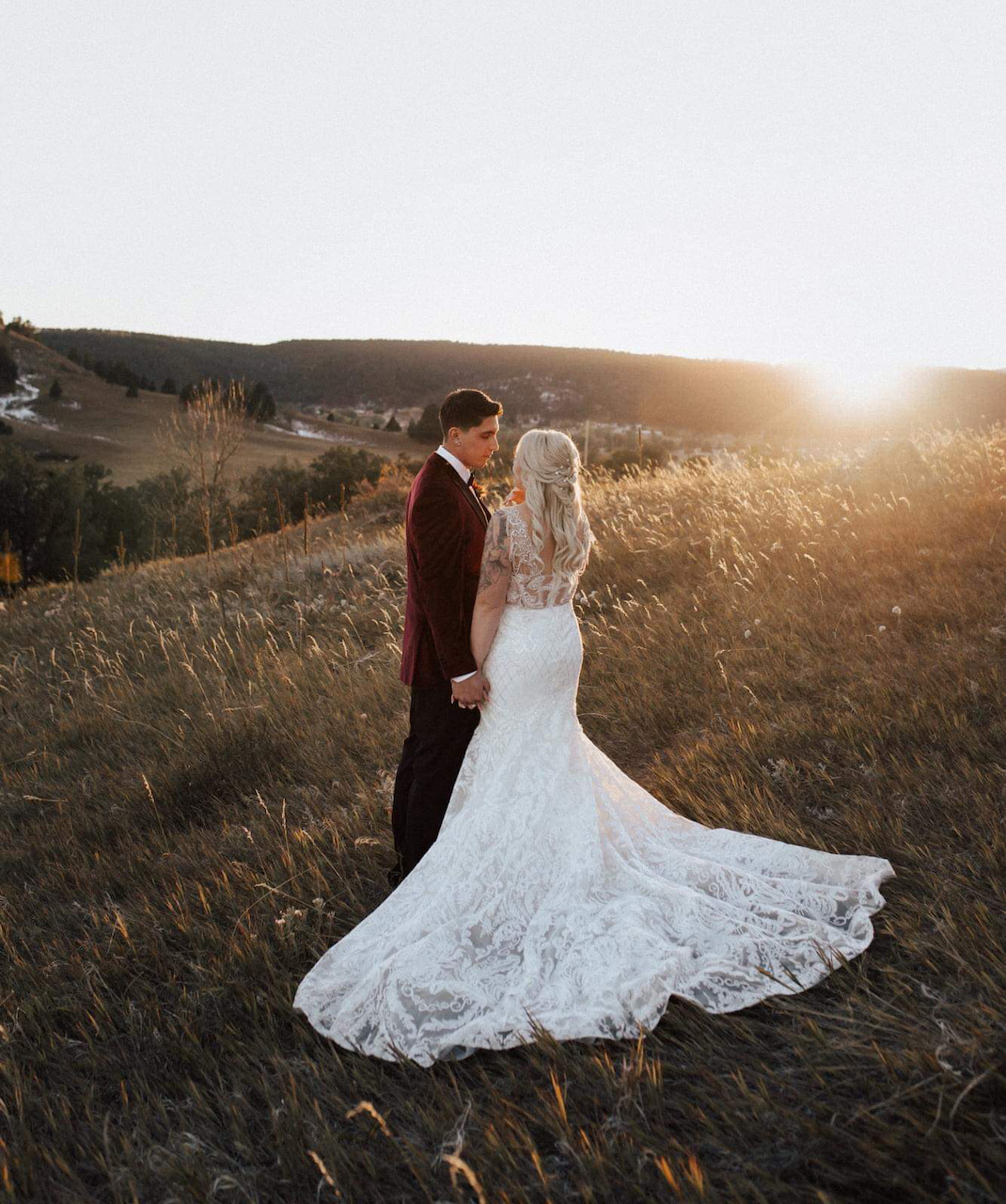 MORE DETAILS:
Wedding Date: October 1st, 2021
Wedding Location: Piedmont, SD
Dress Style: Beaded Brocade Embellished Mermaid Wedding Dress paired with Allover Beaded Applique Detachable Straps
Wedding Song: "Lady May" by Tyler Childers
Photographer: Katie Mary Photography
Love this dreamy outdoor fall wedding? Read more real wedding stories here!
We know how important your wedding day and special events are to you and we are doing everything in our power to serve you! You can shop with us 24/7 at davidsbridal.com or come see us at your local David's Bridal. Plus we are here for you to help guide you through your wedding planning! See tips for starting to plan your wedding at home, shopping for your wedding dress online with confidence, and more on the blog.
Planning a wedding? Sign up for our Diamond Loyalty program—it's free! Follow us on Instagram, Pinterest, and Facebook for more real wedding inspiration, or click here to book an appointment.
Related Posts: