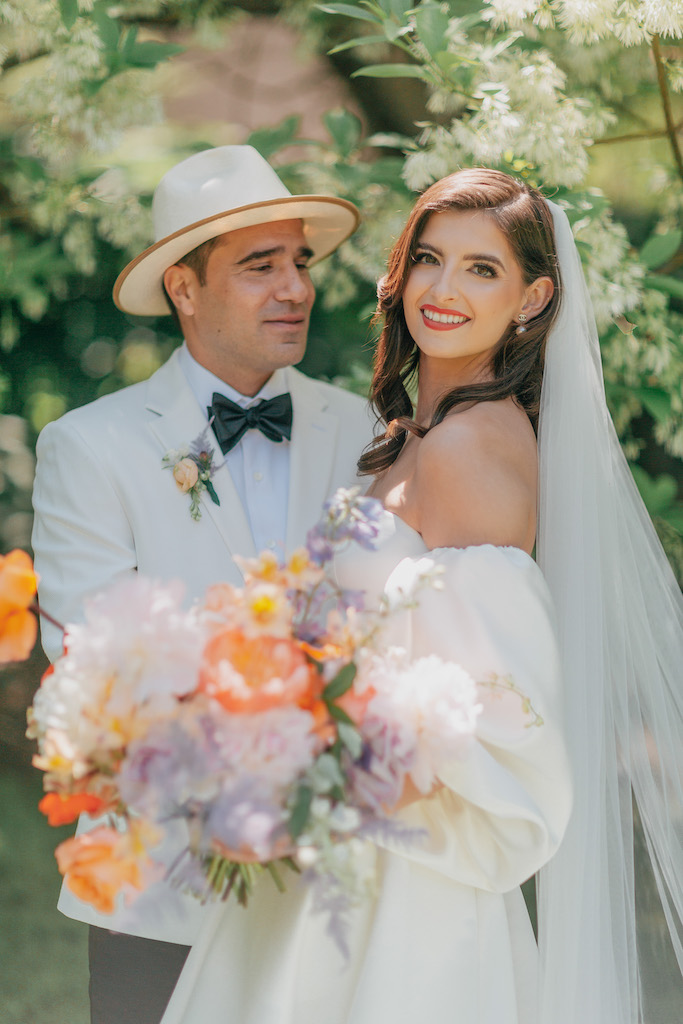 25 Aug

Real Wedding: Samantha & Juan
Stunning Springtime Wedding
Real weddings are so inspiring! To get you in the mood to plan, we asked real brides to spill the details on everything from getting engaged to finding their wedding dresses to the special touches and surprising moments that made their celebrations completely one-of-a-kind. Today's Real Wedding is extra special. Samantha, our PR + Influencer Marketing Coordinator, recently tied the knot in a stunning springtime wedding. Today, we're sharing how she brought her unique vision to life. Read on for more details of Samantha & Juan's special day!
Briefly tell us how you and your fiancé met! How did you know that he was the one?
We met through mutual friends and were bound to cross paths at some point—we truly feel like soulmates! It sounds very cliché, but as soon as we made eye contact, I knew he was the one!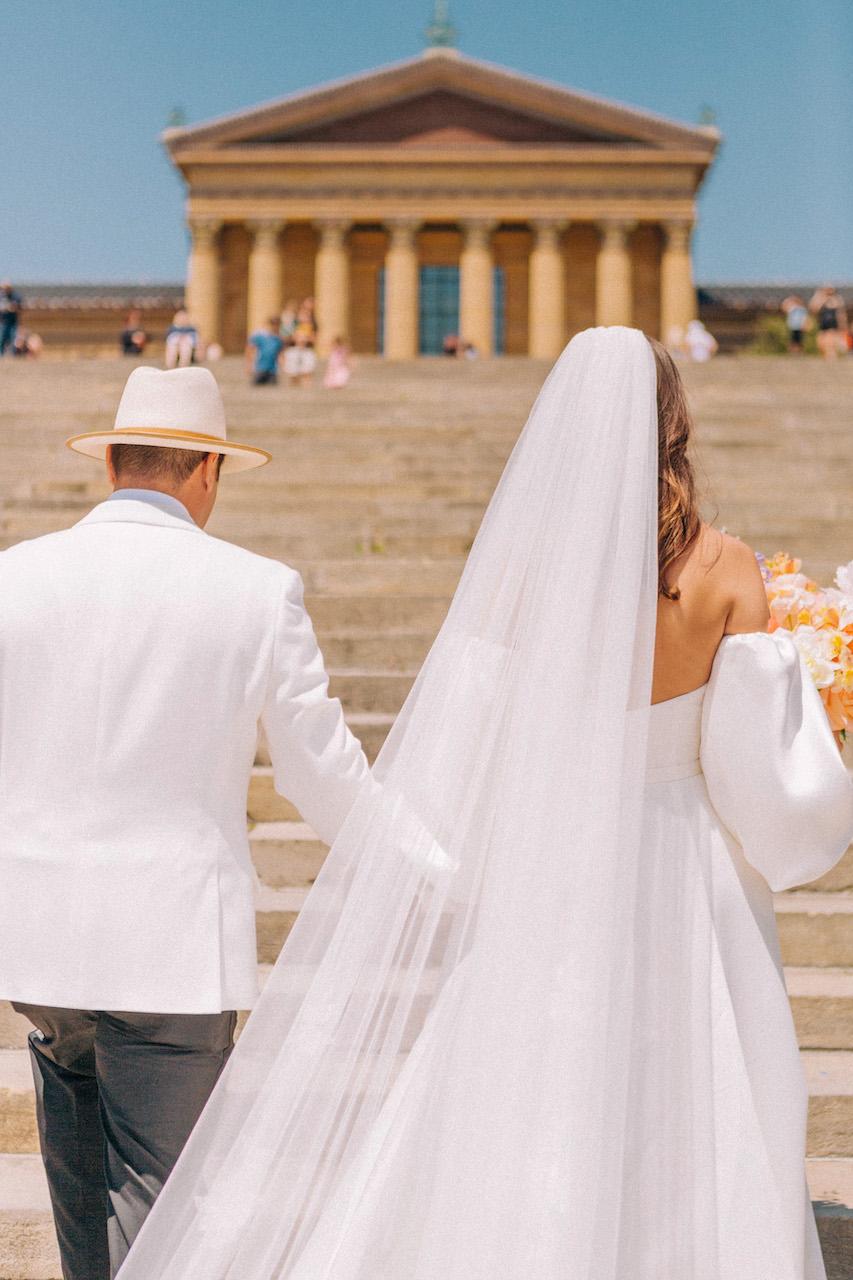 Tell us your proposal story!
A few weeks before our world changed from the Coronavirus, we were on vacation over my birthday week in the Bahamas. After a long excursion day, we celebrated my birthday over an intimate dinner, and he popped the question! I truly had no idea, and it was the most special surprise and early birthday gift. Looking back in hindsight, he was so nervous walking to the restaurant! We spent the rest of the trip celebrating!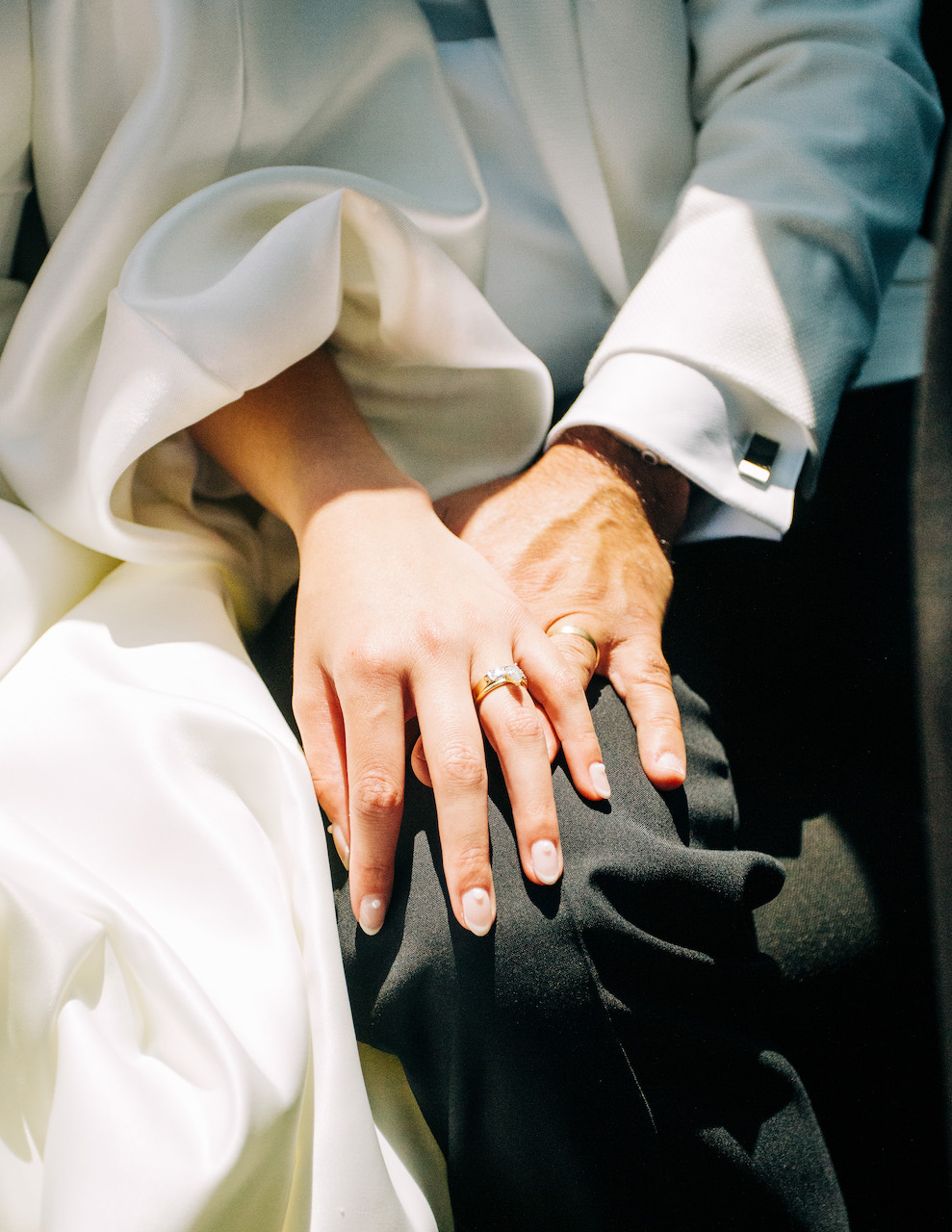 How did you both decide on your wedding day look?
Since I work at David's Bridal, I see hundreds of gorgeous wedding day looks on the daily. Although I absolutely love a mermaid/trumpet gown and have always envisioned myself in one on my big day, I saw style WG4017 and told myself that I only have one day to wear the most extravagant poufy dress!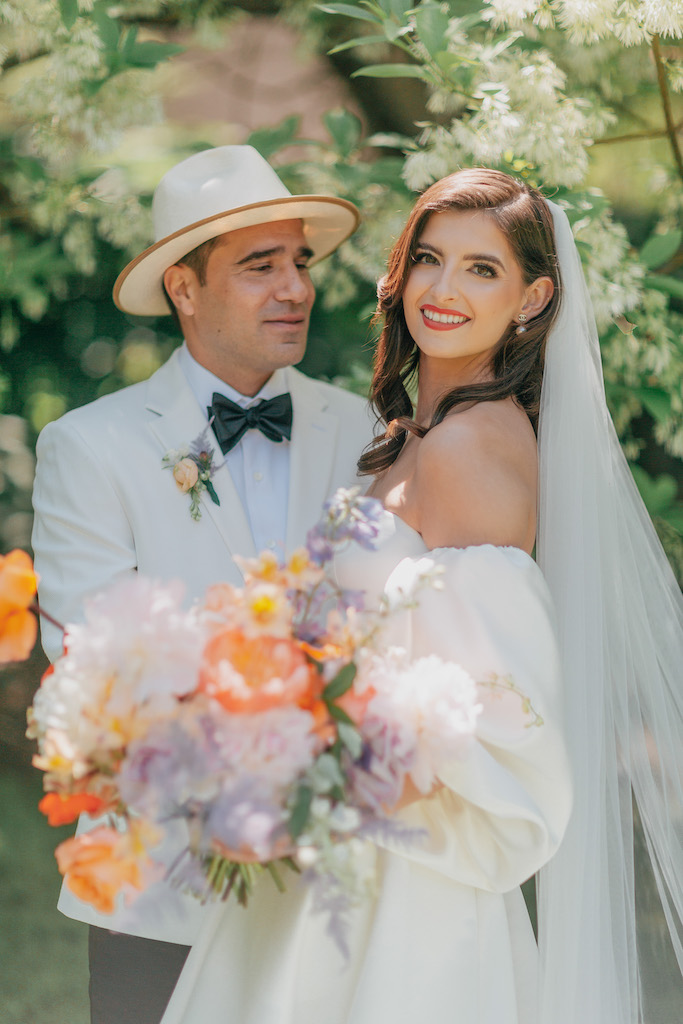 Do you have any shopping advice for future brides?
Go in with an open mind and don't limit yourself to a certain silhouette. You may be pleasantly surprised if you try on something out of your comfort zone!
What was your favorite detail about your look?
I had envisioned my classic ballgown paired with a pouf sleeve and the alterations specialists at David's Bridal were able to make my dream dress come to life!
Where did you get the idea to have your dress altered to add sleeves?
Pinterest is a bride-to-be's best friend! I wanted a classic look that I could look back on in years to come and still be in love with. Pouf sleeves are a favorite of mine, and they have become a wardrobe staple for me over the years, so I knew I wanted to incorporate them on my big day. I browsed ideas on Pinterest, pulled together a mood board, and the alterations specialists at DB took my vision and ran with it!
Can you tell us about your alterations experience?
I had a great experience at my local store! The alterations specialists loved the idea, and we spent some time during the appointment playing around with and pinning the fabric until we created the structure I was looking for. I got my dress taken in, hemmed, and also added a bustle, which is essential with a ballgown style!
Tell us about your wedding day!
Every time I think about my big day, I get a rush just remembering just how perfect it was! I got ready with my mom, sisters, and best friend. Afterward, we had an amazing first look moment on the steps of the Philadelphia Museum of Art. With his back turned to me, Juan was patiently waiting for my arrival at the top of the steps.
My closest friends and family stood on either side of the steps and cheered me on as I made my way up. It was the most gorgeous day, and the weather was perfect- there was not even a cloud in the sky. I tapped him on the shoulder, he turned around, and we both started crying! We greeted our guests and then made our way behind the museum to a beautiful little garden where we read our vows to each other, exchanged rings, and sealed it with a kiss.
It was such a quaint moment that I will cherish forever. After some photos, we all made our way to our venue, where we continued the celebration by officially signing our marriage license. We made a toast and sat down for a lovely luncheon and then put our converse on to dance the afternoon away. Then, we hosted an after-party block party on our street and celebrated all night. I changed into a feather mini-dress, and we all enjoyed my favorite snack, Chick-fil-A! To end the night, Mr. Softee made a special appearance, and it was such a hit!
Was there a highlight or most memorable moment of the day?
While we were exchanging vows, there were big bumblebees floating around right above us. I later read that bumblebees are a sign of good luck and symbolize the attainment of a goal.
Did anything funny or unexpected happen?
M whole wedding day was based around the unexpected. We opted out of the more traditional things like having a bridal party, bouquet toss, registry, something borrowed, etc.
What flavor was your wedding cake?
I chose a vanilla cake with chocolate buttercream for the bottom tier and couldn't resist having lemon pound as the top tier! It sounds like a weird combo, but it was delicious! I opted for a very plain cake design. Florals surrounding the cake became an amazing focal point in the venue.
What was your theme?
I did not commit to a specific theme but kept telling myself that I was going for a modern Marie Antionette tea party, and it was exactly that!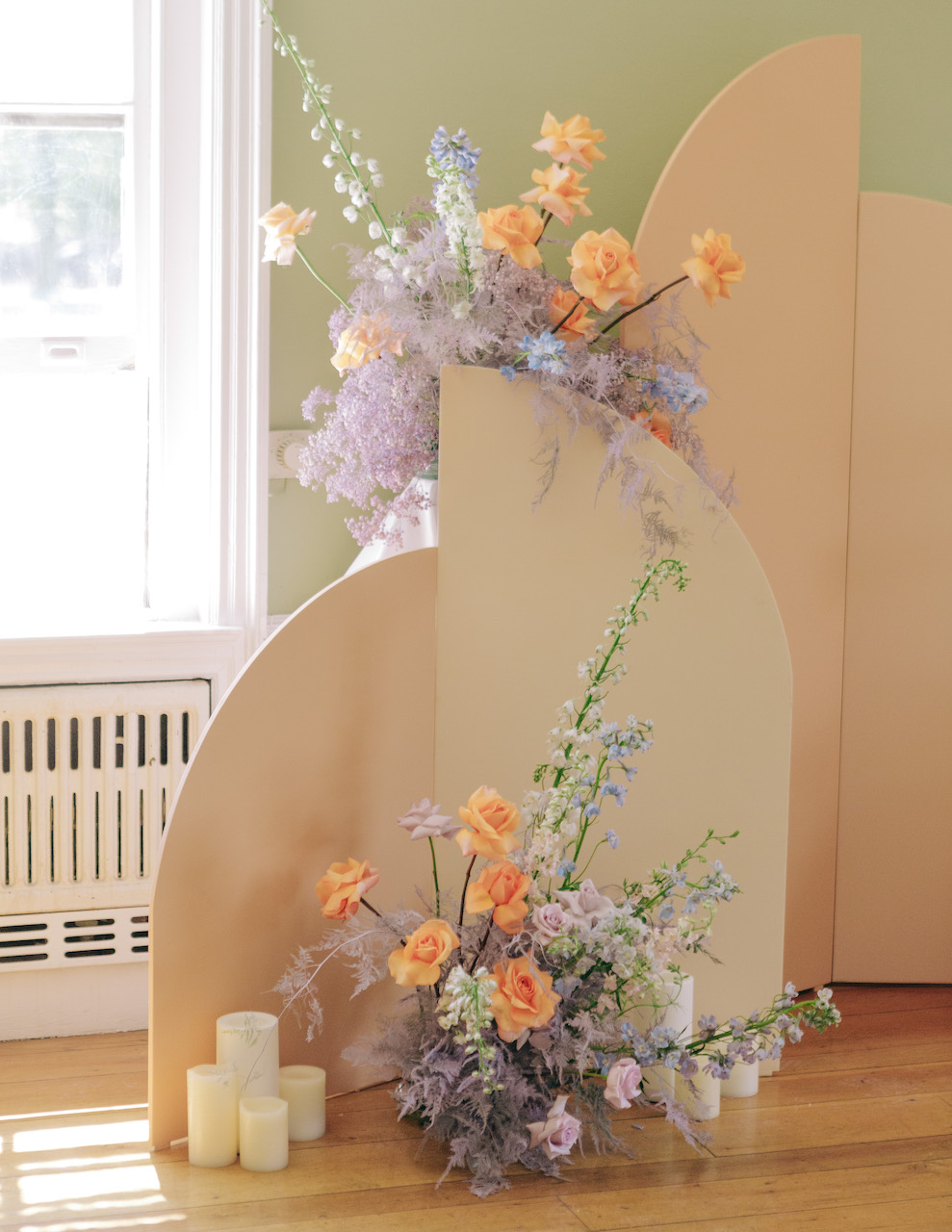 What was your favorite DIY or personal touch?
I spent months sourcing vintage gold and brass candlesticks for each table, and I am so happy that I did because they looked perfect paired with my gorgeous centerpieces. Our favors were cigars with custom matchboxes and my best friend is an amazing baker, so she made individually bagged cookies with cute phrases on each. We set out a polaroid camera with our guest book and everyone snapped photos of themselves when signing the book! I worked with a graphic designer to create the wedding welcome sign and table numbers.
How did being David's Bridal employee influence your wedding planning experience?
I see so many kinds of weddings while working at DB and that is the beauty of it all: everyone is unique, and no two weddings are the same. It's fun to brainstorm ideas to make your wedding day your own. I still always see ideas that I wish I thought of for my own wedding!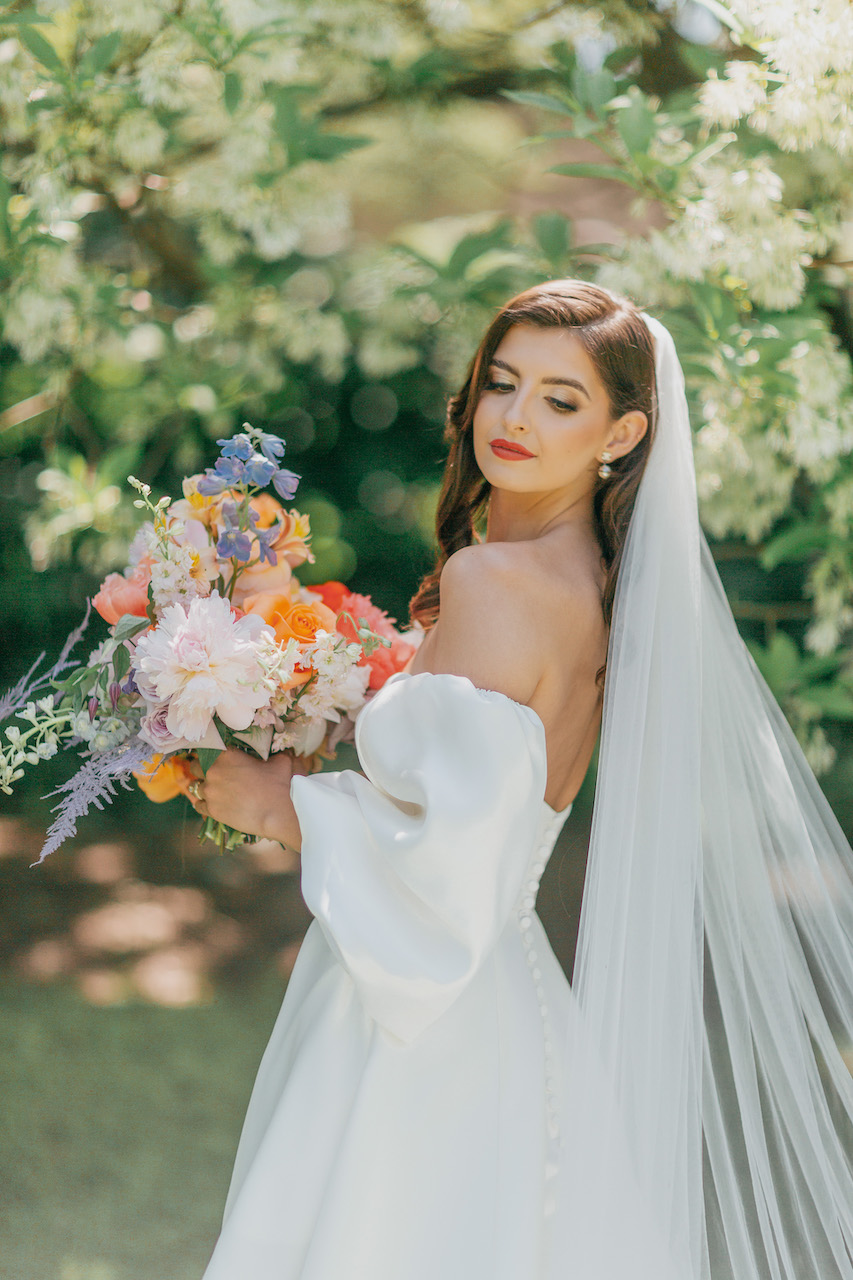 What's your best wedding planning advice?
Try to not get caught up in other people's opinions surrounding your big day—it is YOUR special day. At the end of the day, someone will always have a different opinion or suggestion. But, remember there is no rule that states you must listen. My family and friends definitely raised eyebrows at some of my ideas but ended up loving how it all came to life. Don't hold back on what your heart is set on.
More Details:
Date: May 15th, 2021
Wedding Song: "Hell N Back" by Bakar
Dress Style: Strapless Satin Wedding Dress with Skirt Slit
Photographer: Konnor J. Durante
Florist: Jody Work (David's Bridal's very own in-house Visual Stylist Designer)
Love this stunning springtime wedding? Read more real wedding stories here!
We know how important your wedding day and special events are to you and we are doing everything in our power to serve you! You can shop with us 24/7 at davidsbridal.com or come see us at your local David's Bridal. Plus we are here for you to help guide you through your wedding planning! See tips for starting to plan your wedding at home, shopping for your wedding dress online with confidence, and more on the blog.
Planning a wedding? Sign up for our Diamond Loyalty program—it's free! Follow us on Instagram, Pinterest, and Facebook for more springtime wedding inspiration, or click here to book an appointment.
Related Posts: