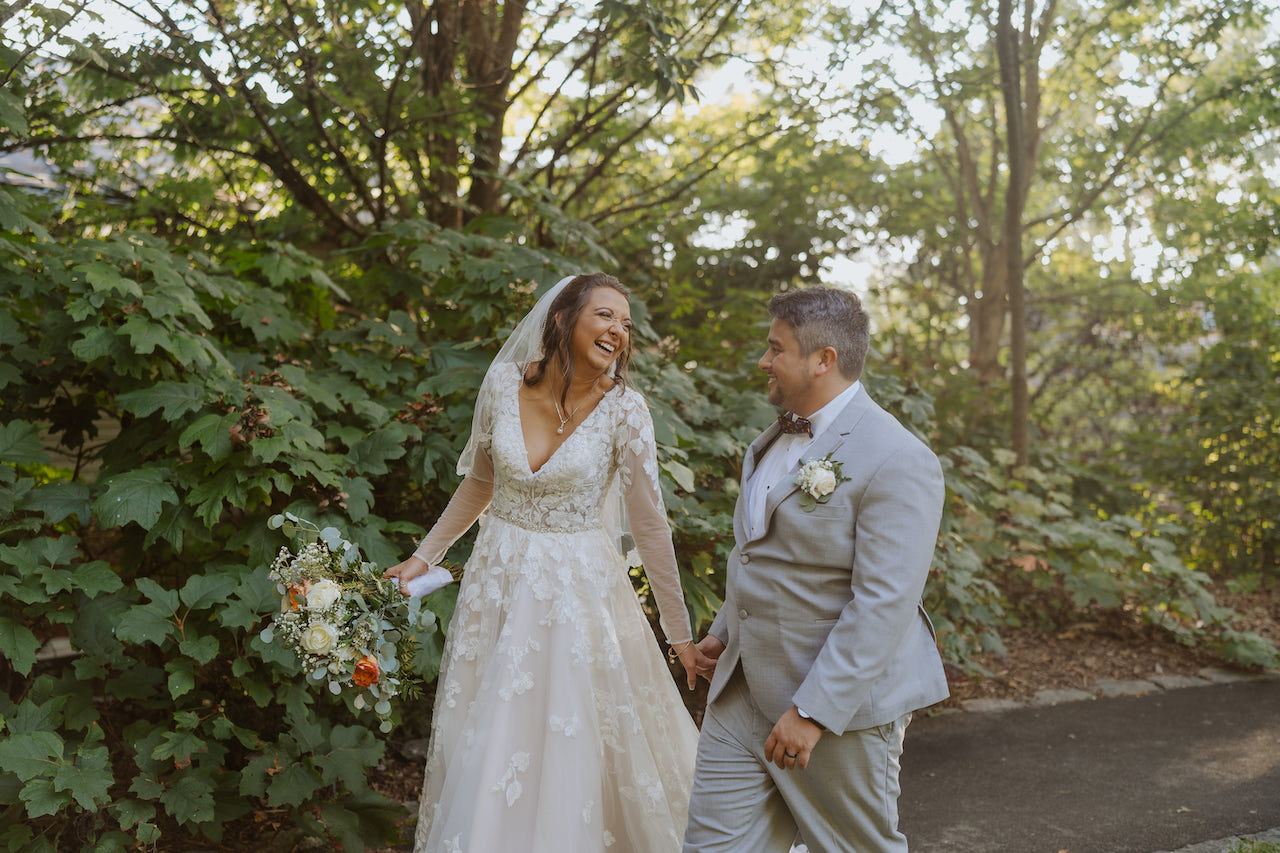 16 Mar

Real Wedding Tabitha & Chadin
Fall Wedding in Tenneseee
Real weddings are so inspiring! To get you in the mood to plan, we asked real brides to spill the details on everything from getting engaged and finding their wedding dresses to the special touches and surprising moments that made their celebrations completely one-of-a-kind. Today's real wedding feature comes from Tabitha & Chadin. These two soulmates tied the knot in a sweet, fall wedding in Tennessee. To see more from their love-filled day keep scrolling!
Briefly tell us how you and your fiancé met!
Chadin and I met at a bar/restaurant called Macados. I was out with a girlfriend and he was out with all of his friends. He had been walking around when I noticed him and knew I just had to talk to him but was too scared to try! Coincidentally, he and his friends got sat at the booth behind us. One of his friends came and sat at my table because he didn't have room at their booth. This friend got up at one point and that's when Chadin started talking to me.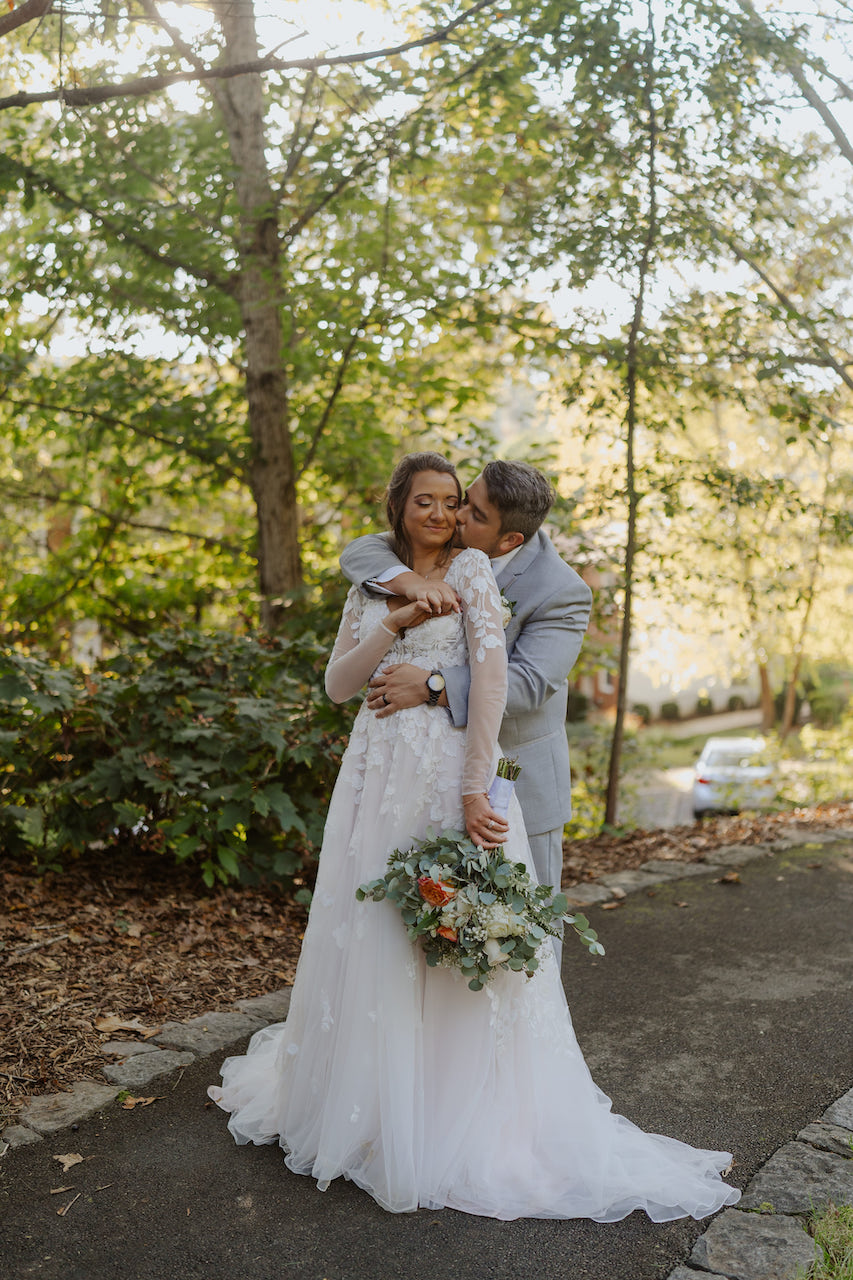 How did you know that he was the one?
I knew he was the one when we could stay up all night talking & spend every day together. He would do little things every day to show me he cared for me and loved me.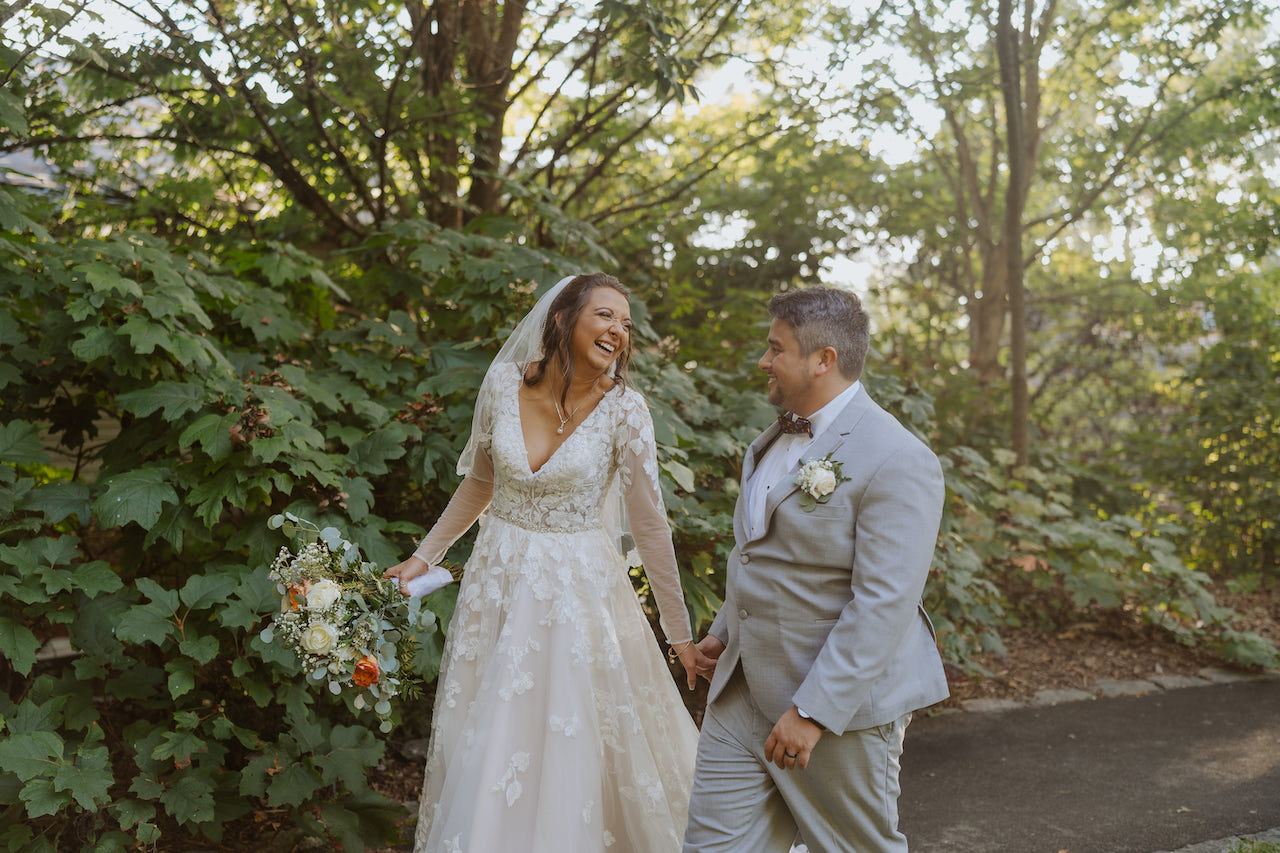 Tell us your proposal story!
I had family come in from out of town for the Fourth of July. We were all at my grandparent's house going outside to get ready to shoot off fireworks. I remember I went inside to get a drink and when I came back out, everyone had their phones and cameras out. My brother is the one I remember most, he was grinning ear to ear. I walked over to Chadin and he gave me a kiss and said, "If I could have everyone's attention. I couldn't think of a better time to do this other than with all the people she loves so much and who love her." He proceeded to get down on one knee and ask me to marry him!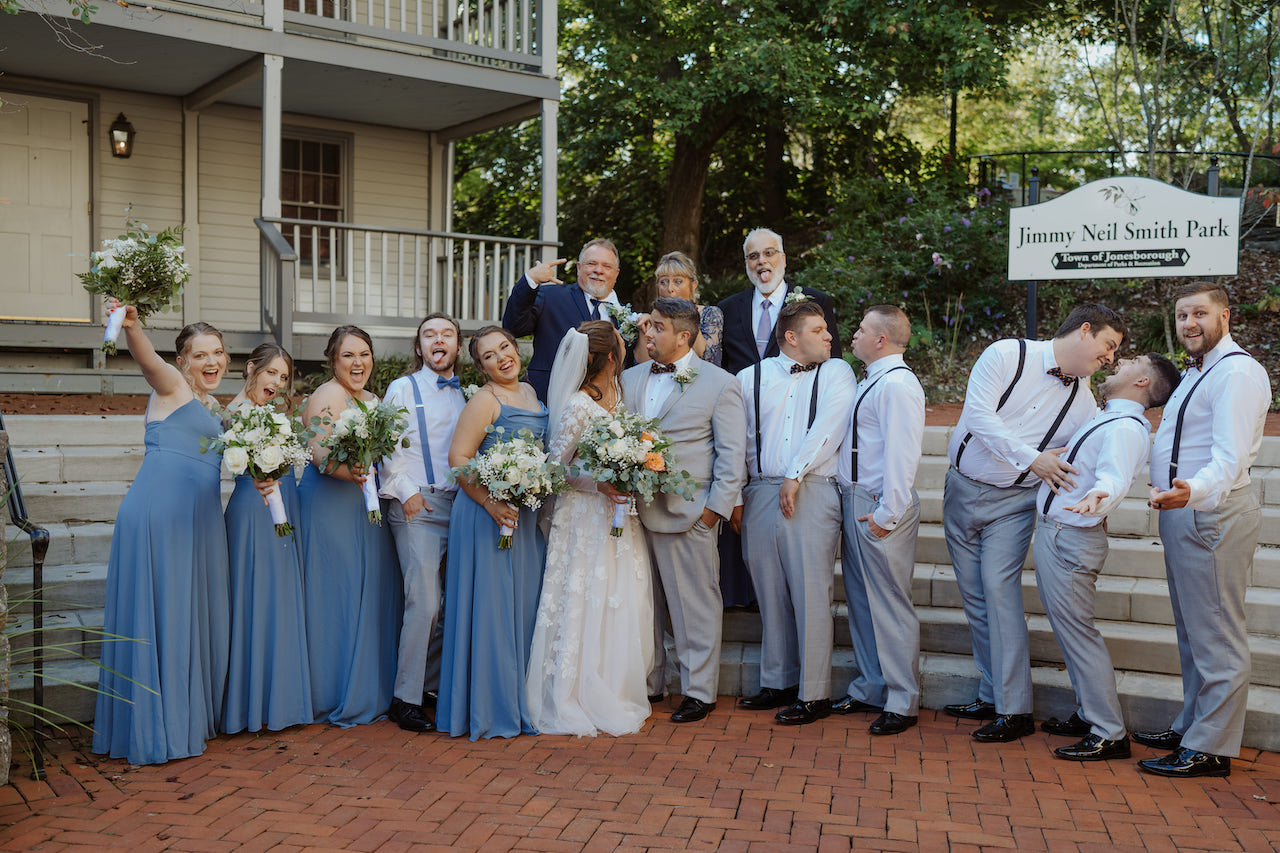 How did you both decide on your wedding day look?
I've dreamt about my wedding for years, so I had a pretty good idea of what I wanted. I wanted something elegant but fun, specifically something with sleeves and lace. The most important piece to my look was that I had to be able to move and dance. I actually danced a little in every dress I tried on to make sure I could!
For Chadin and his groomsmen, we ended up renting their looks and adding a personal touch. Chadin wanted to include his favorite college football team in some way and found Tennessee Power T bow ties! They were the perfect addition to his wedding day look.
Do you have any shopping advice for future brides?
Try on all kinds of styles. You never know what you might actually like. Having the dress on versus seeing it in pictures or on someone else is very deceiving. Take the people closest to you that you know will speak the truth about anything you put on but also support you in whatever you decide. Trying to find a dress and feel comfortable and beautiful in it is very hard, but with the right support, it is so much fun!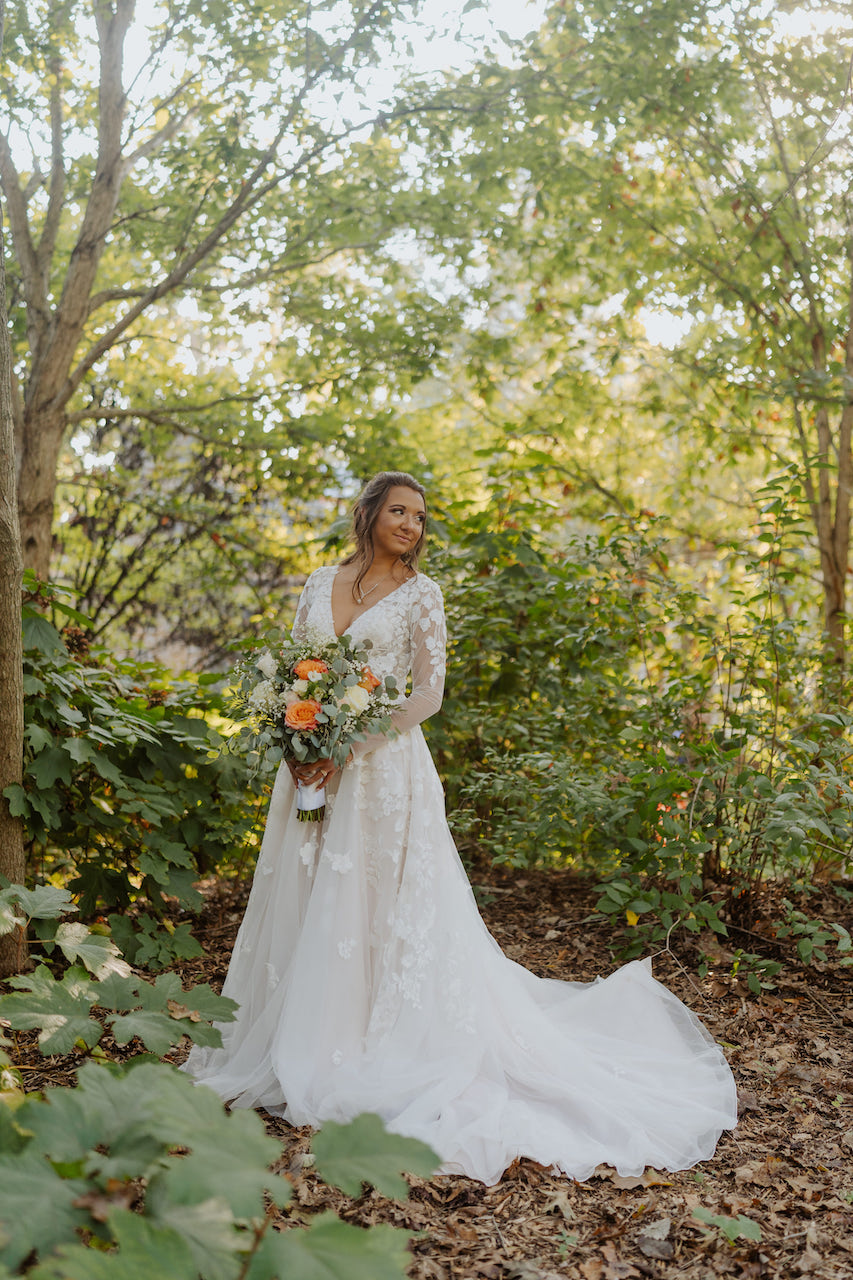 How did you feel when you knew that you #foundtheone?
I knew it was the one because the second I put it on I had butterflies, and kept imagining saying "I do" to Chadin. I also couldn't stop smiling.
Was there a highlight or most memorable moment of the day?
One of the most memorable things for me was the private dance we had while everyone was setting up for the send-off. We were able to have that time to just be in each other's arms laughing, talking, just spending time with each other. It was a nice and relaxing time. We hardly even danced, we just kind of swayed and talked.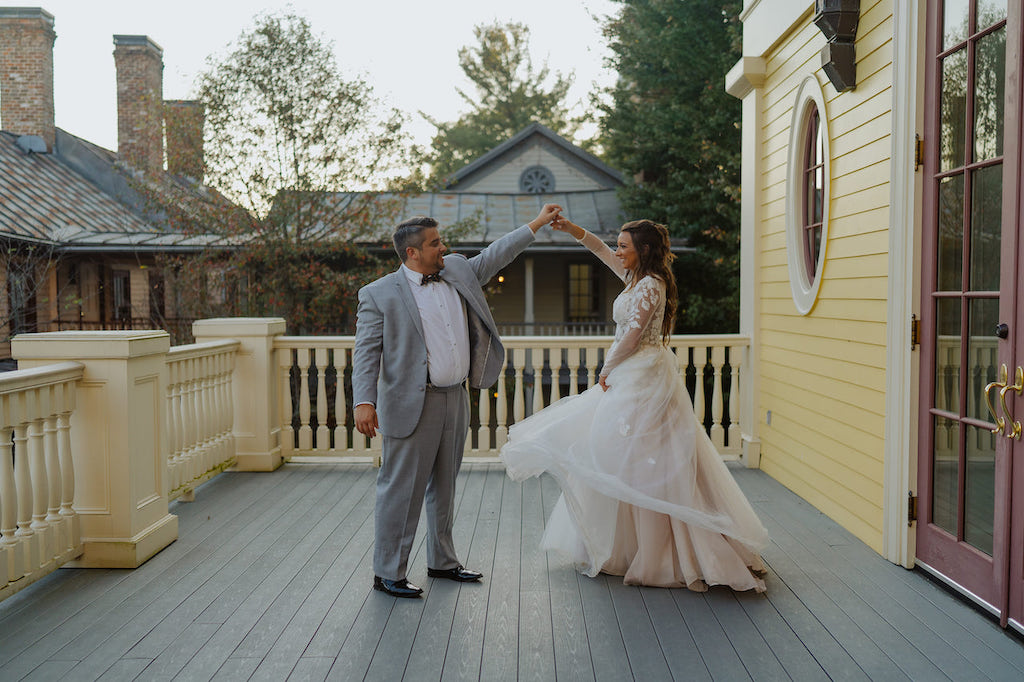 Is there something you wish you had known before the big day?
One thing I wish I'd realized was you can't please everyone, no matter how hard you try. Another thing I wish I had known was how fast the day actually goes by. It really does fly by. I felt like I had just blinked and it was gone!
What was your favorite DIY or personal touch?
On my bouquet, I had a "todo mi amor" charm, which means all of my love. My family started a tradition where we would make a keychain or necklace out of beads and each bead represented a person we always want with us. My grandparents weren't able to come to the wedding, so my mom made me a "todo mi amor" for them to put all their love into. Even though they were not able to be present it still felt like they were there!
What advice do you have for brides that are planning their weddings right now?
Here are a few pieces of advice I'd like to share with future brides and ones planning now:
Include your significant other as much as possible
Book the big vendors first
Set a reasonable budget
Start an idea board
Ask your officiant to move before your first kiss
You can't please everybody. The day is about you and your significant other, no one else. Do what makes you two happy!
Splurge on a photographer and videographer
Make sure to set aside some time to spend with just you and your husband during the day
Something will go wrong, nothing is perfect. Don't stress about it!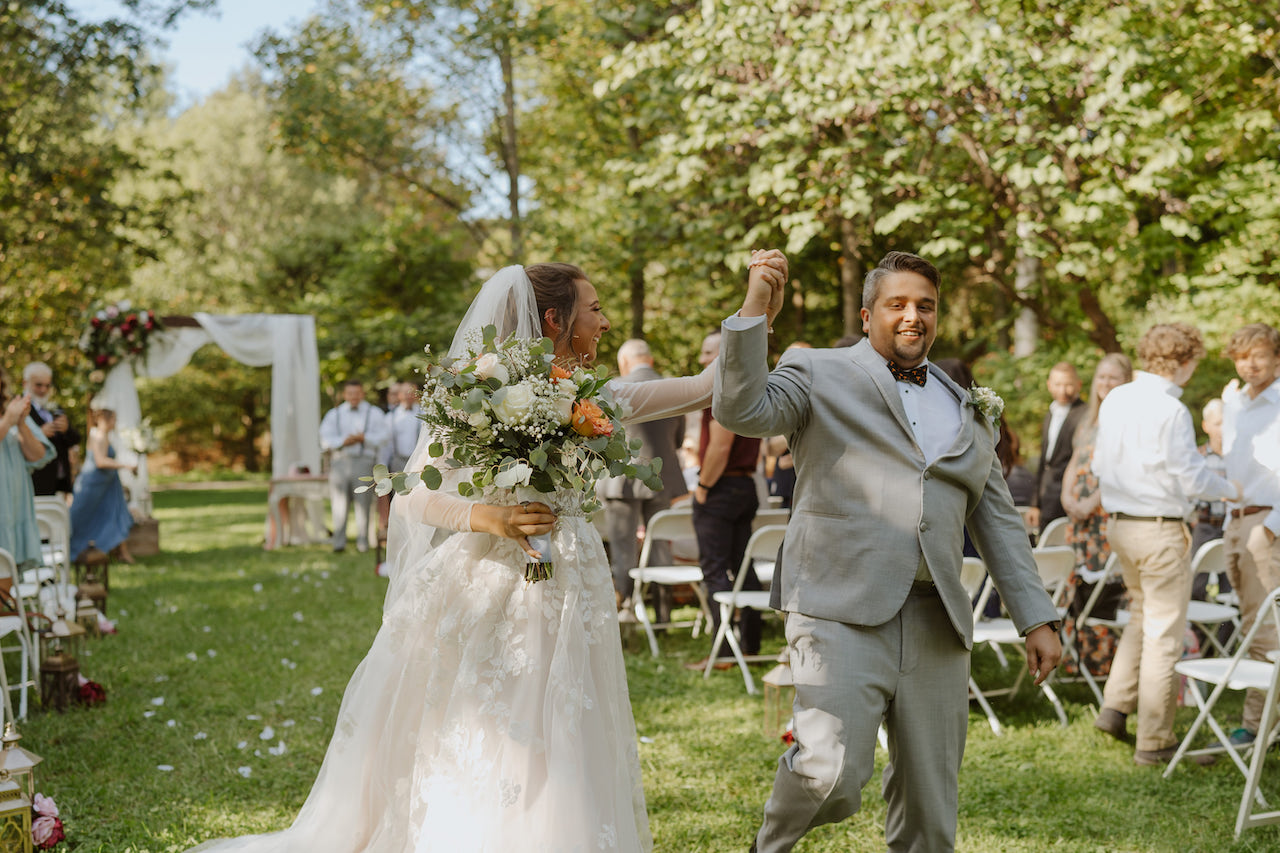 More Details:
Wedding Date: October 9th, 2021
Location: The International Storytelling Center, Jonesborough TN
Dress Style: Illusion Sleeve Plunging Ball Gown Wedding Dress
Wedding Song: "Can't Take My Eyes Off You" by Frankie Valli
Photographer: Chasing Lux, Macie Humphrey
Love this fall wedding in Tennessee? Read more real wedding stories here!
We know how important your wedding day and special events are to you and we are doing everything in our power to serve you! You can shop with us 24/7 at davidsbridal.com or come see us at your local David's Bridal. Plus we are here for you to help guide you through your wedding planning! See tips for starting to plan your wedding at home, shopping for your wedding dress online with confidence, and more on the blog.
Planning a wedding? Sign up for our Diamond Loyalty program—it's free! Follow us on Instagram, Pinterest, and Facebook for more real wedding inspiration, or click here to book an appointment.
Related Posts: