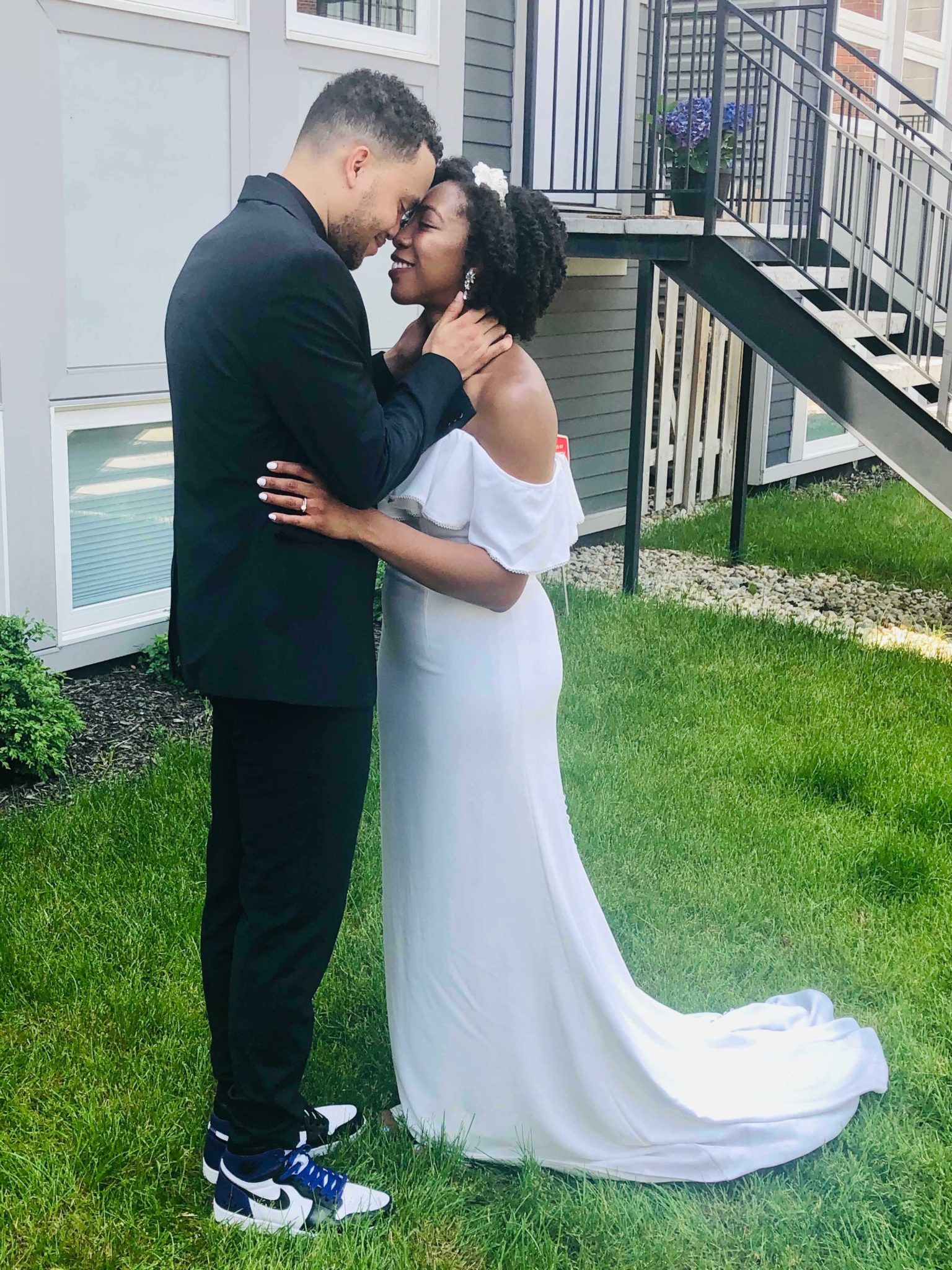 10 Jun

Real Wedding: Clarissa & Gordon
An Intimate Rooftop Minimony in Chicago
Real weddings are so inspiring! To get you in the mood to plan, we asked real brides to spill the details on everything from getting engaged to finding their wedding dresses to the special touches and surprising moments that made their celebrations completely one-of-a-kind. Clarissa's larger, family-filled wedding was postponed due to COVID-19 but that didn't stop her and her fiancé from making things official. Read on for Clarissa and Gordon's intimate rooftop minimony in Chicago!
How did you two meet? And how did he propose?
We met in Champaign, Illinois in 2009 during our undergrad career. We date for nine years before Gordon proposed outside the Art Institute in Chicago, IL on May 25, 2019. Gordon planned to take me on a tour of the museum because I'm an art lover and never been to the museum before. Because it was memorial day weekend, the line to get in was really long and Gordon was concerned we would miss our reservation at Sur La Table if we waited. Instead, we made our way to the South Gardens at the institute where there happened to be a wedding party taking pictures. I was walking in front of Gordon and jokingly said, "we should go crash their wedding pictures." Gordon jumped on the moment and said, "or we can just take some of our own." I was confused by his response, turned around, and saw that he was down on one knee!
Pro tip: Take the wedding dress quiz to find your dream dress! Answer a few questions to get style recommendations, then save and share your favorites.
How did you decide on your wedding dress? What did you love most about it and how did it make you feel? Any dress-shopping advice for future brides?
Due to COVID19, Gordon and I decided to postpone our wedding to July 2020 and then again to May 2021. We did not want to wait a year to celebrate our love and decided to have a minimony in our apartment on the original date. I already had a dress that was locked in the bridal shop as the Illinois shelter-in-place regulation was still in effect. One day, while I was scrolling on Facebook, an ad for David's Bridal appeared and I saw the Pearl Trimmed Off the Shoulder dress and fell in love. I went to my closet and tried on an old bridesmaid's dress, also from David's, for sizing. I ordered the dress immediately and it arrived a week later. The dress fit perfectly! I love this dress because it captures my free spirit while also being simple yet classy.
Advice for future brides is to share your Pinterest board with your bridal consultant! It will help them gather dresses you actually want to try on instead of them guessing and bringing dresses you know you won't like. Also, have a steamer handy for the wedding day to get out any wrinkles!
Tell us about your wedding day! We know it wasn't exactly what you had originally planned on!
Our new wedding plan was to get married in front of our parents and siblings at home. Our wedding photographer, Arielle Gallione, graciously offered to photograph our special day at no additional cost. I contacted the owner of Fit Results gym, Lou Centeno, to help with recording the event to ensure our grandparents could witness the special day. Two weeks before the wedding, I also contacted Stephanie from Flowers by Stem (Chicago) to ask for help with creating a memorial arch that highlighted the ceremony but did not cover the beautiful Chicago skyline backdrop.
Everything came together perfectly as I walked down the aisle with my father while 'Find Someone Like You' by Snoh Aalegra played as the soundtrack to our love. My mother and Gordon's father officiated the intimate ceremony. The Best Man, Chandler, ensured all the viewers on Zoom could see and hear it. Chandler's wife, Lacey, created the beautiful bridal bouquet and boutonnieres for the ceremony. Shalayne, my Matron of Honor, presented a broom (created by her mother!) for us to "jump the broom." The "Jumping the Broom" is a ceremony in which the bride and groom, either at the ceremony or at the reception, jump over the broom to enter a new adventure as husband and wife. It signifies the entrance into a new life and our creation of a new family by symbolically "sweeping away" our former single lives, former problems, and concerns,

Gordon and I later changed into a second outfit, which included Kobe Bryant (24) jerseys and Air Jordans. Since Gordon has always been a huge Kobe Bryant fan we wanted to honor his legacy by wearing his jersey. It also happened to be the date of the wedding. We concluded with a reception in our apartment catered by our favorite neighborhood taco joint! Even though it wasn't exactly as planned, it was perfect!
What's a Minimony? It's an elopement ceremony with around 10 guests where the bride and groom tie the knot! The original larger reception happens later!
Did anything funny or unexpected happen?
At the conclusion of the ceremony, the photographer led us downstairs for pictures. Little did we know, the bridal party arranged a surprise wedding parade. When Gordon and I reached the bottom of the stairs to exit the apartment building we were greeted with donuts, mimosas, and celebratory cheers. Our friends and family stood by and drove by with signs, gifts, and flowers to honor our union.
Is there something you wish you knew before the big day/while you were planning the wedding?
The weather! It made planning an outdoor wedding very difficult. However, there's nothing that I can think of that would've made our day any different. Our friends and family helped throughout the day to make sure that our special day was perfect.
What was your favorite DIY or personal touch?
My father and I created a donut wall for my wedding events. It was originally for to be used at the bridal shower and the wedding, but since the bridal shower (and bachelorette party) was canceled, we used it for the wedding instead. The bridal party purchased Stan's Donuts for the wedding, which is also the donut vendor for our wedding in 2021. I also customized mini hand sanitizers and gift boxes for the guests. I did my own hair and my sister helped with my makeup. Right before the ceremony, my mom helped me put on nail strips to ensure my nails looked nice without any smudging. 
What did you do to stay stress-free on your wedding day?
On the morning of the wedding, I mopped the entire apartment. Staying busy helped me to relax and channel my anxiety into something positive. I also just allowed things to happen and did not try to rush or control anything. My mom, sister, and matron of honor were so helpful and made sure I was stress-free, which meant so much to me.
What's your best wedding planning advice? And what advice do you have for brides that are going through a similar situation right now?
My advice is to be flexible! It's okay to cry and be upset about your wedding plans changing. Focus on the love and the reasons for the wedding. It was helpful to have a supportive wedding party and to stay in contact with other brides experiencing the same situation. Many do not understand what it's like to cancel/postpone an event that has been planned for so long, so it's helpful to have a strong support system. It's okay to have 2 weddings, too! I was able to turn this unfortunate pandemic into a positive moment and I get to marry the love of my life twice! It's also a chance to get creative and incorporate others' skills and abilities into your special day (i.e. family officiants, friends helping with flowers/video/photo, food for the event, etc). This is an event that will never be forgotten because love isn't canceled! ♥️
More Details:
We know how important your wedding day and special events are to you and we are doing everything in our power to serve you! You can shop with us 24/7 at davidsbridal.com plus we are here for you to help guide you through your wedding planning! See tips for starting to plan your wedding at home, shopping for your wedding dress online with confidence and more on the blog.
Related Posts: