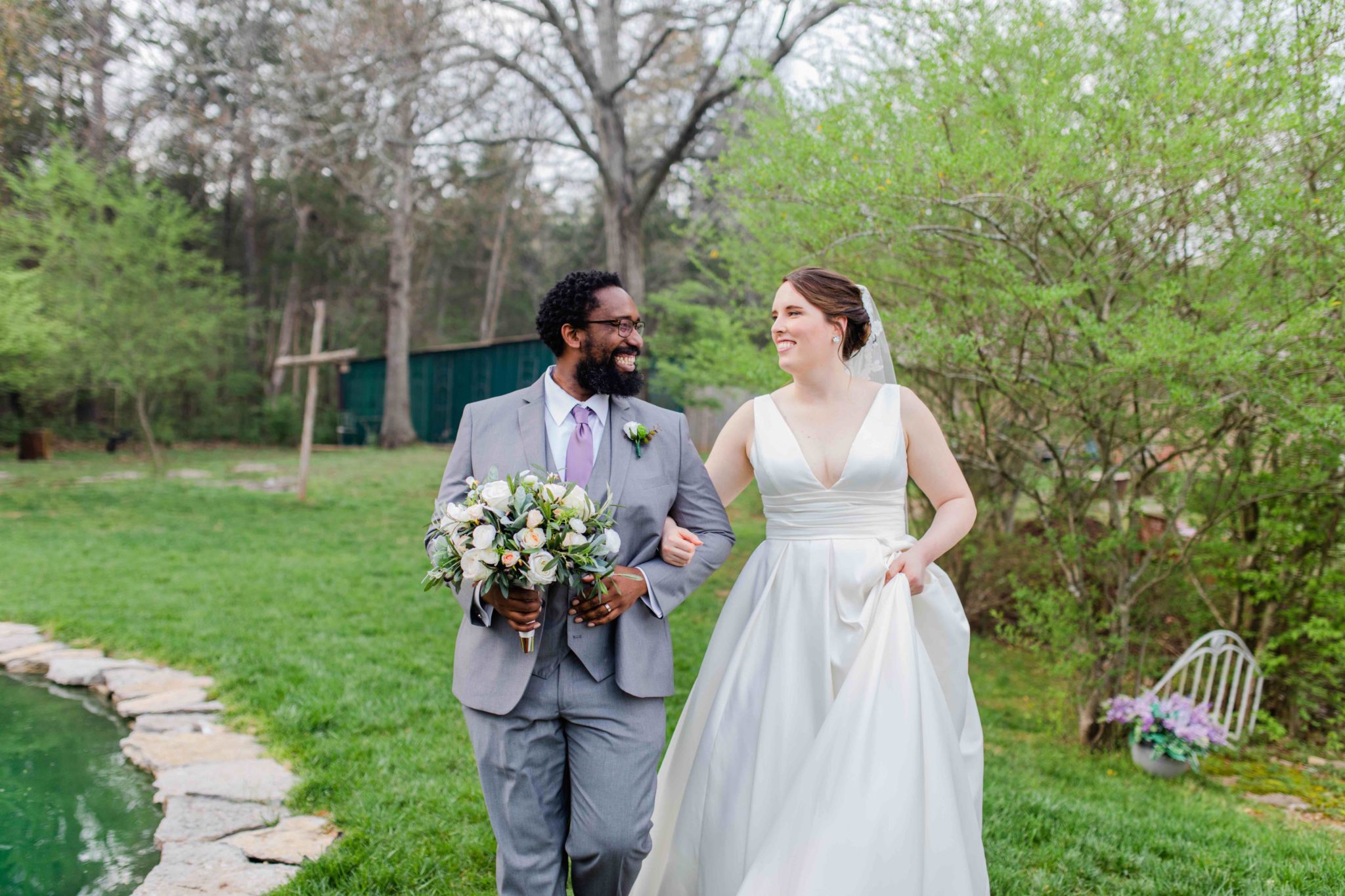 20 May

Real Wedding: Hannah & Edward
A quaint and rustic micro wedding in Nashville
Real weddings are so inspiring! To get you in the mood to plan, we asked real brides to spill the details on everything from getting engaged to finding their wedding dresses to the special touches and surprising moments that made their celebrations completely one-of-a-kind. Hannah's wedding changed course due to COVID-19 but she didn't let it stop her from marrying the love of her life. Read on for Hannah and Edward's quaint and rustic micro wedding in Nashville!
How did you meet?
We met online in January 2019. The two of us had taken breaks from dating for a period of time leading up to that, but the new year gave us both hope and helped us be open to the idea of love again. We were each other's first dates of the new year. Edward invited me to an early dinner and then took me to a few local sites since I was new to the area. We talked for hours and were sad to say goodbye. After that first date, we both just knew that each other was "the one."
How did he propose?
Edward surprised me with a proposal last summer while we were visiting and taking family pictures with my family in Minnesota. We both knew we wanted to get married and he had let it slip that he had a ring already so I was trying to wait – but not succeeding at waiting very patiently. Before the trip, he asked me to go through his luggage and "take out any outfits I didn't like," so that I would know he hadn't packed the ring. I was disappointed, but little did I know, he had already shipped the ring to my parents' house and had been planning the proposal with them for weeks.
We have several inside jokes involving bears and potatoes, and during family pictures I started to get a little suspicious when my mom said that we were all going to take couples pictures with our "family animals." While Edward and I were taking pictures with a teddy bear, he pulled the ring out of secret compartment in the bear, got down on one knee, and asked me "to be his honey bear forever." I said yes, of course, and it was really fun to be able to celebrate with family and friends in person the rest of the week!
How did you decide on your wedding dress? What did you love most about it and how did it make you feel? Any dress-shopping advice for future brides?
I went dress shopping with a couple of friends in September and was intending "just to look" and not make any decisions that day. My wedding dress was the fourth one I tried on, and I definitely had the feeling of instantly knowing it was the one when I put it on. It caught my eye when I walked in the store, but it wasn't in the original set of dresses to try on until my friend remembered I mentioned liking it and brought it over. My favorite part was that it had pockets! I had the biggest smile when I came out of the dressing room, and kept swirling back and forth. Even though it wasn't the dress I might have originally pictured for myself, I felt exactly how I hoped to feel on my wedding day – classy and elegant, and still a little bit sexy!
My dress-shopping advice for future brides would be to go in with an open mind and not put too much pressure on the whole experience. It feels like a really big decision (and it is!), but it can be really fun, too! I also think that who goes dress shopping with you makes a big difference. I was glad that my friends were honest and forthcoming with their opinions, but it was also clear that how I felt was most important to them and they based their final opinions on that.
Tell us about your wedding day! We know it wasn't exactly what you had originally planned on!
Our venue was called Tennessee Tiny Weddings in Mt. Juliet and I found them on Facebook a few weeks before our wedding and am so glad I did. It was overwhelming to be canceling our original wedding and planning a new micro wedding at the same time, but they made everything super easy and stress-free.
On the morning of our wedding, I got ready in an AirBnB in Nashville with my parents who were visiting from Minnesota. My dad cooked me blueberry pancakes for breakfast – a family tradition – and I wrote my vows and a letter to Edward. I put my dress on and did a "first look" with my dad and gave my parents gifts, and we drove to the venue to meet Edward and his family!
Shortly after I arrived to the venue with my parents, I walked down the aisle with my dad to the song "I Choose You" by Ryann Darling. Edward and I decided not to see each other until the ceremony, so he turned around and cried as I walked down the aisle, and then everyone was crying. We had a small, intimate ceremony with just our parents and Edward's brother. It felt very relaxed and personal!
After we were pronounced husband and wife, we celebrated with cupcakes and a cider toast, had a first dance to "Always and Forever" by Luther Vandross, and then took pictures as a couple and with our families around the property. We had a send-off with bubbles before leaving and heading back to the AirBnB, where we all gathered for takeout barbeque with more toasts (including over video with my brother and his fiancé who weren't able to make the trip).
After we all said our goodbyes, Edward and I both agreed that although we would've loved to celebrate with more of our family and friends, we ultimately wouldn't have changed a single thing about our micro wedding day. It was peaceful and relaxing – two words I never would've envisioned using to describe our original wedding plans. We felt supported by everyone virtually and in spirit, and are looking forward to more celebrations in person when it is safe to do so!
Did anything funny or unexpected happen?
The most unexpected part happened during our first dance. The song was really long and since the venue was rather small, we kept spinning in circles in the same spot. Eventually, my veil and dress were all twisted around me, and we didn't realize it until I almost fell over.
Is there something you wish you had known before the big day/while you were planning the wedding?
Part of me wishes that I would've known how it would all turn out in order to make everything less stressful from the beginning. Since that wasn't possible, I still wish I would've known that all of the little details that seemed so important at the time (and that I confess I shed some tears over during the planning process) like if the numbers of bridesmaids and groomsmen had to be the same, our colors, etc. all seemed super unimportant by the end of it all.
Also, I wish I would've given myself and both of us more grace. People told me not to stress about a wedding so I was upset with myself for being stressed, but in reality, planning a wedding is a large project that most of us don't really know how to do and only go through once. It is okay if it's hard once in a while or all of the time, but the most important thing is to get through it together and that you'll be married at the end.
What was your favorite DIY or personal touch?
Our favorite part was our Unity Tree (which we named Henry!). During the ceremony, we added dirt from both of our hometowns and watered it. It was really fun to pick it out together before the ceremony, and it's also been fun to see it grow since then!
What did you do to stay stress-free on your wedding day?
Edward said the key is to "stay sufficiently busy," and I agree. Being surrounded by people who help you relax and keep things in perspective also helps the day be more stress-free and meaningful! Lastly, don't forget to remember to eat some food throughout the day and hydrate!
What's your best wedding planning advice? And what advice do you have for brides that are going through a similar situation right now?
The best advice I heard for planning a wedding during this time is to decide what is most important to you and your partner and to base everything off of that. It is really hard to let go of original plans that we have worked for and dreamed of for months or more, but once I did, it became possible to dream and be excited about a new plan.
For me, the most important thing was Edward and I being together and that my parents could be there for the day. Once we realized that, it set everything in motion and the possibilities became a lot clearer. If having a big party with all of our family and friends was most important, our day would've needed to happen at a later date since lots of people are from out of state, but we still could've made it happen! Ultimately, the current situation is changing lots of plans, but that doesn't mean it's not possible to have a really special wedding day. We loved ours and have no regrets!
More Details
Wedding Date: March 28, 2020
Location: Mt. Juliet, Tennessee
Dress Style: Ballgown
Photographer: The Journalistic Jardine
We know how important your wedding day and special events are to you and we are doing everything in our power to serve you! You can shop with us 24/7 at davidsbridal.com plus we are here for you to help guide you through your wedding planning! See tips for starting to plan your wedding at home, shopping for your wedding dress online with confidence and more on the blog.
Related Posts: