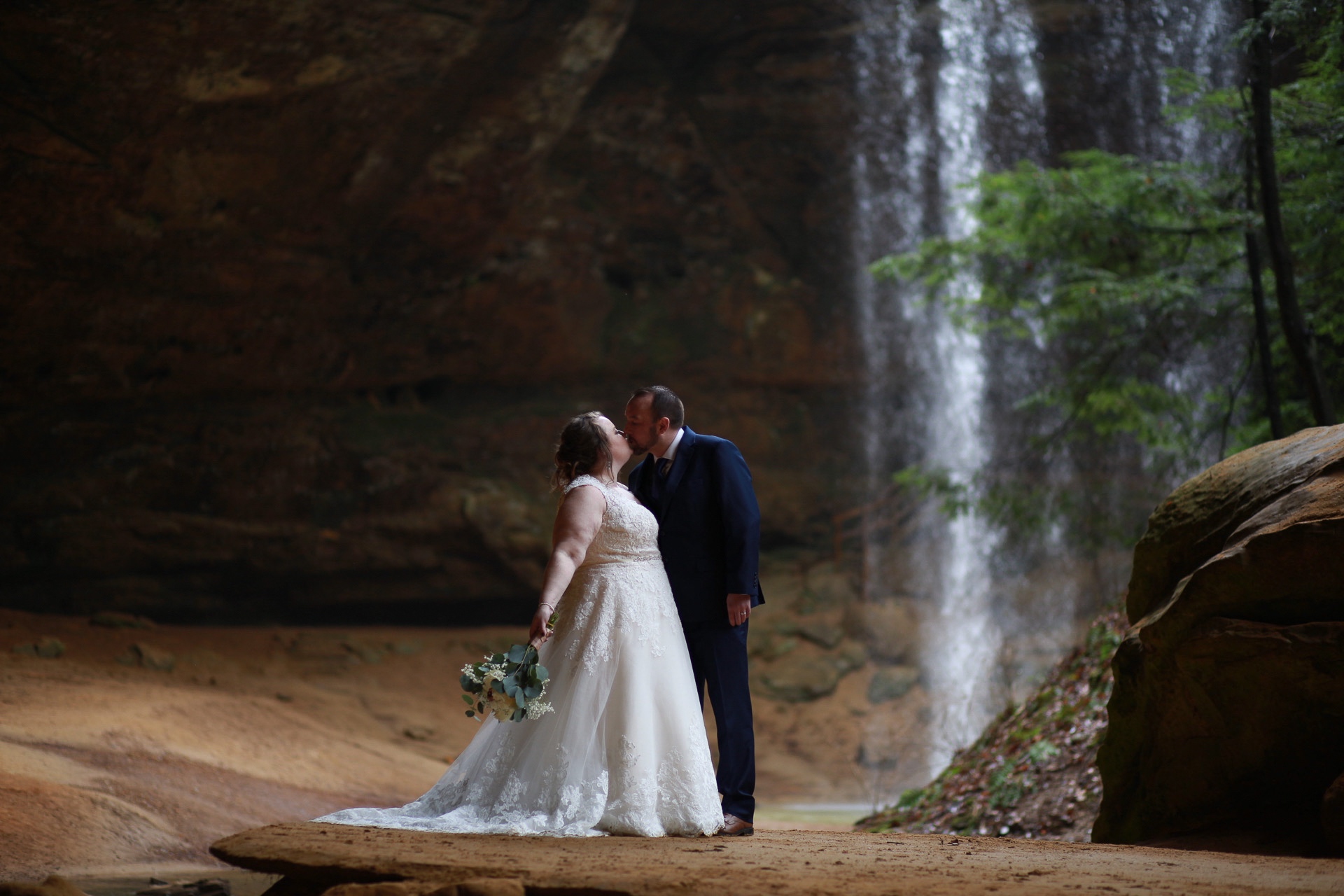 16 Apr

Real Wedding: Megan & Robert
A Romantic Forest Elopement
Real weddings are so inspiring! To get you in the mood to plan, we asked real brides to spill the details on everything from getting engaged to finding their wedding dresses to the special touches and surprising moments that made their celebrations completely one-of-a-kind. Read on for Megan and Robert's romantic forest elopement!
How did he propose?
Throughout our relationship, we have always liked visiting Hocking Hills, whether by ourselves, with our dogs, or with a group of friends. In January 2019, we rented a cabin in Hocking Hills for our anniversary. There was a huge snow and ice storm that week, and most of our hiking plans were changed. We attempted to hike to Old Man's Cave, but the ice was too much and very unsafe. Apparently, Rob had the ring with him and had planned to propose on the hike! I, of course, didn't know that and insisted we return to the cabin because of the conditions. He later proposed that night. After putting on the movie Die Hard, lighting the fireplace and pouring some wine, he surprised me by proposing! I was totally not suspecting it, but it could not have been more perfect. Who knew that changes in plans would become an apparent theme for us!
How did you decide on your wedding dress? What did you love most about it and how did it make you feel? Any dress-shopping advice for future brides?
On a whim, I decided to go dress shopping the week after getting engaged, and said I was just going to "look", as I am sure many other brides tell themselves as well. We didn't have a date or venue yet, so I told myself I was going to wait. I went with my mom, sister, and two best friends. My stylist was amazing and picked up on the vague words I was trying to spill out about what I was interested in trying. The first two dresses were gorgeous, but something wasn't perfect about them. As soon as I tried on the third dress, I immediately started crying, which was totally unexpected. I couldn't explain why I was crying, but I just felt emotional because I loved everything about it. It made me feel so pretty and was exactly what I wanted.
My advice to other brides would be to try a few different styles of dresses. Even the ones that you think either wouldn't look good or aren't your style. I was surprised with how I actually liked a little bit about the other dresses I had tried, even though I wouldn't have picked them out myself. And trust your stylist! Be honest about what you want to feel and look like, and give honest feedback about what you like or dislike about the dresses you try. That helps so that they can guide you to the dress of your dreams.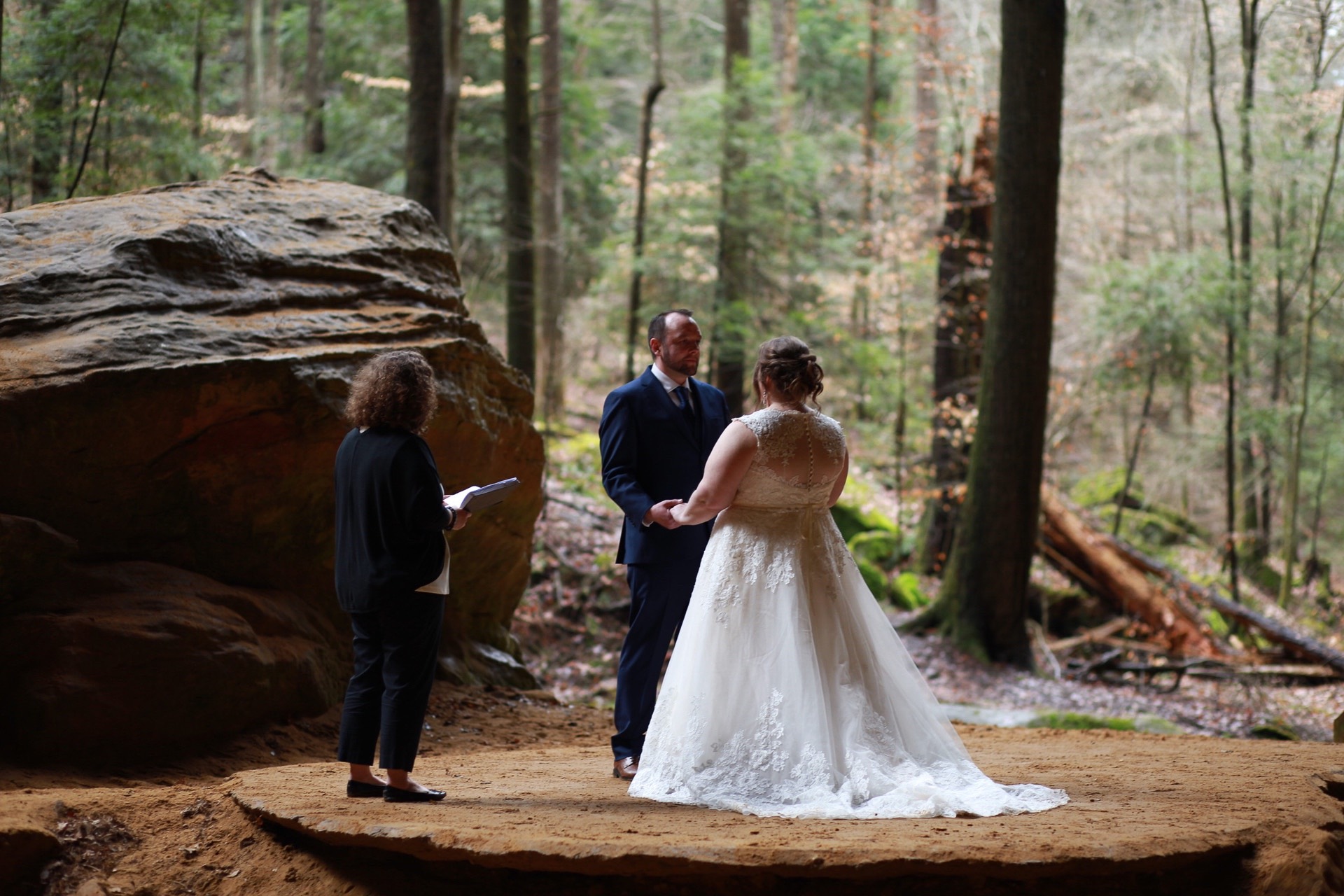 Tell us about your wedding day! We know you had originally planned a larger ceremony and reception with over 100 guests!
The night before the wedding, I stayed at my parent's house. Even though we were eloping, Rob still wanted to keep it somewhat "traditional" with us being apart for the night before and getting ready separately. I still wore my satin robe I had planned to wear to feel a little extra special while getting ready. My friend, Augist, came over to help me getting ready and into my dress, and drove me down to Ash Cave. Rob's friend John drove him down to the park as well, where they stood as witnesses to our ceremony. I spotted Rob across the parking lot and was taken aback by how handsome he looked in his suit. That's when it really set in that we were doing this – we were actually doing it! We opted to do a first look, about halfway down the trail. I wore duck boots due to the mud and gave up on keeping the dress pristine pretty quickly! Our ceremony was very intimate and we were both just filled with excitement. Due to the rain, and the Coronavirus, there weren't many people out and about which was nice. We had the cave nearly to ourselves for a portion of the ceremony and most of the pictures. After we wrapped up, we picked up our "reception" dinner and had our friends Augist and John over to celebrate.
Did anything funny or unexpected happen?
Our officiant, Windi, was about to pronounce us husband and wife, and was stepping back to avoid being in the picture, and fell off the rock we were standing on! After confirming she was ok, unharmed, and laughing, she yelled, "you may kiss the bride!" And we, along with the group of strangers that had gathered to spectate our nuptials, bust out laughing.
Is there something you wish you knew before the big day/while you were planning the wedding?
I wish I didn't stress myself out so much with the little details. While we are still planning on having a renewal ceremony and reception on our new date with our venue in January, I feel much more relaxed about it now. In the end, our love is the most important thing. The little details are just added bonuses rather than the big picture.
What was your first dance song?
We danced in our living room by ourselves to "Swept Away" by The Avett Brothers.
What did you do to stay stress-free on your wedding day?
I just lived in the moment. I realized that this was not what we had originally had in mind, nor did our families, but we felt so strong about our decision to go through with it. It was going to be a surprise to all but a select amount of people, and eloping is something that neither of us would ever be thought to do. I just went with the flow each step of the way, embraced the excitement and spontaneity of it all, and had a smile on my face the whole day.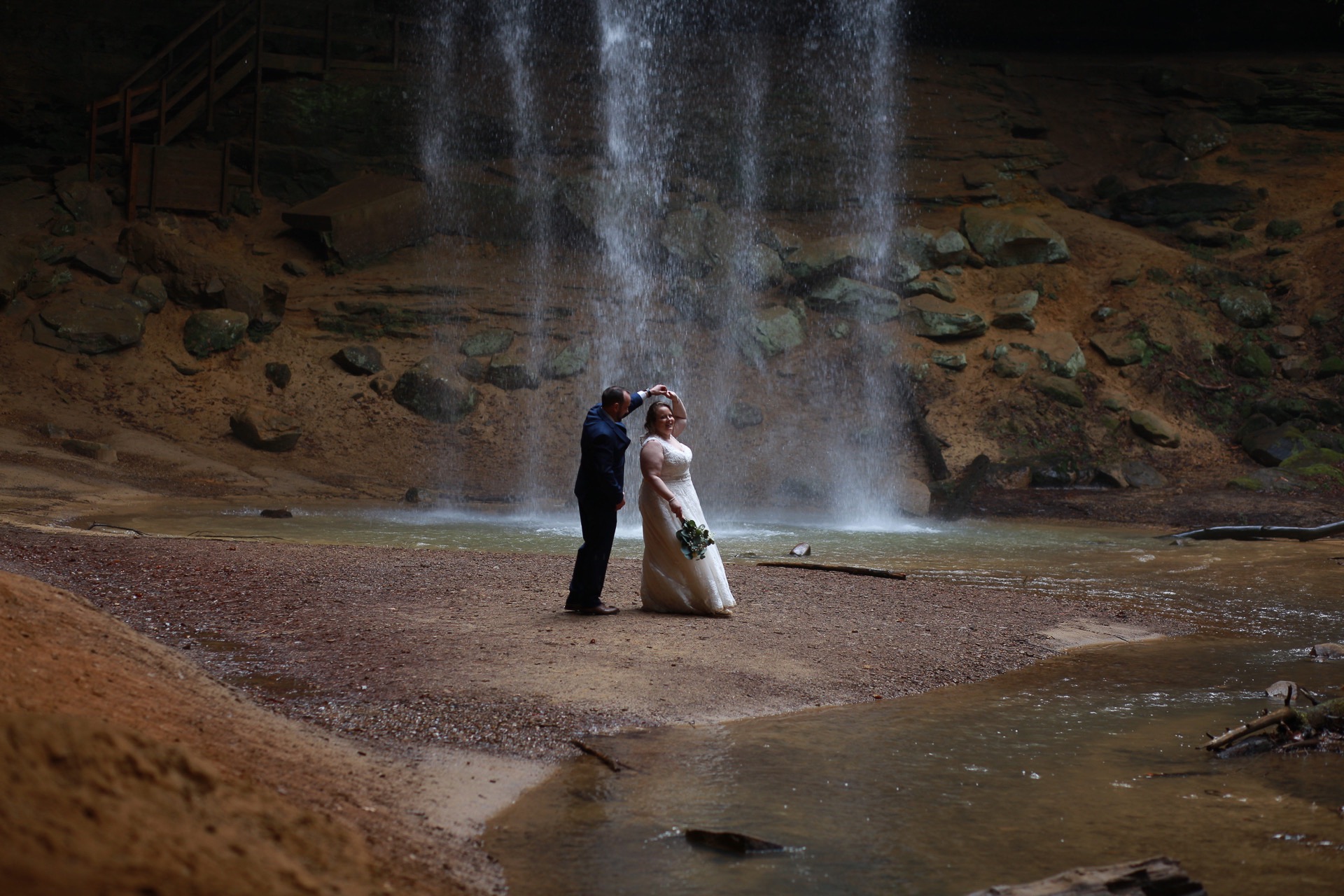 What's your best wedding planning advice? And what advice do you have for brides that are going through a similar situation right now?
The best planning advice I can give is to think about what is really important to yourselves, and soak in all the good that comes of your wedding day. Lean on your friends or family to help you when you need it; don't be afraid to ask for help. For those that are facing huge changes to your planned wedding due to the uncertainty of the world right now, try to focus on the positives. Whether that may be that you get more time to plan, or maybe that some guests that weren't able to attend your original date will get to come on your new date. In the end, your relationship to your partner is the most important part of the big day, and you will come out of this stronger for having gone through it together.
More Details
We know how important your wedding day and special events are to you and we are doing everything in our power to serve you! You can shop with us 24/7 at davidsbridal.com plus we are here for you to help guide you through your wedding planning! See tips for starting to plan your wedding at home, shopping for your wedding dress online with confidence and more on the blog.
Related Posts: