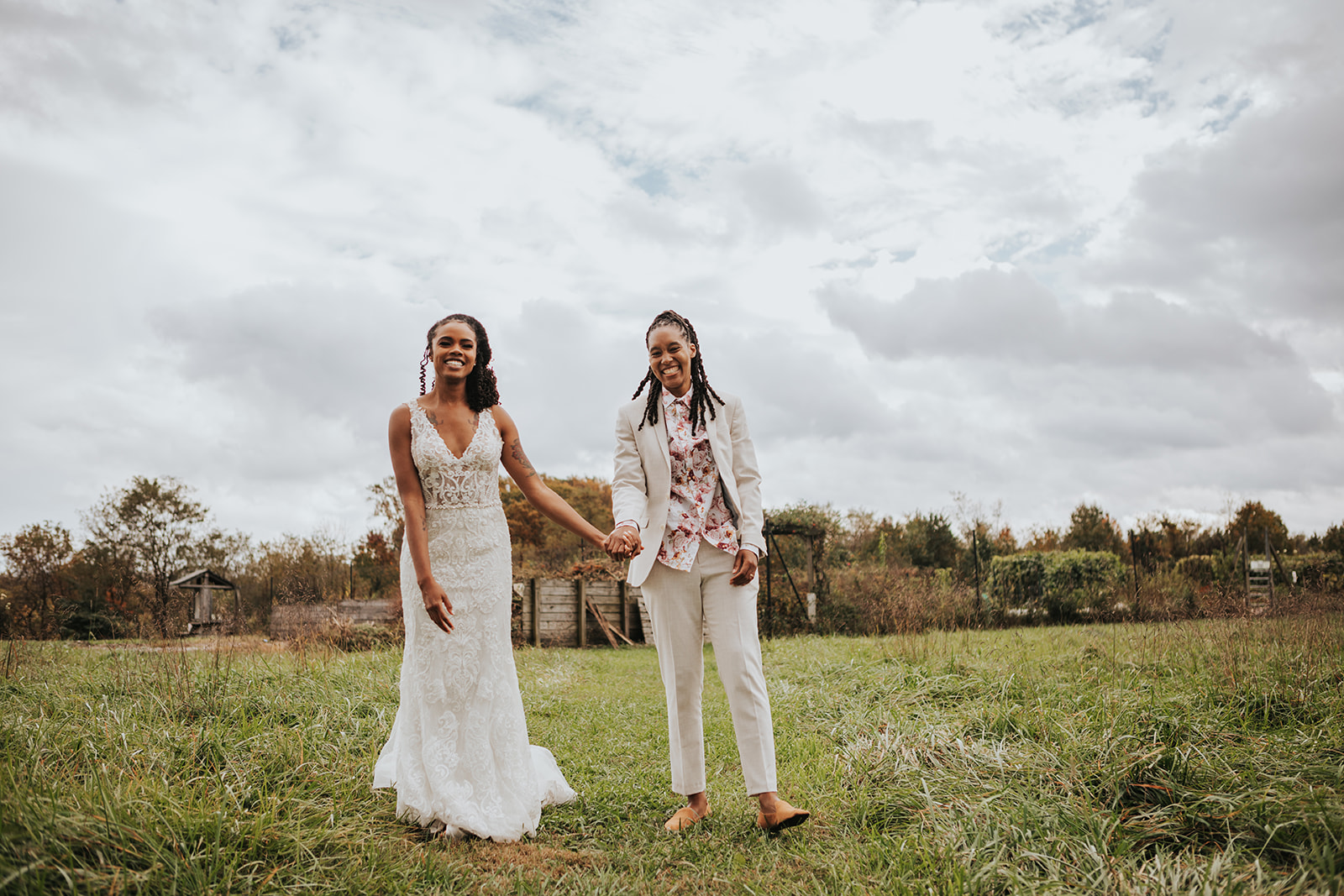 24 May

Real Wedding: Kira & Noel
An Intimate DIY Outdoor Minimony in Maryland
Real weddings are so inspiring! To get you in the mood to plan, we asked real brides to spill the details on everything from getting engaged to finding their wedding dresses to the special touches and surprising moments that made their celebrations completely one-of-a-kind. Read on for Kira and Noel's intimate DIY outdoor minimony in Maryland.
How did and you and your fiancée meet? How did you know she was the one?
We met in Portland, OR on the Lewis & Clark College campus at orientation for a program we both applied to in 2014. I had just gotten my degree in Food and Nutrition from San Diego State and Noel had recently graduated from a Master Gardener program in Baltimore. A match made in food heaven! Really, I felt the spark from the moment I saw Noel…it took her a little longer but she finally got on board!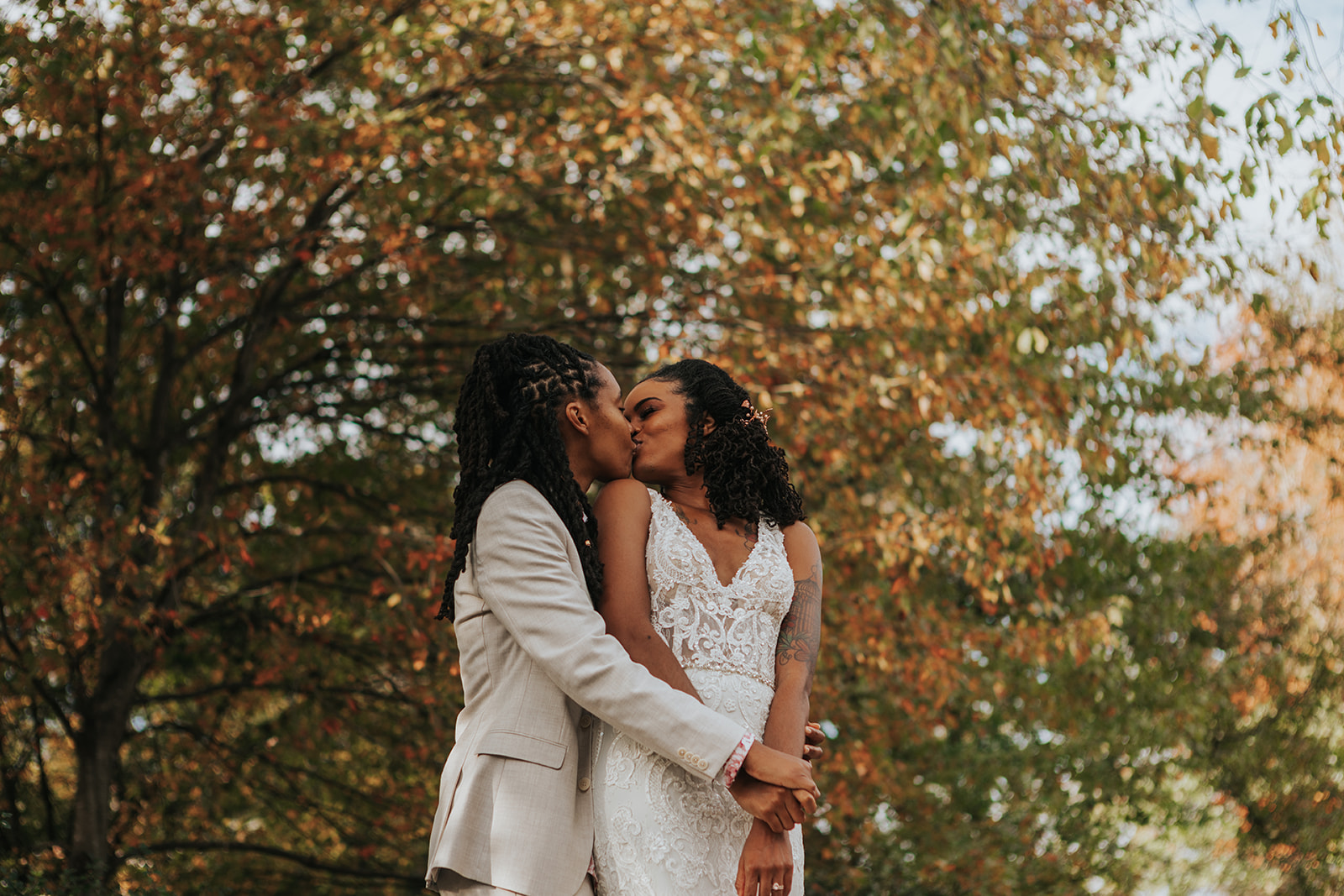 Tell us your proposal story!
Since Noel is into photography and I am often her model, I did not think anything of the fact that we were meeting with our friend and professional photographer Margarita at the park to take some shots. Halfway through, Noel realized she "forgot her shoes" in the car and we agreed to link back up at the pagoda at the top of the park. Noel had lined the path leading to the pagoda with twinkling lights and proposed at sunset exactly 5 years from the first day we met. She set up a speaker and played Best Part by H.E.R. and Daniel Caesar while she got down on one knee. That ended up being the song for our first dance!
How did you decide on your wedding day look?
All I knew is that I wanted something lacy and form-fitting. Once I found my dress, it was easier to figure out the smaller details like the veil, shoes, hairstyle, etc.!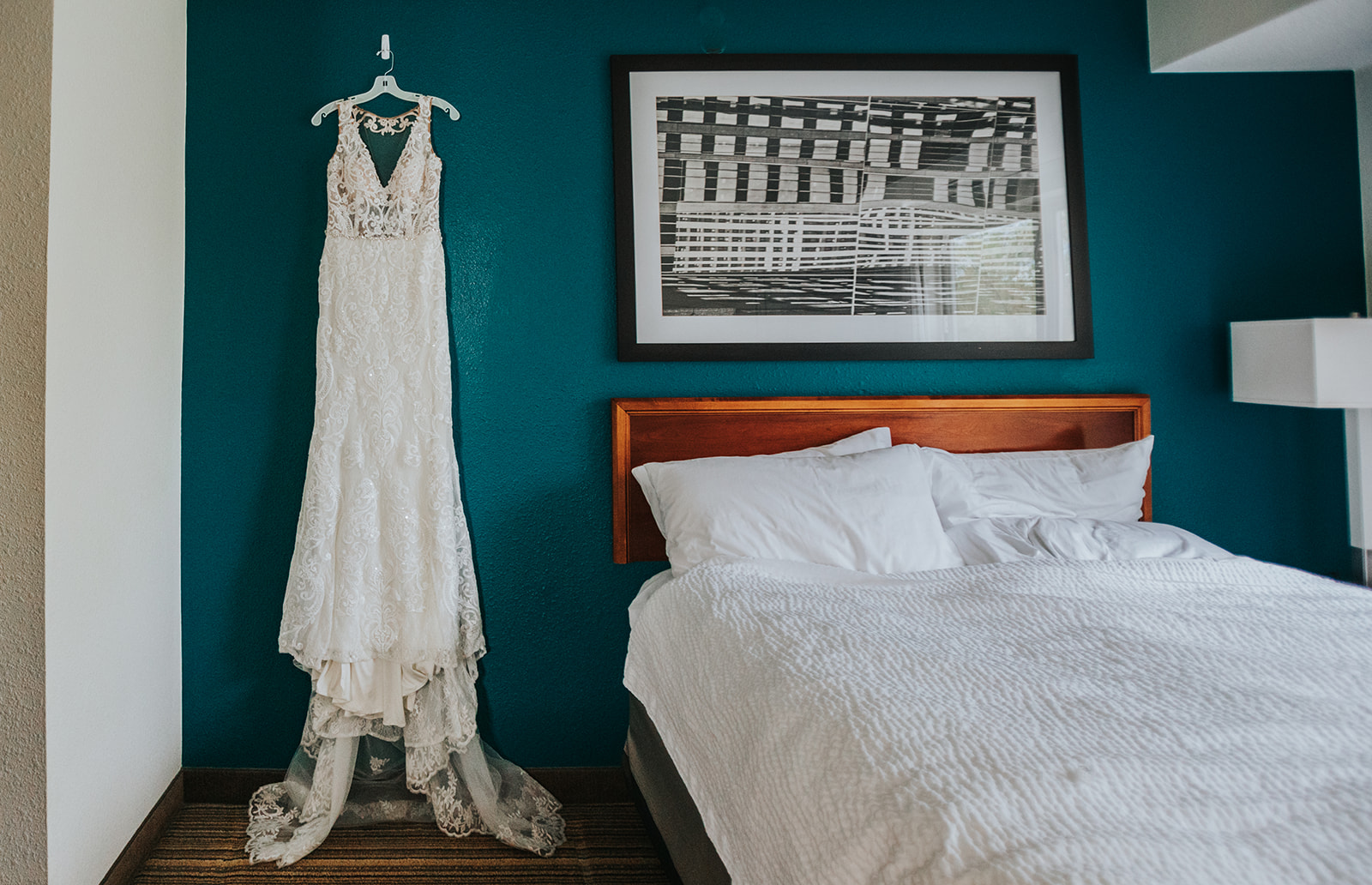 Do you have any shopping advice for future brides?
My advice about shopping and just wedding things generally, is to do you! I know it sounds cliché but truly make the day about you and your future spouse. I think there are many, many things we feel pressured to do because of tradition, family, culture, and so on. Try to focus on what would spark joy for you and your partner. And, don't be afraid to think outside of the box!
What was your favorite detail about your look?
I don't dress up too often so I just really loved getting fancy for such a special day!
How did you feel when you knew that you #FoundtheOne?
I am not much of a shopper so I was thrilled to find my dress on the first day I spent looking. It was such a relief to be able to check that off the list! I loved that David's Bridal had a wide variety of dresses so I could try on a few in one go!
Tell us about your wedding day!
We got married at a nature reserve and my amazing wife embraced the idea of compromising, so we were able to have the ceremony and a brunch style soiree (she is not a morning nor breakfast person!) outside on the deck. We streamed the ceremony so our friends and family from afar could join and our officiant was Noel's best friend! It is fitting that she included our community in the ceremony asking them to surround us in love and support because the community made the day such a success!
Our amazing florist allowed us to rent our flowers so we could stay within budget. And my friends from back home (that I lovingly nicknamed the pit crew) ran around town crossing T's and dotting I's to make the day a success. Our dope neighbor/friend/artist Dave made an entire three-panel plywood backdrop for the ceremony from scratch as a wedding gift and our families put in work on the weekends to help us finish the many DIY projects we started. It was such a beautiful experience to witness everyone coming together in the name of love. It was the biggest project that Noel and I have worked on together and I am still so overjoyed about the day.
Was there a highlight or most memorable moment of the day?
My absolute favorite part was the ceremony, looking into each other's eyes as we said our vows but a close second would be dancing in the rain (it started to drizzle during the reception). But third, can we talk about the food? We had Milk & Honey, a Black-owned restaurant cater a brunch style menu – shrimp & grits, berries, and cream French toast, cheesy hash browns, bacon and mimosas. Perfection!
Did anything funny or unexpected happen?
Noel jokingly sometimes says 'fee fi fo fum' as I'm walking through the house because I have a heavy step. You always know I'm coming before I get there. Desiree reminded me to walk slow on my way to the alter, but you better believe I stomped right up there in about 5 seconds flat!
Did you have to make any changes to your wedding plans because of Covid?
Once we realized our wedding was in limbo, it was hard to move forward without understanding the changes we'd need to make. Ultimately, we dropped the attendee list and budget down dramatically and opted to have our ceremony and reception outdoors. Though it was stressful, it was actually for the better – we decided to put our savings into buying a house before the wedding so we're able to make it work with a smaller event.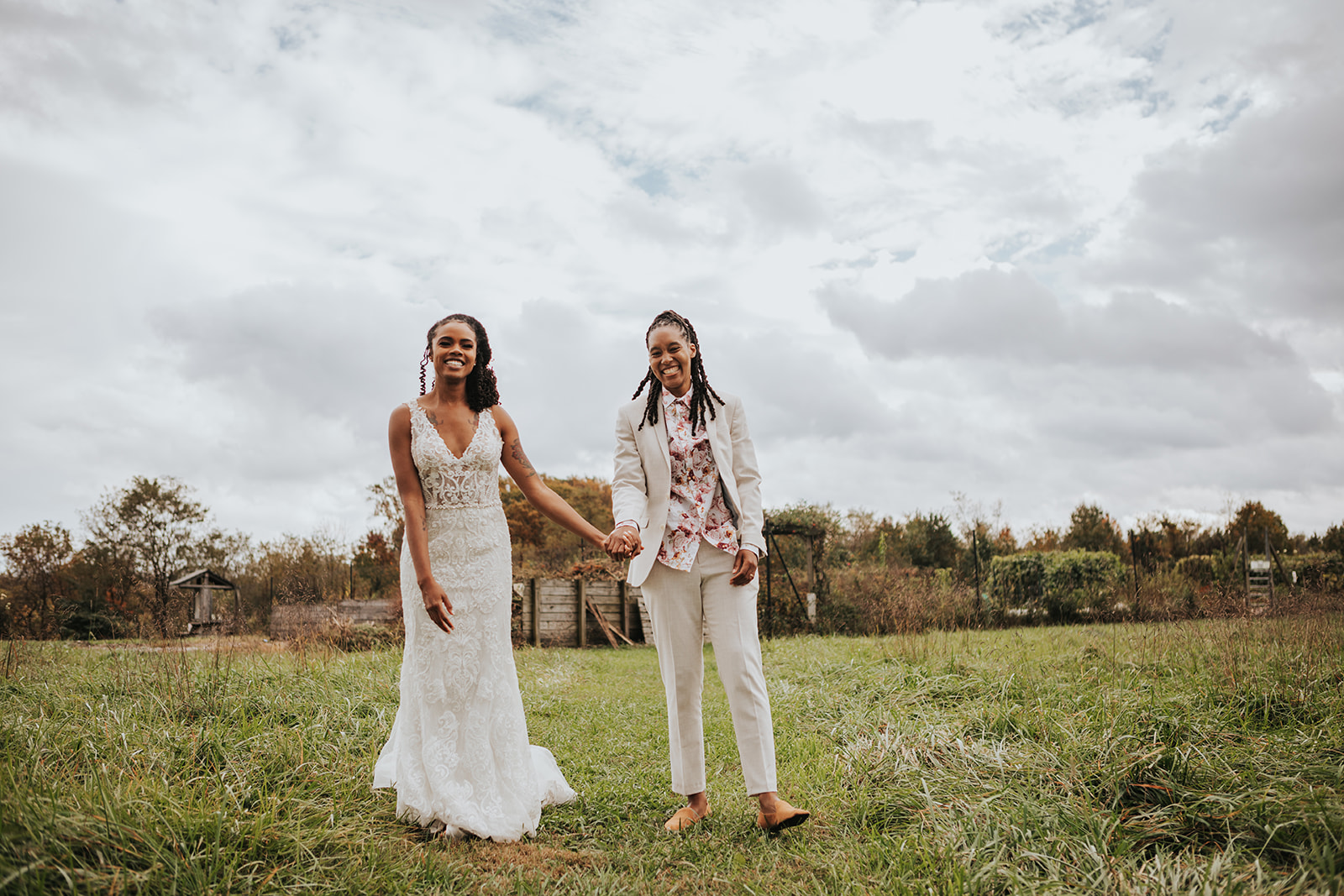 What flavor was your wedding cake?
Vanilla birthday cake with cream cheese frosting!
What was your favorite DIY or personal touch?
Planning the wedding was truly a labor of love, as both Noel and I are creatives with distinctly different styles. Once we started collaborating, we came up with a fun, colorful vibe and my favorite parts were the signage we designed & created using acrylic sheets and paint to match our palette, the stationary for our invitations, details cards, etc. and the custom wine labels for our favors.
What's your best wedding planning advice?
Lean into your natural talents – if you are a planner, dive into that! And, if you aren't, don't force it. Look to your network for support. Don't be afraid to ask for help! I'm still working on that but our community fully and completely showed up for us and for that we are eternally grateful!
MORE DETAILS:
Date: October 16, 2020
Location: Howard County Conservatory
Dress Style: Plunging Illusion Bodice Lace Dress
Photographer: Margarita Photography
Love this DIY Outdoor Minimony in Maryland? Read more real wedding stories here!
We know how important your wedding day and special events are to you and we are doing everything in our power to serve you! You can shop with us 24/7 at davidsbridal.com or come see us at your local David's Bridal. Plus we are here for you to help guide you through your wedding planning! See tips for starting to plan your wedding at home, shopping for your wedding dress online with confidence, and more on the blog.
Related Posts: