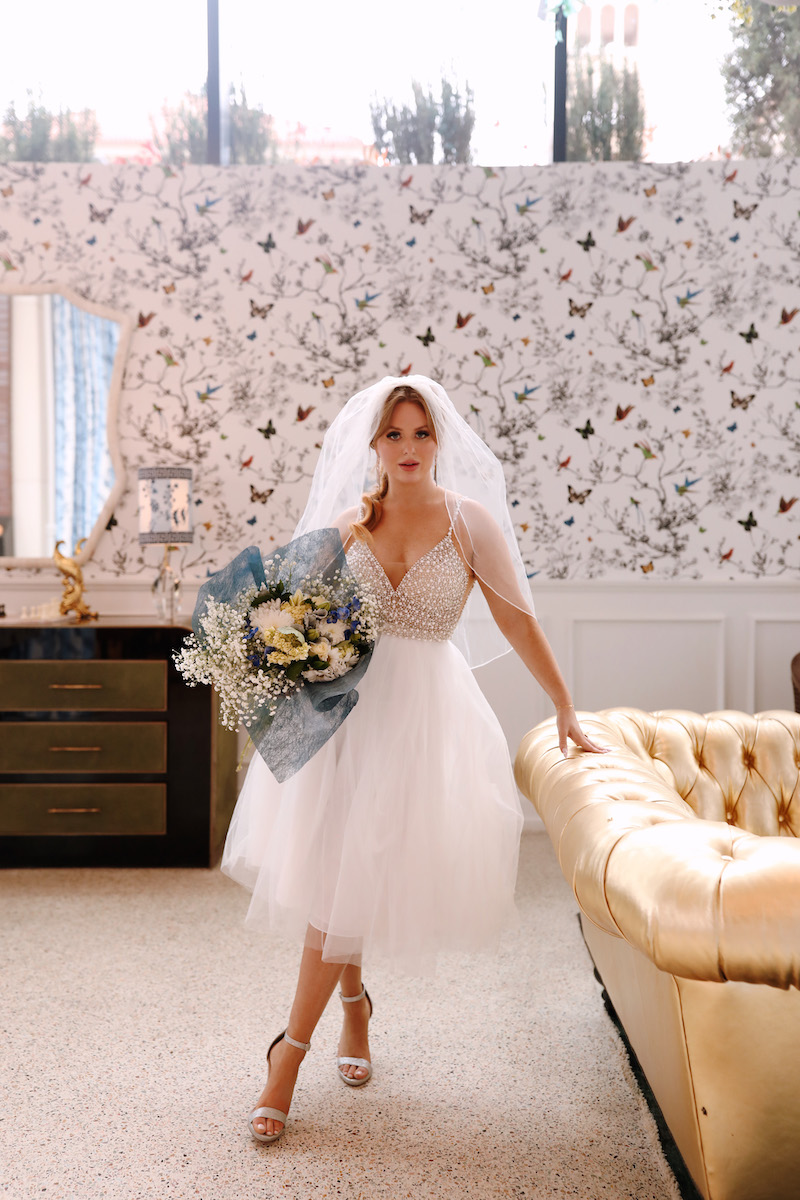 02 Mar

Best Minimony Wedding Dresses
Low-key Minimony Wedding Dresses for your Small Ceremony
Minimonies offer an intimate option for couples that don't want a large group watching them tie the knot. Whether you want a small ceremony before a big reception or are planning to skip the party altogether, we've rounded up a handful of low-key minimony wedding dresses for a small wedding celebration.
What is a Minimony?
A minimony is exactly what it sounds like – a mini wedding ceremony! Some couples like to make things official by having an intimate wedding ceremony with a small guest list of family and close friends (usually around 10-15 guests) ahead of their wedding reception, which has a larger guest list. Other couples want to keep their entire wedding small, and may invite a close-knit group of family and friends to watch them get married at a courthouse or in their backyard. No matter your style, minimonies can be a great way to start newlywed life.
Minimony Wedding Dresses
Even if you're not having an extravagant wedding ceremony, wearing white while getting married is a fun way to make you feel like a bride! Unlike a traditional wedding dress, little white dresses are often shorter, less complex, and more affordable. Keep reading for a few minimony wedding dresses to help you look fabulous while saying "I Do."
Short and Sweet
Styles SDWG1103, SDWG1049 and SDWG1133
Short, sweet, and with a little bit of an unexpected twist, these little white dresses are minimony-approved! If your minimony has a casual setting like a courthouse or a restaurant, a short white dress might be the perfect option for you! Pick a style with an unexpected detail that matches your personal style, like a unique back, intricate lace details, or trending balloon sleeves.
Backyard Boho Bride
Featuring styles SDWG1135, SDWG1083 and SDWG1094
A boho lace style is a no-brainer for laid-back brides! These minimony dresses are casual enough for backyard nuptials and the perfect blank canvas to accessorize to your bridal style. A simple veil, classic pair of pumps (or sandals for a casual look!), and some bling are the finishing touches you need to complete the look.
Simple yet Elegant
Featuring styles SDWG1134, SDWG1124 and SDWG0815
If you're having a casual ceremony but still want to wear an outfit that looks like a traditional wedding dress, consider picking a simple white sheath wedding dress. Details like a leg slit and lace trim add personality to these simpler styles. If you're looking for something with more embellishment, consider a midi-length wedding dress. These dresses are more affordable than a traditional gown, and give you a great opportunity to show off your wedding shoes!
Planning a wedding? Sign up for our Diamond Loyalty program—it's free!—and find local wedding vendors with Pearl by David's. Follow us on Instagram, Pinterest, TikTok, and Facebook for more wedding inspiration and book an appointment to find your dream dress!
Featured image by @livviedix and @jazminscheitelphotography, wearing styles embellished spaghetti strap top, tulle midi skirt and soutache edge tulle midi-length veil
Related Posts: