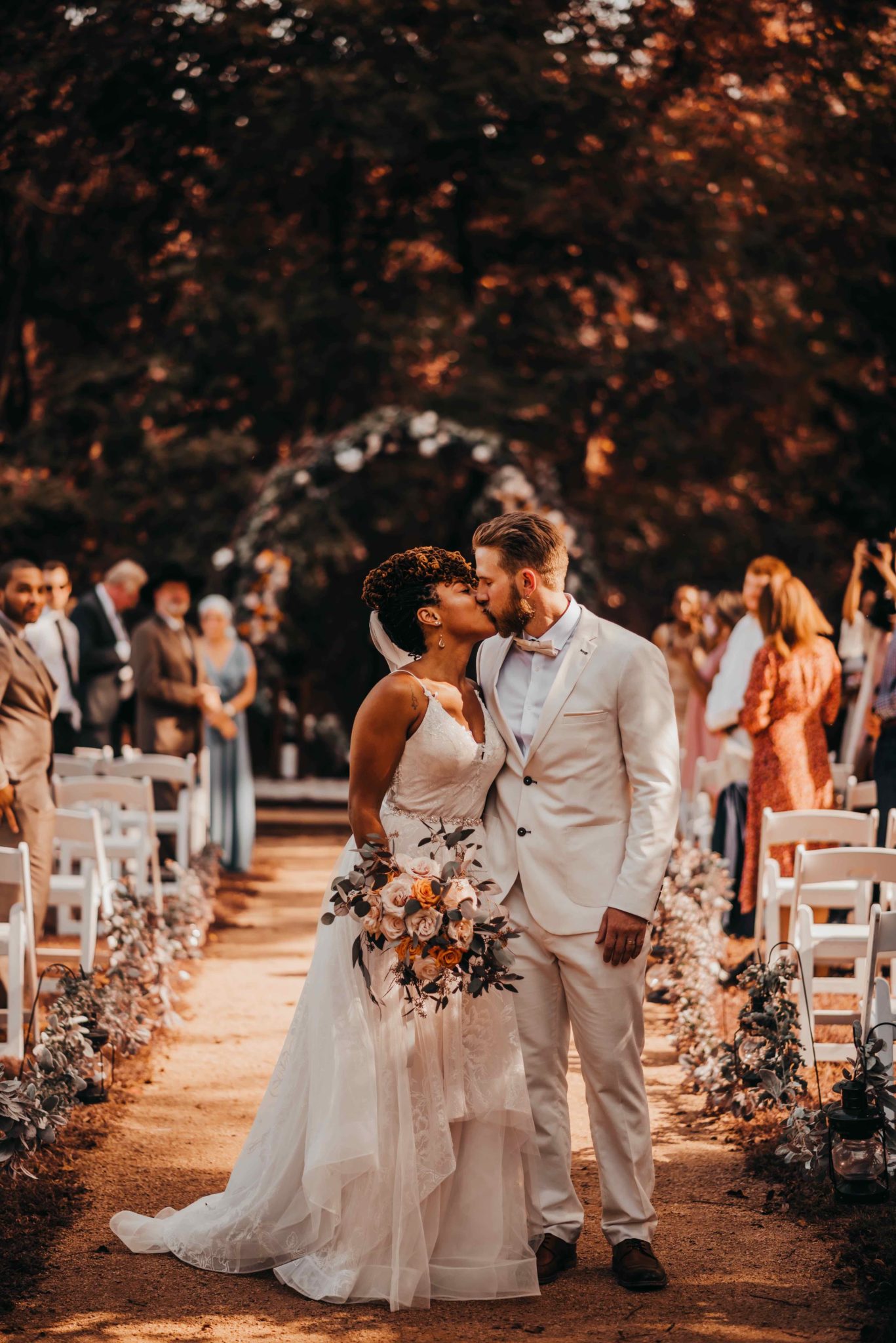 20 Jan

Real Wedding: Elle & Nick
A Colorful DIY Micro-Wedding in Texas
Real weddings are so inspiring! To get you in the mood to plan, we asked real brides to spill the details on everything from getting engaged to finding their wedding dresses to the special touches and surprising moments that made their celebrations completely one-of-a-kind. Elle and Nick's outdoor wedding was filled with pops of color, DIY elements, and more surprising moments! Read on for more from their colorful DIY micro-wedding in Texas!
How did you and your fiancé meet! And when did you know that he was the one?
We actually met on Tinder believe it or not, when we both lived in Charlotte, NC. I knew he was the one after our first date! He'd been sweet, funny, generous, and very straight forward about how he felt. He didn't leave me guessing and we've been together ever since.
Tell us your proposal story!
Most brides probably dream of a super extravagant proposal in front of family and friends. Nick proposed to me in our Houston, TX apartment on Christmas Eve. It was just the two of us (not counting our dog and cat) and it was absolutely perfect and intimate. I found out later that he planned to propose during our anniversary trip to Austin, but to the amusement of everyone he'd told, he just couldn't wait!
You looked stunning on the big day! How did you decide on your wedding day look?
I looked at a TON of Pinterest boards but my biggest consideration was how I wanted to FEEL on my wedding day. I wanted to feel soft, feminine and delicate; something that was in direct contrast to my blunt, straightforward personality. I found myself gravitating to the boho/rustic/garden vibe pretty much from the start since our venue was mainly outdoors. I also LOVED the idea of mix-matched bridesmaid dresses because all of my bridesmaids had different complexions and body-types that I wanted to highlight. The only thing I gave them was their assigned color and the length, and they ran with it.
My family was a large influence on the dress I choose! My mom, mother-in-law, and sisters were pretty honest with the choices I showed them. If I wasn't glowing in a dress, they'd say so. I had actually tried on about 10 dresses at David's Bridal and the one I ultimately choose, I had liked so much I put it on twice and got the same overwhelming reaction from myself and my family. They loved the dress but more importantly, they could tell I loved it!
What piece of advice can you share for brides that are starting to shop for their dress?
Don't over think the dress or the "moment". Something I struggled with early on was thinking I had to find something perfect or one-of-a-kind. Truth is the "moment" is different for everyone. Sometimes it's a magical gut feeling, and other times it's the response your family has to a dress you weren't sure about that makes the decision for you. If you look awesome, and they think you look awesome, it's probably the dress.
How did you feel when you knew that you #foundtheone?
I was excited and a little apprehensive at the same time. I was on a high because everyone had loved it, but I also felt the whole ordeal had been a little too easy. Part of me wondered if I should have tried on more dresses. But, every time I had the thought I would just look at a picture of myself in it and dismiss it as soon as it'd come.
What was your favorite detail about your look?
I absolutely loved the glitter on my dress. It added an element that was missing in a lot of the dresses I tried on. The shimmer, the off-white (almost pink) color, and the layers of the dress made the difference between showing up and showing OUT. Also, I opted for blue shoes as part of the wedding tradition "something blue" and included a matching garter which I thought was pretty genius.
Tell us about your wedding day!
My wedding day was absolutely perfect and not because of any of the things I'd planned and agonized over for months. It was perfect because of all the things that came as a surprise or had been completely unplanned. My husband's uncle and grandma surprised us by driving down my husband's grandfather's car – a 1955 Chevrolet Belair they had built and remodeled from scratch – all the way from Moscow, Pennsylvania. Not only had the car matched the color scheme of the wedding perfectly, it also added a sentimental element for my husband's family that wouldn't have existed otherwise. That car got almost as much attention as the wedding itself!
We also weren't immune to the effects Covid had on large gatherings. When we'd first started planning, we thought we'd struggle to keep our guests list below 150. The day of, we STILL had people canceling last minute, reducing our guest list to less than 50. While I was bummed at the time, as the day unfolded, we ended up having the perfect number of people to mingle and party with without feeling overwhelmed.
Was there a highlight or most memorable moment of the day?
The most memorable moment of the day was actually during our ceremony – Nick and I had just finished reading our vows to each other when a beautiful BUTTERLY landed on his shoulder and sat there for all of 5 seconds. The moment had everyone that caught it gasping and pointing, and I remember looking out at everyone in that moment and asking "Is that good luck?" A resounding "Yes" is what I got, and though we didn't catch it on camera, it's the most talked-about moment from the wedding.
Did anything funny or unexpected happen?
There were a lot of unexpected and funny moments – the bus we hired for the guests went the wrong way at the venue, almost giving everyone a free sneak peek of my wedding dress; a groomsman's shoe fell apart as he was walking down the aisle; one of our guests managed to injure herself on the dance floor; our wedding venue coordinator had to herd a few members of the bridal party away from the leftover buffet food they were attempting to devour; and Nick and I managed to throw the garter and bouquet to a perfectly matched pair – the best man and his girlfriend (it wasn't planned, I promise!)
Is there something you wish you had known before the big day/while you were planning the wedding?
Though it's been said a hundred times, I wish I had taken more time to take it all in. I didn't even get a chance to enjoy my own photo booth! The day (and weekend) went by so quickly I didn't realize we'd be saying bye to friends and family we hadn't seen in years and would never see again all together as they were that day. Also, I wish I had loosened up a little bit with the planning. I was so high-strung by the time the big day came, I found myself just wanting it all to be over. Now I just wish I could go back and do it all over again!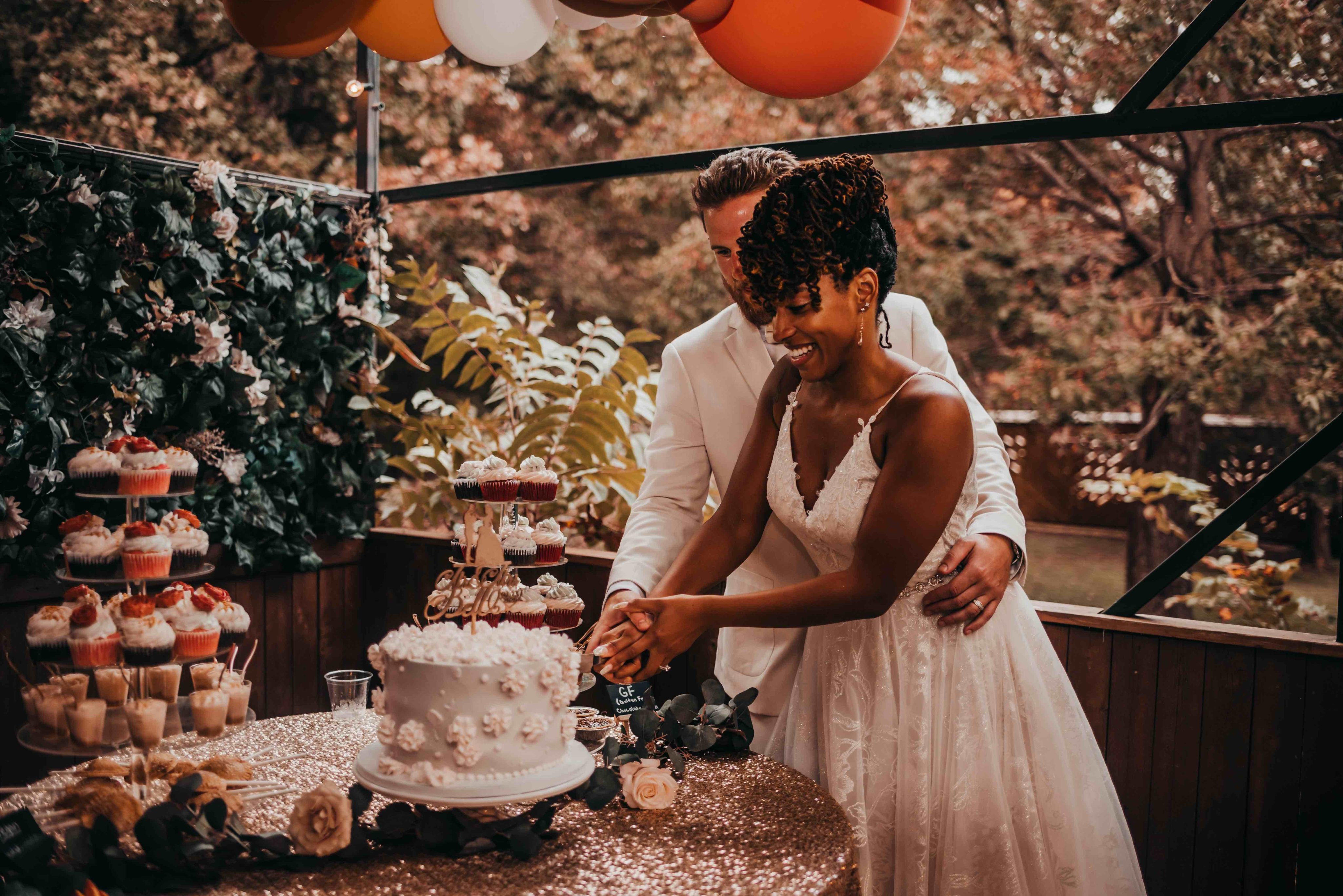 What was your first dance song?
Ed Sheeran's "Thinking Out Loud"
What was your favorite DIY or personal touch?
I had hand-painted our wedding schedule onto an old wood pallet we actually found behind our apartment. It took forever to do, but it looked gorgeous! Plus, it saved us a ton of money in printing personal programs for each guest. I also hand made our seating cards and menu signs.
What did you do to stay stress-free on your wedding day?
I had planned almost every detail! So, when the day came and people were asking to help, I was able to delegate tasks and that left me with virtually nothing to do. Handing over the reigns went against my nature but ended up being the best stress relief.
What's your best wedding planning advice for brides that are planning their weddings right now?
I planned the details of my entire wedding pretty much on my own, but my venue offered a lot of services that made the day go incredibly smoothly. They offered day-of-coordination and decoration, so I recommend looking for an all-inclusive venue. The venue recommended all of the vendors we used, so they all had existing working relationships! Finally, I reached out to my friends that had recently planned weddings to poach spreadsheets or planning advice they had.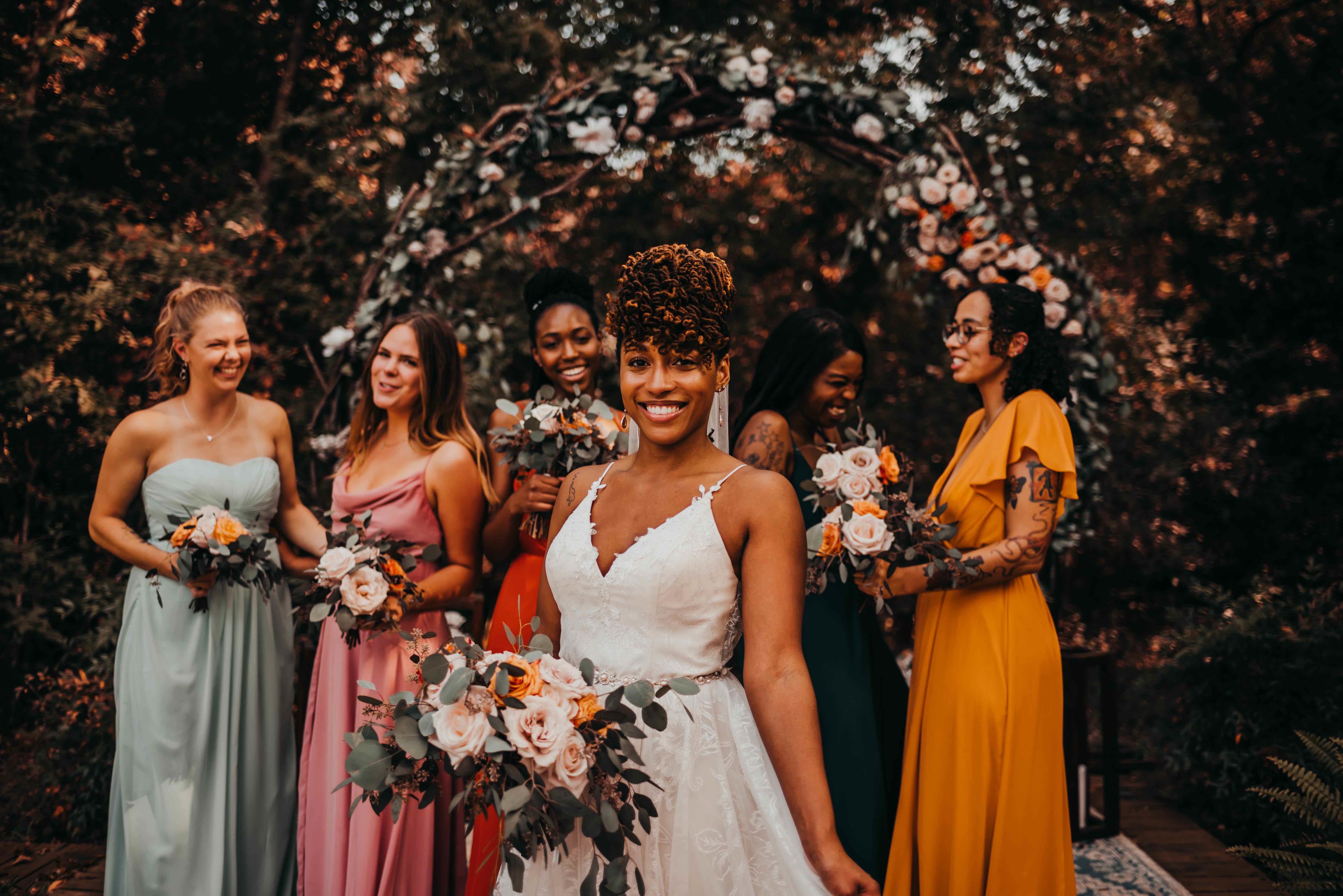 Any words of wisdom for brides-to-be?
The best thing to come out of our wedding day – beyond the amazing memories and experience of seeing people we've met in different periods of our lives, get together and click so well – was the photography. I read a piece of advice that said brides shouldn't skimp on their wedding photographer and it was so true. Sierra captured the essence of everyone's happiness and joy throughout that day! We'll have those photos for the rest of our lives. The day went by in a blink, but I've looked at the photos a hundred times over and they've served as a huge connection between the friends and family that shared the day with us. You don't have to have a big wedding to capture moments like what we had. So, don't feel pressured to have a big extravagant wedding, especially in an era of Covid.
More Details:
Date: October 9, 2020
Location: Arrowwood Weddings & Events, Waxahachie, Texas
Dress Style: Glitter Floral and Tulle Layered Wedding Dress
Photographer: Sierra Summer Photo & Film
Love this Colorful DIY Micro-Wedding in Texas? Read more real wedding stories here!
We know how important your wedding day and special events are to you and we are doing everything in our power to serve you! You can shop with us 24/7 at davidsbridal.com or come see us at your local David's Bridal. Plus we are here for you to help guide you through your wedding planning! See tips for starting to plan your wedding at home, shopping for your wedding dress online with confidence, and more on the blog.
Related Posts: