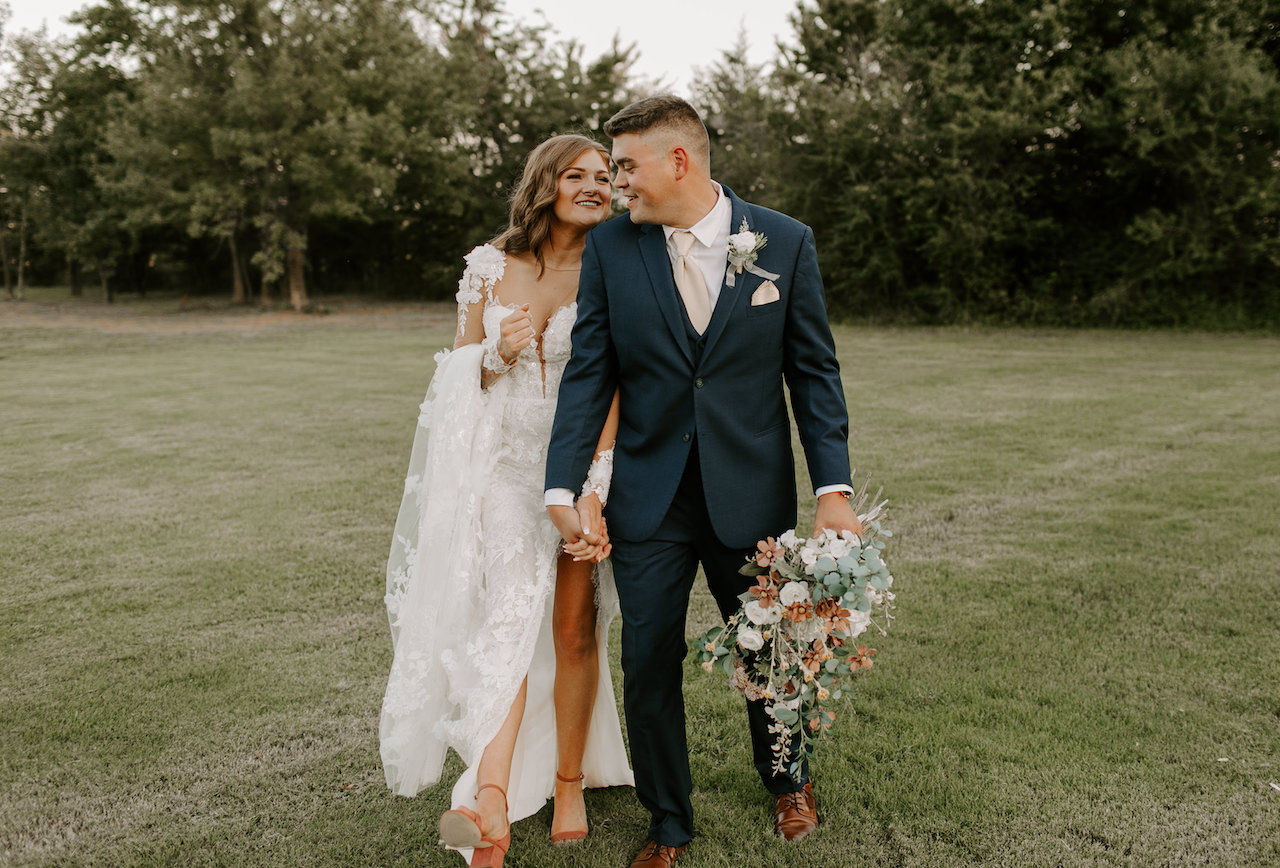 10 Nov

Real Wedding: Andrea & Dylan
September Ranch Wedding in Oklahoma
Real weddings are so inspiring! To get you in the mood to plan, we asked real brides to spill the details on everything from getting engaged and finding their wedding dresses to the special touches and surprising moments that made their celebrations completely one-of-a-kind. In early fall, sweethearts Andrea & Dylan tied the knot in a beautiful ceremony surrounded by their closest family and friends. Keep reading for all the details from their September ranch wedding in Oklahoma.
Briefly tell us how you and your fiancé met!
My sister knew Dylan through mutual friends and introduced us in 2019. June 2020 came around and we started talking a little and Dylan asked me on a date. On the date, he was respectful the entire time and made me feel like he didn't want the date to end. We ended up texting every day after that. We took things at our own pace and everything just flowed effortlessly.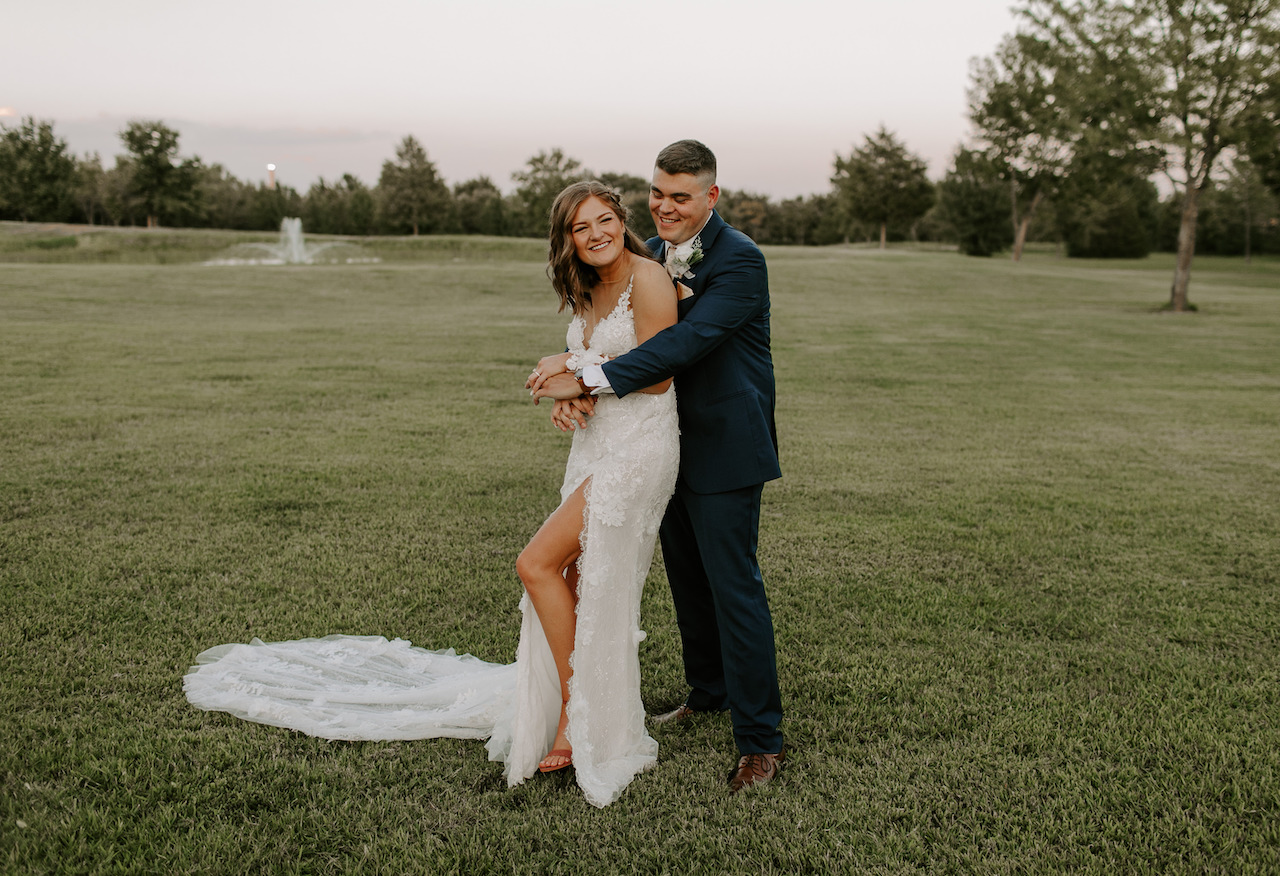 Tell us your proposal story!
I went to the bedroom and started to lay down to watch a movie and he came in the bedroom and leaned over at the side of the bed. I looked at him and asked what he was doing, and he just smiled. We knew he had every intention of waiting for a large proposal, but neither of us could wait. Dylan asked me to marry him right there at one in the morning in the little one-bedroom apartment. Of course, I said yes!
How did you both decide on your wedding day look?
I asked Dylan questions about how he envisioned our wedding day. Did the vision in his head include me wearing a veil? Did he want the first time seeing me be when I was walking down the aisle? Those questions helped a lot! I did not wear a veil and we didn't do a first look and we have absolutely no regrets.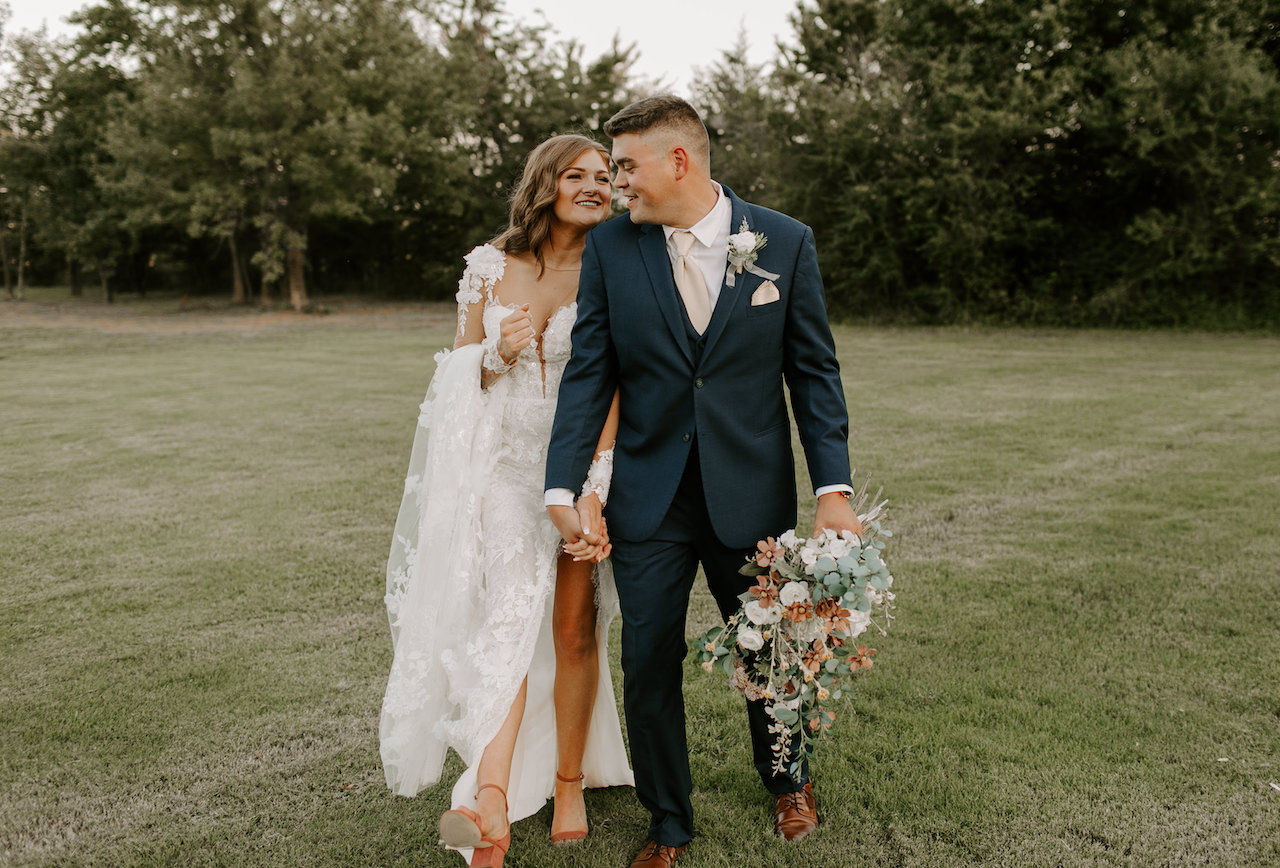 Do you have any shopping advice for future brides?
Absolutely go with your gut no matter what. If you don't feel like the most beautiful woman in the world in the dress you're considering, trust yourself. Of course, we all take our closest friends and family with us when we go shopping for our dress and while their opinion matters, how you feel is ultimately the most important. Don't let other opinions influence you away from your gut feeling about how you want to look on your big day.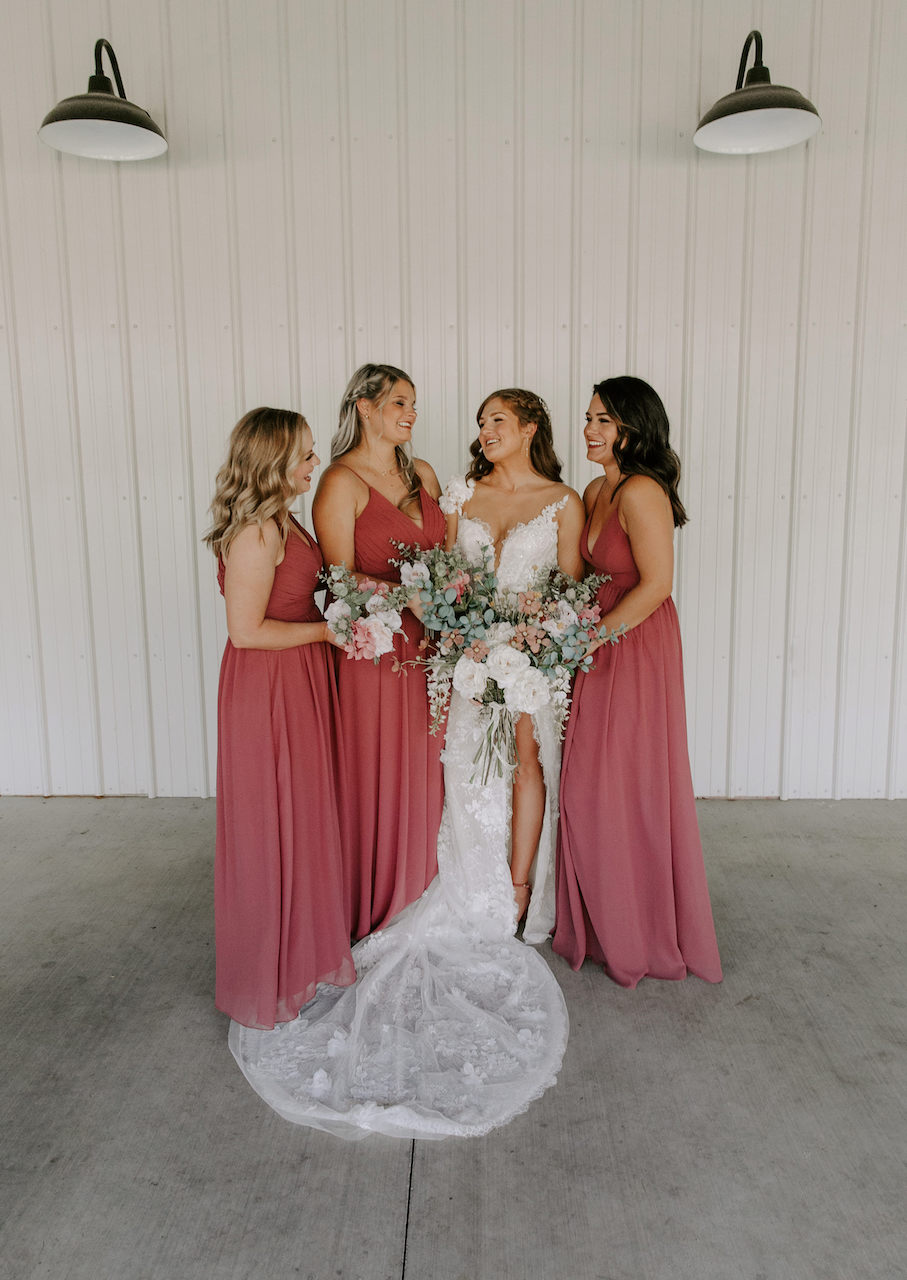 What was your favorite detail about your look?
My dress was so unique and stunning. I personally have never seen a dress even remotely like it at any wedding I've attended or on social media anywhere. I absolutely loved the mesh detailing from the deep v-cut to the long sleeves and 3D floral detail throughout.
How did you feel when you knew that you #foundtheone?
The dress I wore on my wedding day was not my original first dress. I said yes to the dress in January (still at David's Bridal). The first dress was everything I thought I wanted; a chic seamless look with minimal detail – something timeless. I went to my first fitting in my first dress and knew that I needed to keep looking. Sadly, I didn't feel as beautiful as I imagined I would in that dress. So, I went dress shopping again and tried on a handful of dresses. I liked all of them, but I felt like a beautiful woman when I put this dress on. Any insecurity I had in the original dress was gone in this dress. It was still slim fitting and had a beautiful train and had sleeves like I originally wanted. I was and still am absolutely obsessed with my wedding dress!
Tell us about your wedding day!
September 16th arrived, and it was everything I expected. There were things that did not go as planned, like the bakery leaving out the strawberry sauce for the cake and the officiant forgetting to do the ring exchange. Honestly, though, none of these minor issues even phased me. If it weren't for others mentioning them to me, I truly wouldn't have realized they happened.
At the time, nothing else mattered except for saying "I Do" with my best friend. He looked absolutely perfect. I saw him waiting for me at the end of the aisle and knew at that moment that everything we planned and envisioned together, came true.
Did anything funny or unexpected happen?
We forgot to exchange our rings at the ceremony! I truly didn't even think about it and Dylan didn't even realize. We were just so happy and wrapped up in the moment that it still flowed so naturally.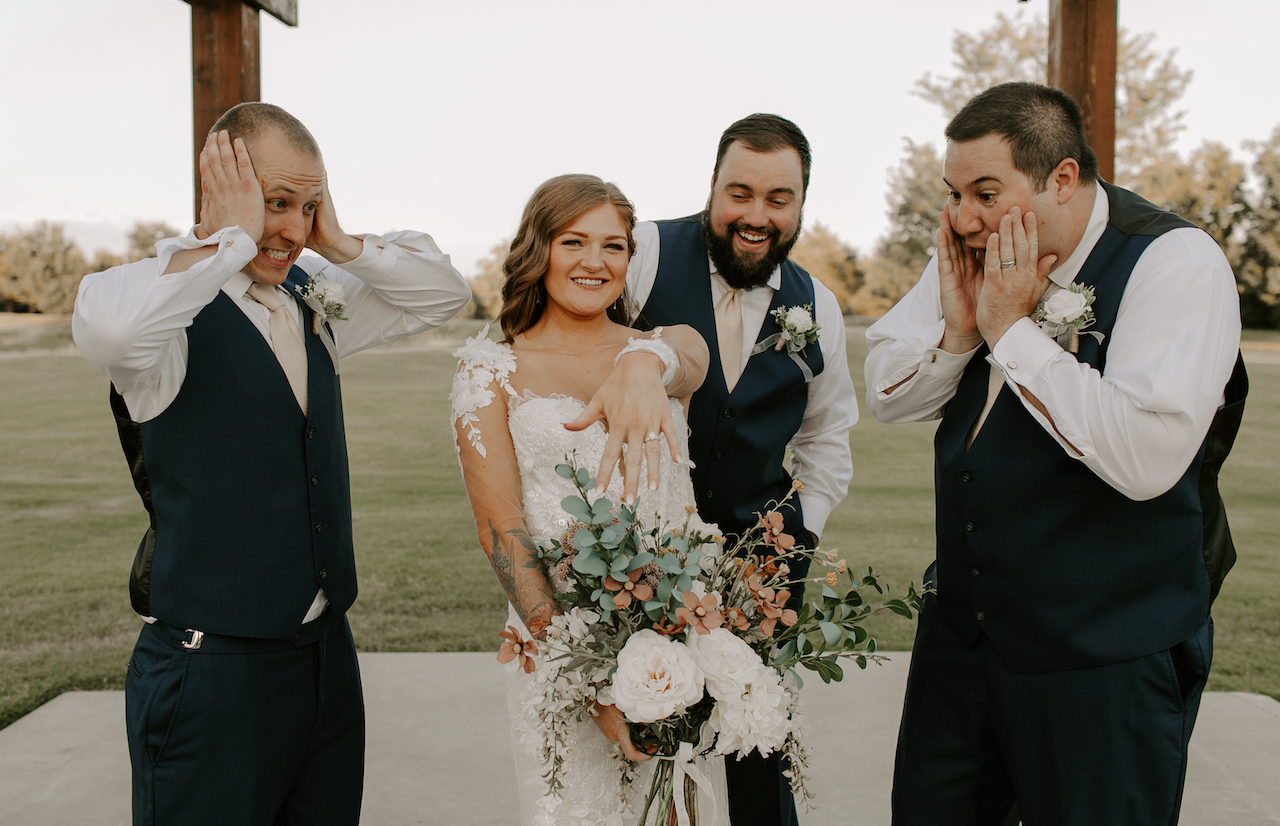 Did you have a theme?
Simple yet elegant. We used dusty rose, gold, and navy for our colors and added eucalyptus for décor.
What's your best wedding planning advice?
Make a list of everything you envision for your wedding. Take your fiancé's wants and desires into consideration and accommodate him, too. Remember to keep your fiancé in the loop and delegate things to people if you can. And if your budget allows for it, hire an event coordinator. Most of all, enjoy your wedding day because it will fly by.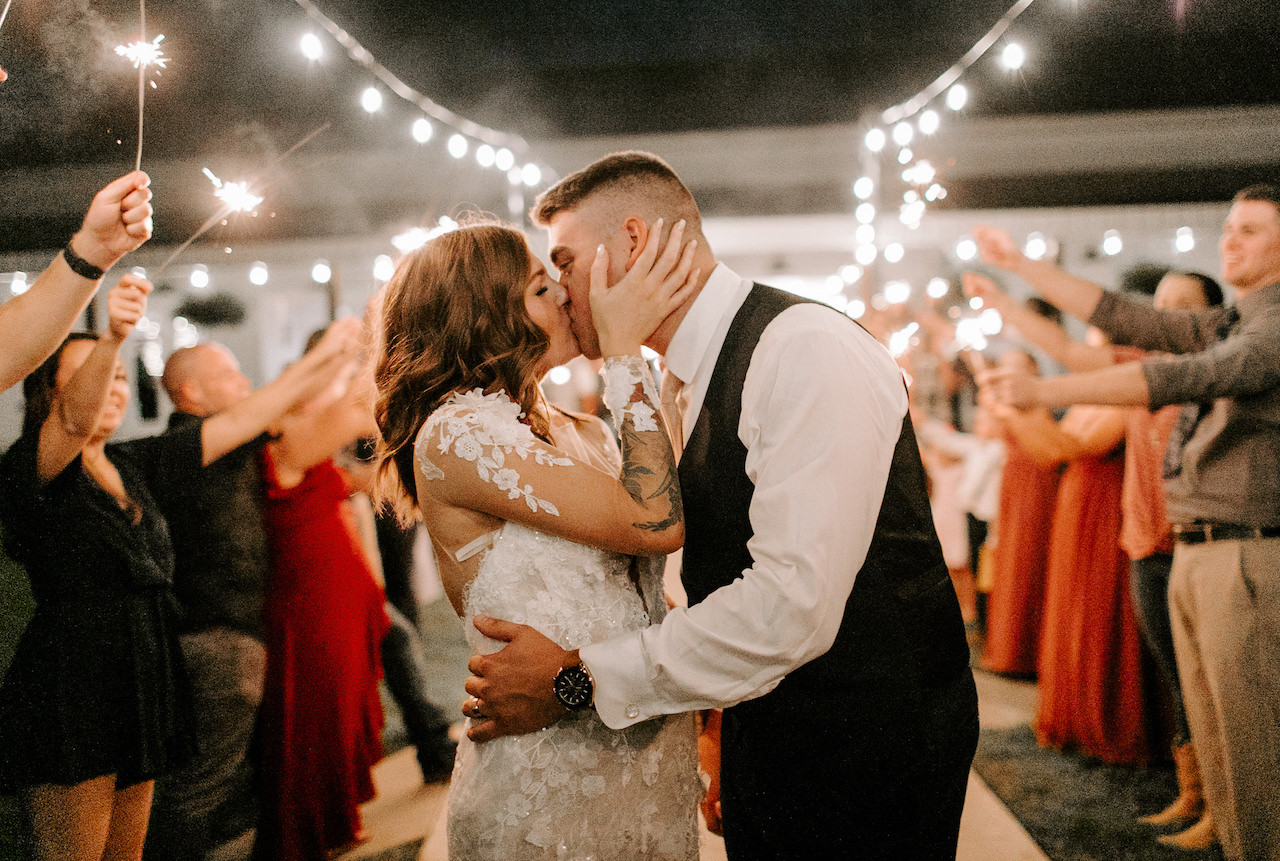 More Details:
Wedding Date: September 16, 2021
Wedding Location: 810 Ranch & Cattle Co.
Dress Style: 3D Floral Applique Wedding Dress with High Slit
Wedding Song: "Another" by Adam Doleac
Photographer: Kyra Kellye
Love this September ranch wedding in Oklahoma? Read more real wedding stories here!
We know how important your wedding day and special events are to you and we are doing everything in our power to serve you! You can shop with us 24/7 at davidsbridal.com or come see us at your local David's Bridal. Plus we are here for you to help guide you through your wedding planning! See tips for starting to plan your wedding at home, shopping for your wedding dress online with confidence, and more on the blog.
Planning a wedding? Sign up for our Diamond Loyalty program—it's free! Follow us on Instagram, Pinterest, and Facebook for more real wedding inspiration, or click here to book an appointment.
Related Posts: