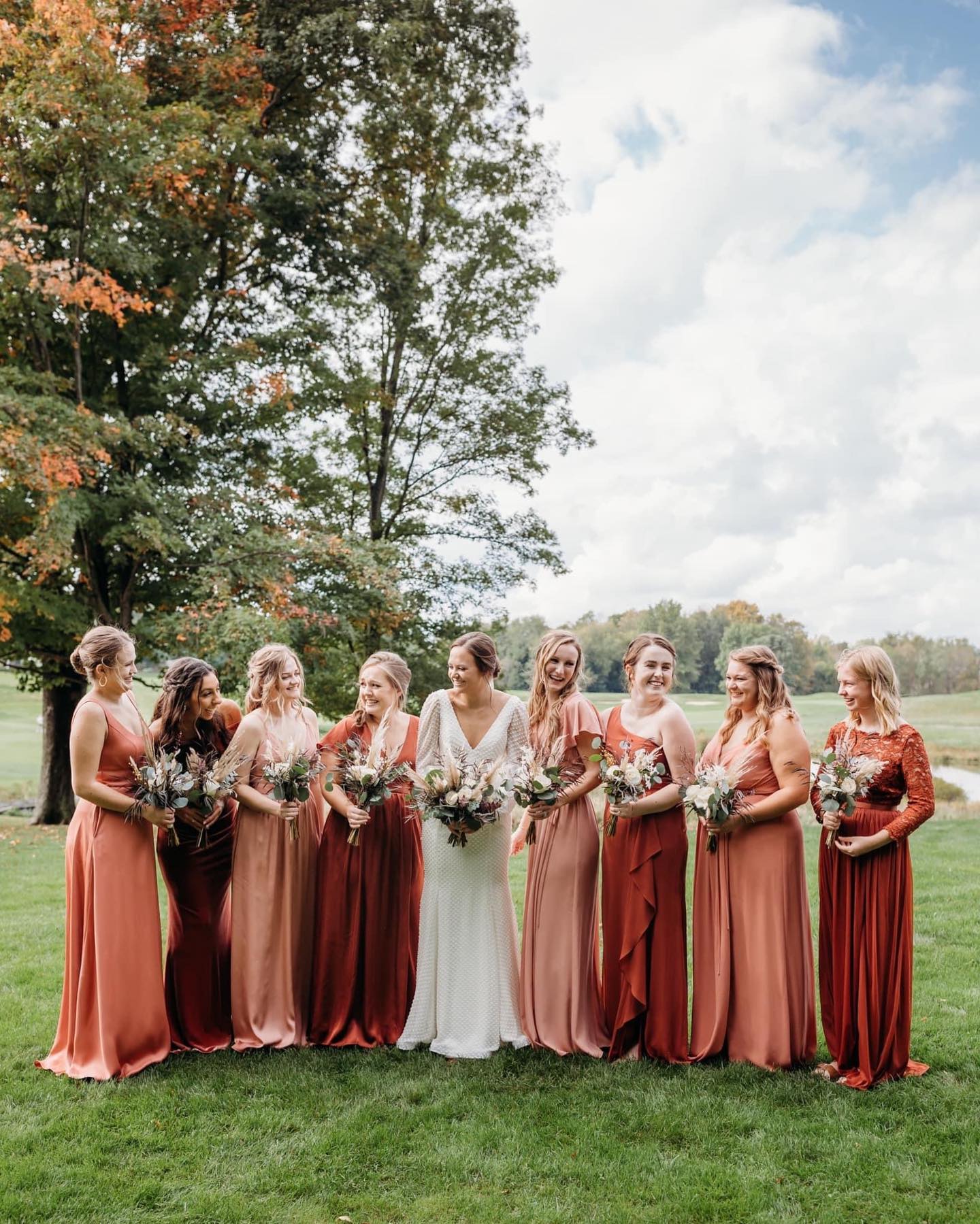 06 Jun

How to Pull off the Mixed Dresses Bridal Party Look
How to dress your bridal party in rainbow bridesmaid dresses
There are so many things to love about mismatched bridesmaid dresses. First, an eclectic bridal party has an effortless feel and adds beautiful dimension to your wedding and photos. In addition, your bridesmaids will appreciate choosing their bridesmaid dress colors and/or styles allowing each individual's personality to shine a bit. Not to mention, there's no stress trying to find a color and style that fits and flatters each member of your 'maids, especially if your bridal includes women of varying sizes, shapes and skin tones. The only challenge is that the possibilities are endless, so we're sharing tips on how to shop rainbow bridesmaid dresses and mix your 'maids with ease.
Same Color, Different Silhouettes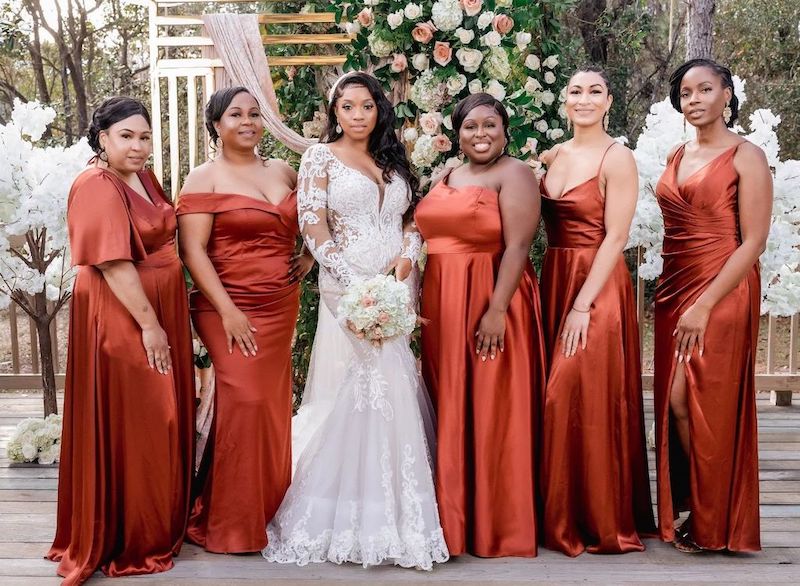 Graceful collection in the color Wine, image by @reesies_pieces
This is one of the easiest ways to combine mismatched bridesmaid dresses. The bride selects the color and each girl chooses her own dress style. For a more uniform look, set parameters around dress length and material as well.
Range of Shades aka "Ombre"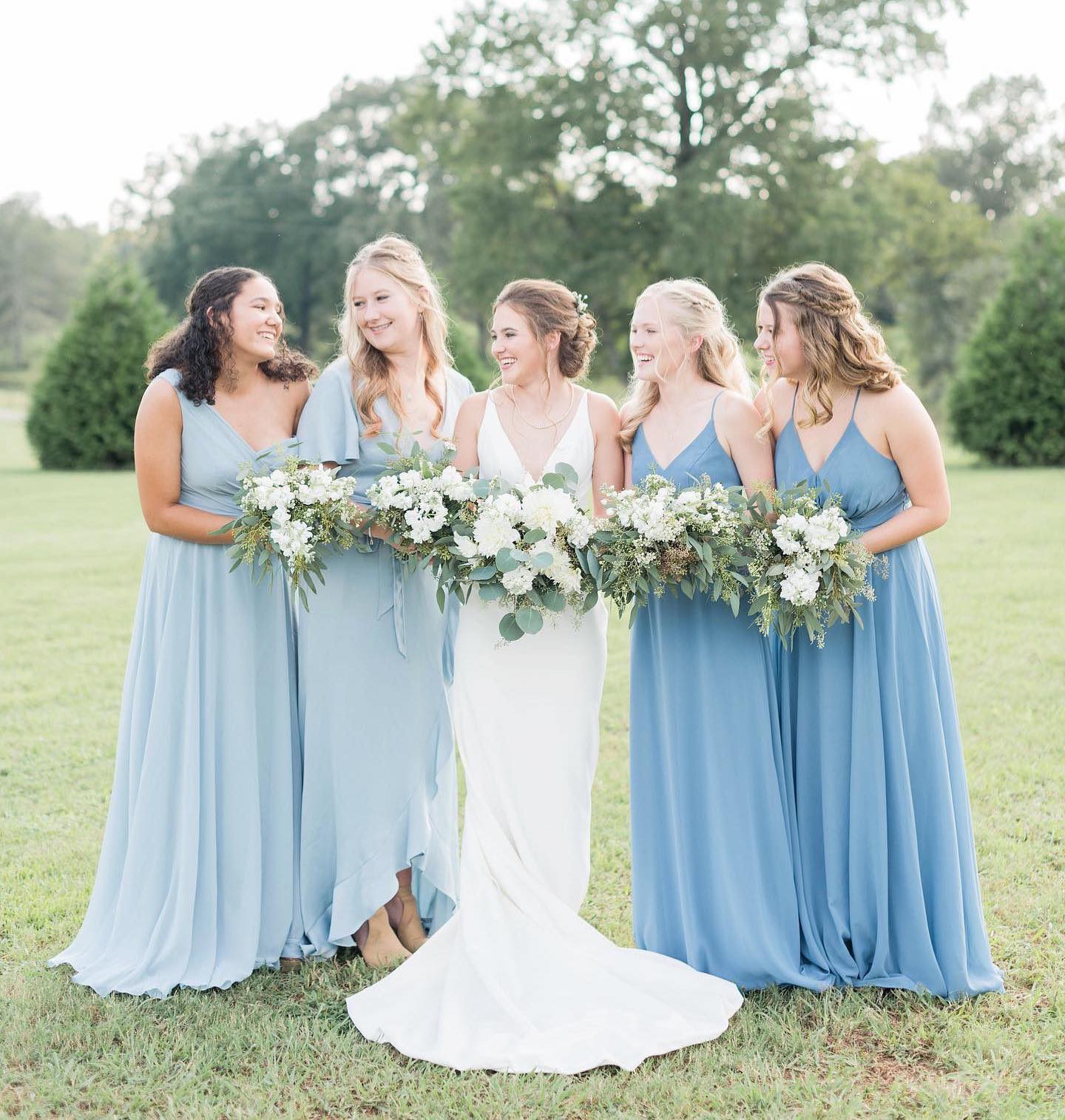 Image by @katieandcindyphoto
Build your bridal party attire with dresses from a range of shades in the same (or similar) color for mismatched bridesmaid dresses with a little more variation. A light to dark "ombre" palette in the same color family still looks cohesive when the dress styles and fabric are similar.
Mixed Palette aka "Rainbow"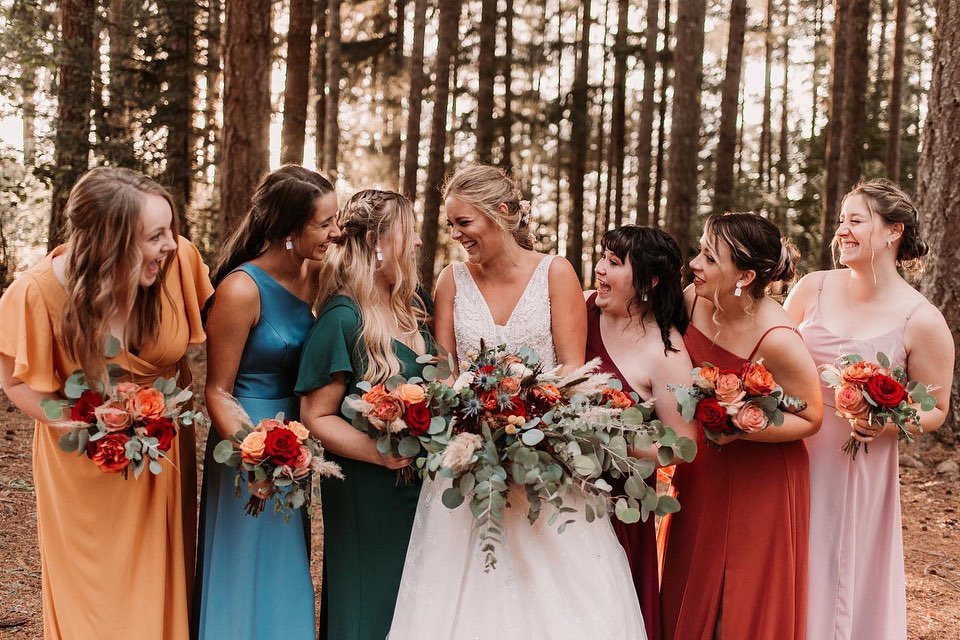 Style F20039 in Marigold & Juniper, F20169 in Wine & Malibu, F20342 in Cinnamon, F20095 in Petal; Image by @nicolebriannphoto
For those who crave color, rainbow bridesmaid dresses may be for you. This combination features the most color variation by allowing your bridesmaids to choose their own color and can be the trickiest to pull off. The key to success for rainbow mismatched bridesmaid dresses is, once again, to set some guidelines for your 'maids. Make sure colors are the same hue (i.e. all pastel, all jewel tones). You can also share some visual inspiration with your bridesmaids, such as a photo of your wedding flowers or a Pinterest board in your color scheme,  to help guide their selections.
Mixed Textures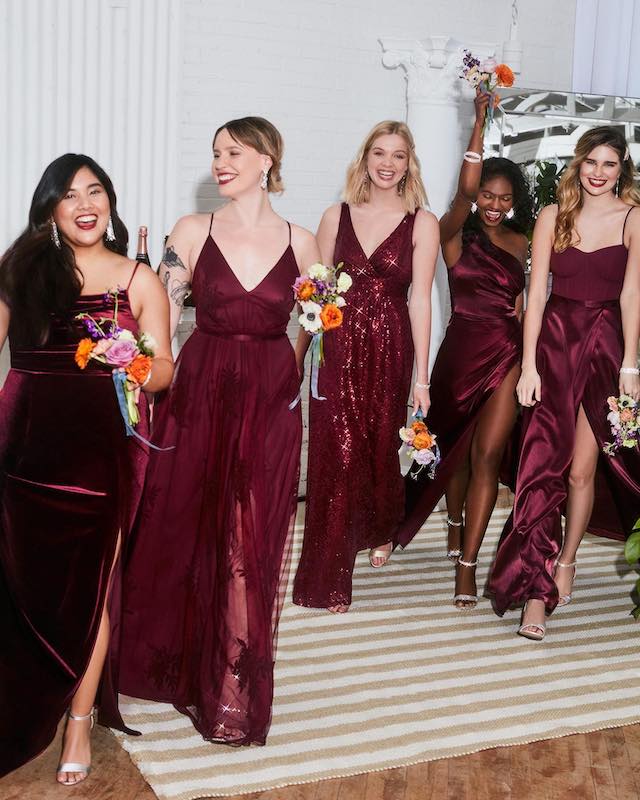 Styles F20439, GS290044, GS290018, GS290039, in wine & F19787 in ruby sequin
Are you in love with a specific bridesmaid dress color but still want a rainbow bridesmaid dress vibe? Have each of your bridesmaid pick a dress in a different fabric! Mixing lace, chiffon, velvet and silk will give your bridal party look depth and texture (and look beautiful in pictures!).
Need a bridesmaid dress, quick? Shop guaranteed-in-stock bridesmaid dresses in sizes 0-30, and sign up for our Diamond Loyalty Program (it's free!) for up to $20 off regular-price bridesmaid dresses. For more rainbow bridesmaid dress tips, check out our guide to mismatched bridesmaid dresses.
Featured image by @rachelfalardeau, @hannah.pitsch_
Related Posts: