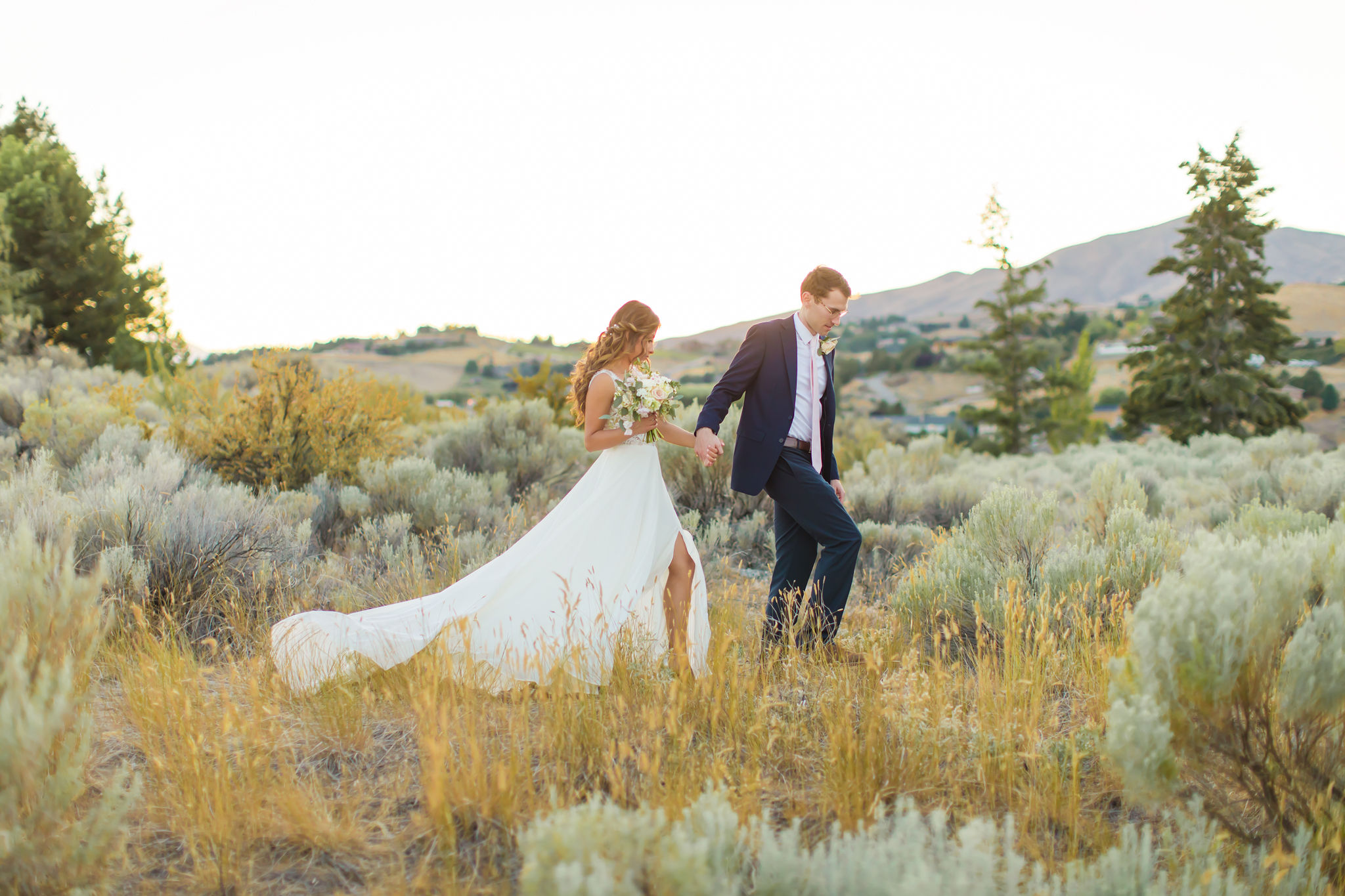 26 Aug

Real Wedding: Jessica and Doug
Frontline Fierce Winner's Intimate Backyard Mini Wedding
Real weddings are so inspiring, and this one is extra special! Jessica, an ICU nurse and recent newlywed was one of many winners of our Frontline Fierce Contest. Because of her dedication and resilience on the frontlines of the pandemic, Jessica was able to win a dream dress to wear on her big day. We're honored to have been able to give back to Jessica just a fraction of what she has given back to her community. From getting engaged, what it's been like as a nurse planning a wedding during a pandemic, to all the special touches that made her celebration one-of-a-kind, this real bride is spilling all the details. Read on for Jessica and Doug's Intimate Backyard Mini Wedding in Washington State.
Tell us how you and your fiance met? How did you know that he was the one?
Doug and I met on an online dating app. For our first date, I paid for our dinner and told him he could pay on our next date to see him again! I knew he was the one when I saw him around my family. We come from different cultures, and he was so very open to learning about my Mexican culture and background. He has started to learn Spanish, and that means a lot to me!
Tell us your proposal story!
Doug's mom came over to visit us, and I suggested going on a hike to a beautiful lake around the area. We hiked 4 miles to an elevation of 5,580 feet to a sparkling aquamarine color lake in a cold October morning. Doug found a place to take pictures, which was very unlike him (I should've gotten a hint). He then told me he had an important question to ask me and got on one knee and proposed! I was not make-up ready for a proposal as I always hoped to be, but it was perfect. It was the most beautiful day I could imagine. Gray jays were flying around us the whole time. It was like a fairy tale.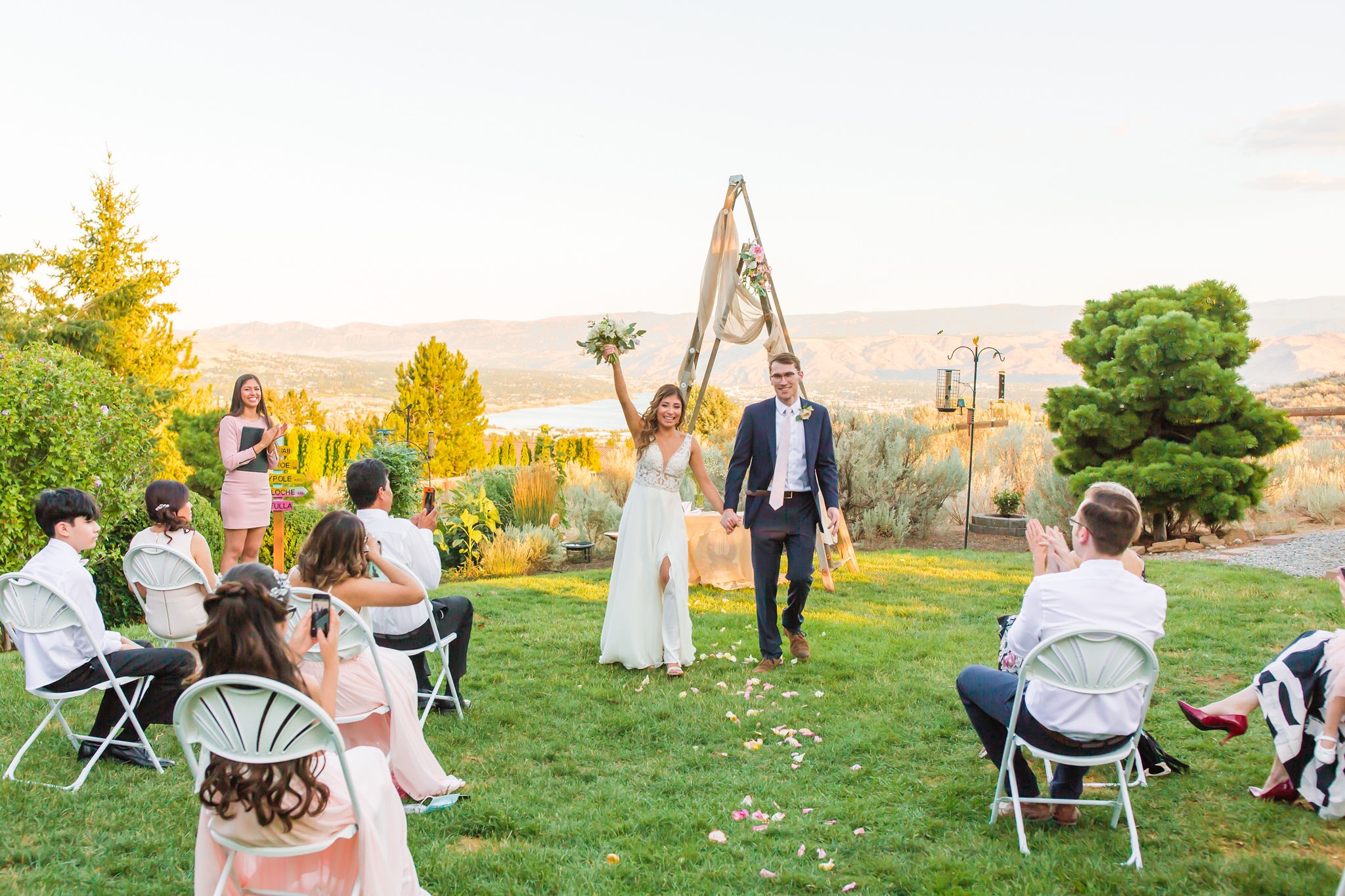 Tell us about you and what you do! We're so inspired by your work on the frontlines!
I have been a registered nurse for five years. Last December, I transitioned to work in the intensive care unit at my local hospital. I was looking for a change in my nursing career after being a medical oncology nurse for four years. When I finished my training by the middle of March, COVID-19 had started to affect people in our community. I had no idea that I was training to become an ICU nurse for pandemic! On the daily, I take care of critically ill patients in my community, including those affected by COVID-19.
How did you decide on your wedding dress? What did you love most about it and how did it make you feel?
I had initially bought a wedding dress at a local boutique. However, from our engagement date to May, I was down four dress sizes. Due to COVID-19, alterations stores were closed, and I was unable to get my original dress altered. But I saw David's Bridal Frontline Fierce Contest and decided to apply – and I won a dress! In a limited amount of time, I had to find a dress that was going to fit and require the least alterations possible as the wedding was so close, and I found the one! I loved my David's Bridal dress more than my original wedding dress. My new dress was comfortable, elegant, and it truly felt like me! The dress made me feel so beautiful on my wedding day. It had a slit down the leg, which also made me feel sexy! The chiffon skirt made it so easy to move. I would pick this dress over again over my original one!
Any dress-shopping advice for future brides?
Pick something that will make you feel happy on your wedding day! I wanted to be comfortable and feel free, and the chiffon skirt did it for me. Do not try to make other people happy! Also, try on dresses that are out of your comfort zone! Wedding dress shopping should be a fun experience and not a rushed one.
Could you tell us what it was like to be working on the frontlines and planning a wedding at the same time?
Working on the frontlines was hard. I work night shifts and feel so tired all the time. The care I provide drains me physically and emotionally. Thankfully my family and friends helped me out so much to take care of details. I stressed about planning our wedding, but the most stressful part was thinking about how we could still have this important moment in our lives while keeping our families safe. I get to see and experience COVID-19 very close and get to see the worst of the worst. The patients I care for are very sick. To think that one of our family members could potentially become affected by COVID was the most stressful part of wedding planning. Thankfully our families stayed safe!
Did your wedding plans change because of Covid-19?
Our original wedding plans changed drastically due to COVID-19. We had planned for a big Mexican wedding. We had initially invited about 175 guests and had to downsize our wedding to 15 people! One of the doctors that I worked with offered up her house for our intimate backyard mini wedding, and it was so beautiful. We separated our families on each side of the aisle. Each of our families had a table to eat, as well. It was not the wedding we had imagined, but it was way more than we had ever expected! It was intimate and low-stress.
Tell us a little more about your big day!
Our wedding day was even better than I imagined. The weather was perfect. It was sunny, with no clouds in sight. The doctor who allowed us to use her backyard had a friend who volunteered to do all of our decorations, and she did such an incredible job! Everything just came together. Throughout our ceremony, birds were flying around; we laughed, cried, and had a good time!
Did anything funny or unexpected happen?
Our wedding was both in English and Spanish to include both of our families. Our officiant, who is one of our closest friends, announced us as husband and wife in English, and I started to go for "the kiss," just to then hear her saying, "What about in Spanish?". I had to retract from kissing my now-husband until she completed the ceremony in Spanish. Everyone was laughing, and I could not hide how impatient I was to kiss my now husband!
Is there something you wish you had known before the big day/while you were planning the wedding?
I wish I had known and understand that everything works out at the end. Also, I wish I had been less detailed oriented and enjoyed the moment a little more. I also wish that I would've delegated and trusted people more to take care of things for me. As a nurse, I feel that I always want to be in control of the situation and want to take care of things myself without asking for help if I can do something.
What was your first dance song?
Our first song was a Spanish song called "Todo Cambio" by Camila. I felt that this song described our love the best. The chorus of the songs translates into, "Everything changed when I saw you. My world changed from black and white to color when I met you. It was so easy to love you so much. Something I never imagined."
What was your favorite DIY or personal touch?
I think the whole wedding was a complete DIY as all of our friends contributed something to make this day happen – from the venue, decor, pictures, desserts, my makeup, and the alterations to my dress. We are so lucky to have such talented and giving friends and family! We will forever be thankful for everything they did to make our wedding day happen.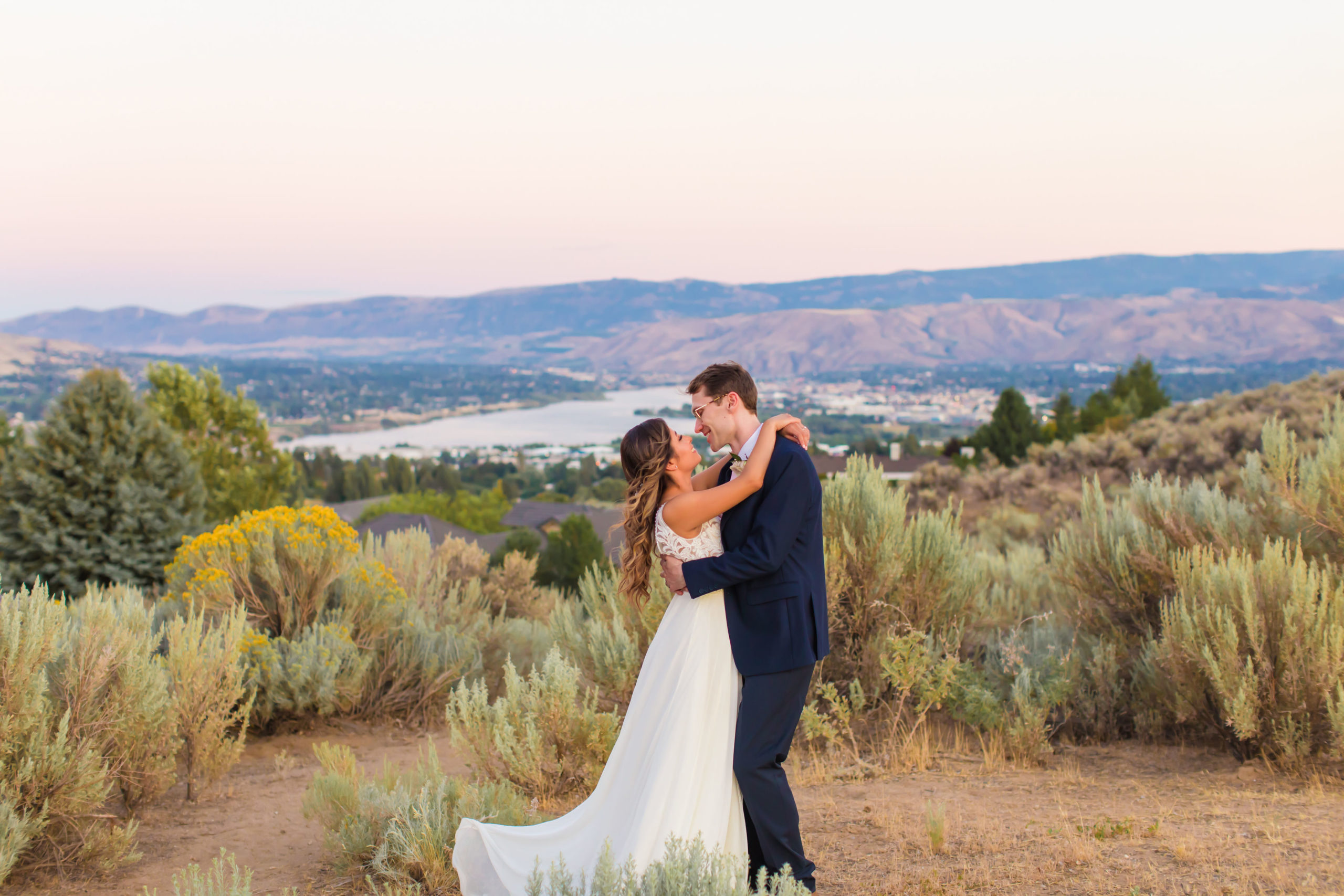 What did you do to stay stress-free on your wedding day?
I took a nap before I started to get ready for the ceremony! It made me feel refreshed, and it gave me some time away from everything and everyone for a moment.
What's your best wedding planning advice? And what advice do you have for brides that are going through a similar situation right now?
My best wedding planning advice is to allow others to help you as much as possible. Delegate what you can so that you don't have so much on your plate. Truly enjoy the moment. Our wedding was so personal, having only our families around us. Initially, I was not very excited about having a small wedding, but now I would do it again in a heartbeat. It was intimate and stress-free. I didn't have to worry about greeting 175 guests. I didn't have to worry about something going wrong as anything could be fixed. My favorite phrase as we got close to our wedding was, "I have a wedding dress, a husband to be, and someone to marry us, and that is all we need."
More Details
We know how important your wedding day and special events are to you and we are doing everything in our power to serve you! You can shop with us 24/7 at davidsbridal.com or find a location near you to try on and take home your dream dress. See tips for starting to plan your wedding at home, shopping for your wedding dress online with confidence, and more on the blog.
Related Posts: