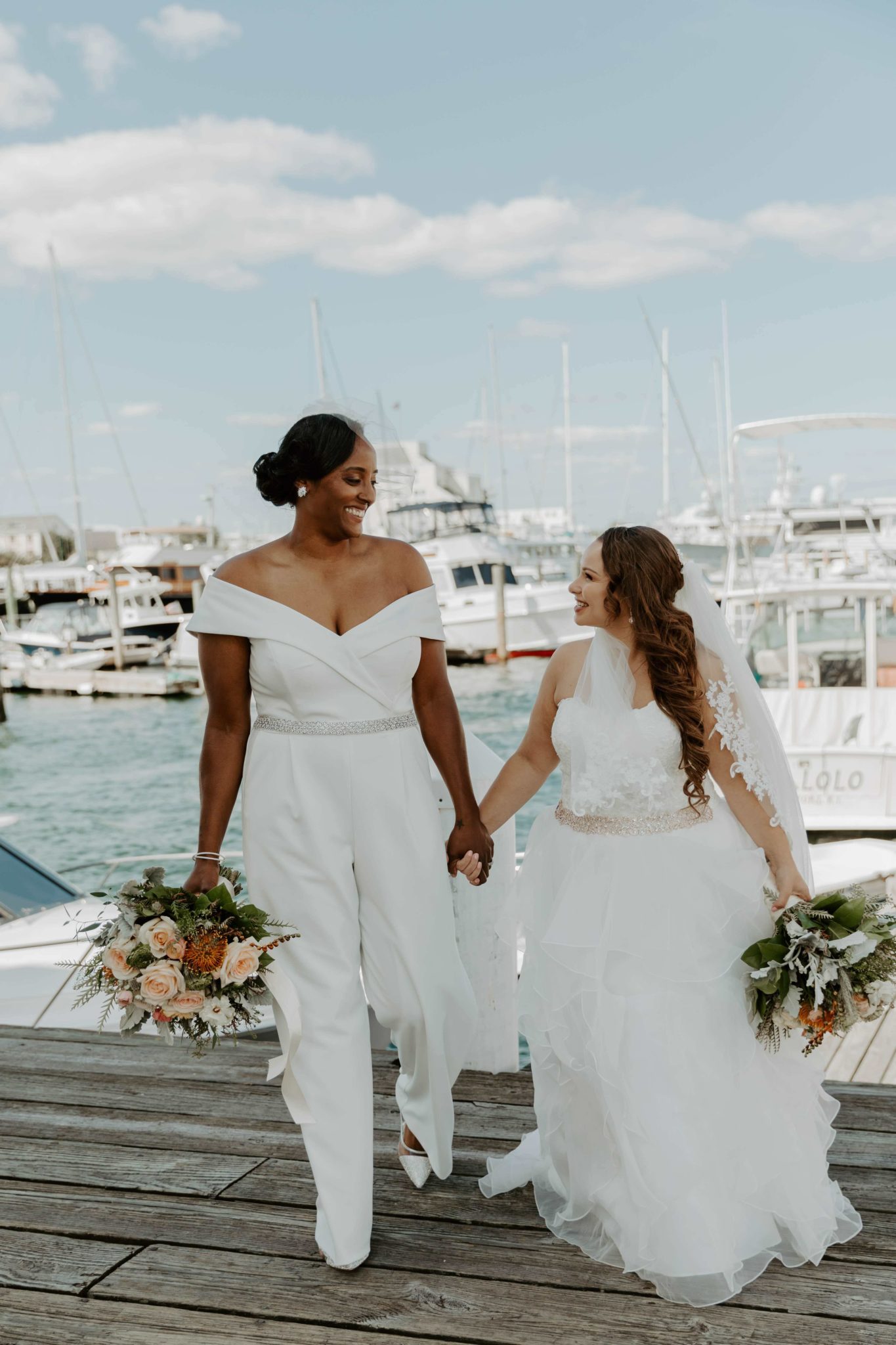 14 Oct

Real Wedding: Kristina & Kindell
An intimate Waterfront Micro Wedding in Newport Rhode Island
Real weddings are so inspiring! To get you in the mood to plan, we asked real brides to spill the details on everything from getting engaged to finding their wedding dresses to the special touches and surprising moments that made their celebrations completely one-of-a-kind. Read on for Kristina's telling of her and wife Kindell's Waterfront Micro Wedding in Newport Rhode Island.
Briefly tell us how you met! How did you know that she was the one?
Kindell and I met at the copy machine where we both worked. Kindell was new to the team and I could tell she needed some help figuring out the fancy machine code. After some time had passed Kindell asked me on a bowling date but we both knew it wasn't exactly a great date. It's a good thing our journey didn't end there.
There was still hope and we had other opportunities to make special connections. At the time, I was in grad school and invited Kindell to do some work with me at a local coffee shop and after we would kick up our feet at India Point Park. This is where we really fell in love! I started to edit Kindell's film scripts and she would remind me to pay attention to my studies. Kindell and I are grateful our journey didn't end at the bowling alley! Now, every February 6th, we go bowling on our anniversary to celebrate where our adventure began!
Tell us your proposal story!
Every New Year's Day, Kindell and I go to Easton Beach in Newport, Rhode Island for the Polar Plunge into the Atlantic Ocean. Kindell invited some of our closest friends and her sisters to participate in the proposal. After returning from the freezing cold water, Kindell had each person line up on the sand and handed me a single red rose. Kindell played a special recording of Alicia Keys' "Unthinkable" that my good friend and musical artist, Paul Lowe recorded. Then, she got down on one knee and read from an entry she wrote in our daily journal that we write to one another in each day. Surrounded by love, she asked me to continue to spend the rest of my life with her!
How did you both decide on your wedding day look?
I recently lost a good amount of weight and wanted to make sure I was comfortable in my body and the dress that I would walk down the aisle to meet my bride in. I often call Kindell vintage and well, she is a photographer and filmmaker and wanted to go with an old Hollywood glam look that I knew she would be crazy for!
Kindell originally was going to have a friend design and make her jumpsuit. Back in March 2020 when she was originally scheduled to be fit and sized her custom design, COVID-19 closed stores and kept us at home during a time when we needed to find her something to wear.
But then my DB stylist called me around the time we had started to look for other options to remind me that my dress was in! She asked if there was anything she could help me with. I immediately requested if she could help us search for a jumpsuit in Kindell's size. She got back to me via text and phone after searching high and low and calling different stores to find this special jumpsuit in what we had hoped was a perfect size for Kindell.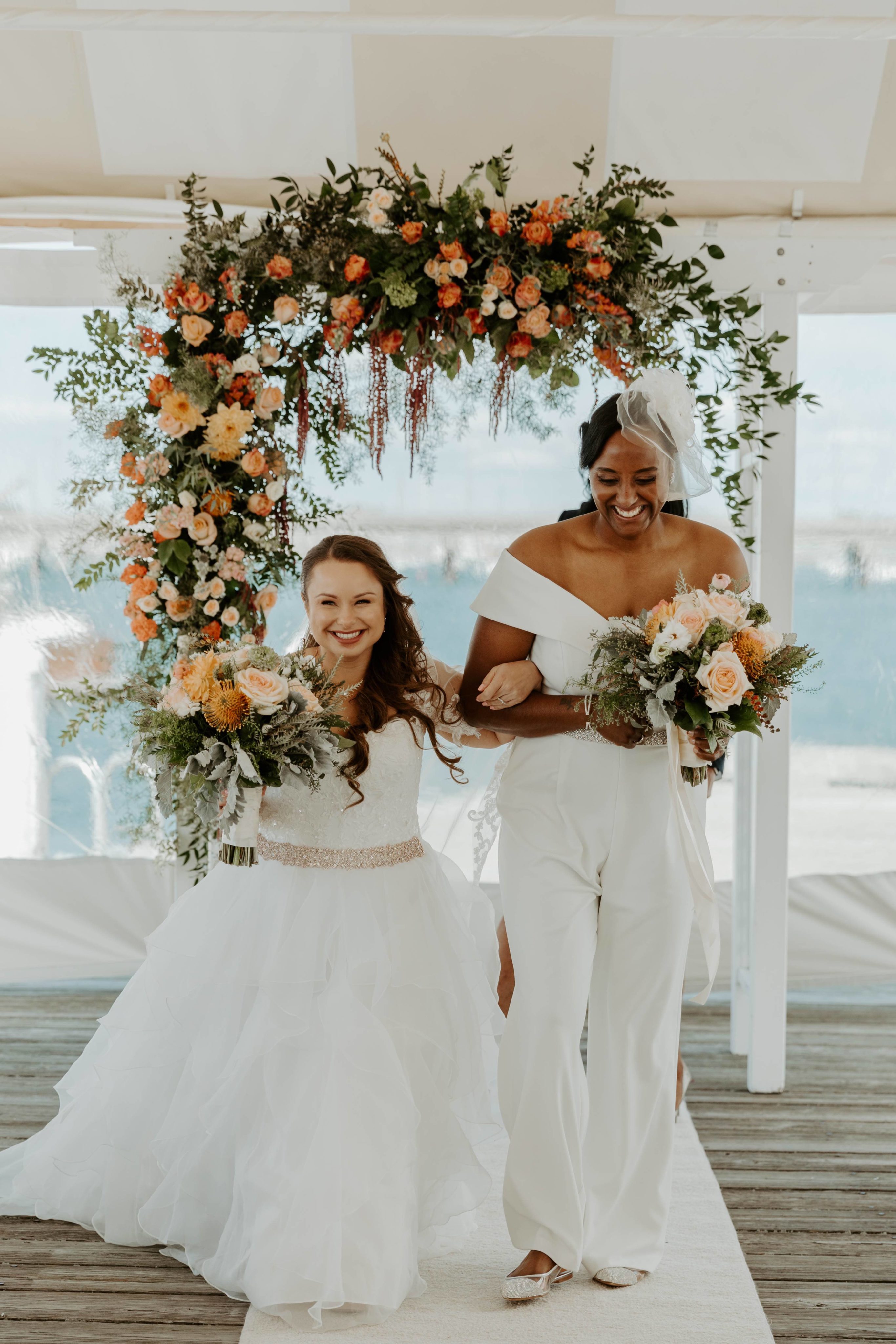 Did you shop together or was it a surprise on the day of the wedding?
We shopped together for Kindell's jumpsuit (after we were trying to figure out options based on COVID-19) but my dress and my complete look was a total surprise to her! She did surprise me with a custom corset back that the David's Bridal team created for her, a gorgeous belt, and really sweet accessories! Her look was PERFECT for our Newport wedding!
Do you have any dress-shopping advice for future brides?
Be open to trying different styles when you arrive at the store because neither of us ended up with what we originally thought we wanted. I thought I wanted something with sleeves and lace that was form-fitting and Kindell didn't really know what she would look the best in. We are so happy to have had stylists to assist with this journey who were honest with us and assisted in finding just the right fit.
Also, don't bring too many people—2 or 3 opinions are more than enough and the staff will be completely honest with you! Have a budget for your dress and don't forget that you will need to budget for alterations, accessories, and all the extras!
Did you have a first look? What came to mind when you saw your future wife for the first time in her dress?
Yes, we did! At first glance, my heart exploded in excitement! I had anticipated this moment for so long! We smiled and then the tears started! Kindell was taken aback during our first look and was overjoyed that I wore my hair down, and told me I looked angelic!
I thought I was going to cry but little did I know Kindell was in tears and couldn't stop crying! Doing a first look helped to easy so many of the jitters and feelings of nervousness that we had and so happy we decided on it! This moment was priceless! It was a perfect moment and confirmed how perfect we are for one another. We would absolutely suggest that you do a first look!
Tell us about your wedding day!
We were surrounded by close family and a few friends! We celebrated our love and journey and committed to one another.
Was there a highlight or most memorable moment of the day?
The first look! It was everything and took our breaths away. It was intimate, personal, and I wouldn't have wanted it any other way.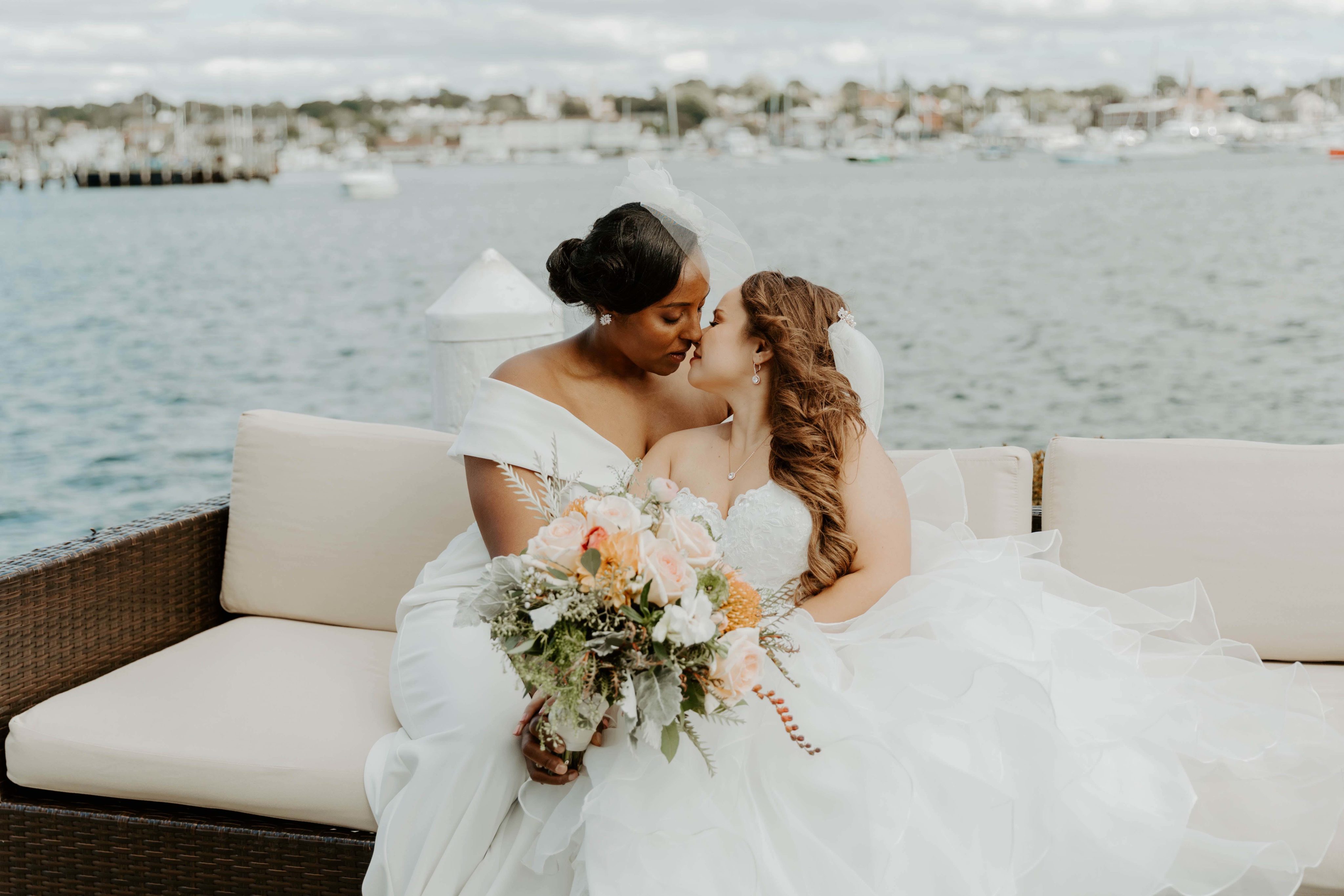 Did anything funny or unexpected happen?
We accidentally signed the wrong copy of the marriage license and had to resign the next day!
Is there something you wish you had known before the big day/while you were planning the wedding?
How fast the day would fly by and how to better pace enjoying each other while celebrating with loved ones.
What was your first dance song?
'Speechless' by Dan & Shay
What was your favorite DIY or personal touch?
We decided to throw an after-party reception at Tiny Bar in Providence, based on the number of people at our ceremony and reception and since we committed to a micro wedding. Also, we repurposed décor from earlier in the day and made gorgeous floral arrangements for the tables. We had custom masks with our name on them to celebrate safely with friends who weren't in Newport earlier that day.
What did you do to stay stress free on your wedding day?
We hired a wedding planner! Pearl Farquharson, of Designed by Delsie became our best friend through this process and helped me be at ease. She helped build trust that things would go smoothly and took care of everything behind the scenes. We can't thank her enough!
What's your best wedding planning advice? And what advice do you have for brides that are planning their weddings right now?
Hire a wedding planner! This is as great an investment as your photographer! Even when you think you have everything under control, there are things you may have never even thought of!
Add color and texture to your décor that your guests will love and have a huge impact! Invest in a photographer whose style you like and make sure it's not only based on your budget. Have an earlier ceremony (ours was at 1:00 PM) so you have the rest of the day to celebrate! It's YOUR DAY! Don't follow traditional rules – make your own new traditions with the person you are committing your journey to!
More Details:
Date: Sunday, September 20, 2020
Location: Regatta Place, Newport, Rhode Island
Dress Styles:
Kristina: Lace and Organza Wedding Ball Gown
Kindell: Cuffed Off-the-Shoulder Stretch Crepe Jumpsuit
Photographer: @ashleyolafssonphotography
Love this Waterfront Micro Wedding in Newport Rhode Island? Read more real wedding stories here!
We know how important your wedding day and special events are to you and we are doing everything in our power to serve you! You can shop with us 24/7 at davidsbridal.com or come see us at your local David's Bridal. Plus we are here for you to help guide you through your wedding planning! See tips for starting to plan your wedding at home, shopping for your wedding dress online with confidence, and more on the blog.
Related Posts: