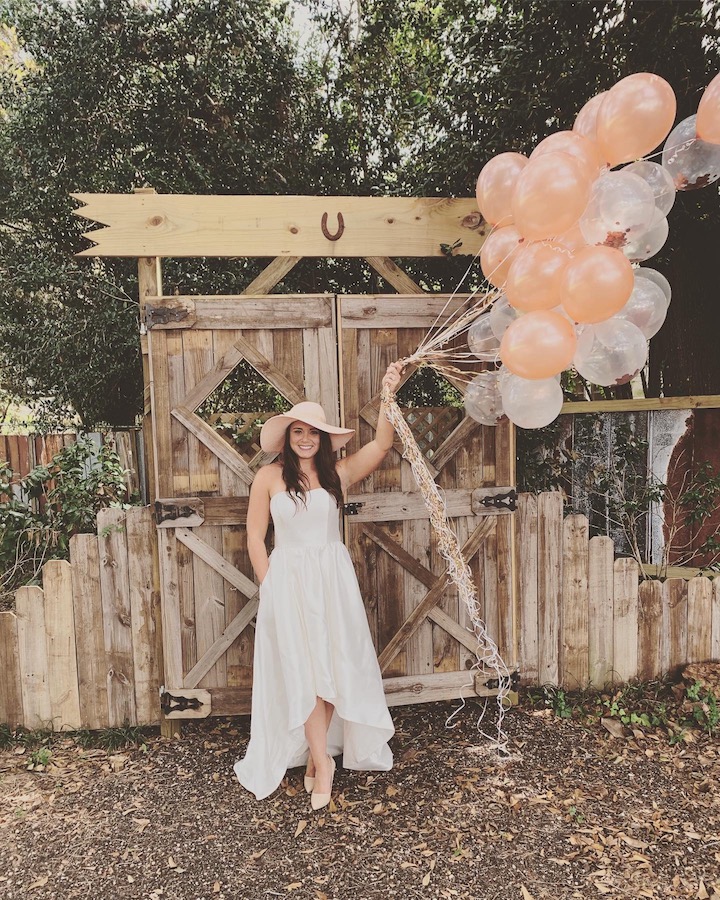 22 Mar

How To Plan a Bridal Shower
The 411 on celebrating the bride-to-be.
Pop the bubbly! It's time to celebrate the bride-to-be with a bridal shower! Not sure where to start? Keep reading for answers to the most frequent questions about how to plan a bridal shower.
Who hosts a bridal shower?
Between the bridesmaids, mother of the bride, mother of the groom, relatives, and close friends, there are so many people who want to share the love and honor the bride-to-be. Any of these people can host a bridal shower. Sometimes, there's even more than one shower to accommodate friends and family scattered across the country. It's wise for the mother of the bride and bridesmaids to discuss who's spearheading things so that the responsible individual(s) can get the party planning started.
When do you host a bridal shower?
Anytime from six months to a few weeks before the wedding date is a great time to get guests excited for the festivities to come. The bride will feel so special with her loved ones surrounding her, and guests will get to know other attendees before the big day.
Where do you host a bridal shower?
Whether the shower takes place at a local restaurant, event space, or someone's home (a great way to save some money!), it's important to pick a location that makes for easy mingling and allows for everyone to interact with the bride and bridesmaids.
Who do you invite to a bridal shower?
There's no "right" size for the number of guests at a bridal shower. Start with consulting the bride's wedding guest list—nothing is more awkward than inviting someone to a pre-wedding event and not the actual wedding. Typically, the key women in the bride or groom's lives are invited, plus close friends and family friends. It's particularly fun to get different generations together, from flower girl to grandmother of the bride, to bond over the bride-to-be! For those who may live far and can't make the in-person celebration, consider a virtual bridal shower so they can still participate in the fun.
How do you choose a bridal shower theme?
When it comes to the theme of this soon-to-be-Mrs soiree, consider the bride's personal style, interests, hobbies, or wedding theme. The event should feel like an extension of what or things she loves. Some popular bridal shower themes include: Botanical Garden, Tropical Bash, Champagne Brunch, Sparkle & Glam gathering, or a Rustic Backyard Picnic. Infuse the theme throughout every piece of planning from coordinating decor, menu items, dress code, and party favors.
What about bridal shower decorations?
It's always nice to use the wedding color palette for bridal shower invitations, hosts' apparel, and shower decorations to give guests a flavor for the upcoming big day—check with the bride to find out her preferred colors and vibe. For an Insta-worthy focal point that's yummy too, set up a prosecco or donut wall!
What are popular bridal shower activities?
A room filled with the bride's family and friends is a wealth of knowledge—use them to your advantage and ask everyone to fill out advice cards for the bride-to-be. All of the people in attendance, regardless of their relationship status, will have great tips!
You can also decorate a wall to serve as the backdrop for a DIY photo booth, set out disposable cameras along with photobooth props. The bride can send the developed snaps with her thank-you notes!
Should you give out bridal shower favors?
A bridal shower favor does not have to be extravagant! A small token of appreciation for joining and showering the bride-to-be makes for a lovely parting gift. Think: mini sunscreens for a summer gathering, sweet smelling candles, or bottle stoppers for the wine loving bride.
Other helpful bridal shower advice?
When guests arrive at the shower, hand them blank envelopes from a personalized notecard set and ask them to write down their address. This way, the bride will be able to easily send a thank-you notes! And remember: Every bride is different when it comes to gifts at her bridal shower. Some brides like to do a full unboxing for their family and friends, while others would prefer gifts be left on a table. A very happy medium is a "display shower," where you ask guests to wrap their presents in transparent wrapping paper or any other way that keeps the items visible, allowing for guests to see what others gifted without requiring a lengthy unwrapping session.
Speaking of gifts: encourage the bride-to-be to create a registry with her most-desired gifts (or cash!) in time for her bridal shower. Guests will appreciate the direction once they receive their invitation! Consult our registry 101 guide to get started!
Feeling confident about how to plan a bridal shower? With these common questions answered, you're prepped to plan the ultimate party! See more bridal shower inspiration on our Pinterest and start shopping for all the perfect gifts and decor at davidsbridal.com!
Featured image uploaded by Valen Williams
Related Posts: