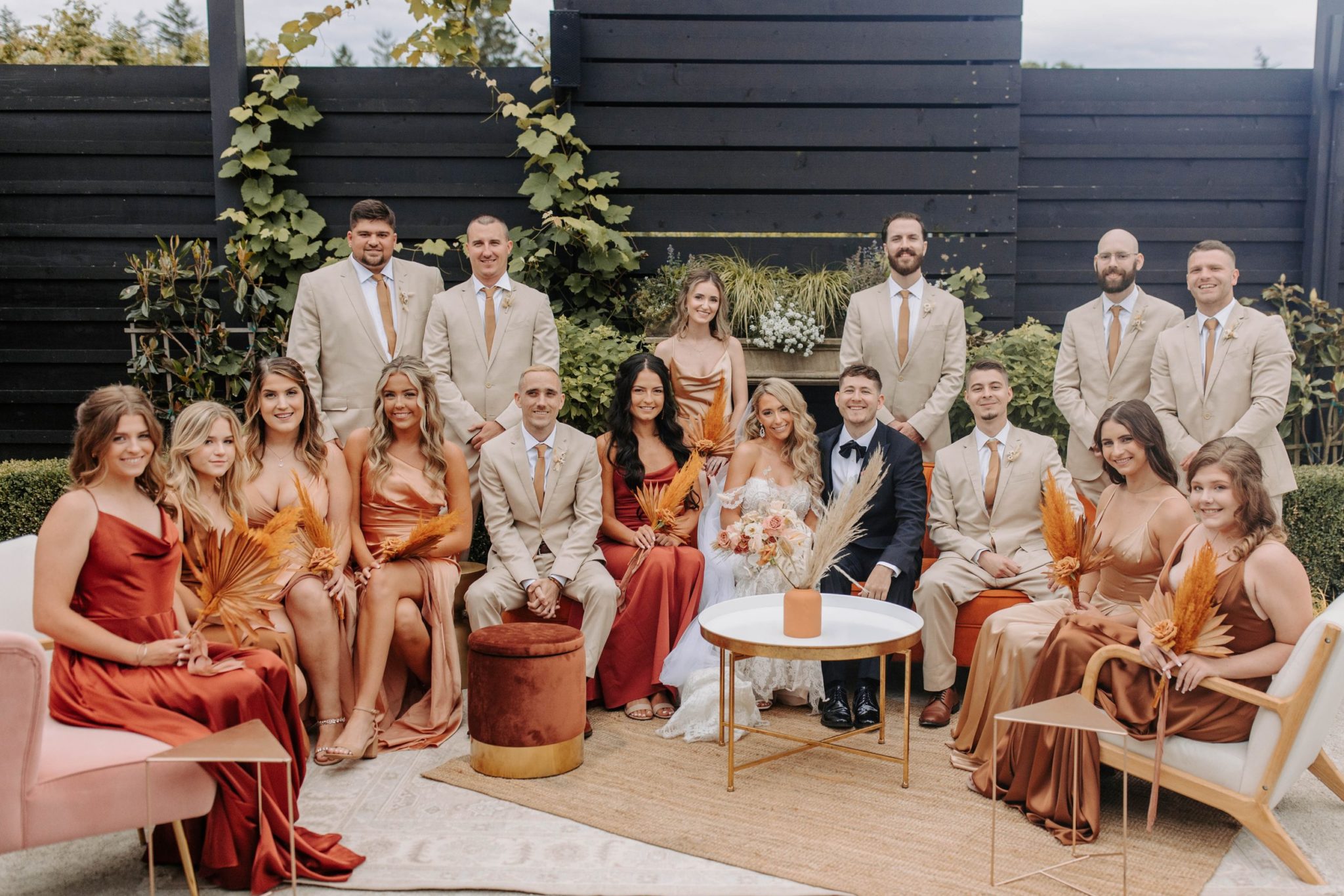 26 Aug

Real Wedding: Lexis and Michael
Modern Boho Wedding in Pennsylvania
Real weddings are so inspiring! To get you in the mood to plan, we asked real brides to spill the details on everything from getting engaged and finding their wedding dresses to the special touches and surprising moments that made their celebrations completely one-of-a-kind. Are you a bride-to-be looking for some inspiration? Lexis, our associate buyer here at David's Bridal, kept the Galina Signature bridesmaid dresses in mind when planning her modern boho wedding in Pennsylvania. Keep scrolling to see more details from Lexis and Michael's special day.
Briefly tell us how you and your fiancé met! How did you know that he was the one?
My husband and I met in high school 11 years ago. He was a senior and I was a sophomore at the time. We had a mutual friend that introduced us in the hallway. We went on 1 date together and instantly connected, and we have been inseparable ever since. I always knew we would be together forever but once we made it through college and moved in together it was clear as day. I knew one day I would marry him.
Tell us your proposal story!
Every year we take a long weekend vacation to Ocean City, NJ. In August 2020, we took our annual trip and I thought nothing different of it. One night, my husband wanted to re-create a sunset picture we took on the main bridge a few years back. He brought his go pro and camera (still thought nothing of it), and once he had everything set up, he got down on 1 knee and proposed. I was in shock!!! I knew one day it would happen but he totally caught me off guard. When we walked down to the bottom of the bridge, he surprised me with having all our friends and family there to congratulate us and pop champagne.
Did you do a Bridesmaid proposal?
Yes! I made them all customized bridesmaid proposal boxes. Each box had their name on it. Inside I had a small bottle of prosecco, a small succulent from our venue Terrain, a candle, and perfume. I gave them all their boxes in person on a special day we all planned to hang out!
Tell us about your bachelorette party!
We ended up having a conjoined bachelor and bachelorette party since all our friends are friends with each other. It was honestly the best decision we ever made. My maid of honor and the best man planned out each day for us.
How did you decide on your bridesmaids' dresses?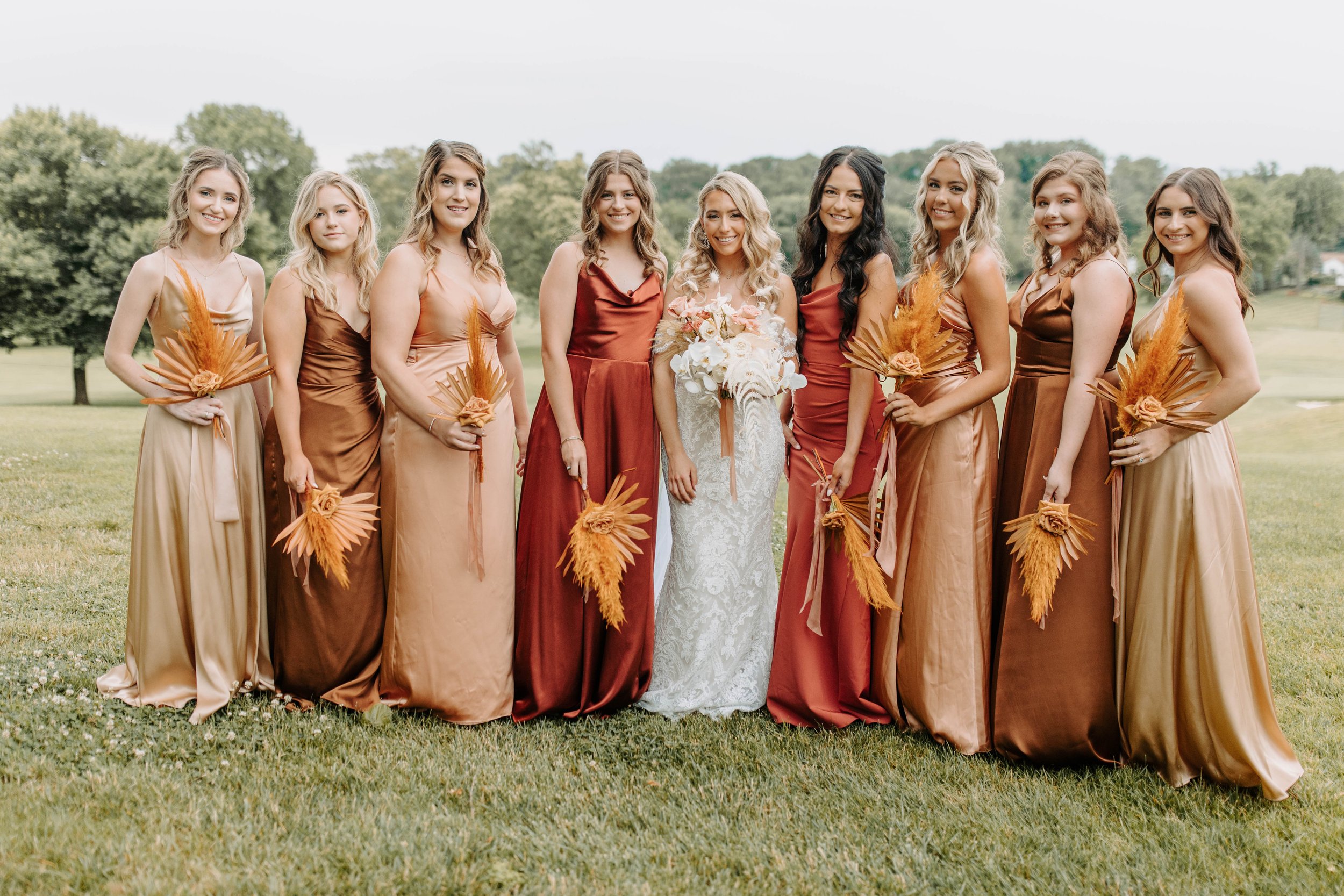 In the bridesmaid's department, I was the associate buyer for our new brand Galina Signature. I wanted all my bridesmaids to be in this line because it was so near and dear to my heart. My senior buyer and I were dreaming of this day to coordinate the whole party together from the new successful line we launched together.
I wanted a modern boho themed wedding, so my color inspiration came from wanting colors to tie back to that theme. We had a new color launching, Sundial, that I wanted to include as well. I landed on different shades in a metallic palette, including Golden, Tawny, Sundial, and Cinnamon. My favorite details about my bridesmaids' look were the overall sexy yet glam aesthetic, the high shine element of the luxurious charmeuse fabric, the delicate button details, and how universally flattering every style was on all my girls. When the bridal party's dresses were picked I couldn't wait to see them all in their dresses standing together. I knew they were all going to look gorgeous!
What made the morning of your wedding special?
Having all my girls and family by my side for support that morning. My maid of honor gifted me with a photo album of all the memorable events that took place from the engagement until now. It had our photos from my engagement, engagement party, bridal shower, and bachelorette weekend. She even left spots for us to add for our wedding and honeymoon.
Who was your maid of honor and how did she make the day special for you?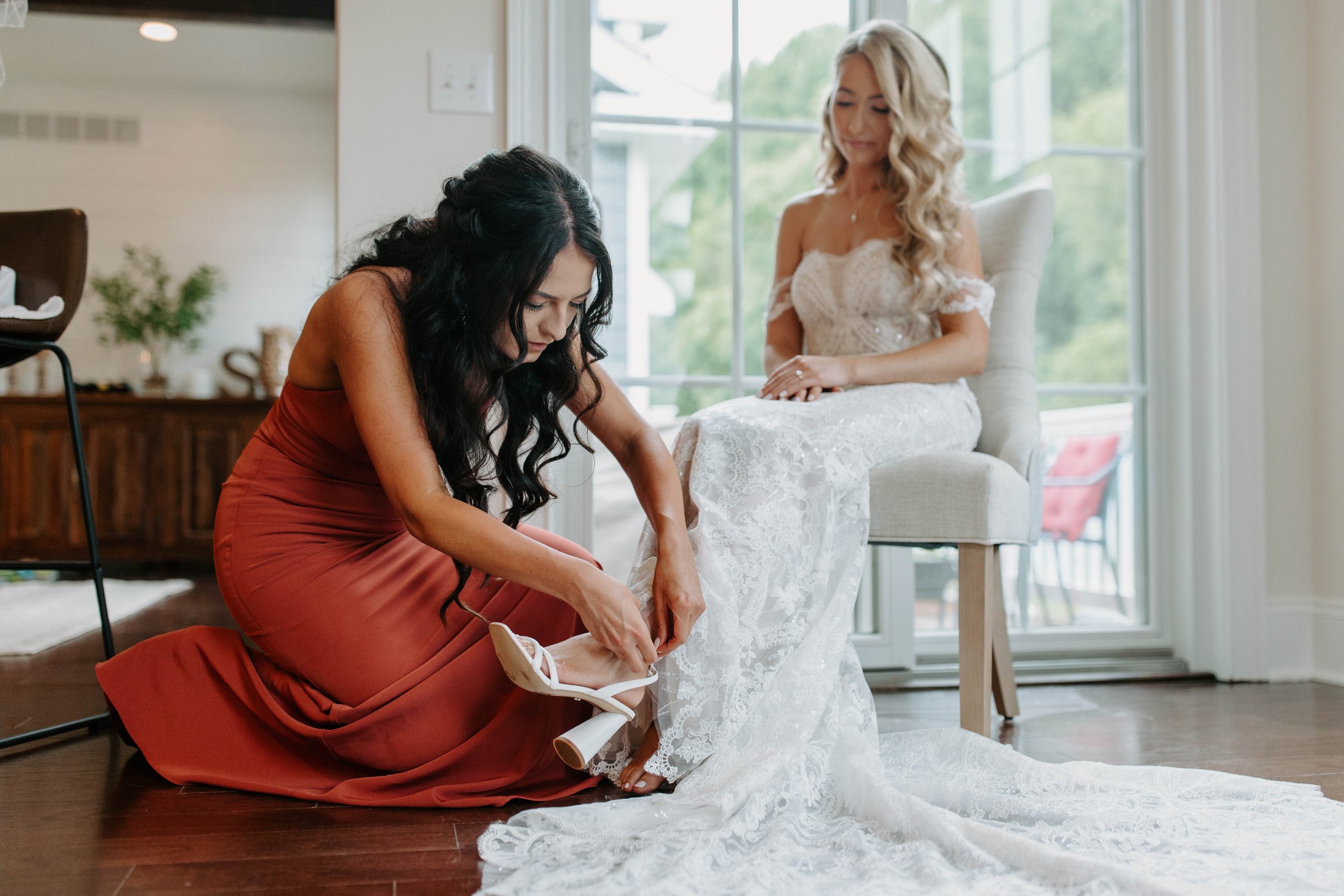 My maid of honor was my best friend since middle school. She is more of a sister than a best friend, she really went above and beyond for me during the whole wedding experience. She even did my hair the morning of. It came out way better than I expected. I got so many compliments. If it wasn't for her, I truly don't think I would have looked the way I always imagined on my wedding day.
I decided to differentiate her dress from the rest of the bridal party. It was a different fabric and silhouette, and a stretch crepe trumpet style dress. She was the only girl in a matte fabric.
Tell us about your wedding day!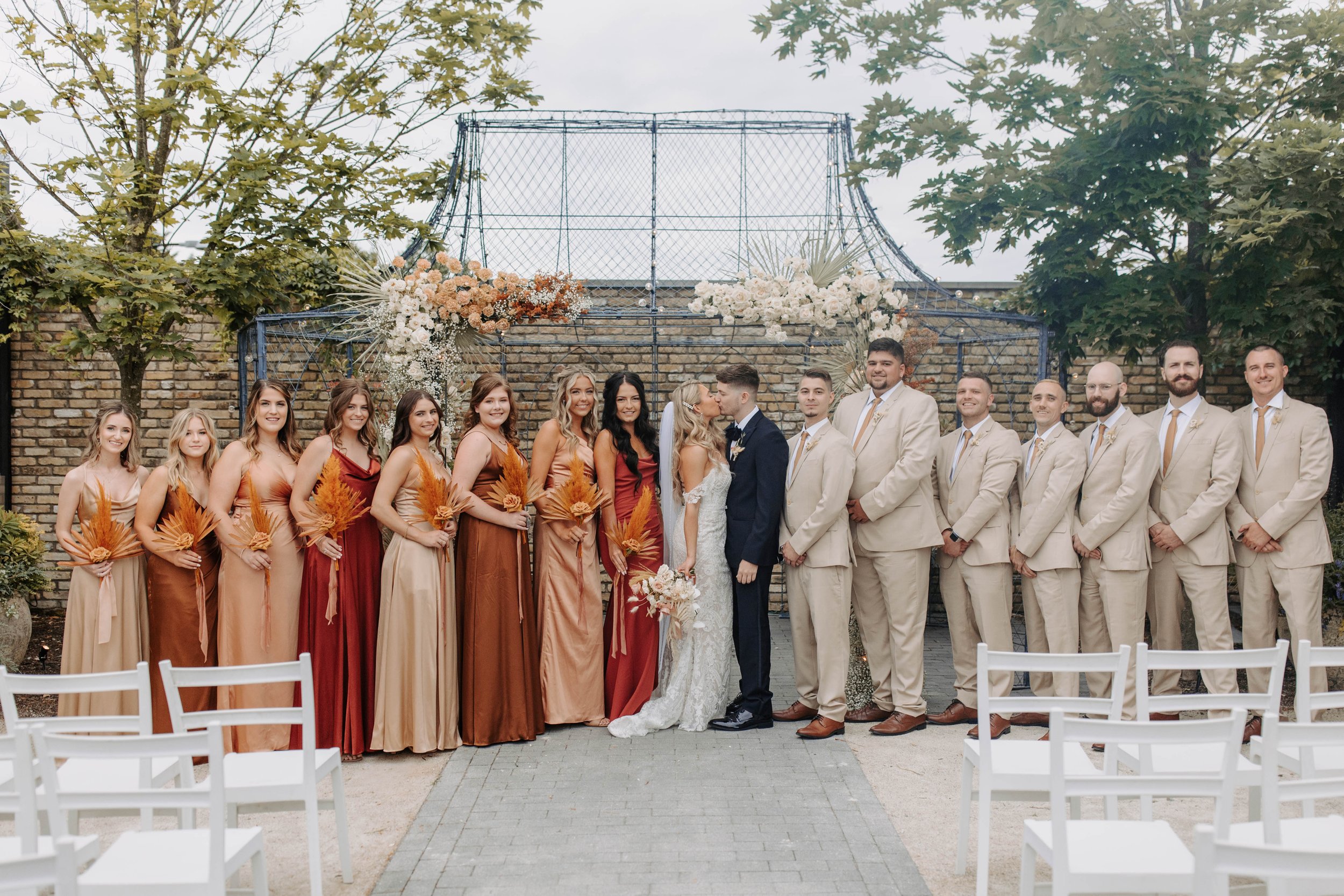 I know it is cliché but it honestly was a DREAM. All the details came together so perfectly. It wouldn't have been the perfect day without the help of all my amazing vendors, friends, and family. It was everything I ever imagined.
Was there a highlight or most memorable moment of the day with your bridesmaids?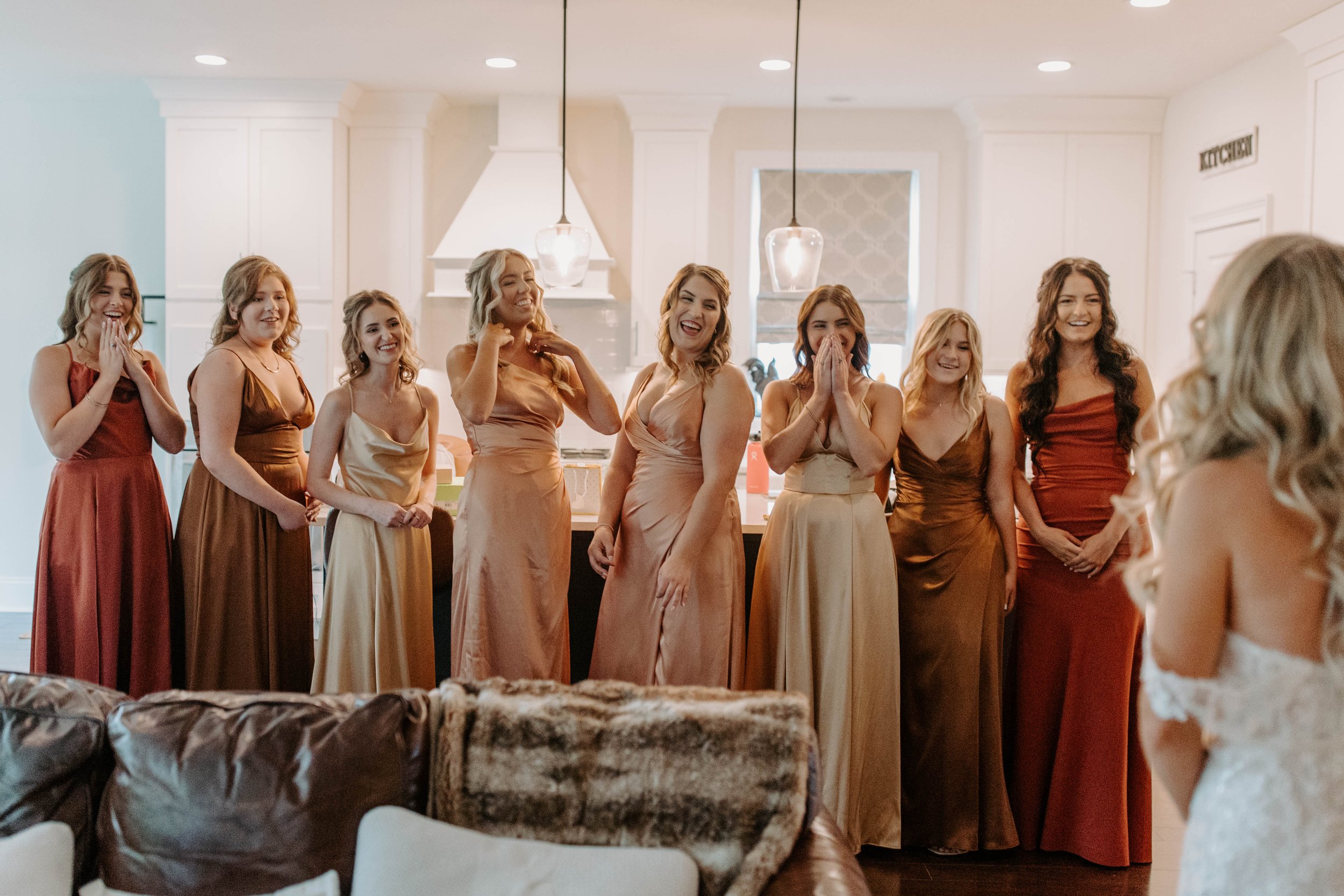 The first look with my bridesmaids when we were getting ready was the most memorable moment. After seeing their reactions to me, I knew my husband was going to be just as if not more excited when we went to do our first look. We did a huddle together a made a chant to start the day off.
Do you have any bridesmaid dress shopping tips for future brides?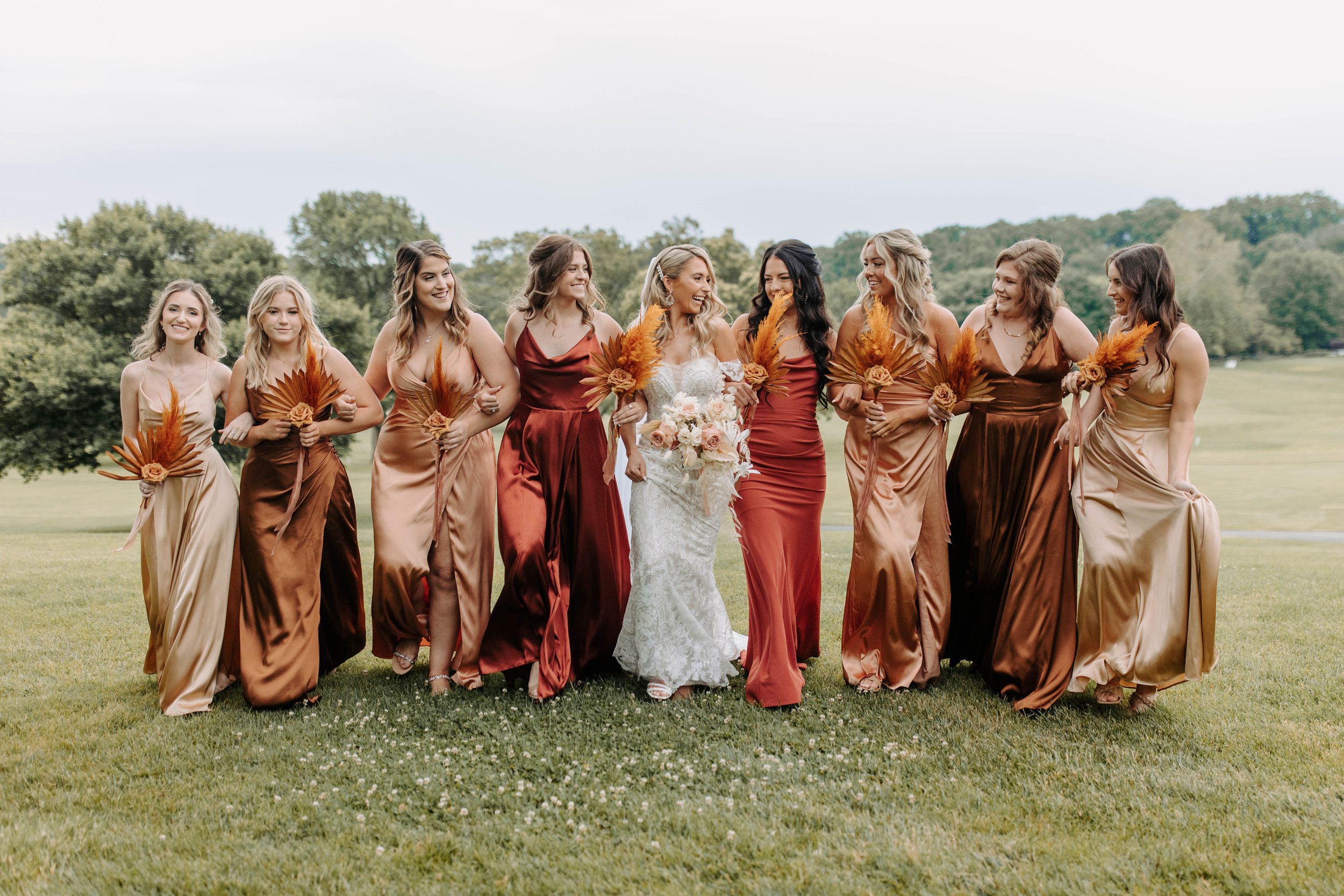 Let your maids pick the style that best fits them. It's important that they feel and look their best. I had my maids go in store to try on dresses. I first let the girls select the styles they loved the most, then I asked them to pick the color they would want to wear from my palette.
What's your best wedding planning advice?
Don't stress over the small things and how they will come together. Follow your vision and everything will work out as planned and be even more perfect than what you envisioned. Soak up every moment on your wedding day because it goes by faster than you think it will. Take the time to have special moments with your new husband. Take a moment to take it all in and be happy of all you accomplished to get to this point. It's a lot of hard work to plan a wedding! Being able to take a moment to appreciate all the details is very rewarding. P.S. It's okay to take a breather and sit down and enjoy your meal and wedding cake!
More Details:
Wedding Date: June 6th, 2022
Location: Terrain at Devon, PA
Bridesmaid Dress Styles & Colors: GS290017, GS290018, GS290019, GS290035, GS290054 in Golden, Tawny, Sundial, and Cinnamon
Photographer: Jaclyn Steele @jackiesteelephoto
Inspired by this modern boho wedding in Pennsylvania? Read more real wedding stories here!
We know how important your wedding day and special events are to you and we are doing everything in our power to serve you! You can shop with us 24/7 at davidsbridal.com or come see us at your local David's Bridal. Plus we are here for you to help guide you through your wedding planning! See tips for starting to plan your wedding at home, shopping for your wedding dress online with confidence, and more on the blog.
Planning a wedding? Sign up for our Diamond Loyalty program—it's free —and find local wedding vendors! Follow us on Instagram, TikTok, Pinterest, and Facebook for more real wedding inspiration, or click here to book an appointment.
Related Posts: