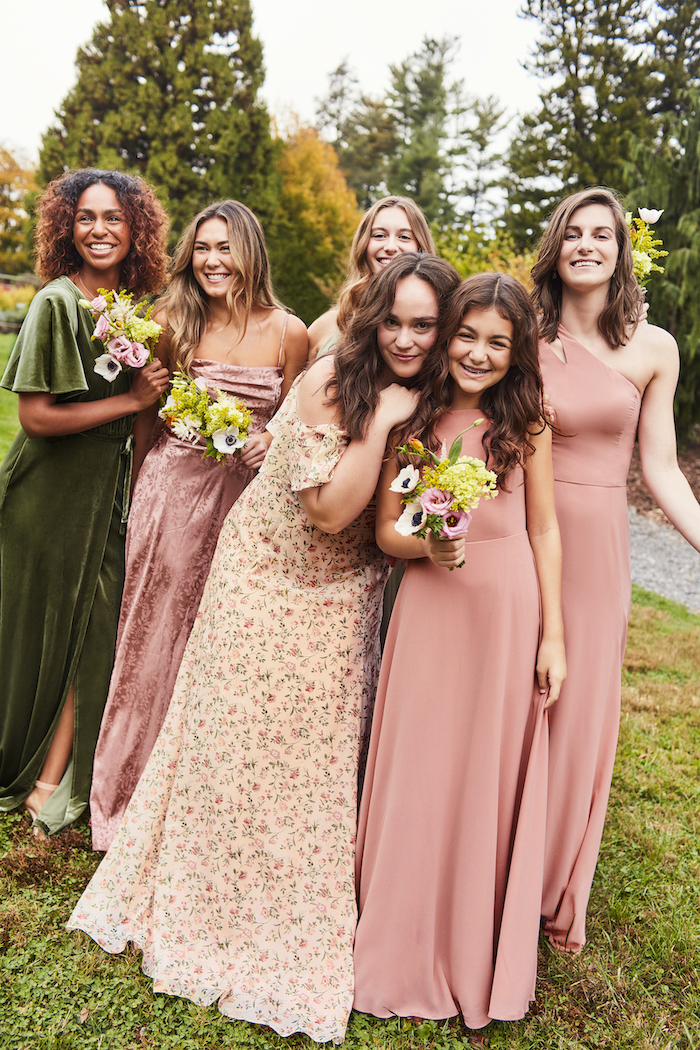 15 Feb

Bridesmaid Dress Shopping: What to Expect
She asked, you said yes, now it's time to shop!
Your bestie (or sister, or cousin, or roomie) asked you to be by her side on the biggest day of her life. What an exciting time! As you prepare to find a beautiful bridesmaid dress you may get a little overwhelmed. We're here to help. Keep reading for tips from THE experts in bridesmaid dress shopping, including when to order, how to budget and how to save BIG!
Make an Appointment to Try On Bridesmaid Dresses
When shopping for bridesmaid dresses, we always recommend making an appointment at your local David's Bridal store. Especially if you're visiting on a weekend, booking an appointment means you'll have your own space and personalized attention. During this appointment, we will help you get acquainted with our collection of bridesmaid dresses and, if the bride hasn't already chosen, our palette of more than 60 colors. But that's not to say we can't accommodate a walk-in visit! We'd love to see you—and will help you find a style you love—at any time.
Pre-appointment Planning
Once you've booked an appointment, do a little research on styles you might like to try on. The most important step before you start searching is to ask the bride for her opinion and vision. You want to make sure that the dress you pick fits in line with exactly what she wants on her wedding day. If you already have a few specific styles in mind, go ahead and save your favorites to talk about with your stylist by clicking the heart on the product image, or pin it! If you're not sure where start, take our bridesmaid style quiz for personalized recommendations, browse our #DBMaids posts on Instagram, or check out real maids in our dresses for inspiration.
What To Bring To An Appointment
We recommend bringing the undergarments and shoes you plan to wear to the wedding—but if you haven't picked them out yet, no worries. We can help with them, and other accessories too!
Size Guide
Our bridesmaid dresses are offered in sizes 0–30, and you can try on a dress in your size to get an idea of how your specific style will fit. At your appointment, you will get expertly measured, so make sure you are ordering your correct size for maximum comfort. We also offer extra-length options for tall bridesmaids. You may still need a little nip and tuck to get the perfect fit, our expert alterations team will make the right adjustments in order to take care of it.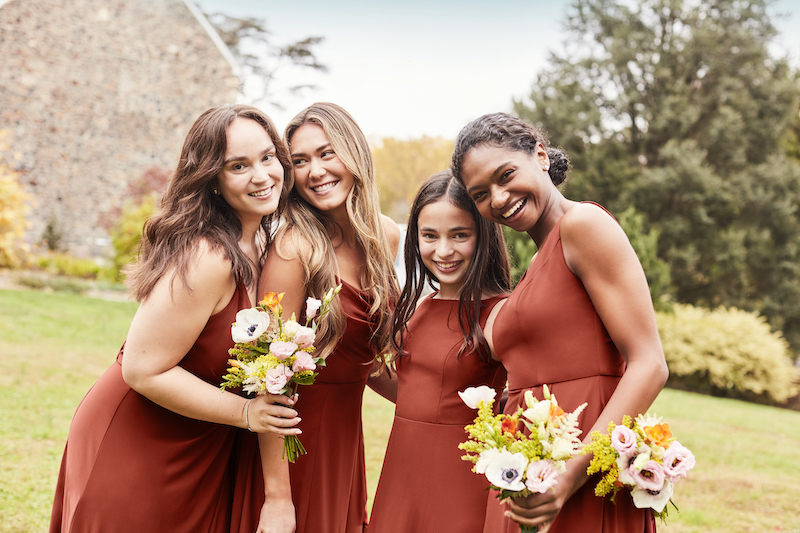 Ordering Your Dress Ahead of Time
In general, you should shop about six months out to allow for the order to arrive and any alterations needed. If you have a shorter timeline, shop our ready-to-ship bridesmaid dresses that will ship to you in just a few days!
Budget and Save Big
When buying your dress, make sure you are clear about your budget and what you can afford. Our bridesmaid dresses start at $99.95, so we're sure you'll find a style you love that won't break the bank. If you're allowed to pick your own style, consider choosing one that you could wear again; it could become a staple in your closet!
Planning a wedding? Sign up for our free Diamond Loyalty program and sign up for Pearl by David's to find local wedding vendors. Follow us on Instagram, Pinterest, TikTok, and Facebook for more wedding inspiration and book an appointment to find your dream dress!
Related Posts: