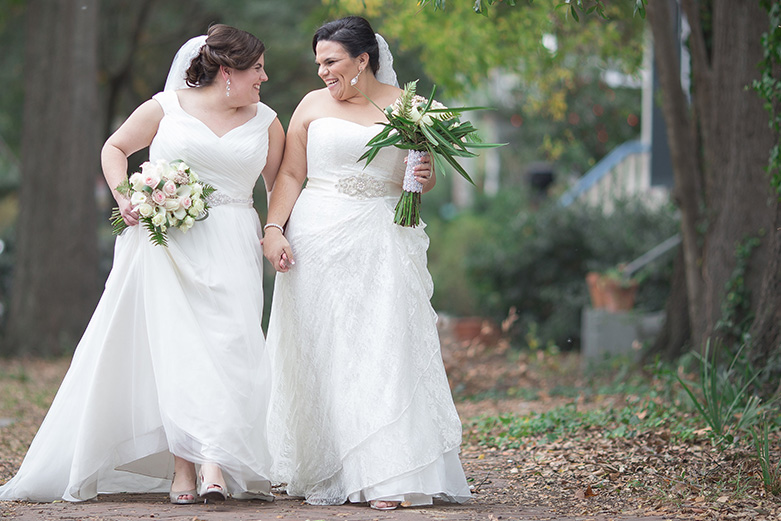 28 Jul

Real Wedding: Nicole & Michelle
A vintage winter wedding in Savannah
Real weddings are so inspiring! To get you in the mood to plan—and party!—we asked real brides to spill the details on everything from getting engaged to finding their wedding dresses to the special touches and surprising moments that made their celebrations completely one-of-a-kind. Read on for Nicole & Michelle's Vintage Winter Wedding in Savannah, Georgia.
How did you find your dresses?
Each of us had our own style. Nicole wanted more of a traditional silhouette and Michelle wanted a more modern look. Although we didn't want to see each other's dress before our big day, we wanted our dresses to complement one another when we stood next to each other. We went together to David's Bridal and were on two different sides of the store. We never saw what the other was trying on, but our bridesmaids ran back and forth to make sure our dresses looked good and the colors matched.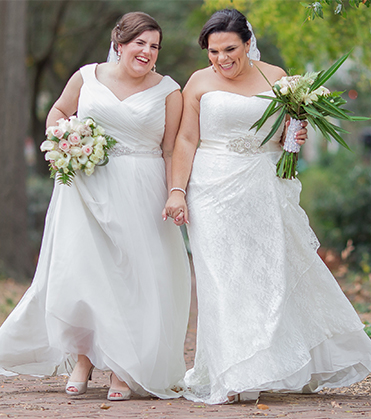 Tell us your engagement story!
We both wanted to propose to each other and picked a day when we'd be in Disney World. Nicole set up a scavenger hunt around Epcot that ended on the bridge between London and Paris. Friends held up a sign that said, "Will you marry me?" Of course Michelle said yes! Later, while we were on the Test Track ride, Michelle secretly held up a sign with the all-important question while Nicole was screaming her head off. Nicole didn't realize anything was going on until she got off the ride and saw the picture. When she turned around, Michelle was on one knee.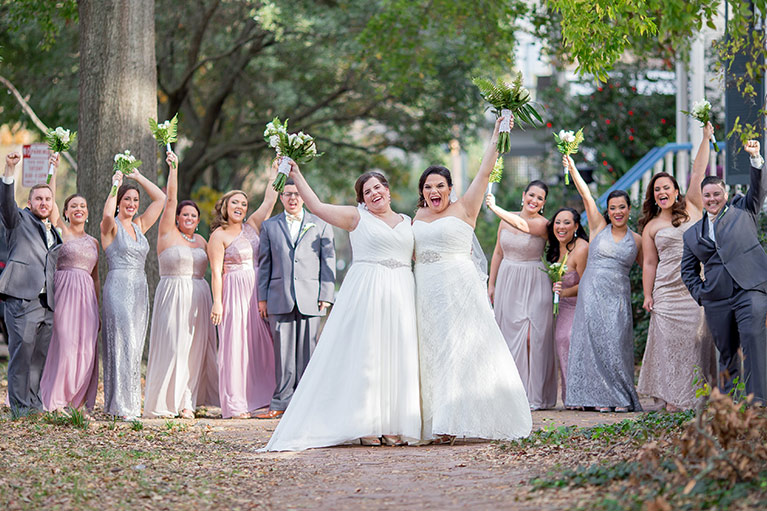 How did you pick your wedding venue?
We live in Savannah, Georgia and wanted a unique venue with an antique feel. We absolutely fell in love with Savannah Station. It's an old railroad station with exposed brick and wooden beams. Our venue already had enough character that we just added decorations to accent it—antique lanterns and birdcages with floral touches and candles. It was everything we wanted.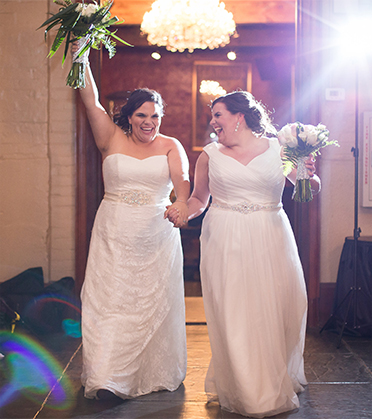 Best wedding advice:
Enjoy the day! Spend at least 5 minutes alone with your new spouse after the ceremony. It allowed us to take in everything that was happening.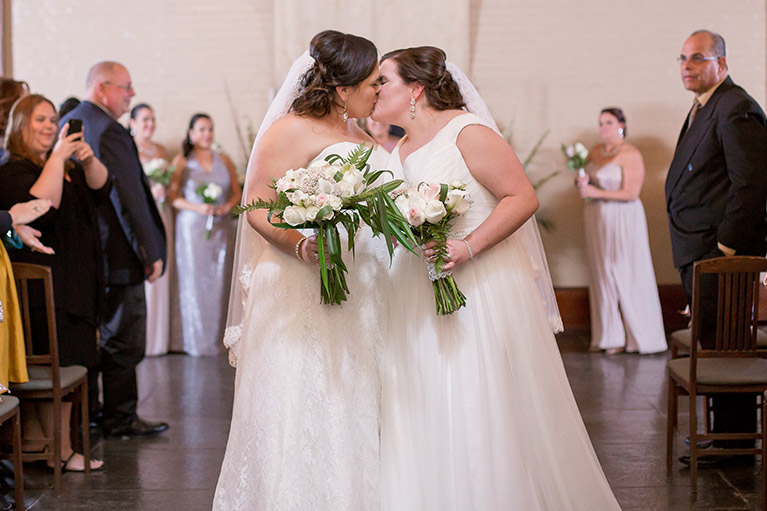 What was your favorite personal touch?
We are huge Disney fans and we had little Disney touches throughout our wedding decorations. Our Florist, Jeffrey Kessler, put little hidden Mickeys in our centerpieces, and some of our antique key place cards were in the shape of Mickey.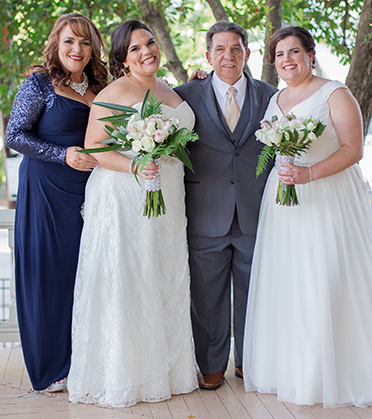 More Details:
Silhouettes: A-Line
Location: Savannah, Georgia
Date: November 10, 2016
Photographer: Two Hearts
Wedding theme: Vintage chic
---
Find your style, stay in budget. Our stylists can help you put together a look that checks all the boxes. MAKE AN APPOINTMENT
Related Posts: