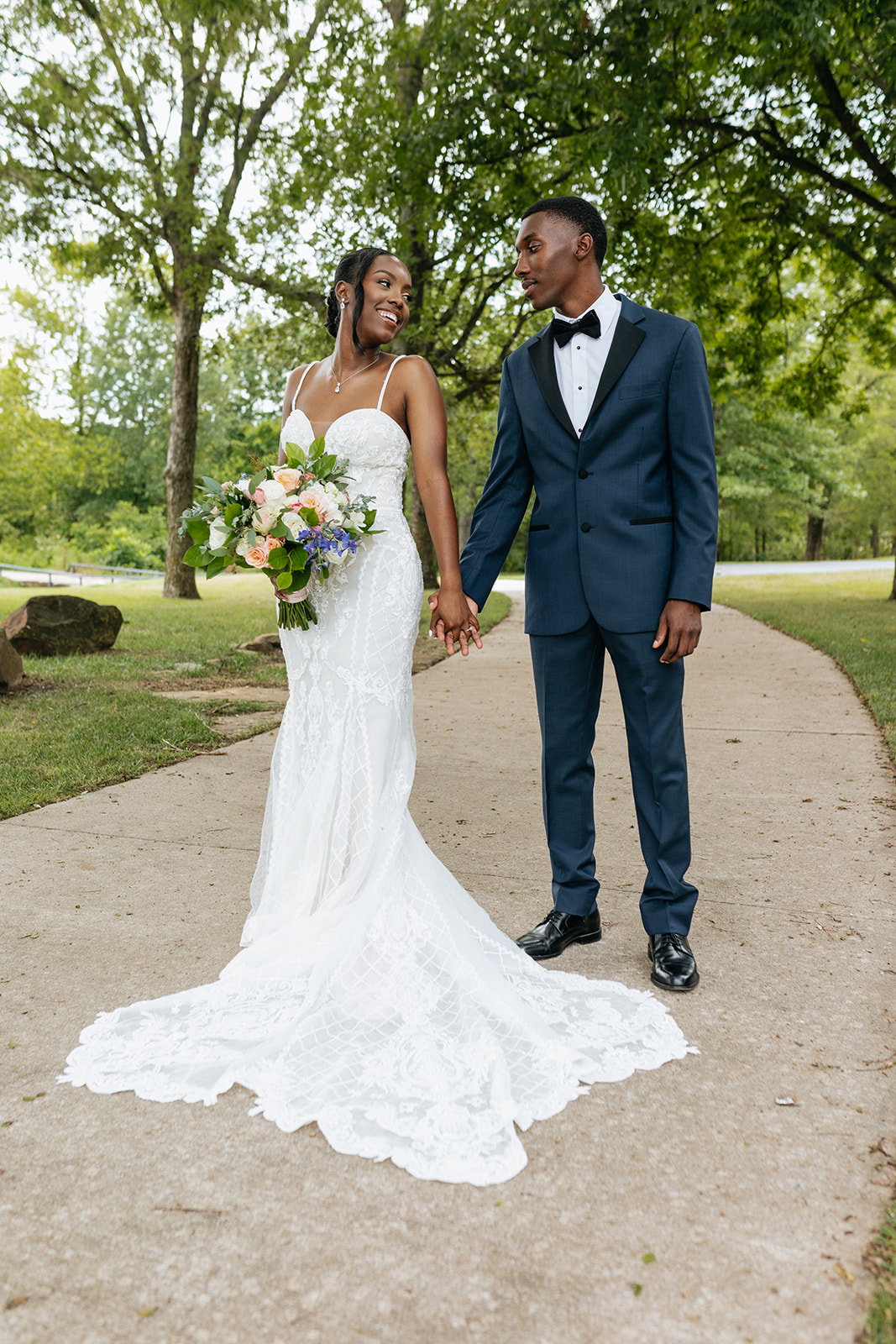 06 Sep

Real Wedding: Roshawna and Mark
Classic Wedding In Oklahoma
Real weddings are so inspiring! To get you in the mood to plan, we asked real brides to spill the details on everything from getting engaged and finding their wedding dresses to the special touches and surprising moments that made their celebrations completely one-of-a-kind. Are you a bride-to-be looking for some inspiration? This couple wanted to keep things timeless with their classic wedding in Oklahoma. Keep scrolling to see more details from Roshawna and Mark's special day.
Briefly tell us how you and your fiancé met! How did you know that he was the one?
We met when we were 16 years old working at a local grocery store. For me, I knew my husband was the one because of how I could always be myself around him, and because our love felt so natural.
Tell us your proposal story!
About a year prior to us getting engaged, my husband sent me a song on Apple Music and when I heard it, I said "I would walk down the aisle to this." Fast forward to 2020, one night while I was studying at my desk (I was in nursing school at the time), my husband turned on that song and asked me to marry him right there in the middle of our little 500 sq. ft. apartment. It was just us, it wasn't fancy, but I'll always love our proposal story just because it will always be a reminder of where we started out as a young couple.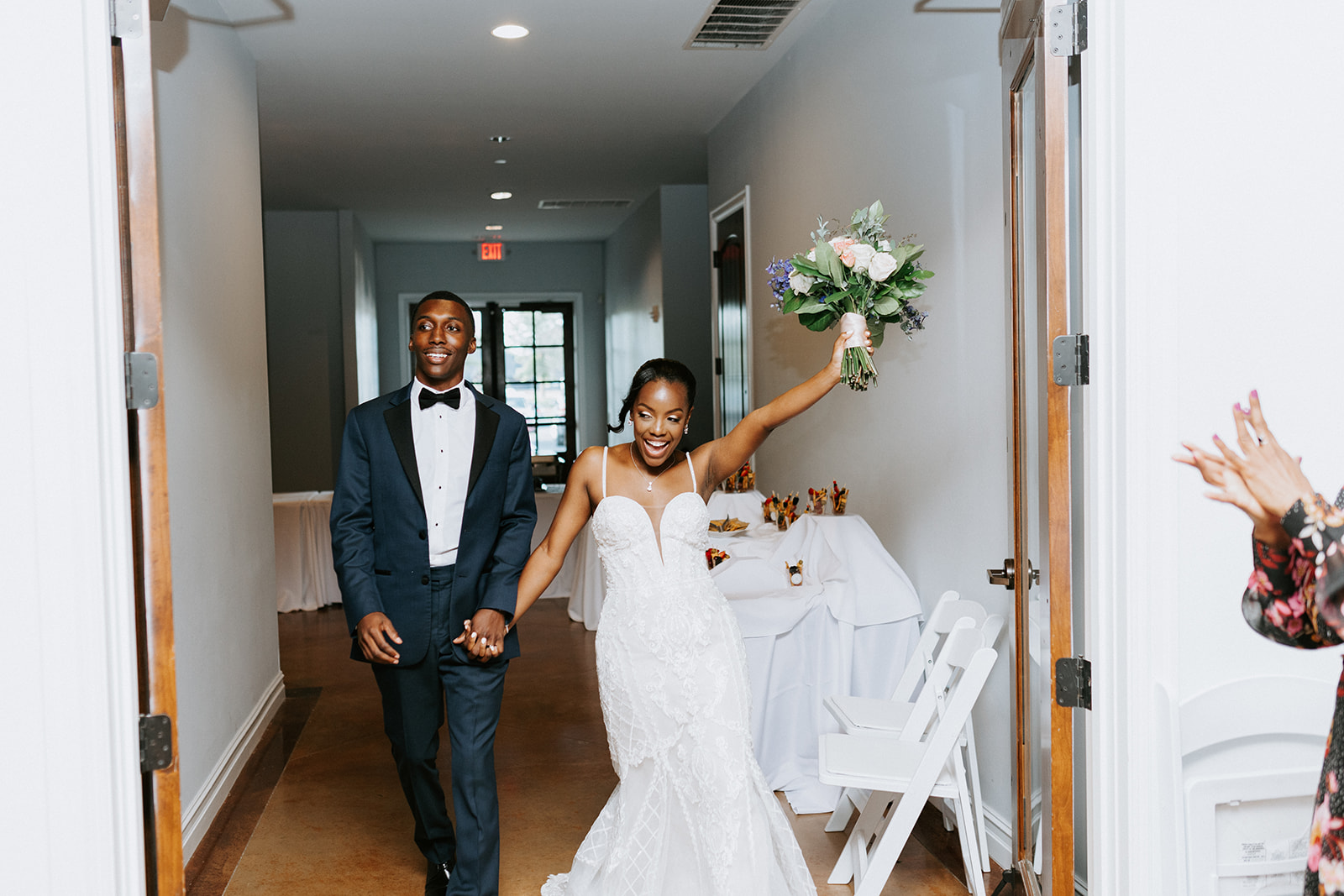 Do you have any wedding dress shopping advice for future brides?
Save a few dresses on your phone before your appointment so you can know what you would like to try on. I am an organized person, so I went to the store, tried on 3 dresses, found the one, and was out in 45 minutes!
What was your favorite detail about your look?
I loved the details on my dress and how it fit my body. I felt like my dress was custom-made for me.
Tell us about your wedding day!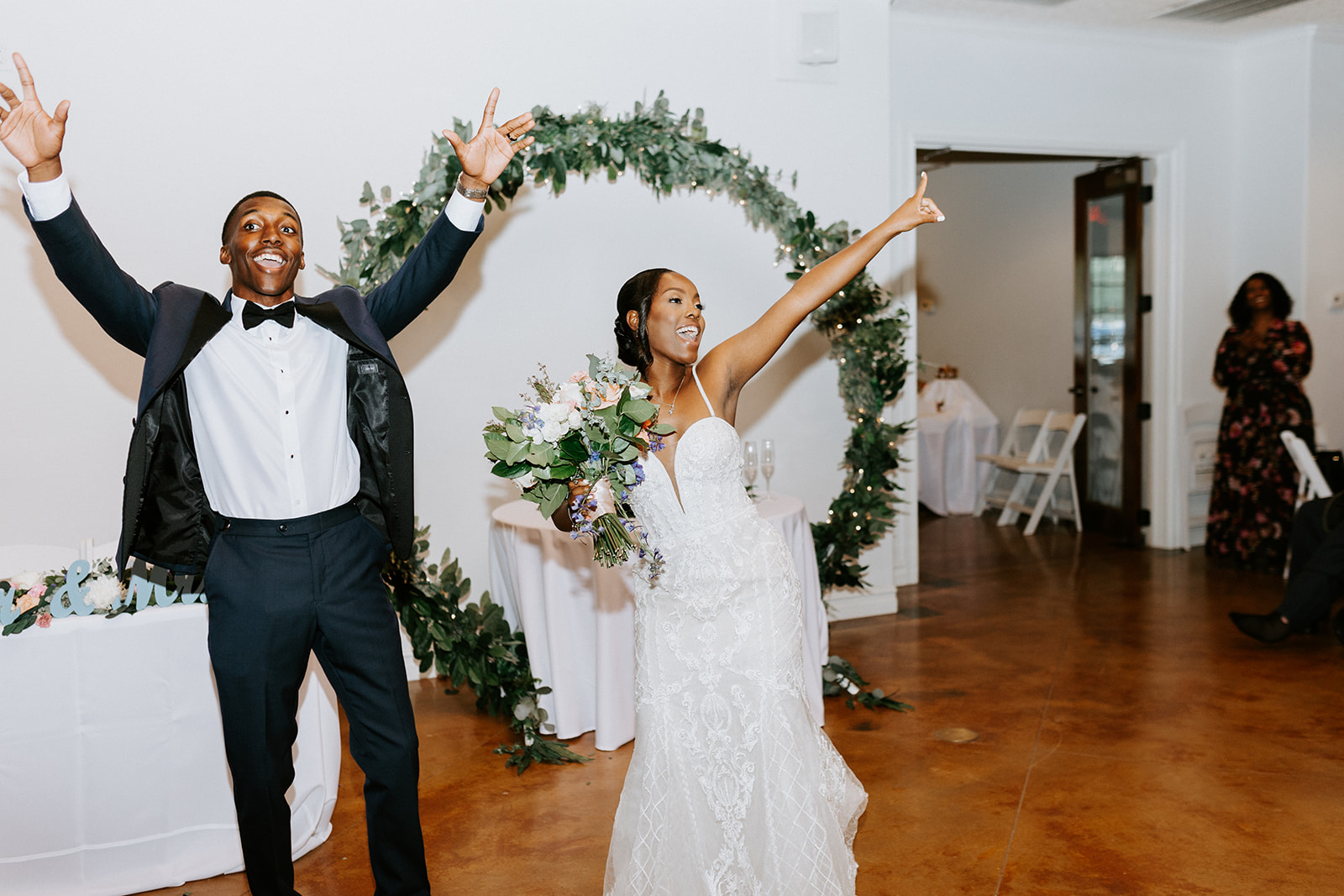 It was perfect in every way possible. We got married in July in Oklahoma which is typically the hottest part of the summer season. But, we were so lucky that we got the only 80-degree day of the summer for our wedding day. The weather was nice and pleasant for our outdoor ceremony. Some of the things we did were have an unplugged ceremony, we had a buffet-style Italian dinner, a 360-spin booth (my favorite), and an open bar! Thanks to our wedding coordinators, we both agreed afterward that our day couldn't have gone any better. We did not have to bother with setting things up or coordinating details with our vendors. We were able to take in every moment of our big day without any stress!
Was there a highlight or most memorable moment of the day?
The ceremony. It was so emotional, and I cried all the way down the aisle. After it was all over, I realized how happy I was that we had an unplugged ceremony. I felt like our guests were able to recount so many of the details because they weren't on their phones trying to take pictures or videos.
Did anything funny or unexpected happen?
Something I discovered after we got our wedding photos back was that my niece, our flower girl, stopped and hugged her other grandma and grandpa while she was coming down the aisle. She's too young to understand why they would be there, so she was surprised to see them in the audience. I didn't get to see it in real-time, but I thought it was cute, and I was glad our photographer captured it.
Is there something you wish you had known before the big day?
How fast the day goes by! After spending 2 years planning our wedding, it was all over so quickly. Really try and take in as much as you can on your wedding day.
What did you do to stay stress-free on your wedding day?
Hire a wedding coordinator! I had some amazing ladies with a company called Poppy + Prim that I hired to coordinate our wedding day. My day was completely stress-free; I didn't have to worry about a thing! They set up all the décor, kept everyone on schedule with a timeline, and probably a lot more that I didn't see. I spent my morning getting ready with my girls, got married, partied at the reception, and that was it. They took care of everything!
What's your best advice for the big day?
It's YOUR wedding! There are things that we decided to do or leave out based on our preferences. Don't let anyone try to tell you what you do or don't have to do because of "tradition." It's your day, so do what you want!
MORE DETAILS
Date: July 30, 2022
Location: Broken Arrow, Oklahoma
Wedding Dress Style: Beaded Scroll and Lace Mermaid Wedding Dress
First Dance Song: "You and I" by John Legend
Photographer: James Parker – JW Photography
Inspired by this classic wedding in Oklahoma? Read more real wedding stories here!
We know how important your wedding day and special events are to you and we are doing everything in our power to serve you! You can shop with us 24/7 at davidsbridal.com or come see us at your local David's Bridal. Plus we are here for you to help guide you through your wedding planning! See tips for starting to plan your wedding at home, shopping for your wedding dress online with confidence, and more on the blog.
Planning a wedding? Sign up for our Diamond Loyalty program—it's free —and find local wedding vendors! Follow us on Instagram, TikTok, Pinterest, and Facebook for more real wedding inspiration, or click here to book an appointment.
Related Posts: