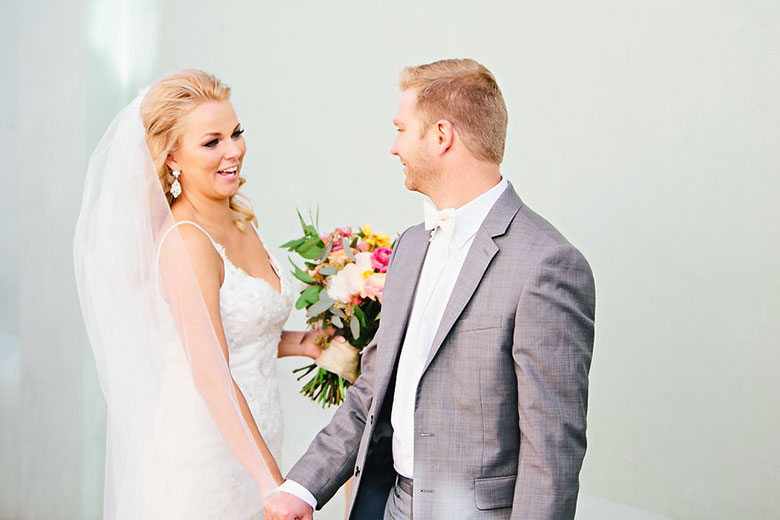 13 May

Real Wedding: Nicole & Matthew
A rustic glamorous winter wedding in Florida.
Real weddings are so inspiring! To get you in the mood to plan—and party!—we asked real brides to spill the details on everything from getting engaged to finding their wedding dresses to the special touches and surprising moments that made their celebrations completely one-of-a-kind. Read on for Nicole & Matthew's winter beach wedding in Oahu, Hawaii.
Best advice:
Although the little details are what make your wedding day feel so special, remember not to sweat the small stuff (like obsessing over invitations for 5 hours).
How did you meet?
In 2013, I relocated to Pensacola, Florida, for a new assignment with my company. I heard amazing things about my new mentor there and was super excited to meet and learn from him. What I didn't know was that my mentor would later become my husband! The chemistry was immediate and undeniable.
How did he propose?
A little over a year after we started dating, he popped the question. Cinderella was my favorite movie as a little girl. I remember telling Matthew that growing up, I had always dreamed I would get married at her castle. He held on to that childhood dream of mine and proposed outside of Cinderella's castle at Disney World. He hired photographers to capture the moment and everything! It was literally a dream come true.
Bridal party:
My sister, my husband's sister, and three best friends (one was a bridesman!).
Tell us about your wedding day!
The inspiration for our wedding theme really blossomed once we found our venue. The ceremony and reception were on a waterfront rooftop overlooking a city that was dressed in white lights—every year, St. Augustine hosts "Night of Lights," where every building, bridge, and tree is wrapped in white lights. Dinner was served in a room with gorgeous chandeliers and original exposed brick from the 1800s. It was absolutely breathtaking!
How did you decide on your wedding dress?
I knew it was "the dress" when I found myself twirling and walking around David's Bridal like I was walking on clouds. I must have stayed in the dress for an hour, I literally didn't want to take it off. That's when you know!
More details:
Silhouette: A-Line
Location: St. Augustine, Florida
Date: January 29th, 2016
Photographer: NIMA Photography
Wedding theme: Rustic glamorous wedding
We know how important your wedding day and special events are to you and we are doing everything in our power to serve you! You can shop with us 24/7 at davidsbridal.com plus we are here for you to help guide you through your wedding planning! See tips for starting to plan your wedding at home, shopping for your wedding dress online with confidence, and more on the blog.
Related Posts: