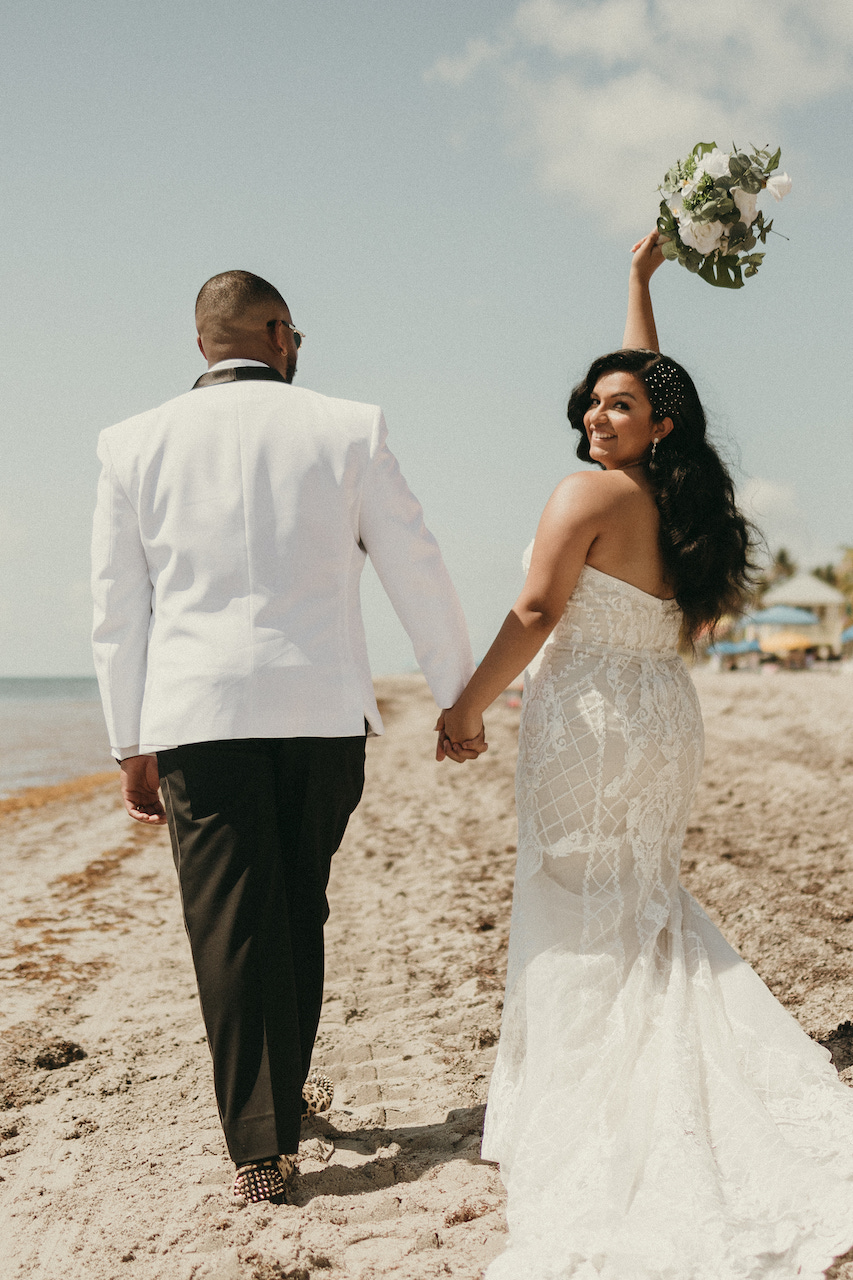 30 Jun

Real Wedding: Tiffani & Thomas
Tropical Wedding in Florida
Real weddings are so inspiring! To get you in the mood to plan, we asked real brides to spill the details on everything from getting engaged and finding their wedding dresses to the special touches and surprising moments that made their celebrations completely one-of-a-kind. Surf, sand, and summer-loving: we can't get enough of this tropical wedding in Florida! Read on to see more details from Tiffani & Thimas' special day.
Briefly tell us how you and your fiancé met!
My fiance and I met during my first year of college at East Tennessee State University. As pre-med students, we naturally were in similar classes. We began talking to each other over a school-related question and became friends shortly after. We were friends all throughout college but we did not begin dating until I had finished graduate school and he was entering his third year of medical school.
How did you know that he was the one?
I knew he was the one when I finally decided to introduce him to my parents. My family is very close but also very protective and I knew that I was not going to introduce just anyone.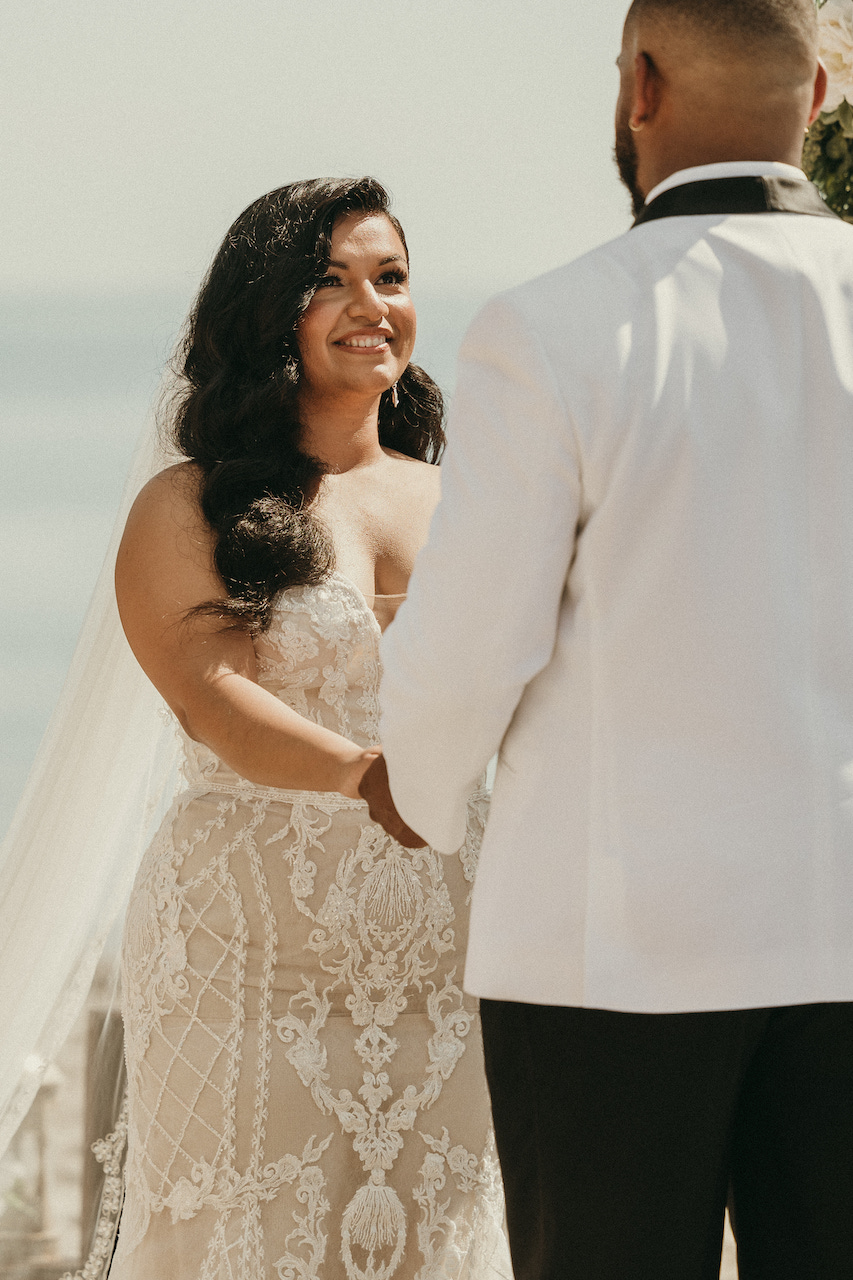 Tell us your proposal story!
At the time Thomas was in graduate school completing his MPH at Yale and I had gone to Connecticut to visit him. We decided to go on a hike that weekend which was odd because he isn't the biggest outdoorsman, but I was thrilled. We drove about 20 minutes outside of downtown to Giuffrida Park in Meriden, CT, and started going up. He was in such a rush to get to the top, seeking out all of the shortcuts, while I wanted to take the scenic route up!
When we arrived at the top, it was a beautiful view of the surroundings so I began taking landscape shots. I made a comment about the vast beauty to which he responded "it really makes you think about all of the possibilities for the future doesn't it?" Stunned by the very philosophical response, I replied, "Um.. yeah sure! I guess so!" As I continued to try to get a couple more shots in he said, "Well, are you ready?"
I turned around and said, "For what?" Only to find him down on one knee. He asked the classic, "Will you marry me?" and I was in shock. It felt like a dream. I snapped back to reality as I heard the clicks of a camera off to my left. Thomas had hired a photographer to catch the moment. I said Yes! And then we had a photo session on the top of the mountain.
How did you both decide on your wedding day look?
After we decided on our colors, we actually split ways for looks. We decided we wanted this marriage to start off as equals so I did not know what he was wearing and he didn't know what I was wearing!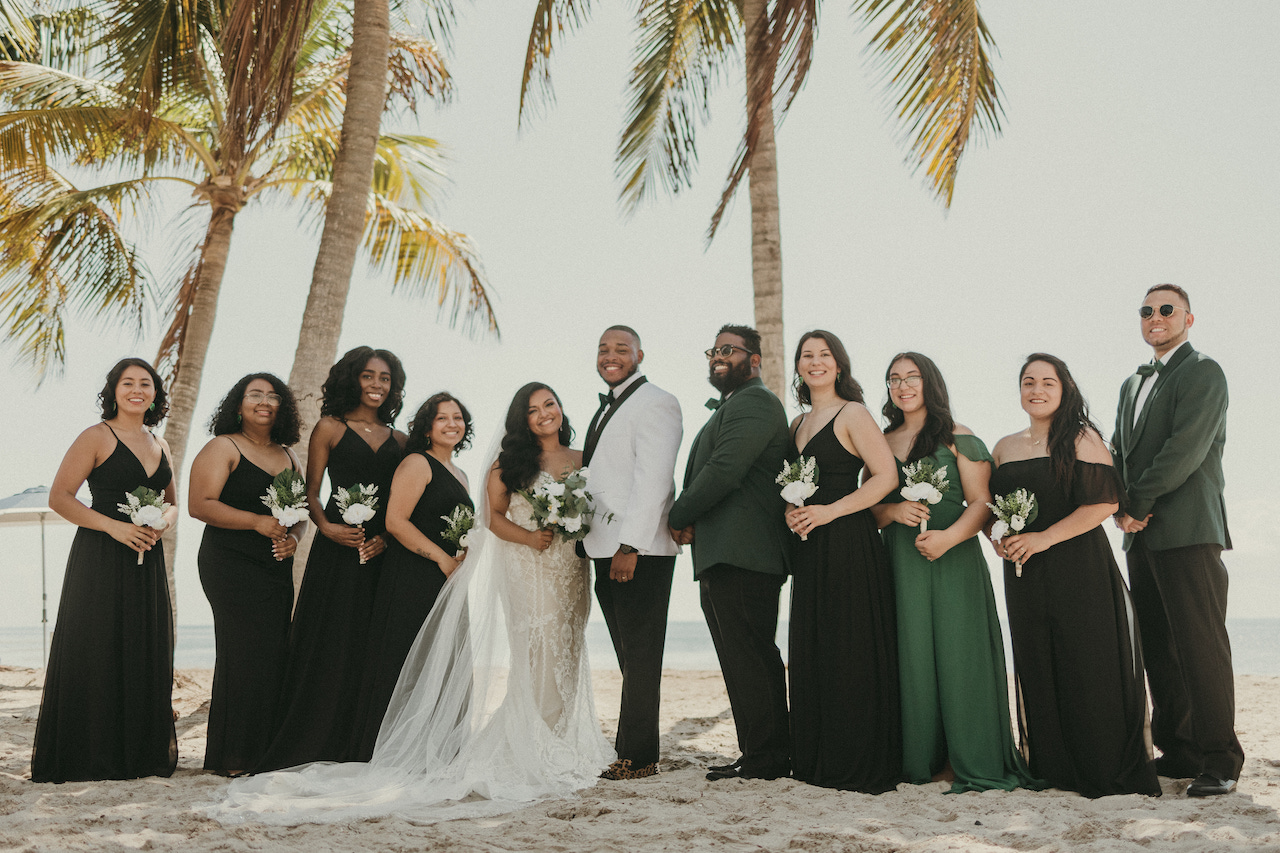 Do you have any shopping advice for future brides?
Don't sweat the small stuff! Also, don't overwhelm yourself. The day is not about the dress, it's about how you feel! Several people try to think about what dress is going to be best for the location. I say, "Girl, what's going to be best for YOU!" It's your day, beautiful is defined by YOU & only YOU!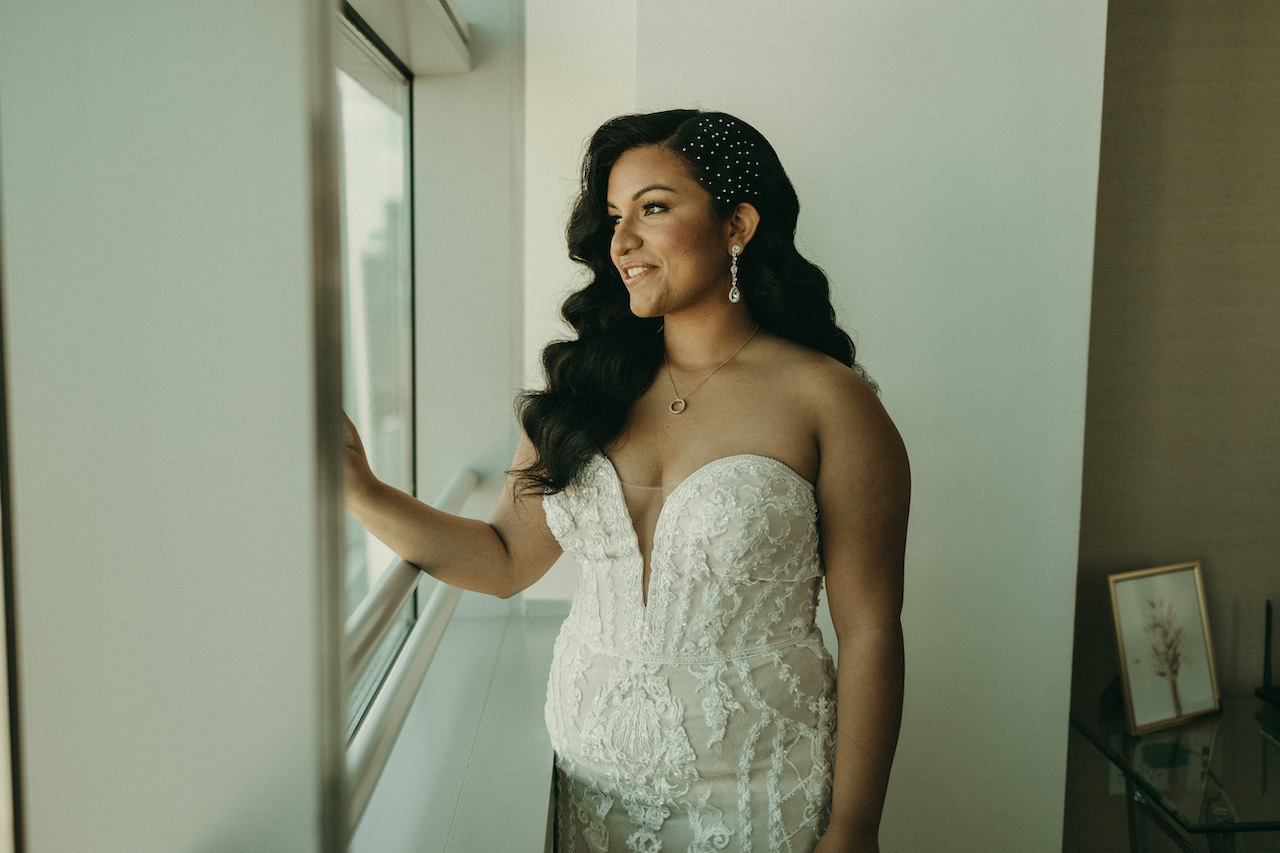 Tell us about your wedding day!
Everything happened so fast! We had a morning wedding on Memorial Day Weekend. Family and friends were flying and driving in up to two days before. The wedding party stayed at the Hotel AKA at a fabulous set of AirBnbs. Thomas' fraternity brother and state representative, Torrey Harris, officiated our wedding. Wedding Bells and Seashells were in charge of the ceremony planning & decorations. After the ceremony, we had a simple and small get-together at Paradise Cove Shelter on the beach with a stellar view!
Was there a highlight or most memorable moment of the day?
Walking down the aisle and seeing Thomas at the end was truly wild. It was the last time I would see him as my fiancé before becoming husband & wife!
Did anything funny or unexpected happen?
Rob, our photographer, was a blast and kept us laughing the entire time! At one point he threw himself on the ground to "get a better angle" only to admit upon getting up that it was just to get us laughing. It worked!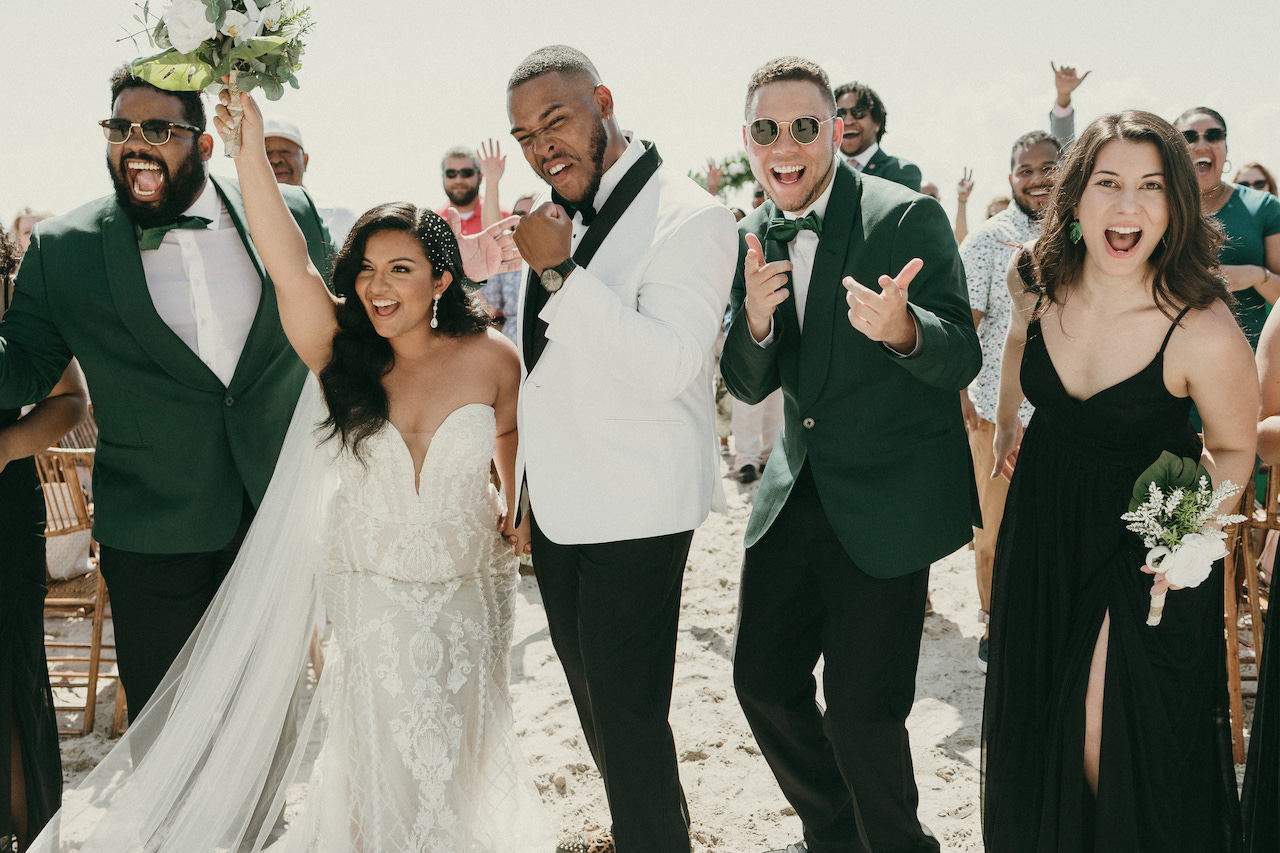 What was your favorite DIY or personal touch?
My parents and I made the bouquets for everyone in our wedding party! It was a fun, stress-relieving DIY, and also a nice bonding activity.
What's your best wedding planning advice?
Remember all of the little stuff is not as important as the significance of that day. You are marrying your person. When you realize that is the most important thing, everything else can roll off your shoulders!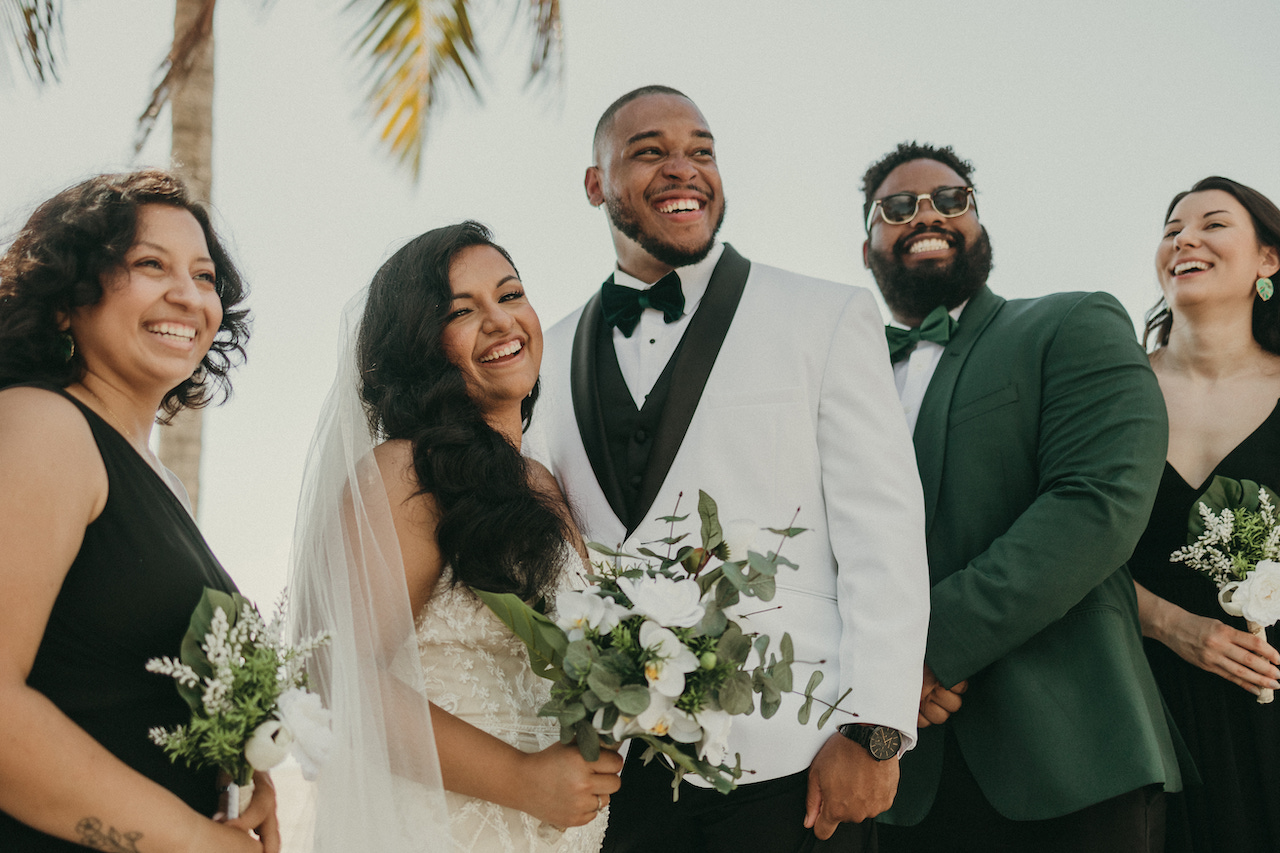 More Details:
Wedding Date: May 28th, 2022
Location: Crandon Park in Key Biscayne, FL
Wedding Dress Style: Beaded Scroll and Lace Mermaid Wedding Dress
Wedding Cake Flavor: Vanilla Rum Cake with Guava Filling
First Dance Song: "Made to Love Ya" by Gerald Levert.
Bridal Beauty: Hair – Humberto Romero Make-up – Regine
Photographer: Solo Mio Photography, Rob Lo
Inspired by this tropical wedding in Florida? Read more real wedding stories here!
We know how important your wedding day and special events are to you and we are doing everything in our power to serve you! You can shop with us 24/7 at davidsbridal.com or come see us at your local David's Bridal. Plus we are here for you to help guide you through your wedding planning! See tips for starting to plan your wedding at home, shopping for your wedding dress online with confidence, and more on the blog.
Planning a wedding? Sign up for our Diamond Loyalty program—it's free —and find local wedding vendors! Follow us on Instagram, TikTok, Pinterest, and Facebook for more real wedding inspiration, or click here to book an appointment.
Related Posts: