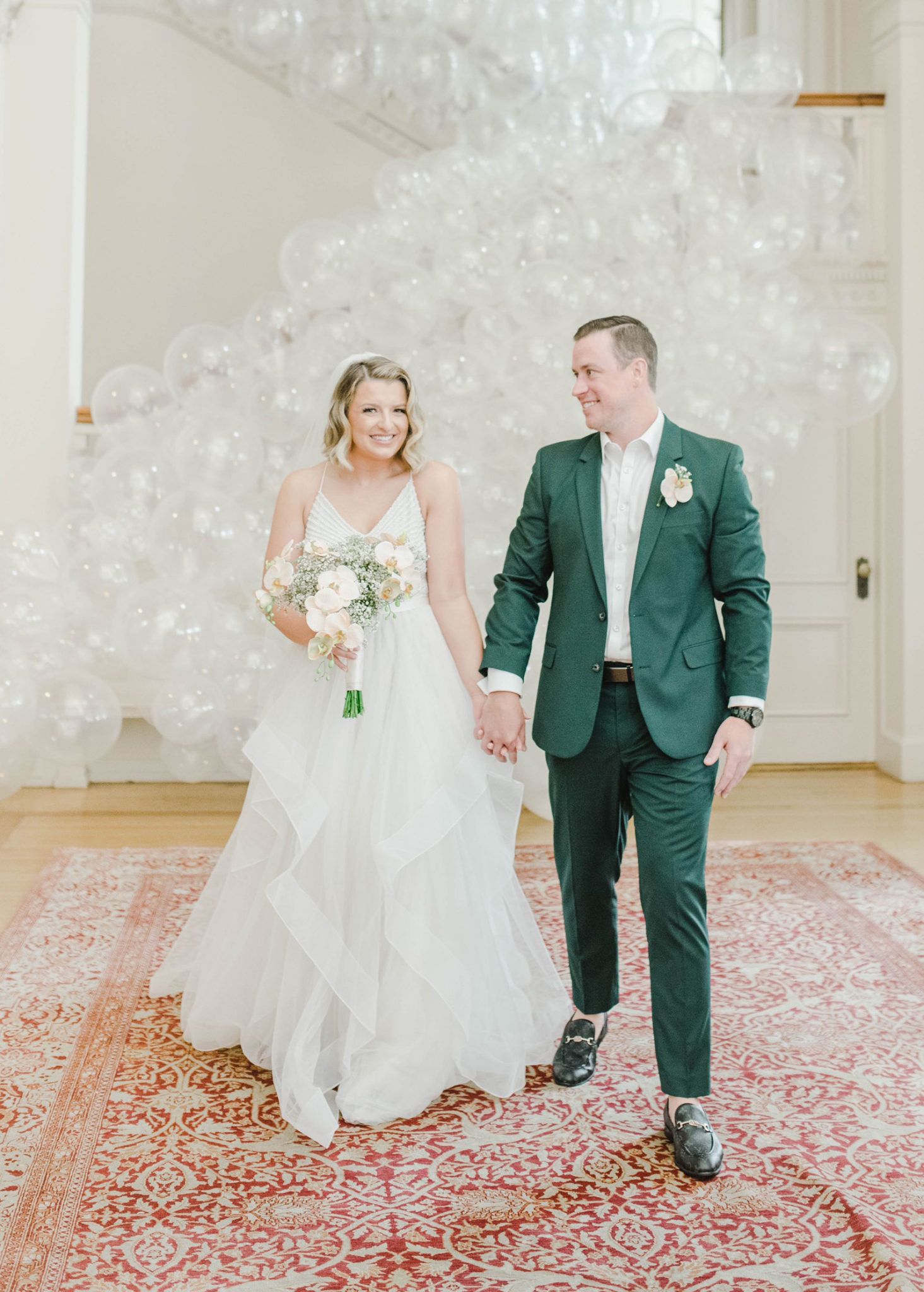 27 Oct

Real Wedding: Reannoin & Scott
Whimsical Wedding at Cairnwood Estate
Real weddings are so inspiring! To get you in the mood to plan, we asked real brides to spill the details on everything from getting engaged and finding their wedding dresses to the special touches and surprising moments that made their celebrations completely one-of-a-kind. Pretty pastels, dreamy details, and oh so many delicate touches from this wedding are making our hearts skip a beat. Keep reading to see more details from Reannoin and Scott's whimsical wedding at Cairnwood Estate.
Briefly tell us how you and your fiancé met!
Scott and I originally met at a bar in Manayunk, while I was out with my cousin. She went to Temple with Scott, so when they saw each other out, they started talking and she introduced us. I thought he was cute but told her that she should talk to him! One year later, swiping on Tinder, I saw him on there and texted my cousin a screenshot of him. She immediately responded by saying that is Scott, the guy you met out in Manayunk that one night! He is a great guy and you should definitely go on a date with him. Almost seven years since that first date, we are now happily married.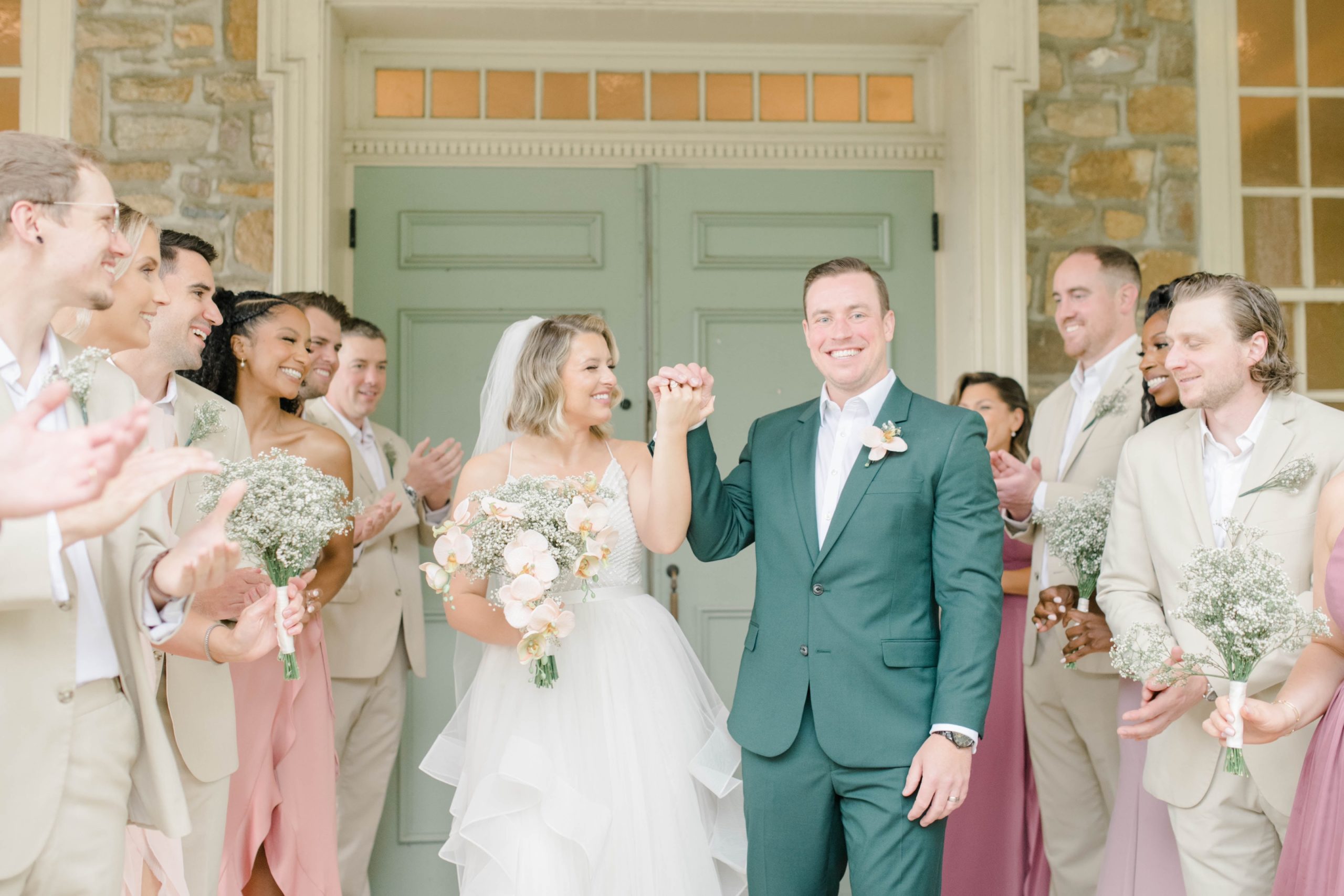 Tell us your proposal story!
Truly surprised. At the time, Scott and I had been dating for five years and we talked about marriage and wanting to take the next step but never talked about exactly when. He told me that when the time comes, I would be totally shocked (I didn't believe him because I thought I would have sensed when it was coming.) He went away on a work trip for a week and he told me he would be home that Friday around 5 pm. So I went off to work like normal and arrived home to the biggest surprise of my life… Candles, roses, decorations, and Scott ready to get down on one knee! Little did I know, his flight actually arrived early that morning so he had all day to set up our apartment while I was at work. He truly pulled off the biggest surprise of my life and loved every intimate moment of it.
How did you both decide on your wedding day look?
We decided on the venue first, and then everything else fell into place. Our venue was very romantic and whimsical, so that's what we went with because we both fell in love with how dreamy the venue was on its own.
Do you have any shopping advice for future brides?
Enjoy it and keep an open mind! You may have a specific vision in mind but you'd be surprised with what else you might love by staying flexible.
What was your favorite detail about your look?
My favorite part was having "two" looks! I loved my dress but I felt like it was missing something. A few months before the wedding I decided I wanted a full skirt to wear for the ceremony. It was fluffy, romantic, and fun! It was that extra little touch that I wanted. Then for the reception, I took off my skirt and was able to dance the night away without any extra layers! People were also able to see all of the gorgeous details my dress had as they shimmered into the night!
How did you feel when you knew that you #foundtheone?
Relieved and HAPPY! I tried on so many dresses before I felt that feeling, but once I did, it was the best feeling in the world!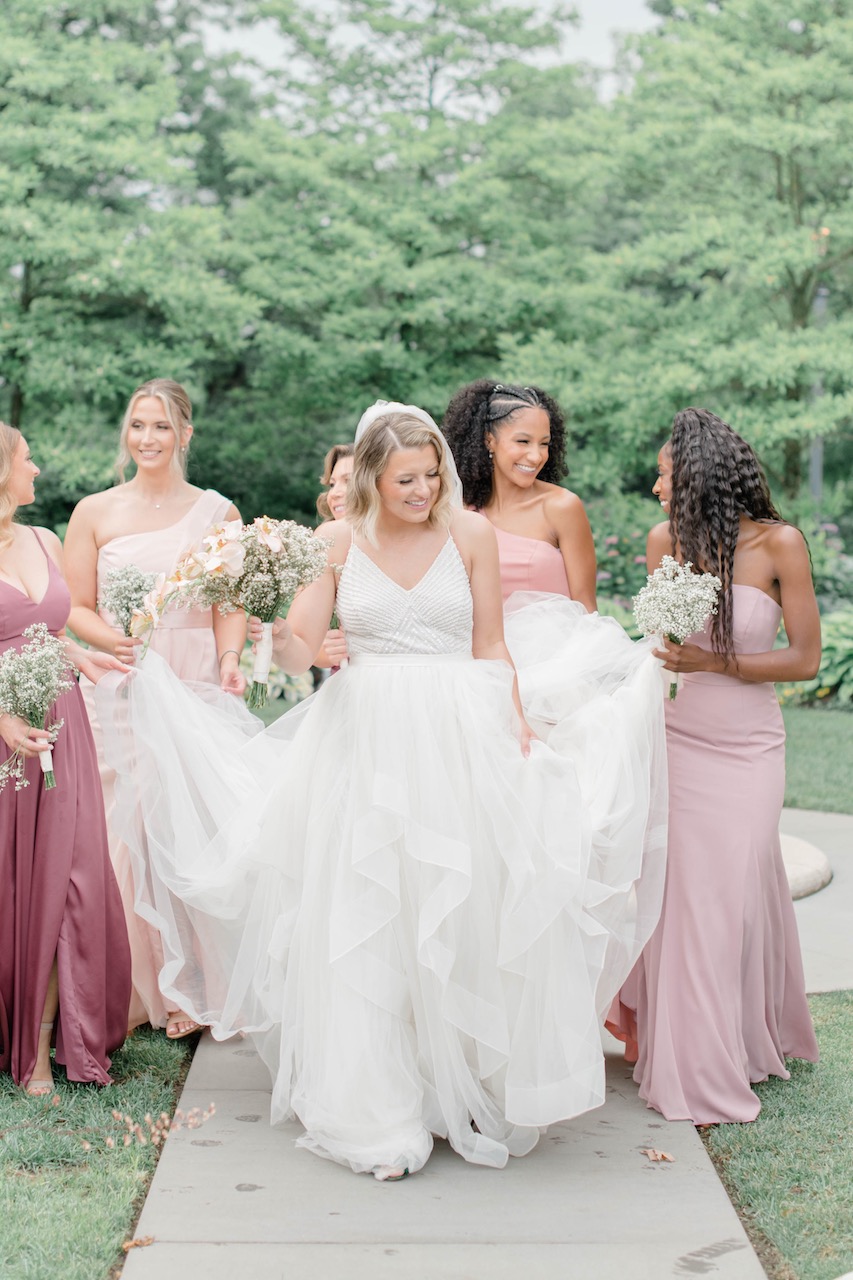 Was there a highlight or most memorable moment of the day?
It was truly the most perfect day! Of course, there were a few hiccups here and there but nothing major (thankfully)! My favorite moment was my first look with my husband, I did not think I was going to be so emotional but I was. I had butterflies in my stomach like it was our first date all over again! Another moment that I loved was having dinner on our own in Cairnwood's private suite. While everyone was finding their tables, and seating for dinner. We snuck upstairs for 15 mins to enjoy our first meal together as husband and wife. It was so nice and romantic because we actually got to eat and enjoy some alone time.
Did anything funny or unexpected happen?
We thought it would be nice to do late-night cheesesteaks for everyone to grab on their way out. Turned into a savage moment because people were clearly tipsy and had drunken munchies. Some people were taking an arm full of cheesesteaks, another person was filling up a ziplock full of them, and others were fighting that they didn't get one (not even Scott and I.) Apparently, they were really good cheesesteaks!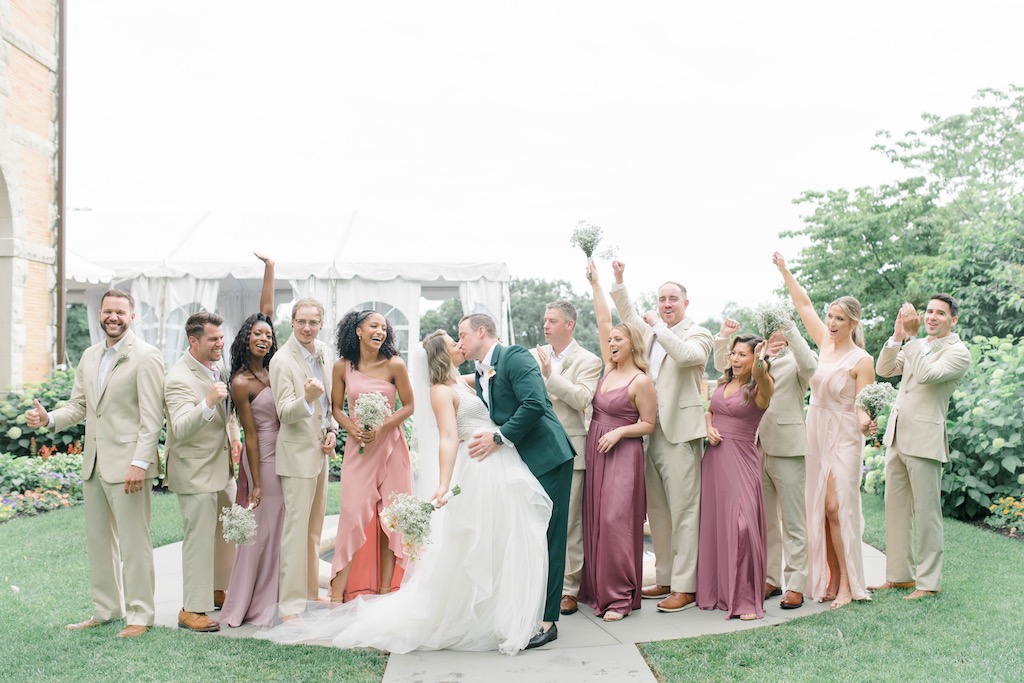 Is there something you wish you had known before the big day/while you were planning the wedding?
Not to sweat the small stuff! At first, I was upset because some decor details that I had envisioned never happened but honestly, no one else knows those details except you. A few times that I mentioned these details to people, no one cared or said it looked stunning anyways. So I stopped dwelling on those small details and was so thankful for what did get done!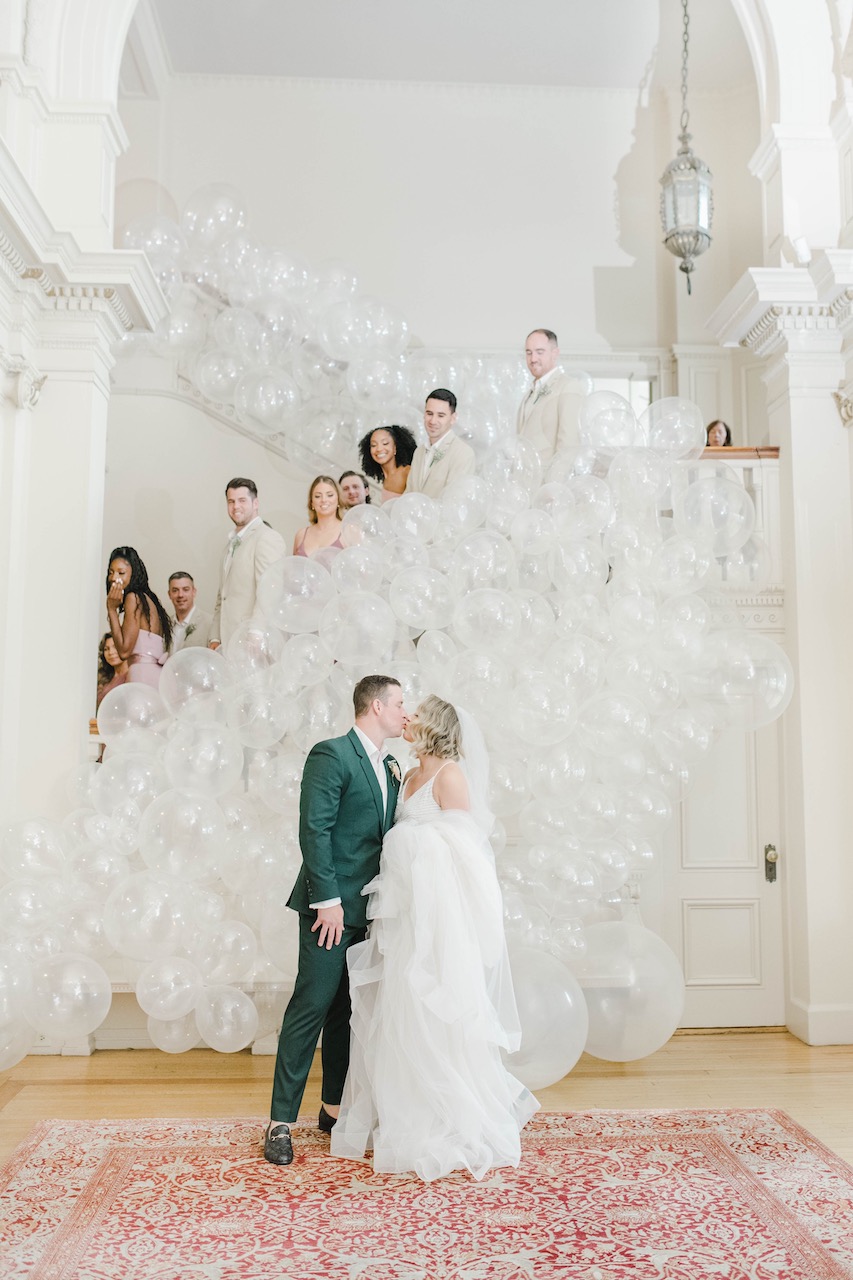 What flavor was your wedding cake?
We had a three-tiered cake. A whispy textured buttercream design with vanilla cake and cookies & cream + raspberry mousse filling in each layer!
What was your favorite DIY or personal touch?
My green heels! They tied perfectly with Scott's green suit.
What did you do to stay stress-free on your wedding day?
I assigned each one of my bridesmaids with things to stay in charge of throughout the day. Like morning breakfast, timing, steaming our dresses, staying hydrated, and keeping our things organized.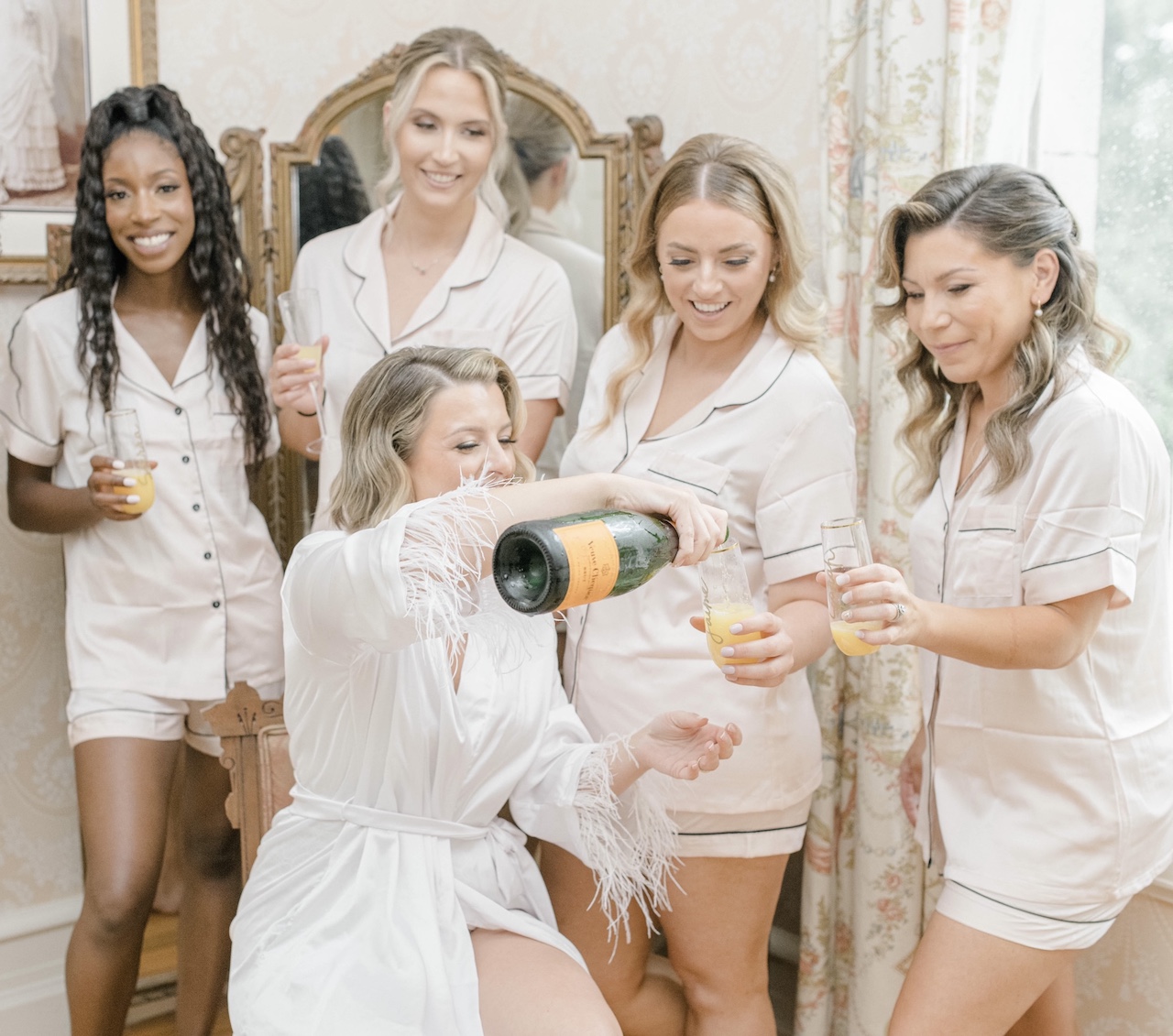 What's your best wedding planning advice?
Stay true to yourself! So many people are going to want to give their input and have something to say, but just remember… it is YOUR day and to enjoy every moment leading up to it!
Anything else you'd like to share?
Highly recommend a DJ + drummer combo! The drummer brought the DJ to life and it was such an awesome extra element to the dance floor!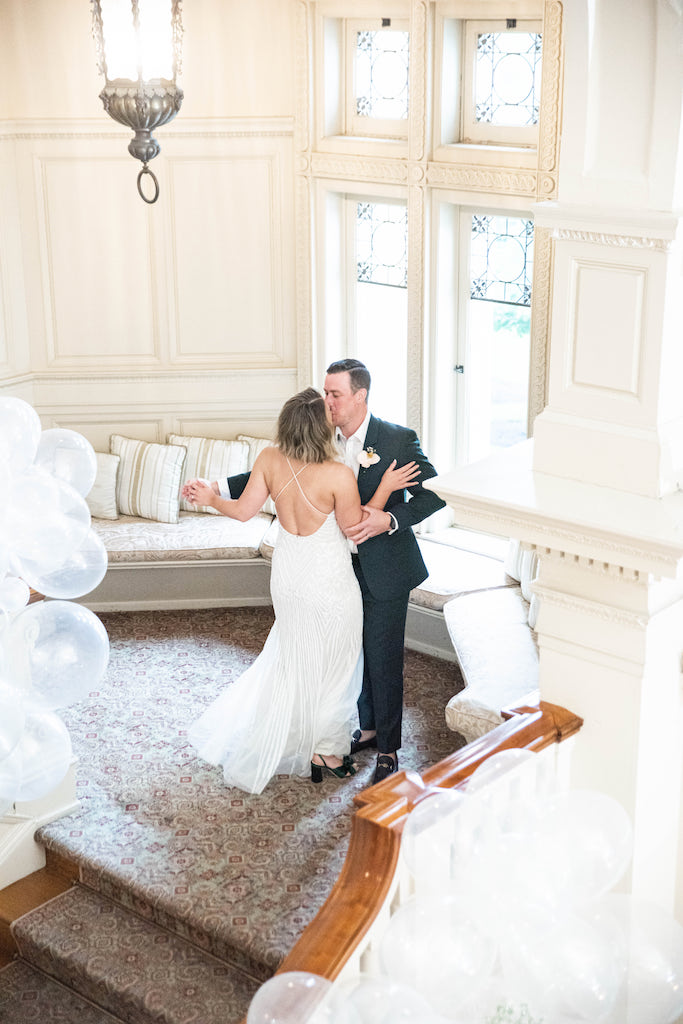 More Details:
Wedding Date: June 11th, 2021
Wedding Location: Cairnwood Estate
Dress Style: Beaded Sheath V-Neck Dress with Godets Paired With Tiered Tulle Ball Gown Wedding Skirt
Wedding Song: "Here On Out" by Dave Matthews Band
Photographer: Morgan Taylor Artistry
Love this whimsical wedding? Read more real wedding stories here!
We know how important your wedding day and special events are to you and we are doing everything in our power to serve you! You can shop with us 24/7 at davidsbridal.com or come see us at your local David's Bridal. Plus we are here for you to help guide you through your wedding planning! See tips for starting to plan your wedding at home, shopping for your wedding dress online with confidence, and more on the blog.
Planning a wedding? Sign up for our Diamond Loyalty program—it's free! Follow us on Instagram, Pinterest, and Facebook for more real wedding inspiration, or click here to book an appointment.
Related Posts: