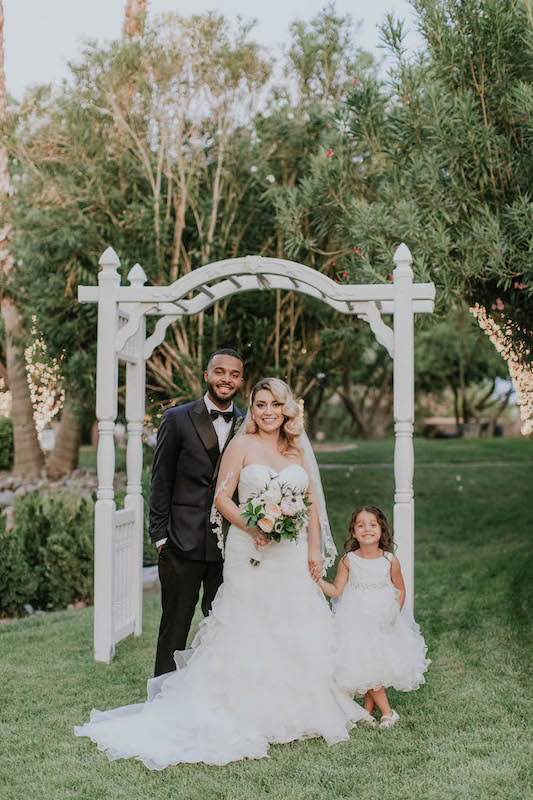 13 Oct

Real Wedding: Chassidy & Ozei
Romantic Outdoor Wedding
Real weddings are so inspiring! To get you in the mood to plan, we asked real brides to spill the details on everything from getting engaged and finding their wedding dresses to the special touches and surprising moments that made their celebrations completely one-of-a-kind. Dreaming of an outdoor wedding? This real couple created the perfect outdoor ambiance for their family & friends with elegant florals and fresh neutral tones. Read on to see more details from Chassidy & Ozei's romantic outdoor wedding.
Briefly tell us how you and your fiancé met! How did you know that he was the one?
We met in grade school, in Oakland, CA. And, have known each other for over 20 years. But didn't start dating until we were in our early 20s. To be honest, there's not a specific moment I can think of where I knew he was the one. It was our relationship journey, the growth we both made, and the amount of love he showed me that made me know this was going to be forever.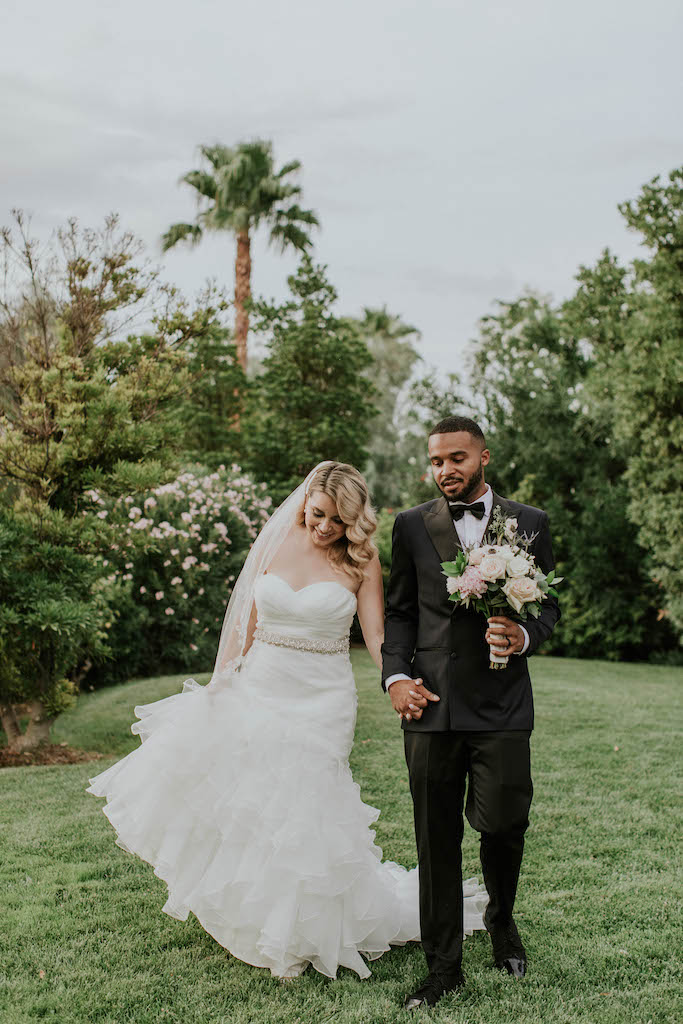 Tell us your proposal story!
We were on a family trip with our daughter in San Diego. The three of us had the most amazing day enjoying a scenic view at Safari Park. We got back to the room and started to get ready for dinner. All of us were starving and a little tired for a long day out, so I was very excited to make it to our dinner reservations. As we were leaving Ozei, told me he wanted to stop by Balboa Park, that he read it was a super cool spot to check out.
I knew we were running behind and might not make it to our reservation, but it's very rare for Ozei to want to visit a park. So, I agreed, and we went to Balboa Park, which I must admit was beautiful. We got out of the car and walked around for about 20 minutes. At this point, my daughter and I were ready to leave and go eat. I must admit I started to get a little hangry.
I could tell something was off due to the way he was acting but had no idea what was about to happen. We walked up to the Spreckels Organ Pavilion, Ozei got down on one knee and… POPPED THE QUESTION. I was in complete shock, I always thought I would know exactly what to say when this moment happened. But I was speechless. Of course, I said YES! It was perfect and beautiful.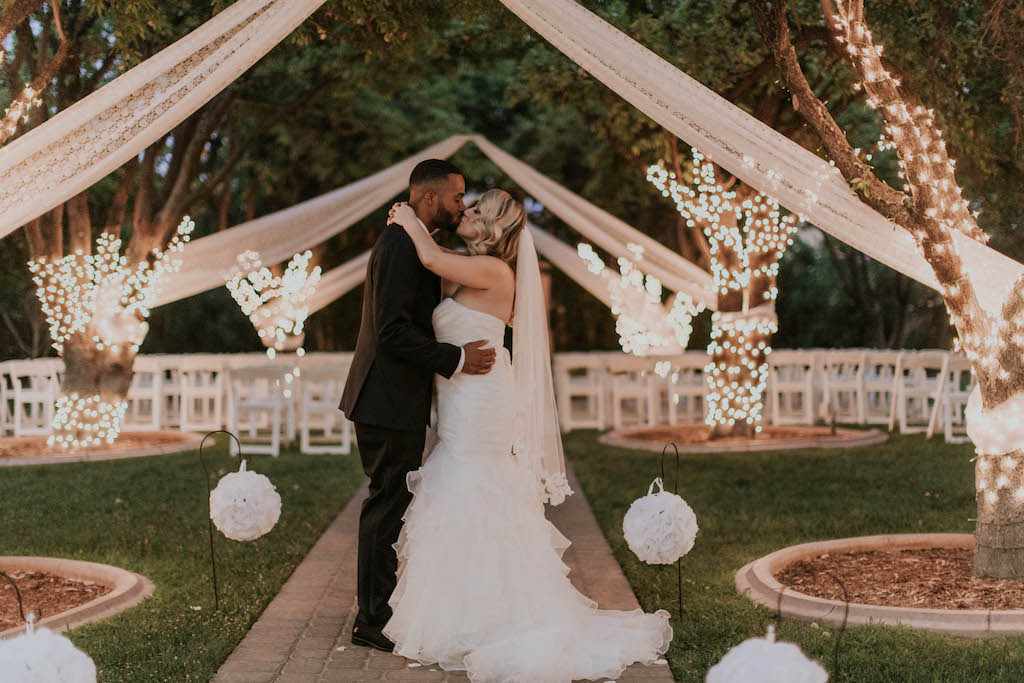 How did you feel when you knew that you #foundtheone?
It was my first day looking at dresses and the third dress I tried on. I just knew right away. I felt so confident and beautiful in this dress, there was no reason to wait and try others on.
Tell us about your wedding day!
My wedding day was one of the best days of my life. I felt so much love and happiness that day. I got to marry my best friend in front of our family and friends. It also was super important that our daughter played a major role in the day, so it's a memory that will forever be close to my heart. We had even had matching dresses (both from David's Bridal). Our wedding took place in North Las Vegas, at a beautiful venue. Our ceremony was an outdoor evening ceremony under the trees that were filled with lights, it felt magical. Then we danced and celebrated the night away with our loved ones.
Was there a highlight or most memorable moment of the day?
Walking down the aisle and seeing my handsome groom waiting for me at the altar. Another great memory of that day is presenting vows and a ring to our daughter.
Did you have a first dance song?
Yes, "If I Ain't Got You" by Alicia Keys. We actually had the most beautiful choreographed dance by our amazing teacher Reagan Griffith-Aragones (ROLPA). It's a dance we will do every year on our anniversary.
What flavor was your wedding cake?
Chocolate with mousse filling and Vanilla with buttercream filling (multiple layers).
What did you do to stay stress-free on your wedding day?
I took many deep breaths and had amazing family/friends who really stepped up and helped with everything.
What's your best wedding planning advice?
Remember to take everything in the day of your wedding. It's going to be one of the best days of your life and you don't want to be stressing the whole day. Let family/friends step in and help you out.
Anything else you'd like to share?
Beautiful flowers make such a difference on your wedding day. Make sure you have a great relationship with your florist, our florist, Erica from The-Flower-Shop, was so spot on with everything we envisioned on our special day. She really brought my wedding flower dreams to life. When I look at pictures from that day, the flowers add the perfect pop.
More Details
Wedding Date: July 23rd, 2021
Wedding Location: The Grove Wedding Venue – North Las Vegas, NV
Dress Style: Organza Mermaid Wedding Dress with Ruffled Skirt
Photographer: Marisa Ruth Photography
Love this romantic outdoor wedding? Read more real wedding stories here!
We know how important your wedding day and special events are to you and we are doing everything in our power to serve you! You can shop with us 24/7 at davidsbridal.com or come see us at your local David's Bridal. Plus we are here for you to help guide you through your wedding planning! See tips for starting to plan your wedding at home, shopping for your wedding dress online with confidence, and more on the blog.
Planning a wedding? Sign up for our Diamond Loyalty program—it's free! Follow us on Instagram, Pinterest, and Facebook for more real wedding inspiration, or click here to book an appointment.
Related Posts: