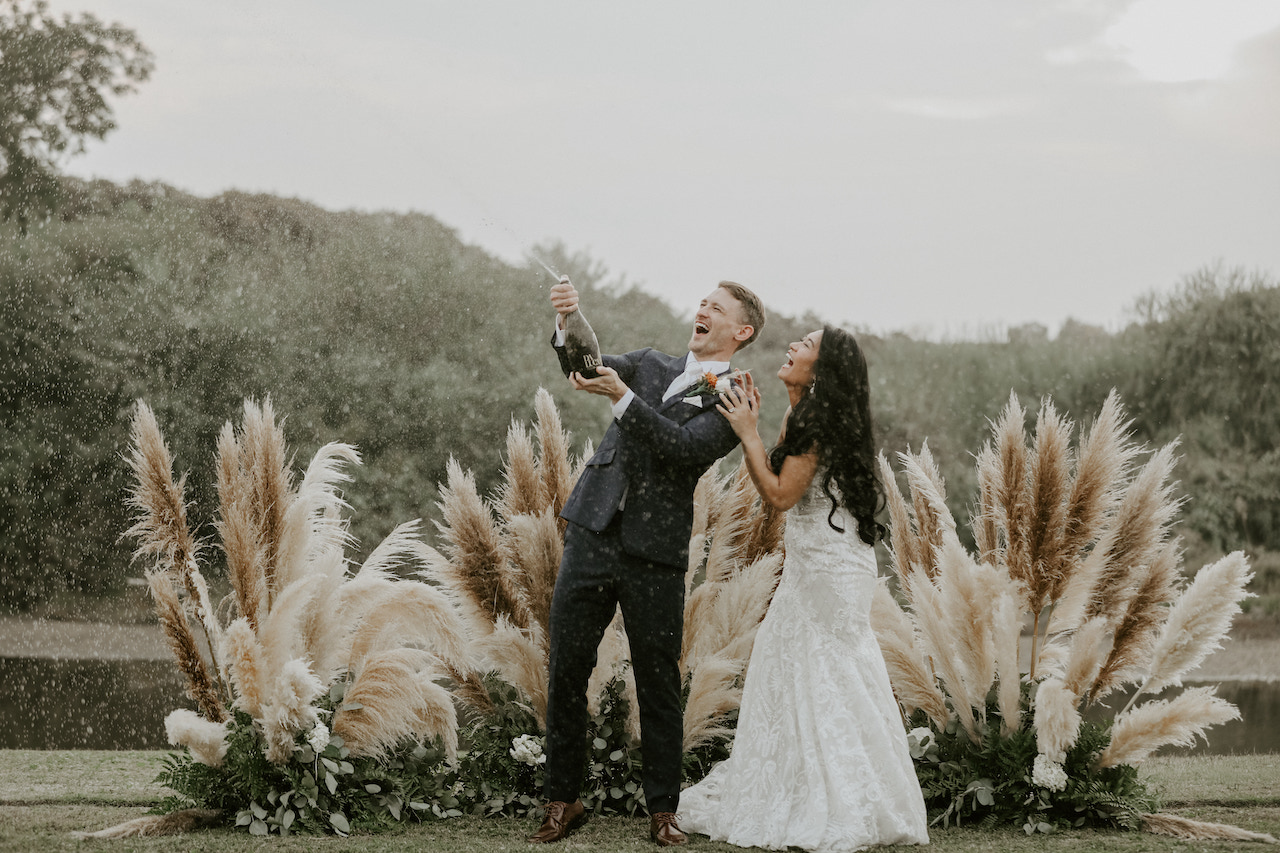 21 Jul

Real Wedding: Alexis & Loren
Ranch Wedding in California
Real weddings are so inspiring! To get you in the mood to plan, we asked real brides to spill the details on everything from getting engaged and finding their wedding dresses to the special touches and surprising moments that made their celebrations completely one-of-a-kind. Outdoor weddings have our hearts, and this wedding is no exception! Alexis & Loren tied the knot in a beautiful outdoor wedding in October. Read on to see more details from their ranch wedding in California!
Briefly tell us how you and your fiancé met! How did you know that he was the one?
We first met after a show at our community theater four years before we started dating. The time in-between we would run into each other on campus, but didn't start dating until swiping right on bumble! (Yes, we are a bumble success story!) I knew he was the one after realizing he truly was my best friend and I could tell him anything.
Tell us your proposal story!
We had been together for almost four years, the last year and a half of which was long distance (nothing too crazy…just 1,500 miles). The day he proposed was honestly just a random, normal day, but I wouldn't have wanted it any other way. I came home from work and he was showing me a 3-D printed lantern that he made using photos of us. The last photo said "will you marry me?" and after that, he got down on one knee!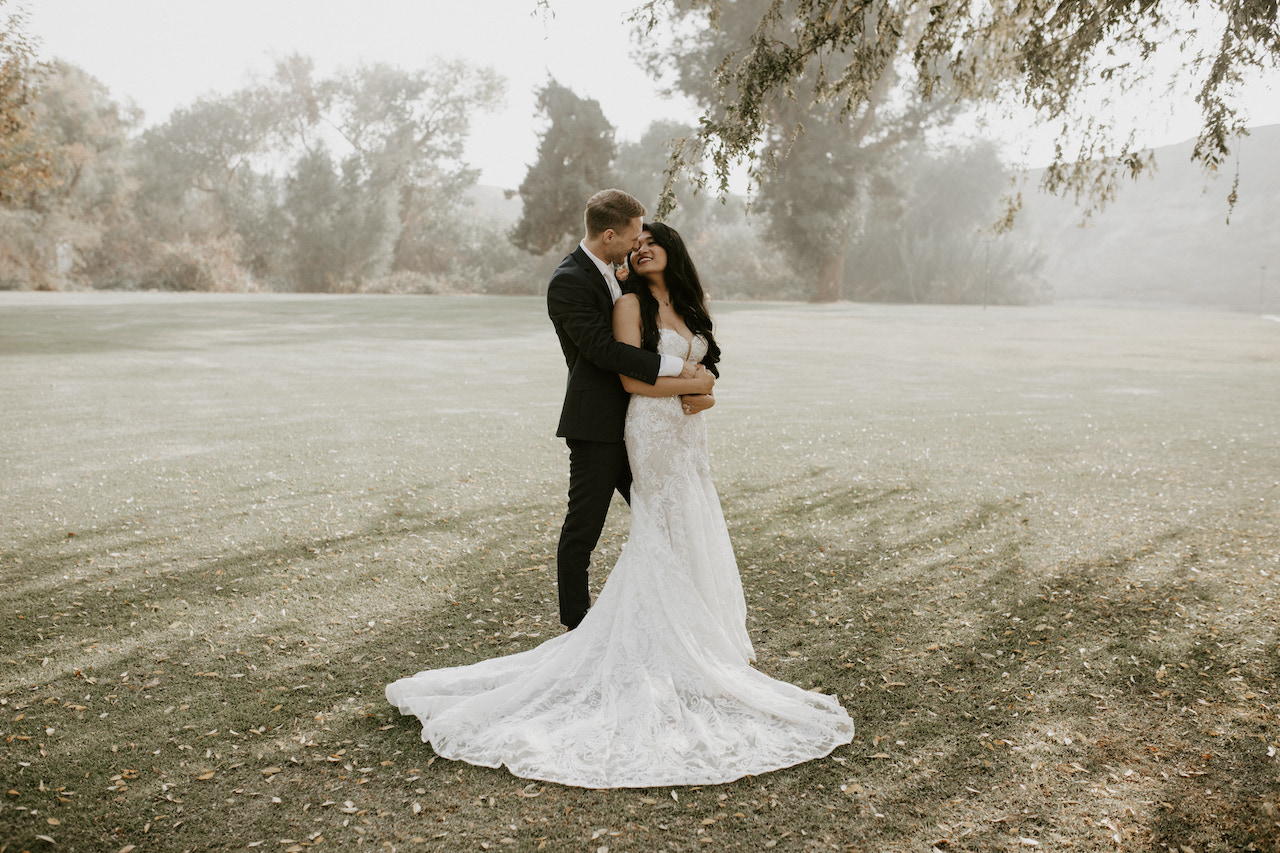 Do you have any shopping advice for future brides?
You don't need to pick a dress the first time you go dress shopping. Try on all the dresses you want and take a lot of photos! Then later look back at those photos and see what you like best – the dress you wear will be in every photo so if you don't like it in a try-on photo, it probably isn't the one!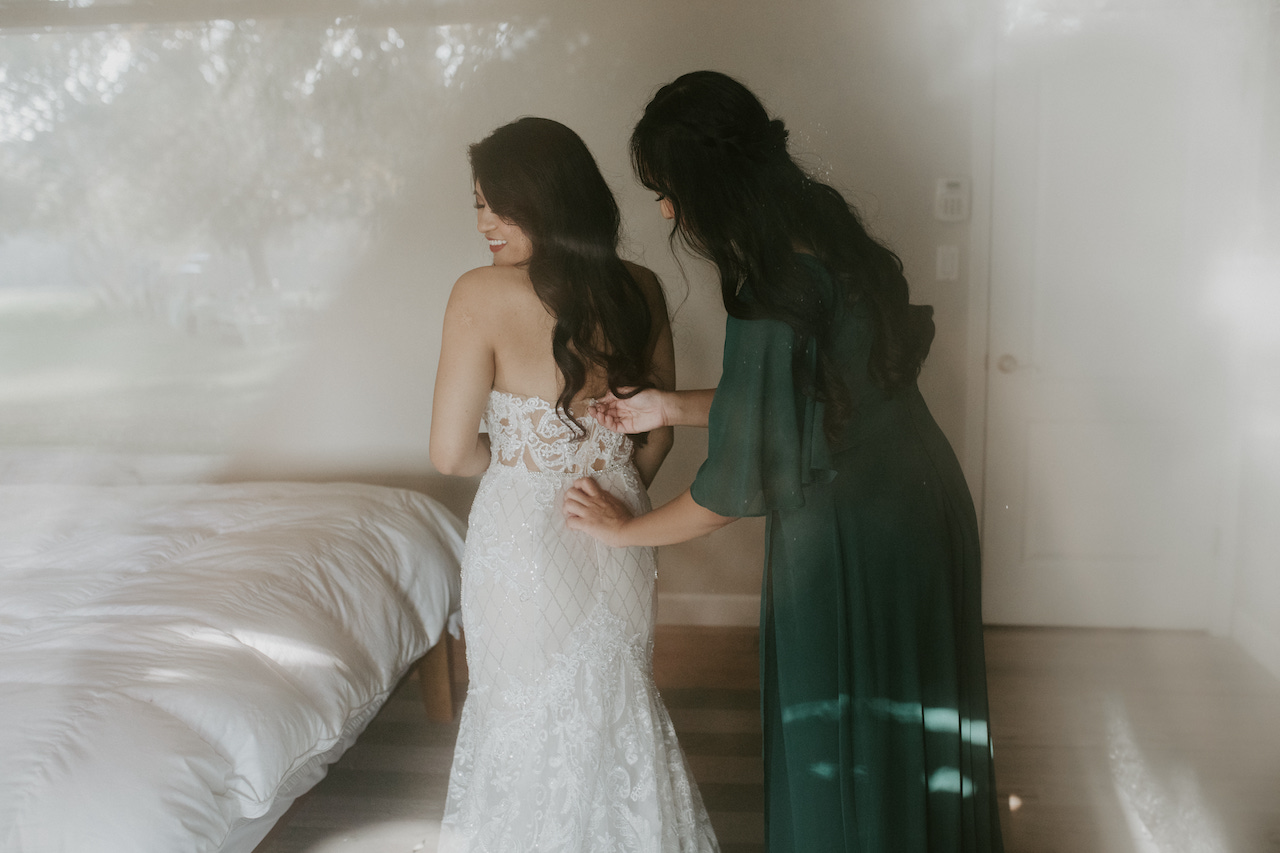 How did you feel when you knew that you #foundtheone?
It just felt right! Before I went dress shopping I was dead set on (1) no strapless and (2) no train…and look what I ended up with! A gorgeous strapless dress with a long train. I only tried it on when I was dress shopping because it had a similar shape to the one I was looking at online. "The one" may not be anything you expected, but you'll know when you try it on!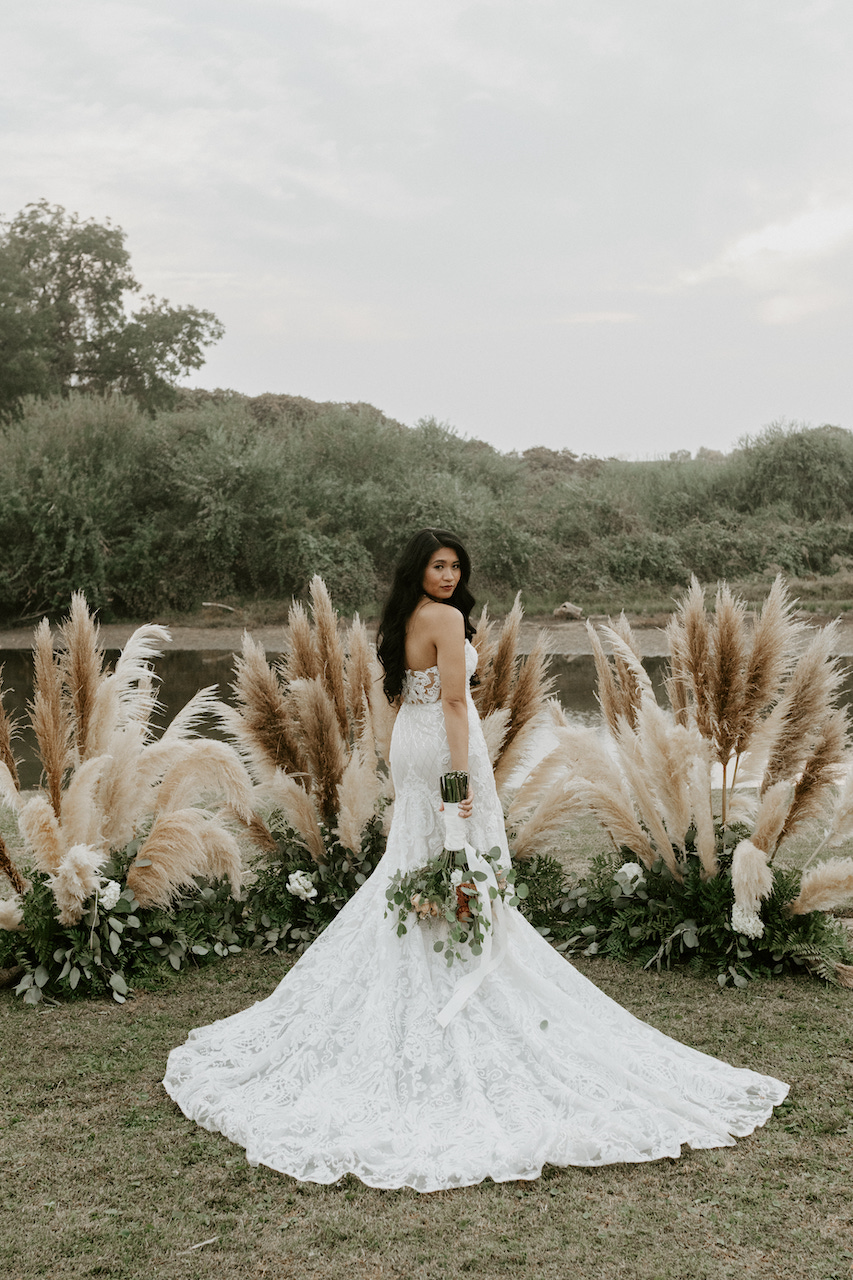 Did anything funny or unexpected happen?
When it was time to say our vows, we didn't plan on or know who should go first – so we played rock, paper, scissors – winner went first!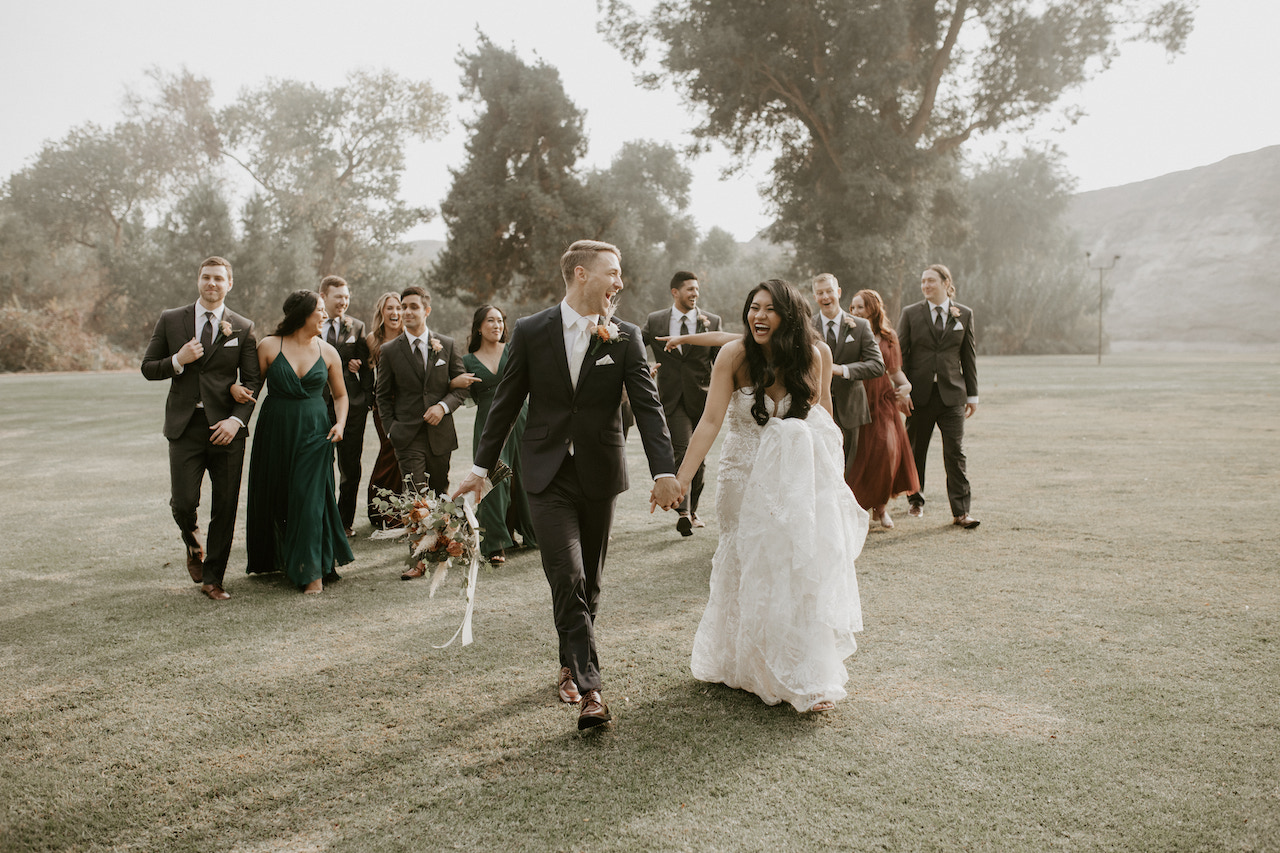 What was your theme?
Our theme #oncloudwines was all about US! All of the details and vendors are part of our story as a couple. We used our favorite songs during the ceremony, catered from our favorite date spots (@bakersfieldpizzaco @vidaveganco), and had our favorite drinks at the bar (spicy margaritas). We also made sure we had an espresso bar setup since we are extreme coffee enthusiasts and wanted everyone to have the energy to dance the night away!
What was your favorite DIY or personal touch?
My favorite DIY was making MilkBar Pie. I love to bake and it was really special being able to do it myself. Loren's favorite DIY was making our cake toppers. He 3D printed Holly Warbuton's animated characters from Honne's album "no song without you." That album was released in the middle of our long-distance stretch and it was the soundtrack for that period of our lives.
What did you do to stay stress-free on your wedding day?
After the ceremony and photos, our wedding planner took us for a ride around the ranch. This gave us some quiet time together before we joined the party. The moments of stillness and quiet really helped re-center what the day was about: celebrating love.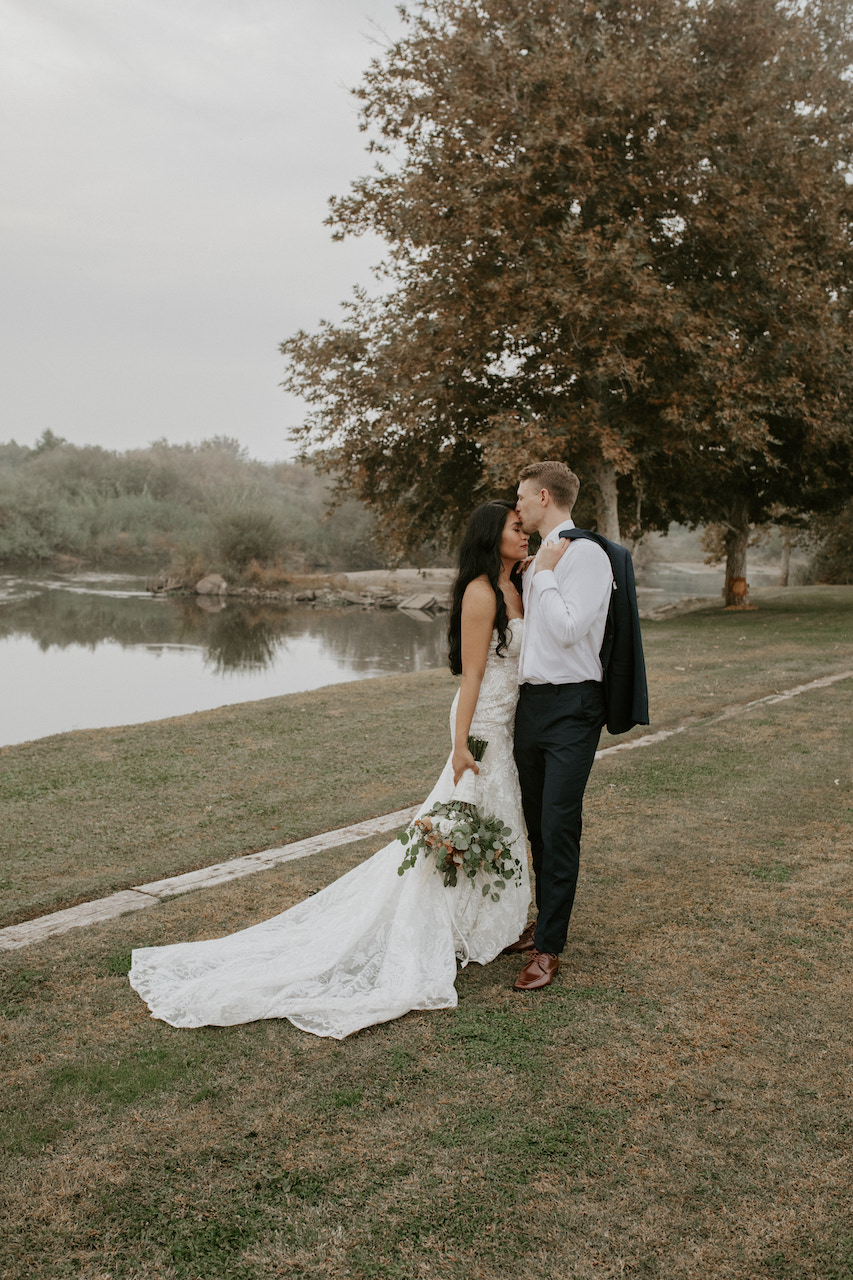 What's your best wedding planning advice?
Hire a wedding planner and if that isn't in the budget, then at the very least get a coordinator for the day of. Trust any recommendations your planner/coordinator makes—they've been in the business for a long time and know who they work well with! The last thing you want is a vendor team that doesn't come together.
Also, when it comes to wedding planning, go with your gut! If you want to do something, do it. If you don't, don't. We wanted pizza for dinner, so we did! Some wedding "traditions" didn't make sense to us, so we didn't do them. Many people will have opinions on what you should or shouldn't do, and who you should and shouldn't invite – but the reality is, it's YOUR day and you should feel free to celebrate in the way you and your partner want. Have fun and celebrate your love!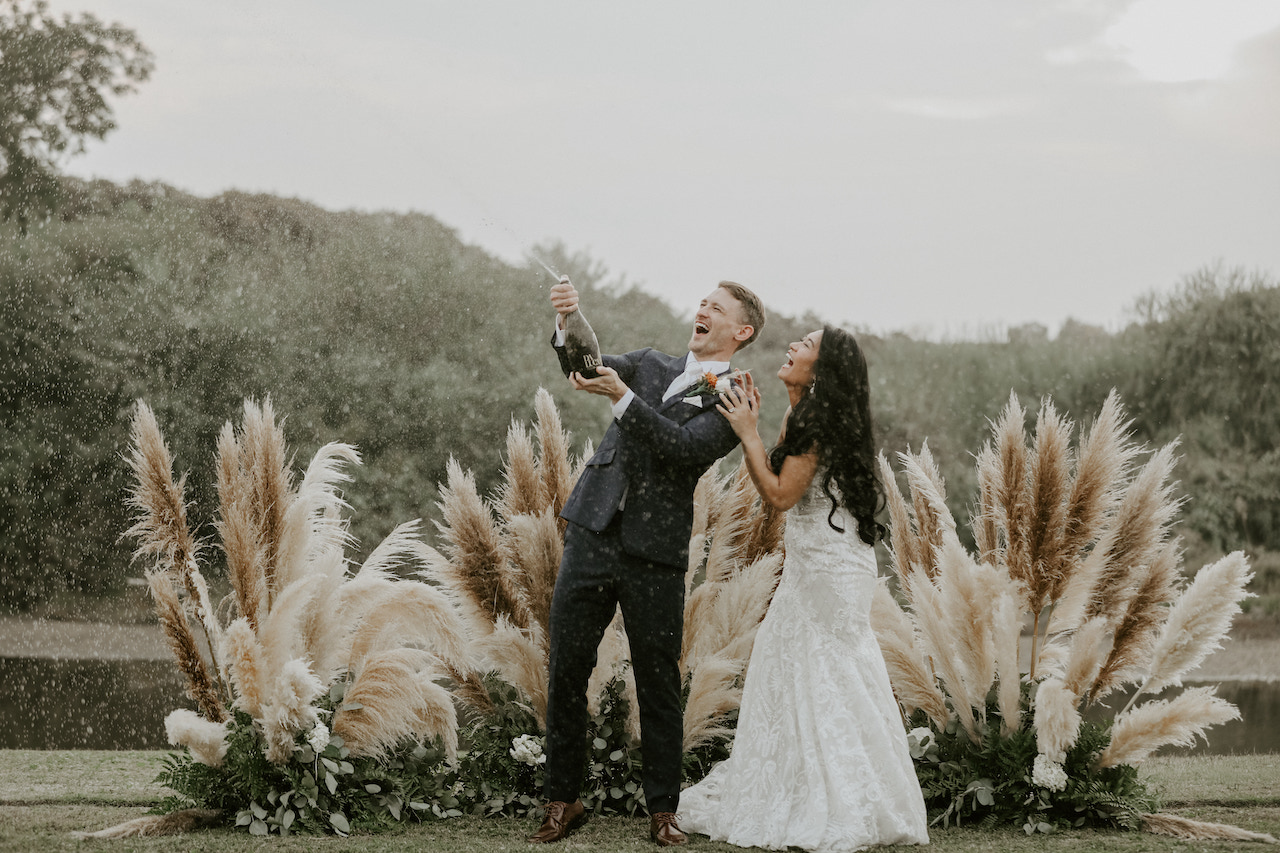 More Details:
Date: October 30, 2021
Location: Riverbluff Ranch in Bakersfield, CA
Wedding Dress Style: Beaded brocade embellished mermaid wedding dress
Photographer: Loretta Mae Photo
Wedding Planner: Oh So Purdy Event Coordinating & Design
Inspired by this ranch wedding in California? Read more real wedding stories here!
We know how important your wedding day and special events are to you and we are doing everything in our power to serve you! You can shop with us 24/7 at davidsbridal.com or come see us at your local David's Bridal. Plus we are here for you to help guide you through your wedding planning! See tips for starting to plan your wedding at home, shopping for your wedding dress online with confidence, and more on the blog.
Planning a wedding? Sign up for our Diamond Loyalty program—it's free —and find local wedding vendors! Follow us on Instagram, TikTok, Pinterest, and Facebook for more real wedding inspiration, or click here to book an appointment.
Related Posts: