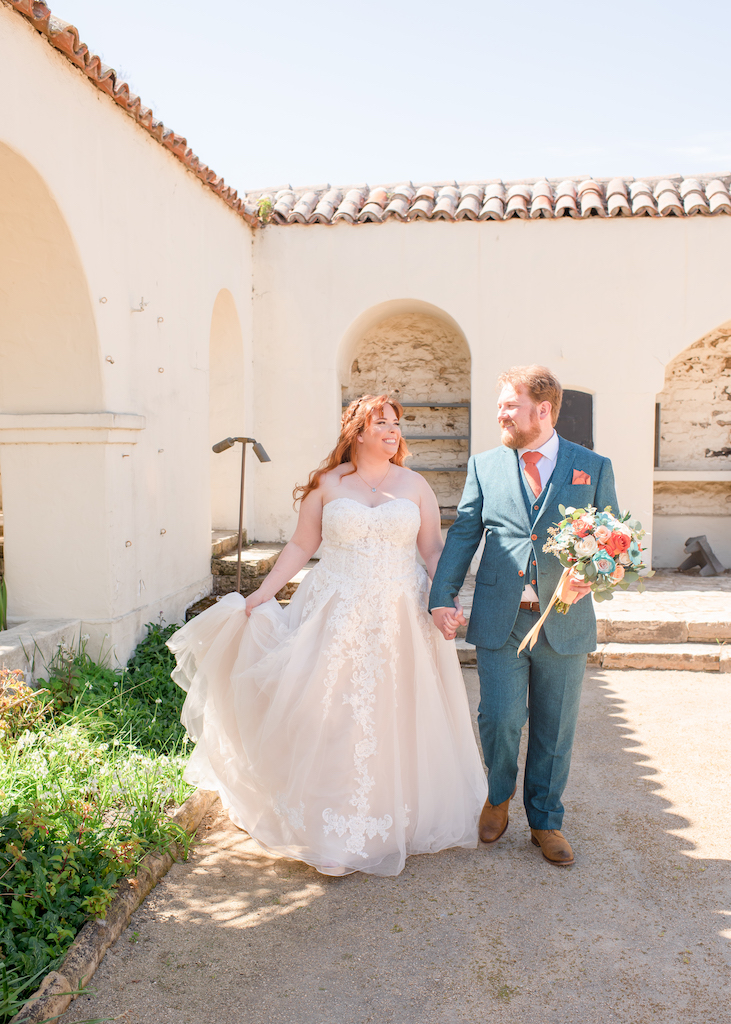 13 Apr

Real Wedding: Kaylin & Stephen
Spring Wedding in Monterey, CA
Real weddings are so inspiring! To get you in the mood to plan, we asked real brides to spill the details on everything from getting engaged and finding their wedding dresses to the special touches and surprising moments that made their celebrations completely one-of-a-kind. Spring is in the air, and we are getting major inspiration from this love-filled real wedding. Kaylin & Stephen tied the knot in a sweet ceremony in March of 2022. Read on to see more from this spring wedding in Monterey, CA!
Briefly tell us how you and your fiancé met! How did you know that he was the one?
Dating apps (Plenty of Fish) win! In October of 2016, we went out for sushi and drove all over the place for lack of other ideas. We just wanted to keep talking and never let the night end. He started singing the song Beast of Burden by the Rolling Stones to me shortly into the drive and I knew right then – this is the one. And if I needed any more reassurance, adopting our cat Captain was definitely it. Our first dance was of course to Beast of Burden at our wedding.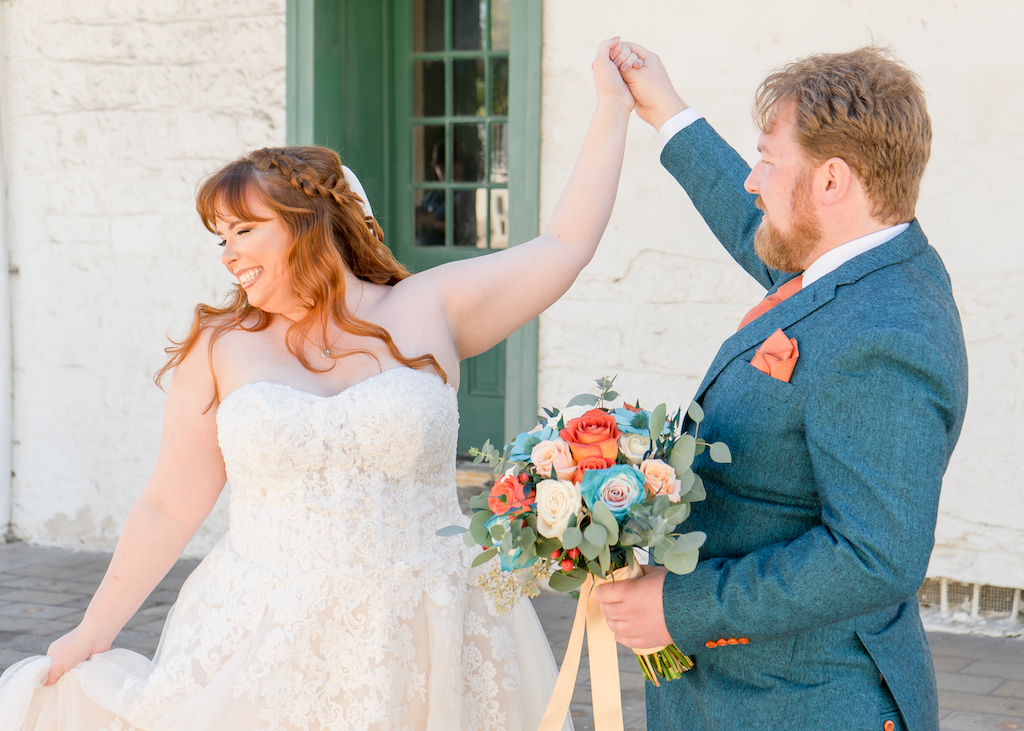 Tell us your proposal story!
He had been trying to find the perfect time for the proposal for a little while and he'd had the ring sitting on his dresser for several months. I helped him pick it and he proudly announce when he bought it. It was torture waiting for him to pop the question! On Valentine's weekend of 2020, we went on a camping trip to Mt. Madonna. I hadn't thought much of it since I noticed that he left the ring at home when we left for the trip. One night, we went for a night hike and it was so dark! I couldn't see my hand in front of my face without a flashlight. Supposedly he got down on one knee (I couldn't see) and he grabbed my hand and asked me to marry him. I cried and eagerly shook my head yes (not that he could tell). It was a funny and awkward proposal that required no ring. It was perfect!
How did you both decide on your wedding day look?
So many of my friends have had Pinterest boards and grand visions of their weddings since middle school… I wasn't like that. I did know, however, I wanted a fairy tale wedding dress. His vision? A teal suit. I love teal so I was happy to find a theme to incorporate it. We both have a special place in our hearts for Monterey, CA and suddenly the visions of a wedding started coming together.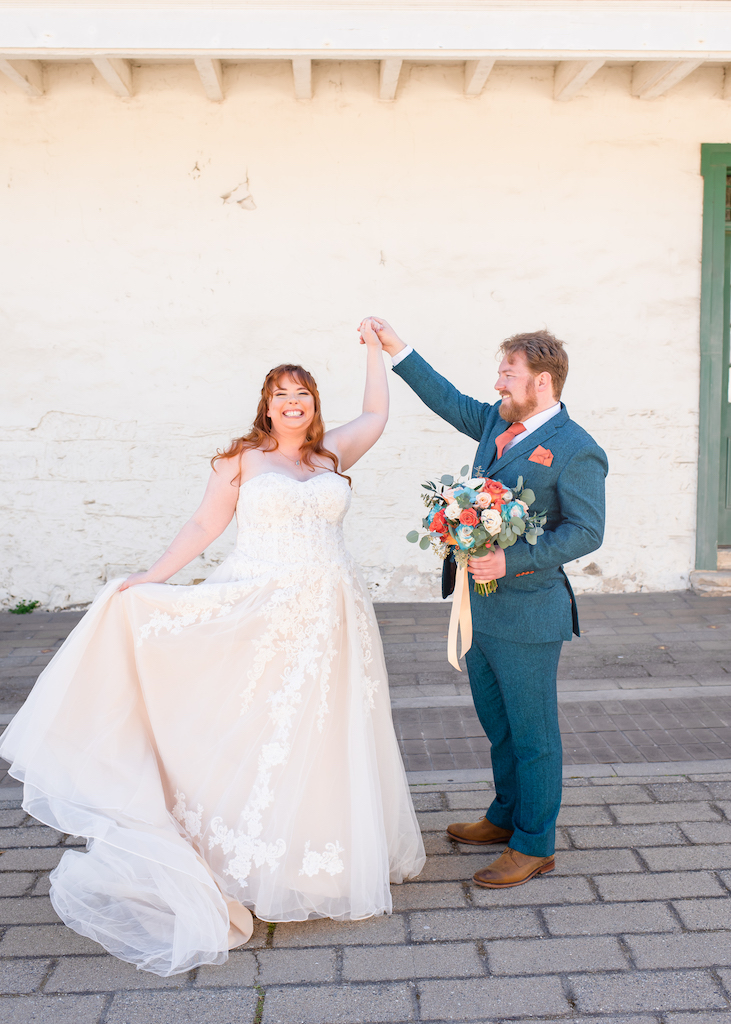 Do you have any shopping advice for future brides?
Try coming up with at least a few ideas before you start shopping. Google different dress styles/fits along with your body type – this really helped me find the type of dress I wanted. Next, know your budget! And, when you set that price point don't forget to think about additional costs such as alterations, shapewear, accessories, shoes, and maybe even a reception dress.
How did you feel when you knew that you #foundtheone?
I thought it was just for the 'gram but I really did cry when I saw myself in this dress. It was beautiful and I felt like the fairy tale princess of my dreams.
Was there a highlight or most memorable moment of the day?
Before the ceremony, there wasn't really a great place to "hide" from the guests before my entrance… So I sat in a corner and my two bridesmaids stood on either side and fanned out their dresses to hide me. It was silly and it felt so us. Having them there surrounding me on the most exciting day of my life is something I'll always remember.
Did anything funny or unexpected happen?
Prior to the ceremony during our first look photos, Dana, our photographer, found a ladybug on my veil! After the ceremony, my friends found another ladybug hiding in one of the tule layers of my dress. Apparently, ladybugs on your wedding day are good luck. Turns out I'm pretty lucky I guess!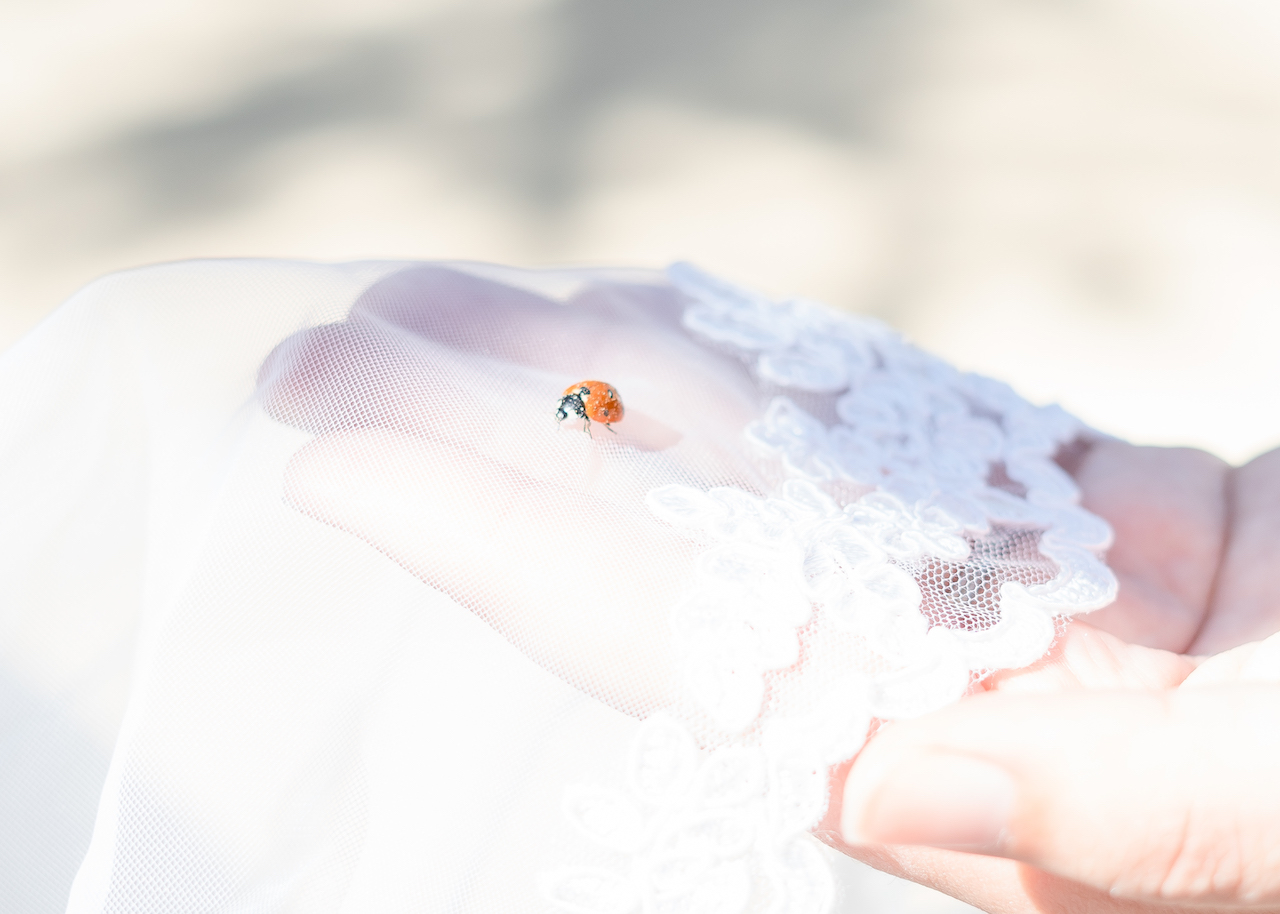 What was your theme?
Spring-fresh florals, dark orange, and teal colors throughout.
What did you do to stay stress-free on your wedding day?
I made sure all things that would need to happen the day of were organized and planned the day before. Everyone kept asking me "how are you feeling"? Honestly, I wasn't stressed or nervous at all. Just so extremely excited that the day had finally arrived. That said, all the excitement and adrenaline did eat at my stomach. It was hard but I know that forcing myself to eat throughout the day truly did help even though I had no appetite. I probably would have passed out otherwise!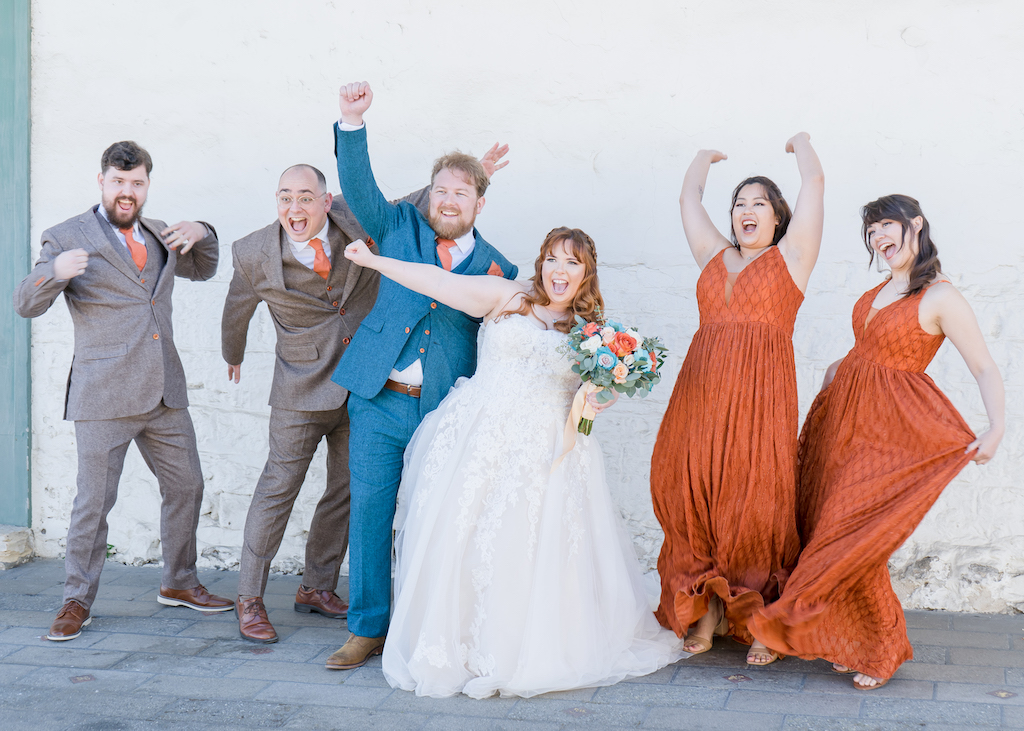 What's your best wedding planning advice?
Budgeting. Particularly when we started getting to the smaller things like accessories and little decorations. They might seem inexpensive as you're buying them, but they really do start to add up. Keep a list of everything you buy, plan to buy, what you've paid for with debit/cash, and what you've put on credit. Know your "must-haves" so you can budget around them.
Also, finding your vendors. I honestly didn't think it would be a big deal or take much effort to do a quick google search and hire a photographer and make-up artist. WOW was I wrong! Vendors are artists. They all have different styles and different prices and you're not the only one on the hunt. Their books fill up fast so be sure to start your search early!
Anything else you'd like to share?
Talk to your guests – all of them. Evaluate how many there are and make initial hellos brief so that you can get to all of them. But don't forget to have fun! You've spent lots of time, money, and effort to make this beautiful day come to life. Eat that dinner you carefully selected for the evening. Enjoy a special cocktail (send a bridesmaid or groomsman to get you one – it's your day and you get front-of-the-line privileges!) while chatting with friends.
And lastly, thank the people that helped you. Thank your parents for helping you with wedding favors, your bridesmaids for bringing the party to the getting-ready party, your groomsmen for an awesome bachelor party, the staff that served and cleaned up after you and your guests, and your vendors that helped the day glow and become the cherished memory of a lifetime.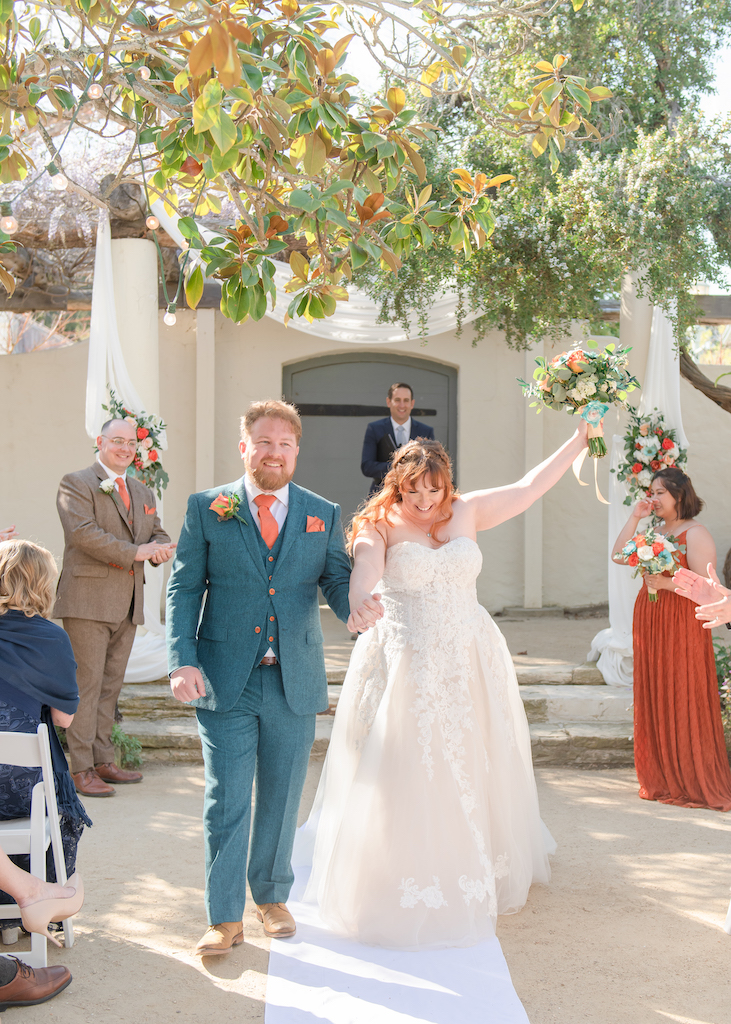 Wedding Date: March 26th, 2022
Location: Memory Gardens, Monterey, CA
Wedding Dress Style: Sheer Lace and Tulle Wedding Dress
First Dance Song: "Beast of Burden" by Rolling Stones
Wedding Cake Flavor: A small burnt almond cake for the two of us and mini tarts for the guests
Photographer: Dana Arnold
Spring Wedding in Monterey, CA? Read more real wedding stories here!
We know how important your wedding day and special events are to you and we are doing everything in our power to serve you! You can shop with us 24/7 at davidsbridal.com or come see us at your local David's Bridal. Plus we are here for you to help guide you through your wedding planning! See tips for starting to plan your wedding at home, shopping for your wedding dress online with confidence, and more on the blog.
Planning a wedding? Sign up for our Diamond Loyalty program—it's free!—and find local wedding vendors. Follow us on Instagram, Pinterest, TikTok and Facebook for more real wedding inspiration, or click here to book an appointment.
Related Posts: