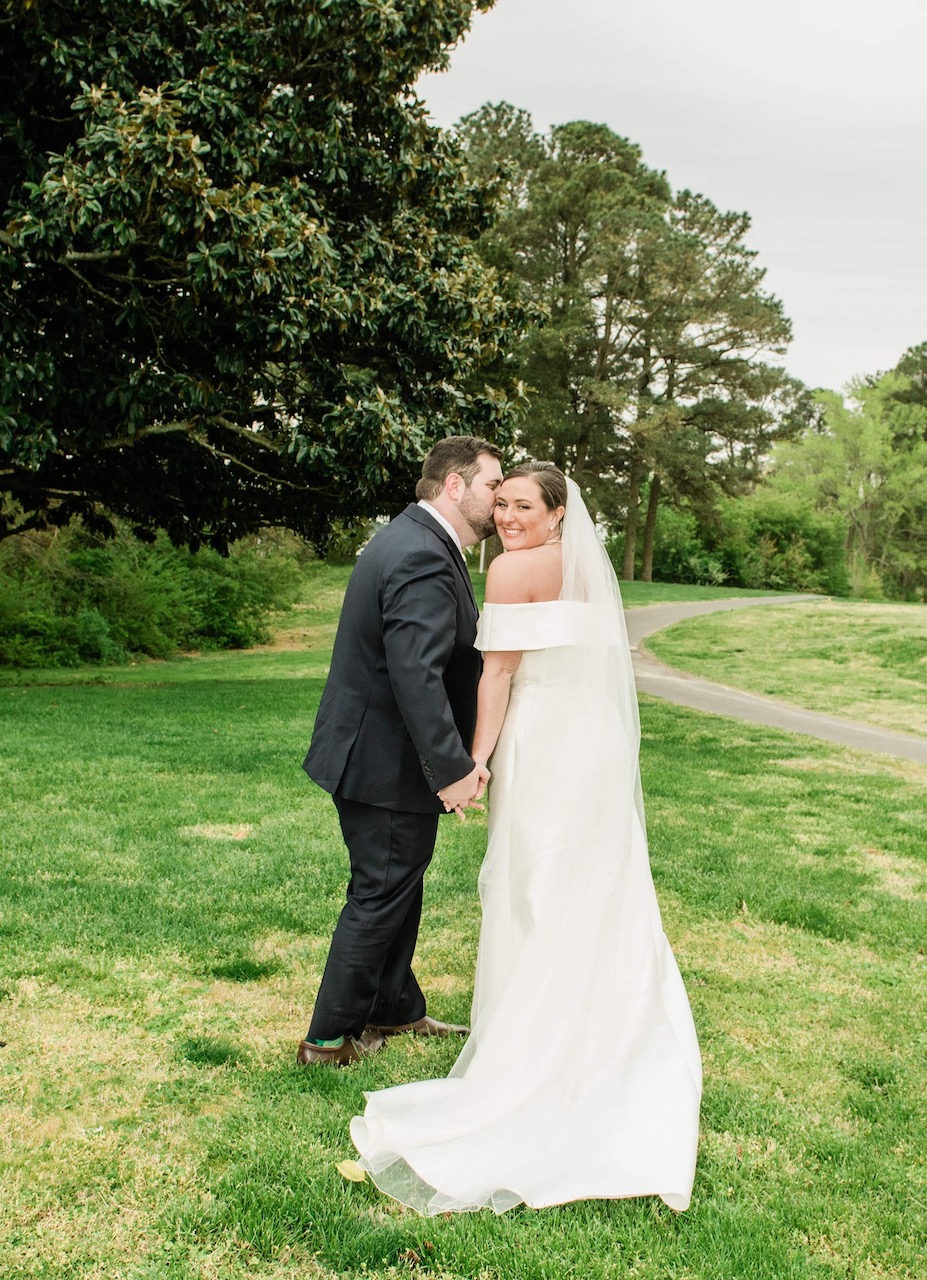 09 Feb

Real Wedding: Caroline & Christopher
Traditional Spring Wedding in Maryland
Real weddings are so inspiring! To get you in the mood to plan, we asked real brides to spill the details on everything from getting engaged and finding their wedding dresses to the special touches and surprising moments that made their celebrations completely one-of-a-kind. Today's real wedding story is full of classic details and timeless touches. Planning your own traditional wedding? Keep reading to see more from Caroline & Christopher's spring wedding in Maryland.
Briefly tell us how you and your fiancé met! How did you know that he was the one?
Chris and I met online. We met for drinks and trivia and learned we had so much in common, but it wasn't until I learned about our differences that I knew he was the one. All of his strengths are my weaknesses and vice versa. I learned it is our differences that make our relationship easy, fun and so special.
Tell us your proposal story!
On December 21st, 2019 Chris told me he wanted to take me on a date. We were busy selling and buying a house, so the last thing on my mind was an engagement. He said we just needed an "us" day. When I woke up, he told me he wanted to take me on a scavenger hunt. Each clue led me to a fun/favorite date we have had. We went to breakfast, made gingerbread houses, played putt-putt, and we ended up on the Ocean City, MD boardwalk pier where he got down on one knee. After he proposed, he had all my friends and family together at a restaurant to celebrate. It was perfect!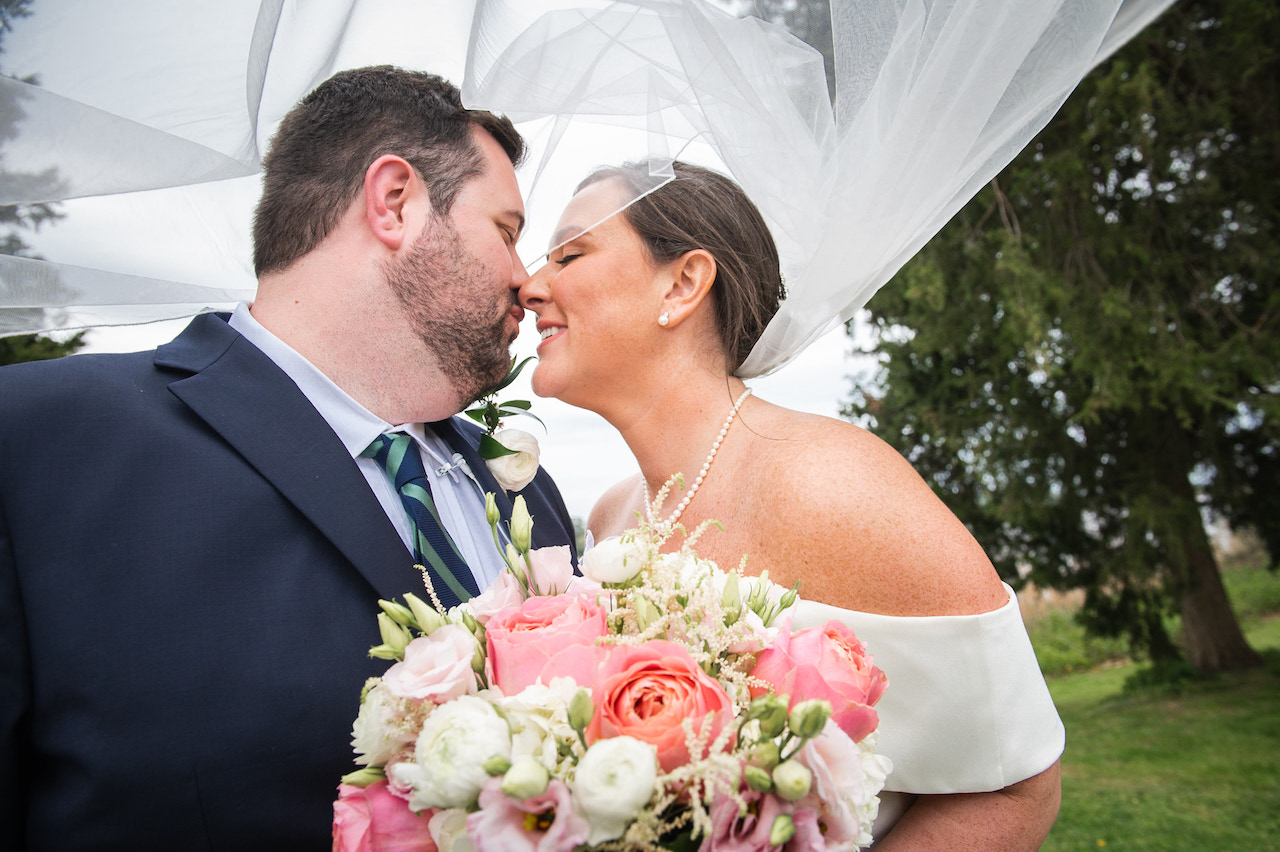 How did you both decide on your wedding day look?
We knew we wanted our wedding day look to be just an elevated version of us. We both are simple, classic, and traditional people. So it was important that our wedding represented just that, but with a little more spice because it was our wedding day, after all.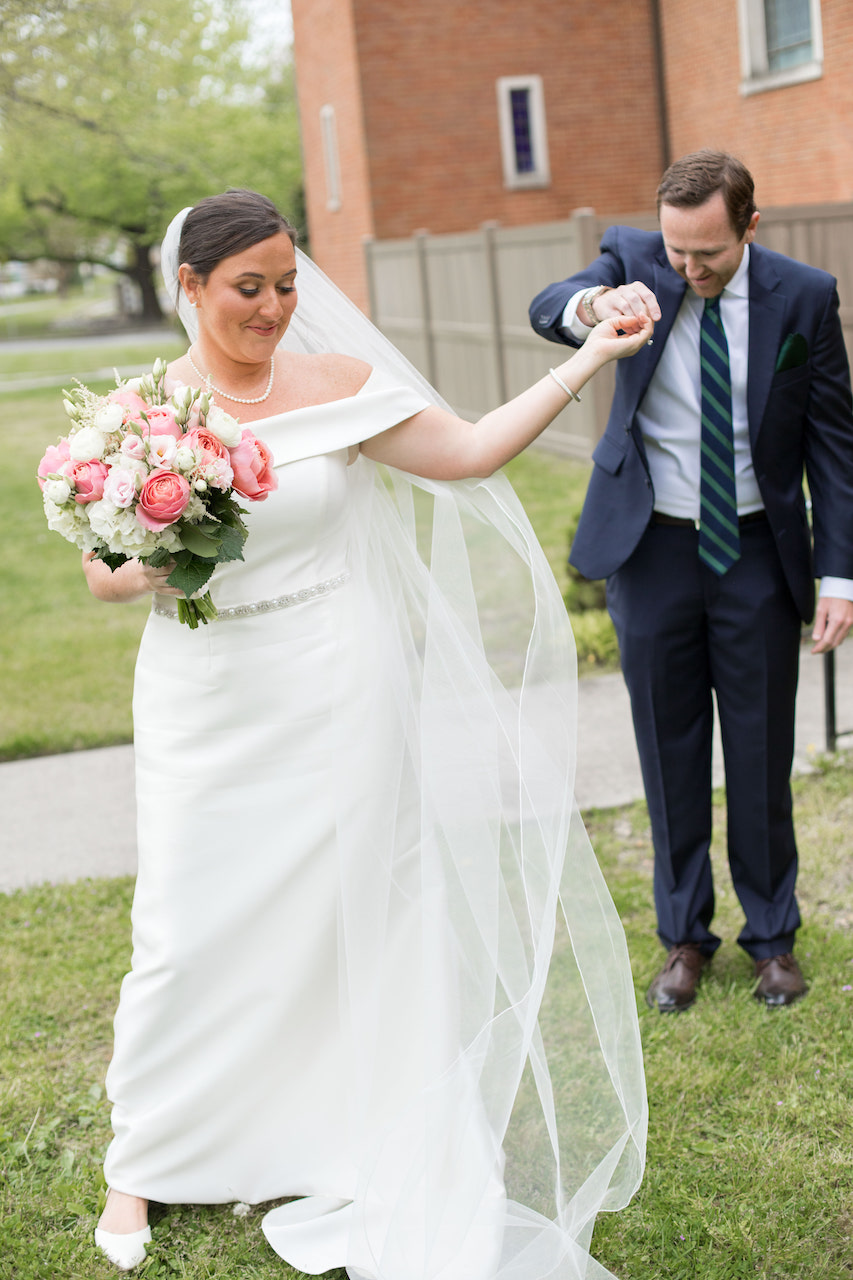 Do you have any shopping advice for future brides?
Go in with an open mind. Have fun and try on all different styles and soak in your bridal moment. I recommend bringing just one or two people with you. It can be overwhelming to have so many opinions. I went just with my mom and it was a special moment between us. You also have to trust your gut. You will know what is comfortable and what feels right.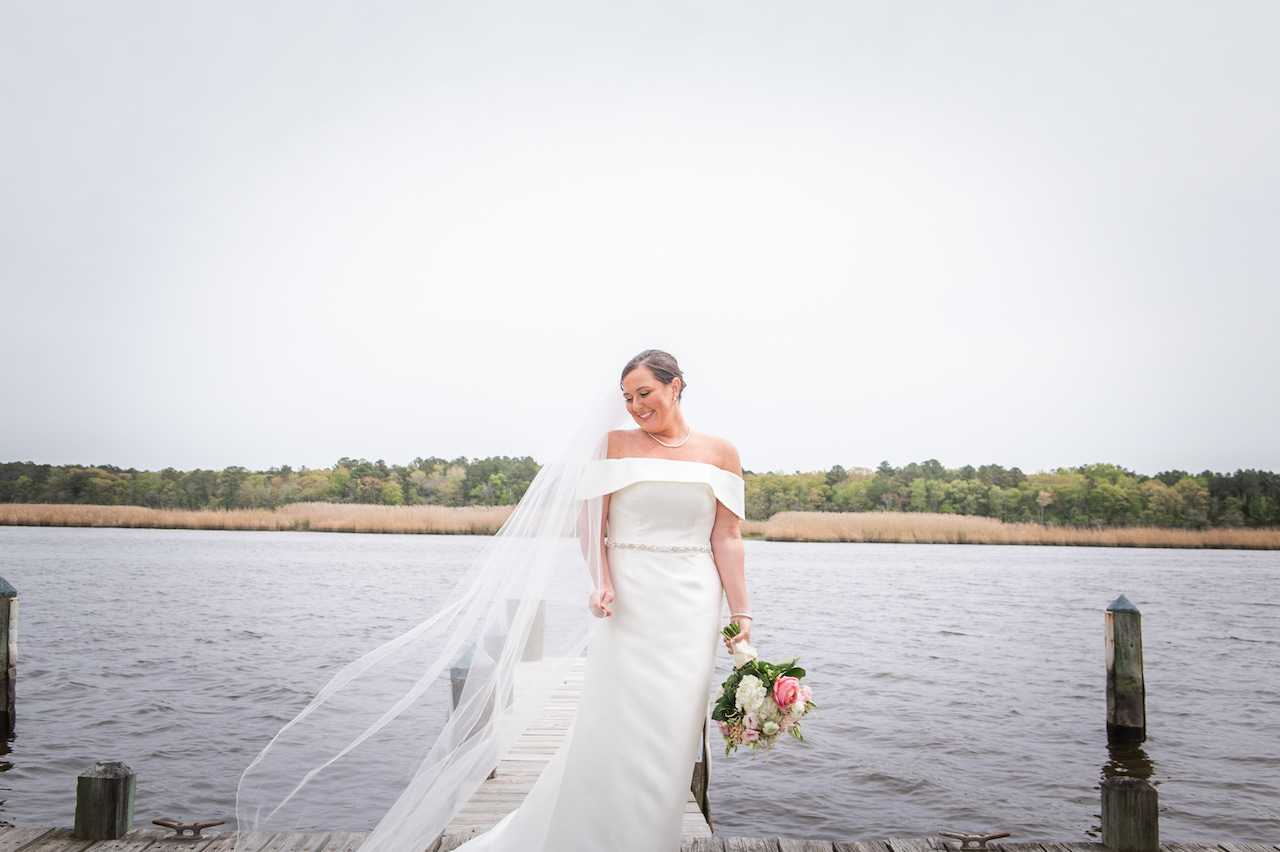 What was your favorite detail about your look?
This is a hard one. Can I say everything? Having an off-the-shoulder dress was so unique and the dress showcased my figure in all the right ways. However, I think the buttons on the back were my favorite. It's such a classic and timeless look.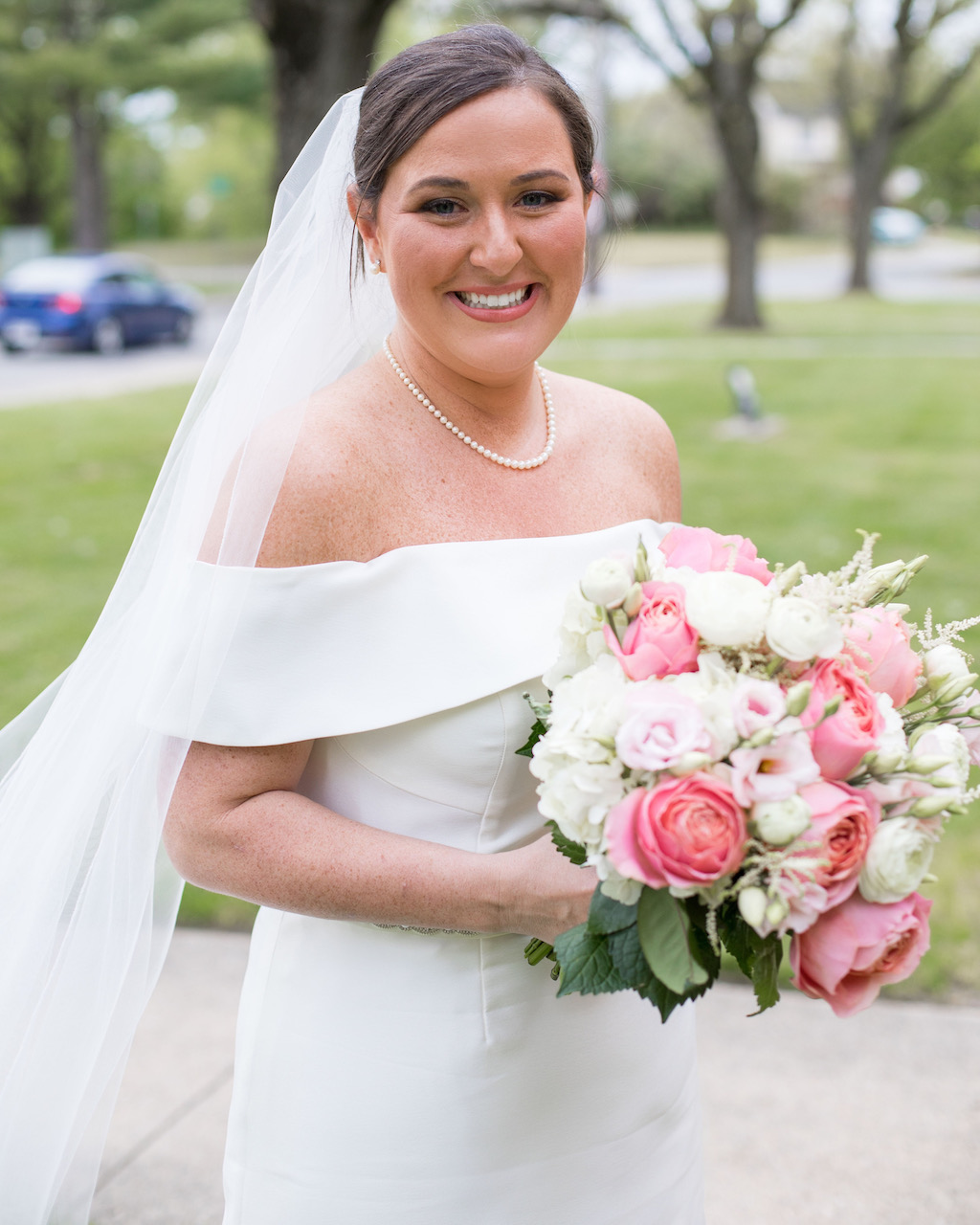 How did you feel when you knew that you #foundtheone?
I cried the second I put it on, even before I looked in the mirror. Trying on MY dress was different than any other dress. It is true that when you know, you know. I didn't want to take it off!
Tell us about your wedding day!
Our wedding day was truly one of the best days of our lives. We worked so hard to make the day intimate and as "us" as possible. We wanted our guests to feel like they were in our home. Our theme was blue & white. We collected over 70 ginger jars to have as centerpieces for the tables and throughout the room. We had a beautiful crest designed by Arabelle June, an artist from South Africa, and used it on our invitations, programs, and so much more! Our wedding was full of so much love, dancing, laughter, and happy tears. It was perfect.
Was there a highlight or most memorable moment of the day?
There are so many highlights that it is hard to narrow down, but my favorite moment was walking down the aisle with my mom. With my dad having passed away when I was a child, my mom and I have a special relationship and I loved that she gave me away to Chris. We forwent the "first look" and I am so thankful we did. My husband's reaction to seeing me walk down the aisle was so precious and a feeling I will hold close to my heart forever. I knew I would be happy and excited to see him, but the pure joy and excitement to see him truly took over. We wrote private letters to each other to read before the ceremony and after I read mine all I wanted to do was walk down that aisle and see him.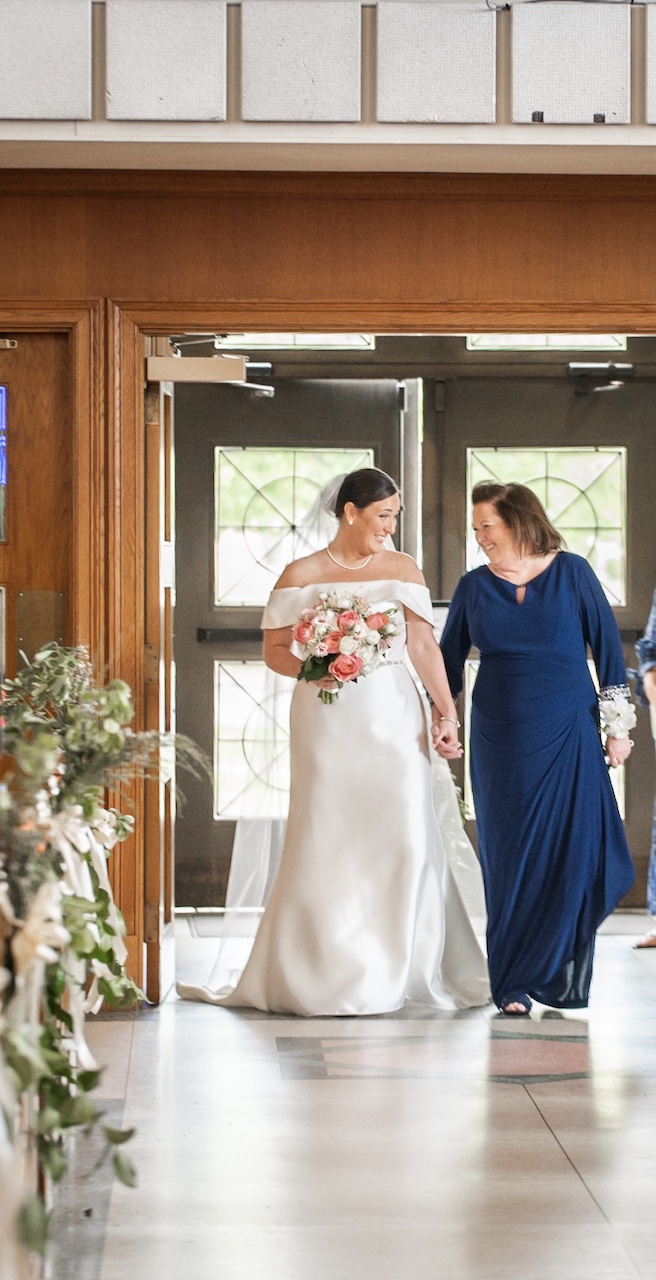 Did anything funny or unexpected happen?
This wasn't funny at the time and it was extremely unexpected… a bride's worst nightmare, I got lipstick front and center on my dress. FRONT AND CENTER. For some reason, I stayed so calm. Everyone ran around to try to get it out and nothing was working. Then my mom stepped up and got it out. Now, looking back, I can laugh about it and it was a reminder of how my mom always saves the day.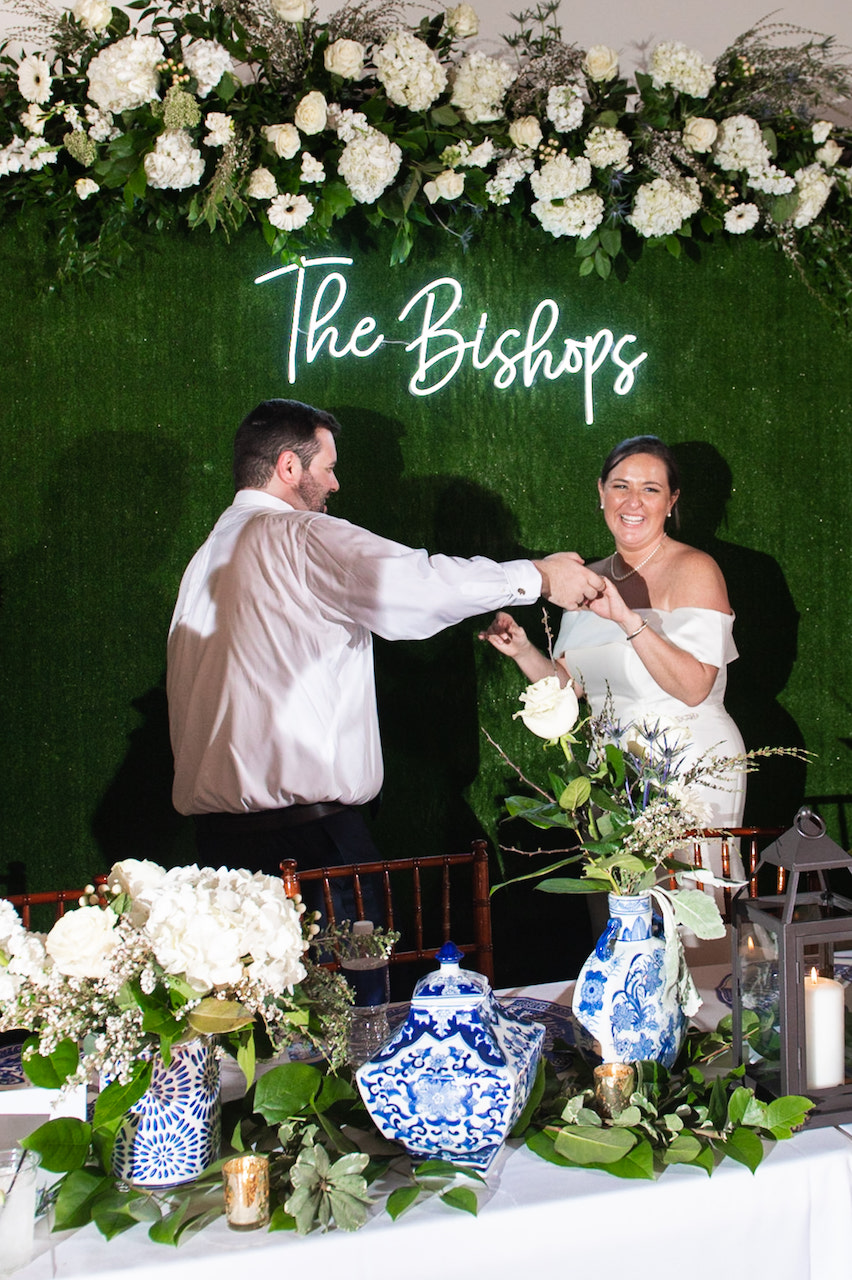 What was your favorite DIY or personal touch?
I would call us the king and queen on DIY projects for our wedding. We made our own LOVE marquee letters. We made a biscuit bar so that guests could take a dog treat home for their fur friends. We made Christmas ornaments out of hand-painted oyster shells for our seating chart.
What did you do to stay stress-free on your wedding day?
The morning of my wedding day my mom came into my room and we lay in bed and talked about the day to come, which was such a special way to start the day. We reminded each other that we did everything we could to plan and prepare to have the most perfect day. Our job moving forward was to just be present in every moment and soak it all in. I am happy to say that I did just that, from getting ready with my best girls all the way to sharing the last dance with my husband.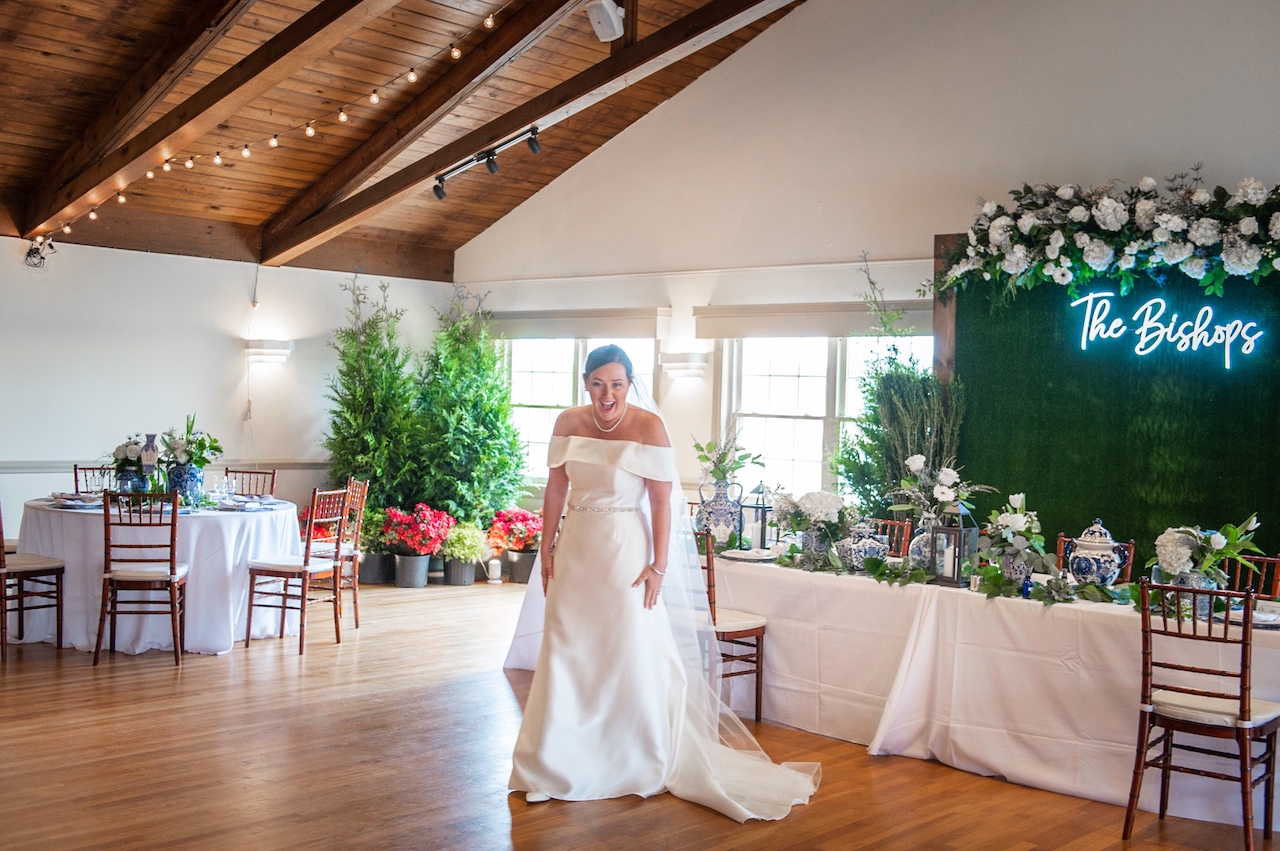 Anything else you'd like to share?
I bought my dress in January 2020 and got married in April 2021. During that time I lost over 60 pounds, so I was stressed about my dress and what alterations would be like. When I went for my first fitting, the manager said that they would return my dress and exchange it for another size so that my alterations wouldn't be so high in price. They didn't just do it once, they did it twice for me! I was so impressed with David Bridal and how they eliminated any stress that could have been caused because of this. David's Bridal was the only bridal shop that had sample sizing for ALL sizes. It made dress shopping fun and made you feel confident in all dresses because they actually fit and you could imagine yourself in the dress.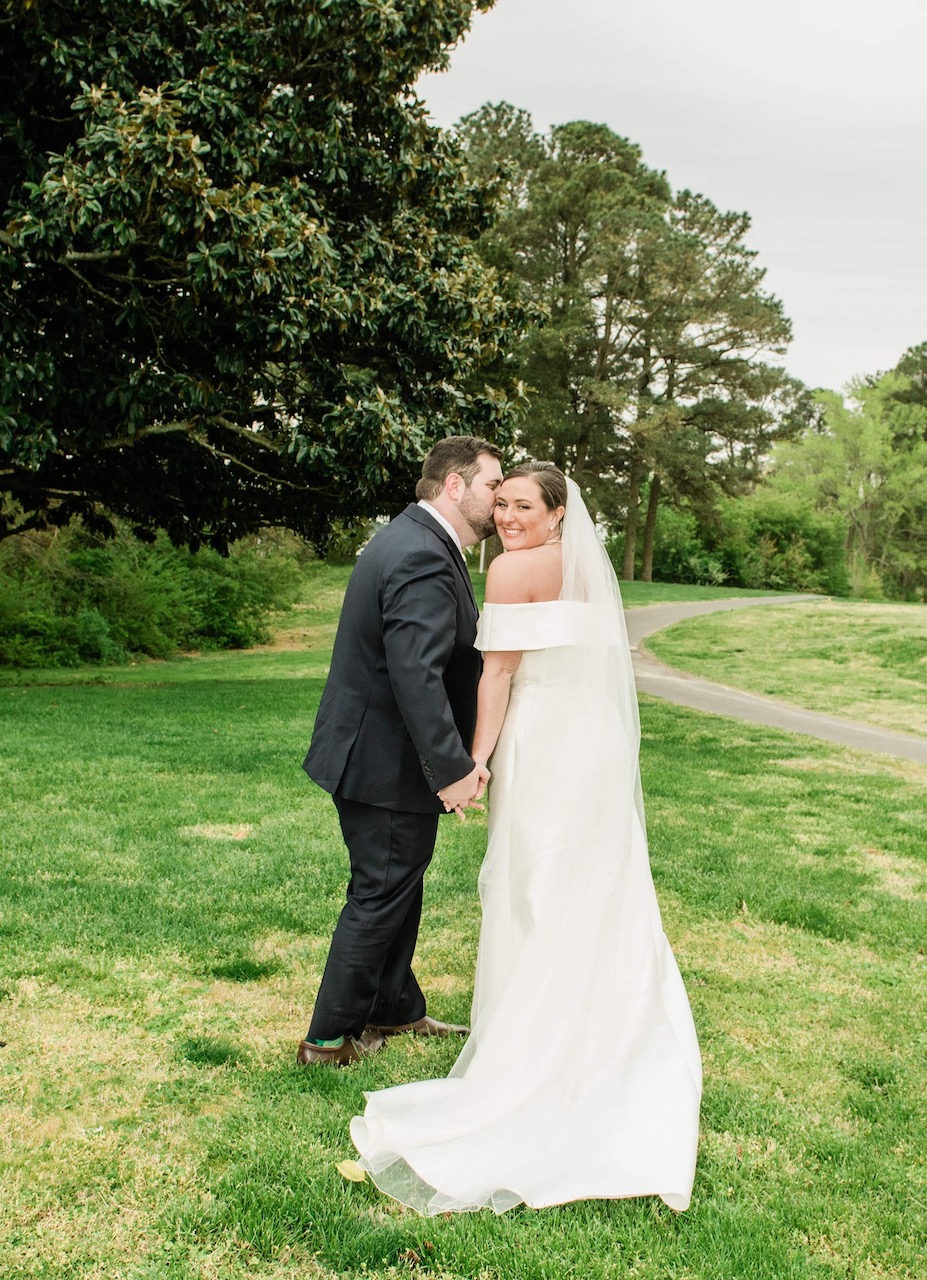 Wedding Date: April 24th, 2021
Location: Green Hill Country Club- Salisbury, MD
Wedding dress: Off-the-shoulder wedding dress from David's Bridal
Wedding Song: "Speechless" by Dan and Shay ft. Tori Kelly
Photographer: Amanda White
Love this traditional spring wedding in Maryland? Read more real wedding stories here!
We know how important your wedding day and special events are to you and we are doing everything in our power to serve you! You can shop with us 24/7 at davidsbridal.com or come see us at your local David's Bridal. Plus we are here for you to help guide you through your wedding planning! See tips for starting to plan your wedding at home, shopping for your wedding dress online with confidence, and more on the blog.
Planning a wedding? Sign up for our Diamond Loyalty program—it's free! Follow us on Instagram, Pinterest, and Facebook for more real wedding inspiration, or click here to book an appointment.
Related Posts: