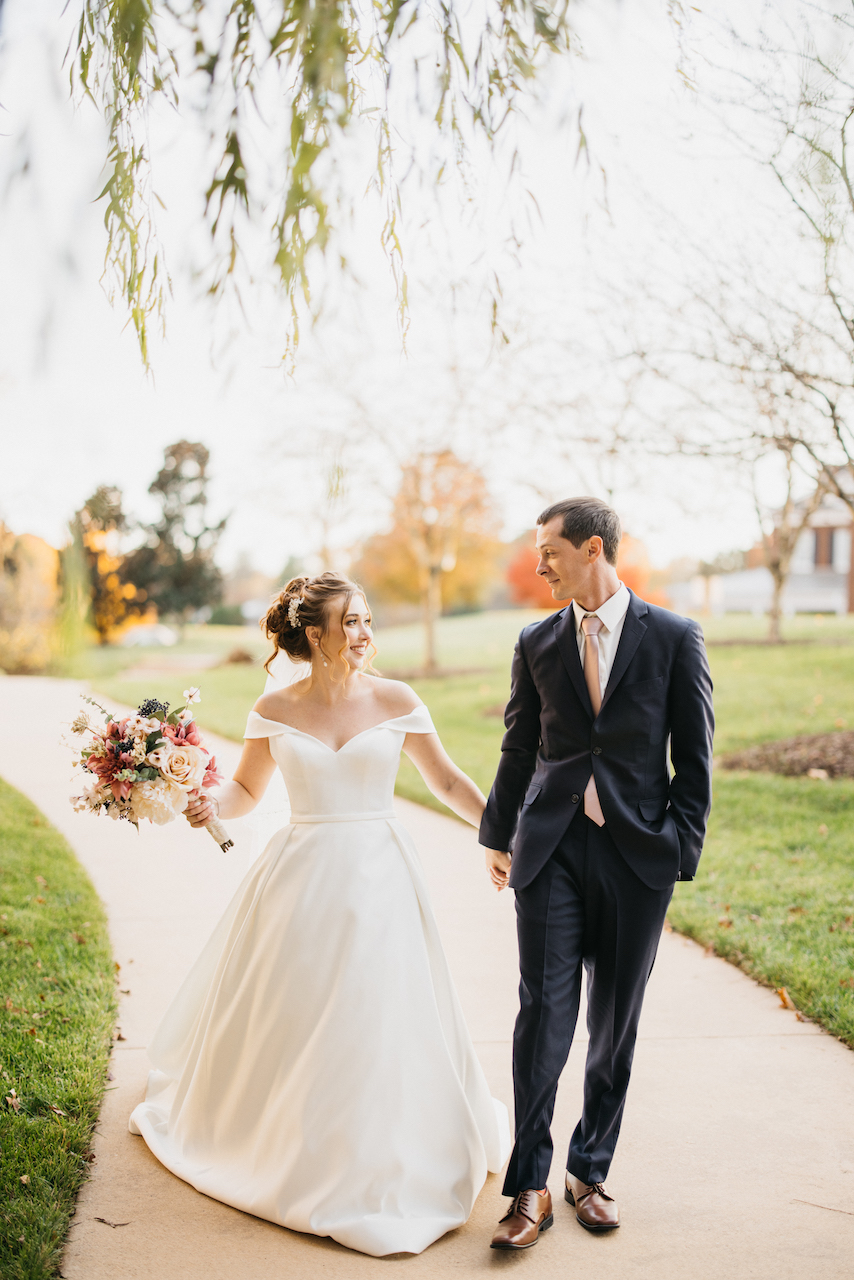 30 Mar

Real Wedding: Natalie & Colton
Romantic Wedding in North Carolina
Real weddings are so inspiring! To get you in the mood to plan, we asked real brides to spill the details on everything from getting engaged and finding their wedding dresses to the special touches and surprising moments that made their celebrations completely one-of-a-kind. Today's real wedding feature comes from Natalie and Colton. These soulmates tied the knot in a sweet, romantic wedding in North Carolina. Keep scrolling to see all the details from their love-filled day!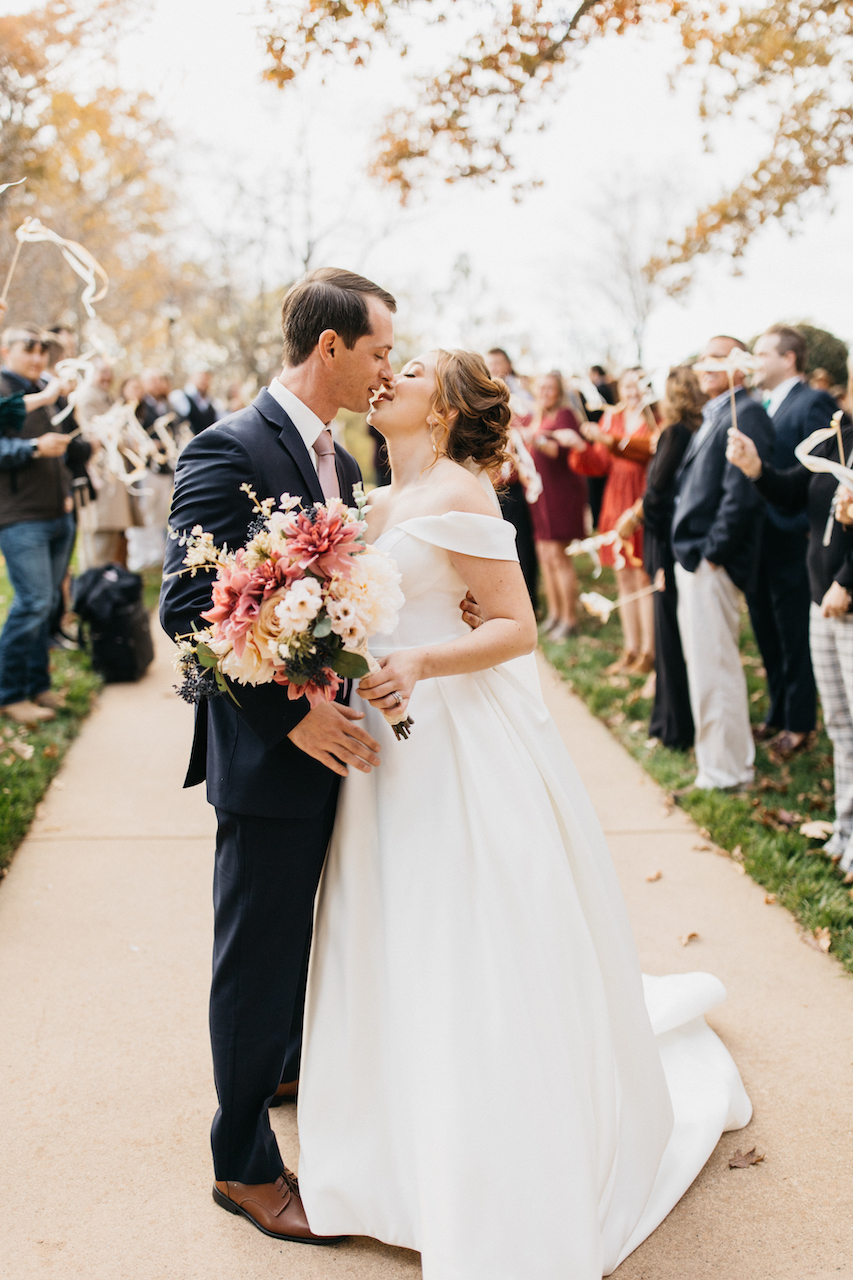 Briefly tell us how you and your fiancé met! How did you know that he was the one?
We met back in 2016 while I was at college and he was a local firefighter. We connected instantly! Life took us in different directions, but we made our way back to each other in 2019 and fell all over again. We took on one year of long-distance, then moved in together, and the rest is history! Those cliche sayings everyone tells you are true, "when you know, you know" and "If it's meant to be, it will be." He was worth the wait, the distance, all of it. He has the kindest soul and is the calm to my storm. Those who grow with you over time and love you in all phases of your life are the best kind of life partners.
Tell us your proposal story!
The ladies I worked with started placing bets on if Colton was going to propose on Christmas or New Years, so when he overheard he panicked. We had a friends and family holiday party December 19, 2020, and he threw his plan out the window and proposed! I thought we were taking family pictures and he was photo-bombing in the background, so when I turned to make fun of him, he was getting down on one knee! In my slippers and our dog in the video, we were all laughing and crying tears of joy. It couldn't have been more perfect.
How did you both decide on your wedding day look?
I booked my appointment at David's Bridal and I didn't even look anywhere else! I favorited a TON of dresses online, all filled with jewels and sparkles and all kinds of silhouettes that I wanted to try on. Once I got there for my appointment, my now father-in-law helped me pick out a few that really caught my eye. They were all simple, beautiful satin gowns. My dress was the third one I tried on. It had simplistic beauty and POCKETS! I instantly fell in love.
Do you have any shopping advice for future brides?
Be open to different silhouettes, styles, looks, embellishments, etc. The kind of dresses I scrolled past online was the dress I ended up falling in love with!
Tell us about your wedding day!Was there a highlight or most memorable moment of the day?
Everything about it was great! I loved our send-off that we did immediately after our ceremony, where we got to share that immediate happiness of, "hey, we're now married!" with friends and family cheering along side of us.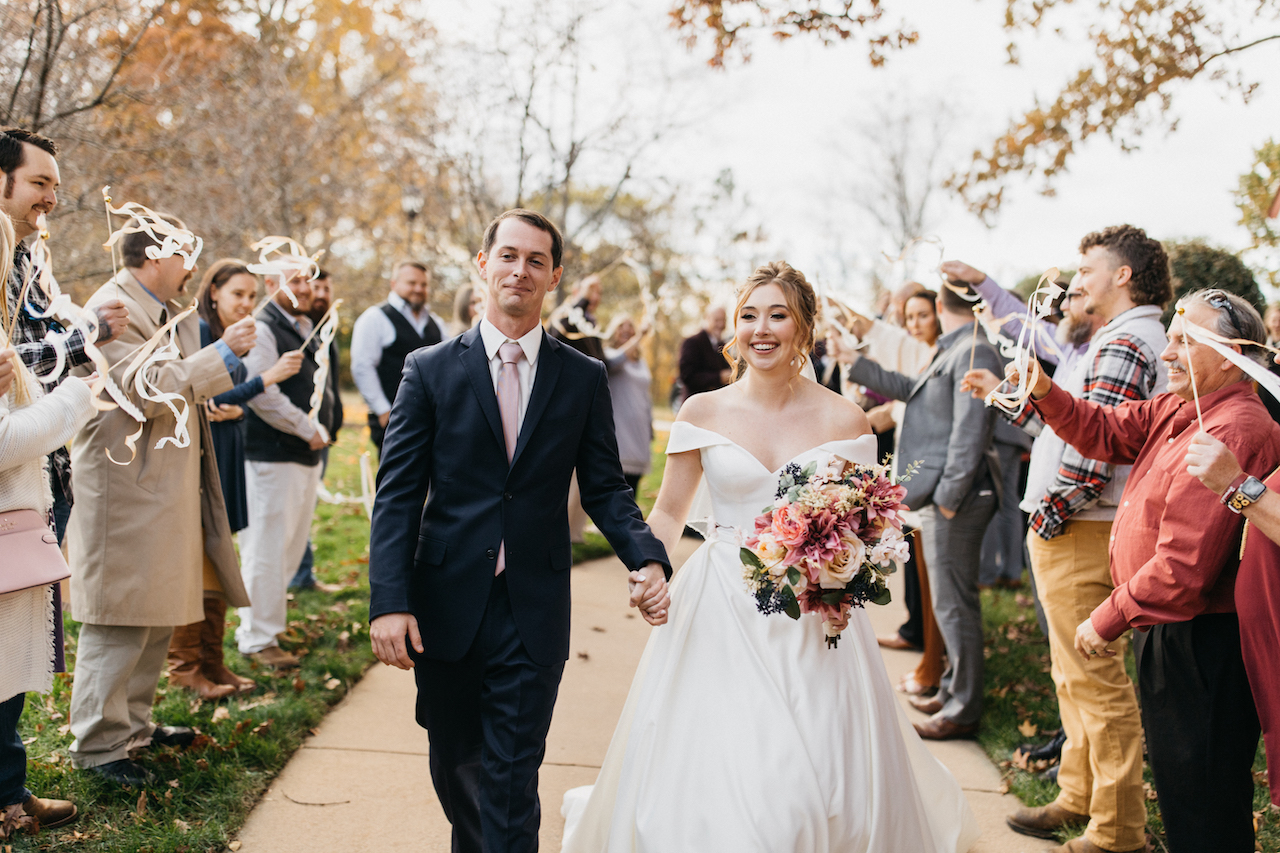 Did anything funny or unexpected happen?
We had our dog, Roo, in our ceremony. When we were pronounced husband and wife everyone clapped and cheered, our dog barked along!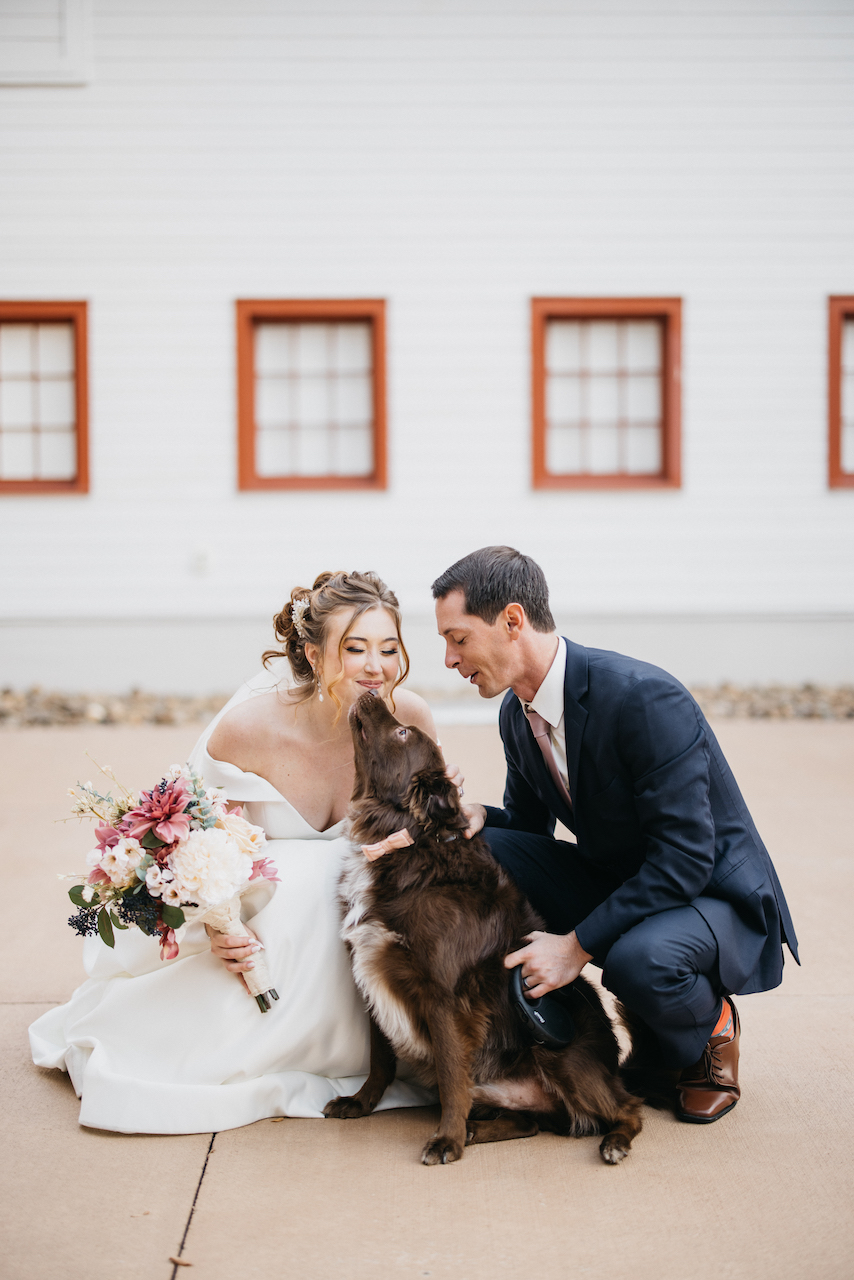 Is there something you wish you had known before the big day/while you were planning the wedding?
To relax, hire a coordinator, and add parts of you and your significant other into the wedding, to make it all the more special and unique.
Did you have to make any changes to your wedding plans because of Covid?
Yes! When we booked our venues we were operating at half capacity. We ended up having to purchase more of everything because the restrictions got lifted!
What was your favorite DIY or personal touch?
We made all of the flower arrangements, including the bridesmaids and my bridal bouquet!
What did you do to stay stress-free on your wedding day?
I surrounded myself with my amazing bridesmaids who made me laugh and calmed my nerves so I could enjoy the day!
What's your best wedding planning advice? And what advice do you have for brides that are planning their weddings right now?
Hire a coordinator and your absolute favorite photographer/videographer to capture it all. It really does fly by so quickly, so make sure to stop, take it all in, look and appreciate all of the details and hard work put in, and love on your partner!
Anything else you'd like to share?
I had SUCH a great experience at David's Bridal, when I was in need of a part-time job, they were the first place I went to! I worked with many brides and immensely enjoyed helping them pick their dresses, so they could have a great experience like I had.
More Details:
Wedding Date: November 14, 2021
Wedding Location: Winmock at Kinderton, Bermuda Run, North Carolina
Wedding Dress Style: Off the shoulder satin ballgown
First Dance Song: 'Love Me Tender' by Elvis Presley
Wedding Cake Flavor: Vanilla!
Photographer: Kelsie Elizabeth (hired through Tolman Media)
Love this romantic wedding in North Carolina? Read more real wedding stories here!
We know how important your wedding day and special events are to you and we are doing everything in our power to serve you! You can shop with us 24/7 at davidsbridal.com or come see us at your local David's Bridal. Plus we are here for you to help guide you through your wedding planning! See tips for starting to plan your wedding at home, shopping for your wedding dress online with confidence, and more on the blog.
Planning a wedding? Sign up for our Diamond Loyalty program—it's free!—and find local wedding vendors. Follow us on Instagram, Pinterest, TikTok and Facebook for more real wedding inspiration, or click here to book an appointment.
Related Posts: