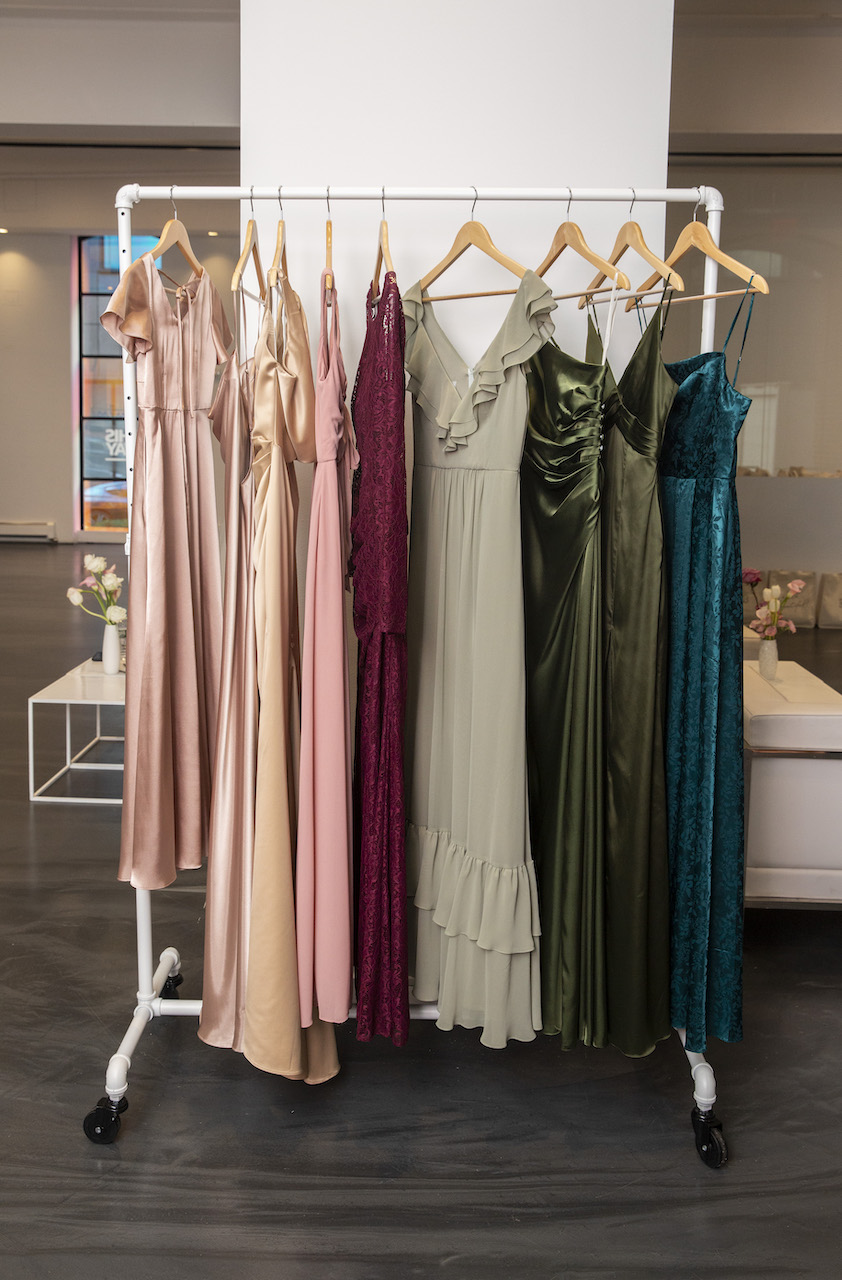 06 May

Fall 2022 Bridesmaid Dress Trends – New Dresses
We're Falling for These New Bridesmaid Dresses
We've walked through all the latest bridal trends for Fall 2022 and now it's time to give your leading ladies some love, too! No matter your preferred aesthetic or desired silhouette, our newest collection of bridesmaid dresses is full of styles that will flatter every member of your party. Keep scrolling for an exclusive look at the latest on Fall 2022 bridesmaid trends!
Satin and Shine
It's no surprise that sultry fabrics have found themselves on the trending list for the upcoming season. Carefully crafted materials like velvet, satin, and charmeuse will have your girls shining all night long! Looking to add a unique touch to this trend? Opt for bridesmaid dresses with draped, fitted, and ruched details for a sexy bridal party look that is guaranteed to turn heads. Our newest satin and shine arrivals feature everything from romantic touches to glam details, so you're guaranteed to find the dress that fits each of your bridesmaid's style.
Style GS290094 in Marine, GS290112 in Sand, F20611 in Wine, GS290017 in Sand, GS290109 in Cinnamon
A Nod To The 90's
The 90s are having a major moment, especially when it comes to bridesmaid dresses! These one-of-a-kind gowns will stand out all on their own, but for a modern take on this timeless trend, pair slip dresses, on-trend necklines like a cowl neck, and styles with an empire waist for a mismatched look that will accompany each other beautifully. Incorporating fabrics like velvet or opting for a fun silhouette like a jumpsuit will keep your ladies looking fashion-forward while giving the perfect nod to this trend.
Styles F20559 in Martini Olive, GS290113 in Sand, F20573 in Gem, F20469 in Tawny, F20580 in Wine
Romantic Ruffles and Florals
It's all about the details when it comes to this bridal party trend. Amp up the romance with ruffles and floral patterns this season! Some of our newest fall dresses for maids feature an eclectic combination of bold and soft shades in a variety textures that are a perfect match for each other (because who doesn't love a good mix and match moment!). The best part? This trend will complement all your besties and will look gorgeous for the walk down the aisle.
Styles F20573 in Desert Coral, F20557 in Dusty Sage, F20365P, F20586 in Biscotti
INSIDER LOOK AT BRIDAL FASHION WEEK
Want a closer look at our Fall 2022 collection? Click through to see images of our newest bridesmaid dress designs from bridal fashion week!
We can't wait to see which Fall 2022 bridesmaid trends are our brides' favorites. Shop bridesmaid dresses and sign up here to be the first to see the latest styles from our Fall '22 collection!
Planning a wedding? Sign up for our Diamond Loyalty program—it's free!—and find local wedding vendors. Follow us on Instagram, Pinterest, TikTok and Facebook for more 2022 spring bridesmaid dresses, or click here to book an appointment.
Related Posts: