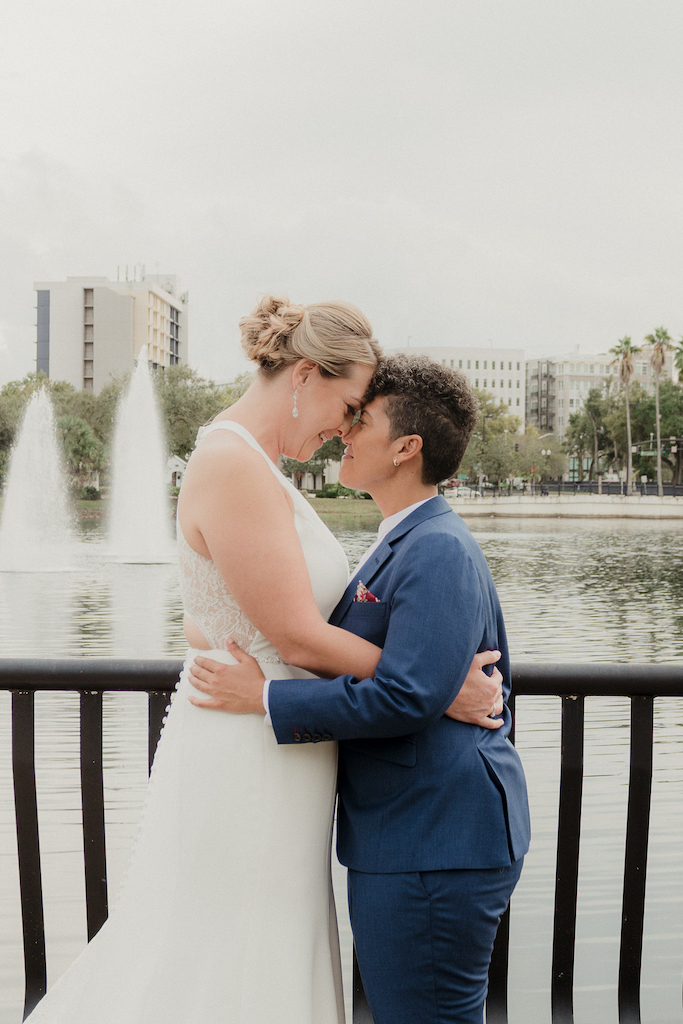 16 Jun

Real Wedding: Aislinn & Maria
Fall Wedding in Florida
Real weddings are so inspiring! To get you in the mood to plan, we asked real brides to spill the details on everything from getting engaged and finding their wedding dresses to the special touches and surprising moments that made their celebrations completely one-of-a-kind. Aislinn & Maria tied the knot in a stunning ceremony that is guaranteed to make your heart melt. Read on to see more details from their fall wedding in Florida!
Briefly tell us how you and your partner met!
Maria and I met on Bumble! We were both teachers and that started the conversation. Talking was so easy and I found myself checking my phone often, smiling when I saw her name pop up. I was so nervous on our first date, I couldn't make eye contact for the first five minutes. Maria was so kind and made me laugh, so I decided to relax and even ordered a second drink. She's been making me laugh daily ever since.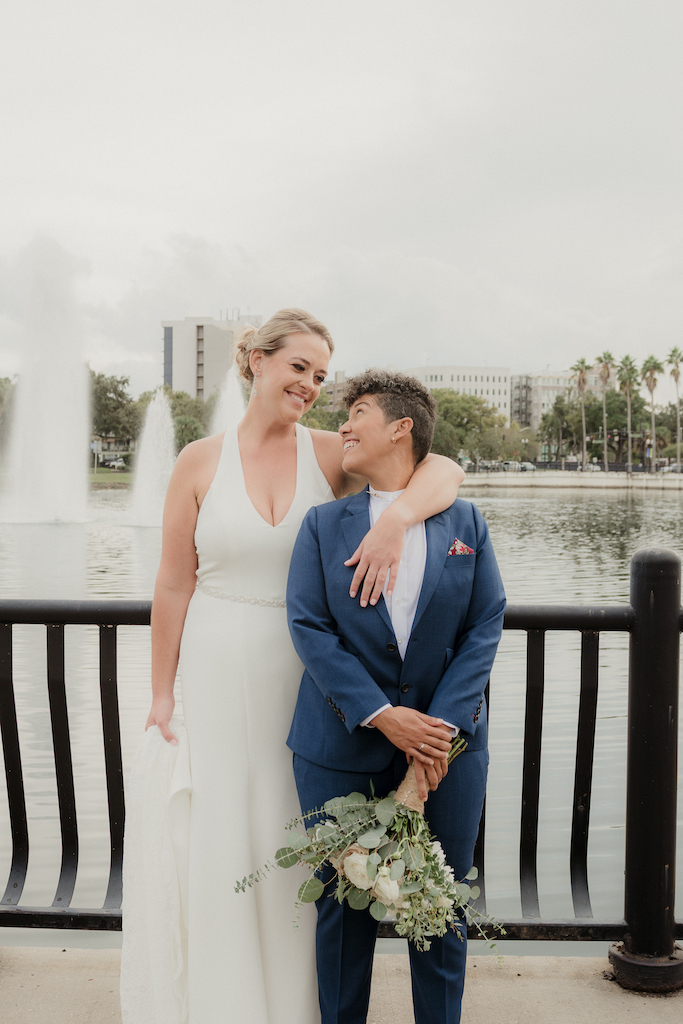 Tell us your proposal story!
I knew I wanted to propose to Maria on our dating anniversary. So, I took her back to where we fell in love – St. Augustine, Florida. I reached out to her close friends and family and asked them to write her a letter about what she means to them. I wanted Maria to feel so loved that day. There were nine letters in all. Each letter also had a clue that would lead Maria to a special spot in St. Augustine that held a memory for the two of us.
It started with coffee and a letter from her mom and ended at the spot where I knew for the first time I loved her – St. Augustine beach – where I gave her the final letter, mine. She said yes! We drove home the next day, but I had one more surprise left. Waiting at home was all the family & friends who wrote letters and together we had a surprise dinner. Maria showed off her ring and I held her hand all night knowing I was going to spend the rest of my life with her hand in mine.
Of course, I still wanted "my moment." Maria knew that, so she planned a proposal all on her own and it was one of the best days of my life. She took me to Bahia Honda Beach in the Florida Keys and proposed Thanksgiving weekend. Then the wedding planning really began!
How did you both decide on your wedding day look?
We are two very practical people so it took us a long time to decide on what our look would be. Maria went with a custom suit, and I said yes to the dress at David's Bridal.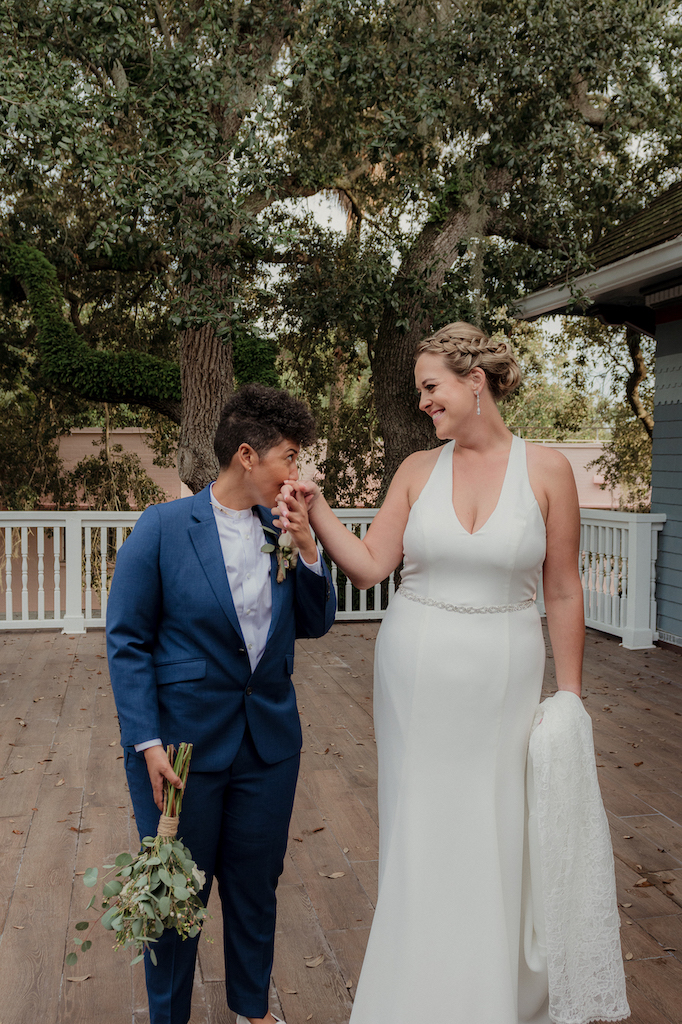 Do you have any shopping advice for future brides?
Sit in your dress, try to pick something up off the floor with your dress on, dance in your dress, look at your dress (or take pictures) from the side (remember this is how your guests will see you at the altar), etc. Remember you will have the time of your life on your wedding day, so you want to be comfortable! To avoid regret, get the dress that is right for YOU.
How did you feel when you knew that you #foundtheone?
I'd never dreamed of my wedding dress, but I knew I wanted this day to be special and that's really all I could tell the associate. She found five dresses for me to try based on my likes and dislikes. I did not cry or have this moment but I knew the dress was mine because it felt like me – it felt like I could walk right out of the store wearing this dress and have the most magical day ever and that's what I wanted for my wedding. It was perfect.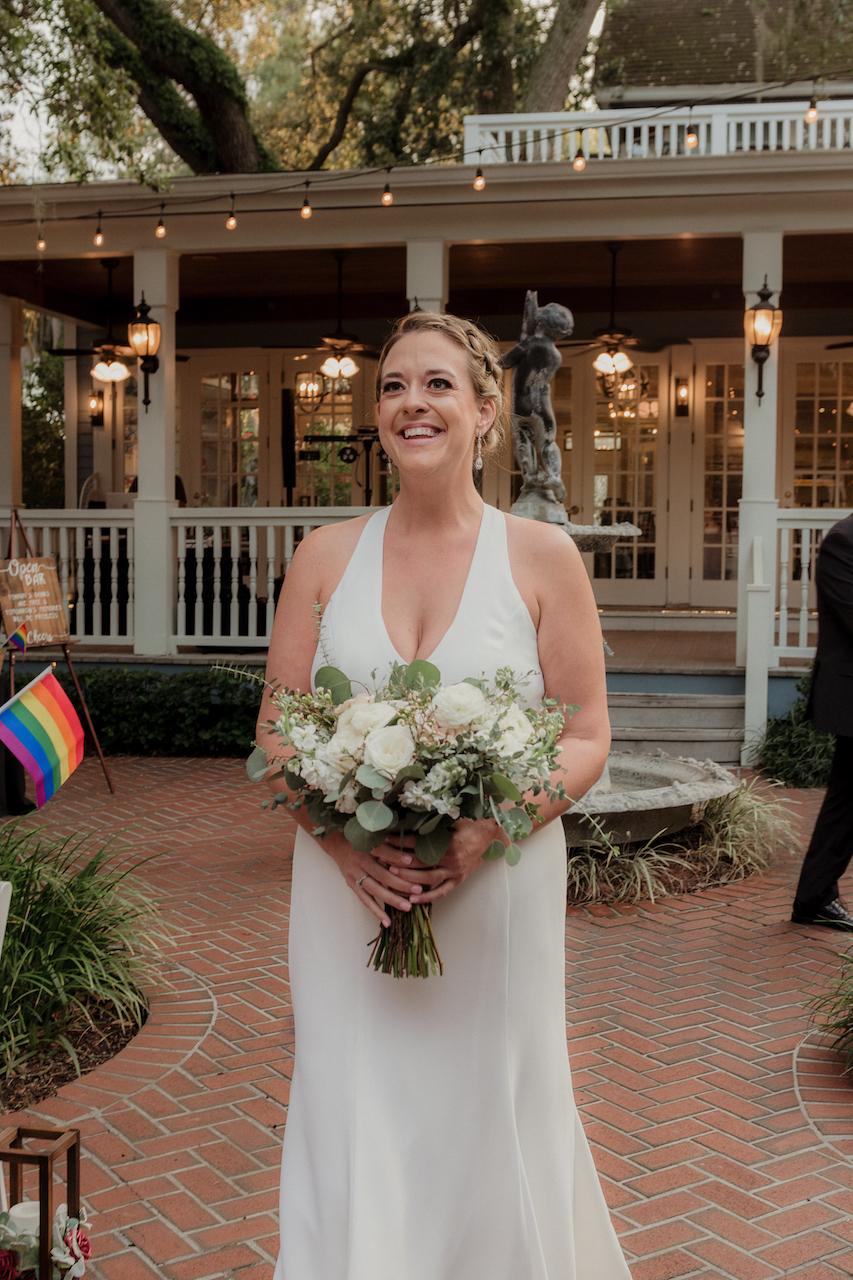 Tell us about your wedding day!
Maria and I wanted to plan a day for our friends and family that would be memorable and filled with details about us. We are very proud to say we saved for the wedding ourselves (with some help from family as well) and were able to pay for our wedding without any debt! It was hard work, but worth it.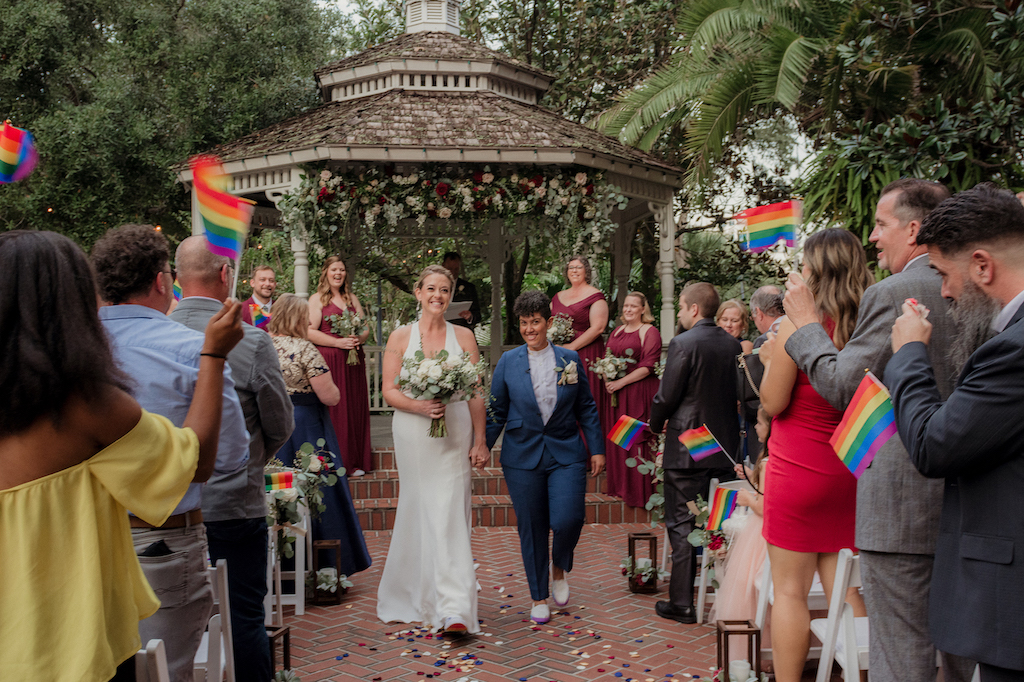 Was there a highlight or most memorable moment of the day?
There are three things to come to mind.
Our guestbook: At each table, there was a book and a bottle of champagne that held a special purpose. These were our "guest books." My friend gave a speech to let everyone know to sign the book with a message to us to read on our monthly anniversary. For example, table 1 signed the book with a 1 on it and we read it on our first month anniversary. Each month we open that table's champagne and sit together and read the messages our loved ones wrote to us. So far we have laughed, shed a few tears, and have been able to relive our day each month as we read the books.
Our dessert: One of my favorite things in the world is dessert. We had a wedding cake made by a local baker along with macarons. For a special surprise, we also had an ice cream truck come. It was a big hit!
Our after-party: The venue was a historic home that we rented so the bridal parties could stay the night with us. After the wedding was over, some of the best memories continued! I remember sitting in my pajamas in the grand room with all of our bridesmaids and their partners. We shared your classic late-night snack of mac-n-cheese and popcorn chicken. Together we laughed and told stories from the night. I looked around, with Maria's hand in mine, at all of our closest friends and knew I would never forget this day.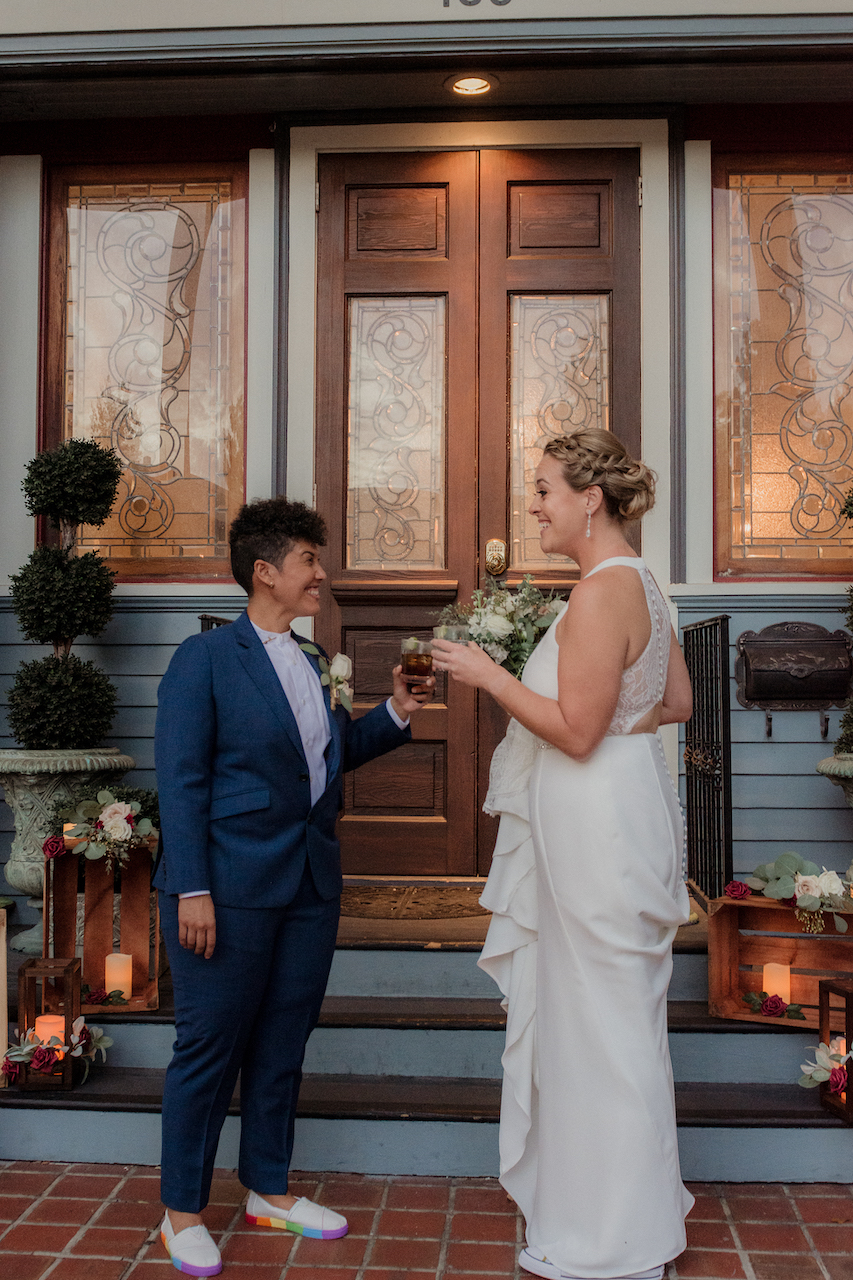 Did anything funny or unexpected happen?
During the cake cutting, our wedding planner brought over some ice cream so we could get some cute photos with the ice cream and cake. The photographer asked us to feed each other some ice cream and I spilled the entire spoon of blue ice cream down Maria's suit! Good thing she had it pressed and the ice cream wiped right off. We still laugh about it now!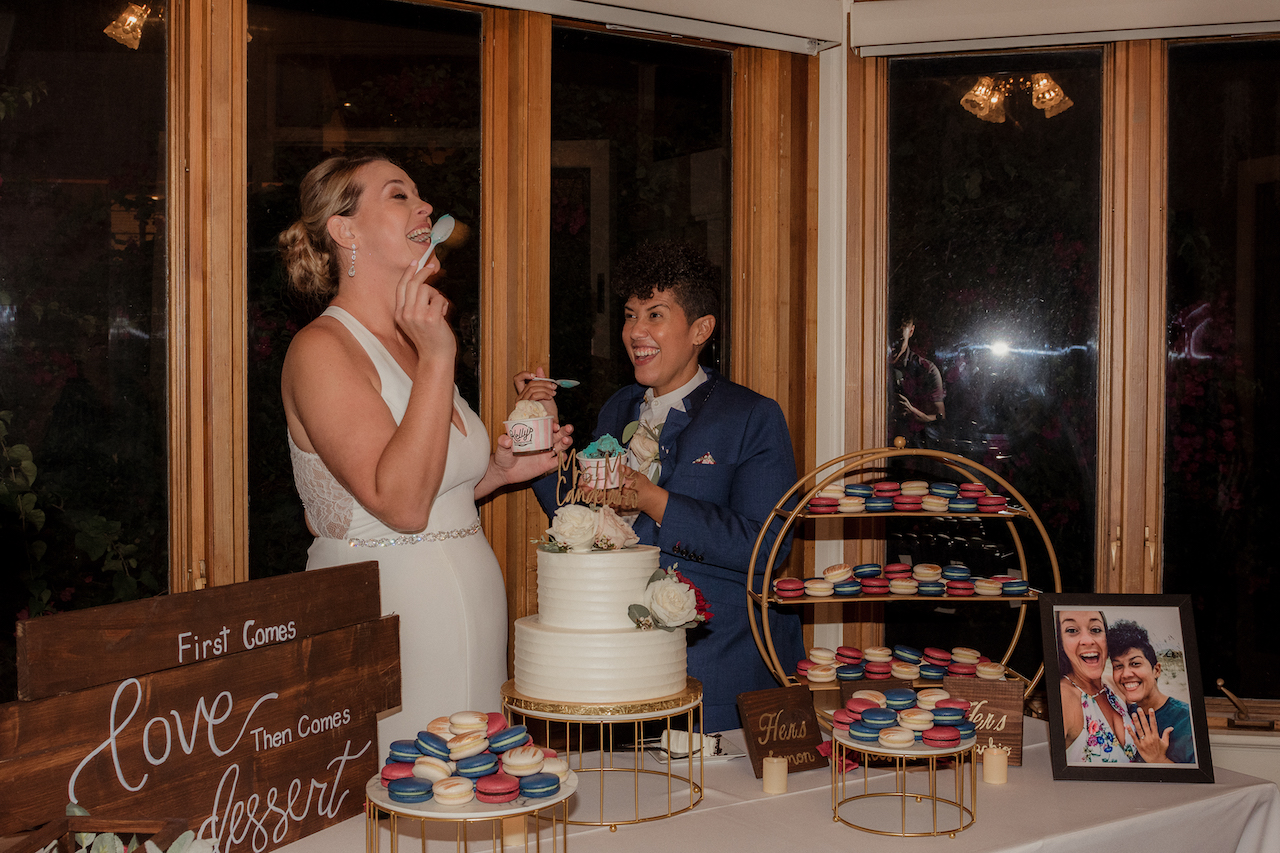 Is there something you wish you had known before the big day/while you were planning the wedding?
Make sure if there is something that really matters to you, you tell someone or speak up, so you know it happens. We love coffee and wanted a coffee bar set up for our friends and family to enjoy. I gave my wedding planner notes about what I wanted to have on the table, and she did an amazing job setting it up. I would also recommend a private moment after the ceremony with you and your new spouse. My wife and I had champagne on ice in our room and we spent about 20 minutes just her and I together while my wedding planner gathered specific people for photos. This moment was so special. We checked in with each other, shared our first glass of champagne together, and just enjoyed each other's company. We really didn't get to spend too much time together after that, so it made it even more special!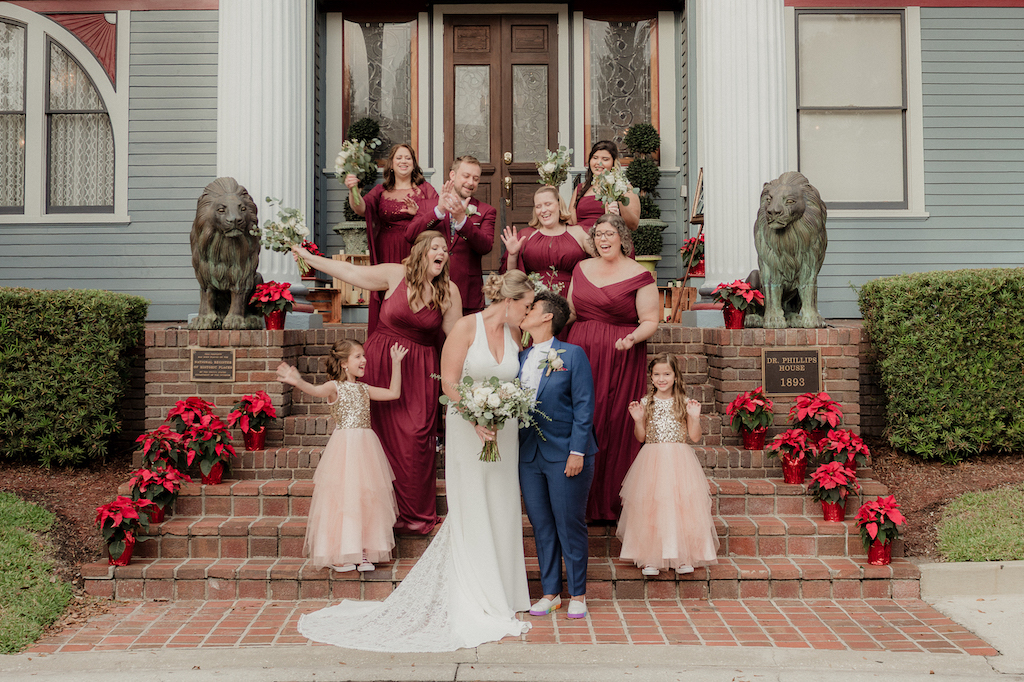 Did you have a first dance song?
"You are my Favorite" by Heather Mae. We had a first dance and we enjoyed it, but I would also 100% recommend a last dance song! As our wedding planner got everyone outside for our bubble send-off, Maria and I danced our last dance song, just the two of us. It was a perfect moment. Our song was "Dressed up in White" by CAL.
What did you do to stay stress-free on your wedding day?
My brother was a "bros-maid" and did an amazing job at taking care of all of the little stressors or problems. If anyone needed anything he made sure to take care of it without bringing it to me. We also had an amazing wedding planner that took care of everything! We stayed stress-free thanks to those two amazing people!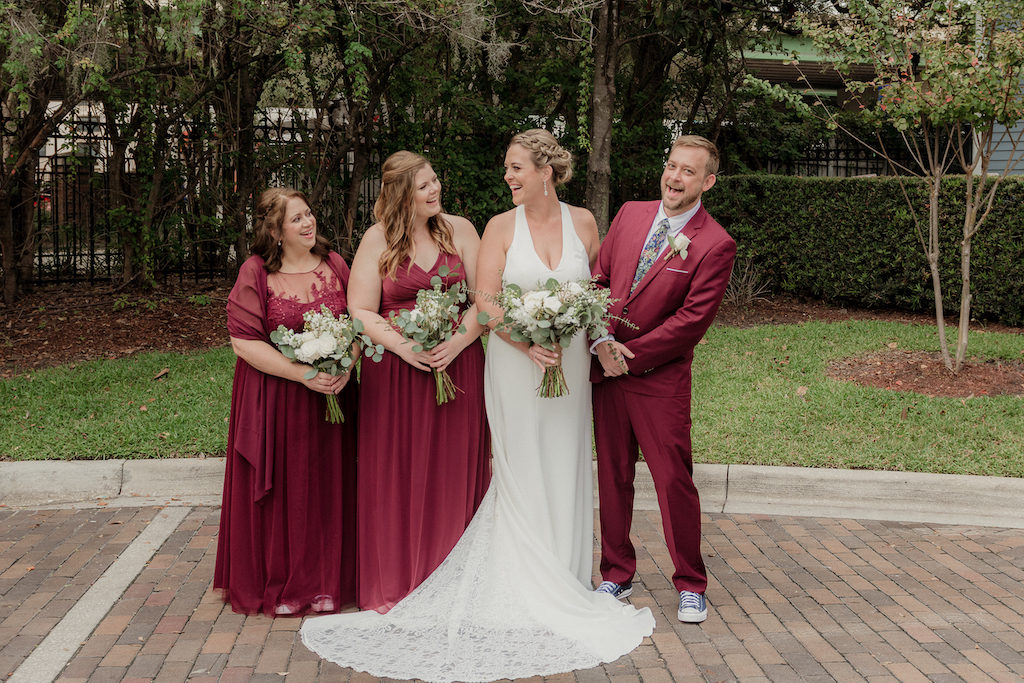 What's your best wedding planning advice?
I made a spreadsheet of everything that was important to us and what we were willing to spend on each item. I then added things that we also needed to purchase but weren't as important. For example, I really wanted a videographer, but invitations were so important to me. I asked Maria if we could save on invites so we could have a videographer and she agreed! This day is about you and your partner so make sure you are happy with each choice and if it is something that isn't really a big deal to you, delegate it to someone else so you can keep the important things on your plate!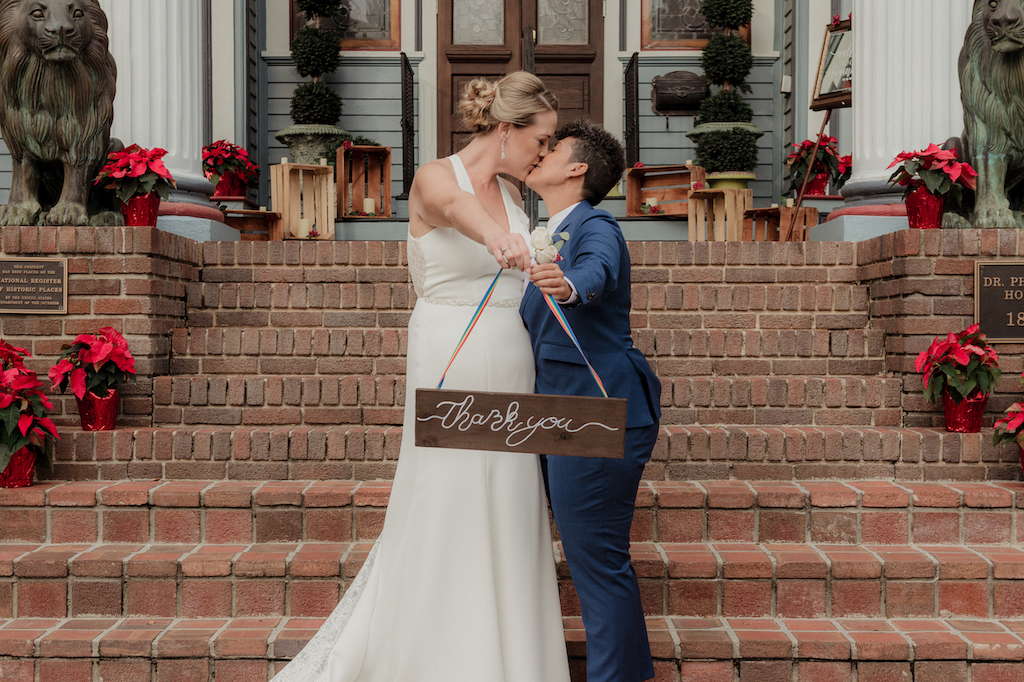 More Details:
Wedding Date: November 12th, 2021
Location: Dr. Phillips House (Orlando, Florida)
Wedding Dress Style: Sheer Back Crepe wedding dress with Lace Train
Wedding Cake Flavor: German chocolate with chocolate ganache icing and Funfetti with buttercream frosting
Photographer: Lilly Pham
Inspired by this fall wedding in Florida? Read more real wedding stories here!
We know how important your wedding day and special events are to you and we are doing everything in our power to serve you! You can shop with us 24/7 at davidsbridal.com or come see us at your local David's Bridal. Plus we are here for you to help guide you through your wedding planning! See tips for starting to plan your wedding at home, shopping for your wedding dress online with confidence, and more on the blog.
Planning a wedding? Sign up for our Diamond Loyalty program—it's free —and find local wedding vendors! Follow us on Instagram, TikTok, Pinterest, and Facebook for more real wedding inspiration, or click here to book an appointment.
Related Posts: