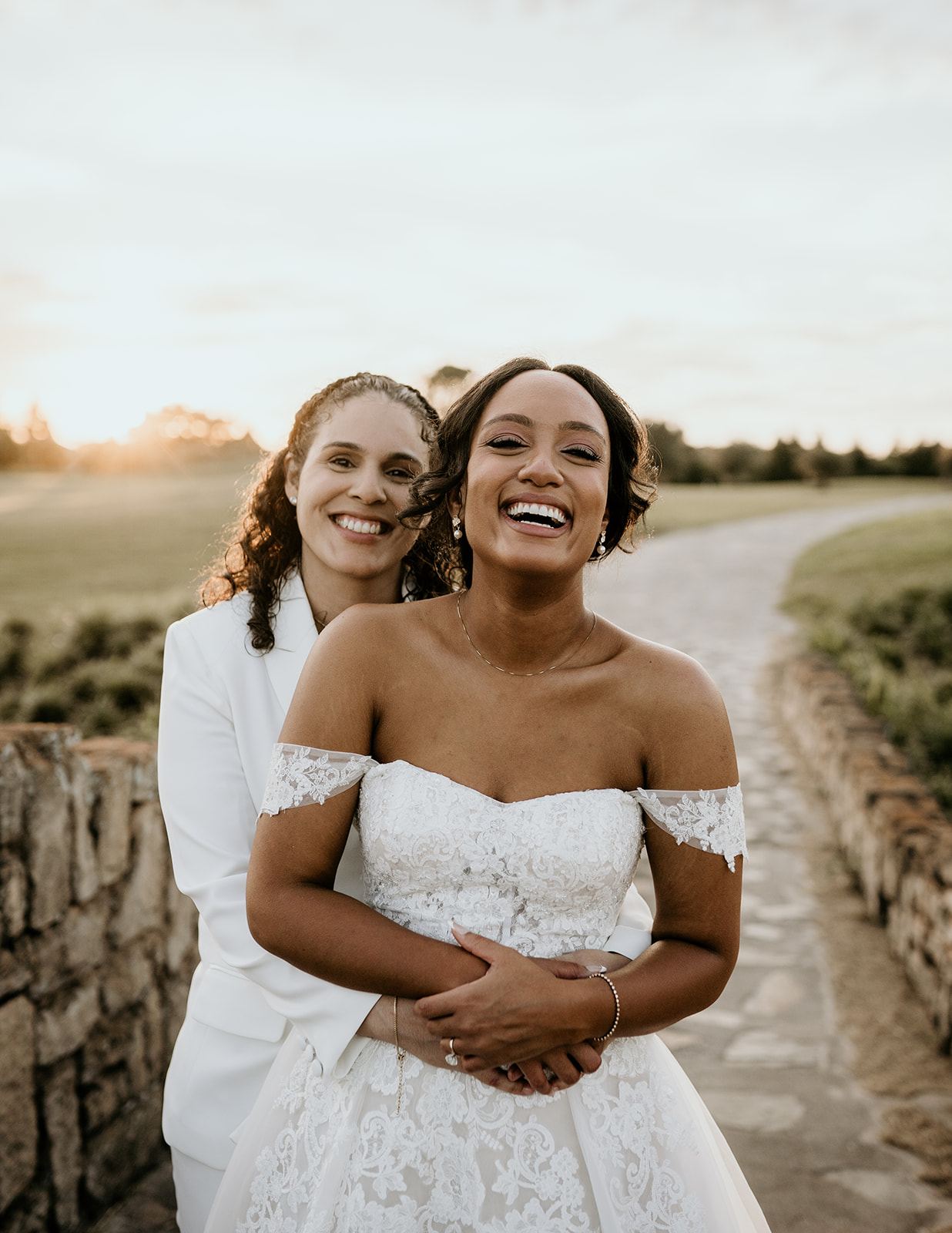 17 Nov

Real Wedding: Sandy & Mariel
Intimate October Wedding
Real weddings are so inspiring! To get you in the mood to plan, we asked real brides to spill the details on everything from getting engaged and finding their wedding dresses to the special touches and surprising moments that made their celebrations completely one-of-a-kind. Today's real wedding comes from soulmates Sandy & Mariel, who finally tied the knot in early fall 2021. Their special day was filled with love and joy for the beautiful couple. Keep reading for all the details from their intimate October wedding.
Briefly tell us how you and your partner met!
Sandy: It was the day before an exam and I had begrudgingly agreed to meet a friend at the tutoring center (even though I didn't need extra help). I was so focused on studying that, at first, I didn't even notice my future wife! I was placed at Lizbeth's table, who happened to be one of Mariel's best friends. Liz and I hit it off right away, but unbeknownst to me, she was trying to find out if I was interested in Mariel. After a few visits to the tutoring center, I started to develop feelings for her. Eventually, Liz and Mariel came up with a plan to get my phone number, and now the rest is history!
How did you know that she was the one?
Mariel: Sandy felt familiar as if I knew her before. Right away I felt comfortable and at peace being in her presence. Also, e had similar stories, interests, morals and so much more so it was very easy talking to her. And finally, she chose and loves me for who I am and has always fought for what we have. She's my best friend.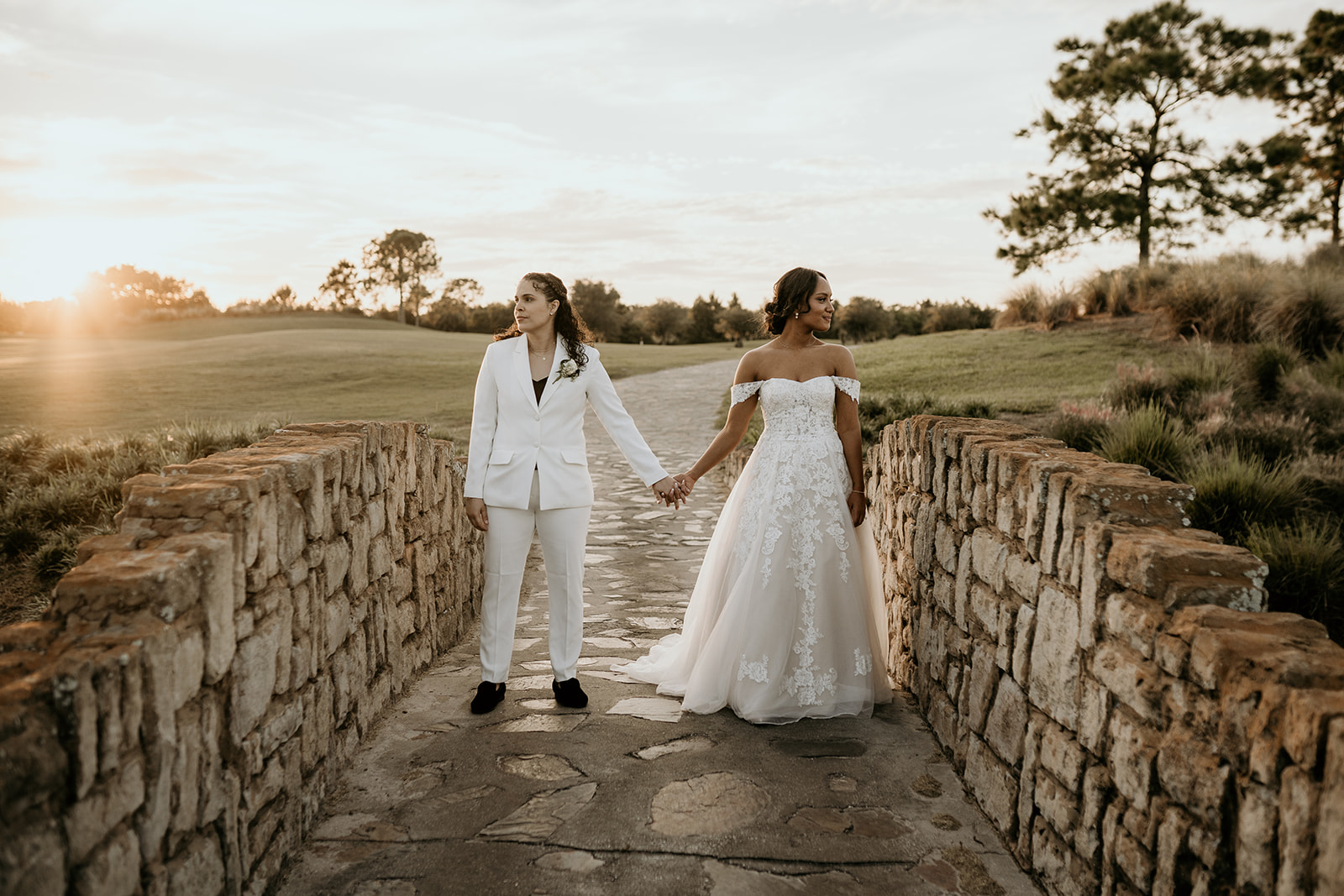 Tell us your proposal story!
Sandy: I knew I wanted to propose to Mariel first. She makes me feel like the most special person alive EVERY single day, so I wanted her to have a day that was all about her. I planned her proposal for over 6 months! I wanted it to be grand, yet intimate and have sentiment. We've shared so many beautiful memories, so for her proposal, I decided that I wanted to take her down memory lane; visiting the places we love!
Throughout the day I gave her cards with clues and we visited some of the most memorable places we had been to. I took her to a nice restaurant where we got to watch the Disney fireworks from the rooftop…but I didn't propose there (to cliche)! At the end of the night, I blindfolded her and we headed to our last destination, which was actually our home. I gave my amazing sister a key the day before and she spent hours decorating the place with roses, rose petals, candles, and a sign that read "MARRY ME". As we walked into the apartment we were both in tears. I barely got through the speech that I prepared before I got down on one knee. Best day ever.
Do you have any shopping advice for future brides?
Sandy: Be open to trying on all styles! I went into DB looking for a long sleeve fitted dress. All the styles I told my stylist I wanted ended up not being the right fit. Then my amazing stylist told me to trust her and that she was going to pull a style for me that might work. When I saw the dress I didn't think I was going to like it. It was strapless and had a lot of tulle (not what I was looking for at all), but I tried it on anyway and instantly fell in love. So my biggest advice would be to not limit yourself and trust your stylist!
What was your favorite detail about your look?
Sandy: I loved the detachable, off-the-shoulder straps offered by David's Bridal! It really elevated my ceremony look and made me feel like a princess. I loved that I was able to remove them so I could dance the night away during the reception!
How did you feel when you knew that you #foundtheone?
Sandy: I started to cry and my bridesmaids were also crying! I didn't purchase my dress the same day, I wanted to think about it for a few days and I really couldn't get that dress out of my head. When you know, you know!
Was there a highlight or most memorable moment of the day?
Sandy: By far it was the ceremony and the moments leading up to it. I was cool and collected the whole time before this. Mariel and my bridal party kept asking if I was nervous and I really wasn't. But then we did the first touch and I lost it. I couldn't stop crying. I tried to pull it together but as I was walking down the aisle I saw Mariel was also crying and it took everything not to start sobbing. She just looked so beautiful and I couldn't believe that all the people we love most traveled to come to witness our union. It was so emotional and definitely the most memorable moment of the wedding.
Did anything funny or unexpected happen?
Sandy: My veil partially flew off as we were walking out after the ceremony! It was really windy so I'm actually surprised it didn't fly off sooner. I ripped it right out, threw it on the floor, and continued walking down the aisle with my new wife.
Is there something you wish you had known before the big day?
Sandy: I wish I knew how fast the day was going to fly by! Everyone says it but the 12+ hour day truly felt like it went by in the blink of an eye.
What flavor was your wedding cake?
Sandy: We had a vegan vanilla cake with a raspberry filling and white chocolate buttercream. Mariel actually doesn't like cake so we had a donut tower and it was a big hit. Definitely recommend donuts at a wedding!
What was your favorite DIY or personal touch?
Sandy: I was a DIY bride so we had so many personal touches at our wedding. I think my favorite one though was the seating chart. It was a cheap mirror we found at Goodwill. We restored it, painted the frame gold, and applied a removable vinyl. On the day of the wedding, it was framed with a gorgeous garland. We love it because we have since removed the lettering and it now sits beautifully in our home as a reminder of the most amazing day.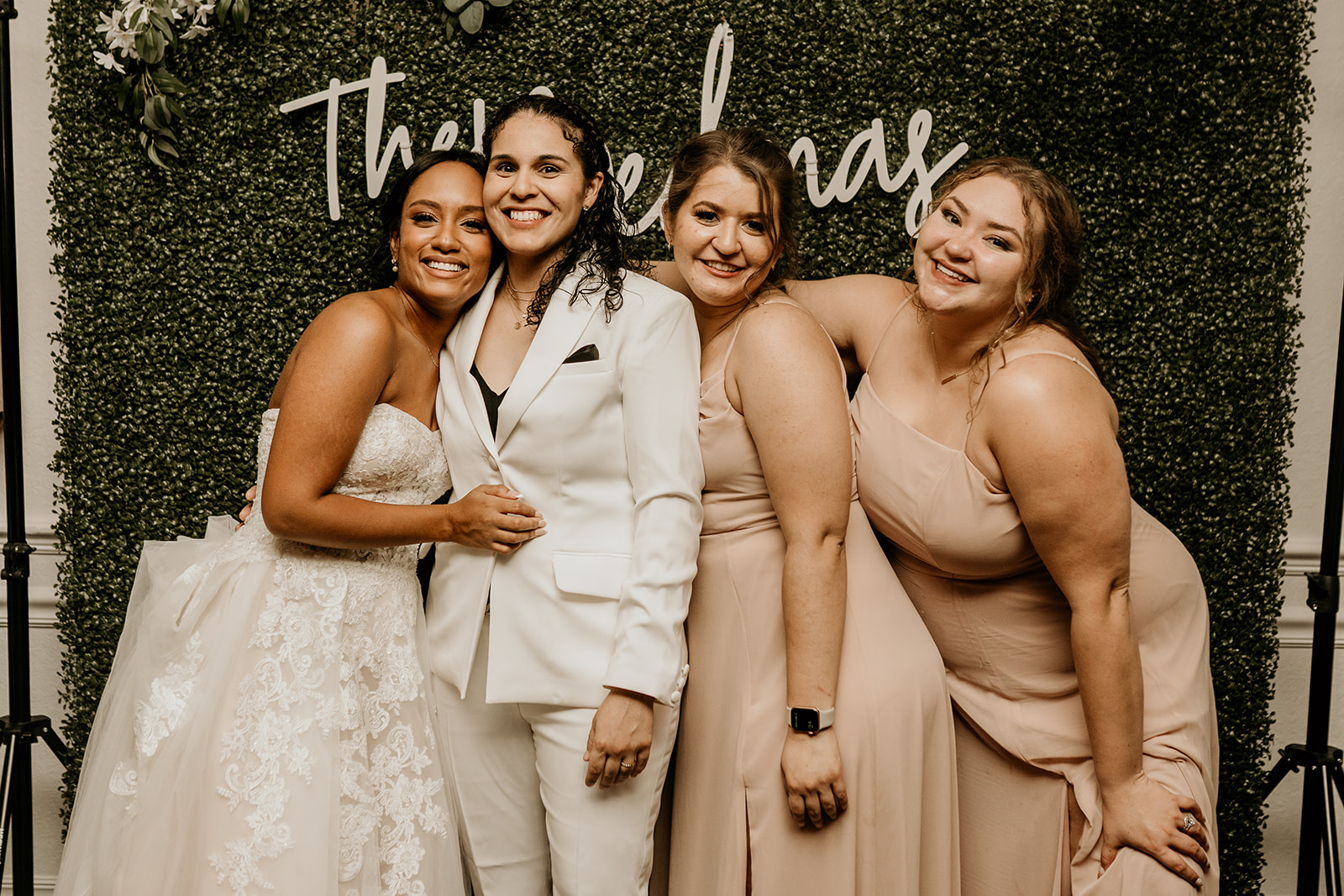 What's your best wedding planning advice?
Sandy: The best advice I have is to start now! Even if you think it's too early, trust me it's not. Time is deceiving when planning such a momentous event. I thought I had all the time in the world but I was literally cutting out the menu cards the morning of the wedding. Other than that, make the day about you and your partner. That's truly all that matters anyway. Try not to let anyone else's opinions or traditions get in the way of what you want to do. We thought the garter toss was a little awkward…so we left it out! Parent dances? Nope, didn't do those either. I walked myself down the aisle and while my mom wasn't the happiest about it, it was so empowering. Do whatever is going to make you happy and have fun!
Anything else you'd like to share?
Sandy: Truly the easiest and most stress-free moments of the wedding planning process were centered around my interactions with David's Bridal. I found my wedding dress unexpectedly because of an amazing stylist at my local DB. I thought finding bridesmaid dresses was going to be difficult because all my bridesmaids had different body shapes, heights, skin tones, etc. We were able to find styles that flattered everyone in a beautiful neutral shade that worked for each bridesmaid.
I also found my mother's dress at my local DB. This was pretty tricky as she was away for a few months leading up to the wedding and had to find a dress two weeks before. There was such a wide selection of styles in her size and we were able to walk away with a dress that day and get it altered in time. Lastly, DB saved the day when it came to my flower girl's dress! We ordered the wrong size and by the time we went to exchange it, her size wouldn't have arrived on time. The manager, Chris, was amazing and she called other locations, pulled some strings, and the dress was delivered to me the next week.
More Details:
Wedding Date: October 1st, 2021
Wedding Location: Saint Cloud, Florida (The Royal Crest Room)
Dress Style: Sheer Lace and Tulle Ball Gown Wedding Dress paired with Lace Applique Detachable Swag Sleeves
Wedding Song: "Lover" by Taylor Swift (First Dance Remix)
Photographer: Imagery by Lu
Love this intimate October wedding? Read more real wedding stories here!
We know how important your wedding day and special events are to you and we are doing everything in our power to serve you! You can shop with us 24/7 at davidsbridal.com or come see us at your local David's Bridal. Plus we are here for you to help guide you through your wedding planning! See tips for starting to plan your wedding at home, shopping for your wedding dress online with confidence, and more on the blog.
Planning a wedding? Sign up for our Diamond Loyalty program—it's free! Follow us on Instagram, Pinterest, and Facebook for more real wedding inspiration, or click here to book an appointment.
Related Posts: